Sims 4 Face Paint CC (All Free To Download)
This post may contain affiliate links. If you buy something we may get a small commission at no extra cost to you. (Learn more).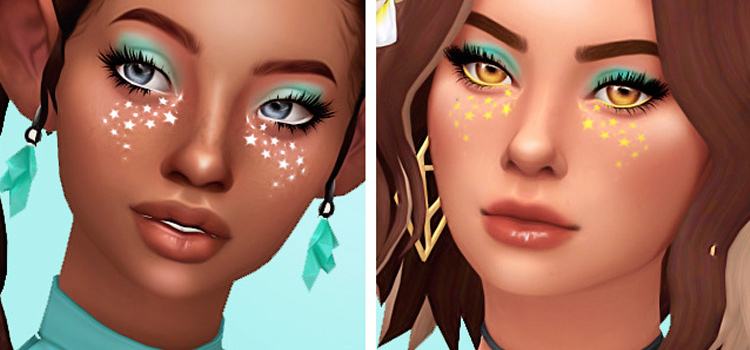 Face painting used to be reserved solely for festivities and celebrations.
Now it's not uncommon to see people walking around with painted-on freckles, graphic blush, or cute face decals! I think a combination of normalizing everyday makeup use – plus the introduction of the e-girl into modern culture – is what caused this shift.
Either way, I don't think anyone's complaining.
Let's add some hand-painted fun to your Sims' looks with these custom face paints!
1.

Face Stars by Lazerly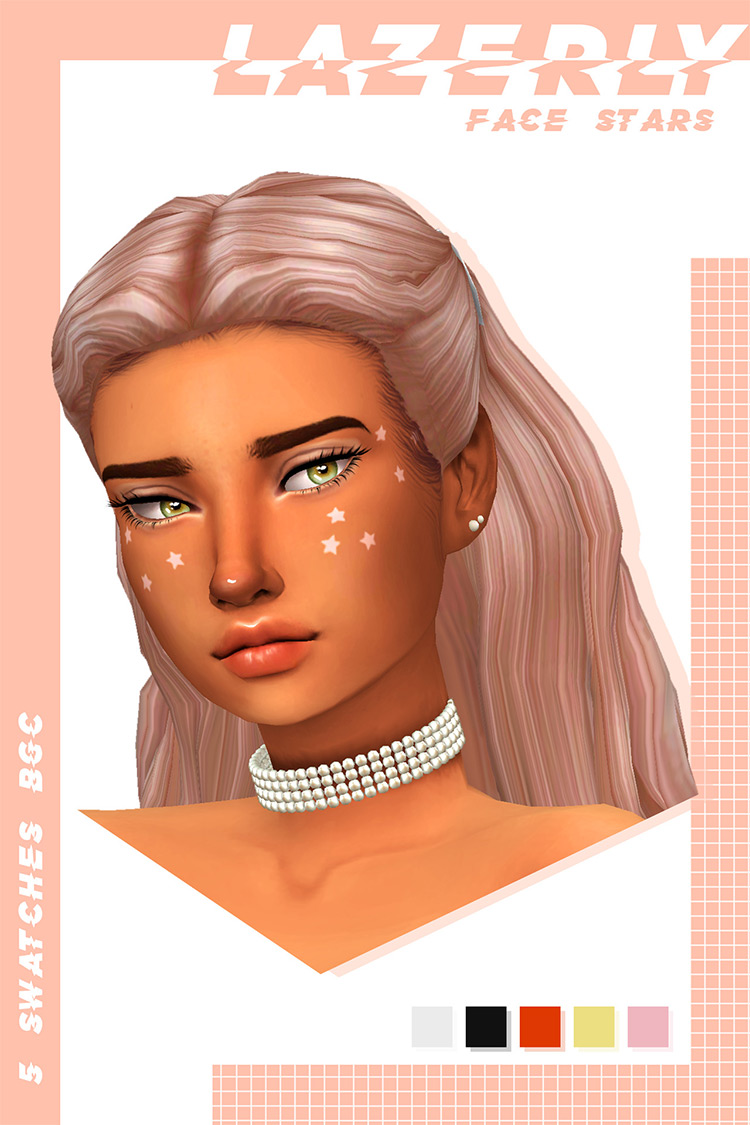 These stars are small, dainty, and look sort of like freckles!
How could I not include them?
They're actually categorized as "Blush", not Facepaint (my bad), but no makeup company is out here selling stars stamps as blush.
At least, I don't think they are. So I'm going to stick to my guns and keep this on the list.
2.

Pridedust Facepaint by peachiiesims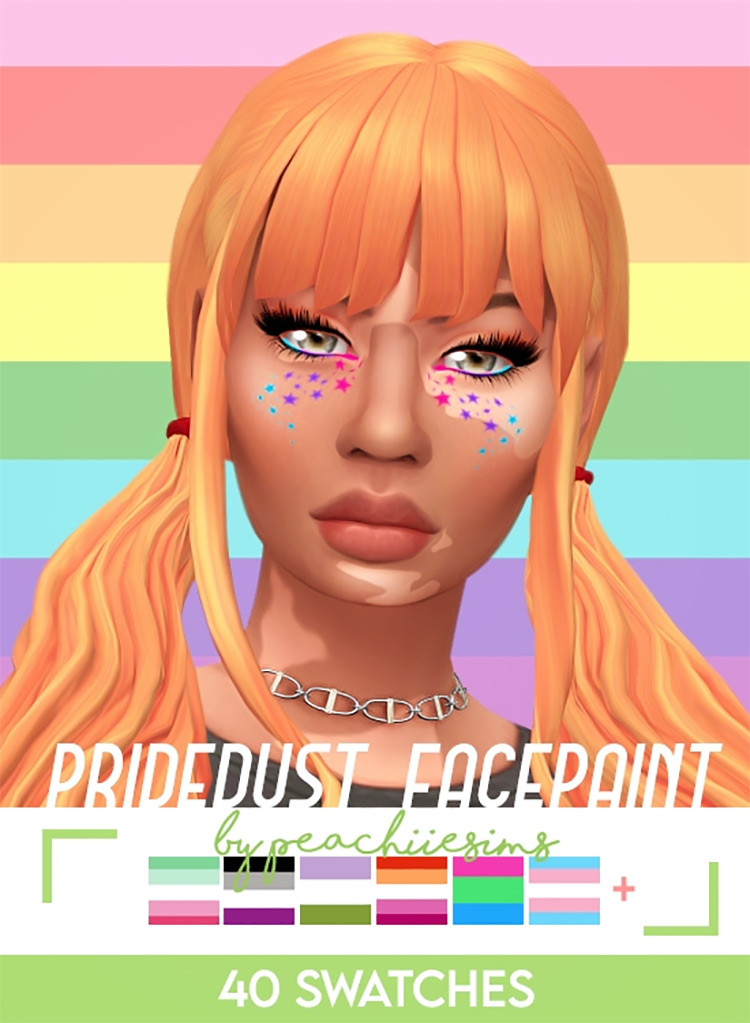 Now these stars are categorized as "Facepaint". Considering what month we're in, it seems fitting to recommend them.
Plus, they also look like colorful, artistic freckles — with forty color options! Talk about variety.
They work for both Male and Female frames, too.
3.

Bindi Set N41 by Pralinesims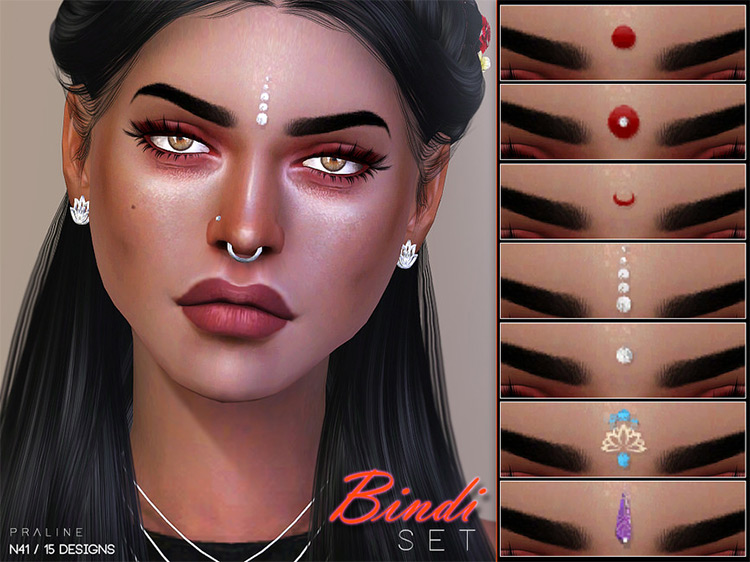 This is another cosmetic item categorized as "Blush", so sorry for sending you all over CAS.
But this face paint is so pretty! I'm definitely not qualified to talk about how important and significant the bindi is, so I'm going to keep this short.
There are fifteen design options in total and they all look stunning.
4.

Tribal Face 03 by Taty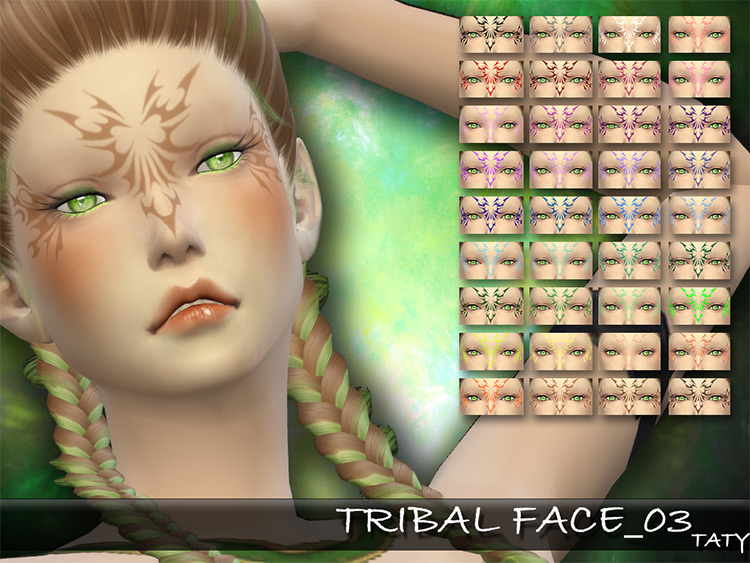 This face paint design is very sharp and segmented. It kind of looks like a butterfly, especially with the extra "wings" at the outer corners of the eyes.
This one's in the "Eyeshadow" category, which means you can enhance the look with some eyeliner or another custom face paint design.
5.

Kawaii Baby Facepaint by simbience
Not much to this one, to be honest. Just a cute, stylized sun outline sitting on the apples of the cheeks.
The facepaint itself only has one color options, but it comes with four other variations for a grand total of five different designs.
6.

Dot Face Paint N57 by Pralinesims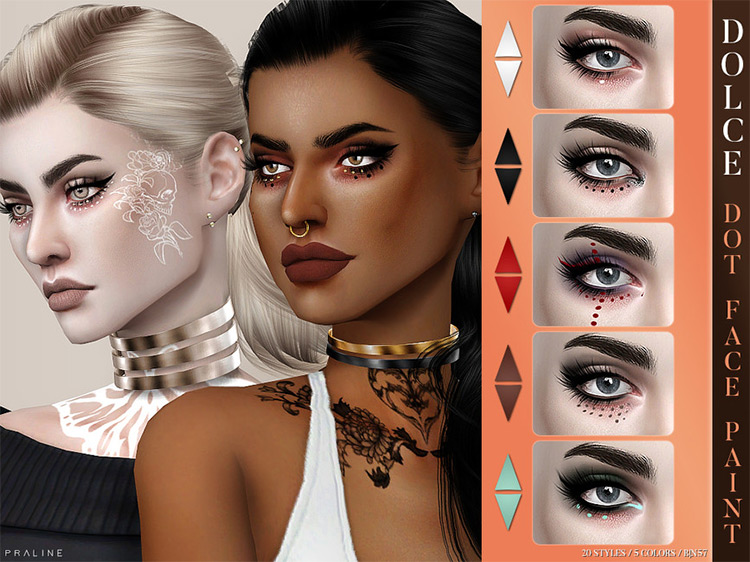 It isn't uncommon for Pralinesims to do massive sets with dozens of options in each set.
Don't get me started on their custom eyes and custom lipstick sets, because this Dot Face Paint N57 set already contains 100 design versions with 20 placement options.
And each design can come in an additional five colors.
I don't know how to properly math this madness. All I know is, this set is absolutely worth downloading.
7.

Sun Princess Facepaint by Sagittariah
This custom face paint only has one variation, and it only comes in one color.
But it's so cute and pretty, I had to include it.
Even if you're not building some sort of fantasy narrative in your game, this fun, sunshine-y cosmetic option is still great to have in your CAS arsenal.
8.

Rainbow Face by slythersim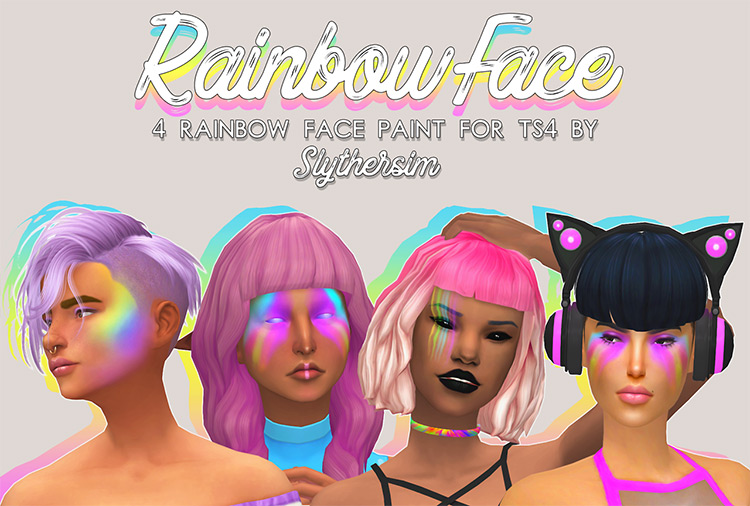 More rainbows! I love how artistic and unique these patterns looks.
The gradient cheekbone highlight is my personal fave, followed closely by the multicolored eye scars.
They may be very avant-garde makeup looks, but there's no reason your Sim can't wear it every day. Rock those colors with pride!
9.

Candy Corn Cutie by peachiiesims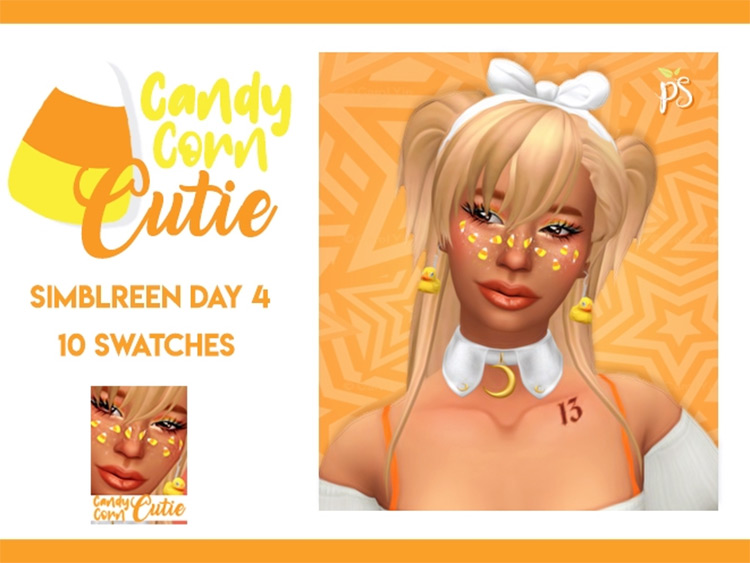 If your Sim prefers sweeter makeup looks but still wants to be on-theme for Halloween, dot some candy corn stickers on their face.
Pair it with a white and orange outfit to really seal the deal.
10.

Grounders and Norsemen Warpaint by necroberrysims | Recolor by Valhallan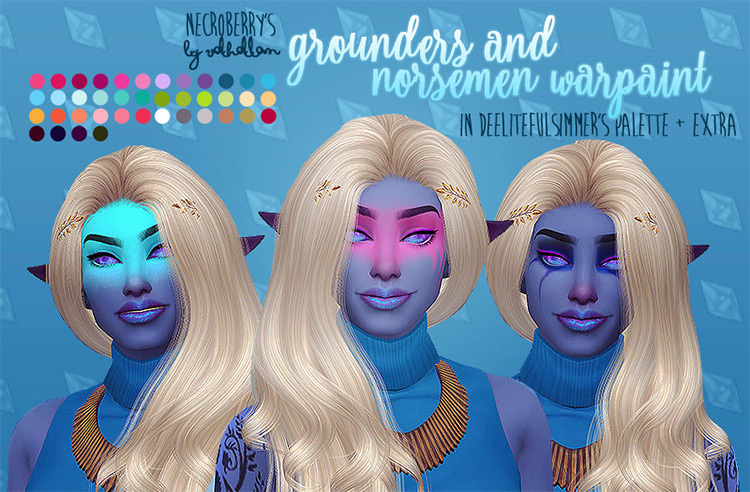 I have no idea how many times I've recommended this particular facepaint set by Valhallan, but I can't help it.
War paint speaks to me on a spiritual level, and the patterns in this set are so bad-ass. But despite it being paint, these recolors can – for some reason – be found in "Blush".
Don't worry; they're totally worth clicking a couple categories over.
11.

Water Fairy Facepaint by sagittariah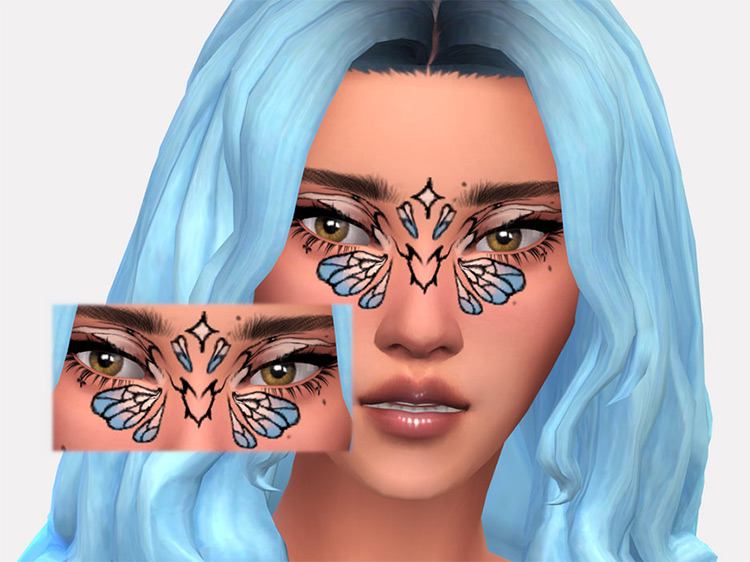 This is one of my personal favorite facepaint options from the set.
Is it purely because of the theme? Yes.
The quality, the actual design, and the fact that it's tagged as "Facepaint" are just all sweet cherries on top of the water-fairy sundae.
12.

High Elf Facepaint by sagittariah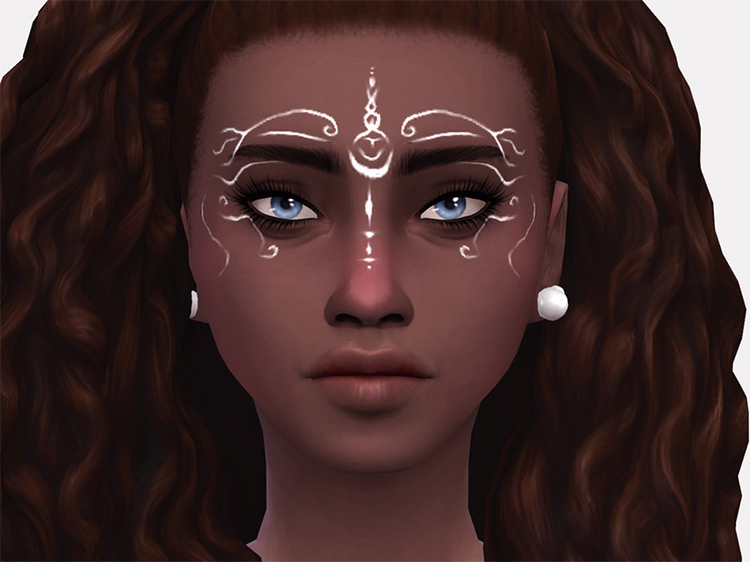 This one's a close second behind sagittariah's Water Fairy facepaint.
I may not be fond of high elves, but the delicate waves, whirls, and strokes of this design are stunning.
And if the color of the paint starkly contrasts the skintone it's on, like in the preview photo? Jaw-droppingly beautiful.
13.

Stardust Facepaint by peachiiesims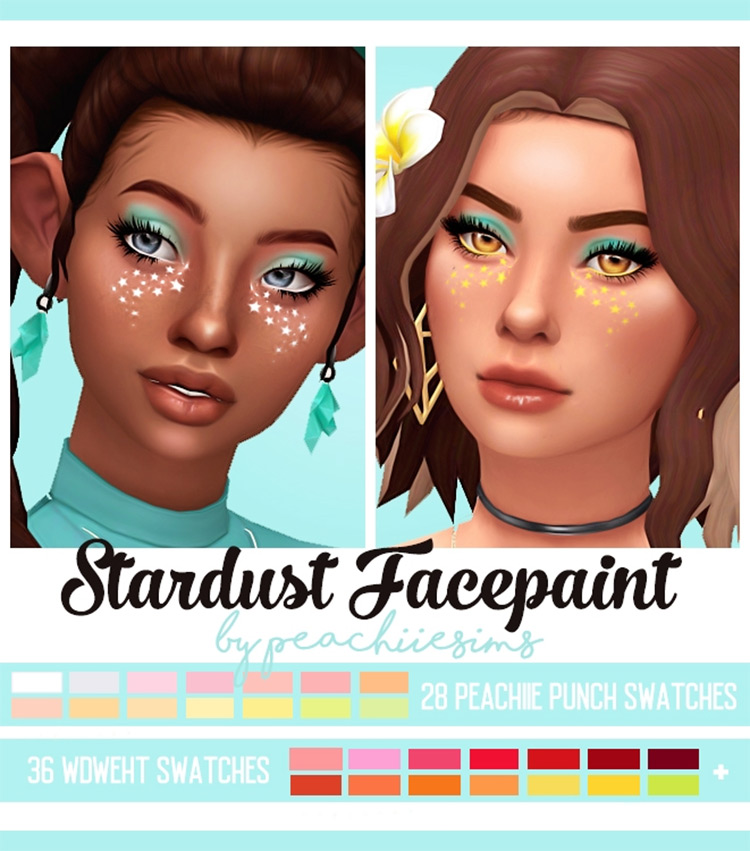 You can never have too much starry, sparkly blush.
And this is tagged as "Facepaint", so don't worry.
Like the creator's Pridedust Facepaint CC, this cosmetic item comes in a sizable number of color options. Specifically 28 pastel colors from the creator's own palette and 36 swatches from WDWEHT's V3 Disney Palette for a whopping 64 color options.
14.

IMF Boho Facepaint by IzzieMcFire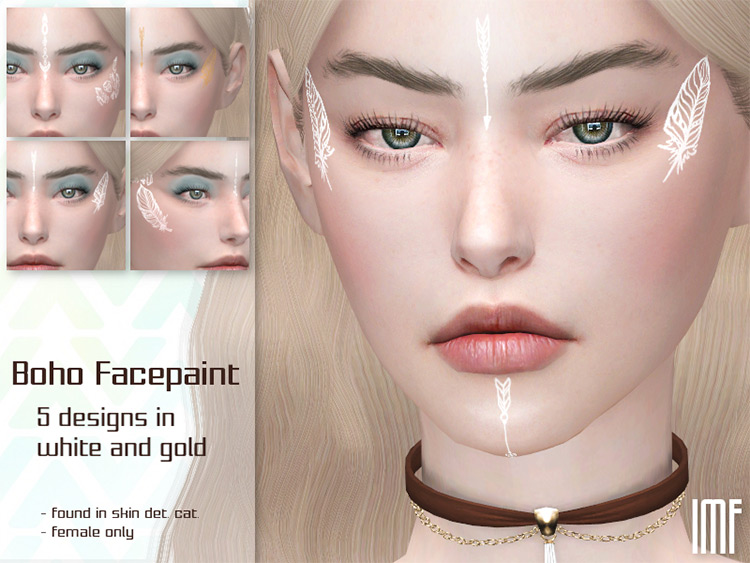 As a huge fan of the boho (bohemian) aesthetic, these are definitely designs I've gotten henna tattooed on myself before.
It's nice to see them in The Sims 4.
There are a total of five feathery designs, and they each come in either white or gold.
15.

Aesthetic Overhaul Clowne by Serawis
I know clown makeup isn't supposed to look aesthetic or attractive, but who says we can't bend the rules a little?
Certainly not Serawis!
Their custom overhaul for EA's default clown facepaint turns the makeup from crude and cartoonish to colorfully artistic.
I don't know if it's how softly the colors are blended or if it's how everything just sits on the face better, but the visuals of this overhaul are quite mesmerizing!
16.

Queen Lagertha Facepaint by Magnolian Farewell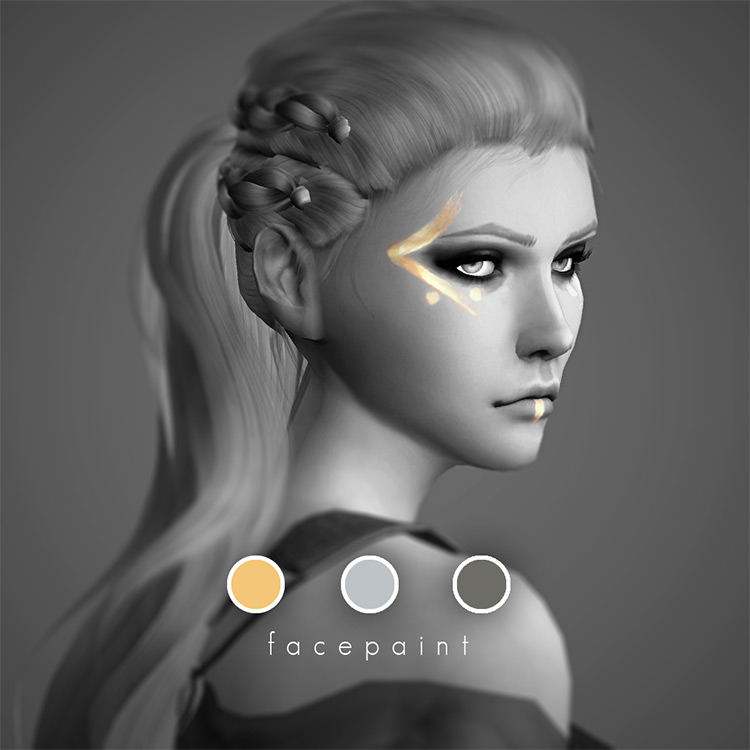 Based on the bold, beautiful, and utterly bad-ass Queen Lagertha from Vikings, this face paint set adds just a couple swipes of color on your Sim's face.
But because it's modeled after such a powerhouse of a woman, they can add so much to your Sim's presence.
By the way, the main download link is broken, but the second one (labeled with "no adfly") works just fine.
17.

Catrina Face Mask Face Paint #01 by remaron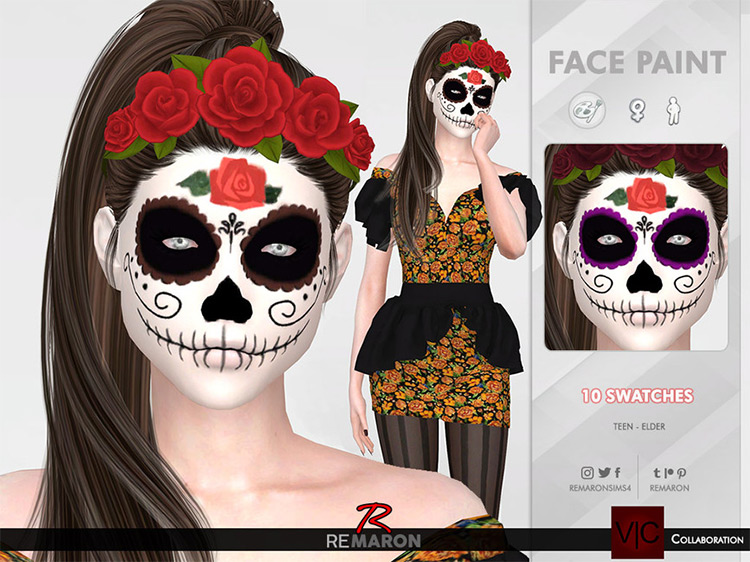 Often used for Day of the Dead, this kind of stylized skull design is beautiful, artistic, and very striking.
Not sure if this is what they call calavera or if this is considered a sugar skull design, so I won't make any definitive statements.
All I know is that this facepaint option could be fun to have for Sims (and Simmers!) who do understand – and celebrate – the tradition.
18.

Cyborg Set by RemusSirion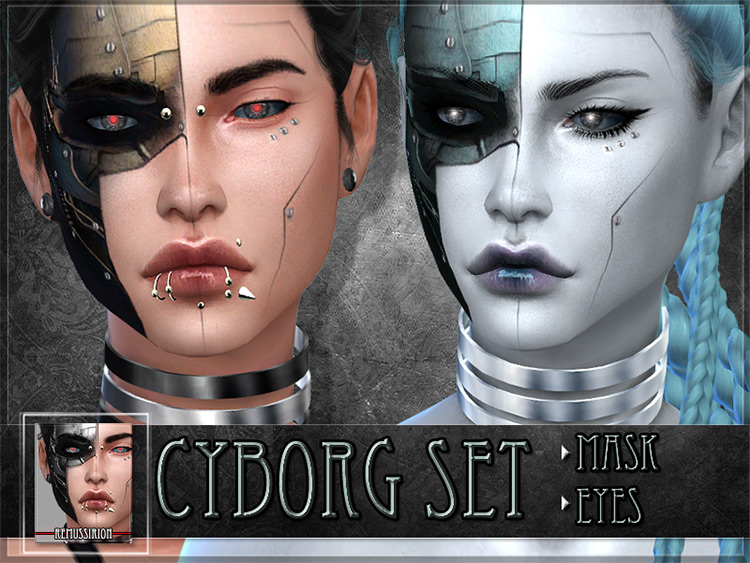 Whatever you need it for, this Cyborg Set by RemusSirion would make a cool addition to your CAS catalogs.
The cyborg masks are, funnily enough, found in the "Eyeshadows" and "Tattoos" categories.
The eyes, on the other hand, are the ones labeled as Facepaint.
19.

Cheek Flowers by TwistedCat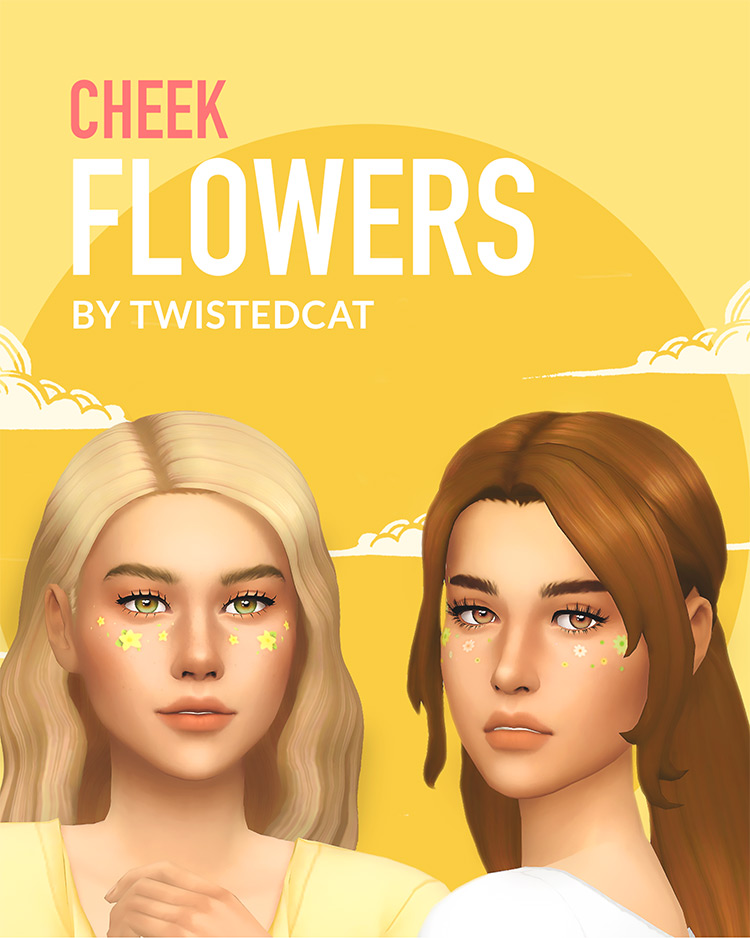 Soft, floral, and oh-so delicate looking.
These cheek flowers were an unexpected find that I ended up liking a lot more than I initially thought. Like peachiiesims Pridedust and Stardust facepaints, these flowers look like colorful freckles!
Get them in two variations, with ten colors each: lily or daisy.
20.

Pride Facepaint by faeriesimss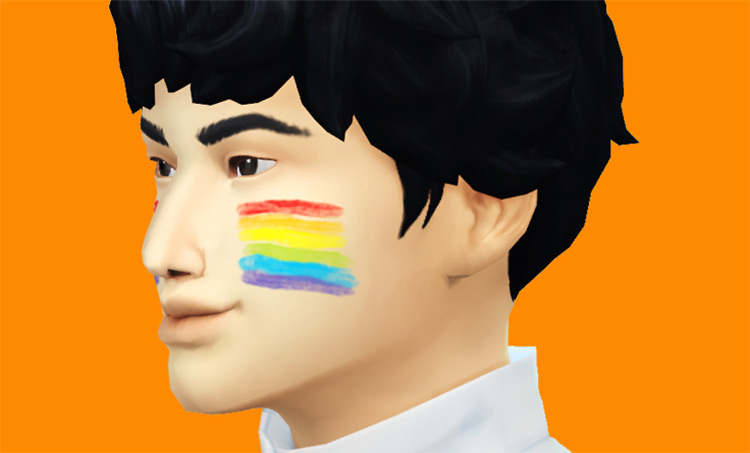 And I'm ending this with more rainbows! Because why not.
Faeriesimss' fun creation adds colorful stripes to one or both of your Sims' cheeks.
The eight designs represent eight different pride flags, which the creator lists in the description.
I think the quick horizontal swipes are a simple but bold statement, and I'm certain a handful of Simmers will find this particular facepaint relevant.
Browse:
Lists
The Sims 4
Video Games