Sims 4 CC: Best Mustaches, Beards & Facial Hair Mods
This post may contain affiliate links. If you buy something we may get a small commission at no extra cost to you. (Learn more).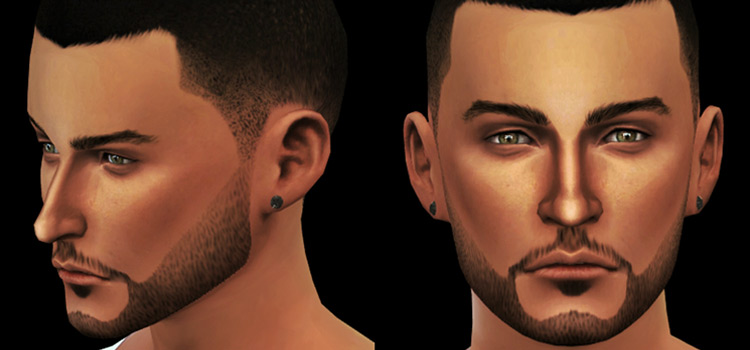 Facial hair has long been viewed as a sign of manliness, possibly looking healthier and more attractive. They say it means testosterone is working overtime.
While that view might be a wee bit archaic, men might agree that growing a beard is about as easy as building a snowman in the summer.
And if you can't grow a beard to save your life, why not give your Sim the beard of your dreams?
We searched the interwebz high and low to find some of the best custom-made CC for all your Sim's facial hair needs, all surefire choices to get yourself into a hairy situation.
10.

Dali Mustache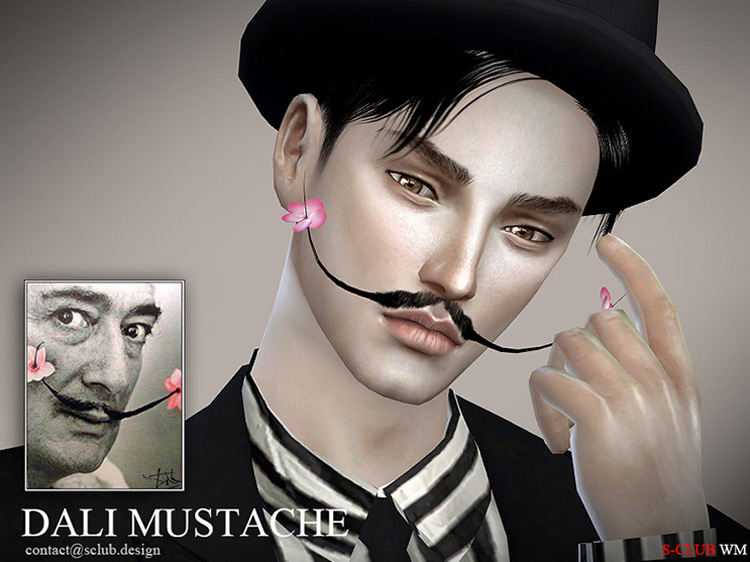 Unless you've been living under a rock your whole life, you know who Salvador Dali is (if not, welcome to Earth!)
The Spaniard is known for his surrealist art and is one of the most celebrated artists of all time. Everyone also knows, of course, that he was one of the kookiest.
Get a chance to dress up your Sim with one of the most iconic mustaches ever, with S-Club's version of the Dali Mustache. It's so iconic that Dali himself got a book dedicated to it!
And this specific CC version has flowers on each end, derived from one of his photos.
Move over, Mortimer Goth. There's a better mustache in town.
9.

Overnight Stubble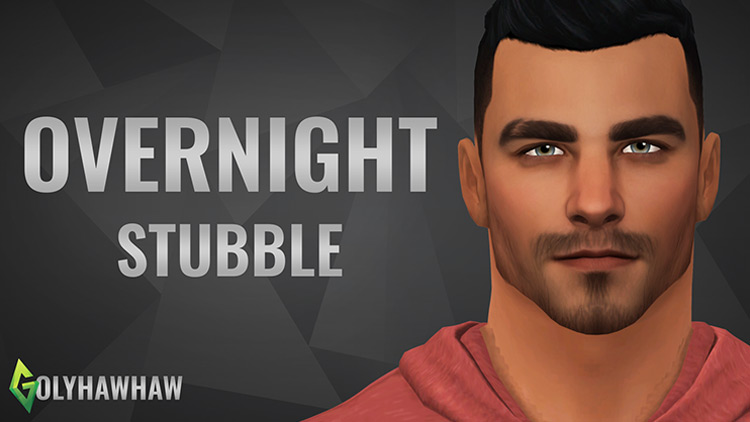 How do you separate the men from the boys? They say all it takes is stubble.
What was once viewed as a struggle for the average Joe, has become a great way to show that you are the man.
Golyhahaw created the Overnight Stubble CC for your Sims that are too cool to shave, but not lazy enough to let it grow.
Coming in 18 EA swatches, this is quite a realistic one because it's patchier. And let's be honest here – not everyone is blessed with full hair coverage.
8.

Facial Hair Style 3 – Sideburns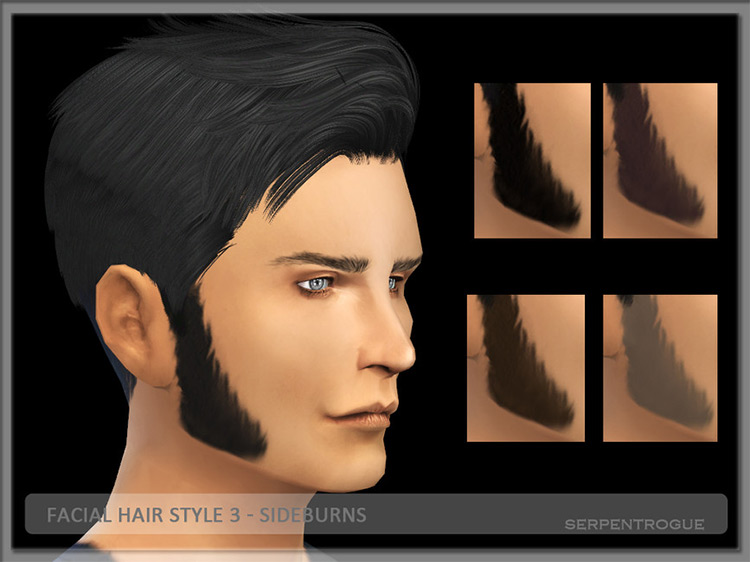 Elvis has left the building, but his sideburns are forever etched in our hearts.
It doesn't matter if you're a huge Elvis fan or an impersonator in a chapel in Vegas; you can get the mutton chop sideburns that helped propel The King to heartthrob status with the Facial Hair Style 3 – Sideburns by Serpent Rogue.
Teens to elders can use them, and they come in 10 colors in total.
Thank you. Thank you very much.
7.

Derek Beard
A wise philosopher once pondered, "Did you ever think that maybe there's more to life than being really, really good looking?"
We're certain Turk Simmer's name inspiration for the Derek Beard is from the creator of Magnum look himself – Derek Zoolander.
Now your Sim can rock the beard and choose from 10 shades. Teens can also start wearing these after graduating from The Derek Zoolander Center for Kids Who Can't Read Good and Who Wanna Learn to Do Other Stuff Good Too.
6.

Automatic Beards V4.5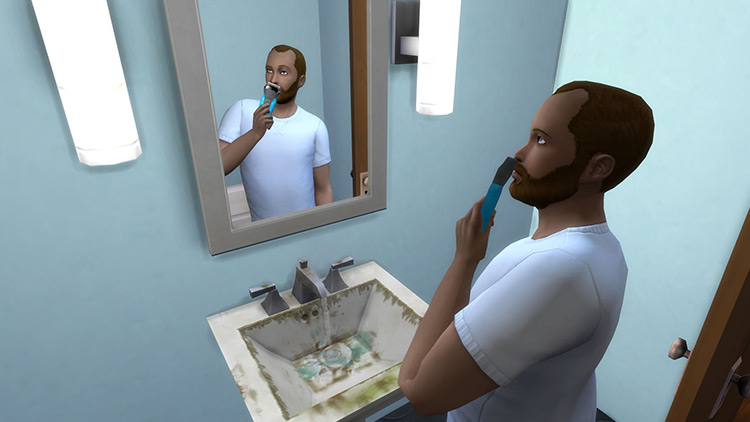 Ask any men and they'll agree that growing a beard is an uphill battle.
Even harder is the upkeep and maintenance to ensure that their beard stays silky and luxurious.
Having a beard in The Sims is easy. Just pop into CAS and you're good to go.
Now if you want your Sim to have the full human experience, though, then you better download Flerb's Automatic Beards V4.5.
This mod will allow beards to grow slowly like in real life! It even adds the option to let your Sims trim and shave beards at their sinks.
So if you didn't like beards before, don't worry. I think they'll grow on you. Badum tss!
5.

The Price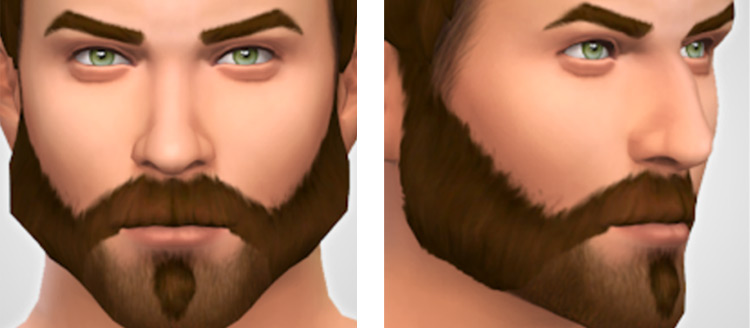 I don't know, but I've been told.
A frog man's money is good as gold.
Did you find yourself singing that tune correctly? Then congratulations! You've passed our test to grab IgorStory's The Price beard.
This beard CCwas inspired by Captain Price from Call of Duty fame, and is reserved only for tough men. In total it comes in 36 swatches, soldier!
18 swatches with stubble, too, and also the same number without.
Now drop and give me 20!
4.

Curly Beards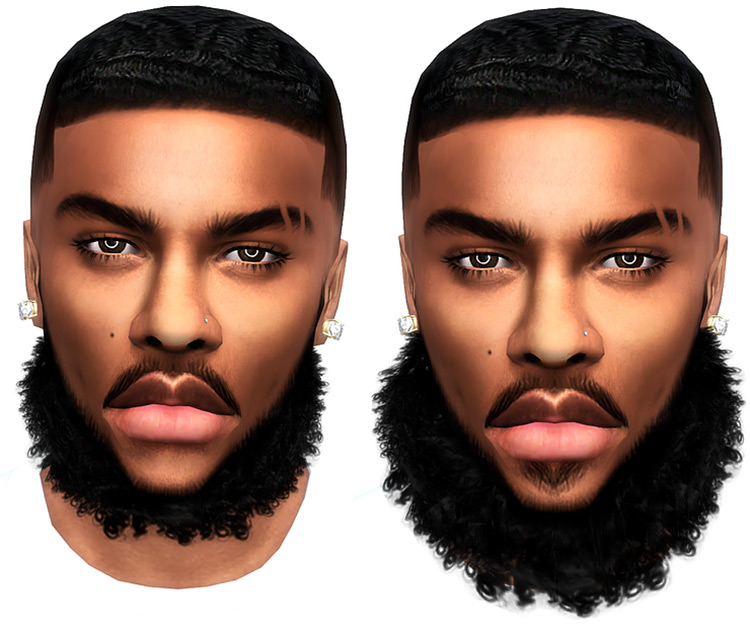 The struggle of beard upkeep is real.
But that struggle multiplies tenfold for dudes with curly hair. We feel your pain!
After all, who wants frizzy beards?
If you don't have time to have curly beard woes, bless your Sim instead. The Curly Beards CC by XXBlackSims gives you the freshest curly beard of dreams.
It comes in 2 variations: short and long. We say "curly beard of dreams" because it's so well-kept and shiny that even Shawty will be jelly.
3.

The Hanneman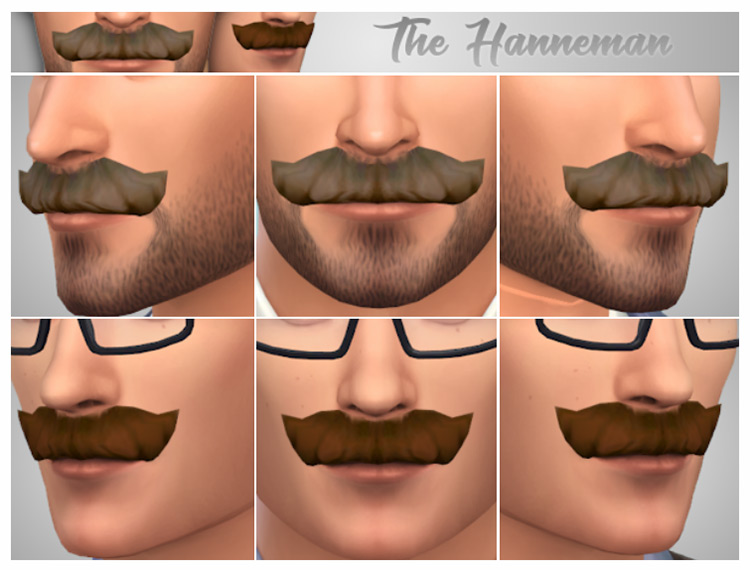 Don't believe other people when they say mustaches can't make you look scholarly.
Let's have a list of names: Albert Einstein. Fritz Haber. Borat Sagdiyev.
This Hanneman CC by Igor Sims is an excellent way to add a touch of genius to your Sim's look. Or if you just want to dress your Sim as a stud like Burt Reynolds or Tom Selleck.
This is best paired with full-rimmed glasses and comes in 18 swatches to go with whatever your color of choice is.
2.

The Thigh Tickler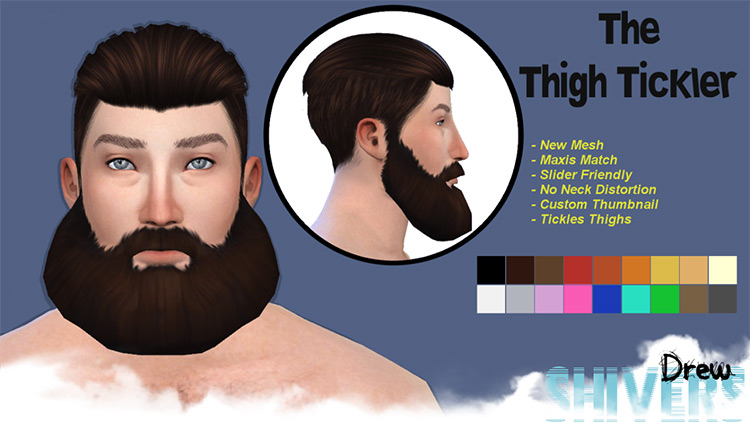 Are the kids asleep yet? Good.
We put this one near the top of our list because that cheeky name makes us giggle. With the.. ahem.. Thigh Tickler by Drew Shivers, we suspect that your Sim won't need any other shenanigans to charm the ladies.
Watch the good girls go bad at the sight of this silky smooth beard.
Softly tell your lady, "Girl… I have 18 swatches of this beard, and it won't distort my neck", and watch her fan herself in excitement.
1.

Beard N36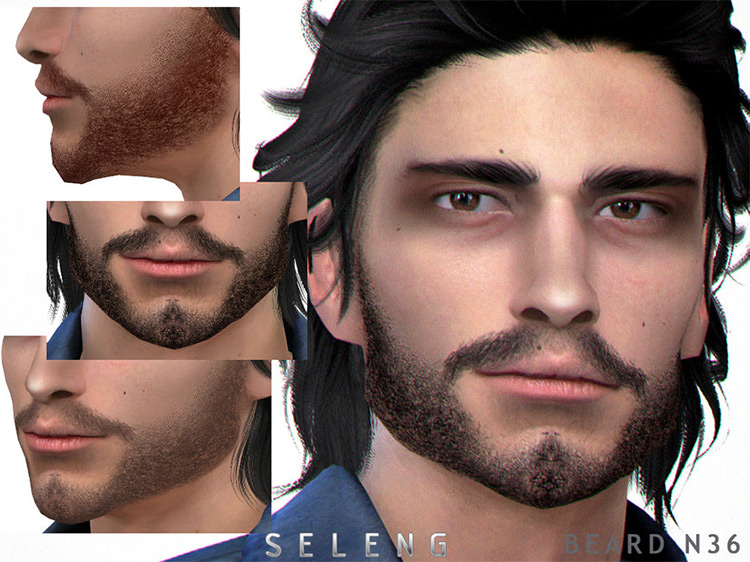 If you haven't had the pleasure of watching even one episode of any Spanish soap operas, you are truly missing out on the finer things in life.
Rags-to-riches plots? Check.
Evil mothers-in-law? Check.
Beautiful but naïve protagonist? Check.
Hunky rich guy? Check!
And this Beard N36 CC by modder Seleng is truly a beard worthy of a Spanish telenovela star.
It's beautiful enough to make the ladies say 'Ay dios mio!' at the mere sight of your hairy Sim. It goes well with tan skin, smoldering eyes, strong arms to whisk me.. uhm, no, a Sim lady away.
Browse:
Lists
The Sims 4
Video Games