Best Sims 4 Fairy CC: Lights, Wings & More (All Free)
This post may contain affiliate links. If you buy something we may get a small commission at no extra cost to you. (Learn more).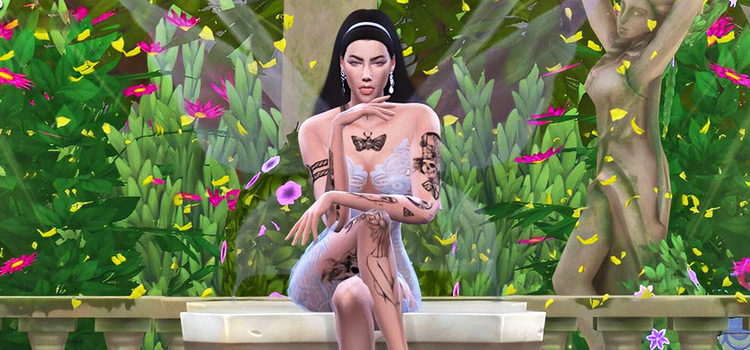 The Sims 4 has a wealth of supernatural creatures that spice up the game. There are aliens who sometimes do not come in peace, bloodsucking vampires, ghosts with unresolved issues, mermaids from the sea, and even spellcasters!
You can even be a Plant Sim, with a bite of the forbidden fruit, or become a skeleton because of a relic.
But one creature missing from this list right now? Fairies.
They were first introduced in The Sims 3: Supernatural and sadly have not yet had their comeback in TS4. Imagine how lonely that fairy flying around Sylvan Glade is! People have been clamoring to have fairies as a life state, not just as a spellcaster's familiar. EA, we hope you're listening.
But if you're impatient like us and can't wait to add some magic dust to your gameplay, check out our list of the best fairy CC and mods worth snagging.
15.

Fairy Lights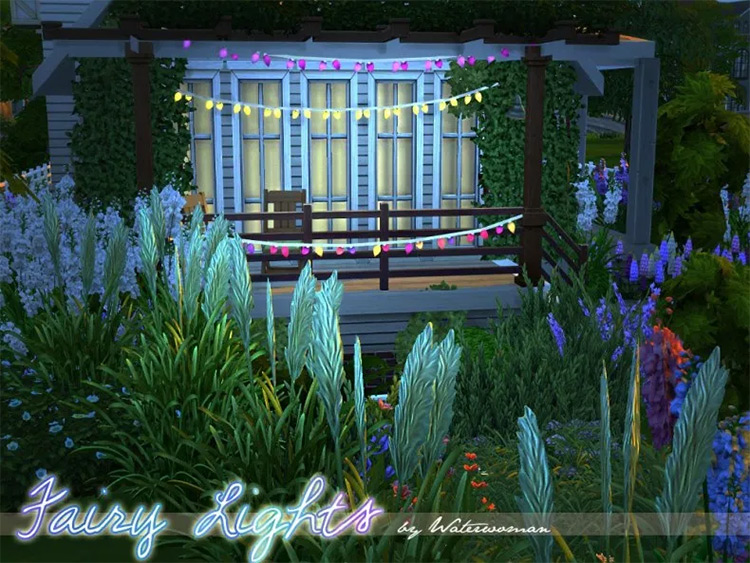 Want to give your Sim's abode a more delicate, romantic look?
Fairy lights are an easy way to do it. They're named as such because their small lights resemble fairies flying around.
And these sure to make any location, indoor or outdoor, feel a little bit more magical. Just ask any Instagram influencer.
Waterwoman's Fairy Lights CC come in 17 designs with 2 variations of black and white strings. These bulbs emit a more festive look, with candle-shaped bulbs and a wider variety of colors.
14.

Fairy Light Trees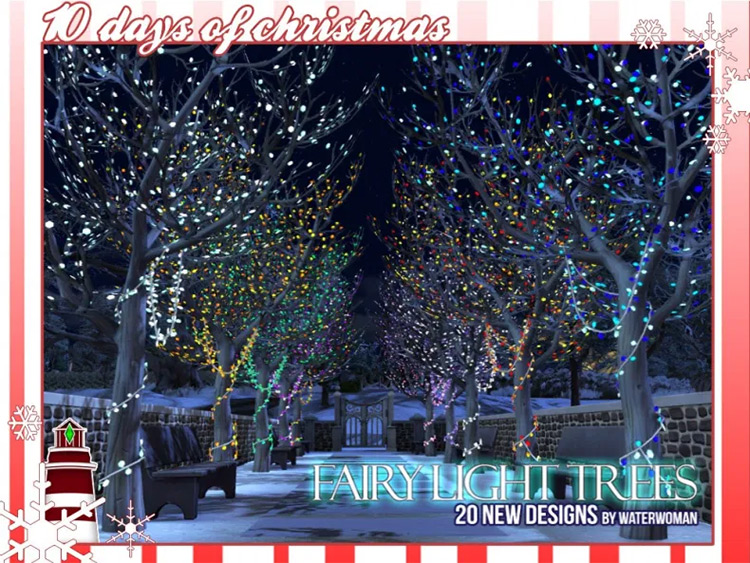 Christmas season is always around the corner, and you know what that means!
The weather gets cooler and holiday merriments begin. Festive decorations also elevate the mood.
If you need something that evokes that holiday spirit without having Santa's face plastered everywhere, then we have something to take it up a notch. CC maker Waterwoman also created these Fairy Light Trees that are perfect for your Sims' Christmas setup.
Choose from either white or choco trees, each with 10 designs featuring gradient lights. It will serve as the perfect backdrop for your mistletoe kissing.
13.

Fairies Mod
This beloved mod from creator Nyx is notoriously hard to find… but I decided to be your fairy godmother and bring you the legendary but elusive Fairies mod for The Sims 4!
This mod allows your Sims to play as a fairy while EA sits on their butts waiting to make our fairy dreams official.
You can sport different colorful wings, choose between the light and dark side by casting good or bad auras, meditating, and definitely flying.
12.

Cute Fairy Tree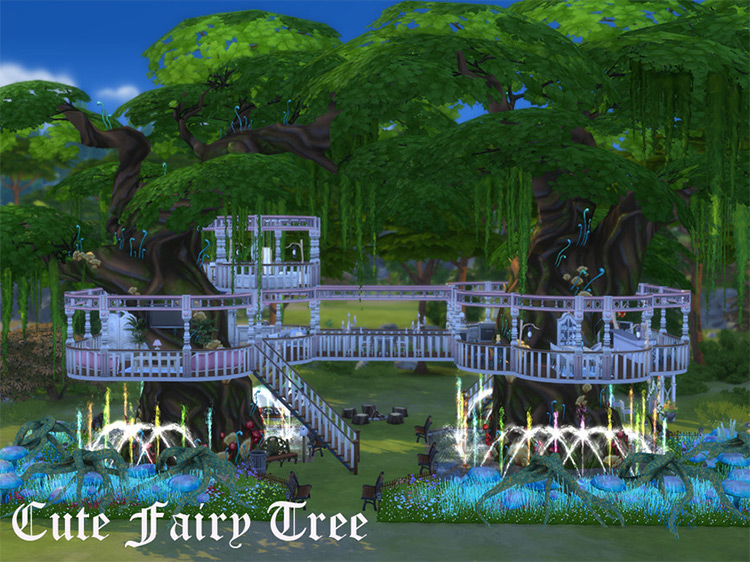 Fairies are nomadic creatures by nature.
Some live in the forest, while others choose to make logs and even mushrooms. Good luck to them, but you don't want to be a mushroom fairy, don't you?
May we interest you in moving to this Cute Fairy Tree by YvetteDuong?
This 2-floor home may throw the privacy out the window, but you're a fairy – so you can figure things out!
The whole house lot surrounds two trees, with a magical garden below. The first floor contains all the essential home amenities, but the whole second floor is a little luxurious bathroom. Because fairies need a night relaxing in the tub too.
11.

Magic Pose Pack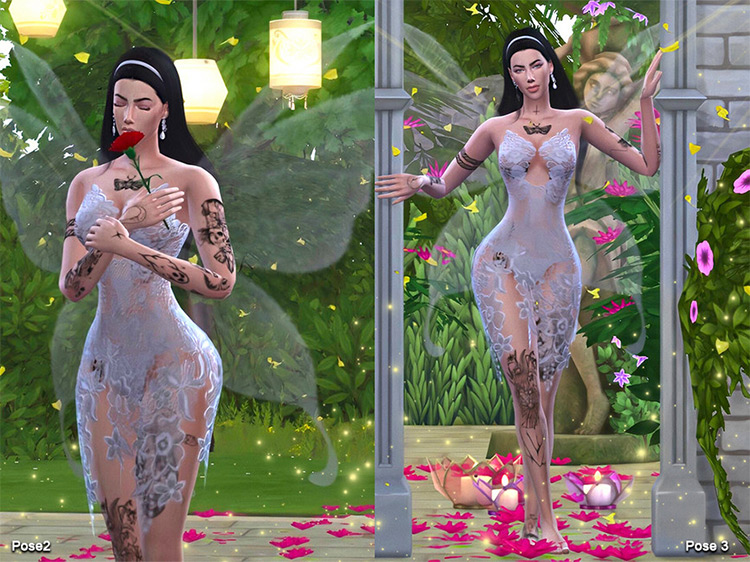 Cute is a common word used to describe fairies, as they're most associated with children's fairytales.
What if you wanted a more grown-up version?
If you want your Sim to be a more mature version of the fairy, this Magic Pose Pack by Beto_ae0 will help.
It contains 4 poses perfect for your fairy storytelling, away from the cutesy poses you often see.
You do need the pose player mod to use this, but it's also linked in the download page.
10.

Fairy Clothes Set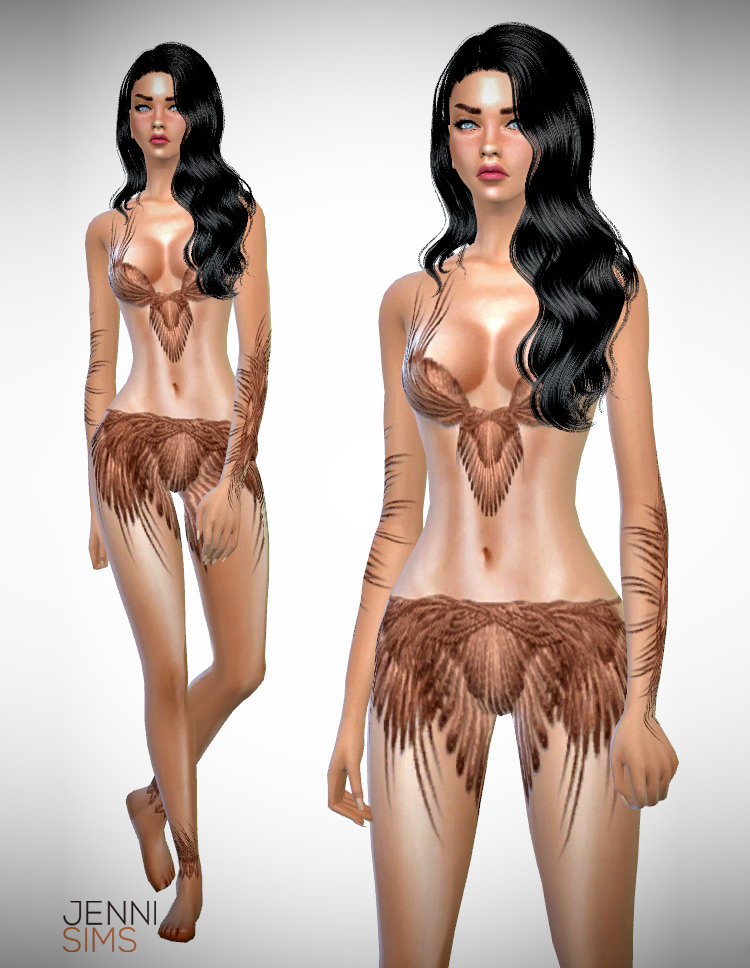 There's a land with no name, where barely clothed video game heroines and creatures come from.
We think there must be a plausible reason why they have a scarcity of fabric, but alas, it will remain a mystery.
We're reminded of that land with JenniSims' Fairy Clothes Set. This CC set includes 5 barely-there outfits that you can use for your au naturel fairies or for… ahem, other activities.
9.

Nymphalidae Fairy Accessories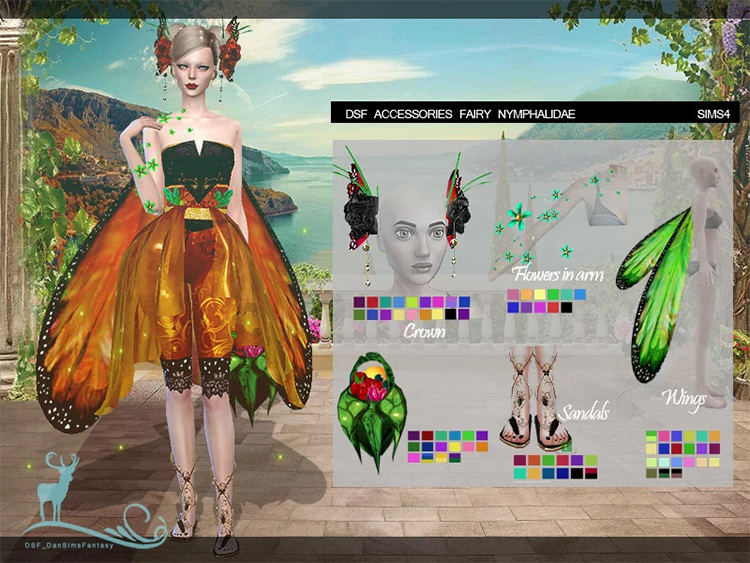 No one is spared from the struggle of mixing and matching, even fairies.
DanSims got your back.. er – wings, with the Nymphalidae Fairy Accessories set!
The CC set has everything you need to have a total fairy transformation: a crown, flowers for the arm, a bag, sandals, and wings.
They even have different colors for each, so you can have fun creating color combinations.
8.

Fairy Sunset Set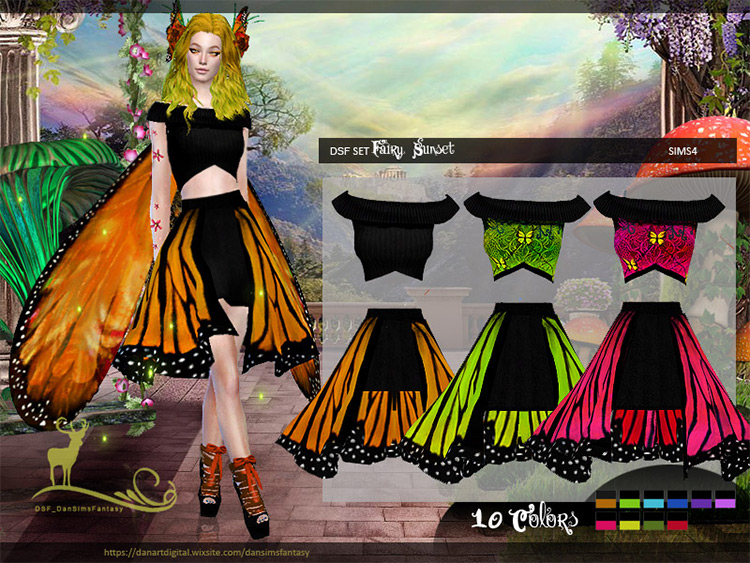 Who says supernatural beings can't be fashionable?
If you're tired of the ole ballerina fairy look, take a look at this Fairy Sunset Set by DanSims.
Inspired by the Danaus plexippus (or simply the monarch butterfly), the combo features an off-shoulder midriff and a skirt that looks like butterfly wings. There are 10 color variations paired with black here.
This set would go perfectly with the Nymphalidae Fairy Accessories.
7.

Fairy Ciel Set
Should we start calling DanSims the ultimate fairy Sim modder with all their wonderful fairy inspired CCs?
For an edgier but magical look, buzz around with this bee-inspired Fairy Ciel set, suited for spring fairies.
The set includes a corset top with flowy material that resembles wings and matching trousers. There are 18 colors for the corset and 16 for the trousers.
No need to worry about color compatibility!
6.

Tinker Bell Set
Just thinking of the word "fairy", who pops up first in your head?
I hope Peter Pan's companion, Tinker Bell. Or she's gotta be at least in the top 3, right?
The sassy fairy, a creation of J.J Barrie, has flown into the hearts and minds of people since her conception in 1904. Even more so when she appeared in Disney's film version in 1953.
That green get up and blonde hair is instantly recognizable!
Be like Tink with Bukovka's Tinker Bell set that includes Tinker Bell's tube dress, wings, and matching shoes. Or are you not feeling the green? You can switch the look with either a baby blue or pink hue.
5.

Aria Wings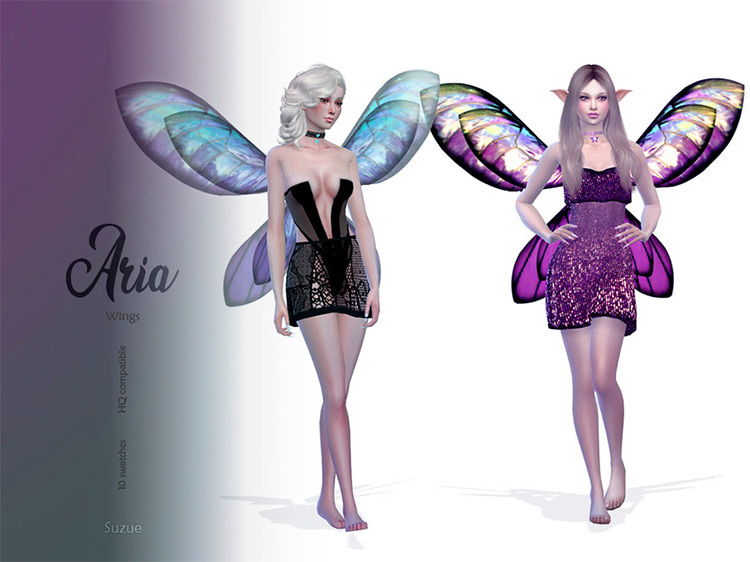 Fairies without wings are like dogs without tails. Mermaids without scales. Vegans without kales.
They rhyme for a reason!
When you have the power to choose your own fairy wings, you might as well make them stunning, and Suzue's Aria Wings are one of the most beautiful we have seen!
These wings have a design that resembles stained glass, with 10 color combinations that will complement your fairie's looks.
4.

Fairy Wedding Dress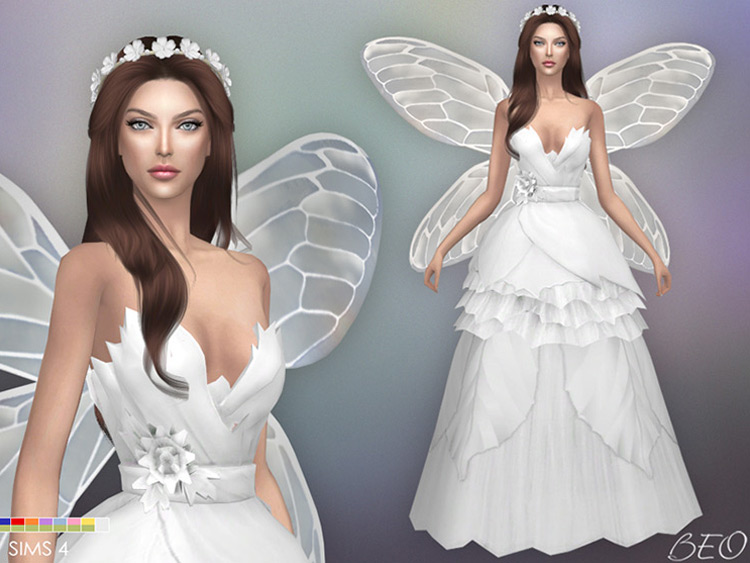 Weddings are one of the most memorable days in any women's life.
It's also totally the day where you can be extra, and no one will judge. After all, it's your party, and you can be whatever you want to be.
Stun your guests and let your soon-to-be Sim husband know that you're magical (and can turn him into a toad) with the Fairy Wedding Dress CC by Beo Creations.
This tube-layered ball gown comes in 8 color combinations, with the classic white leading the pack.
3.

Fairy Forest Wings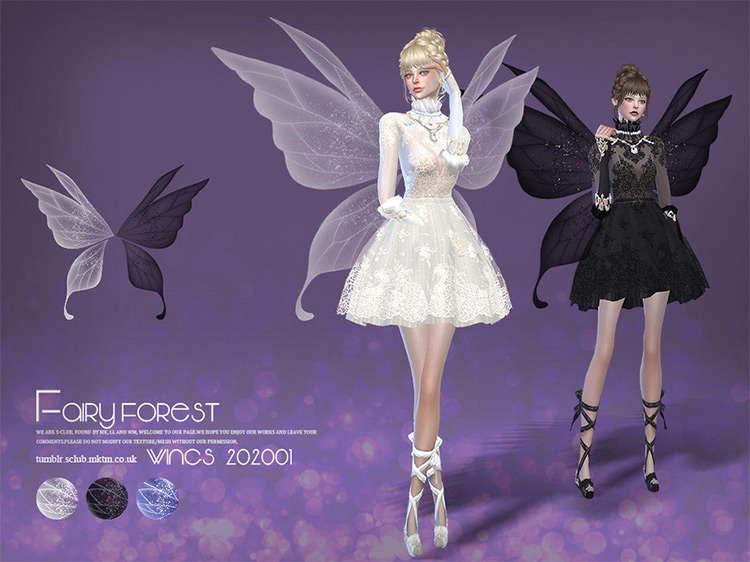 Did you know that in some folk stories, fairies are theorized to be either angels who were demoted from their heavenly duties or just complete demons from hell?
Choose your side to represent the ever-raging battle between light and darkness with either of S-Club's Fairy Forest Wings.
These translucent wings are adorned with glitters and come in black, white, or if you're feeling neutral – gray.
2.

Fairy Sparkle Wings 1
Whoever said that all that glitters is gold, clearly has not spent a day in a daycare center.
Look like a fairy with an unlimited supply of fairy dust with this Fairy Sparkle Wings #1 CC, created again by S-Club.
The cicada shaped wings are riddled with glitter, with 14 colors to choose from, are made to have you sparklin' all over town. Lather some body glitter on and get ready to enchant!
We wish you luck in removing them, though.
1.

Faerie – Body Preset N2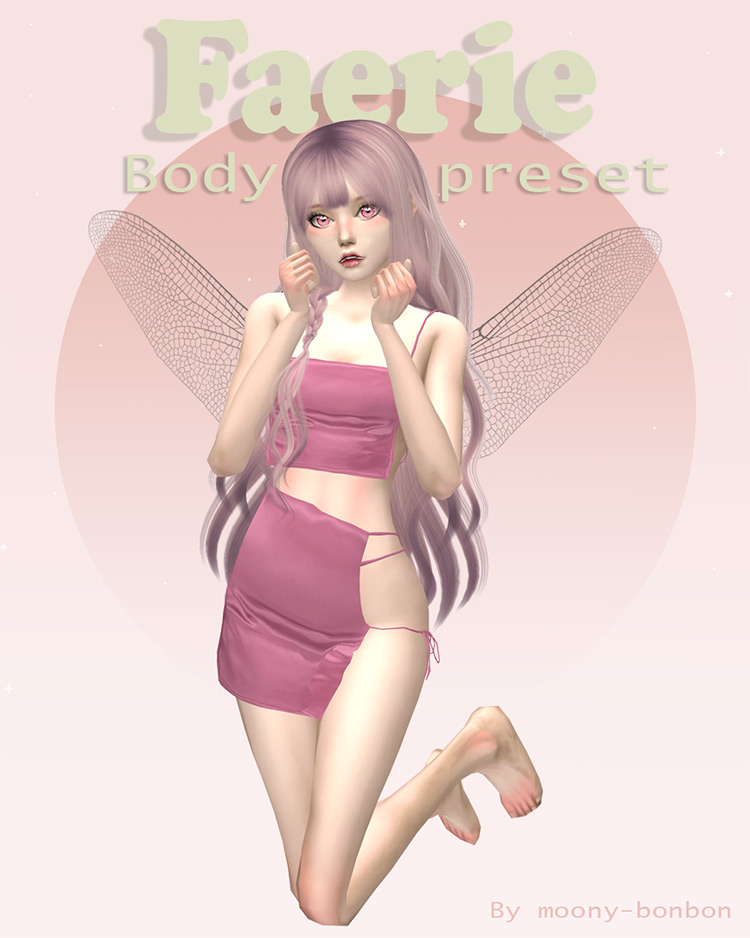 Here's a question often asked by kids of our time: why she built like that tho?
Well, maybe cause she has this body preset from Moony-Bonbon!
The Faerie Body Preset N2 makes your Sim smaller than the base average – if you really want to be a diminutive fairy.
Just simply download the package from the link (for free, only hosted on Patreon), chuck them into your game's mods folder, and they should appear in your Create-A-Sim section's preset. No magical fairy dust needed.
Browse:
Lists
The Sims 4
Video Games