Best Sims 4 Family Pose Packs To Download (All Free)
This post may contain affiliate links. If you buy something we may get a small commission at no extra cost to you. (Learn more).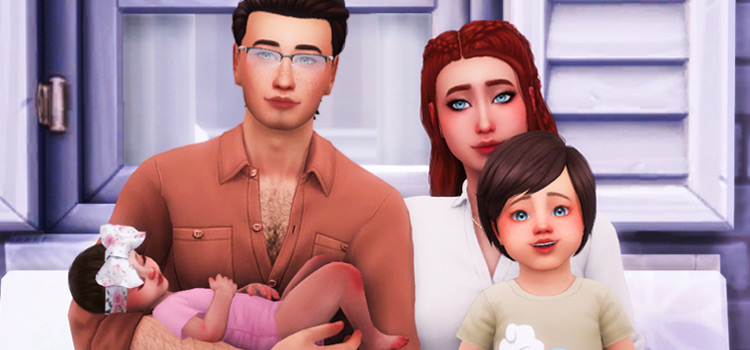 The Sims franchise has always been characterized by virtual families.
I mean, sure, solo Sim households do exist. And many players are just fine flying single the entire game. Totally get that.
But a huge chunk of people who play The Sims 4 prefer more family-oriented gameplay. They start out with one Sim, tie the knot with another Sim and, before you know it they've got a full-tiered family tree going.
Custom poses are a great way to capture and immortalize the daily shenanigans of your Sim family.
And thankfully, there's no shortage of them in the community. If you feel like filling up some family albums, here's a few packs to check out.
1.

Family Portrait Pose by KatVerseCC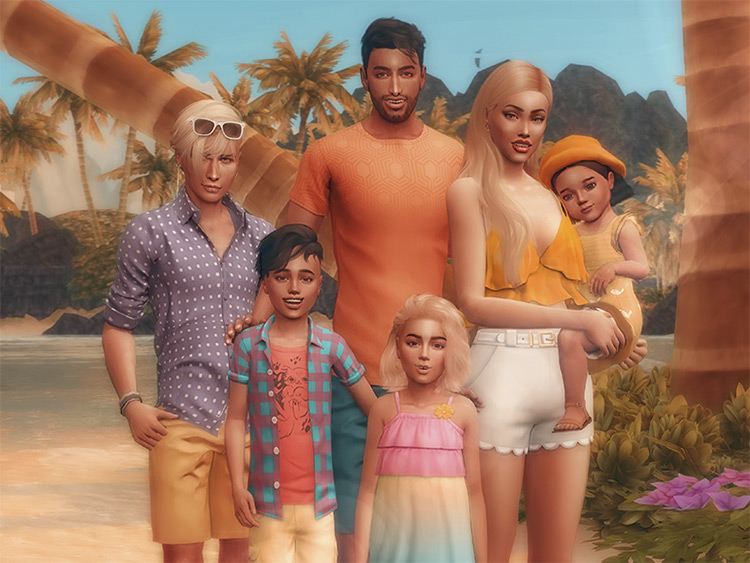 Number of Poses: 1
Let's start with something easy.
This here custom pose is a great option for when you just want to snap a quick portrait of your Sims family.
It's simple, straightforward, and incredibly easy to set up. Two adults, one teen, two kids, and a toddler. Pretty standard lineup for a pretty standard pose, but who says the basics can't be beautiful?
I think it's perfect for an upbeat, positive family having a grand old time indoors or outdoors.
I can also appreciate how the creator included height modifiers so that the age gaps are a little more obvious. And the physical changes are subtle, too.
No squashing or stretching happening here, officer. Carry on.
2.

Bonfire Night by lilalmondsim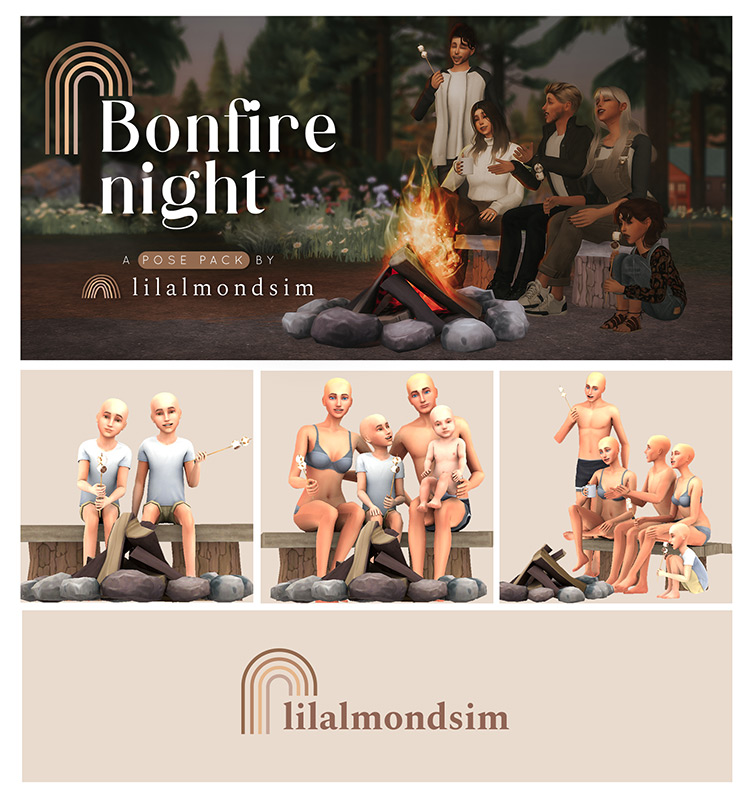 Number of Poses: 3
This custom pose pack can turn the grumpiest of cats into the coolest of kittens, I swear.
It's so cute and sweet and well-made, you can feel the warmth radiating through the screen. I could, and I didn't even place my Sims in front of a fire.
(For reference, I plopped them on a sofa in the middle of the living room just to test the poses. But my point still stands!)
These poses allow for more than two adults, two children, and a toddler, so you can definitely turn this into an extended family gathering if so inclined.
The first pose is for two children, the second is an adorable Simstagram-worthy shot for a family of four, and the third is a general feel-good photo of four adults laughing around the fire (while a child sits at their feet and watches the flames in awe).
All in all, a totally unique concept for a family pose pack. And one that's expertly done.
P.S. Please note that you will need the marshmallow stick accessory linked by the creator in the description. Otherwise some of the poses … won't make sense. I think the third and second poses are passable, but the first looks odd without context.
3.

Family Poses #2 by simsgami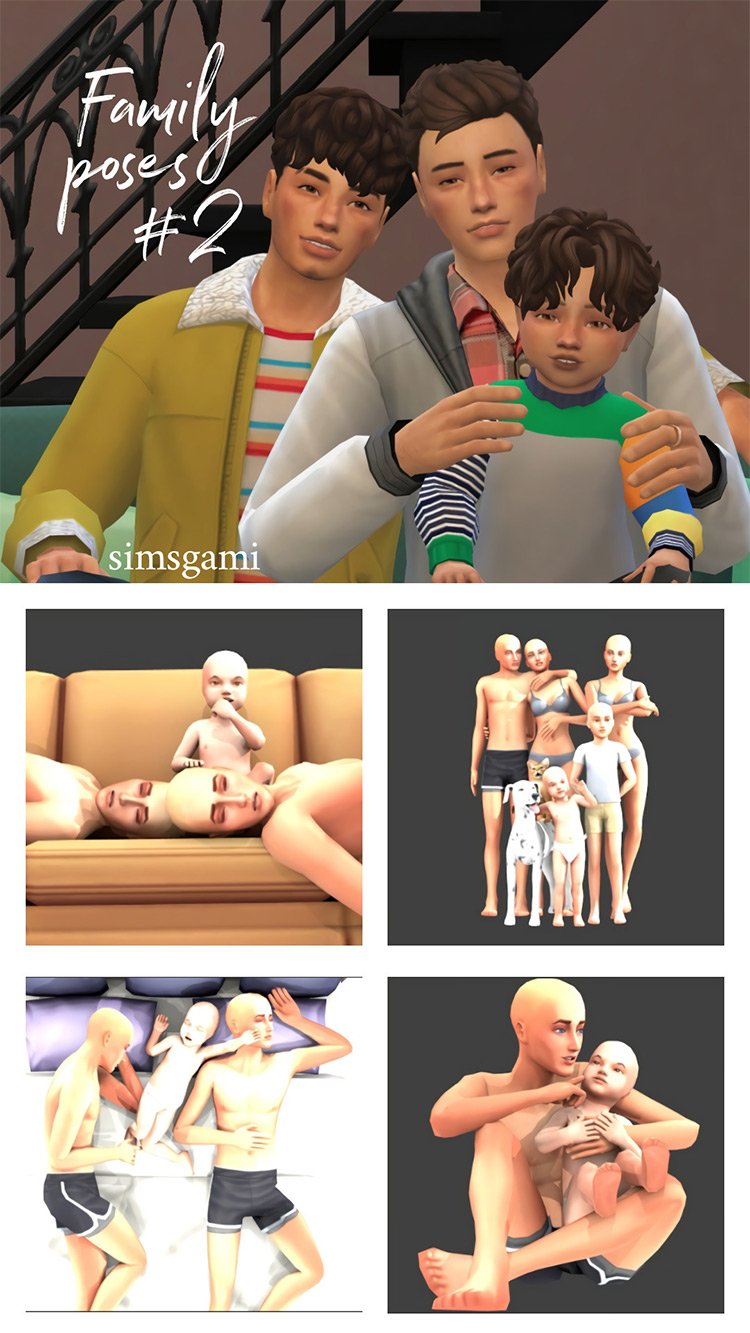 Number of Poses: 5
Want custom poses that exude casual love and familial affection? Because it doesn't get chiller than Simsgami's Family Poses #2 pose pack.
There are five poses in this set, all of which are a mix of posed photos and candid snapshots.
My personal favorite is the pose where the baby/toddler is wide awake while the parents are passed out on the couch (really cute energy, and it's so pure).
But curled-up-and-cuddling-the-toddler is a close second.
Take note that you'll need a dog and a cat for one of the poses too.
You can maybe do without the cat, but without the dog, the toddler's sort of just tremulously resting all its weight on nothing. So maybe take out the toddler if you can't get a dog in there so it doesn't look off.
4.

Family's Poses Mac Allister by helgatisha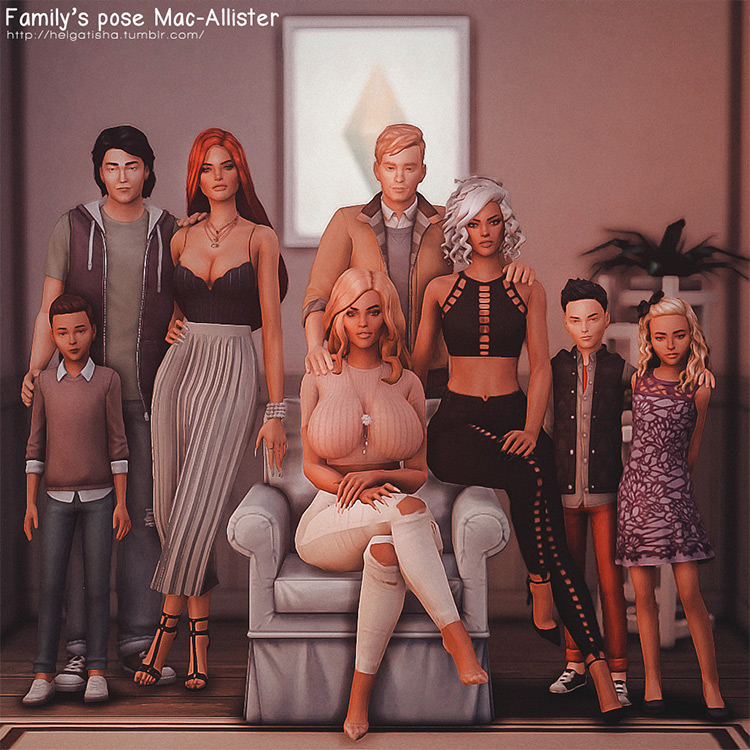 Number of Poses: 1
This is the pose you want to use when you're trying to show off a family that just reeks of money and power.
It's the pose of a family that's completely untouchable – and knows it.
I don't know if it's just the preview photo or if it's the way most of the Sims pictured seem to be looking down on (not at) the camera, but that's genuinely the vibe I got from this photo. A family that's got the resources and connections needed to keep them well above everyone else.
Doesn't help that no one's smiling in the photo, either.
Big kudos to the creator, though. Because this is a pretty high-quality pose that's simple, straightforward, and ridiculously easy to implement.
8 teleporters stacked on top of each other in the middle of the sofa, and bam. Everyone just slide into place.
I sort of prefer placing my Sims families into more casual, candid photos. But I know there are cases when you need a formal pose for a cool family portrait, so here you go.
5.

"LEGACY" Pose Pack by Sofi Sparks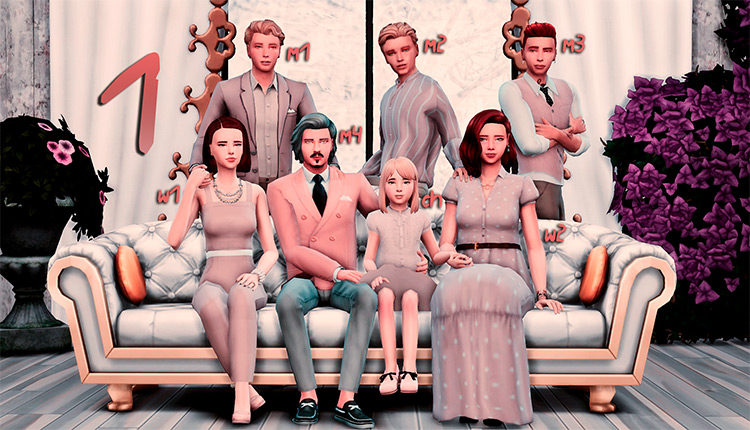 Number of Poses: 4
This Legacy pose pack by Sofi Sparks is an excellent blend of options for different age groups and different settings.
The first pose is mostly adults and young adults with just one child. The second and third are for two parents and three kids. And the fourth pose is completely for toddlers.
The first is a pretty formal family portrait that's reminiscent of helgatisha's Mac Allister pose pack (only slightly less intimidating).
The second is a more casual, but still posed, shot. The third and fourth look like candid photos, and they are absolutely adorable.
The concepts are precious and the expressions are on-point.
My only complaint is that there are no thumbnail photos for the poses in-game. So you need to exit out of the Sims window every now and then to consult the preview photos. Not too big a deal, I know, but it is an extra step you need to be aware of.
Other than that, this pack's flawless.
6.

Our Celebration Set by sciophobis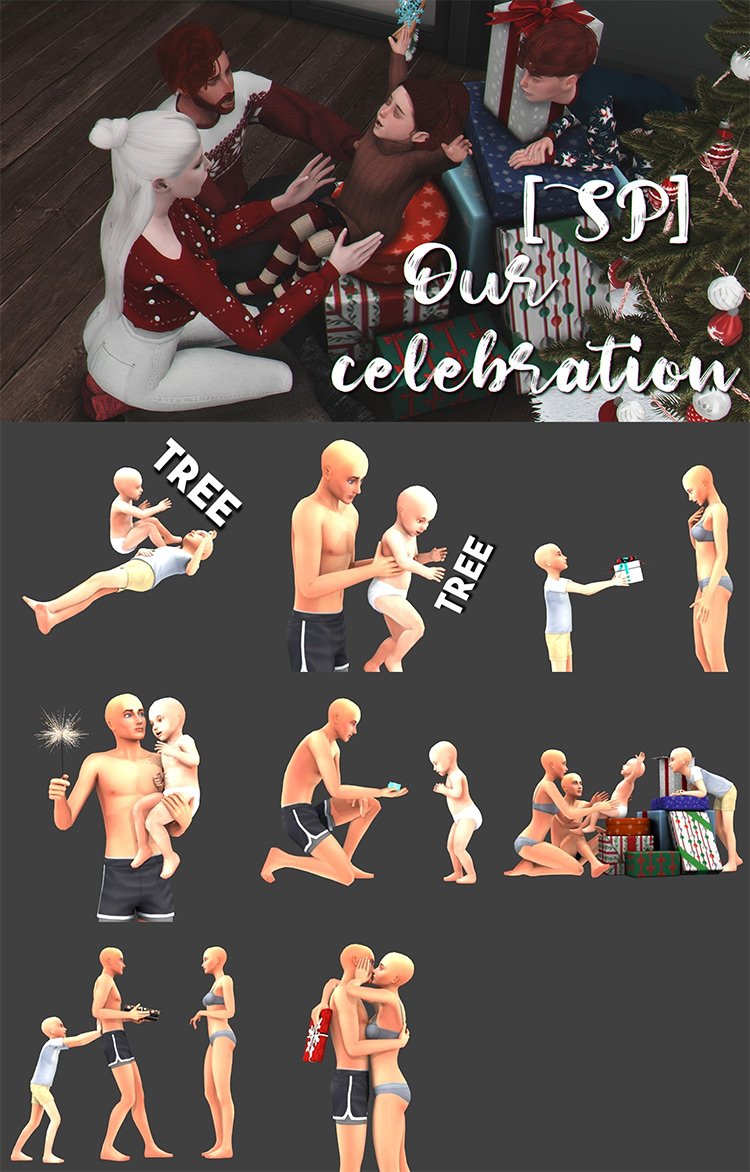 Number of Poses: 8
Okay, so. I'm generally not a big fan of custom poses that require me to download more than a couple accessories or props.
It's just sort of a pain when you're testing multiple poses, and having to jump in and out of CAS every so often just to get the desired effect can get tiring.
So sciophobis's Our Celebration pack almost didn't make it to this list.
But I'm 100% glad I gave it a shot.
Because these have got to be some of the cutest, high-quality Christmas poses I've seen in a while.
They're for a picture-perfect family enjoying a classic storybook holiday celebration. There are gifts, sparklers, toddlers, and a big ole' pine tree that the kids have camped under.
The poses themselves are pretty versatile in terms of Masculine/Feminine Sims, and they all look like the sort of candid shots one would capture on camera (if they had eyes like a hawk and were trigger-happy).
What's more, some of the poses can definitely be repurposed for a different theme, like for New Years' Eve or for someone's birthday.
As mentioned, there are quite a number of accessories needed to match the preview photos.
Three gift box variations, a sparkler, a Christmas tree, and the in-game large pile of presents, to be exact. But I speak from personal experience when I say that downloading all the props and painstakingly placing them is worth the trouble, because the resulting photos are too precious.
7.

"Family Portrait" Posepack by Chaleara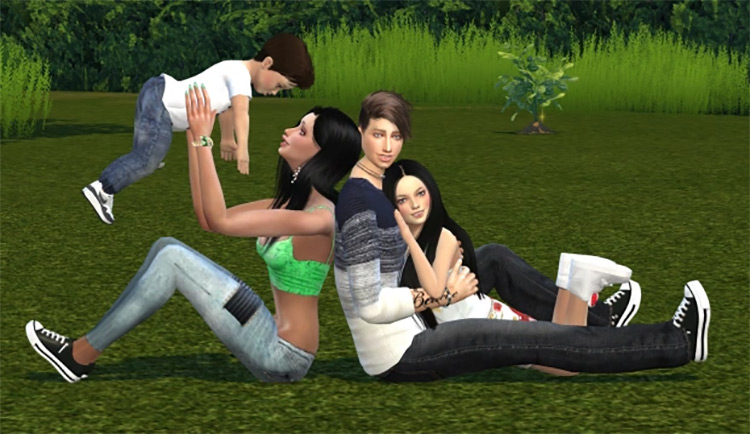 Number of Poses: 4
I wouldn't call these poses "candid," but I also think they're a little too casual and carefree to be considered "posed."
Something that's a mix of both.
Like a family that specifically planned some type of outdoors photoshoot and decided to keep the theme chill. That's the vibe I get when I look at the poses, because all the models seem so relaxed as they beam up at the camera.
The actual poses are variations of pretty typical family photo poses – save for the second one –so there's a bit of familiarity there.
The second one has the all the Sims (except the Female) lying on their backs, staring up at the sky. The Female Sim in question is sprawled all over the Male Sim's chest.
All that said, this set is actually pretty great. And since I've noticed that the poses have little to no space between bodies, I highly recommend it for a Sims family that's extra clingy and extra cuddly.
8.

"Happy Household" Family Posepack by Cement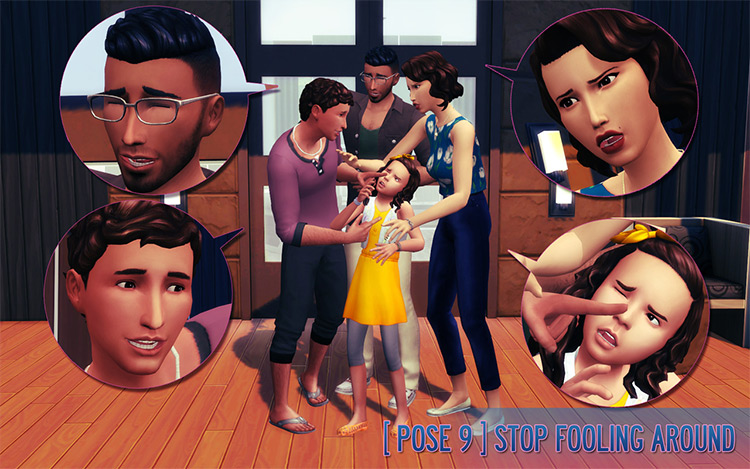 Number of Poses: 10
If you want a ridiculously cute set of poses that perfectly portrays a goofily affectionate family of four, the Happy Household pack by Cement is perfect.
I seriously can't think of any other set that executed the same concept as flawlessly as this creator did.
The poses are all variations of playfully affectionate, quietly fond, and hopelessly loving.
There's one for siblings goofing around, a couple for parents stealing frisky hugs and quick kisses, and even two very sweet ones between an expecting mother and her tiny toddler.
They're also setup beautifully.
No awkward limbs or floating hands. Facial expressions are pretty perfect, too. Plenty of emotions, but no awkward puppet mouths or bug-eyes to be seen.
There's definitely a sort of timeline or progression in this pack, considering you start out with a family of three – two parents, one toddler – and you end with a family of four – two parents, one teen, one child.
So you could ideally use this pose pack for a legacy challenge or "over the years" sort of project, if you so wish.
Barring that, using it for different families at different stages completely works, too.
9.

Family Portrait #4 Poses by Atashi77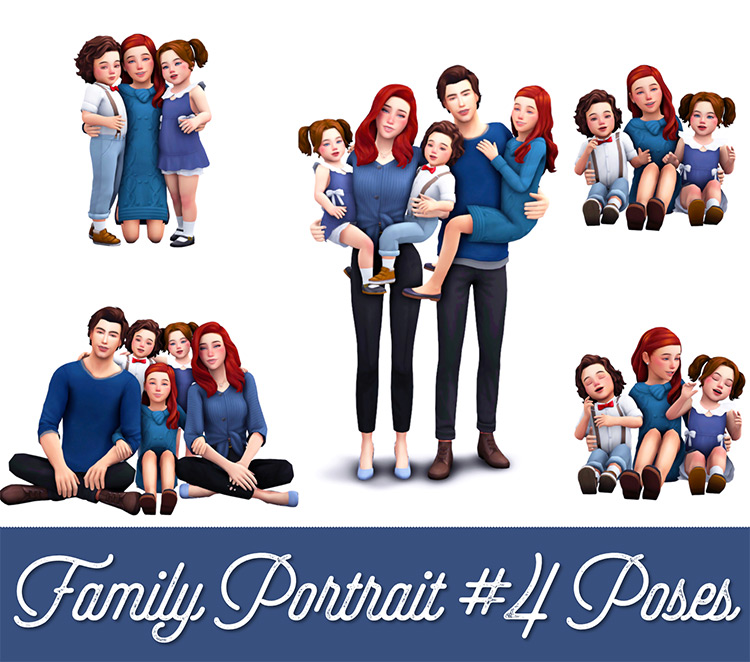 Number of Poses: 5
Atashi77's Family Portrait #4 pose pack has some of the cleanest – and cutest – poses on this list.
Simple positions and a simple concept make for quick and easy posing (and screenshot snapping).
No fuss, no muss, very straightforward.
Designed for a family of five, with two Toddlers and one Child, this set actually has more poses for the kids than for the adults (with a difference of one pose, but still!)
There's one candid shot where the toddlers are laughing and the child just looks so happy looking at them, and I think that's my favorite out of the bunch.
It's so perfect for the doting brother or sister who takes their role as eldest sibling very seriously.
10.

A Family of Four by lilalmondsim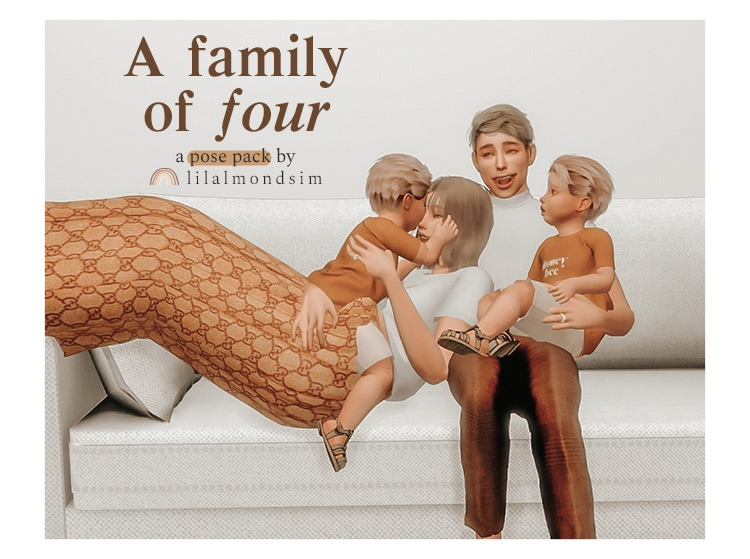 Number of Poses: 3
Buckle in and get ready for another slightly overexcited description of a custom pose pack, because I need to gush about this.
The poses in lilalmondsim's A Family of Four set have hands-down some of the best custom expressions I've seen. Period.
They made my Sims look all sorts of soft and warm and happy.
Speaking of looks, these custom poses exaggerate the facial features in a way that magnifies the emotions without making the models look cartoonish or caricature-like. They genuinely just look so fond and affectionate.
You can practically feel the artificially-generated love radiating from the screen.
You want tooth-rotting fluff? This pose pack, right here.
There are only three poses, but the quality of each of them more than makes up for it. Especially the first one. Just look at the preview photos – and all the nuzzling that's going on – and tell me that doesn't melt your heart.
Something to note about this pack, too:
It wasn't made specifically for a pregnant parent, but the third pose does specify for a Female (or, I guess, any Sim that can get pregnant) in the 3rd trimester.
The other poses look just fine without a baby bump. But the third pose looks a little awkward without it. Like the Sim doesn't know what to do with their hands. Or like they just had a big meal.
So maybe do invest in a pregnancy bump accessory or some post-processing magic.
I tested the poses using my regular Sims – in all their non-pregnant glory – and I was, personally, still pretty pleased with the results.
11.

Three of Us by simmerberlin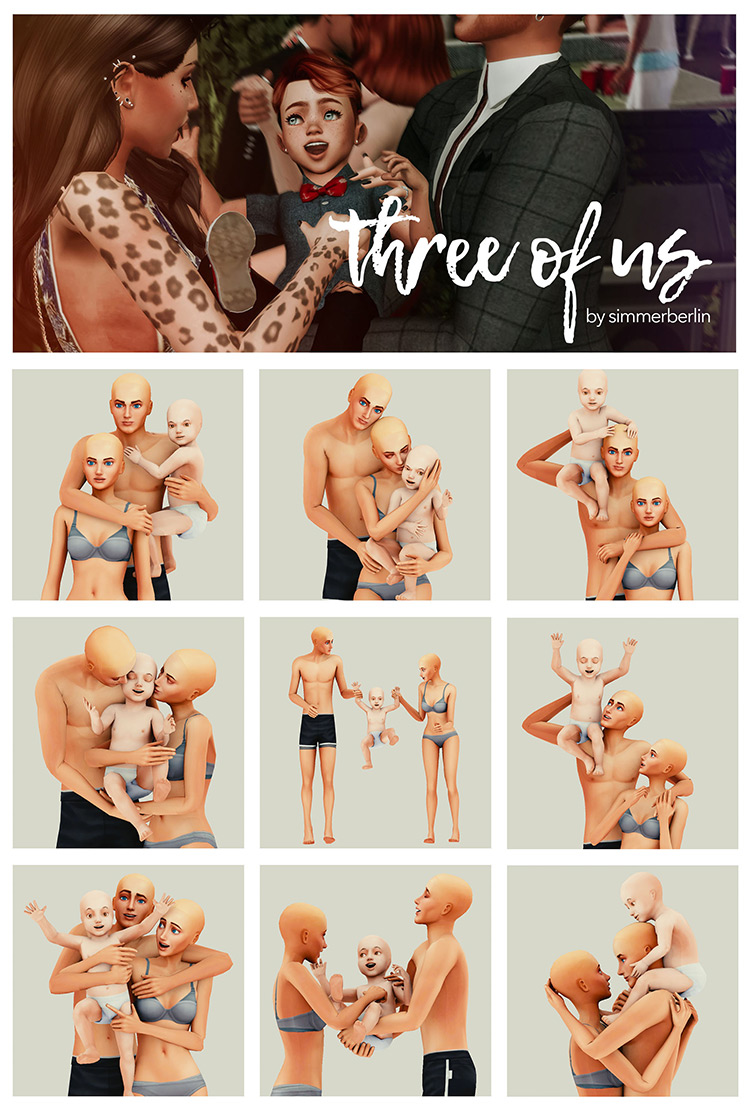 Number of Poses: 9
Whereas lilalmondsim's A Family of Four set gave off that soft, fluffy, affectionate vibe, simmerberlin's Three of Us pose pack is a little more on the romantic, possessive side.
But like the good kind of possessive, don't worry.
The creator describes the poses in this set as ones for "that little family with that little person who makes the days a bit brighter."
I found that so sweet—and so accurate.
The poses scream "fairly new parents who are so ecstatic over their little nugget," and it's a concept that completely works. Hundred percent endearing and photographable.
The facial expressions are also incredibly high quality.
The Female model looks so happy and content, the Male model looks so enamored (and a wee bit haughty, but it's also the good kind of haughty), and the Toddler model looks so damn cute. TS4 toddlers are already painfully adorable in-game, so this was just a double-whammy.
The creator also includes height modifiers in the .package file to achieve the desired effect.
For the record: I wholeheartedly appreciate when creators do that. Saves me from overloading my mods folder. However, the height difference is a little extreme.
Could have just been my Sims, but my Male Sim ended up looking a little too stretched out. So full-bodied shots weren't an option.
Good thing simmerberlin's poses in this pack are just as stunning up close.
12.

Say Cheese by simmerberlin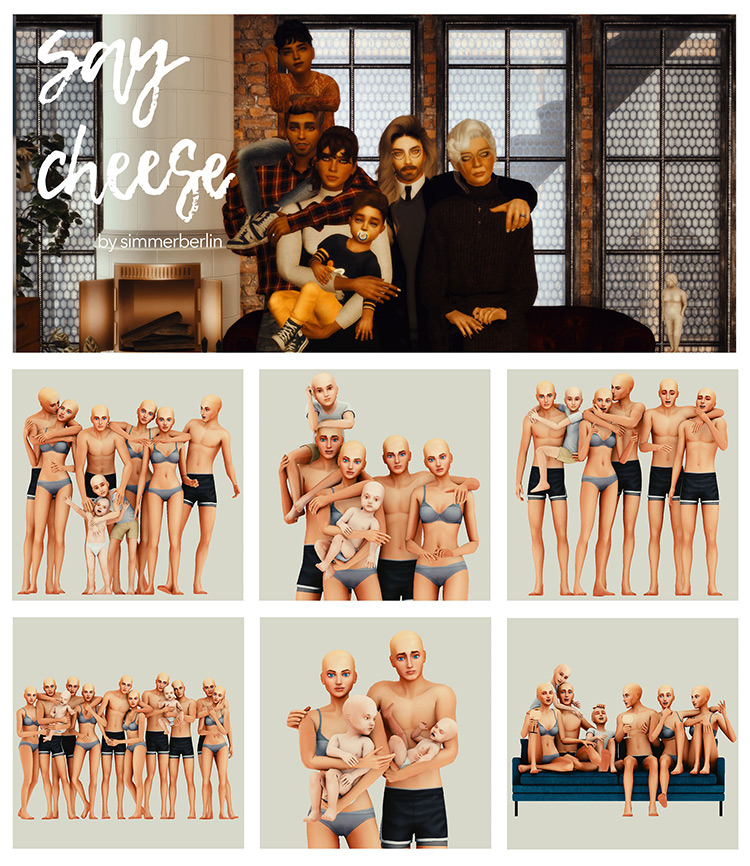 Number of Poses: 6
This pack may not be the most extensive pack on this list, but it definitely has a lot of big group photos.
I count five out of the six pose options where there are more than six Sims in a frame. One of the poses even requires a whopping 12 Sims in it!
If you've got a mod that allows for more than eight Sims in one household, that pose could be perfect for your Sims (and your Sims' extended family). This pack was definitely meant for bigger families with more than two adults/young adults in the mix.
But sheer volume aside, the poses in this set are just as affectionate and beautiful as most of the other poses on this list.
They combine casual affection and familial fondness with just a dash of playful awkwardness – the kind of playful you get when you are one hundred percent comfortable.
Overall, a very sweet set for very big families.
13.

Once Upon a Time by simmerberlin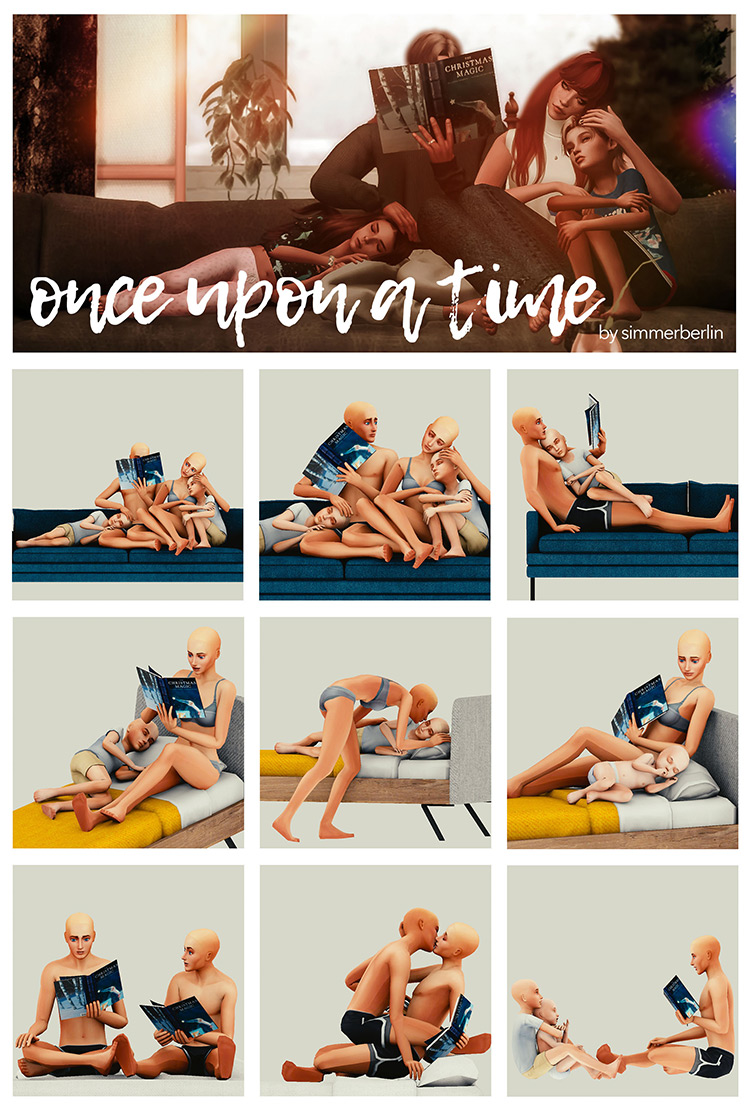 Number of Poses: 9
Simmerberlin is really spoiling the community with these painfully cute pose packs.
Here's another set just chockfull of custom poses that depict quiet, precious family moments.
Specifically, parents reading their kids to sleep. It's definitely a one-of-a-kind concept (in terms of family-oriented poses) that's been executed near-flawlessly.
The expressions are lovingly soft, the features subtle but still emotional, and the positions just too adorable.
I am an especially big fan of the first two poses, where all your Sims are just puppy-piled on one couch. The looks on the faces of the adult Sims in both poses – but particularly the second pose – are just so freaking fond.
But I will point out that not having the book accessory turns every pose awkward, so be sure to download the one that simmerberlin links in the description.
14.

Family Matters by talentedtrait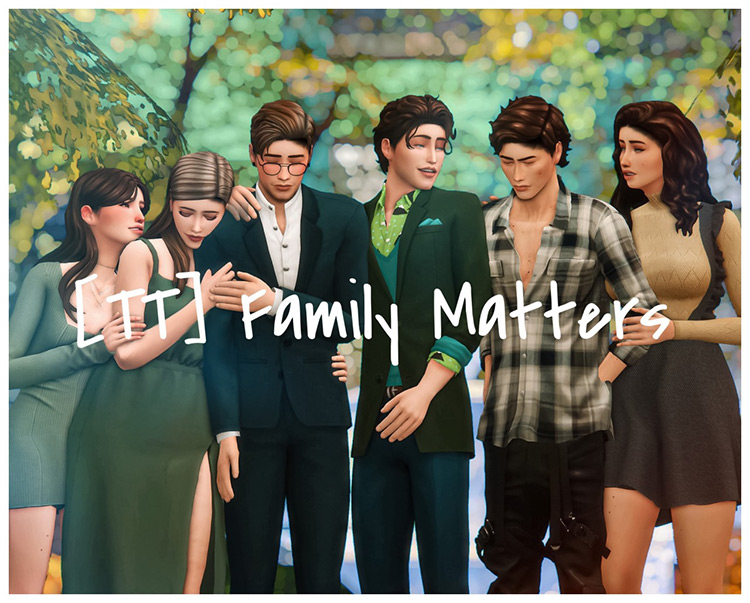 Number of Poses: 3
Right off the bat, you may notice that these poses don't incorporate a lot of toddlers or children.
Heck, the first one (and the main preview photo) is basically all teens/young adults.
There's a reason, I promise.
Apparently, the creator's own Sims family is made up of mostly teens and up now. So they created these poses to suit their setup.
If your own Sim family has more tiny Sims than full-sized Sims running around, this might not be the best pose pack for you.
But if you've got plenty of teens and adults on the premises, I highly recommend this pack.
The three poses in it are great for a fairly large (or extended) family that's pretty affectionate. And has no regard whatsoever for personal bubbles.
The second pose is a particularly good balance, I find, of the first pose and the last.
By the by, if you want to use the third pose, just know that the creator apologizes in advance. And recommends you save the photo for reference. I, having struggled for hours with the third pose, highly recommend that too.
15.

Family is Everything #1 Pose Pack by Bored Sims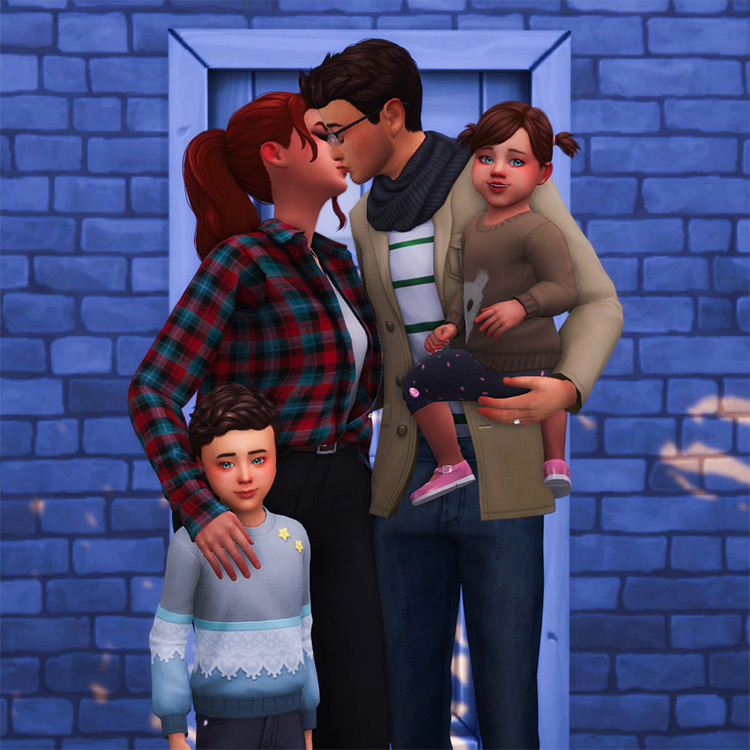 Number of Poses: 8
Ending this list with a casually happy set of poses, this Family is Everything pack is probably the most balanced of the bunch.
There are poses with adults and kids, teens and adults, just teens, and just adults.
These poses are mostly posed-for setups, but there are two candid poses in there that I absolutely adore.
Especially the sixth one, where the Child Sim is piggybacking and the Toddler Sim is being cradled.
The custom expressions are golden. They made my Sims look genuinely happy, and that's not an easy feat considering my Sims look like plain potatoes on most days.
All jokes aside, I'd describe the vibe of this pose pack as "gentle and affectionate".
Perfect for several different families of varying numbers, or one big extended family posing for smaller group photos.
Browse:
Lists
The Sims 4
Video Games