Farm CC For The Sims 4: Clothes, Décor & More
This post may contain affiliate links. If you buy something we may get a small commission at no extra cost to you. (Learn more).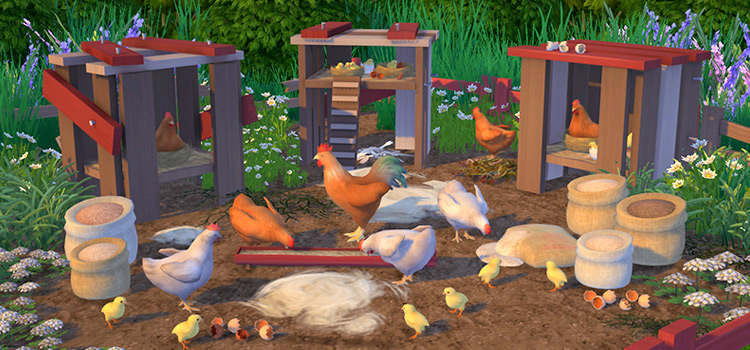 You hear that?
It's the chant of thousands of Simmers who want a farm-themed Stuff Pack!
Farming is often the most requested theme for future packs, just behind cars and improved babies.
While we have gardening and even a Country Kitchen kit, the ability to tend to animals, grow new types of fruits and vegetables, and oversee farmland is still missing from the game.
We're sure it's coming around the bend sometime in the future.
But in the meantime, we've got some fantastic farm-related CC right here that'll give you the country experience you've been looking for.
Garden Crop CC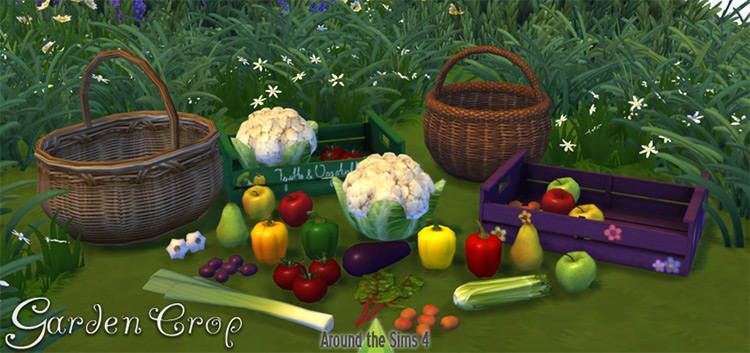 We're starting off with a great set from talented CC creator AroundTheSims.
The Garden Crop collection has everything you need to show visitors the fruits (and veggies!) of all your labor on the farm.
Enjoy two styles of baskets and a crate for holding your produce, plus 11 different décor items – including some not available for harvest in-game such as leeks, eggplants, and chard.
Country Coffee Tea Maker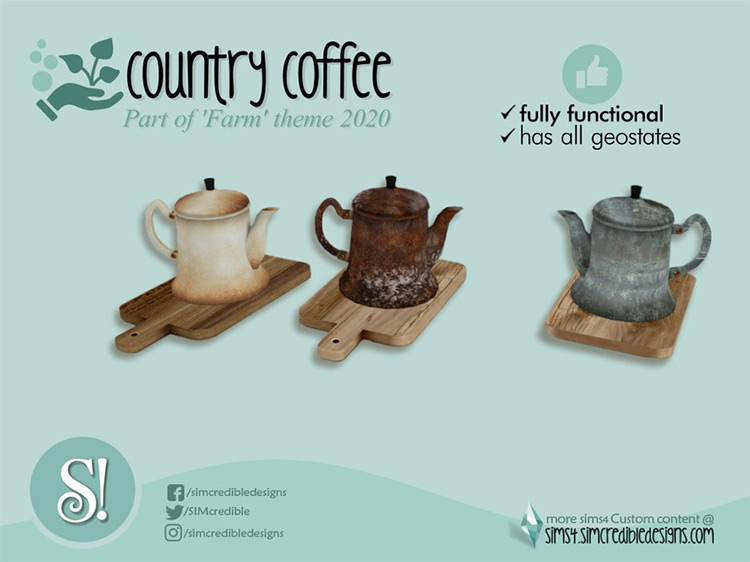 Tea just tastes better on a farm.
But only if it's made properly.
Rest assured, your Sims will be steeping the perfect herbal brew with SimCredible's Country Coffee Tea Maker.
We know it says coffee, but the item was cloned using the in-game tea maker.
So no cups of joe while using this!
That said, the rusted metal look is a perfect aesthetic for any country kitchen.
It comes in four variations and appears to be base-game compatible. And if you love it, check out Simcredible's full Country Coffee set!
Farm Collection Skirt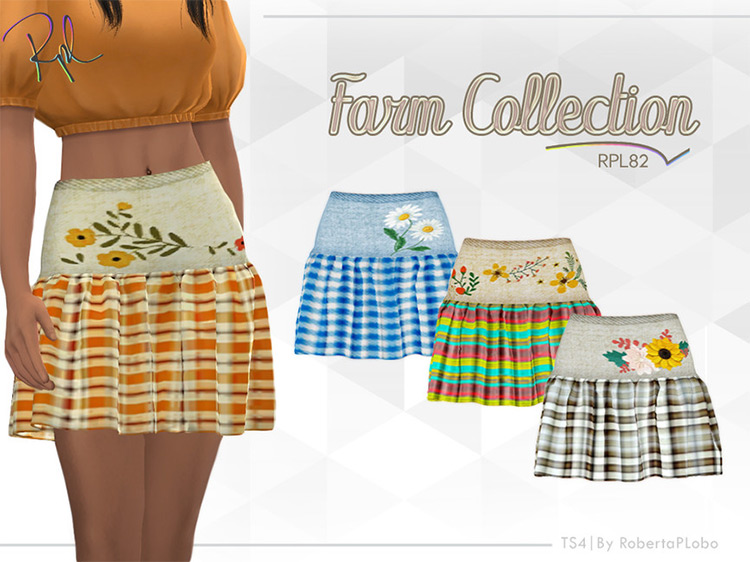 Country living has its own unique culture.
And the clothing is certainly no exception.
Here's a cute farm-style skirt by RobertaPLobo which has the down-home country look for those warmer months in your game.
This frilly, floral-patterned skirt is adorable and comfortable.
Plus it comes in four colors – yellow, blue, white, and multi – and can be worn by Teens through Elders.
It's also HQ, and you only need the base game to wear it.
Farmer's Crates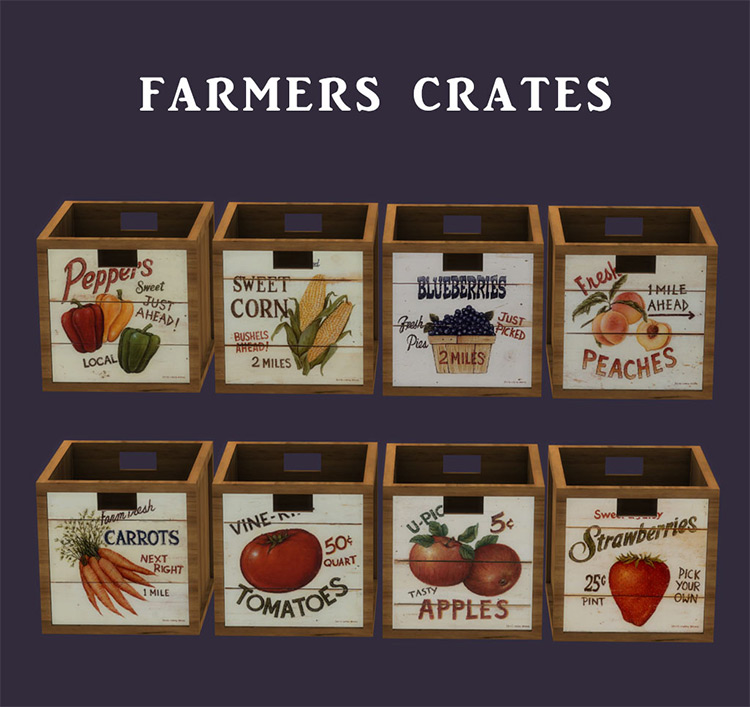 When you own a farm, you need crates to hold the plentiful bounty of each harvest.
LeoSims' Farmers Crates are HQ produce-specific décor boxes to make your garden look as authentic as possible.
Originally made by Cassandre for The Sims 2, now converted over into The Sims 4, this is a must-have addition to any farm build.
You'll find all these in 8 swatches: peppers, sweet corn, blueberries, peaches, carrots, tomatoes, apples, and strawberries.
Farmhouse Furniture Set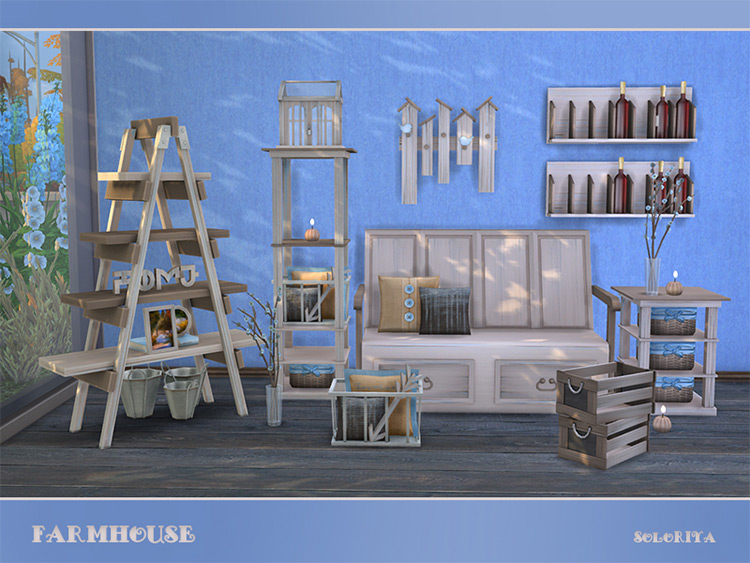 Farmhouse doesn't always have to mean rustic.
Take this custom Farmhouse Furniture CC set, for example.
It's a 14-item collection created by Soloriya that offers a modern interpretation on the farmhouse theme, while still maintaining rustic charm.
A full living room set consisting of a loveseat with matching pillows, end tables, a unique ladder made into storage shelves, and more.
Grab the whole set above, or pick and choose what you want here.
Gardening Foyer Decor – Rake and Shovel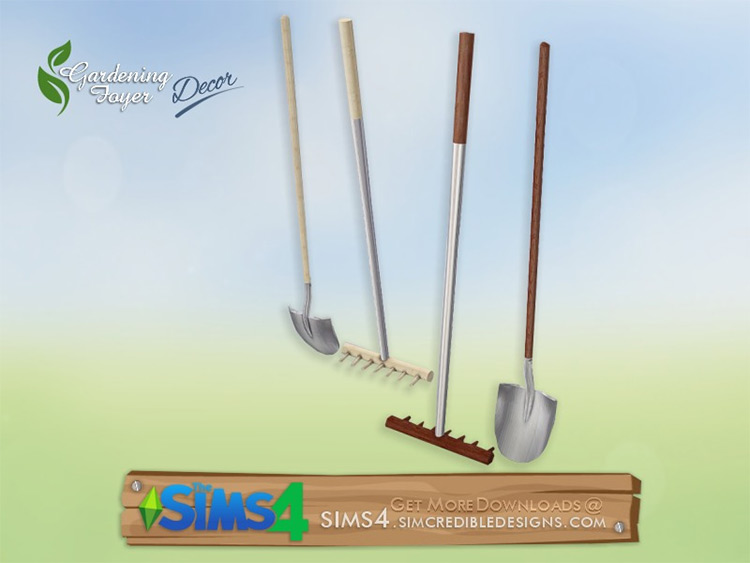 What's a farm or garden without must-haves like a rake and shovel?
Simcredible's Rake and Shovel set is simple and sweet:
Just choose from a total of three swatches of a rake and a shovel, both décor only.
Both are designed for placement against a wall, so be sure to set these against the house or barn for extra realism.
And if you like it, check out Simcredible's full garden decor collection!
Vintage Farmhouse Mini Set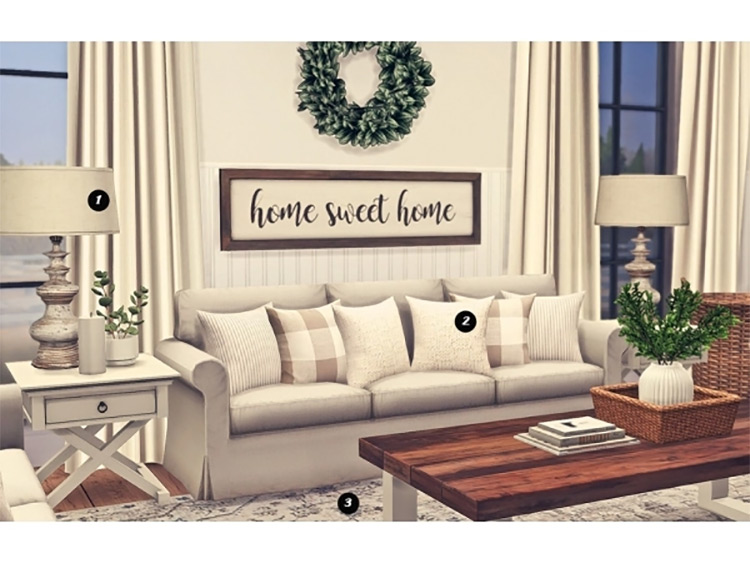 Looking for a more plush farmhouse decor set?
Well I'd say this vintage-themed CC set by BloomingRosy has the soft comforts of home that would feel perfect for a modern or classic farmhouse.
Featuring throw pillows, lamps, and beautifully faded area rugs, you'll have no issue finding the perfect color scheme – since all three items come with over 80+ total variations.
Remember to grab all the necessary meshes before adding this one to your game.
Farm Fresh Folk Set Dress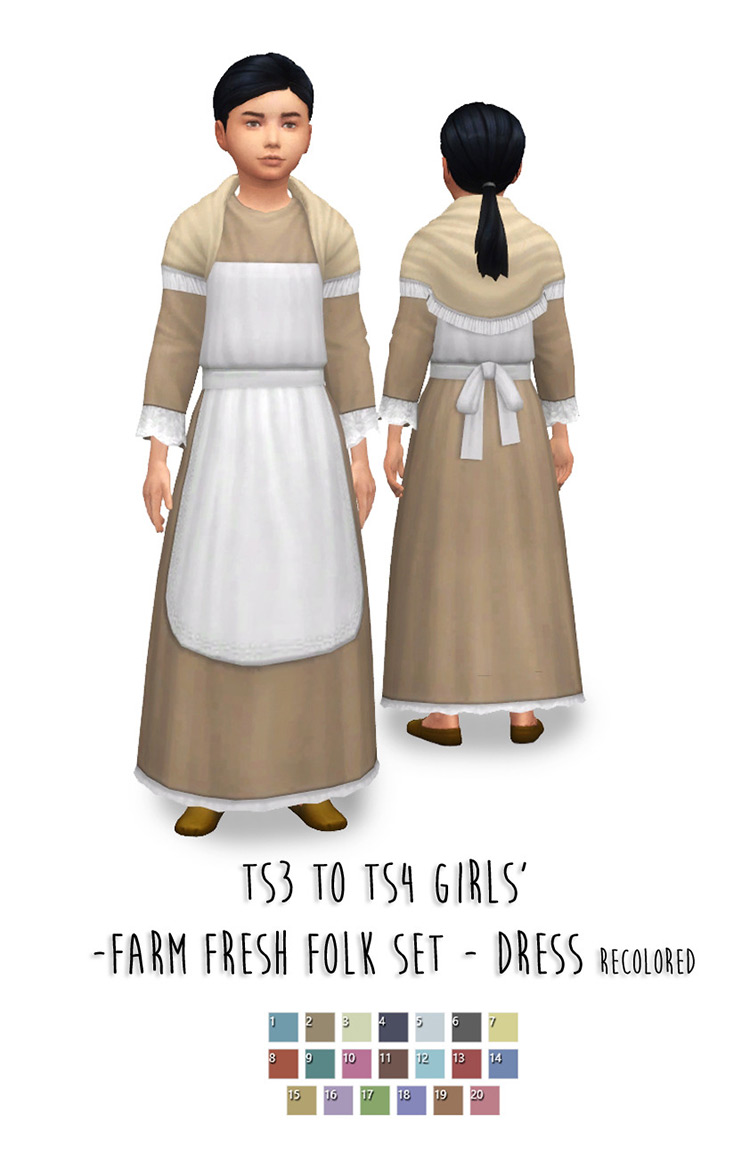 If your farming Sims are more Little House on the Prairie than Stardew Valley, you'll need the right outfits to look the part and give your gameplay that authentic feel.
Zulf12's custom folk dress CC is a historically-friendly outfit for little girl sims, consisting of a long dress with an apron and a shawl around the shoulders.
There's 20 recolors in total here, and you'll need the mesh by Cepzid first before you can get it installed.
Curtain Country #3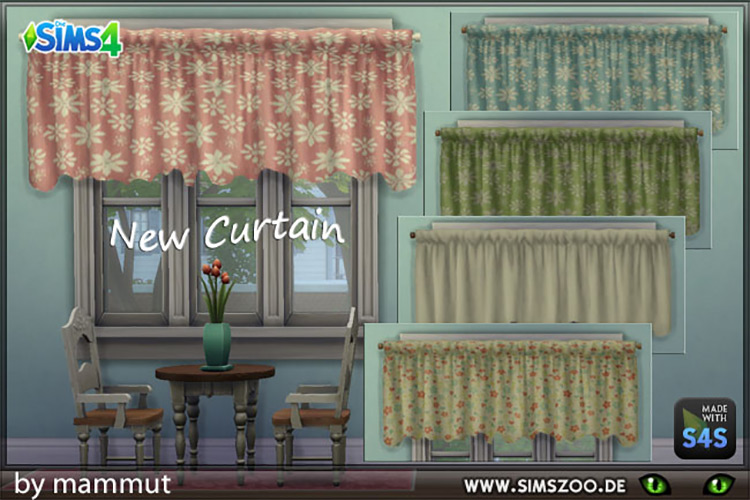 Even with all owned packs, it seems like there's never enough curtain options in the game (and even fewer country-themed ones).
This custom curtain CC by Simzoo is a beautiful, floral-patterned curtain best used with wide picture and bay windows.
And it only covers about half the window, so Sims can still see the great outdoors unobstructed.
Buy in five variations: floral pink, blue, green, multi, and solid cream.
Custom Garlic, Parsnip & Cucumber Plants
IceMunMun.
Remember this creator!
Not only will you see her mentioned several times on this list, but she's definitely one of the most talented CC creators for The Sims 4 when it comes to farming/rural gameplay.
And we'll start with a mod right here that adds new harvestables to the game.
When it comes to growing crops, the more variation, the better.
This mod will add three brand-new vegetable types that you can grow, harvest, sell, and eat like any other in-game plant!
And no need to worry about owning Seasons or any pack that might affect gardening, because it's base-game compatible.
Note: IceMunMun also has a TON more harvestables, so check them out here.
Rustic Refrigerator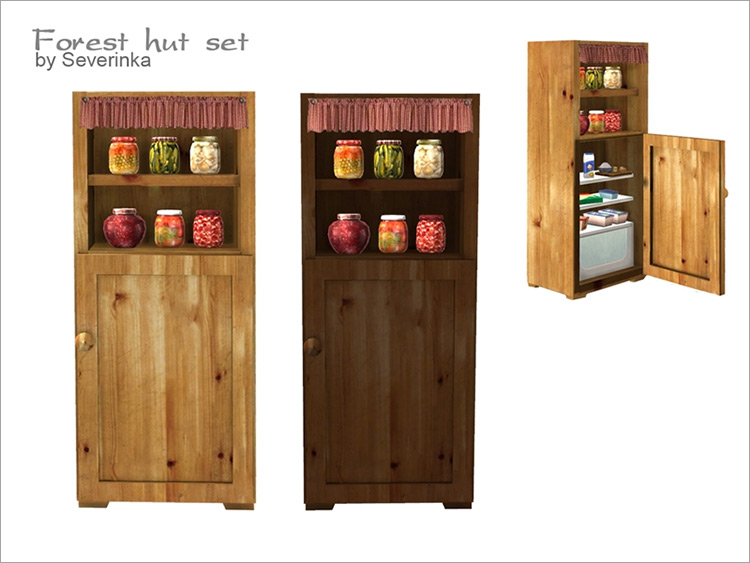 Unless you own Country Kitchen Stuff, there are few EA fridges that would blend in with a country kitchen.
Thankfully, the Rustic Refrigerator by Severinka does it right.
The wooden exterior makes it look homemade, and does away with your top freezer in favor of shelves for canned goods.
I also *love* the little curtain above the pantry area.
It's fully functional and part of the Forest Hut set, so if you love cabin-themed furniture, give it a try.
Rustic Elements CC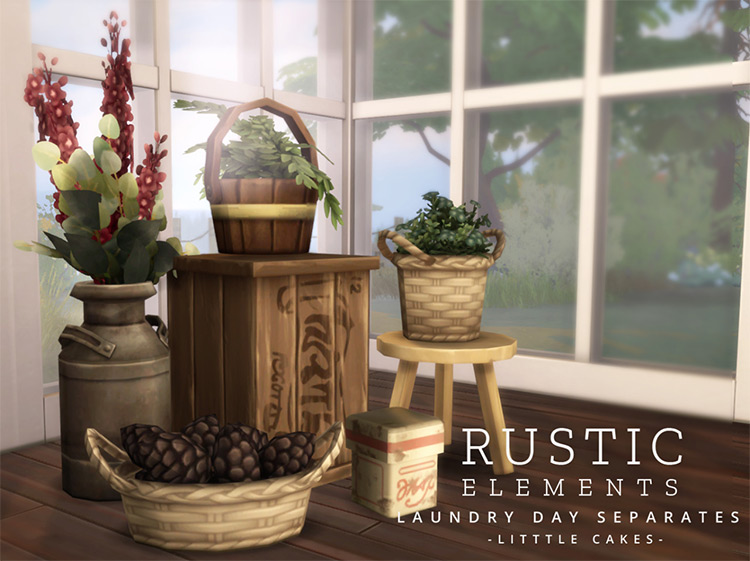 Here's a pack offering touches of the country life without committing all the way.
That's what you'll find in Littlecake's custom rustic décor collection.
And you'll get 7 items in this set, including a basket, a stool, three potted plants, and more.
It's the perfect way to add farmhouse chic to your Sims' homes, while maintaining their current decor theme.
Most of the meshes were used from Laundry Day, so make sure you own this pack before downloading.
Cousin Jeb's Rocking Chair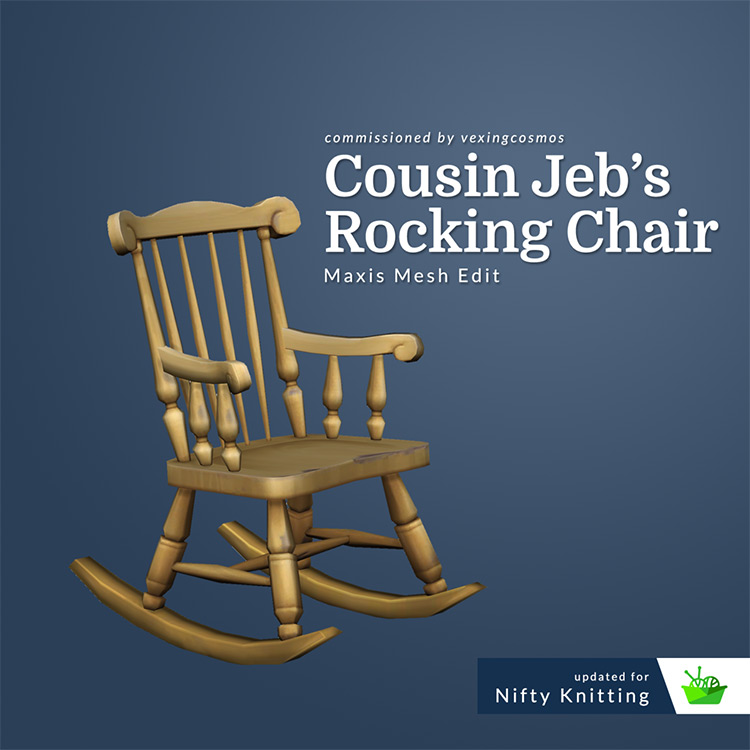 Giant porch.
Iced tea.
Golden sunset.
There's just one thing missing…
A rocking chair!
And thanks to CC creator Linzlu, this rocking chair is everything that country Sims need to properly enjoy all that wide open space and gorgeous scenery.
If you own Nifty Knitting, then this chair is fully functional and will rock back and forth.
If not, there's also a base-game compatible version that won't rock, but Sims will still be able to sit in it and enjoy.
And the rustic faded wood design comes in 38 total swatches.
Chickens CC Part 1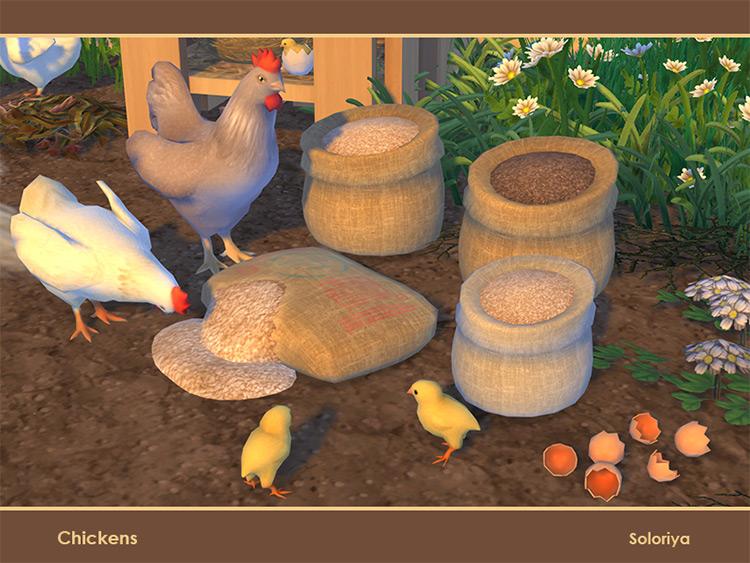 Chickens…. with none of the maintenance or mess.
Soloriya's Chickens CC are technically decor; they're not animated and don't have needs.
So this 10-item set is purely for aesthetics.
But if this isn't quite what you're looking for, then keep reading – we got you covered further on this list!
For those that are interested, this set includes three kinds of chickens and nests, 2 types of chicks, a rooster, and eggshells.
Note: Soloriya has since released another Chicken set worth trying out too, which you can download here.
Fruit Farm Organic Jams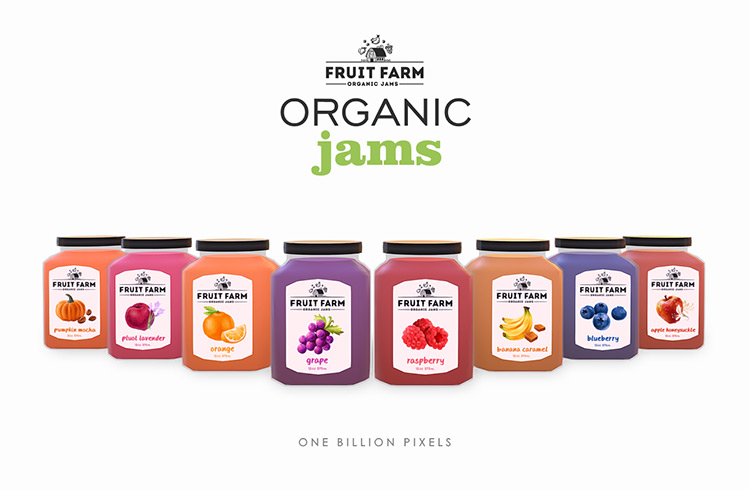 Here's some great kitchen or pantry clutter for your farm.
These custom jams made by OneBillionPixels are only decorative. But they'll still look delicious to a hungry Sim browsing the kitchen for a snack.
Ear jar has a high-quality label, with eight swatches in total.
And even though they aren't functional, you can still sell them at retail stores for a profit if you own Get to Work.
Rustic Potting Bench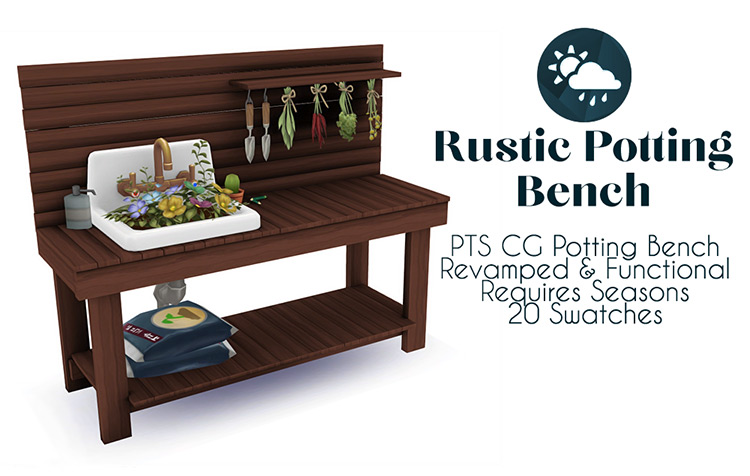 The flower arranging table from Seasons is already farmhouse friendly.
But CoreopSims' Rustic Potting Bench is truly DIY in appearance.
The table appears to be made entirely from wooden slats, the result of a very handy Sim with time and resources on their hands.
There are also some nice decorative touches like the sink, bags of potting soil on the bottom shelf, and hanging tools and plants just above the workspace.
You get five swatches in all, and since it uses Seasons, you'll need to own that pack to use it.
Farmhouse Study Room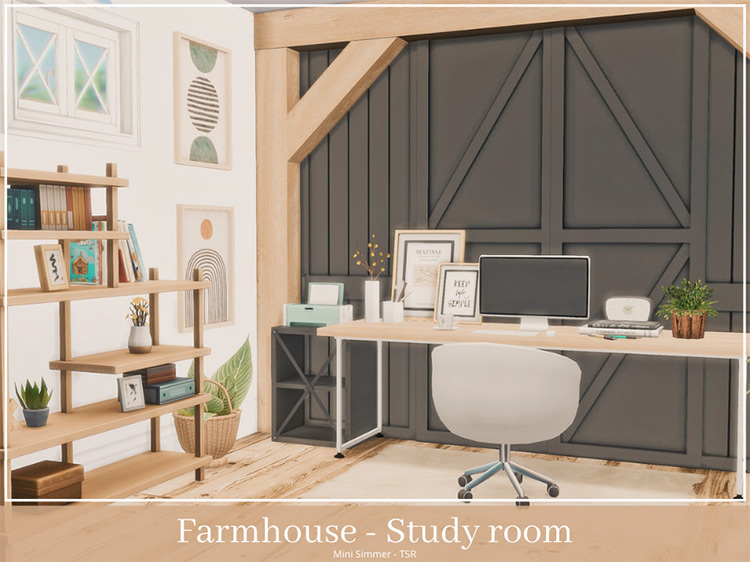 Have your Sim study and read in quiet bliss with their own custom study by adding this custom room into your game, made by MiniSimmer.
This spacious, modern room has a computer and bookshelf for all your Sims' studying needs – plus great farmhouse decor touches such as wooden slats and barn door wallpaper.
Reminder that this is an already furnished and built room, not just a CC set.
So download, add to your tray files, and enjoy!
It's also reasonably priced at just 5k simoleons.
And before installing this room, be sure to check both the Creator Notes and Required categories on this to see which packs and CC you need to add to your game.
From Dusk Till Dawn Clothes Collection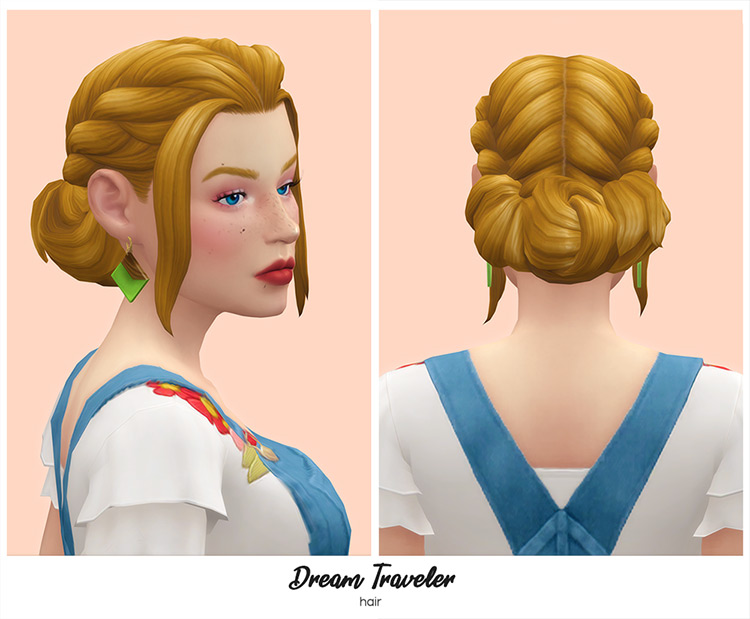 No need to worry about vampires (except for Vlad, maybe) with Joliebean's From Dusk Till Dawn Collection.
This clothing CC pack provides functional, comfortable outfits for all your country Sim's needs.
Perfect attire for working those crops and tending to the farm.
There's a total of five outfits here, including two long, breezy dresses, two tops and skirts, and a set of cute non-denim overalls.
These are all base-game compatible and not allowed for random, so you won't be seeing random townies rocking countrywear for no good reason.
Functional Chicken Coop v2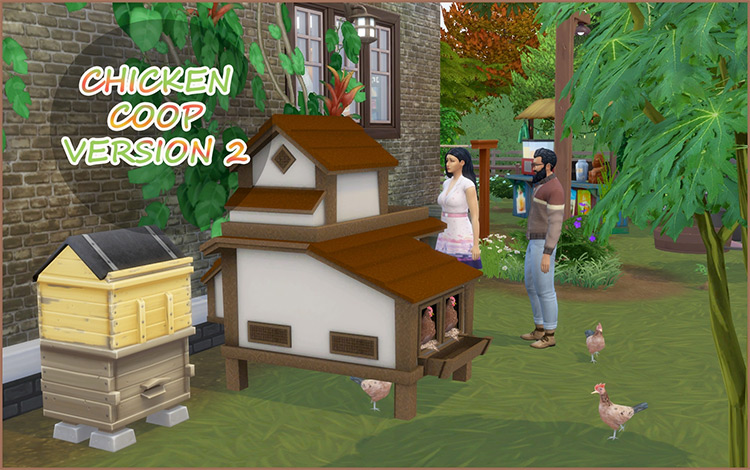 We hope you remembered IceMunMun, because this mod is the mod for Simmers who need functional farming mods to tide them over.
The Functional Chicken Coop is just that: functional.
Yep, you can furnish this (nameable) chicken coop, feed chicken, plus even talk to and spend time with said chickens.
Oh, and you can also harvest edible eggs.
And with the release of v2 for this mod, IceMunMun added animations for chickens to walk around the coop.
What more can we ask for?
We can't stress this enough – this mod is an absolute game changer.
And it would have easily taken the number one spot, but we're saving that for something even more mind-blowing….
Dairy Cow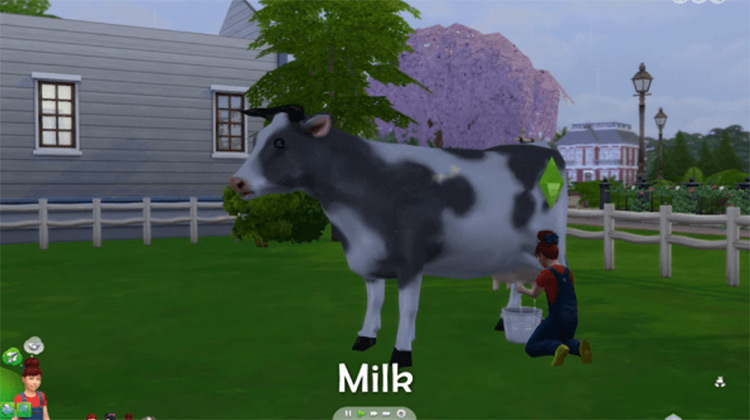 A functional dairy cow in The Sims 4.
Of course it's IceMunMun again (along with PandaSama and MizoreYukii) being amazing and completely changing the game with this unprecedented mod.
Let's get straight to it.
This mod lets you:
Buy a dairy cow (!) in seven different swatches
Name/rename the cow
Feed hay or seeds
Collect, sell, and/or drink milk produced by the cow
And while this one might make cow lovers a little sad, you can send your cow 'away' and receive meat in exchange
And that's just some of what this mod can do.
Honestly, we'd recommend this mod to anyone who's been dying to have farm CC in their game – even the people who don't use CC!
Trust us, it's totally worth it.
Browse:
Lists
The Sims 4
Video Games