The Sims 4: Best Farmhouse Décor CC & Mods
This post may contain affiliate links. If you buy something we may get a small commission at no extra cost to you. (Learn more).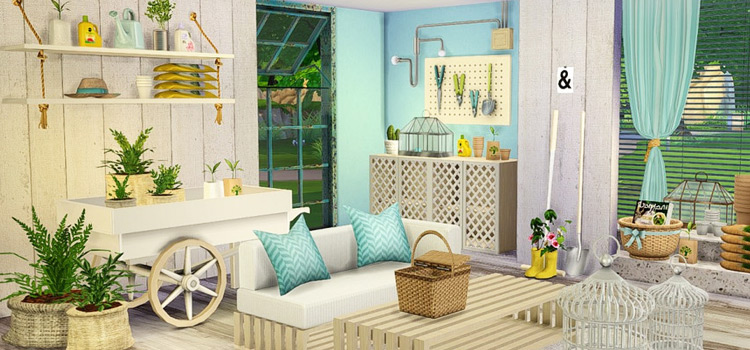 We live in an age where people religiously watch TV shows about renovating seemingly hopeless homes to send their market value skyrocketing.
Disenfranchised twentysomethings still dream of escaping to the countryside and living "the simple life."
And cottagecore is an actual thing.
So it comes as no surprise that the Simming community is obsessed with charming, rustic, and woodland-whimsical builds.
Farmhouses just happen to fall in those categories.
If you need a break from all the modern, urban, chrome-and-glass-heavy builds, take a look at the list below: all the CC you need to create a cute and freshly-renovated farmhouse for your countryside-bound Sim.
1.

Farmhouse Set by soloriya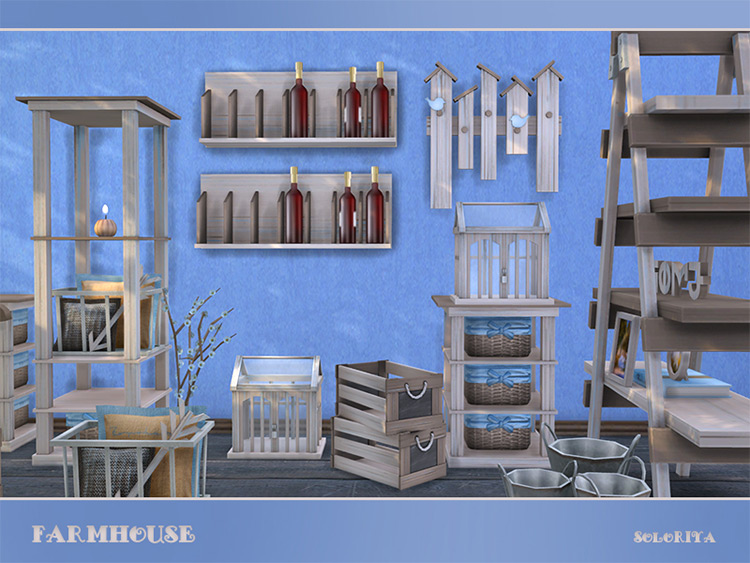 This modern farmhouse set utilizes classic wood textures, soft beiges, and the barest hints of light, muted colors to create a tastefully rustic – but cozy – look.
The preview photos alone should tell you how gorgeous they are (especially with dappled sunlight thrown over them), and I promise these items look just as good in-game—even in Laptop Mode!
Use it to give your seemingly-abandoned farmhouse a nice, contemporary interior, or add a touch of country comfort to your modern build.
This CC pack adds a total of 14 new objects to your game, and each object has roughly 3 color variations.
From a beautiful 'HOME' deco sign in Simlish, to a pair of cute throw pillows decked in very simple, homey designs (check out the button detailing on the larger one), every piece in this set is the epitome of beauty in simplicity.
2.

Rustic Kitchen by michelleab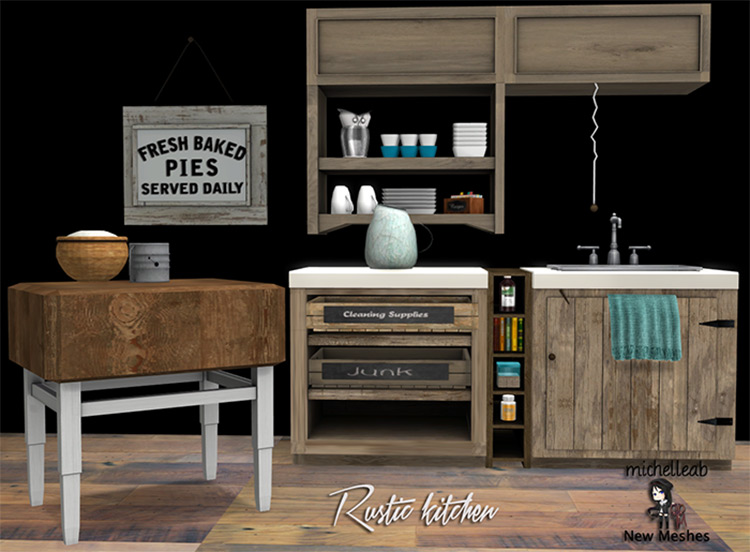 For the discerning chef who prefers their kitchen well-worn and cluttered – as opposed to glistening, chrome, and clinically clean – this Rustic Kitchen CC pack is a must-have.
The textures and designs of the different items give the impression that they're constantly and lovingly used.
The worn butcher block, the playfully-labeled crate-shelves, the mismatched plates, the cracked stone pitchers—they all give off the vibe of a warm, homey room.
Maybe one that has housed and fed a loving, farmhouse-dwelling family for years.
3.

Industry Windows for All Wall Size Pt. 2 by BuffSumm
Farmhouses are known for their big, airy windows.
When you think farmhouse, you think well-lit with natural light. None of those artificial fluorescent lamps and lightbulbs, no sir!
The sun is the main light source here. And you're only going to get as much of it as you can with windows. Big, big windows.
The kind that start a foot from the floor and go all the way to the ceiling.
Enter BuffSumm's Industry Windows for All Wall Size pack.
They originally intended these windows to be used for converted-factory-buildings and urban-industrial-type builds, but I personally think they'd suit modern farmhouses and country-cottage-style homes just fine.
Think stepping-stone pathways, exposed brick, white trim—all that good stuff.
4.

The Sims 4 Rustic Romance Stuff Pack by The Plumbob Tea Society
The fact that this honest-to-goodness stuff pack that contains 70+ CC items, and is completely free, almost feels criminal.
The concept is elegant, excellent, and something Simmer's can definitely use.
Plus the items here are well-crafted and look absolutely beautiful in-game.
The creator/s even went through all the trouble to include highly-detailed Item Index so you can pick and choose which ones you want! (There is, of course, the Simfileshare option to download the entire Stuff Pack as a merged .package file.)
Aside from several striking new chairs and aesthetically eccentric tables, the entire Rustic Romance Stuff stuff pack adds 2 new hairstyles for Females (Luna Hair and Sola Hair, both Maxis Match), several new dresses, pants, and suit jackets, new accessories, two new shoes (one for Females, one for Males), and new in-game poses.
I know. It's a lot up for grabs.
To be honest, since the whole theme of the pack is Rustic Romance, all the CC items in here work for a country wedding.
But you can opt to just download the furniture and décor pieces separately to create a farmhouse build.
What's more is that romance is a big part of The Sims games, so all the contents of this pack can be used again and again for different families, storylines, and save files.
5.

Rustic Country Set by soloriya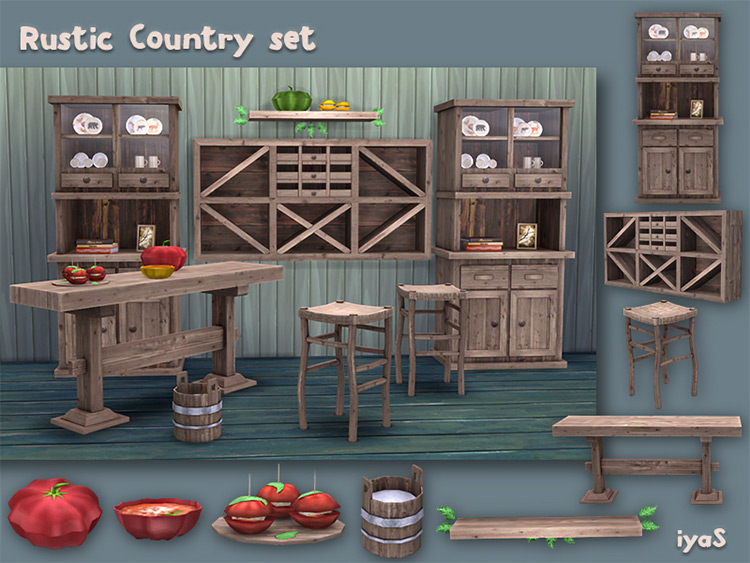 If you want furniture and deco pieces that look like well-worn heirlooms, I highly recommend soloriya's Rustic Country Set.
Just like michelleab's Rustic Kitchen set, this CC pack contains nine new Build/Buy items that have that natural worn-wood look to them. Mostly to create a cozy, rural atmosphere.
The creator says they employed "sticks, twigs [and] logs" and incorporated accents that appeared "timeworn" to give your builds that lovely lived-in look.
I think they pulled the concept off perfectly.
Aside from some tables, stools, and shelving units that all look hand-carved, there's also a cute tomato-shaped casserole and a tomato-shaped soup bowl.
Really gives this set character—and a pop of color!
6.

Stoves and Mantelpieces by Severinka_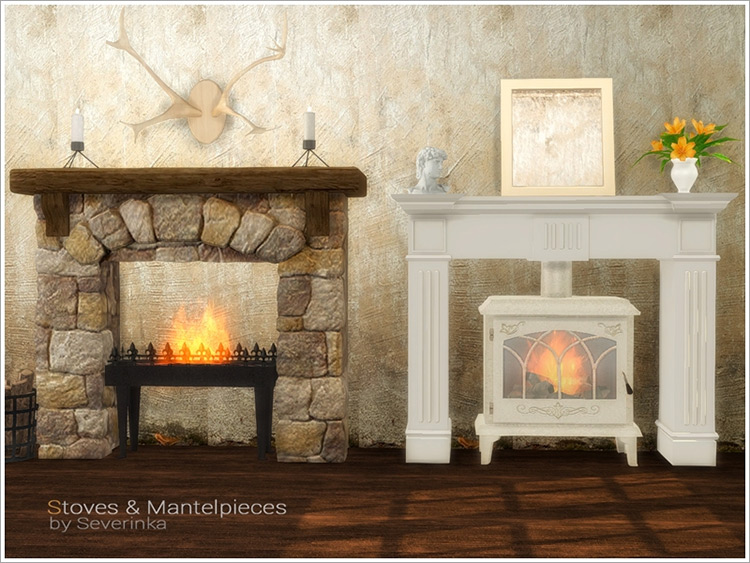 Farmhouses are generally bathed in sunlight and spring cheer.
Even in the winter, they give off a cozy vibe.
But there always seems to be that one gap in the floorboards that people can't find to fix, and it always lets a bit of the cold in.
Keep the inside of your Sim's farmhouse nice and toasty with these decorative wood stoves and mantelpieces from Severinka_. There are a total of eight pieces in this CC pack, and they're all varying levels of old-fashioned, charming, and rustic.
Check out the low, open-flame, cast-iron wood stove, and the black squat wood stove with door detailing. They look like they belong in the background of a cottagecore photoshoot.
Pair them with the rough stone mantelpiece or the red brick to really sell the aesthetic.
Best part?
These aren't purely decorative. All stoves are functional fireplaces.
7.

Old Wood Planks 2 by Pralinesims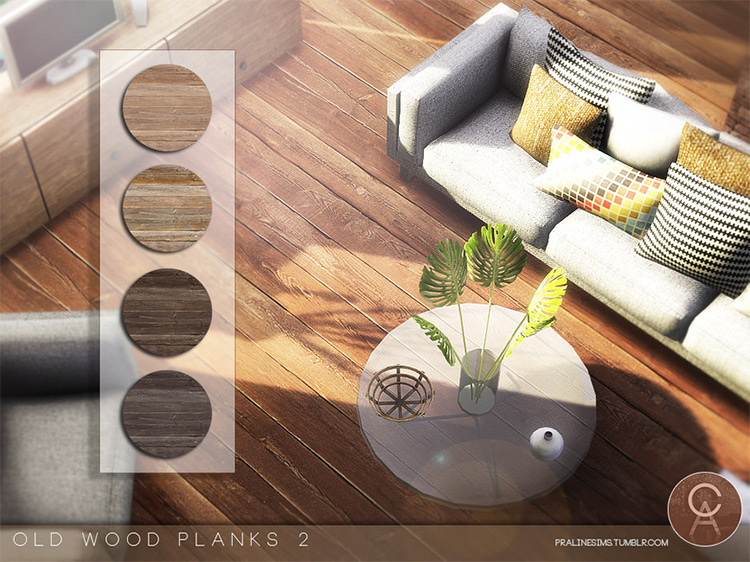 I genuinely love Praline for doing this, because I feel like there just aren't enough wooden floor options in TS4.
Wood is my favorite texture. And I want it in my Sim's house any way I can get it; hardwood floors, wooden paneling, creaky floor boards, decorative wooden planks—you name it, I'll probably use it.
Enter these Old Wood Planks 2 by Pralinesims.
Gorgeous craftsmanship, incredible attention to detail—you can see the scratches, chinks, and wood whorls in every plank—and more than 60 colors to choose from.
This CC flooring has more color swatches than any flooring option EA put out, base game or otherwise.
And every single color looks fantastic.
8.

Outdoor Floors by Pralinesims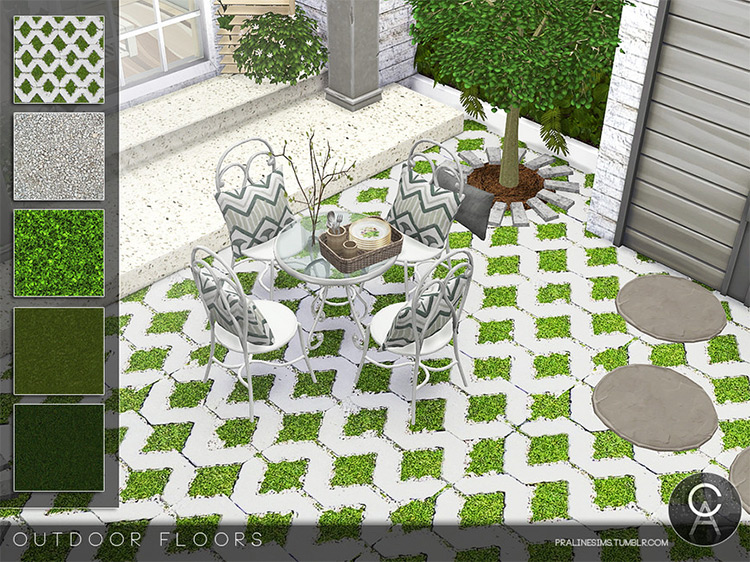 Have some more flooring by Pralinesims, because this CC creator is clearly talented.
While these floor tiles don't give off the same "rustic" and "timeworn" vibes as Old Wood Planks 2, they're definitely useful for creating a build that brings the outdoors indoors.
Terrain paints and shrubbery are all well and good. But sometimes it's just faster to lay down the tiles.
This is where these Outdoor Floors come in.
There are five new flooring options in this CC set—three of which mimic the look of grass, one of paved, polished stone, and one that mixes both; patches of grass peeking through diamond-shaped cut-outs in the pavement.
Very artful, sort of whimsical, and perfect for when you want greenery for your interior.
9.

Wall Vintage by Pilar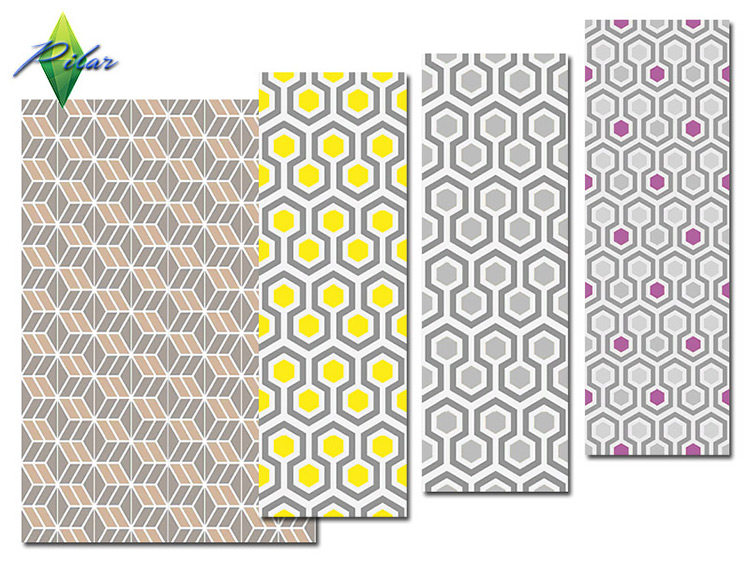 Not very woody or rural, but I personally think these cheerful wall panels would look great as accent walls. Or maybe as backsplashes for a modern farmhouse build.
Besides, not everything has to look old, preserved, or worn out to fit in a farmhouse theme.
Little hints of vintage or retro work very well with the sort of non-contemporary vibe that all countryside cottages and farmhouses emulate.
Imagine the bright yellow hexagon design as the backsplash of a wooden kitchen (like michelleab's Rustic Kitchen from earlier), or as an accent wall for a living room (using The Plumbob Tea Society's Rustic Romance Stuff stuff pack).
Pretty cute, right?
10.

TS4 Farmhouse Dining by michelleab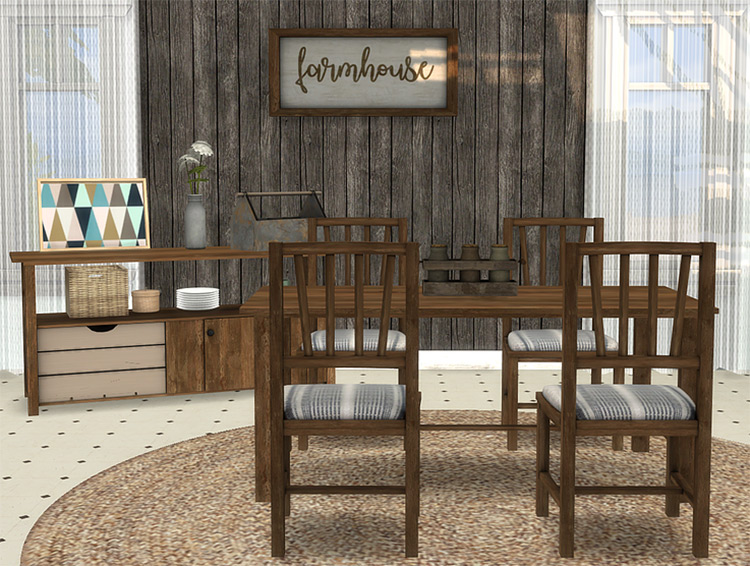 And speaking of michelleab, this creator also has a farmhouse dining set that works perfectly with their Rustic Kitchen pack.
It has the same sort of soft wood textures, delicate craftsmanship, and bare-bones design that fits right in with a semi-modern, suburban-farmhouse build.
There may only be 6 items in this pack, but they make up a full dining room—furniture and décor.
You can use the dining buffet table to hold the decorative clutter pieces, like the tin tool box and the wooden jar set. Hang up the cute "Farmhouse" painting to finish the look.
And if you don't want to use the "Farmhouse" text, the CC painting has six text/design variations to keep things interesting.
Another thing to note is that every item here is incredibly budget-friendly. I'm talking $1 for everything.
Want a farmhouse as your starter home? Get this pack, ASAP.
11.

Screaming Retro by SIMcredible!
Pair Pilar's Wall Vintage from earlier with this absolutely gorgeous Screaming Retro dining set from SIMcredible! (again).
As I mentioned before, a little bit of vintage and retro can look right at home in a modernized farmhouse build.
You just need to know where and when to lay it on thick.
The items in this CC pack have light wood variations that would work well for a charming cottage/countryside build. But I personally love the lime green and teal blue retro swatches.
I think the pop of color (and the funky personality) can really brighten the room.
The pendant lights, bunches of fruit, indoor plants, and artichoke baskets help keep the set within the farmhouse theme, too.
12.

Gardening Foyer by SIMcredible!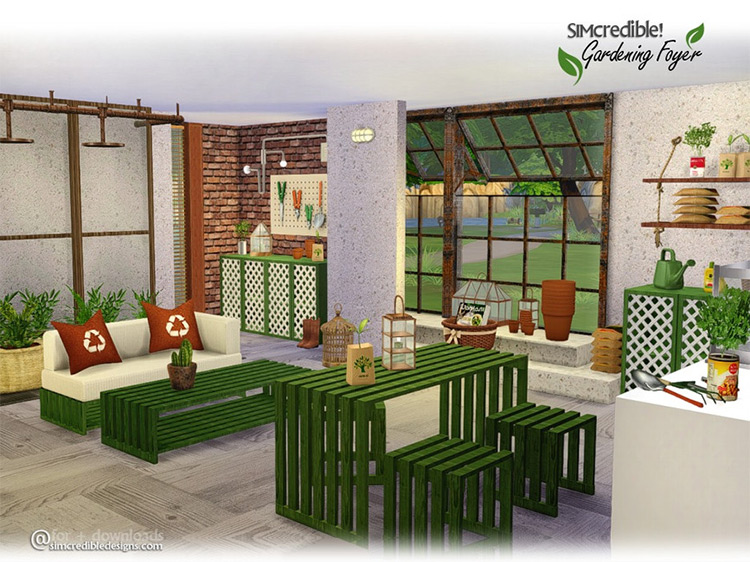 Although I generally prefer more modern builds for my Sims (think tiny studio apartments and one-bedroom flats that cost way too much money and have way too many appliances in them), I can appreciate homes with a down-to-earth vibe.
And there's nothing more down-to-earth than having a gardening-themed foyer.
Sounds weird? Maybe. But the execution is fantastic.
Every piece in this looks like hand-crafted, one-of-a-kind furniture that's actually super pricey—especially if you get the shelves, tables, and stools in light wood.
This CC packs adds a total of 18 items to your game, and they're all super quality.
The lattice design for one of the tables pairs incredibly well with the sort of separate-plank design that the end tables and stools have.
And I just love how quirky the other pieces are.
Shelves made of nothing but knotted rope and wooden planks?
Wall lamps with exposed cabling?
A table that looks like a wheelbarrow?
Genuinely one of the more unique sets I've seen. I can't recommend this enough.
13.

Gardening Foyer Décor by SIMcredible!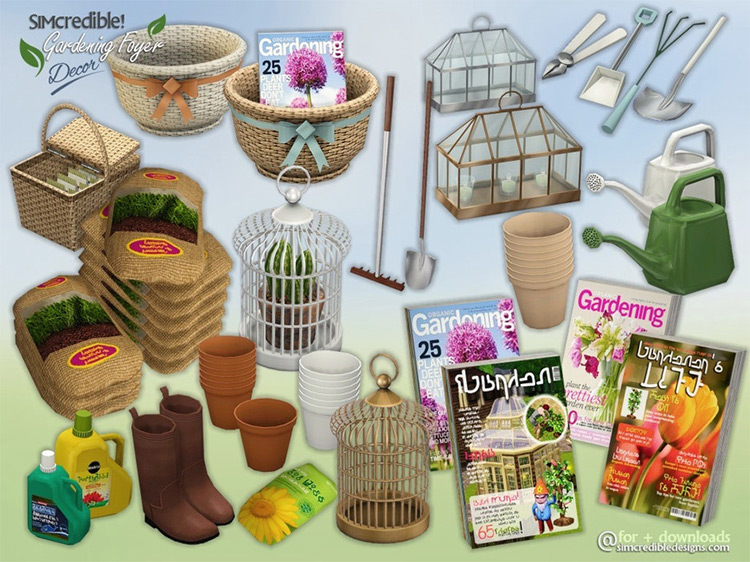 If you're craving more gardening-themed decorative clutter for your foyer (which, as a big clutter fan myself, is totally understandable), then check out the same creator's CC décor set—definitely made to supplement the Gardening Foyer pack.
Don't get me wrong here; the exposed pipe, decorative wall pegboard, and cast-iron lantern frames look great and are plenty beautiful.
But a cluttered foyer/living room definitely gives a build that lived-in look, which I feel is crucial for the farmhouse aesthetic.
That's why you need these extra 16 CC items to give your farmhouse foyer more character.
Bird cages, stacks of fertilizer bags, galoshes, watering cans, piles of pots, and mini portable greenhouses.
What more could a gardening enthusiast want?
14.

Fake Barn Door Pantry by SIMthing New
Not gonna lie:
If I saw this in real life, I'd probably buy it for my flat.
It's the kind of eccentric gag décor that I genuinely enjoy. As the name suggests, this is a wall decoration for The Sims 4, fashioned to look like a sliding barn door hiding a secret pantry.
It goes for $55 Simoleons in-game and comes in 10 different variations.
To be completely honest, I think it would have worked a lot better as an actual TS4 deco object if the photos of the secret pantry used Maxis Match textures.
The pictures look realistic, but they don't translate quite as well with TS4's usual clayified objects.
Regardless, it's still a really cute concept. And the barn door designs are beautiful, so I'm not complaining.
15.

Industrial Style Décor Doors by pqSim4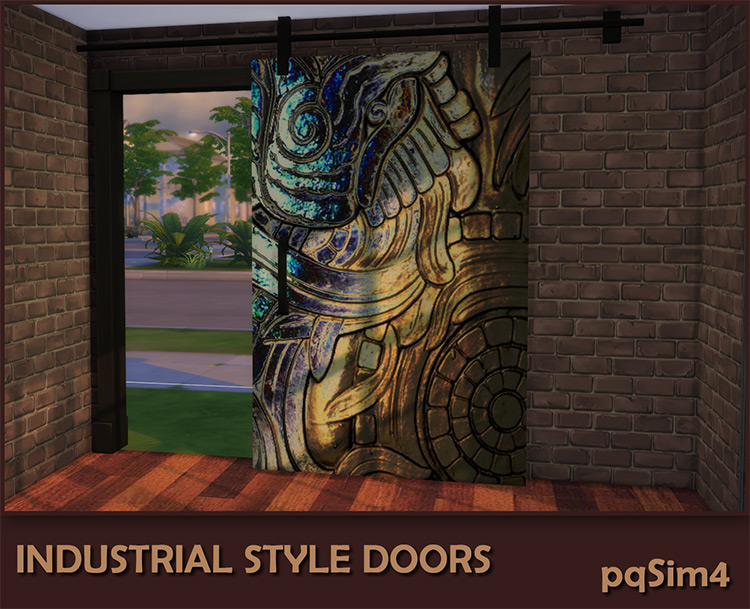 Wrapping up our list are these Industrial Style Décor Doors by pqSim4.
No, they may not be fully functional doors.
But they do look incredibly awesome.
This creator is rather known for perfecting the grungy, grimy, hyper-urban/industrial texture on different objects. And this CC pack is no exception.
Definitely not all the swatches fit the farmhouse theme (unless you're going for "rundown and abandoned" as your build concept).
But there are about three or four wooden swatches of this decorative door that are charmingly rustic and would work well with a renovated suburban country home.
But just note they're a little pricey in-game ($111 per door), so I wouldn't recommend them for starter homes.
Browse:
Lists
The Sims 4
Video Games