Sims 4 CC: Best Long Sleeve Shirts For Girls
This post may contain affiliate links. If you buy something we may get a small commission at no extra cost to you. (Learn more).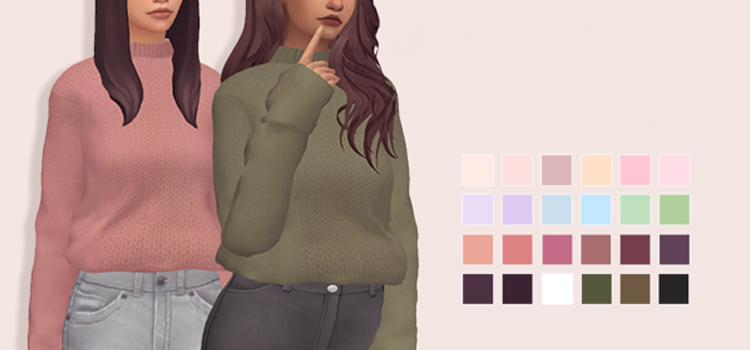 It's no secret that giving your Sim a killer outfit is at least half the fun.
Nobody likes frumpy looking Sims. Even the townies aren't safe from nonconsensual plastic surgery and makeovers!
Nowadays, Simmers themselves have made it so your Sims can have a hypothetical closet better than even the most passionate fashionista in the world.
So don't be afraid to give your Sims the wide variety they deserve – especially when it comes to long sleeves for those colder months.
These tops cover quite a range of tastes, and you'll never be disappointed with the results.
1.

Haley Long Sleeved Top
With a category as vague as "long sleeved top", little details can really set one shirt apart from the rest.
That's the case here, with the knot off to one side and the scoop neck. Both of those attributes add a little more visual interest, making this top perfect when paired with skirts and pants alike.
It's also somewhat form-fitted so any Sim will look classy no matter what type of outfit you make out of this – especially with 40 gorgeously vivid swatches.
Just about every color you could want is included, from wine red to Plumbob green.
Describing colors can be difficult but I know that's one we all understand!
2.

Lilith Top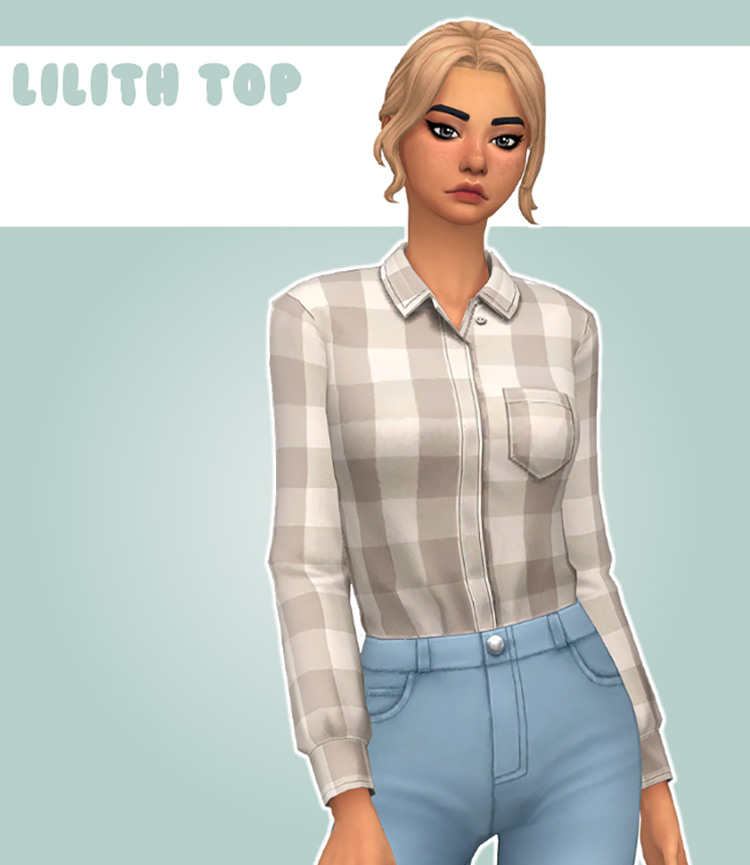 There is a shocking lack of flannel shirts in this game.
All of the packs I have, all of the custom content I've looked though, there just isn't much going on, especially if you want a Maxis Match style.
I can't understand why that is. But at last, we have a good old fashioned flannel shirt. Long sleeves are part of the foundation, of course.
That plaid sleeveless top that came with Outdoor Retreat is… something.
Just not the cozy autumn-appropriate shirt I'm looking for.
Here, you can see how well the plaid pattern compliments the simple cut of this shirt. It'll tuck into any skirt or pair of pants your Sim wears, and there's even a pocket.
Stephanine-Sims says this is an edit of a dress from Discover University, but now it's an epic top available for the base game.
3.

Oversized Henley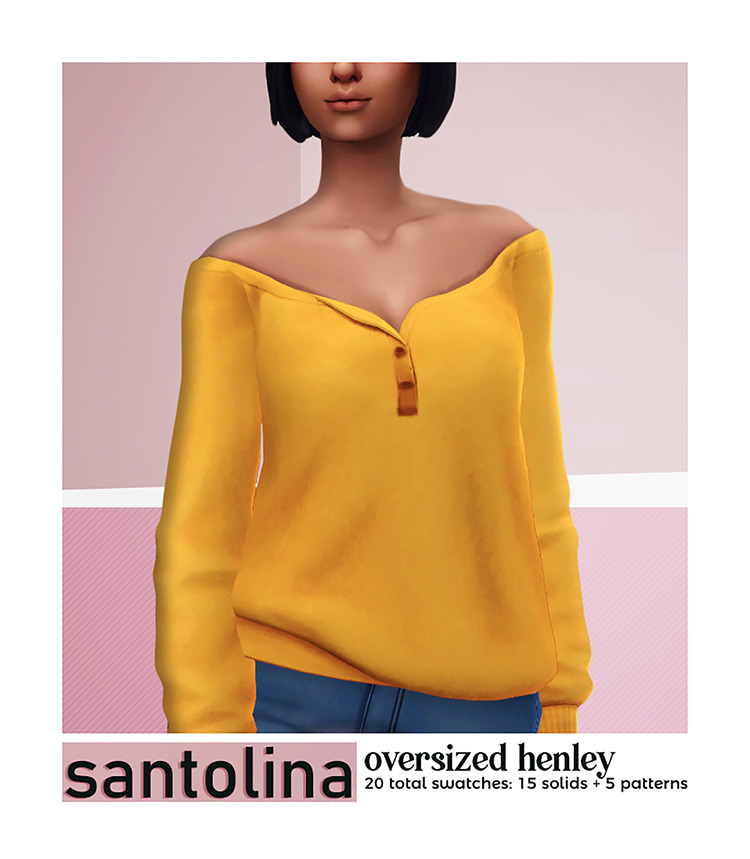 Oversized clothes aren't just comfy – they're fairly stylish nowadays too.
The days of big shirts and baggy sweatpants being considered "frumpy" are long gone, thank goodness.
This top is a little bunched up at the waist and off-the-shoulder at the top. Those two aspects offer some balance, making this the ultimate casual shirt.
After all, it's a Henley.
Casual style is built in!
The "oversized" part shines most with the sleeves. They help make the shirt seem a couple sizes larger than whatever your Sim is.
4.

Peasant Top + Detail Overlay
A peasant in The Sims 4 would definitely wear something besides this pretty blouse, so look past that unfortunate name. That comes from the puffy sleeves, for whatever reason.
This is really a beautiful top that's hard to pass up. It has a deep v-cut neckline with crisscrossing portions and sleeves with ruffled, flared cuffs.
As if that already isn't a lot of cool stuff going on, you can even choose whether or not to include the floral overlay.
It frames the neckline with a leafy, flowery pattern that will only make it prettier.
But just in case you want to keep things basic, you can leave the overlay in the Gloves category if you want and go with the solid colors.
5.

Two Tone Top
Not everyone can comfortably rock a tight, frilly, buttoned shirt. It's a tragic but true fact.
For any number of reasons, someone may pass up this awesome top for their own peace of mind.
Real-life fashion is a complicated thing – but Sims don't have woes this complicated.
Sure, they have a lot more house fires and lightning strikes. But CAS? That is a sacred place, in which anything can happen!
This is a trendy top, not just because both sides are different colors, but because of the design.
The hem is slightly ruffled and the buttons have great details.
Altogether, it's lovely and feminine. And it has a bit of a shorter length so your Sim can wear this with all sorts of bottoms, snow or shine.
6.

Pussybow Top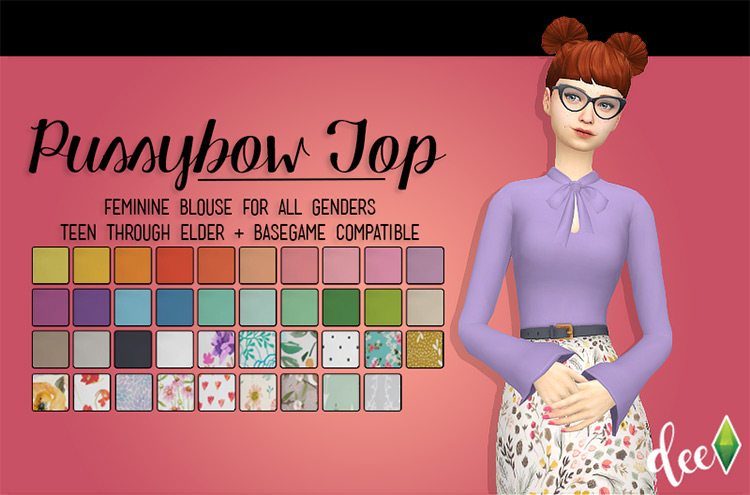 Bows are the best, there's no denying it!
There's no simpler or cuter clothing accent (or hair accessory).
On this top, the bow is part of the collar and hangs down with tidy ribbons. While these sleeves are big and flared, the torso is form-fitting and will be tucked into skirts or pants of the right height.
You'll have 3 separate swatch types to choose from here, including solid, pattern, and autumn options.
As versatile as this already is just from the style, pretty much everything suits it.
The same goes for how you use it.
It'll look just as good with flowing skirts as it will with skinny jeans. And I'm sure some talented fashionistas can even make it work with shorts.
7.

Tucked In Long Sleeved Shirt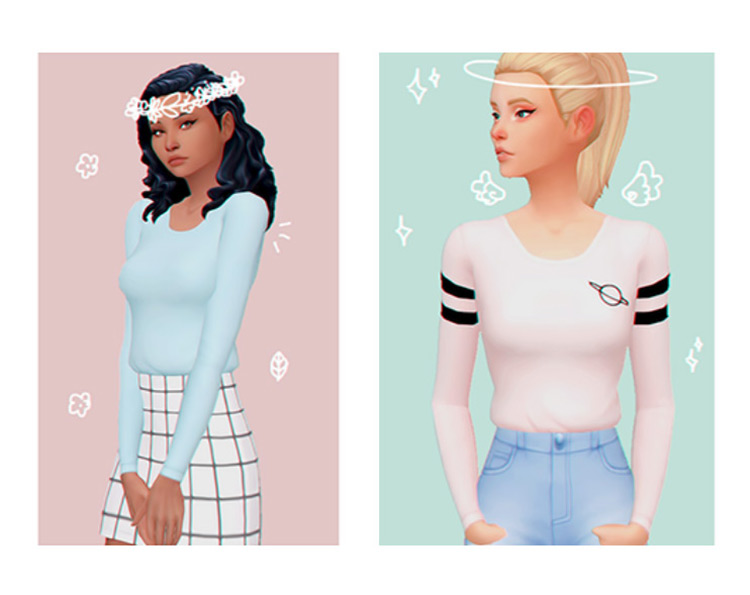 Here we have another perfect example of all the possibilities we have from something as straightforward as a tucked in long-sleeved shirt.
It's interesting that there aren't a lot of EA tops that are tucked – but they seem rather plentiful with custom content!
Nobody knows what the people want more than the people themselves… that being Simmers, in this case.
This cute shirt looks a little thicker than most, more along the lines of a sweater, and I love it.
As for swatches, they're available in two packages.
Some are just solids, while the others have cool symbols like the old-school Adidas trefoil or a little saturn image.
8.

Cold-Shoulder Top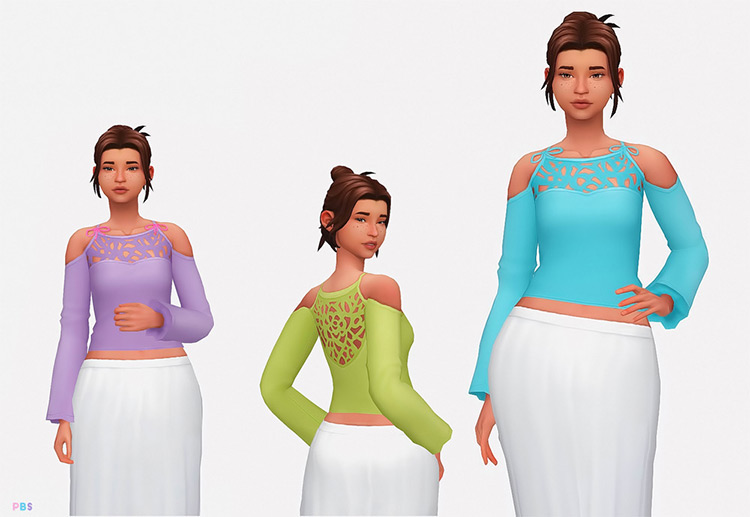 Most of the time, a cold shoulder isn't a good thing.
That means you're ignoring someone, being ignored, or not adequately warm.
But that's not the case here. No, this is just a cleverly-named creation from Plumboxsim.
The shoulder holes on this top are fashionable and add a certain element of originality. Both the front and back have a mesh pattern and these sleeves are oversized in a very chic way.
Not only is this a fun top, but the bright colors really complete that vibe, making it perfect for spring and summer outfits!
9.

Simple Long-Sleeved Crop Tops
There's a running theme of simplicity here. And a lot of the time that's what makes custom content such a fantastic addition to your game.
Tops like these aren't one-off items you'll only be able to put on your Sims for special occasions, they'll easily integrate into the style they already have, or that you want for them.
You can't have enough crop tops in this day and age. They're not everyone's cup of tea.
But for trendy folks who are up on the latest and greatest stuff in fashion, they're all the rage.
A long-sleeved crop top effectively provides what you'd expect – by leaving your Sim's midriff revealed while covering their arms.
It's all about aesthetic, but this certainly won't get them through a Willow Creek blizzard!
10.

Autumn Long-Sleeve Tees

With some shirts, the cut isn't nearly as important as the print.
I'll wear anything if it has an autumn pattern – like this tee from HaleyysSims!
All 4 swatches are what dreams are made of for my fellow autumn obsessed gals.
They're just perfect, from the colors to the patterns themselves. I think this CC is a recolor of one of the base game shirts, but this new look is so revolutionary that it's hard to tell.
Three of the patterns include produce and fall leaves, really driving that HarvestFest feel home.
The fourth (and my personal favorite) features acorns, leaves, and adorable little bears wearing glasses.
I don't know about you, but I definitely know what my Sims will be rocking every fall for the foreseeable future!
11.

Daybreak Accessory Long Sleeve Top
Part of the fun with clothes is experimenting with new ways to layer them, but your options are rather limited on that front in The Sims 4.
With the majority of tops, what you see is what you get, for better or worse.
Well you can have a lot more creative freedom with custom content, where tons of creators have made brand new accessories.
They take many forms, but shirts are the most versatile – and this one will be very useful for your lady Sims for sure.
The sleeves are just a bit puffy and your Sims can wear it with all sorts of other tops and dresses for a fresh new look.
There are 10 swatches in total here, so you'll have plenty of options to mix and match.
12.

Zoey Long Sleeves Top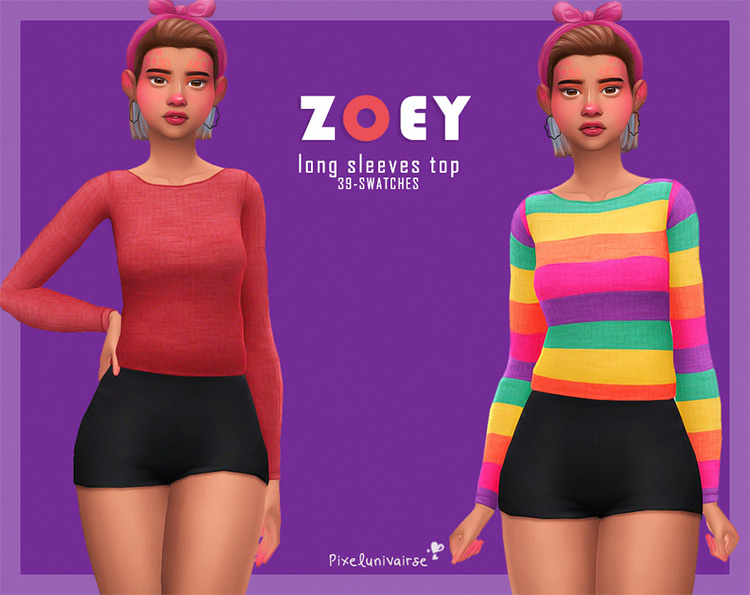 Something that stands out right away here is the texture.
These shirts have a distinct, realistic knit look, like so many high quality shirts. It's just like something you'd gravitate towards on a shelf or rack in a store.
Pixelunivairse has made a nice simple top that'll be flattering to Sims of all shapes and sizes, partially thanks to its somewhat form-fitted design. It's not only a great length, but all around a nice cut as well.
And like most awesome creations, this top comes with ample swatches to suit any Sim, any day.
13.

Brenda Top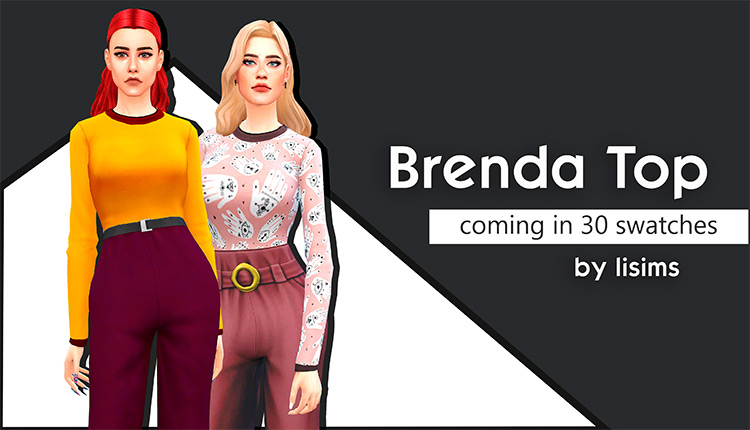 Here we have a great casual shirt that's perfect for everything – from chill nights at home to mornings at the park.
Complimentary colors will offset the main design with the collar and cuffs.
And with 30 swatches, there's certainly a lot to go around.
You can use this for a cutesy look on your Sims, as well as more punk-inspired styles.
This shirt will tuck into your Sim's pants or skirt, and it results in a nice & neat ensemble. It looks especially lovely with a belt!
14.

Chon-Le Top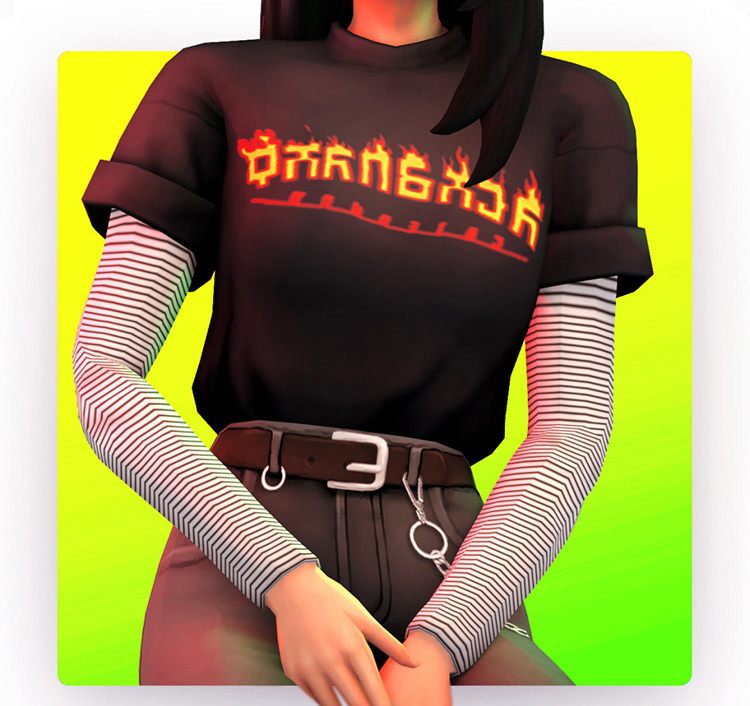 Marosims has made another creation here that exemplifies how long sleeves are not only pillars of a wardrobe on their own, but also when used as a layer as well.
Here, your Sim will have a very stylish t-shirt with rolled sleeves, and a form-fitting long sleeve shirt beneath it.
The textures are all fantastic and really add to the overall aesthetic of this top.
It's nice to have stuff for every age range, and this will be great for your young Sims…or particularly trendy elders.
15.

Sarah Long Sleeved Shirt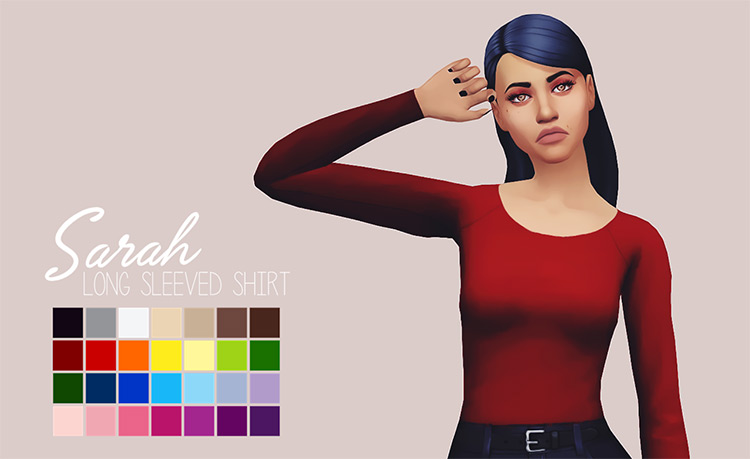 Sometimes the most basic things can also be the classiest.
There's just something particularly sophisticated about this basic scoop-neck top.
It's far from baggy, and will fit your Sim like a dream.
This is the kind of flawless fit everyone wants with at least one or two things in their wardrobe.
"One size fits all" just isn't a realistic take for humans. But The Sims 4 thrives on that!
With few exceptions, most clothes literally adapt to your Sim, whether they lose weight or gain it. This is one example where that's so amazing because the way a shirt fits can absolutely affect how it looks.
In this case, form-fit is clearly the way to go. And this CC is a simple beauty that stands strong on its own, with quite a variety of colors.
Browse:
Lists
Maxis Match
The Sims 4
Video Games