Sims 4 Custom Fences: CC & Mods To Download
This post may contain affiliate links. If you buy something we may get a small commission at no extra cost to you. (Learn more).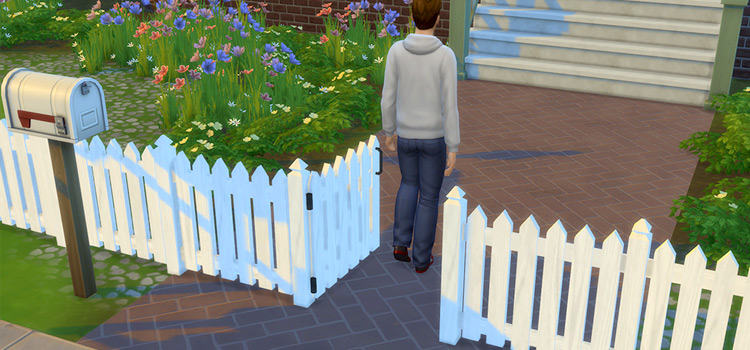 So your Sim just bought their first house and want a little eye candy around the lawn.
Or is your TS4 game not a simulated telenovela (honestly, you're missing out) and you just want to make that home a bit prettier with a dash of privacy?
Fences are a great solution.
Whether you want to keep a jilted lover away or add pizazz to your virtual abode, there's plenty of reason to raise 'em.
And if you don't really love the base game fences, we've got you covered. Here's some of our favourite custom fence CC packs guaranteed to suit all your fencing needs.
15.

Fence Marker Tools
The Fence Marker Tools mod by AdonisPluto will be useless at keeping Peeping Toms at bay… but it's perfect to use as markers for your garden's flower beds.
You can even use it as an enclosure for a specific area in your home, both indoors and outdoors, to highlight them.
It's found in "Fences" under the Build mode (naturally) and comes in two designs.
Just make sure to have a 'Watch Your Step' sign in there somewhere, because these may sabotage your foot!
14.

Lyon Wrought Iron Fence
You might need to remind yourself that you're not of royal descent stepping into Buckingham Palace with this Lyon Wrought Iron Fence by TheJim07.
Really can't blame you though, because this decorative pillar and fence combo just reeks of aristocracy.
Find both the fence pillar and low wall fence in the catalog under Décor = Miscellaneous at a non-royal price of 2240 Simoleons each.
Use this fence to decorate your manors, mansions, and castles, depending on your level of stinkin' rich!
13.

Sonic Build Set
If modern minimalist is your thing, look no further than Nynaeve Design's Sonic Build Set.
It's a mid-height fence with decorative iron frames, featuring a glass panel. It oozes simplicity in both form and function, which is the heart and soul of a minimalist home.
There are two color options here: wood and black, coming at a very minimal price of 106 Simoleons and occupying only a 1×1 tile.
It's the best fence to have when the paparazzi shoot photos of your Sim chilling with their new beau. You are chasing that influencer lifestyle, right?
12.

Chlorine Outdoor Fence Tall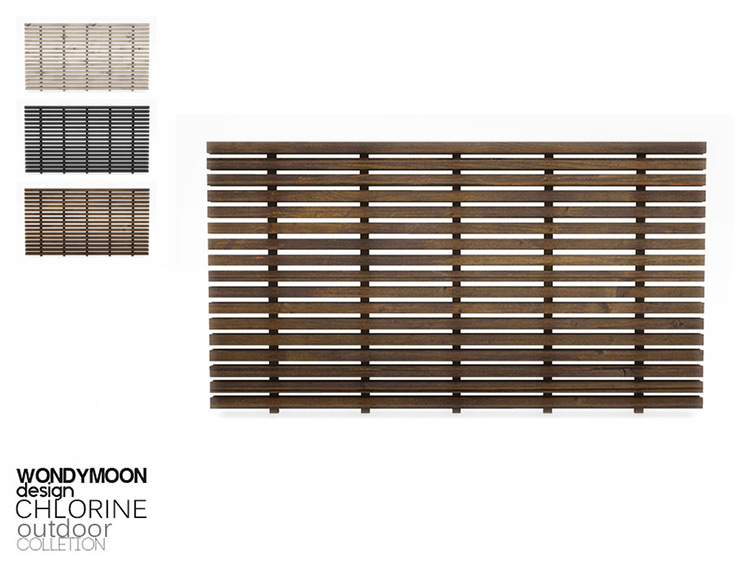 Feign some fortitude in your home structure with the Chlorine Outdoor Fence CC by Wondymoon.
Slotted fences are ergonomically designed to reduce damage caused by wind movement.
This slotted fence is tall enough to keep unwanted guests away, but is also revealing enough to allow them to get a clear picture of your home. Thank God we got rid of burglars in The Sims 4… but maybe don't skip immediately to the nude sunbathing.
11.

Vines for Fences
The Vines for Fences mod by Snowhaze is for starry-eyed Sims who want to give their bare fences a lusher, fairytale touch.
Say goodbye to a boring old fence with 5 Morning Glory variations and 6 shades Ivy to adorn it.
This is best placed in a garden, next to an outdoor table where you have a romantic night in with your new boo… until your ex trashes your garbage can again.
10.

Sit & Lean on Fence
Neighbors exist so that there's someone to talk about, or talk about others with.
Sometimes a fence will come between you and neighbour. And no, I don't want to knock on their doors to chat like normal people!
Thankfully, Artrui came up with the Sit & Lean Fence Mod, which allows your Sim to sit or lean on fences while gabbing away.
It's a nifty little add-on that grants your fences the power to not become a hindrance between you and, well, whoever!
Which is nice when you're whispering quietly about Karen who lives two blocks away.
9.

White Picket Fence and Gates
Ah, a white picket fence.
This is the symbol of the American Dream: a huge house, a doting spouse, lovely kids, and a high-paying job that likely crushes the soul every day.
Too bad we have to literally create this in a virtual world to live it, right?
Don't let the picket fence just be a symbol, whether you're living the American dream in the US, or somewhere near Pendula View or Sage Estates (you rich bastard). Or maybe you simply love 'Murica.
DasMatze2 created the iconic fence with a matching gate, with a piece of fence costing 25 simoleons. Nice and affordable for any Sim family.
8.

VIP Rope Fence Suite
You don't have to wear designer clothes to feel like a celebrity each and every day, especially with the VIP Rope Fence Suite CC by TheJim07.
If other fences demand privacy, this one demands attention!
All you need is a red carpet laid out with this fence, a little bit of spring to your walk and your wave perfected to live out your celebrity dreams.
The suite comes with a single post, a 1×1, 2×1, and 3×1 fence. It doesn't come with throes of paparazzi, so you have to figure how to call them on your own.
7.

Beach Privacy Fence
Remember how I mentioned your Sim shouldn't sunbathe in the nude? Well, feel free to do it now!
But only with the Beach Privacy Fence, unlocked and recolored by Snowhaze.
Get your tan on away from prying eyes with this quintessential beach fence. It has a hanging lifesaver in three color variations, in case you wanna be like Pam Anderson and frolic across the beach in slow-mo.
With three textures to choose from: original, rustic, and aged, you can modify it to fit your beach's vibe.
Note that this CC requires the Cats and Dogs expansion.
6.

Ultra Glass Fence
An early 2000s horror movie made us a bit wary of living in glass houses.
But now, these transparent homes are definitely an architectural choice of people who are unafraid of huge rocks hurling through.
Hey, it could happen!
The Ultra Glass Fence set created by Maloverci can also be used as tall windows for your home. Very sleek and very modern.
The pack also includes three matching gate choices, and they can be found under Build Mode for 106 Simoleons.
5.

Natural Branches Fence
Want to add some tropical vibes to your home, but just can't move to Sulani? And what's that, you also don't have the Island Living expansion pack?
Why not add the Natural Branches Fence created by Bakie? The perfect CC for custom beachy fences.
There may be an absence of turquoise oceans and mermaid sightings where you live, but these fences can give your home the castaway feels (without having to grow an emotional connection with a volleyball).
Coming in three sizes: short, medium & tall, the fence has nine recolors. You do need, however, the Dine Out Game pack.
A small price to pay to bring the beach vibes to you.
Pair it with sand floorings, some tiki torches, and palm trees everywhere.
4.

Japanese Fencing
Does your Sim need a haven to go home to after going through the stresses of their everyday simulated lives? We know how stressful those careers can get.
Looking at you, secret agents.
Whether you have a zen home or just a zen garden, we recommend TeanMoon's Japanese fencing CC.
These fences make you feel like you're walking through a Shinto shrine right after you've infiltrated enemy headquarters or plotted world domination. A typical Thursday.
This fully-functional fence is base game compatible with 6 colors to complement your design. Guaranteed to help you reach your inner enlightenment.
3.

Lyne Fence V2
Third on our list is another minimalist fence that will best suit modern minimalist homes.
This is the Lyne Fence V2, created by Nynaeve. And yes, you're forgiven if you immediately see this fence as piano keys… because we're right there with you!
This classy fence does not only go in black and white though – it has 4 colors to choose from. Each more customizable than the last.
It's part of a set that includes gates and awnings with the same aesthetics.
2.

I Need A Fence Pose Pack
Brooding near a fence is a common drama trope.
Name one movie or TV show that did not feature a character looking wistfully over (or resting on) a fence.
Okay, maybe you can, but you can't deny that those kinds of scenes are everywhere!
Let's recreate them in our Simmy world.
This "I Need A Fence Pose Pack" modded by Stefania Onlinda allows your Sim to use the fence as a brooding device in six different poses.
There's a pose guaranteed to match every stage of the drama! Just note that you will need two additional mods, both free, linked on the download page.
1.

Invisible Fence
Tired of your Sims not following the pathways that you've worked so hard on?
While we play overlords and technically can have complete control of our Sims, sometimes they just do what they want to. Now you know how a god must feel.
Now I know our Sims ain't sheep, but sometimes you need to herd them!
You can do that by using this nifty Invisible Fence CC from Bakie. No need to worry about how to install something invisible, as it has a visible version while you place them.
And then it'll all disappear as soon as its game time.
This can be used on terrains and even water surfaces too.
Time to herd 'em all!
Browse:
Lists
The Sims 4
Video Games