Best Sims 4 Ferrari CC & Mods (All Free)
This post may contain affiliate links. If you buy something we may get a small commission at no extra cost to you. (Learn more).
Ferrari has been around for over 80 years, creating high-performance, beautifully designed cars that push the envelope in terms of speed, maneuverability, and aesthetic style.
Cars and driving aren't a part of The Sims 4 – since (as you know) cars in the game are exclusively decorative, because your Sim can instantly teleport anywhere.
That still doesn't mean your Sims can't enjoy the sultry lines and bright red color of Ferrari vehicles.
Because cars are much more than just a method of transportation. They're history, passion, and high-octane dreams – and our Sims should get to enjoy that as much as we do.
The following collection shares my favorite Ferrari-themed mods, including cars, apparel, and even custom Sims that'll help you take your TS4 to max speed.
1.

Ferrari 250 GTO (1964)
First up, we've got a true classic of the Italian luxury sports car house – the Ferrari Gran Turismo Omologato, produced for competing in the FIA's Group 3 Grand Touring Car category.
The GTO was powered by Ferrari's proprietary Tipo 168/62 Colombo V12 engine, which allowed it to output a considerable 300PS.
You won't be able to check out its performance in The Sims 4, but your Sims will love discussing this vintage car with curious guests.
This old-school beast is perfect for the classic Sim, who appreciates its historical value along with its powerful engine and aerodynamic design.
You can keep it in the classic red or six other unique colors.
2.

Ferrari F1 Concept (2015)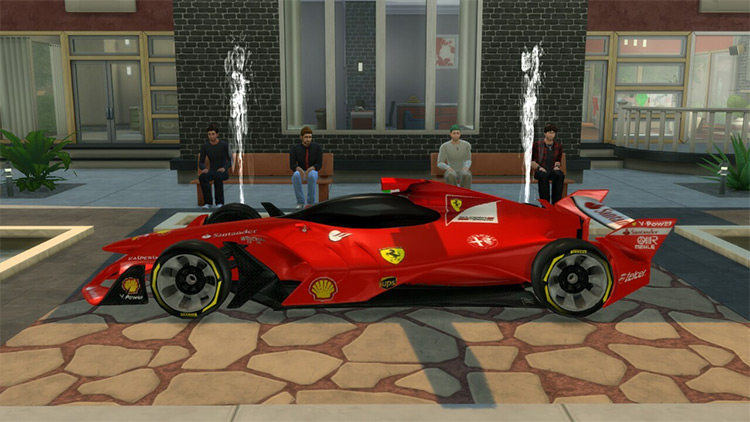 I assure you, 300PS was a lot back in the day.
But if you're looking for real horsepower, the Ferrari F1 Concept will give you that and more.
Boasting a whopping 790PS, this concept for the future of F1 design can reach speeds of over 350km/h in seconds. Its bold design is meant to stimulate the creativity of F1 designers, pushing the envelope of what's possible in Formula 1.
This beast is both beautiful and supercharged for racing.
It's safe, lightning-fast, and comes in several enticing colors like yellow, black, and the classic Ferrari red.
3.

Ferrari F1 Team Polo
If you're going to keep a Formula 1 vehicle in Sim's your garage, you might as well look the part.
This beautiful polo shirt is modeled after the one worn by Ferrari's F1 team in 2019.
It's manufactured by Puma and features the logo of current Ferrari partners like Shell, Lenovo, Kaspersky, and Mission Winnow.
This would be worn by a member of the F1 support team, a racer on their day off, or just a big fan of the Italian marque.
4.

Sebastian Vettel Sim
There may be no "F1 Racer" career in The Sims 4, but you can still keep a pilot handy in case you want to take your brand-new Ferrari vehicles for a ride.
Specifically, you can get Sebastian Vettel into your Sims 4 household.
This German racer currently competes for Aston Martin, but they've been at the helm for several famous F1 teams like BMW, Toro Rosso, Red Bull, and, of course, Ferrari.
Sebastian is the youngest racer to have held the F1 World Champion title, so his Sim aspires to become a World Famous Celebrity in TS4.
5.

Ferrari FXX (2006)
I love experimental vehicles.
And the Ferrari FXX was one of the first examples I saw – and one that made me fall in love with the world of supercars for a while in my younger years.
Can you blame me?
The Ferrari FXX looks like it was designed by Hot Wheels.
The sharp angles and somewhat odd proportions are incomprehensible if you don't know much about aerodynamics. Luckily, it looks really cool, so you don't really need to know the details.
Ferrari only manufactured 30 of these, making it perfect for a Sim who's got no more room for Simoleons under their mattress.
6.

Ferrari F12 Berlinetta (2013)
The F12 Berlinetta is one of Ferrari's most normal-looking cars, in the sense that its design doesn't immediately make you think of a race track.
That said, this supercar still houses Ferrari's world-renowned F140 FC engine and can reach its top speed of 340km/h in under nine seconds.
As a Grand Tourer class supercar, the F12 Berlinetta is ideal for high-performance long-distance drives – which you won't be seeing much of in TS4. For Sims, cars are more about status, and this one sends a clear message about who's fulfilling their aspirations.
7.

Ferrari Monza SP2 (2019)
The original Ferrari Monza was created in the early 1950s to compete in sports car championships.
It featured a front mid-engine, rear-wheel drive, and a Lampredi Inline-4 engine.
The Monza SP2 is a modern re-imagining of the classic, with a body inspired by the 750 Monza and the 860 Monza, super-powered with a naturally aspirated V12 engine.
The SP2 can seat two people, who'll enjoy the feeling of the wind on their face as they climb up to its top speed of 299km/h – or, well, they would if Sims 4 cars weren't just decorations.
8.

Ferrari LaFerrari (2014)
The LaFerrari has a special place in my ecologically-conscious heart.
Back in the day, supercars would necessarily contribute to CO2 emissions, making them a symbol for uncontrolled fossil fuel usage.
In a way, you couldn't really say you worried much about the environment if supercars were your hobby of choice.
With the advent of electric cars that has begun to change.
The LaFerrari was one of the first supercars with a hybrid fuel system, meaning it uses 40% less fossil fuel by supplementing it V12 with electric power.
It's also one of the best-looking Ferrari models, with a certain feminine allure that I can't get enough of.
9.

Tyler Winston's Ferrari Pack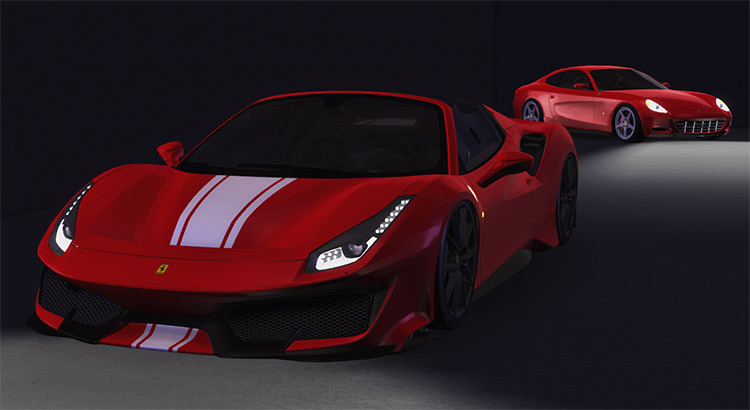 I'm a fan of large CC packs that bring many new items into TS4 with just one download.
This Ferrari Pack by Tyler Winston Cars is the perfect way to supercharge your Sims 4 automotive experience with an array of famous Ferrari vehicles.
Among many others, it includes the Ferrari LaFerrari Aperta, the 488 Pista, the F12 TRS, and the 612 Scaglietti – all of which will look fantastic in your Sim's garage.
Nothing says "I'm swimming in Simoleons" like six different supercars parked outside your mansion.
10.

Ferrari Sergio (2015)
The Pininfarina Sergio – also known as the Ferrari Sergio – was designed in honor of famous automotive designer and former Ferrari chairman Sergio Pininfarina.
It features one of the most avant-garde Ferrari designs ever.
It's similar to the 458 Spider in mechanical terms, but its open-topped barchetta body set it apart from other Ferrari models.
If you look closely, you'll notice a certain resemblance to the Dino Berlinetta Speciale from 1965 – the first project Mr. Pininfarina worked on for Ferrari.
And it's simple curvy lines give the Sergio an almost sensual appeal.
Only around six of these were ever produced IRL, so getting it for your Sims 4 garage is probably your best chance of admiring this beautiful car.
Browse:
Lists
The Sims 4
Video Games