Sims 4 Fire Pit & Fire Table CC (All Free)
This post may contain affiliate links. If you buy something we may get a small commission at no extra cost to you. (Learn more).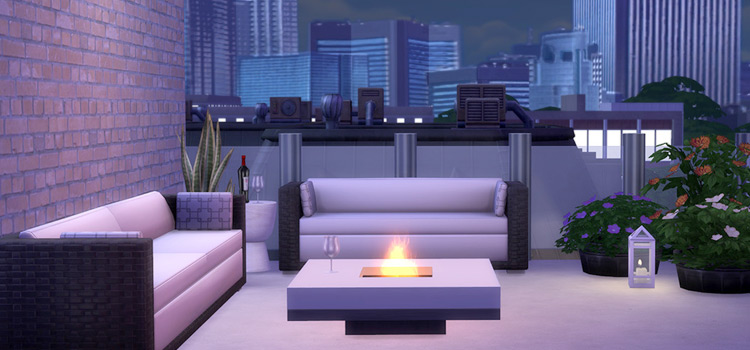 In every outdoor lifestyle, there's a need for fire.
Whether that need is for a source of heat, roasting marshmallows, or winning Survivor.
And the same is true for your backyard in The Sims 4. So let's take a look at some of the coolest fire pit CC out there.
6.

Boxed Outdoor Fireplace
ShinoKCR provides us with a fresh take on an outdoor fireplace.
The original design is in dark chocolate brown and features a squared box which can be conveniently placed in tight spaces.
The piece also features 3 additional swatches, including my personal favorite of jet black.
This is a solid fire pit for smaller areas and homes.
5.

Squadros Fireplace
Now here have a fire set that works both indoors and outdoors, but we're going to focus on the outdoor qualities.
This long rectangular fireplace is hovered over a polished coffee table, and especially stands out in its cream white swatch among its 3 colors.
Along with the 3 colors, creator SIMcredible also features 24 variations of the piece, coming in metal, surface, or glass.
This fireplace in particular is great for upper end homes, and is an awesome backyard addition for big get-togethers.
4.

Tropics Outdoor Fire Pit
If you're looking to create a meditation center or spa within your Sim universe, this might be the fire pit for you.
This small circular fire pit is perfect to lay across the pond, or maybe setup multiple across a certain area for aesthetics.
The calming nature of the tiny flames is a perfect fit for any Sims trying to get their Zen on.
The Tropics fire pit CC features two colors in hardwood brown and silky cream, across 4 different variations.
Take a deep breath in, download this CC, now breathe out.
3.

Asian Nook Fireplace
If we want to go with a more traditional fire pit, look no further than SIMcredible's Asian nook fire place.
Featuring classic firewood burning over coals in a small rectangular box, this is a great fire pit to give off a true camping experience.
This piece also bodes similar to firepits in anime, so any of you Naruto or Demon Slayer fans could definitely embrace a household with traditional Asian culture.
2.

Modern Lanai Fire Pit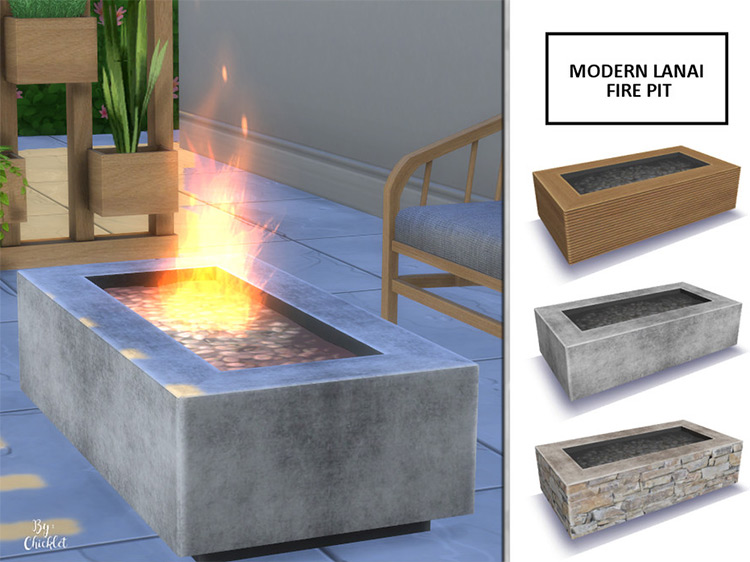 Creator Chicklet brings us our next fire pit known as the Modern Lanai.
With some similarities to the Squadros fireplace from earlier, the Modern Lanai is larger in stature and features a rectangular look rather than a squared box.
The design is sleek, the fire burns beautifully, and the textures included here offer enough variation to fit whatever theme you're trying to match around you.
The standout texture is the stoned bricks, giving off an elegant but modern look to any Sims home.
Wouldn't roast marshmallows on it, but definitely would have a glass of wine and watch the fire.
1.

Gloss Fireplace
SIMincreadible makes another appearance here with this absolutely gorgeous Gloss Fireplace.
This piece is a small firepit placed inside a glass case, sitting on top of a wooden base.
The wooden base features 4 different color variations, which all feature different tints on the glass as well.
This CC is truly unique, and great for any modern mansion-owning Sims looking for something to outclass their neighbors
But even if your Sim isn't rich (who is?), this CC is an absolute standout in anyone's backyard.
Browse:
Lists
The Sims 4
Video Games