Best Sims 4 Custom Fireplace CC To Download (All Free)
This post may contain affiliate links. If you buy something we may get a small commission at no extra cost to you. (Learn more).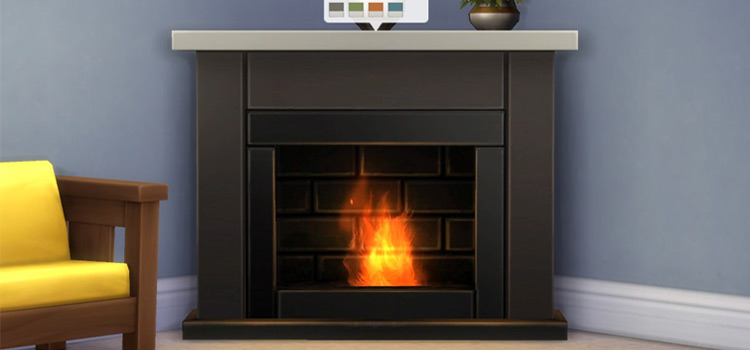 Winter is coming (isn't it always?). And there is no better way to spend those nights than curled up near a fireplace.
Aside from being a prime location to sip some eggnog or cuddle with a loved one, a fireplace gives any home an added aesthetic appeal.
Make your Sim's home feel even cozier with some additional custom fireplaces.
They make a great accent to any room, even when they aren't lit. And come Winterfest, you can wait by and see Father Winter pay a visit. Not sure why he hasn't been acquainted with doors after all this time, though.
10.

Tilia Fireplace Wood
Is that wood in your pocket, or are you just happy to see me?
Seriously though, you better have wood for this fireplace!
With this Tilia Fireplace Wood CC created by Wondymoon, part of their Tilia Fireplace Set, you can always bring home the bacon(wood).
Its 6 small logs stacked into each other look adorable, and comes with three color options: elm, oak, and gray. We're not really gonna burn them, but it's nice to see that we have it!
This will go great in homes with a more country/rustic feel, or a cabin in the middle of the woods where a guy named Jason, who is a big fan of machetes, live.
9.

Tilia Fireplace Tool Set
The Tilia Fireplace Tool Set, another one by Wondymoon, contains all the tools you need to keep the fireplace pristine… or at least give other Sims the idea that you have it all together.
Little do they know, it's purely decorative.
This CC contains essential tools such as the fireplace poker to push burning embers into the fire, or the spade to handle burning logs, and a broom to sweep the ashes after.
Also, these are all equally lovely weapons in case that guy Jason decides to drop by and give you a warm welcome.
8.

Romantic Candle Fireplace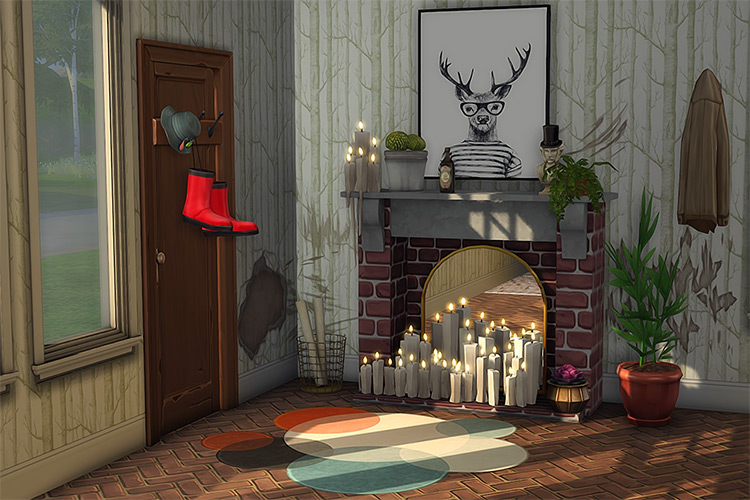 A fireplace is a great location to have some alone time with your significant other.
Yeah, you've seen those movie scenes! But really, how can they stand to do some canoodling so close to the fireplace? Movie magic!
Sometimes when the heat is too much to take, you gotta take it down a notch. Skip the logs and set a more romantic vibe with the Romantic Candle Fireplace by Bakie.
This fireplace CC comes in 5 different styles and 28 color swatches.
Imagine this – cozying up to the Sim of your dreams, illuminated by tiny flames from a bunch of candles… or cackling loudly while you call upon the Dark Lord using your makeshift altar. Either way sounds like a fun night.
7.

Wall Fireplace
If alien spaceships had fireplaces, we think it would look like Ooh-la-la's Wall Fireplace.
This is unlike any fireplace you've seen before, and looks straight out of Sixam!
It simple but looks futuristic, with a metal round base and a long tube for the chimney.
It's available in three heights: high, medium, and low to suit any walls. Perfect for your Alien's homes and rooms.
And the best part? Santa would never fit in these things.
6.

Rustic Fireplace Recolor
There's nothing more charming than a rustic farmhouse.
It evokes memories of family gatherings, being surrounded by nature, and a bunch of other horror movies.
Complete your farmhouse motif with the Rustic Fireplace by SIMthing New, a recolor of the Cozy Warmth Maker fireplace that can be found in the Cats & Dogs expansion.
This CC also needs that pack, so make sure you have it installed!
This CC took the basic fireplace and made it a bit more personal by adding faux wall hangings and décor.
It has been recolored with a white painted brick too, adding a bit of a distressed touch. The CC includes 5 swatches, all differing in wall accents!
5.

Diagonal "Heat Seeker" Fireplace + Mesh Override
Are you a purist who much prefers the game's base items, but also wishing they could be a wee bit better?
You've come to the right mod.
The Heat Seeker Fireplace is a classic. But what if your Sim's home is a bit tight? Modder PlasticBox comes to your rescue with the Diagonal "Heat Seeker" Fireplace + Mesh Override.
It's the Heat Seeker's diagonal version that allows you to fit this fireplace in a corner.
The mesh override also adds a ledge around the bottom of the fireplace, to make it look better. You can still also put any sort of knick-knack on top!
It comes in 14 color combinations and can be found under Decorations for 600 Simoleons. No bank-breaking here.
4.

Fireplace Glass Tank
Have a more subdued fireplace sans the bricks with the Fireplace Glass Tank by Freeasabird.
This ain't your Granny's typical fireplace – it features a cleaner, modern look where the firebox is enclosed in glass. Don't ask us how that's possible, we're not scientists!
Logs are stored in a square cutaway next to the pit, with space on the opposite end for nine small decorations.
This fireplace will go well in bachelor pads to impress the ladies.
3.

Fireplace "Palazzo"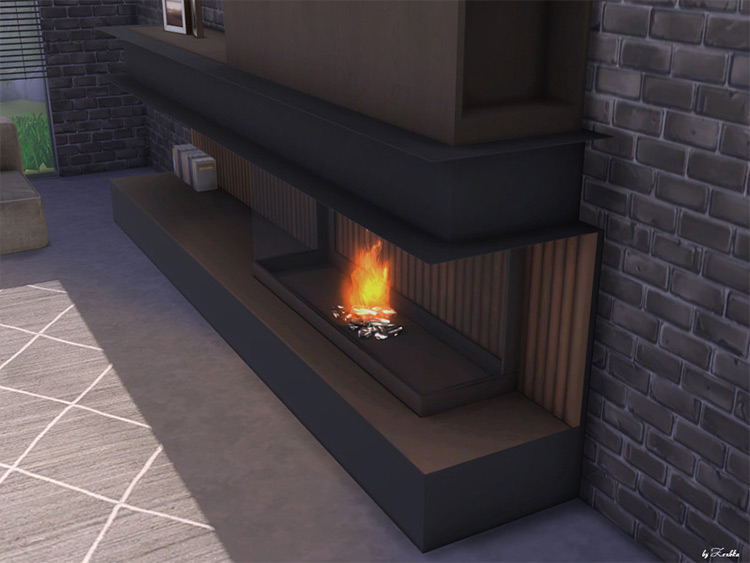 Here's another one with the firebox enclosed in glass. But what makes it unique is that it must be the biggest fireplace that we've ever seen!
And despite the large design of this CC, it is one of the classiest custom fireplaces on this list.
This is a creation of Zonbka named Palazzo, which is where fireplaces like these are suited! It offers plenty of space for décor.
The dark wood finish and the no-frills design will make it belong in minimalist homes. This fireplace will ensure that your home looks like it costs a million Simoleons, earned through hard work and not by motherlode.
2.

Kohlery Fireplace
Loving the influx of minimalist fireplace CCs.
Sure, they won't be viable in real life. But who needs real life when you have The Sims?
This Kohlery Fireplace CC by Chicklet, part of their Kohlery Living Room set, is a minimalist fireplace that you won't even notice… except for the abundance of logs.
The floor to ceiling L-shape design features a bunch of logs stacked on top of each other (again, you can never have enough wood), and a grill door for the firebox itself.
Inconspicuous enough, but a great conversation piece.
1.

Gloss Fireplace
Do you want to take this to the bedroom?
We're talking about the fireplace, silly!
Simcredible's Gloss Fireplace is a unique one with only a hearth and an open glass firebox. It doesn't need to be attached to a wall, and it's completely movable so you can place it wherever you desire.
This CC is the easiest way to take the fireplace into the bedroom and not the other way around!
Take note, Hollywood.
Browse:
Lists
The Sims 4
Video Games