Best Sims 4 Fishing & Fisherman CC
This post may contain affiliate links. If you buy something we may get a small commission at no extra cost to you. (Learn more).
Gone fishing.
A great pastime for many: either fishing in the open sea, or maybe a lake, and snagging as much fish as you possibly can.
A true fisherman is patient. They love the thrill of the catch and understand the fisherman lifestyle.
This means gear, outfits and maybe even some décor. This kinda stuff doesn't come in the vanilla Sims 4 version, but with CC, anything is possible.
It's time to give your Sim everything they need to truly live the fisherman experience.
8.

Bucket Hats for Males & Females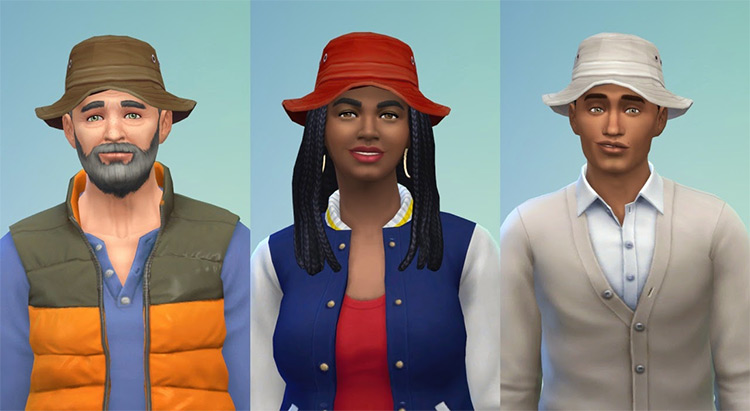 As we cast our line, we begin this list with some gnarly bucket hats by Jools-Simming.
These dual-gender bucket hats are a must for all you gritty fish lovers.
Coming in 3 unique swatches, the firetruck red look is especially appealing.
7.

Near the Sea Fishing Rod Décor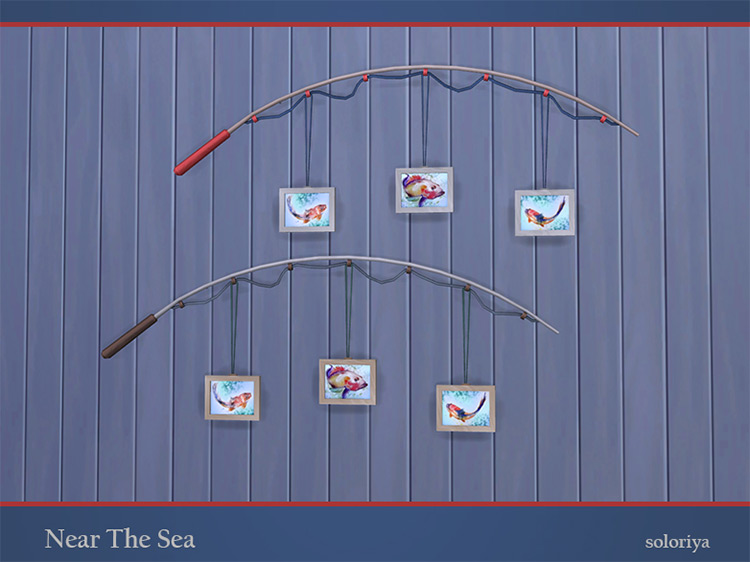 An odd trait of most fishermen is having a wall of their accomplishments.
Similar to hunters, they love displaying their prized catches across the living room walls.
This décor piece features 3 unique pictures, and the fishing rod used to make these totally epic catches.
The piece comes in 2 color variations, and is the perfect set to start building a fisher man cave.
And this CC gives your Sim something to point at when discussing bragging rights among their fishing peers.
6.

Fisherman Hat
Another bucket hat plops into our list with this fisherman hat by Simvy.
10 swatches and made for all ages and genders, this hat just provides a little more character than the previous bucket hat we looked at.
A crisply shaped hat, with fish medallions hanging off the side the cap just in case you want to remind me people what you do.
Definitely some nice headwear for anyone looking for something sweet to wear on a fishing outing.
5.

Fisherman Bazaar Set
Creator Maman Gateau gives us a bazaar set of fishing items.
This set includes, fish nets, rods, boots and a rod holder among other things.
The best part of this set is the wooden fishing boat included, featuring 4 different swatches.
All the items come in different textures, making this set jam packed with different choices.
While some might find fishing bizarre…
This bazaar is perfect for the true fisherman.
4.

Fisherman Outfit
Now we gotta dress up our fish loving Sims in the right gear!
Behold: the fisherman outfit by Snaitf.
Featuring 10 different outfit styles, there's a lot to like in this CC, with 5 separate hat colors too.
This leads to 50 potential outfit combinations, giving your Sim an outfit change for every fishing trip.
My personal favorite is the bumble-bee yellow outfit and hat with the grey undershirt.
Lots of options for both genders and all Sims from teens up.
3.

Coast Fishing Pole
Everyone thinks a man's best friend is a dog.
But for fishermen, their best friend is none other than…
A fishing rod!
And maybe their dog, too.
Well creator DOT gives us an excellent rod CC with upgraded textures.
Coming with a bold black cast with golden brown finishes, this fishing rod features 4 swatches for its handles.
My standout is the hazelnut brown handle, but I also dig the solid grey look as well.
There's no such thing as fishing without the fishing rod, so it makes sense for this item to be one of the best of the bunch.
2.

Fisherman's Nook
Let's take a look at this CC offering the "best bang for your buck" fisherman set.
Jools-Simming provides a plethora of items in this nook for fishing experts.
This set includes a whopping 20 different objects, primarily used to build a fisher man cave.
Fishing inspired rugs, mugs, cabinets along with shark art, fishing inspired paintings and décor paddles are just some of the many items included in this bloated nook set.
Perfect for starting out a cabin and establishing yourself at the fishing person in your Sim's neighborhood.
Talk about a big catch.
1.

Fisherman House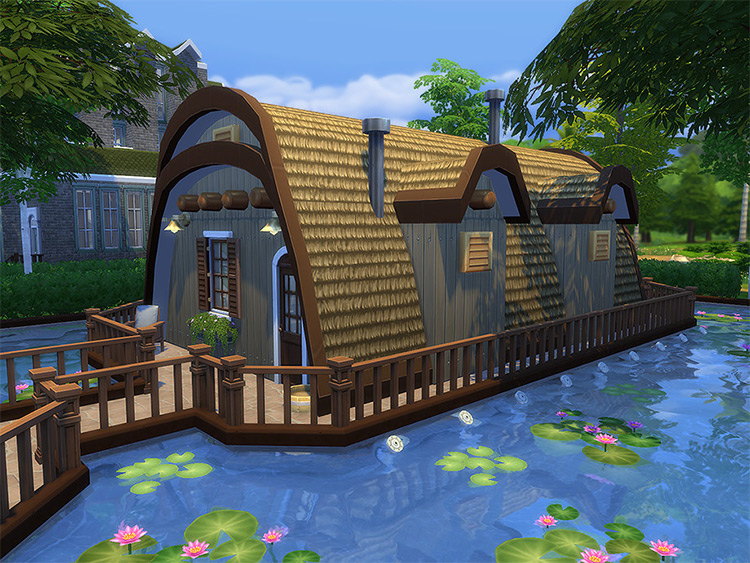 Topping our list is this extraordinary fisherman house lot by Ineliz.
We saw the fisherman nook which can be perfect for filling an area, and this house is the perfect place to fill up with that set.
This pre-built house is perfectly sized to fit nicely on a lake or pond.
And it's painted with a gorgeous blue-greyish exterior, surrounded with brittle chocolate brown wood across the surrounding areas.
Acting as the essential fisherman's hub, this house is truly a dream. And perfect for adding all your new CC!
The interior itself comes ready with a washroom, bedroom, kitchen, it's basically good to go.
Just sprinkle in a little fishing décor and this is the perfect place for a fisherman (or fisherwoman?) to call home.
Browse:
Lists
The Sims 4
Video Games