Best Flower Tattoos CC For The Sims 4 (All Free)
This post may contain affiliate links. If you buy something we may get a small commission at no extra cost to you. (Learn more).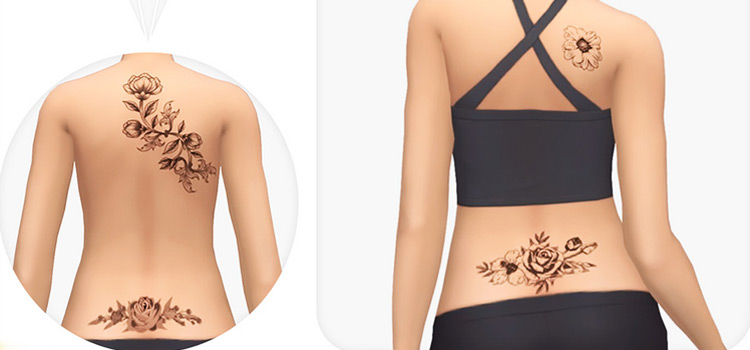 Tattoos are permanent. Like, really permanent.
While they're technically reversible, it's hard to justify going through that entire process after you've gone through all the trouble to get a tattoo to begin with.
In The Sims though, you can change tattoos as easily as you can change your pair of shoes.
Even easier, really, since you only need to click a button.
No shoe-tying or painful needles necessary!
Floral tattoos have the perfect mixture of delicacy and rebellion, which would explain their popularity. And because of how popular they are, this tattoo niche has a wide array of designs to choose from – even in The Sims 4!
1.

Random Flowers Tattoos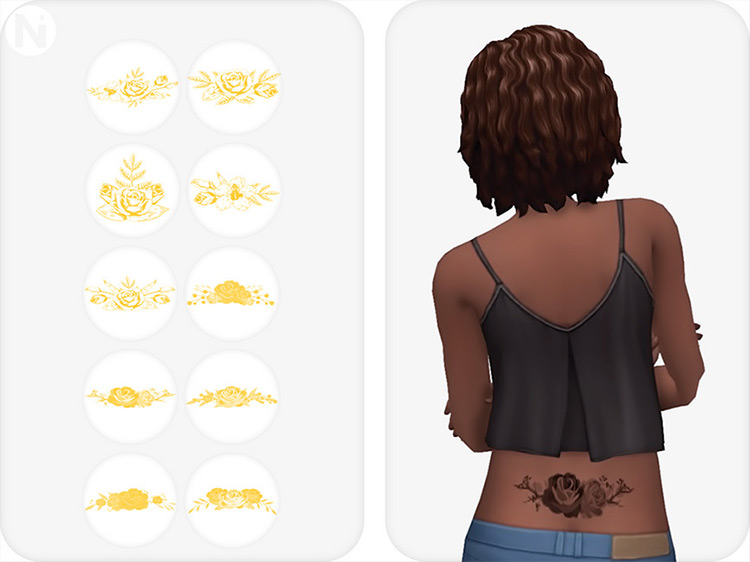 It can be hard to find the balance between making a statement and being overkill, but this CC found it.
The assortment of flower tattoos featured in this set are bigger, stronger, and more daring than your typical mini flower tattoos.
But ultimately, they're all pretty minimalist.
This set includes 15 upper back tattoo designs and 10 for the lower back, making it the largest set on this list by far.
Might as well start with a bang!
2.

Snake in the Flowers
In my mind, this tattoo CC is like the emblem for all floral tattoos because it mixes dangerous, 'edgy' elements with gorgeous florals.
It's like a thorned rose, but instead of thorns it's an entire snake.
Who doesn't want a snake on their back!?
Since a lot of this tattoo is on the mid to lower back, it'll work best with certain outfits. Whenever your sim wants to show it off, they can quickly switch into some open back clothes.
It works on all genders, all skins, and all Sims 4 games (plus expansions).
It could even work in yours (hint, hint).
3.

Female Flower Tattoo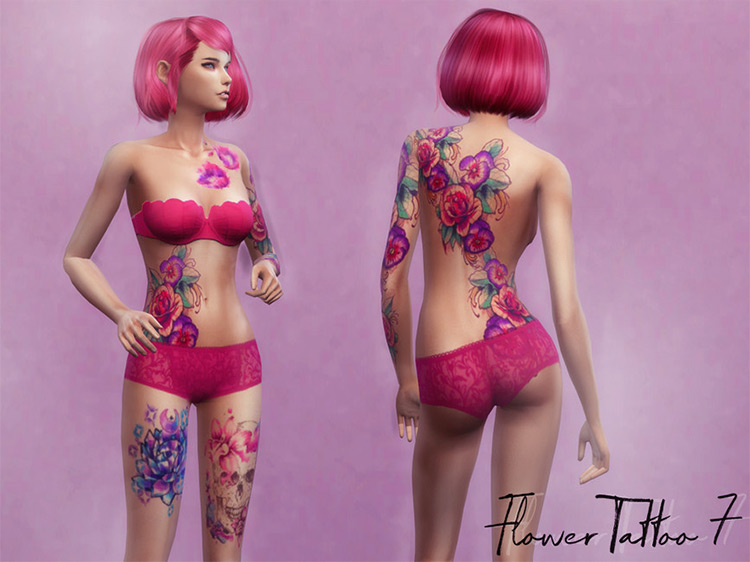 If there's something that most tattoo designs are lacking in, it would have to be color.
The typical greens, blacks, and washed-out reds and blues aren't necessarily bad.
It's just that they're lacking in variety, and they can't always give you the look you want.
On the other hand, this flower tattoo CC for female sims is the opposite of washed out.
It comes in 7 swatches, so you'll be able to pick for yourself what type of bright and colorful best represents your sim!
Don't mistake bright colors for cutesy, though; this tattoo is still a mature pick – and the thigh-skull is proof of that.
4.

One-side Flower Tattoo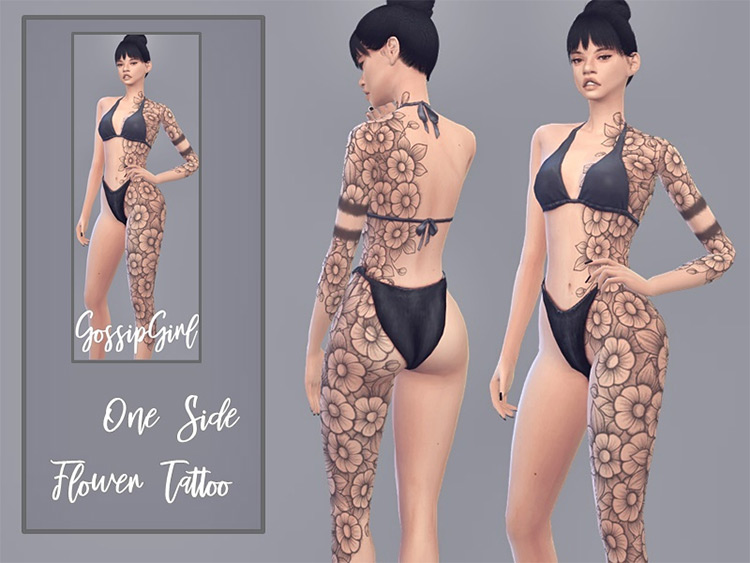 In the case of this tattoo, "one-side" doesn't just mean that there's only a tattoo on one side of the body.
It also means that the tattoo totally covers that one side!
This highly unique tattoo will make your sim look like they're half-daisy field, half-sim, and 100% tattooed perfection.
It's definitely the type of tattoo that looks great with any outfit, revealing or otherwise.
While there's only a single swatch here in classic inked colors, this CC is sure to be a showstopper.
5.

Mandala Tattoo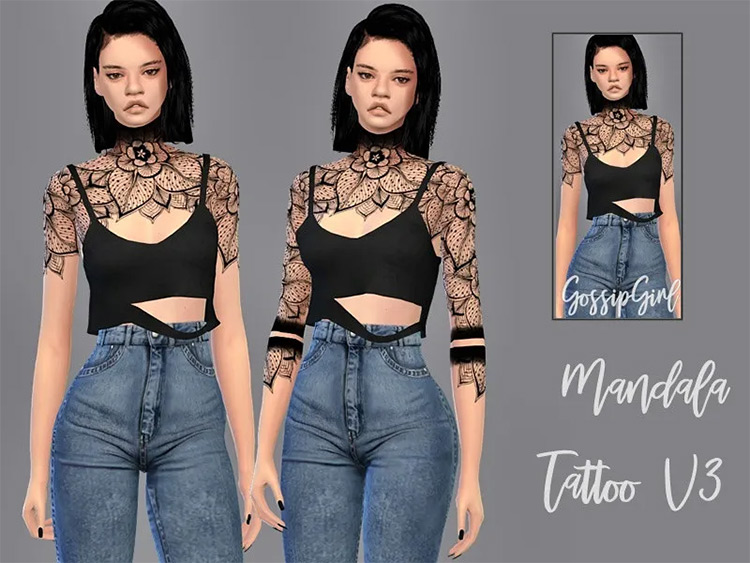 If you're looking for a design that holds more meaning than a generic bunch of flowers, then this floral mandala tattoo is the one for your Sim.
Inspired by Buddhist/Hindu art, it uses a combination of immaculate detail work and symmetry to create a lacy effect.
It's debatable whether or not this tattoo truly counts as a mandala, and it's certainly not traditional, but it is gorgeous!
The clean black cut offs on the neck and elbows make it seem almost like it's a lace garment laying over the skin, rather than a real tattoo.
6.

Floral Constellations Tattoos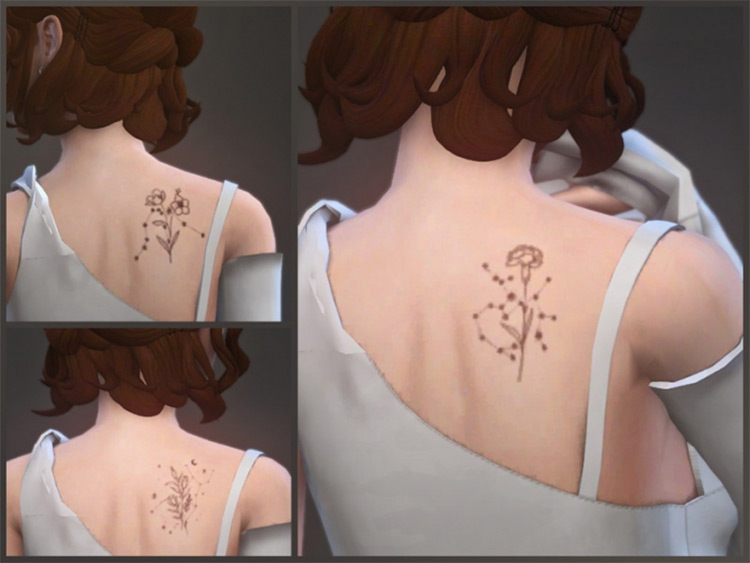 Most people want their tattoo to either look cool, or mean something to them, and preferably both.
This CC falls into that last category.
There are 12 swatches for this brilliant tattoo, each one displaying a flower and a constellation to go with.
If you haven't already noticed, they're all zodiac constellations and the bloom (or in some cases, multiple blooms) is uniquely picked to match each sign.
And this works for both male and female sims, which is a huge plus for tattoo CC.
Even better, it's also a subtle design that any sim could wear – even if they aren't usually the tattoo type.
7.

Henna Flowers Tattoo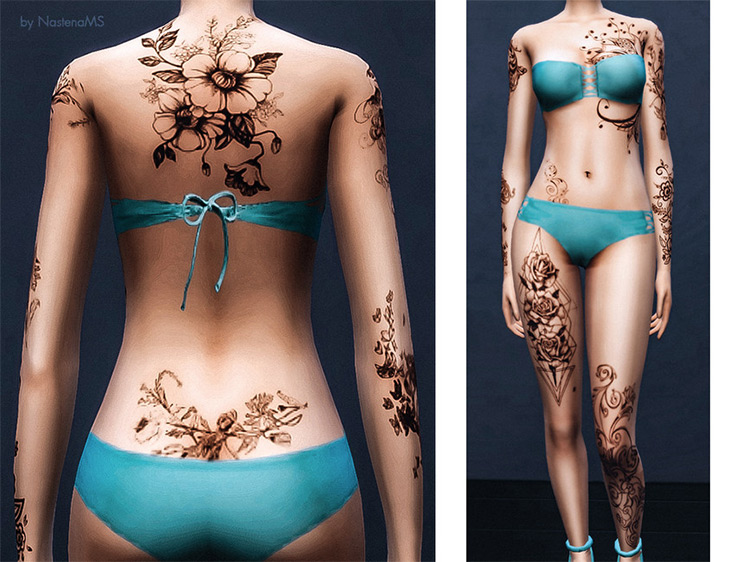 You can't talk about flower tattoos without at least giving a head nod to henna.
Henna designs are often floral, and indeed frequently take the form of mandalas like the tattoo from before.
This full-body henna CC has 2 swatches, and aside from the rich brown-black color and flowers, they both take more inspiration from western tattoos than henna art.
The only disappointing part is that this henna doesn't include the hands, or even the forearms much at all.
It makes for a great tattoo – but it loses out on some of the beauty of henna.
8.

Flower Tattoo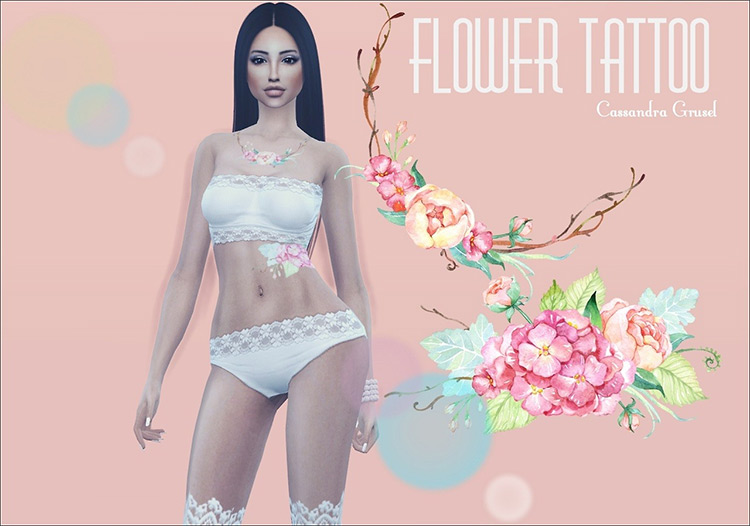 As weird as it might sound to describe a tattoo this way, CassandraGrusel's floral tattoo gives me serious bridal vibes.
From the romantic flower choice to the pretty pastel colors, it's hard not to imagine this on a modern sim bride.
Of course, what with tattoos being permanent and all, it probably isn't realistic to get a large tattoo for a wedding.
But that shouldn't stop you from doing it in The Sims, right?
This CC has only one swatch – but it does work for both male and female sims.
Floral grooms are welcome, too!
9.

Sunflower Back Tattoos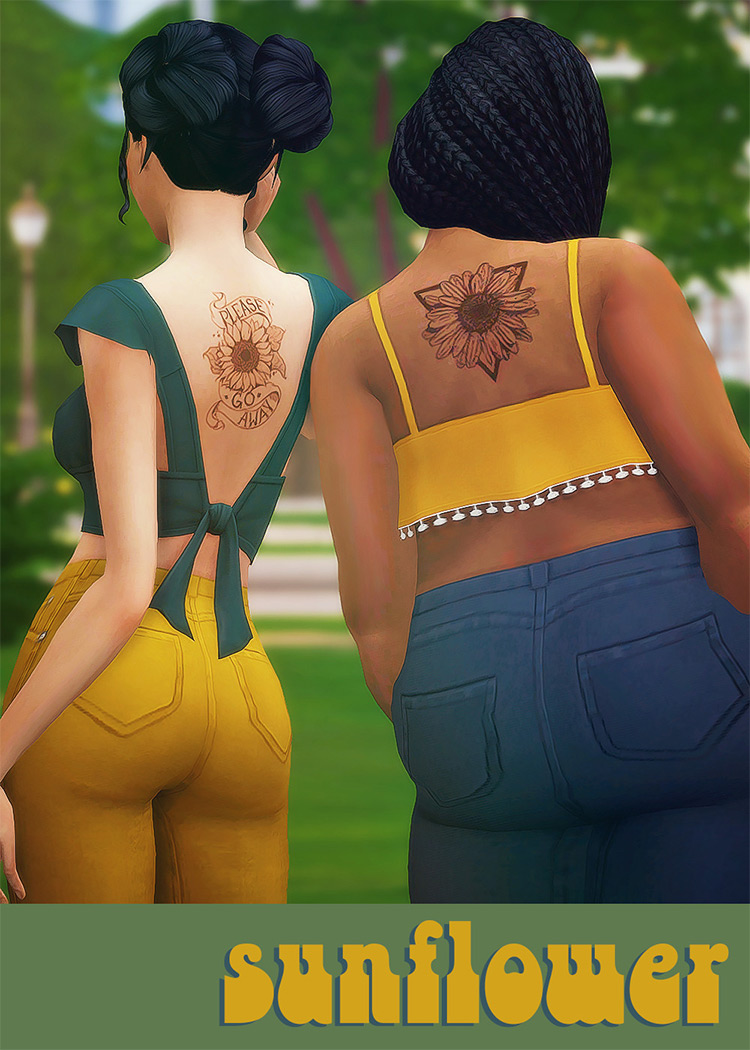 These cutesy sunflower tattoos will make your sim the belle of the beach.
They're adorable, summery, and there's even a swatch that says "please go away".
Now that's what I call a tattoo with seasonal appeal and year round relevance.
There are 10 tattoo designs in this set, and each one has a unique tattoo location.
Some are on the lower left of the back, the upper middle of the back, the upper right shoulder… you get the idea.
Browse:
Lists
The Sims 4
Video Games