Best Sims 4 Food, Recipe & Cooking Mods (Free CC To Download)
This post may contain affiliate links. If you buy something we may get a small commission at no extra cost to you. (Learn more).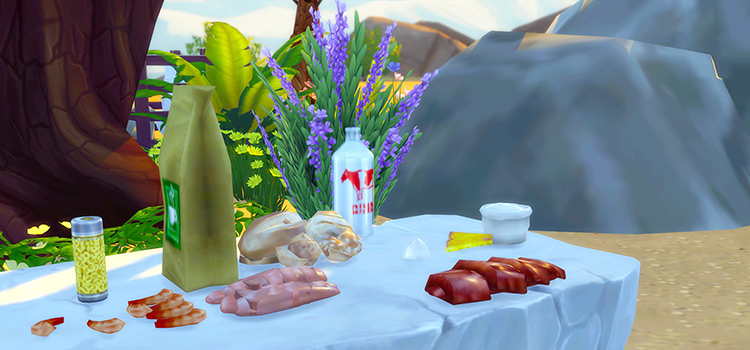 The Sims 4 is the perfect game to let time float by. Despite coming out years ago, there's always something new to check out every time you sit down to play – whether it comes from EA or the Custom Content community.
If you're already familiar with the Eco Lifestyle expansion and can't wait for the upcoming releases, well there's nothing left to do but plunge right into the world of mods and CC.
And what a better place to start than by revamping TS4's food and cooking?
The base game's systems can feel a bit rudimentary at times, and we all need variety in our diets to live healthy, happy lives – even Sims.
So join me as I take a look at the best culinary mods that'll elevate your Sim's foodie experience to the next level.
20.

The Grocery Store Mod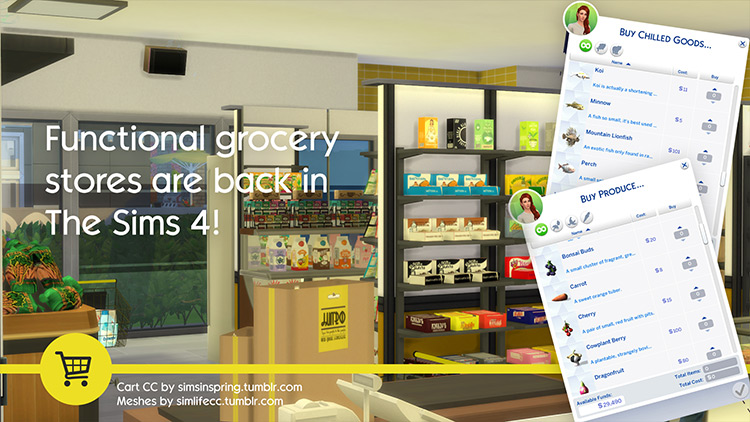 Before your Sims can get any cooking done, they must attend to their pantry and fill the fridge with ingredients that'll open up the culinary possibilities.
In previous installments of The Sims you were allowed to visit the grocery store and similar venues right from the get-go. But The Sims 4 is a bit different in that… well, it expects you to either grow food yourself or find it out in the world by chance.
With this fantastic mod from SmagGeorge, you'll simulate the cooking experience more realistically by physically going to the store to get all you need for a balanced meal. Just like real life!
19.

Shop for Groceries
With my life as it is nowadays, I never actually go to the grocery store. It's the 2020's, after all, so now we get our groceries from the comfort of our beds. Welcome to the modern era.
This mod by notorious creator SrslySims allows your Sim to indulge in their sedentary tendencies without sacrificing healthy eating.
Hungry? Just have your sim order groceries from a phone, tablet, computer, or even a cash register if you just want some grub at work.
Thanks to this add-on, every fish, produce item, and flower in the entire game is just one click away.
Also it's compatible with other mods that add new ingredients too. Nifty!
18.

More Servings Options & Better Meal Time Menus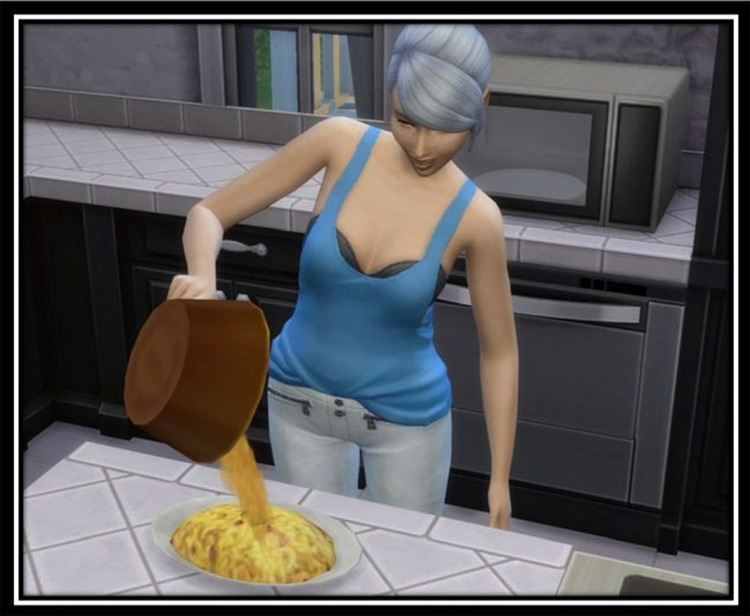 Once you've got your ingredients ready, it's time to call up the family and serve them a warm, hearty meal that'll hopefully give some positive buffs, rather than send them running to the bathroom.
As the family cook, it can often be annoying to cook every single serving.
And sometimes the default serving sizes are simply insufficient.
This mod by LittleMsSam fixes this issue by letting you choose how many meals to cook in detail.
Whether you want a romantic dinner for two, a special Party Size meal for seven Sims, or just a single cheese sandwich, your Sim will be ready to measure ingredients and cook with precision in mind.
17.

Healthy Drinks
The default drink variety in The Sims 4 isn't exactly extensive.
What better way to improve it than with health-giving drinks that'll keep your Sim active and energized throughout the day?
Creator LittleMsSam decided to improve her Sims' lifestyle and make these healthy drinks available at any venue where drinks are prepared and served.
Options include Carrot Juice, Spinach Juice, Lemon Juice and even Plasma Fruit Juice for the bloodsuckers in the family.
And these healthy drinks aren't all show. They'll also give your Sims positive, health-related buffs such as a happy moodlet and a minor increase to their fitness skill.
16.

Edible Junk Food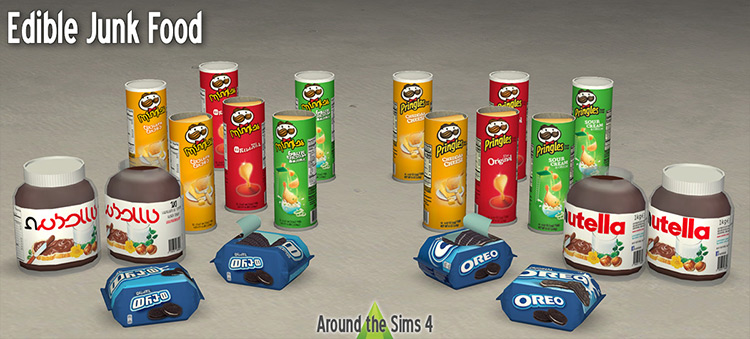 Let's face it. Most of us haven't had a healthy drink in weeks (or at least our Sims haven't!)
The only things that are never missing from most of our homes are snacks and plenty of junk food.
The Sims, living the whimsical lives they do, are primed to indulge in the same unhealthy delicacies as humans. Still, their choices are a tad limited.
To expand their repertoire of snacks, CC creator Around The Sims brings us this pack of iconic treats consisting of Nutella, Oreos, and several flavors of Pringles Potato Chips.
Anyone else getting hungry just reading this?
15.

Assorted Cookbooks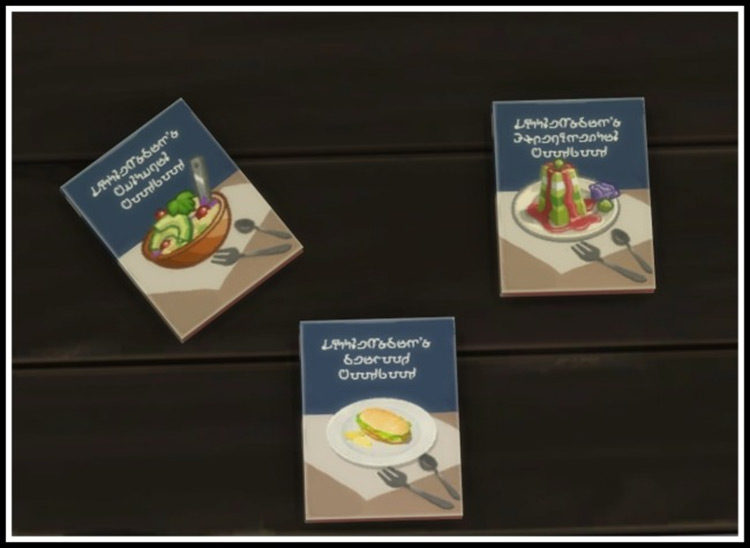 Junk food is delicious, but we should do our best to avoid it, or that's what my gym teacher always said.
One of the best ways to keep you eating healthy is learning plenty of recipes for fresh meals.
Creator LittleMsSam makes this much easier for our Sims by providing these diverse cookbooks that'll teach a Sim to cook a bunch of experimental recipes, seafood, and much more.
All in around 60 in-game minutes.
You can also make NPCs read these books, so they know the best way to cook these dishes too. That way they can make them for you, saving you plenty of time.
Hint: look into a butler.
14.

Custom Food Interactions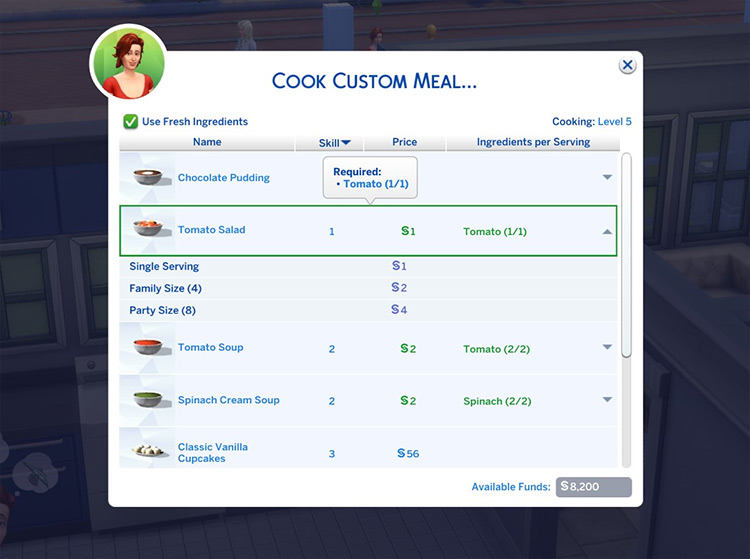 One of the most important food-related mods you can download is TheFoodGroup's Custom Food Interactions, a pre-requisite for most of their recipe CC packs.
After installing this mod, you'll notice you now have a "Custom Food" option anywhere you have regular food interactions.
You can cook custom food at the stove, feed your toddler custom food, and even make Vampire-friendly food.
This makes it easy to find all of your shiny new recipes, letting your Sim indulge in the custom delicacies you so painstakingly procured for them.
13.

Custom Drink Interactions
And why would you stop at custom food when you could enhance this simulation by installing TheFoodGroup's Custom Drink Interactions?
You want an Apricot Bellini? A Pink Lady?
Maybe some cocoa with marshmallows, perhaps?
Custom Drink Interactions can make it easy for your Sim to get themselves a little bit of flavor in a cup, anywhere that drinks are usually available.
If you've been using mods for a while, perhaps you know this mod as IceMunMun's Custom Drink Interactions.
This is the updated version, maintained by a different group after IceMunMun dropped the project.
12.

Food Delivery Service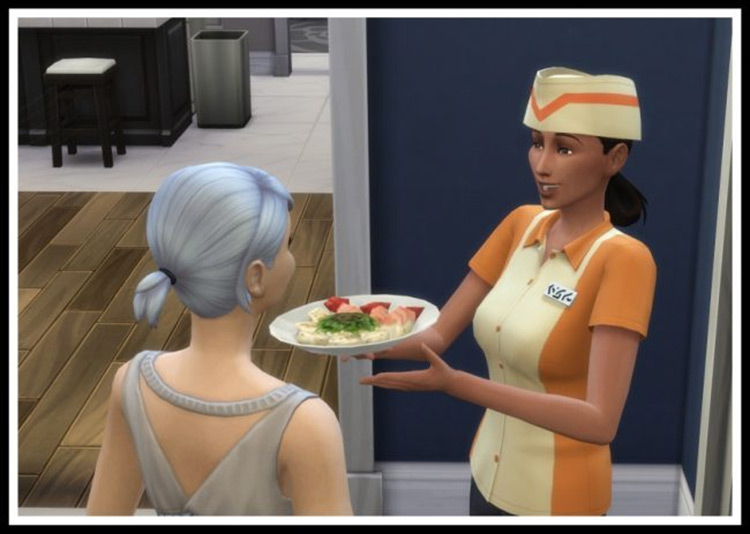 I've been busy with work and other projects lately, so I've had to rely on my favorite local restaurants to keep me fed through their delivery services.
Just like I can make my time last more by not cooking my own meals, so should your Sims have the chance to indulge in the wonders of ordering food.
Thanks to LittleMsSam's Food Delivery Service mod, now they can.
Where originally they could only order pizza, now your Sims have astounding culinary variety at their fingertips 24 hours a day.
They can order single, family, or party size depending on their needs. And the delivery will only cost them 25 Simoleons, plus the cost of preparing the food.
11.

Granny's Cookbook
If you're interested in easy-to-use mods, Granny's Cookbook by creator Littlebowbub will not disappoint.
It merely adds a cookbook decoration you can place wherever you find it convenient.
You'll then be able to interact with it and choose from a wide array of recipes divided into Cold Drinks, Warm Drinks, Quick Meals, and Granny's Recipes.
These recipes include simple stuff like Chicken and Dumpling Soup, but also experimental dishes such as Beef Patty with Coco Bread, or Thai Mango Sticky Rice.
Whether you want a snack, a drink, or a more substantial meal, just choose a recipe and your Sim will take care of the rest.
And hopefully not burn the house down.
10.

Drinkable Hot Drinks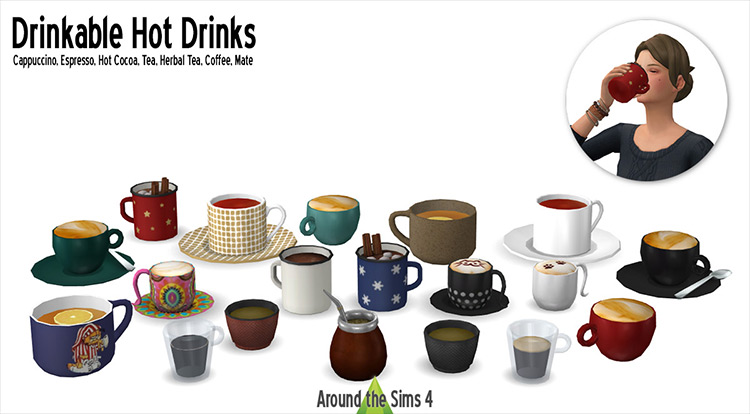 Creator AroundTheSims generally focuses on visual improvements and decorative CC for The Sims 4.
These wonderfully modeled hot drinks started their lives as decorations, before the creator had the genius idea of making them functional beverages too.
This pack includes all kinds of hot beverages with unique looks to keep you warm and stylish through a rainy day. Or just to have your friends over and have a friendly chat over steamy concoctions.
It even includes some lesser-known multicultural options like Japanese Tea and Yerba Mate for our Argentinian and Syrian friends.
9.

Drinkable Alcoholic Drinks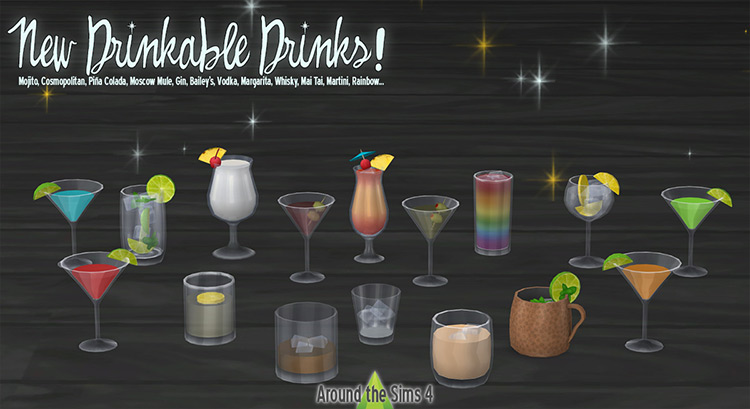 AroundTheSims continues the series of re-purposed decorative drinks with another mod: Drinkable Alcoholic Drinks.
This expands the ethylic possibilities of The Sims 4 to reflect better the realities of alcohol consumption in the 21st century.
It includes several staples of bartenders worldwide like the Mai-Thai and the Margarita, along with household classics like Bailey's on the rocks.
Each of these iconic drinks will have a different effect on your Sim so it's fun to get them drunk and see what happens.
And of course, please drink responsibly!
8.

McDonald's Custom Food & Drinks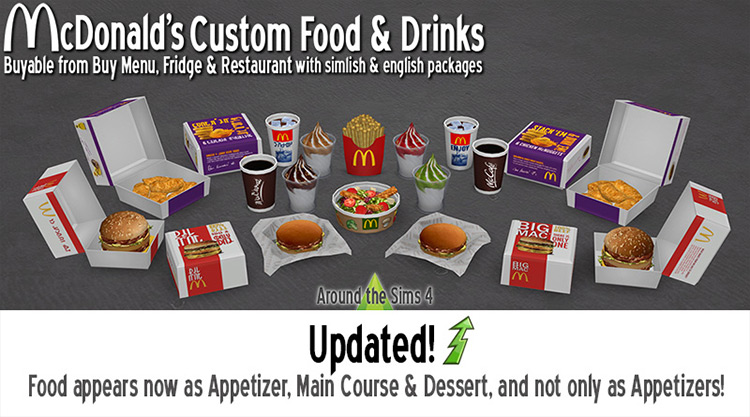 If like seeing McDonald's in games, you'll have a blast with AroundTheSims' McDonald's Custom Food & Drinks.
These beautifully-modeled colorful treats include desserts, fries, chicken nuggets, and burgers in bright red and yellow packaging bearing the golden arches.
It's a lot of variety to experience in one sitting. So you'll probably be ordering McDonald's for a while.
The pack also includes a lot of themed furniture and appliances to let you create your very own McDonald's inside The Sims 4. Yes, really!
7.

Ask to Cook/Bake/Grill/Mix Drink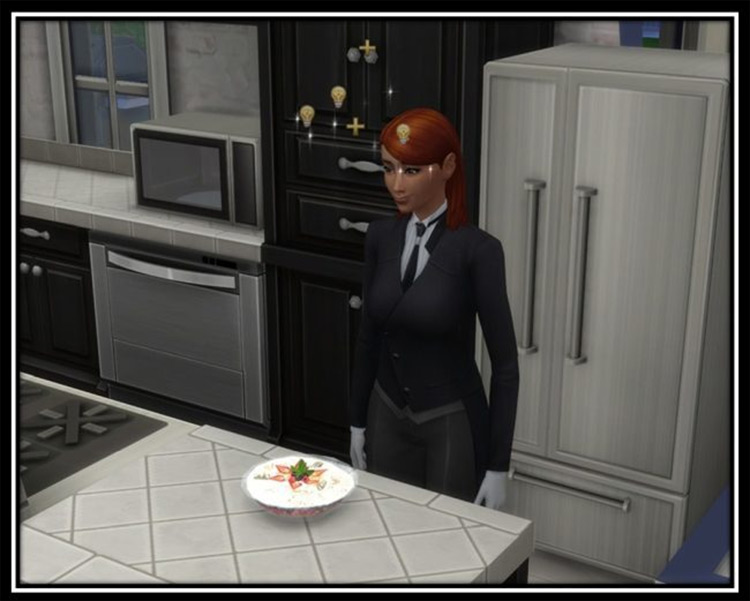 We all know someone who's never had to lift a finger to make their own food. They're a fact of life!
And so should they be in The Sims 4 if we're aiming at any level of realism.
This simple mod by LittleMsSam will let you ask other Sims, including NPCs, to take care of your culinary needs by interacting with the same appliances you usually would.
This is ideal for the lazy Sim that never leaves his room, and any Butler/Maid situation you want to setup.
Just keep in mind that the Sim will need to know the recipe before cooking anything for you.
6.

Don't Wash Dishes Where You Angry Poop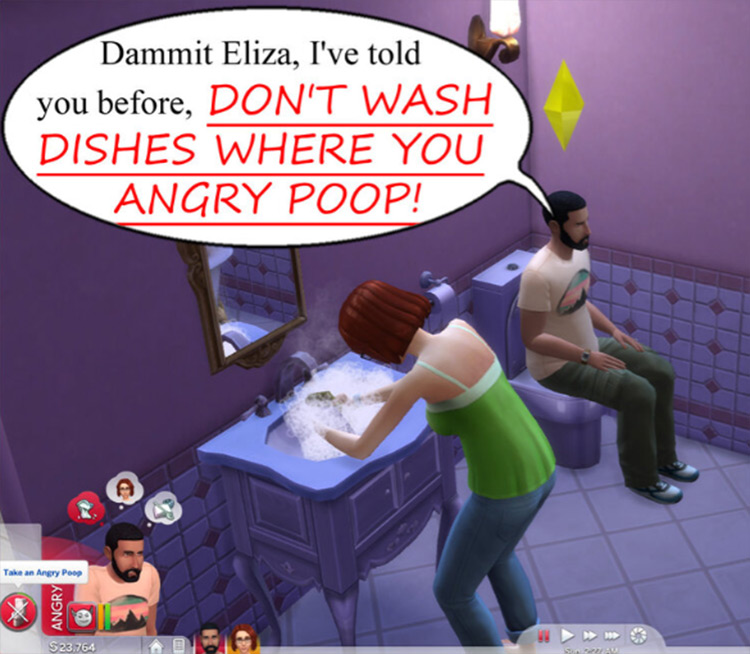 One of the most common complaints and occasional memes regarding The Sims 4 has to be the fact that Sims appear to love doing the dishes in somewhat… unusual places, including the bathroom.
This has a lot to do with the fact that bathroom and kitchen sinks are just seen as "sinks" by the AI.
That's what Scumbumbo's humorously-titled mod wishes to address here.
It letsyou manually tell your Sims which sinks are OK for washing dishes, and which should be left alone.
That way you won't be thrown out of your immersion by their bizarre behavior, and they'll have less uncomfortable encounters in the bathroom.
5.

Don't Prep Food Where You Angry Poop
Just like the previous mod, Don't Prep Food Where You Angry Poop will allow you to set cooking-safe stoves and surfaces around the house manually.
This saves your Sims a lot of awkward moments with their roommates, family members, and the odd house guest.
These may be simple mods, but they deserve to be near the top for just how useful and essential they are.
Would it really be that difficult for EA to take care of this in the base game?
4.

AsteriaSims' Food Texture Overhaul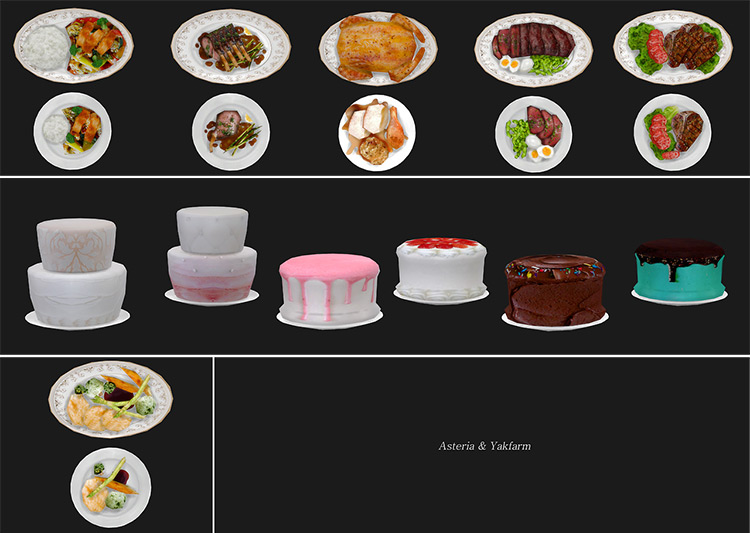 One of the most sought-after improvements in The Sims 4 are those that make your game look more realistic… or put simply, prettier.
A great way to achieve this when it comes to food is AsteriaSims' Food Texture Overhaul, a comprehensive pack of appealing textures to make your Sim's food look as delicious as you'd see in real life.
This pack features intricate detail, as is evident in its bowls of individually-depicted grains of rice.
That roasted chicken is also among the most realistic I've ever seen.
3.

UtopiaSims' Food Textures
Another excellent array of upgraded textures you definitely shouldn't install if you're watching your weight is UtopiaSims' many food textures.
They're colorful, warm, and delicious-looking.
Best of all, they achieve this without going for a photo-realistic look that forces you to change everything lest the food looks out of place surrounded by the clay-like vanilla aesthetic.
2.

GrayCurse's Cooking & Ingredients Overhaul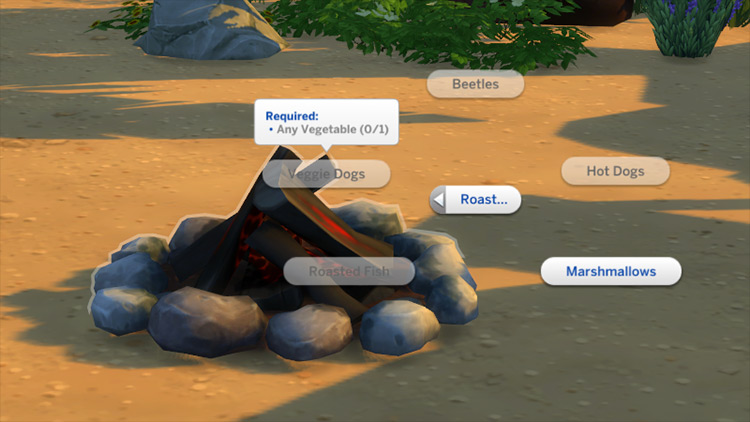 If what you're looking for isn't an aesthetic improvement, but a robust culinary addition to gameplay, then the Cooking & Ingredients Overhaul by creator GrayCurse is what you need.
This engaging mod makes cooking a more challenging and in-depth endeavor by adding many more ingredients.
You'll get stuff like cheese, flour, eggs, milk, and sugar. It also makes recipes more complex.
This way you'll need to procure the ingredients for each dish first.
Don't worry about the added complexity making your Sim go hungry, though. You can get most of it by buying it from the fridge.
1.

Srsly's Complete Cooking Overhaul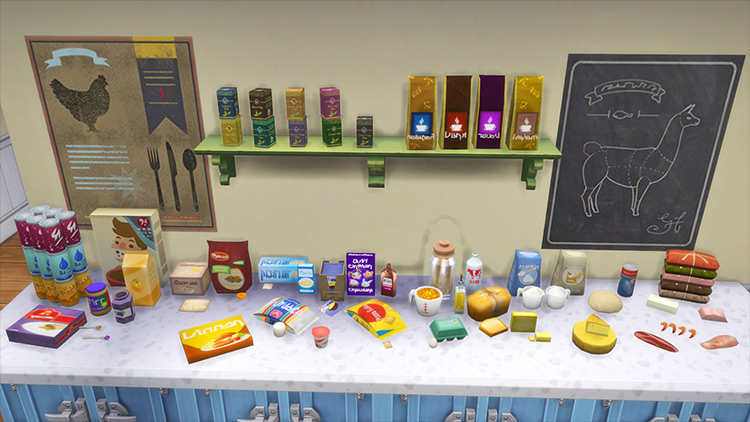 In a similar vein as our previous entry, Srsly's Cooking Overhaul changes recipes to make them more complex, thanks to more accurate ingredient lists.
Just as in real life, your Sims will now be missing ingredients for their recipes all the time.
To balance this out, Srsly also allows us to order them through the Food Delivery Service covered before, which is a vital part of this larger overhaul.
Ingredients will arrive in a packaged form that's stylish and appealing as a temporary decoration. Would be nice to have this in real life, eh?
But if you need a single mod that'll truly turbo-charge your cooking experience in TS4, this is it.
Browse:
Lists
The Sims 4
Video Games