Best Sims 4 Football-Themed CC & Mods (All Free)
This post may contain affiliate links. If you buy something we may get a small commission at no extra cost to you. (Learn more).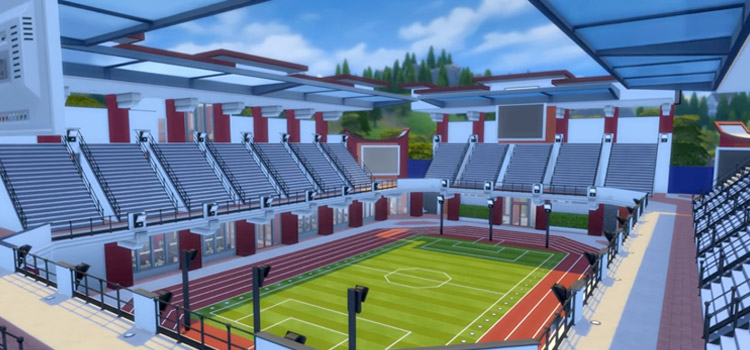 Football has to be America's favorite sport. It's the game everyone loves to watch, and why many spend their Sundays staring at the screen all day.
The pig skin has been a national treasure of a game, and it's likely not slowing down anytime too soon.
So today we take a look at any Sims who might want to get in on their favorite teams and relish in their love of football.
And this list has some of the best football CC you can get for The Sims 4.
So break the huddle and get ready for some touchdowns.
Ohio State Buckeyes Uniform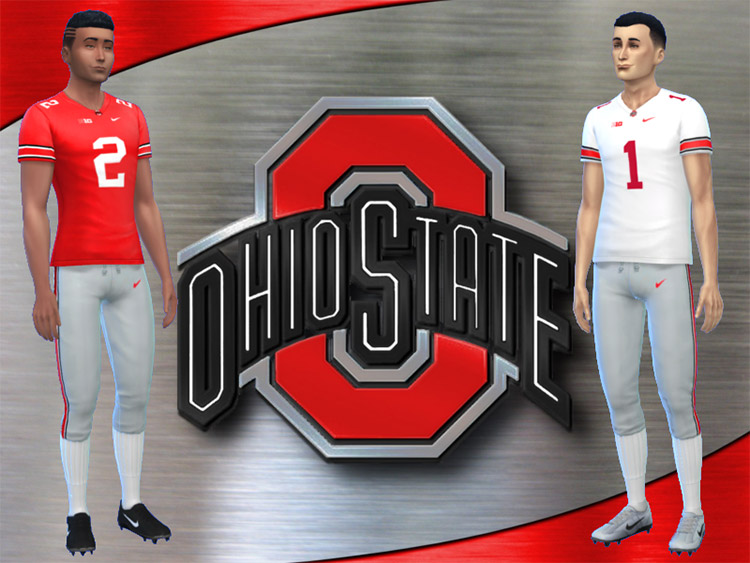 Our kickoff begins with one of the most popular teams in College Football:
The Ohio State Buckeyes.
Rock the great red and white colors right here, in support of your favorite players.
Don this CC in support of your quarterback Justin Fields – and then maybe the buckeyes can bring home a National Title this year.
Hoo-Rah!
Football Polo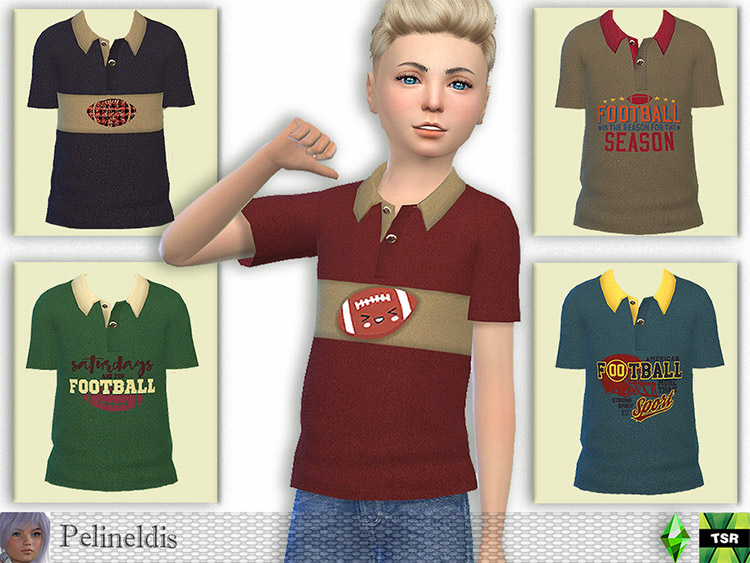 Fathers tend to push their kids early into loving the game of football.
These custom polos are a great example of that.
You get five neat designs here, including an awesome "Saturdays are for football" shirt.
It's usually Sundays, but hey, we can let it slide.
American Football CC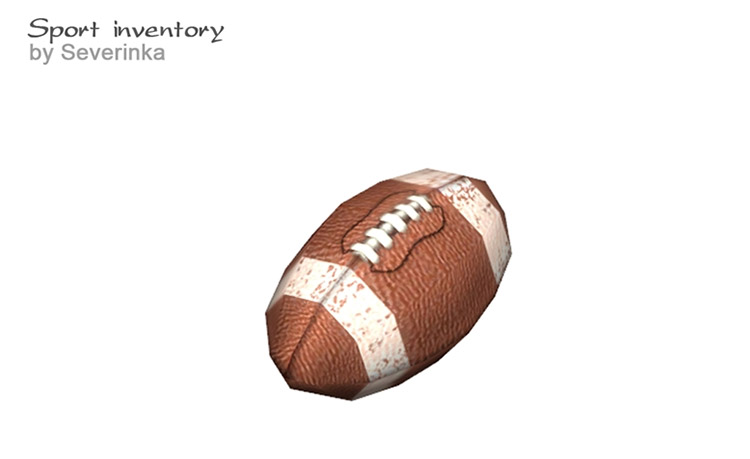 Can't play the game without the pig skin itself.
This football CC is perfect to toss around in the backyard, or at the park. Or even just as a décor piece somewhere in your Sim's house.
Whether you're a teen looking to play with the boys, or teaching your son how to play the game, this custom football will get the job done.
Who knows – your Sim might find the next Tom Brady throwing the ball around at the park.
Brindleton Bay Bulldogs PeeWee Jerseys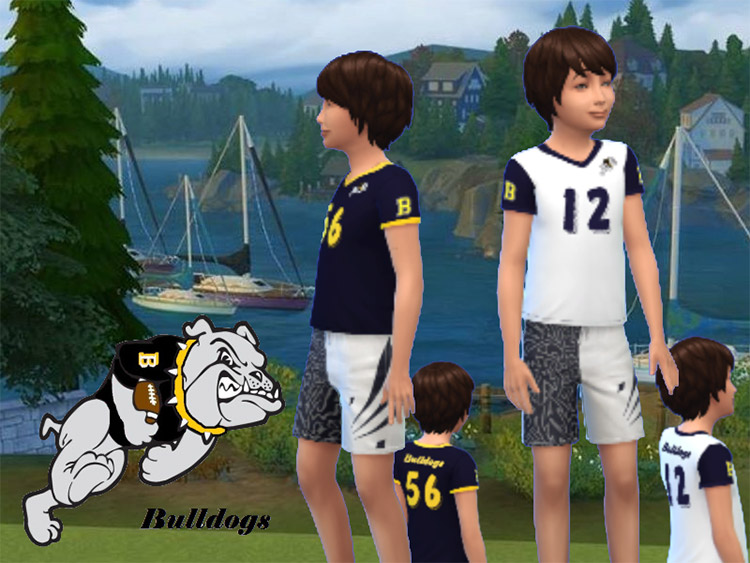 CC creator RJG811 has the right idea here of starting a league for the kids of the Sims universe.
And this specific jersey is for the Sim kids of the pet-centric town of Brindleton Bay.
Sporting a navy blue home jersey and the snarling bulldog as a logo, this design is perfect for a Peewee football team in the Sim universe.
San Myshuno Dragons PeeWee Jerseys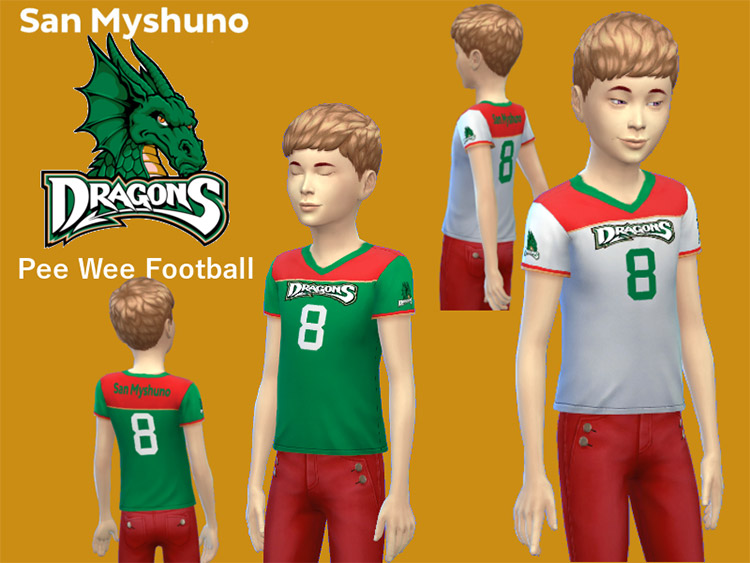 Every team needs a rival.
And for the Bulldogs, that rival is the Dragons.
These uptown kids sport a green and red jersey, and you can get in on the action with this CC.
Definitely a snottier design for a snottier group of kids.
But these jerseys are great to actually make up a kid's football league within your Sims world. Or maybe even just for poses & photos.
Football Team Pictures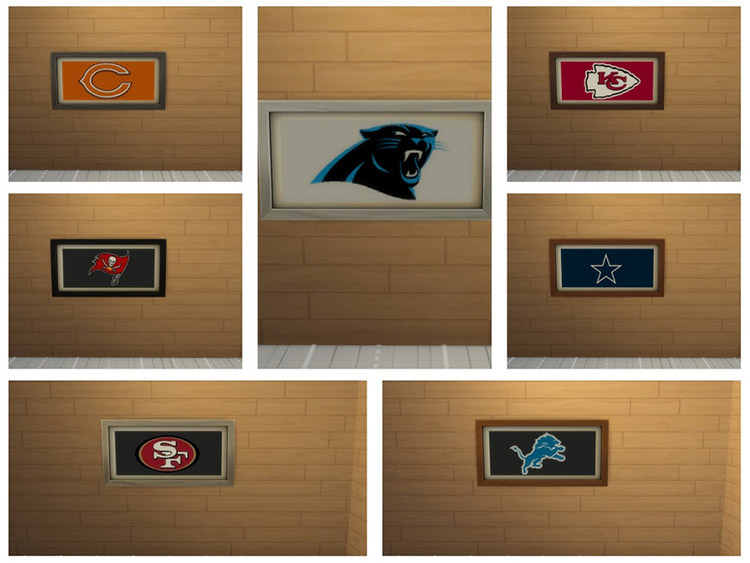 Every fan loves their sports memorabilia.
Well now you can share that love for your favorite NFL team in a nicely sported picture frame.
Creator sweethearwva gives us 7 unique football teams, including popular teams like the Dallas Cowboys, San Francisco 49ers, and the Kansas City Chiefs.
He also includes the Detroit Lions, but I'm not too sure many Lions fans even have their team framed in real life.
Sorry not sorry.
Charles Woodson Jersey Collection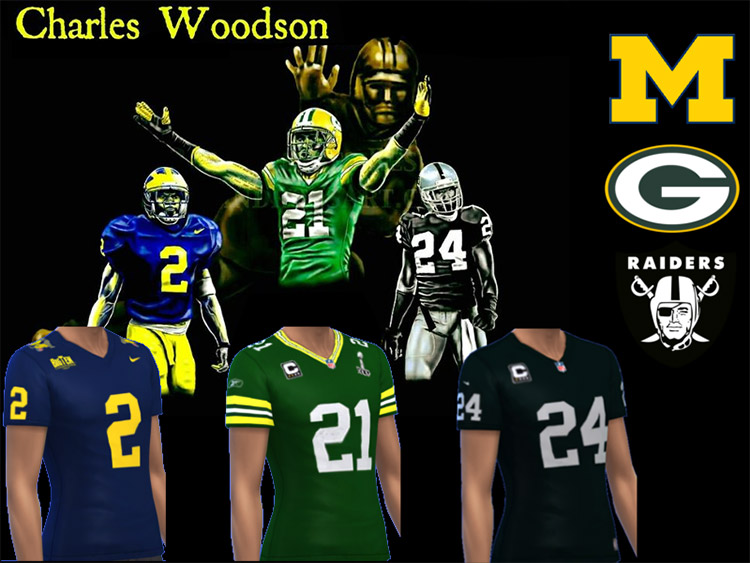 If you want to talk about a hard hitting interception king, look no further than Charles Woodson.
This Packer and Raider legend can now be idolized in your Sims game, with his NFL jerseys from both teams being a part of this set.
You can also rock his college look with his Michigan Wolverines jersey, sporting your fandom of him no matter what colors he was wearing.
Now that's a true fan.
Kansas City Chief Sweaters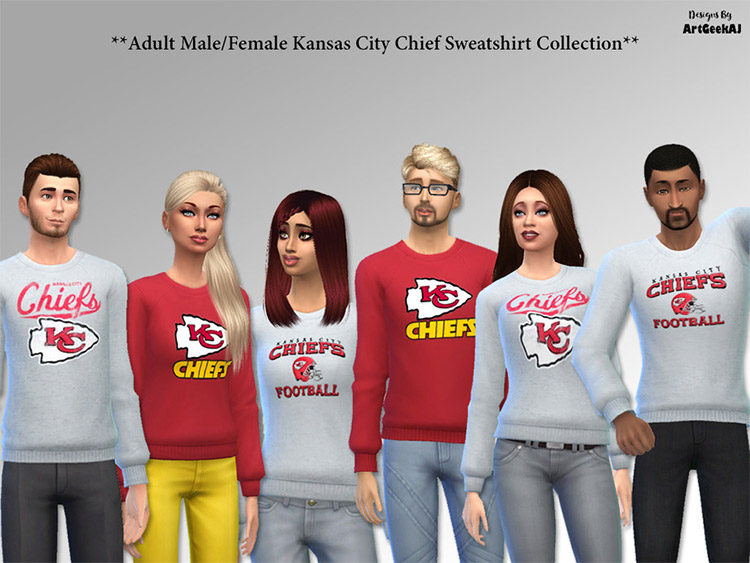 To be completely honest, the Chiefs hadn't been a popular team until Patrick Mahomes showed up.
Since then, they've been rolling – and have become one of the most feared offenses of all time.
Regardless of if you were a lifelong fan or a more recent bandwagoner, you can now share your love with this dope sweater set by ArtGeekAJ.
This CC set includes 6 sweatshirts featuring different colors and designs, my favorite being the team logo crewneck in Chiefs red.
Seattle Seahawks Crewneck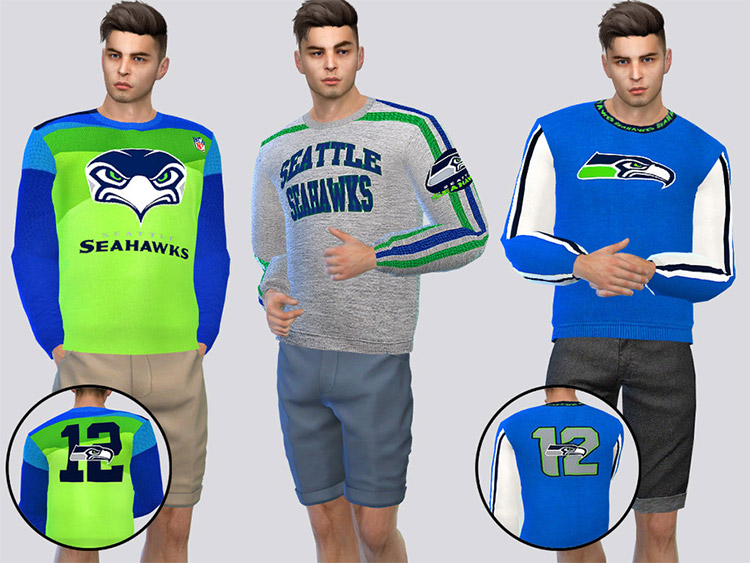 Another NFL team that rose to popularity in the last decade is the Seattle Seahawks.
They're a team with very unique colorway of blue, lime green, and grey.
And these 3 swatches use the Seahawks colors effectively for this crewneck sweater.
The CC creator even plasters the number 12 in here for Seattle's prodigal son, Russell Wilson.
This is a great "pick" on our list, just don't tell Malcolm Butler.
Toddler Football Onesies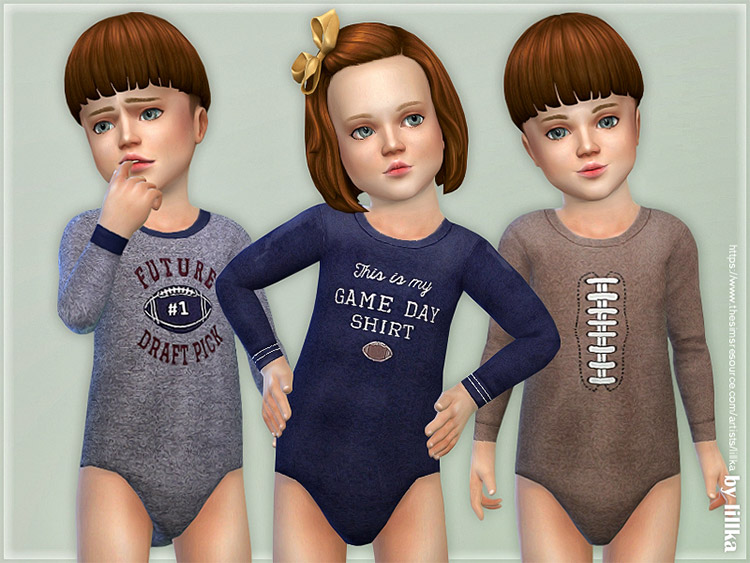 If you're starting your Sims off young, then you might as well start as young as possible.
Now you can get your little ones into football fanatics from the youngest age possible with these awesome toddler onesies.
You'll find loads of cool designs including phrases like "#1 draft pick" or "My Game Day shirt".
But all of these will definitely make these little ones fall in love with the sport, or at least they'll look great in baby photos.
Heck, these may even help some of your toddlers learn to walk a little faster.
New Era NFL Backwards Cap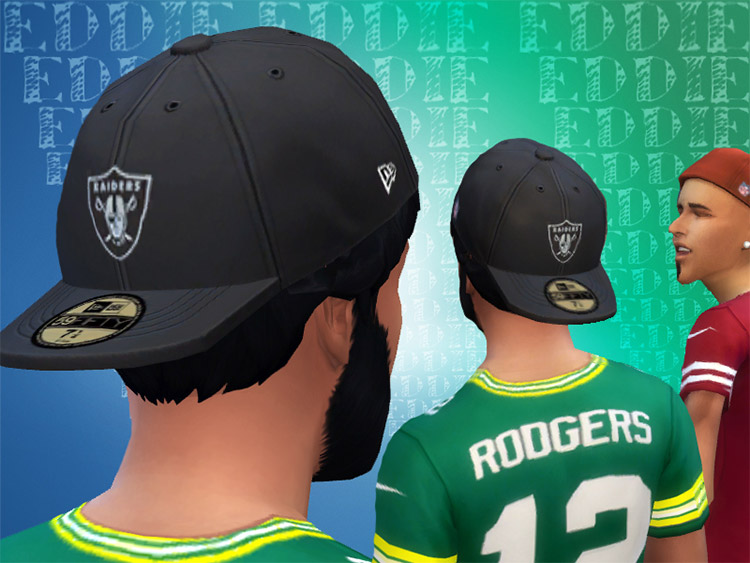 Football fans love their hats.
So how could we publish this list without some custom NFL hats?
These backwards caps were the epitome of football in the 90's and early 2000's. And now you can bring them into your Sims 4 game.
Raiders fans specifically wore these like it was their job.
And lucky enough, the Raiders along with the 49ers are included as the two design styles here.
Bay Area fans will definitely pick up this CC.
Women's Carolina Panthers Outfit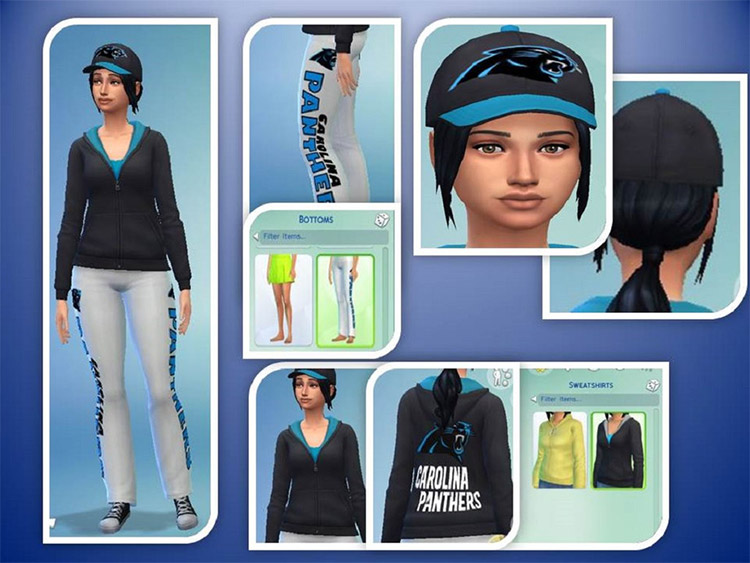 While the Panthers may not have as loyal of a fanbase as some of the teams discussed on this list, they do have one of the best color schemes in football – maybe even across all sports.
Bright highlighter blue and black, it's one serious color scheme
And these cats always stand out when they're on the field.
Now you can support with this team with a top to bottom outfit featuring a Panthers hat, jacket, and track pants.
A dope 3-for-1 CC perfect for any big time Panthers fan.
Dallas Cowboys Jerseys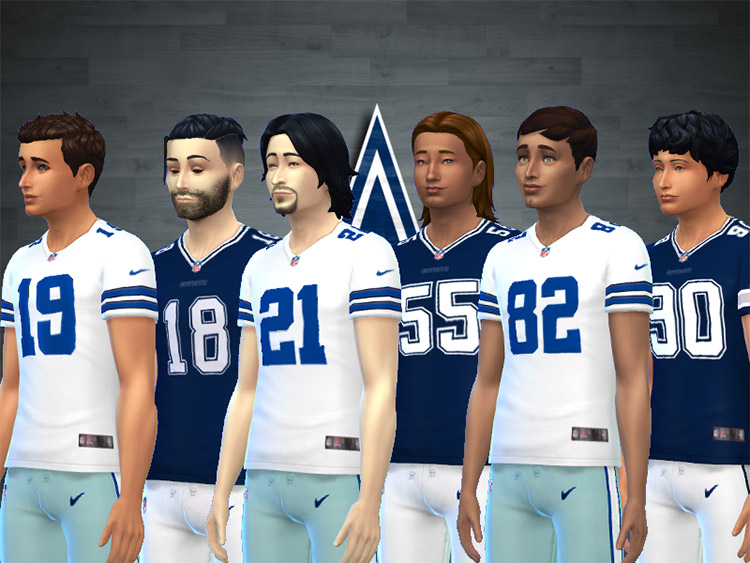 We couldn't make this list without talking about the most popular (and annoying) franchise in football:
The Dallas Cowboys.
This silver and blue team is the heart of Texas.
And these jerseys are one of the most noticeable in sports. Plus this specific CC set includes jerseys of real-life Cowboys players.
You can rock Ezekiel Elliot or Jason Witten in-game now. As if Cowboys fans needed any more reason to boast.
The Weeknd Super LV Jacket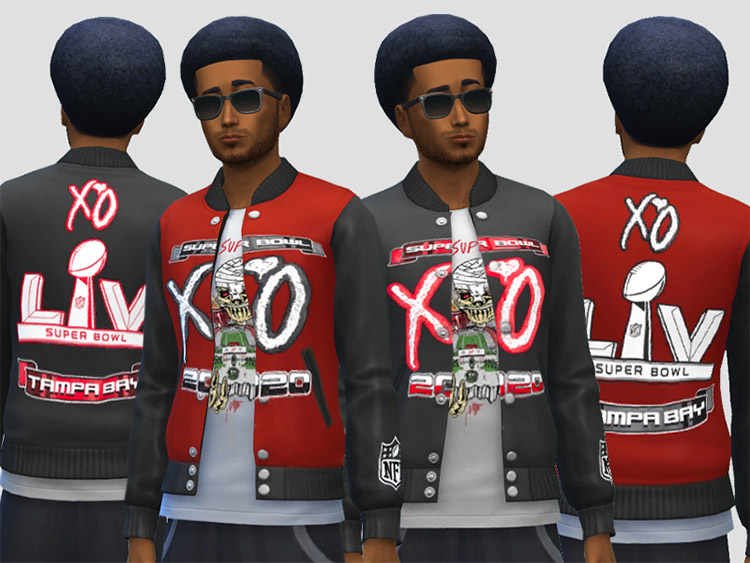 This jacket is a reference to the Superbowl half time show where The Weeknd performed.
Combining football with music, along with looking really fly, makes this one of the coolest football items you could snag for TS4.
The Super Bowl logo, the letterman style, and the signature XO logo really help bring this jacket together.
Make your Sim truly blinded by the lights with this sweet jacket.
NFL Team Hats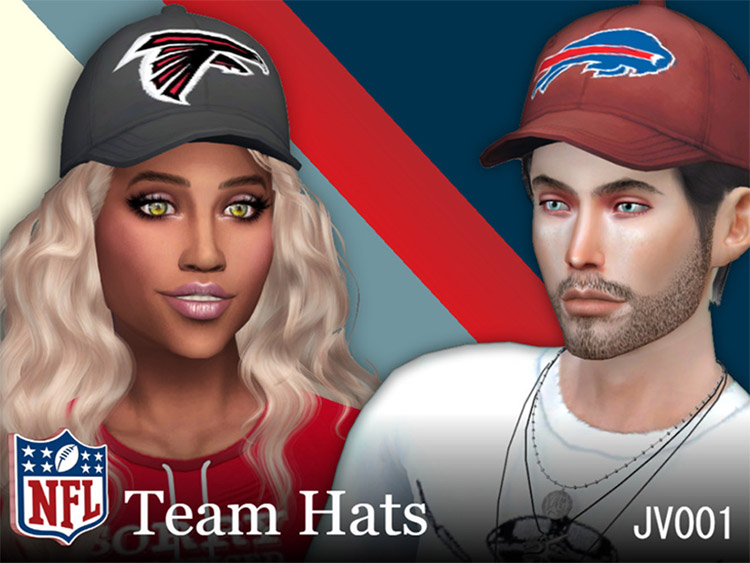 Remember when I mentioned earlier that football fans love hats?
Well this set is every football fans dream come true.
All hats in team colors. And yes, every single NFL team is featured in this CC set.
Plus the logos are all nicely fitted and they look to be in great quality, letting every football fan support their team in The Sims 4 in style.
Browse:
Lists
The Sims 4
Video Games