15 Best Freckles Mods & CC For Sims 4 (All Free)
This post may contain affiliate links. If you buy something we may get a small commission at no extra cost to you. (Learn more).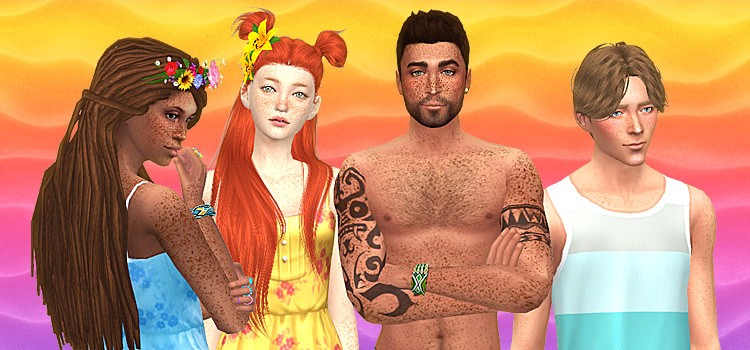 I'm always amazed by how popular The Sims 4 remains after so many years. This speaks volumes about developers who keep good content flowing, and a die-hard community.
Other than Maxis' constant updates and new expansions, TS4 players have access to a treasure trove of fantastic custom content made by other fans.
Among the most essential CC to keep the game fresh are features for Create-A-Sim. You know, clothes and hair and stuff.
Well here I'll be sharing the best packs for extra freckles.
These packs range from subtle, realistic affairs to stylized versions that'll give your Sims a dreamy look.
There's something for all tastes, all ages, all skin tones, and more. Check 'em out!
15.

Kissed by the Sun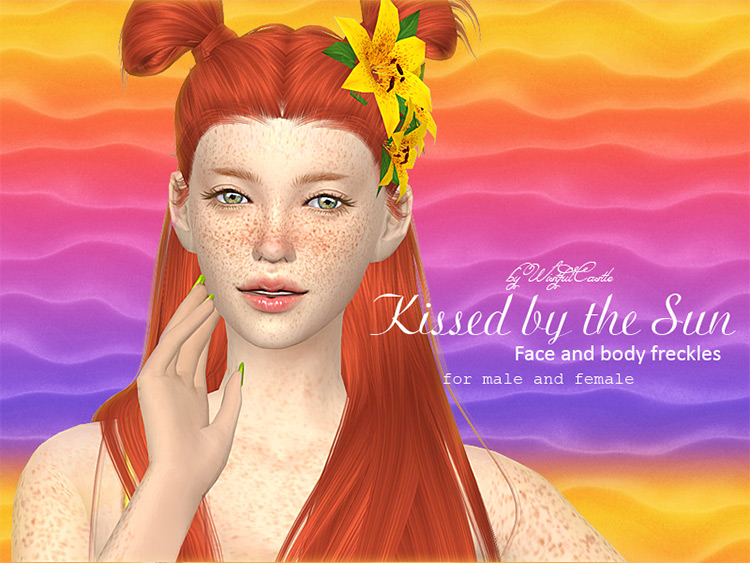 Whenever we think about freckles, we can't help but think of those fortunate souls who were blessed with warm, bright red hair and little dots on their cute faces.
This CC pack by creator WistfulCastle is ideal for your stereotypical ginger Sims, providing most of their faces and bodies with enough freckles to last them a lifetime.
This pack is anything but subtle.
And it's the kind of thing that'll let their ginger pride shine whenever they wear swimsuits or anything of the sort.
This whole-body freckle pack comes with a gradation from lighter to darker colors, letting you make adjustments for use on any Sim, rather than just gingers.
14.

Pecas 1 – Face and Back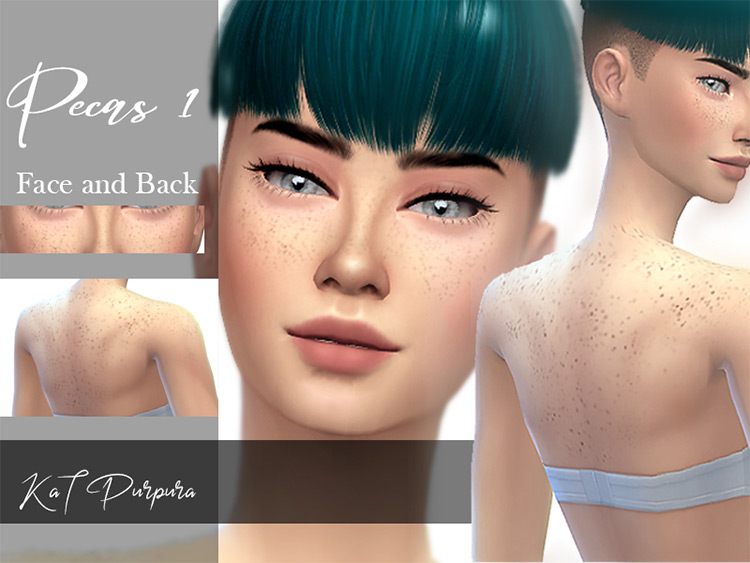 While the previous entry will cover your Sim's face and most of their body with freckles, not everyone has such an intense freckle situation.
Created by KatPurpura, the Pecas 1 pack will provide your Sims subtle but still pretty noticeable freckles on their face and some areas of the back.
These are a great option for Maxis Match Sims with lighter skin tones. But will also work well with Alpha CC.
Get this if you want your freckled Sims to have a natural, almost life-like look.
13.

Subtle Freckles & Moles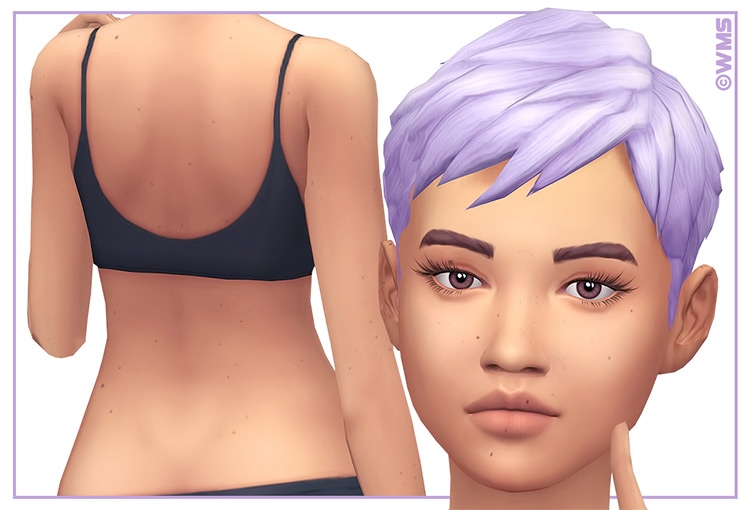 Taking the subtlety up one notch comes creator WildlyMiniatureSandwich, who offers these Subtle Freckles & Moles for Sims of all genders and ages.
You'll find them under Skin Details, with a couple of versions to better suit your needs.
They're appealing and unique, but delicate.
Instead of taking over a Sim's face, these add just a little bit of detail and shine along with all other features.
Something great about these lashes is that they're 100% compatible with the base game, meaning they'll look good on a Sim even if they have absolutely no CC other than this.
12.

Occult Freckles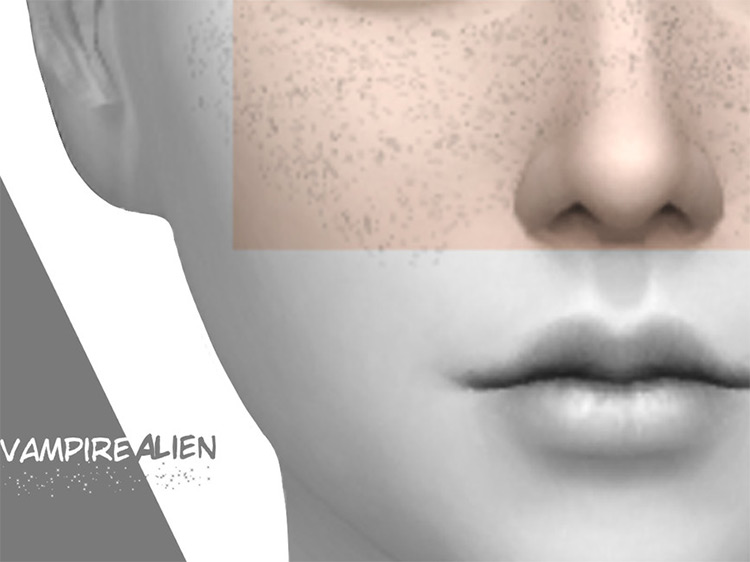 Being a vampire or an alien shouldn't stop a Sim from having freckles.
Especially if they had them before turning into a bloodthirsty denizen of the night.
This CC pack by creator Maddioh was explicitly made for occult Sims, including darker freckles for goths and vampires, and starlit ones for extraterrestrial beings.
I'd say this would probably work for both Alpha and Maxis Match Sims, depending on exactly which CC you're running alongside it.
11.

Moles & Freckles Genetics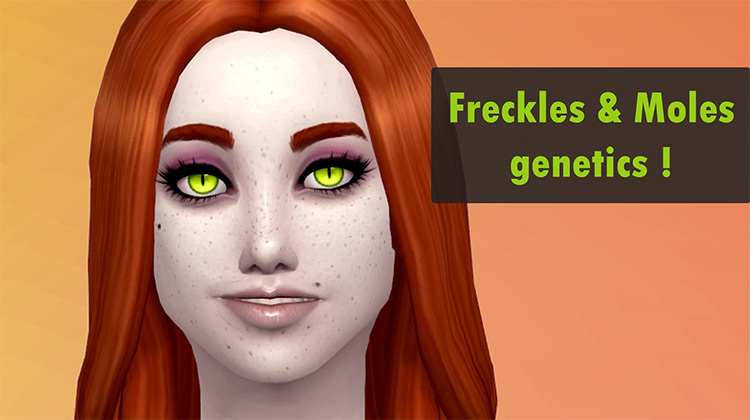 Almost all entries on our list are nothing more than CC packs for you to grant your lovely Sims beautiful freckles.
But what about something that'll enhance your gameplay too?
This interesting mod does just that by making both freckles and moles into genetic variables that can be passed down along with hair color or skin type.
Now if any parents have freckles or moles, they have a chance of turning up on their offspring as well.
It's a bit wonky, sure. And it probably won't work with many CC Moles/Freckles. But it's a pretty cool addition to try.
10.

Mollie's Freckles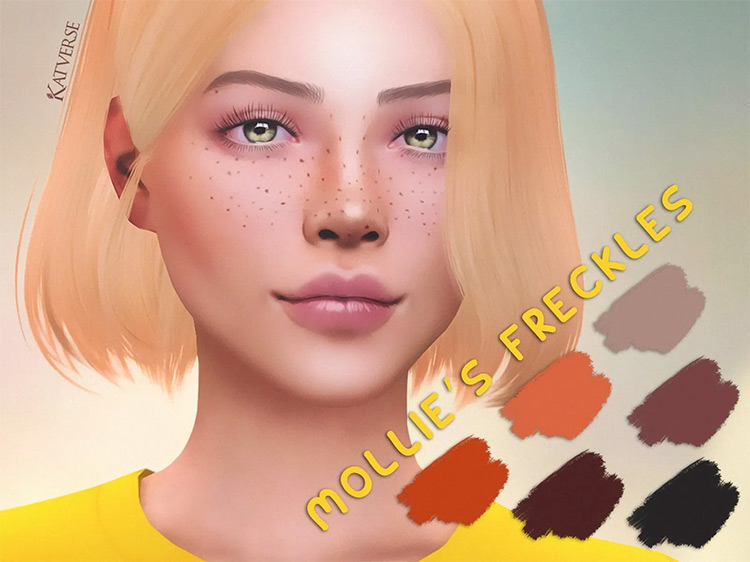 Sometimes, finding the best TS4 CC involves immersing yourself in the most foreign regions of the Internet.
This includes international Tumblr communities and even private discords.
Luckily for us, other modders and CC creators like Kat go the extra mile to present their creations on well-designed and easy to navigate websites.
That's where I found this fantastic freckle pack, available in six very contrasting colors that'll let you work Mollie's Freckles onto Sims of any race, including occult ones.
What sets Mollie's Freckles apart is how each freckle is well-defined and opaque, making this ideal for Maxis Match characters despite probably being aimed toward Alpha Sims.
9.

Face Freckles #2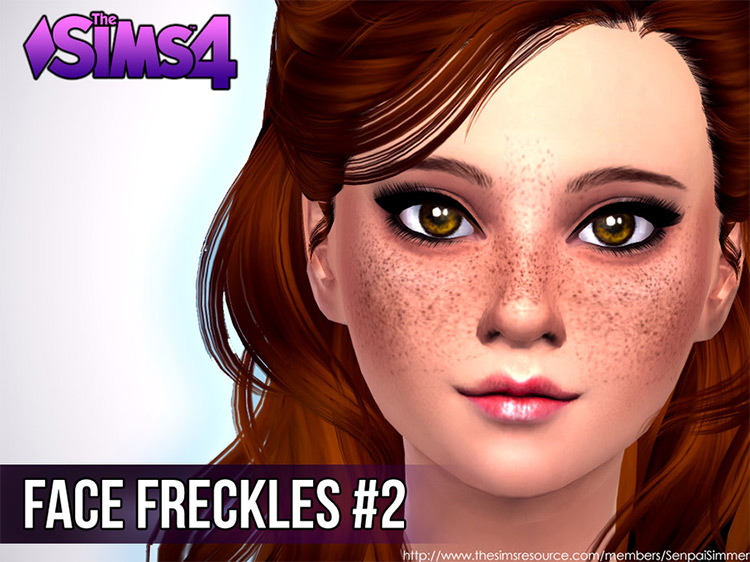 Another pack of new freckles that could work on both Maxis Match and Alpha characters is Face Freckles #2 by creator SenpaiSimmer.
They're perfect for both male and female Sims, and focus just on the face alone rather than their whole body.
These are the kinds of freckles you need when you want them to stand out among your Sim's other features, as they go almost from ear to ear and are pretty noticeable.
All things considered, these may be some of the most real-looking freckles around, in the sense that they're not stylized in one bit.
Freckles are all about chaotic beauty, and this CC captures that.
8.

Hayley's Freckles
If you'd rather get something so subtle you might not even notice it from afar, Hayley's Freckles by Kat might be just the thing for you.
Unlike her previously featured Mollie's Freckles, these are small and light-colored, almost blending into the character's skin.
They're great for a little bit of extra detail whenever your Sim gets a close-up picture taken, but they won't take over their style.
I'd recommend this especially for Alpha CC-heavy Sims, as it might be a bit too subtle for most Maxis Match characters.
They're available in five natural colors to accommodate all skin tones.
7.

Poesie Freckles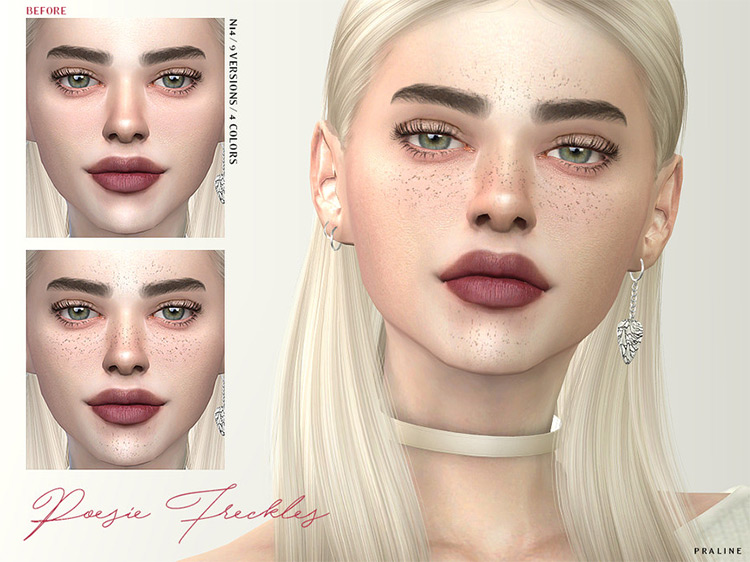 Creator PralineSims always finds a way into our rankings thanks to their incredible CC library, which includes everything from home décor to… as you can guess, freckles.
These Poesie Freckles are mostly small subtle dots that are ideal for characters with light skin colors where even the slightest change makes a difference.
They're available in nine different versions determining their spread, with the largest one covering forehead, nose, cheeks, and even the chin.
6.

Sweet Freckles
Personally, I like Maxis Match characters better than I like Alpha ones.
There's something about the cartoonish, almost clay-like look that makes the experience much more relaxing and fun for me.
These Sweet Freckles by creator Skaiya are among the very best options for Maxis Match Sims, bringing a very subtle look that mostly covers the nose.
The pack includes 11 freckle types, of which around half include a little bit of added blush for a more cutesy look.
After all, these are Sweet Freckles for sweet-looking Sims.
5.

Naomi Freckles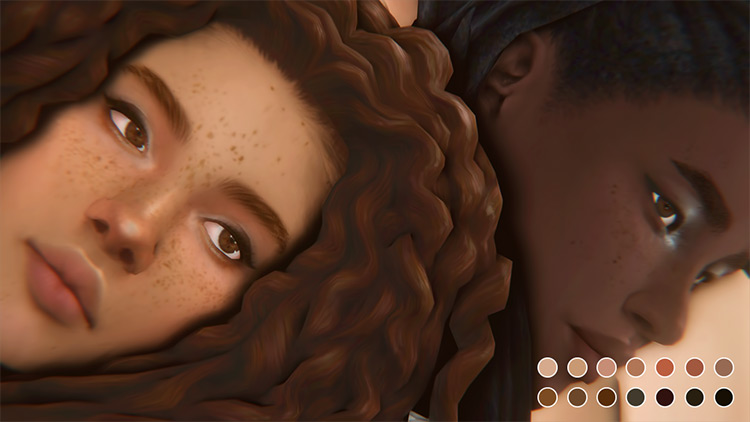 If I had to choose based on how natural they look, these Naomi Freckles by SofterHaze on Tumblr would most likely place at the top of the ranking.
These hand-drawn freckles have just the right size, spread, and shape to look almost life-like. And they're available in four versions that let you choose where you want your character to have freckles.
The pack includes 14 color shades for each variant, so you shouldn't have any issues finding the right one for most Sims. Can't go wrong here.
4.

Frecklezilla Face & Body Freckles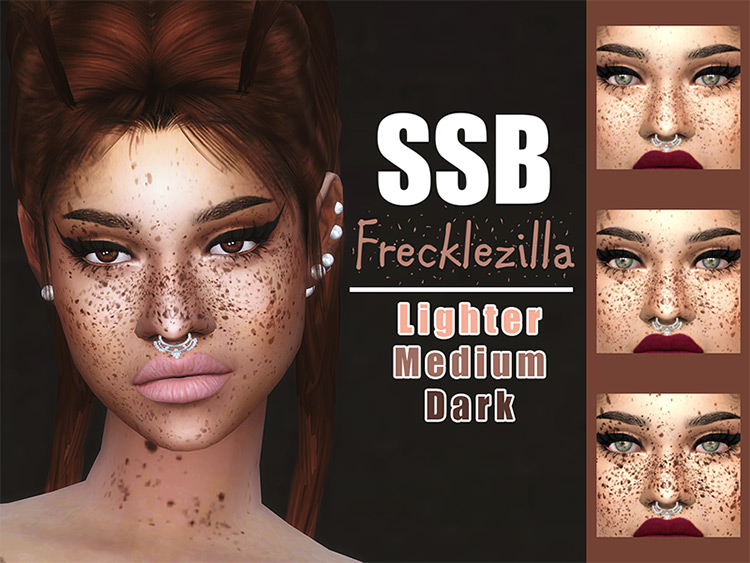 Sometimes, you just want to throw subtlety out the window.
These intense freckles by creator SavageSimBaby will make your Sim look like one of those people who've been coated in beauty marks from a young age.
They look realistic and are meant for Alpha Sims.
As it generally happens with real people who're covered in freckles, they're most intense on their faces, while the rest of the body gets a slightly subtler version.
3.

Zara Freckles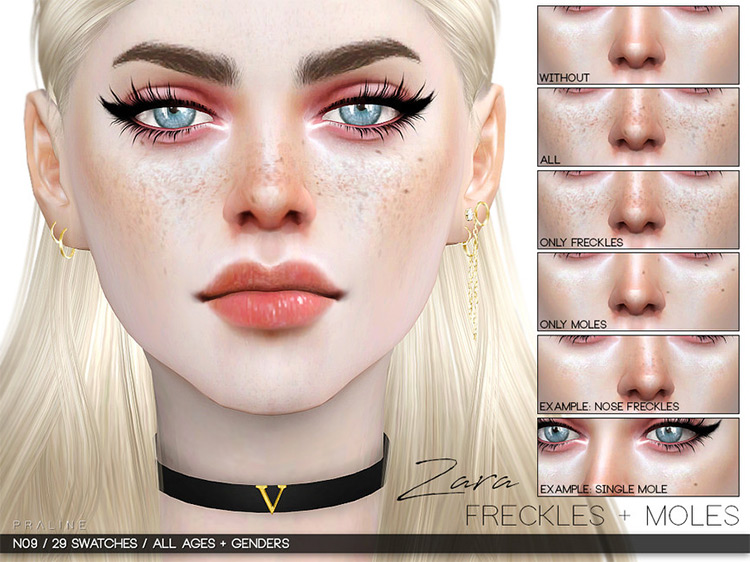 I'm a sucker for variety, as I'm sure lots of CC-enthusiasts are.
And prolific creator PralineSims tends to include many variations on each of their packs.
These Zara Freckles, for example, come in 29 total variations including different shades.
You can choose to give your Sim just freckles, just moles, or both.
There's also the freedom to decide whether they have them on their whole face or just certain regions.
I'd recommend this CC for Sims with a clear complexion that'll make these natural-looking freckles shine.
2.

Ellen Freckles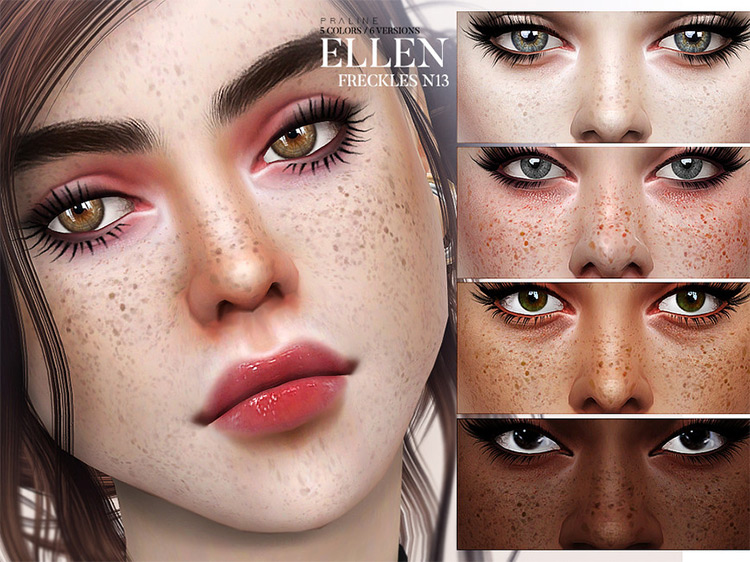 For Sims with strong features and a darker skin tone, I'd rather recommend PralineSims' Ellen Freckles, which remain natural-looking but are more noticeable than the usual "subtle" ones.
Like the previous pack, this one includes around 30 different swatches with different freckle placement and five natural shades that make them easy to work into any complexion.
While this is aimed at Alpha Sims, I wouldn't be surprised if you could make them work on Maxis Match ones as well.
1.

Miss Maria Freckles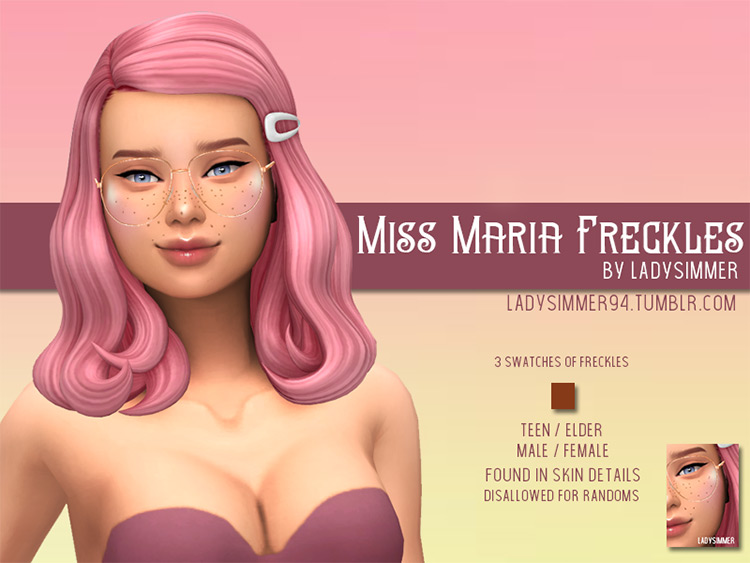 There's no reason for Maxis Match lovers to live under the oppression of those who pursue realism on their Sims.
To support the Maxis Match movement, I'm giving the top spot to my favorite Maxis Match freckles.
This pack of skin details from LadySimmer94 is very stylized, and ideal for characters with simple vibrant looks.
Instead of looking like a byproduct of natural processes, these freckles look painted-on by an artist. I guess they really were created by an artist!
You'll find three different swatches representing three common freckles "distributions" you may find on freckled people, and all swatches are enabled for males and females of all ages.
Browse:
Lists
The Sims 4
Video Games