Sims 4 Front Door CC: The Ultimate Collection
This post may contain affiliate links. If you buy something we may get a small commission at no extra cost to you. (Learn more).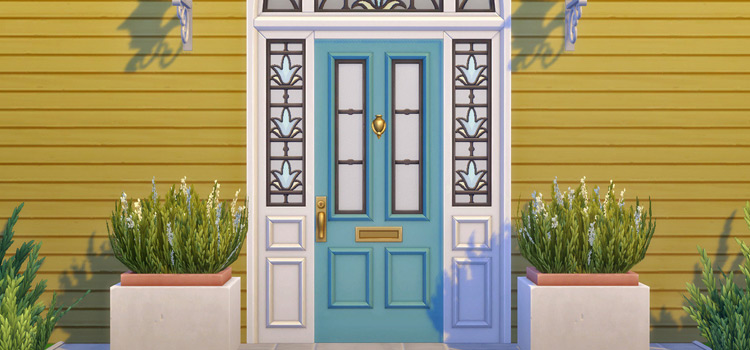 Rules on building are pretty loose in The Sims 4.
But no matter what, if you want to get inside, you've got to have a door.
Our options are tragically limited, especially if you've only got the base game. But there's no need to worry, these new options will expand your horizons more than ever!
1.

Arlette Door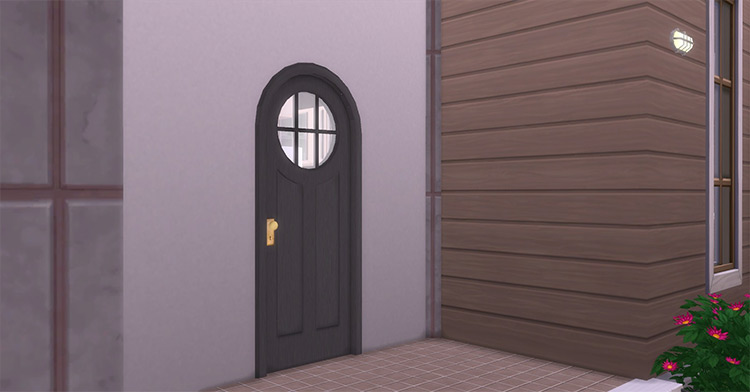 AdonisPluto brings us something unique with this rounded single-pane entryway.
Doors with windows are always a plus and this one is nice and broad. The 5 wood-tone swatches make them super versatile as well, making them good for all sorts of build.
2.

EA Doors Recolored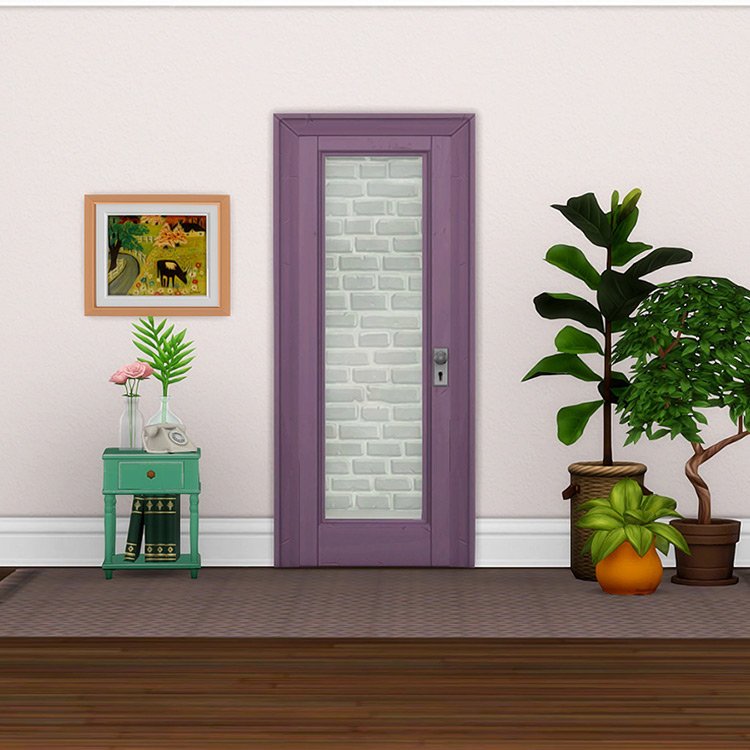 The biggest problem with TS4's vanilla doors is the lack of swatches. Have you ever wanted a nice yellow or orange door?
Well, too bad! You're out of luck…until now.
These recolors are perfect for adding a splash of color to any home.
Note: All are BGC except two, which need Get To Work.
3.

The Indoor Windoor (StrangerVille Required)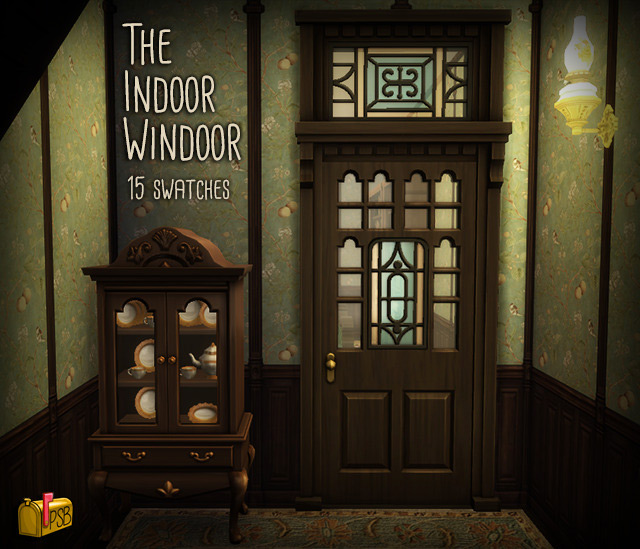 StrangerVille has some of the most distinct architecture in the whole game. Some might say it's an acquired taste, but I think this chunky door is gorgeous.
This Simmer has really upgraded it by removing the mail slot. Now, this was done with the intention of making it fit for the interior, but it's a good additional option for the front as well.
4.

Shut The Front Door – Curb Appeal Set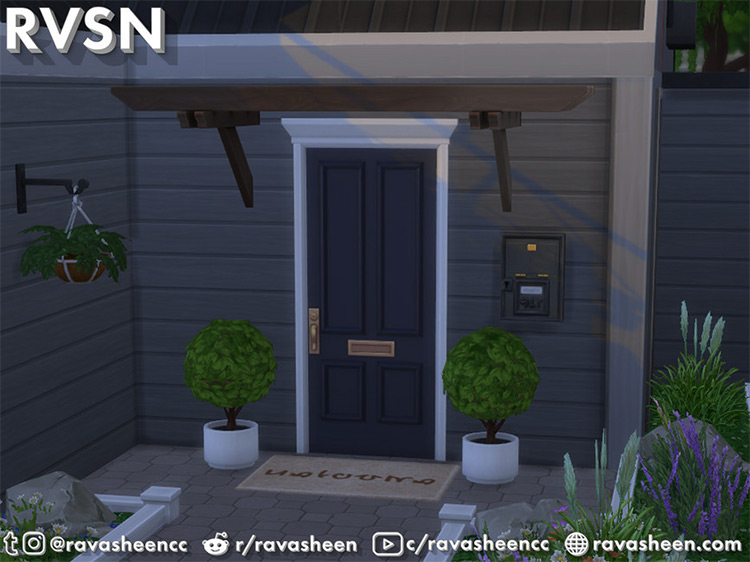 Sims barely have curbs so they probably don't care how appealing their home looks from there.
But you know who does? We, the Simmers who rule them.
It can be really rough making the exterior of a build look cute.
With these recolored and edited doors from RAVASHEEN, we now have several new, cool solid colors to use whenever and however we please.
5.

Colors of New Orleans Set
There's definitely a running theme when it comes to custom doors… they're largely about recolors. We need them, and we need a lot of them!
This solid palette of 12 new colors will make it a lot easier for your front door to be a statement piece, and this set will also allow you to place matching shutters and siding, if you so desire.
6.

No More Dingy Doors
If you're like me, you probably weren't aware of how cruddy looking the original EA doors were until this player cleaned them up.
Like, what?! Why do they all look like they were in desperate need of some power washing!?
I guess we can just be glad that giving them a fresh makeover is as simple as downloading these subtle recolors.
7.

The Notjustador Collection (StrangerVille Required)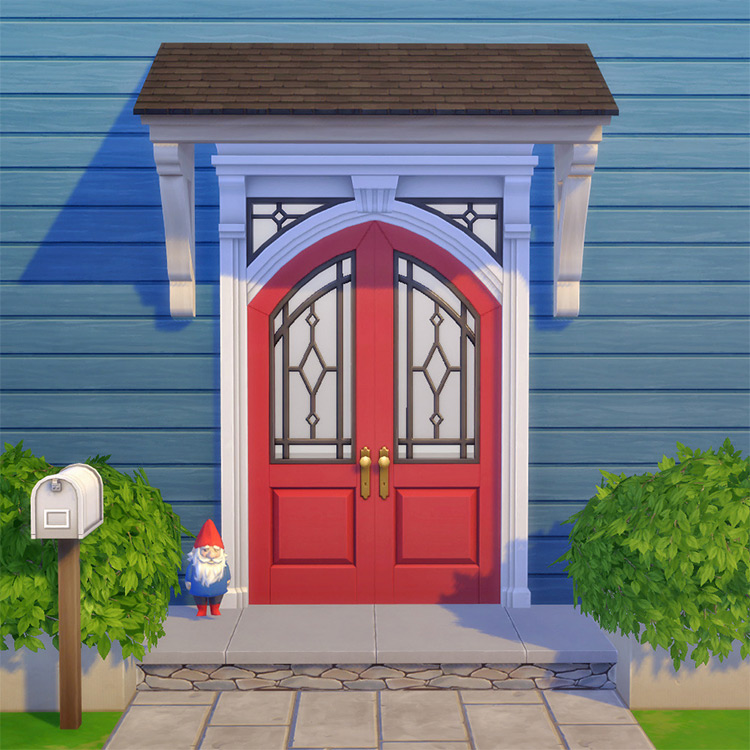 Another take on StrangerVille's iconic doors gives us another colorful set.
That stained glass is just so stunning, it deserves to be everywhere, so you've gotta adore these frames. The 16 new swatches bring it out even more.
But don't worry, on the off chance that's not your thing, there are some options with regular windows, too.
8.

French Boiserie Doors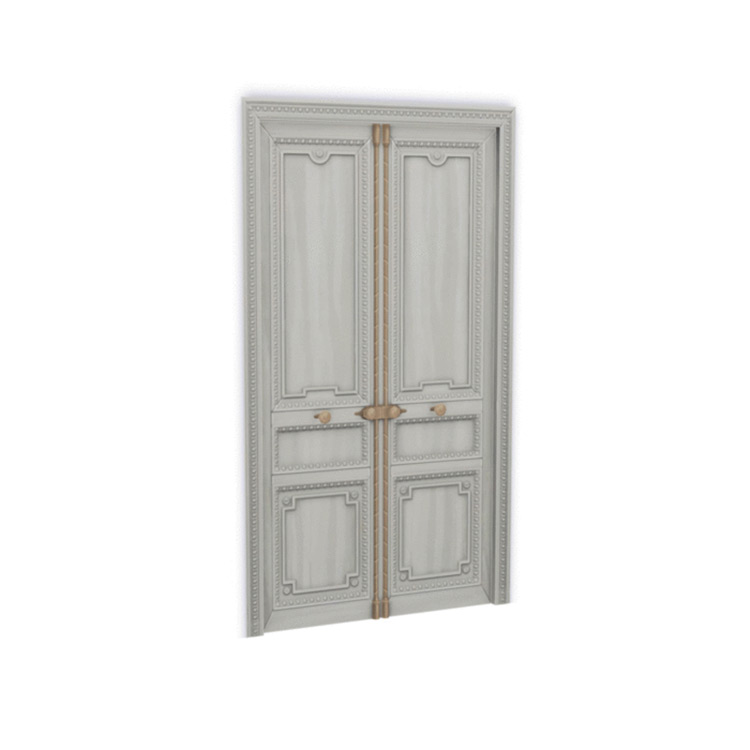 French style doors are definitely a mark of modern decorating. They're always tall, bold, double doors.
Sounds perfect for some luxurious builds, right? They're fancy, but not over the top thanks to these tweaked versions, which come complete with 18 wood-texture options.
These will fit right into apartments and houses alike.
9.

Modern Doors Dream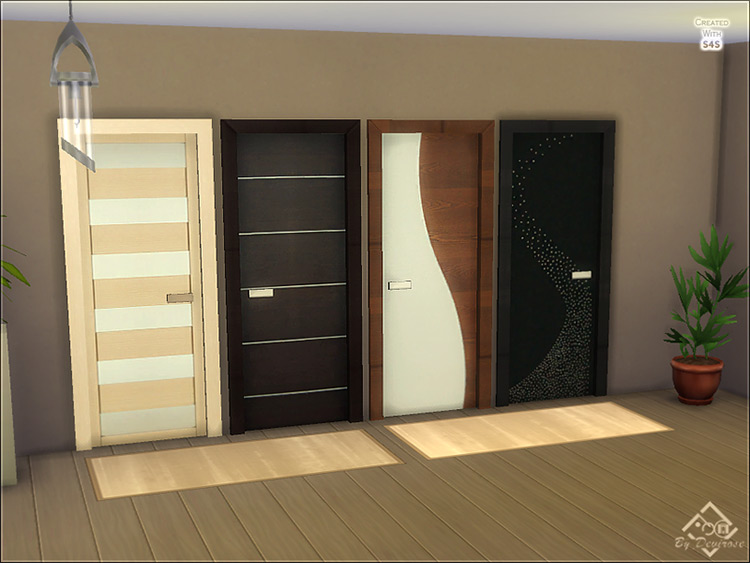 Devirose's set of 4 brand new, original single doors will bring some new potential to your game, no doubt.
While all of them are primarily wood, it's the style that's blended into each one that really makes it special. One has a neat sparkly trail, another has a simple wave design, and the other two have a charming striped look.
10.

Restoration Hardware Door (Get Together Required)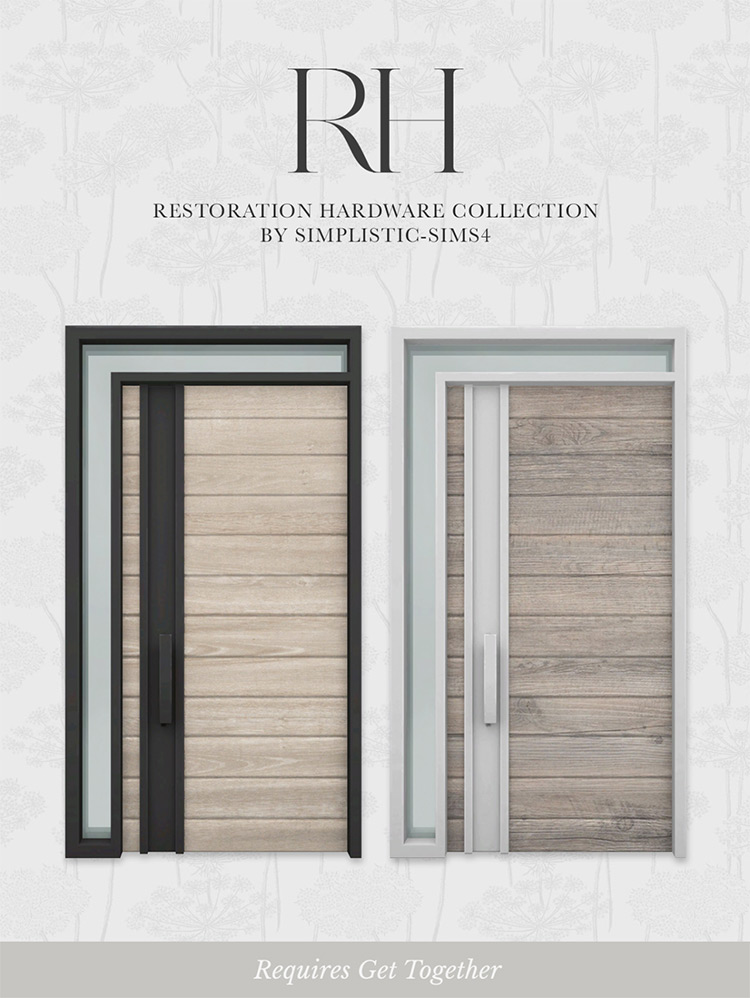 The industrial style, characterized primarily by wood and metal, is quite sought after these days.
There was a whole kit for it!
But a more laidback mix of these two materials might be the way to go. This Simmer's take on the doors from Get Together look better than ever with these realistic textures.
11.

Queenslander Doors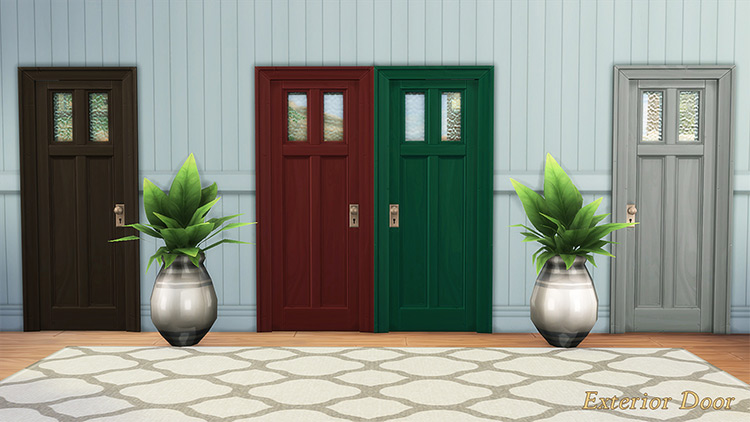 Every region has its own specific, recognizable architecture. Australian Simmers may be familiar with these lovely wooden doors.
Whether you opt for the single or double style, they will really look incredibly on just about any house. The texture is just flawless, and the windows make them even cooler.
12.

New York Glass Door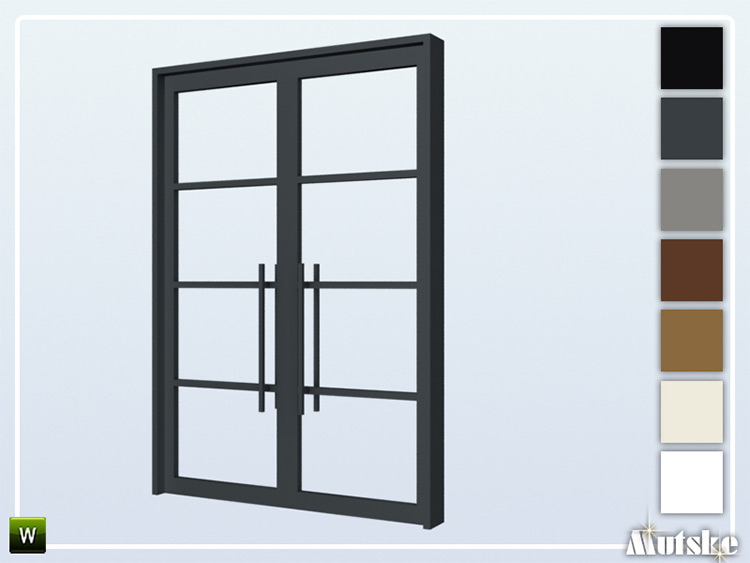 Here's a door that's mostly glass, ideal for modern houses and mansions.
The thin, minimalist frame comes in just 7 colors, but they cover quite a range.
One shade is black two are gray, another two are white, and the rest are brown.
Maybe it's not fun pastels, but they're still great neutral tones that'll suit almost any build.
13.

RomuS Doors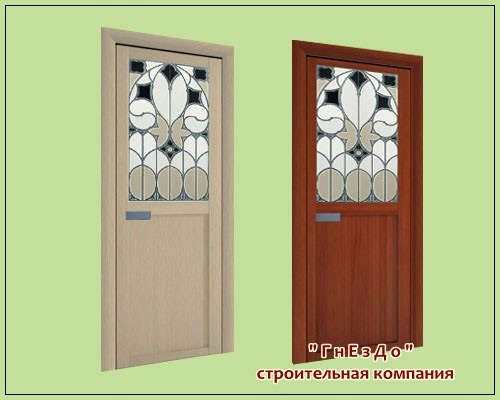 Mulena's custom door set may seem standard at first glance.
But what makes them standout is the custom window pane.
Of course, you can always stick with regular glass. But some truly gorgeous stained glass patterns are available, as well as other intricate designs. They complement the solid wood texture of the rest of the door really nicely.
14.

Prestine Pastoral Door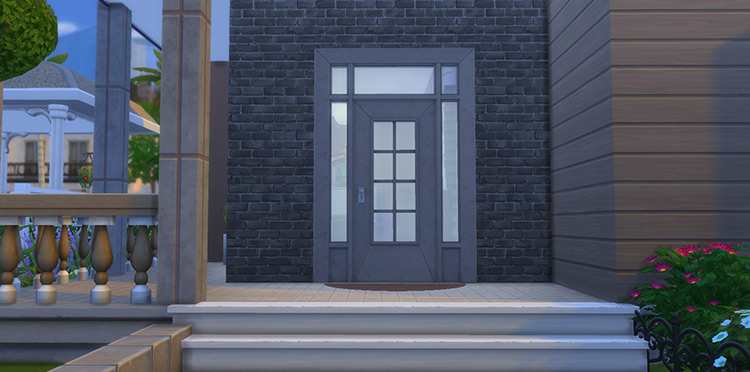 Converting content from previous Sims games to the current one is basically never a bad idea. This classic door style is back, and it's just as sleek as before.
There's lots of glass here both in the door and the frame, which actually will help a lot with lighting. It's also much more aesthetically pleasing than solid doors, let's be honest!
15.

Twist on a Classic Door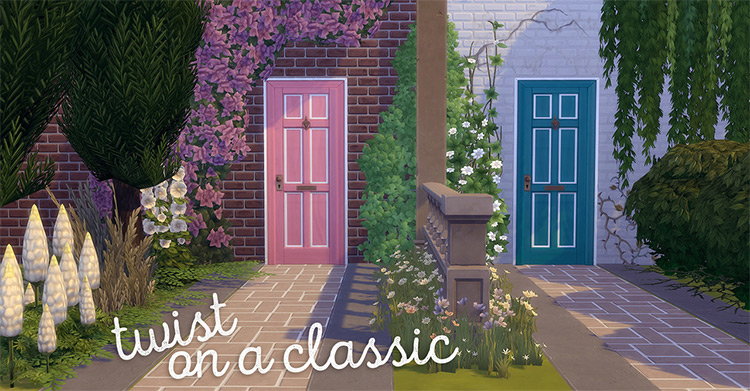 On the other hand, it doesn't take much to make a custom door pop after we've had the same basics for so long.
The white trim on this door's frame and panels simply looks right. It's just so on point for this style and any Simmer who has been wanting better color options will quickly become obsessed with these 16 brand new swatches.
Browse:
Lists
The Sims 4
Video Games