Best Sims 4 Garage CC & Clutter Packs (All Free)
This post may contain affiliate links. If you buy something we may get a small commission at no extra cost to you. (Learn more).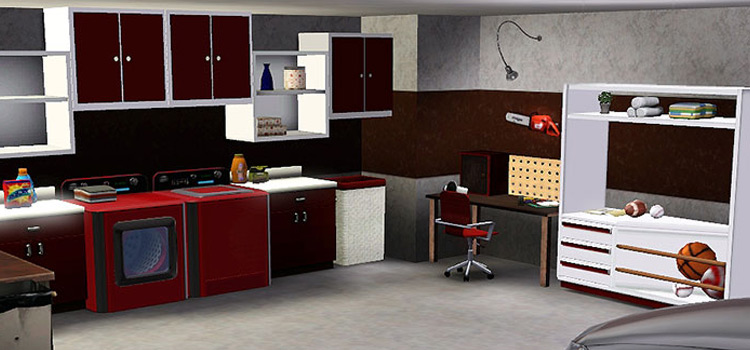 Almost everyone with a house also has a garage – except Sims.
Since they also don't have cars, it can seem like a bit of a moot point, but there's still a lot of fun to be had with garages.
Many house layouts won't even look right without a garage attached. You might have thought before you would just have to work around it, but not anymore!
After all this CC, you'll be fully equipped to give your Sims a garage like you've been transported back to 2011 and are once again playing The Sims 3.
In fact, much of these items are converted from previous games, which I always think is really innovative.
The Sims 4 isn't doing anything unheard of by not including the need for garages – in fact, I think Sims 3 is the only that did. But it's still an adventure to explore new ways to build and play.
1.

Car Parts Clutter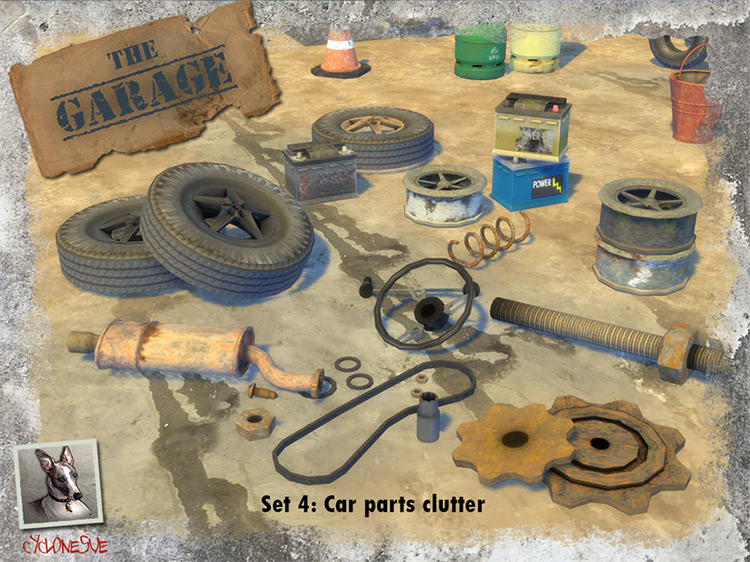 The sight of car parts and scrap metal in sand is so deeply "Sims" to me, but I don't know if anyone else gets it.
Sims 2, anyone? Running around Strangeville picking up alien spaceship parts and nuclear rods so you could buy a new couch? Sorting hubcaps, car parts, and glass bottles at the Chop Shop with Optimum Alfred?
I either just brought back a bunch of memories, or you have no idea what I'm talking about.
In any case, it's high time we brought this grungy clutter to The Sims 4.
This stuff will all look great in a handy Sim's garage.
2.

Wire Shelves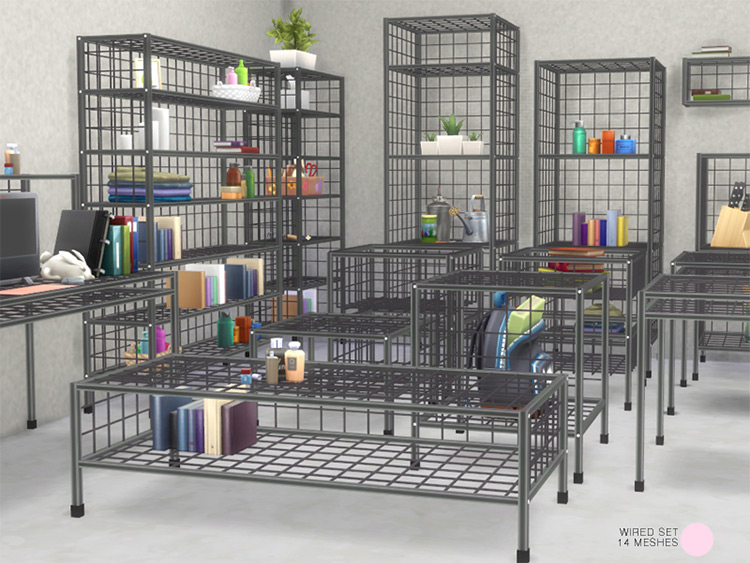 The look of a garage depends on the person (or Sim) it belongs to.
Some will be content with clutter and junk strewn throughout. But others might want a little more organization.
These wire shelves are much more fitting for a garage than most of the wood shelves you'll find in the game.
And you'll find plenty of things on this list to fill them with, too!
3.

Open Garage Door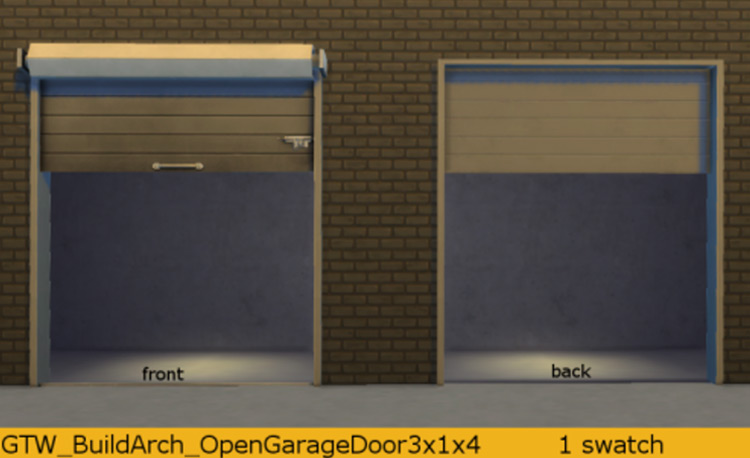 Sometimes you just want to put whatever you're doing on full display for the whole neighborhood.
Well, probably not. But not being totally closed up in your garage is nice, even in The Sims.
I do miss the feature of not only having functional garages, but also being able to decide whether you want the door up or not. That would actually be cool for all doors – our poor Sim's homes are locked down tighter than Fort Knox.
From what I can tell, this door from quiddity-jones is the only way to do anything close to that in TS4 at the moment.
And I can't praise it enough, since our Sims can now hangout or work on things in their garage, and watch the world beyond the door at the same time.
Which means they can also keep an eye on the kids without them having to be underfoot… maybe this will result in a few less messes.
4.

Tools Clutter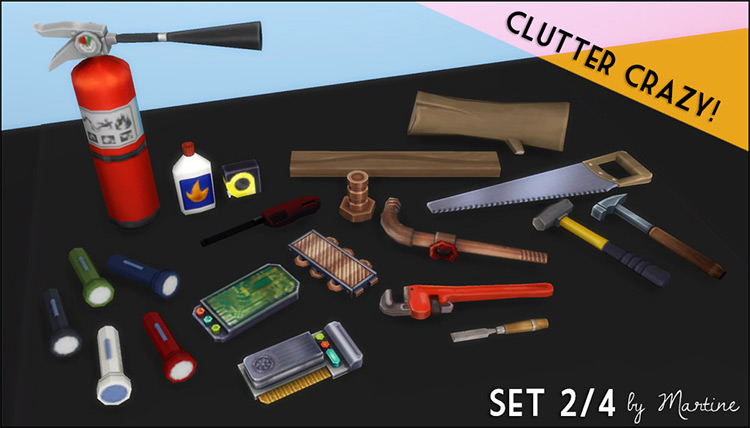 This little clutter pack has some staples of any typical garage, including hammers and saws, a wrench, flashlights, and a fire extinguisher.
I think usually fire extinguishers are kept in the house, actually… but it certainly won't hurt to have them elsewhere.
This one is also only decorative.
If your Sim catches on fire, their friends and family will still bypass it to scream and jump around. You know, business as usual.
There are a few other items here that will help flesh things out as well. A tape measure, wood planks, and upgrade parts will all help towards the illusion of a functioning garage.
5.

Gas Bottle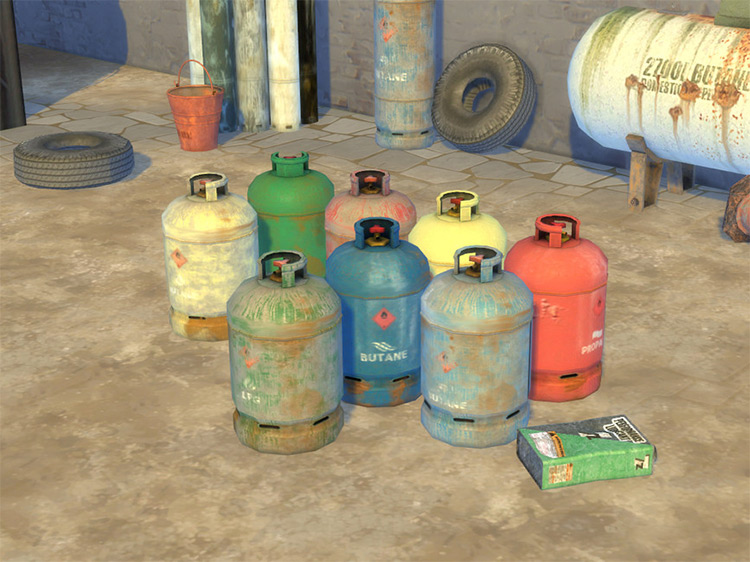 Cyclonescue, the creator of the Car Parts Clutter listed earlier, also made these big gas bottles.
Man, this Simmer is killing it when it comes to grungy deco items!
Just look at these. Look at the dirt and stains all over these canisters. Beautiful.
They even have details like 'butane' and 'propane' painted on, as well as the 'flammable' symbol, and come in eight colors.
6.

Garage Stuff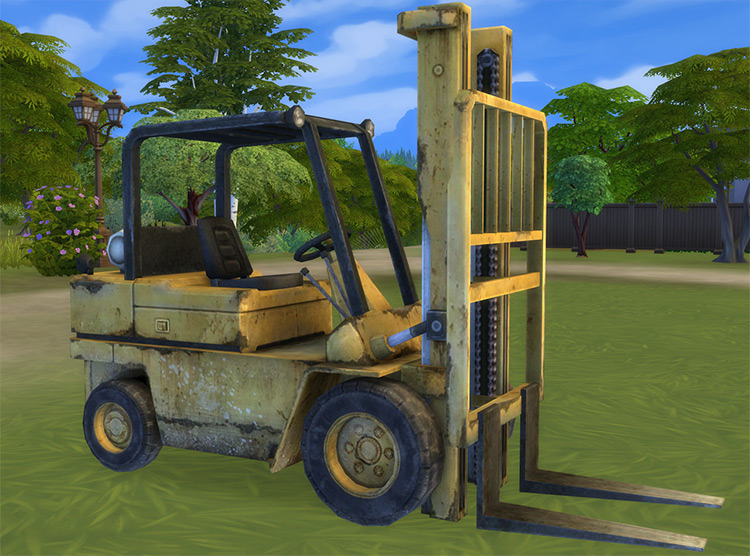 Oh yeah, now we're getting into the stuff that makes a garage a garage.
Chainsaws. Electric drills. Boxes of nails. Dirty trash cans. Cans of paint you'll trip over later.
They're all here, and then some.
These are just more of those items that are really a necessity if you want to make it look like your Sims have lives of their own.
Anyone with a garage has at least two or three of these things lying around, even if they never use them.
There are some extra items here that aren't all that common, but will still look nice, such as the oil drum and a forklift.
It's a good thing it's just a deco item, though. I don't know about you, but I certainly don't want to see a Sim operating heavy machinery. They can barely handle bicycles.
7.

Garage Doors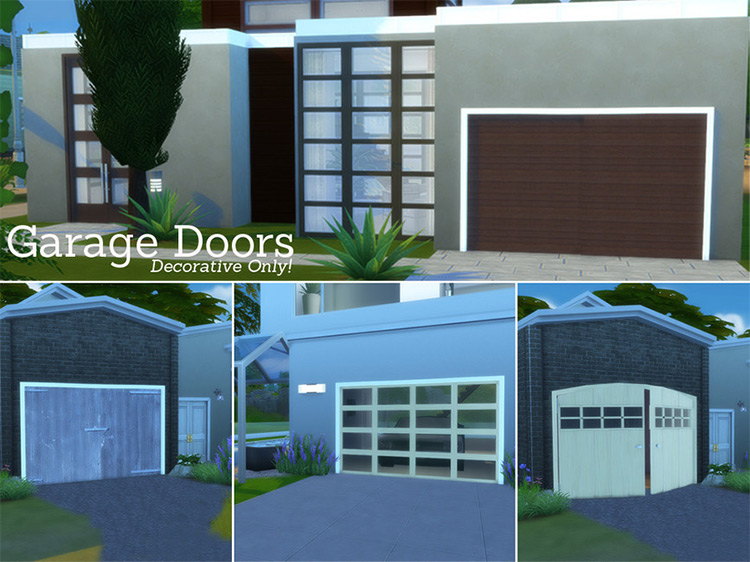 These decorative doors from Angela will really help the new boxy room attached to your Sim's home actually look like a garage.
They come in a variety of styles – modern, mostly glass ones, barn-door inspired, and the classic wooden ones will all be great fits for any house.
It may not be the same as a functional door that goes up and down as you please. But the CC makers are filling in the gaps the best they can!
8.

Tool Board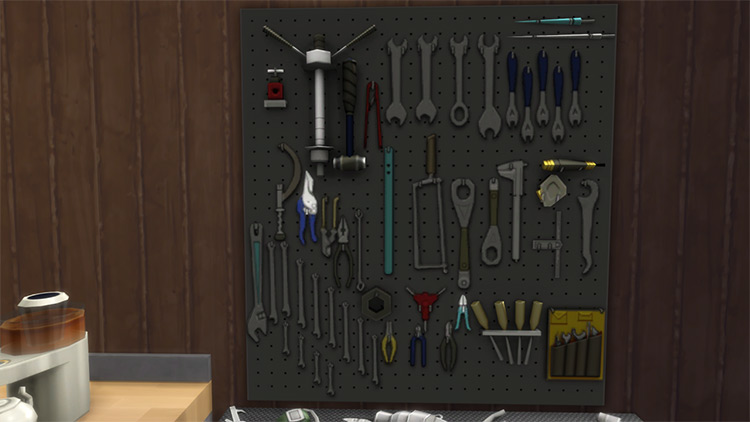 Ah, the tool board. What a classic.
Again, there are two types of people.
Those with their tools tossed carelessly around, and those who take the time to organize things on a pegboard.
Actually, there are three types of people. There are also those without any tools at all.
In The Sims, it's always just about the aesthetic. And one of these hanging on the wall is kind of a game changer in my eyes. It's just so perfect.
9.

Fallout 4 Garage Workbench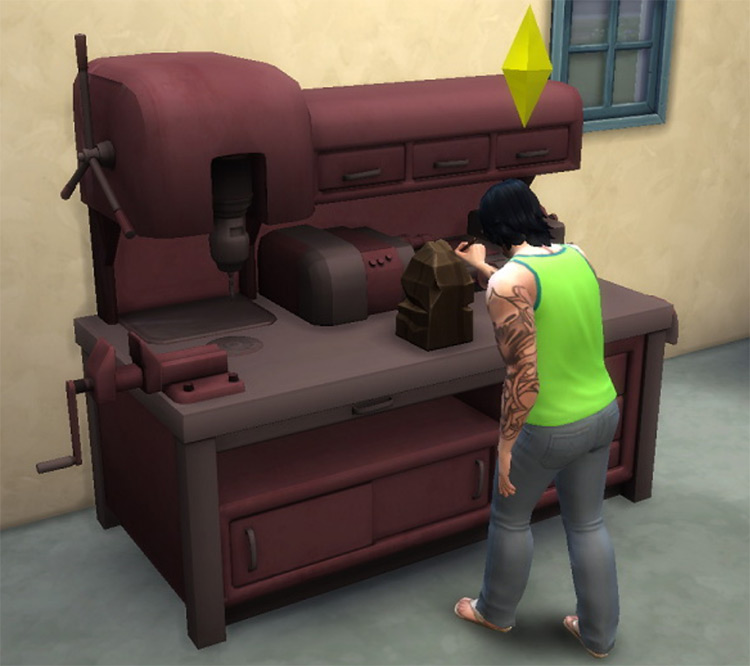 Here's another crossover I never, even in my wildest dreams, expected to see:
If you're fond of items that look strangely retro but really aren't, and also look like they've survived 200 years of radiation, this CC is for you!
Seriously, how cool would an actual pack like this be? I get why it would be so difficult, but now I really want to see my Sims running around a wasteland Willow Creek.
It's a nice change from the base game workbench, which really isn't that pleasing to the eye. I'm totally gonna use this bulky maroon one instead.
10.

Gardening Decor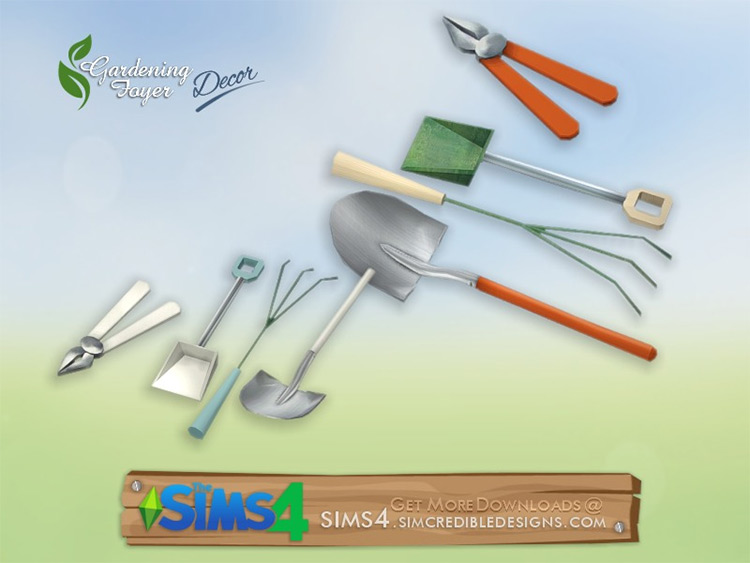 Depending on how you play The Sims, gardening might be a really big deal to you, or you may know nothing about it. That's the beauty of games like this. The journey is completely up to you.
I explored gardening some after I got Seasons and it was a lot of fun.
But there still isn't much to make your Sim's living space look like they actually enjoy being outside or getting their hands dirty.
At least where I live, no garage is complete without random gardening tools. So this set from SIMcredible! will be a very realistic addition to my Sim's houses!
11.

Rake and Shovel Decor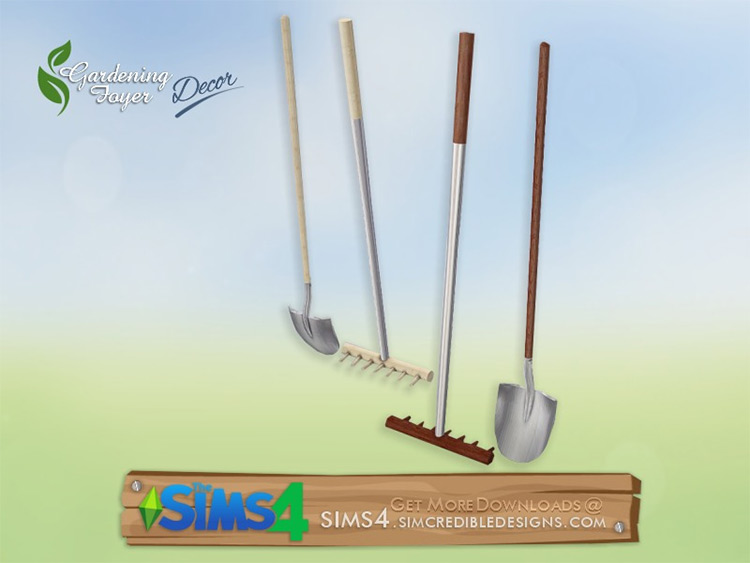 Keeping with the theme of yard work, these rakes and shovels are must-haves as well.
I get why these items never came with packs. You're not really 'meant' to have a garage, and no one has a rake in their living room.
Or at least I hope not.
But little decorative pieces like this just add such a homey feeling, and who doesn't want that?
I tried to find snow shovel CCs as well, but there doesn't seem to be any yet. Your Sims in Oasis Springs or Del Sol Valley won't mind those missing from their garages, though. Rakes and shovels are for the good of everyone.
12.

Ladder Decor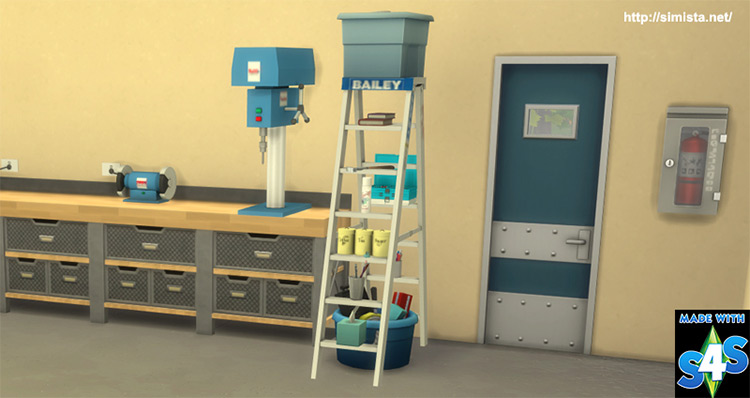 Just like in real life, these ladders have a lot of uses.
In the Sims, they're not there for climbing or reaching things. Instead, you can use a ladder as a shelf, two with a plank as an even larger shelf, or simply as a decorative item.
This is a really unique idea that is ideal for garages or other 'handy Sim' settings. There are a lot of slots to place the clutter sets listed above, as well as whatever other items your Sims might want within reach.
13.

Power Tools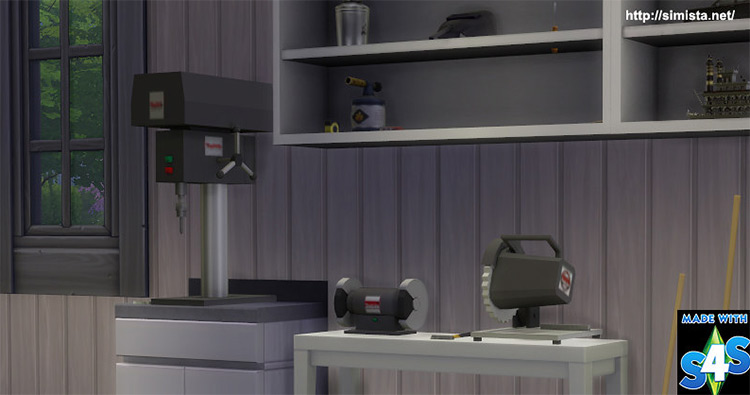 You want to feel powerful?
Get some power tools. Really.
Nothing will make you feel like they're on top of the world than being in control of an electric saw.
Fortunately the electric saw (as well as the other two items here, a drill press and grinder) are strictly decorative.
You really wouldn't want an erratic, mean-spirited, or evil Sim getting ahold of any of those.
Or maybe you would, you devious little thing.
I can never speak highly enough of the quality of CC items, and these are no exceptions.
I'm totally puzzled as to how people can make things that look so real and match the game's style just as well as official content.
14.

Lawn Mower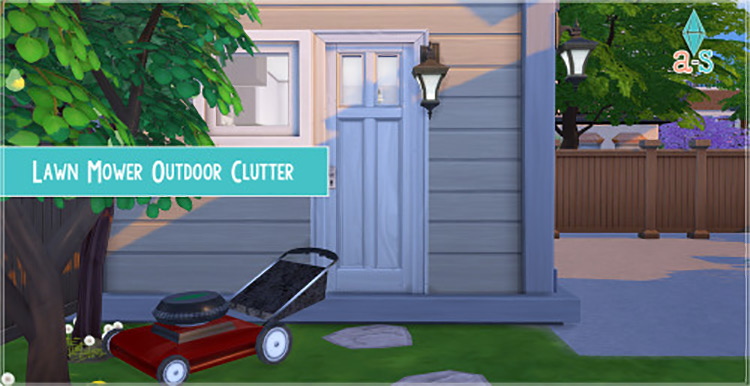 I can only assume I'm the only Sims player who has actually wished they could mow their lawns before.
Well, maybe not. There's a whole pack dedicated to doing laundry.
But that's one of my favorite packs, for the same reason this mower is one of my favorite items on this list: realism.
The Sims is a life simulator.
These little details that some may find unpleasant are still part of life.
I'd probably be happy with a 'household chores' stuff pack, honestly.
This is another one of those CC things that I just don't understand how it came into existence.
There's nothing even close to this in any of the packs, to my knowledge. And that's always the best CC: stuff that you can't get from anywhere but creative Simmers.
15.

Ownable Cars Mod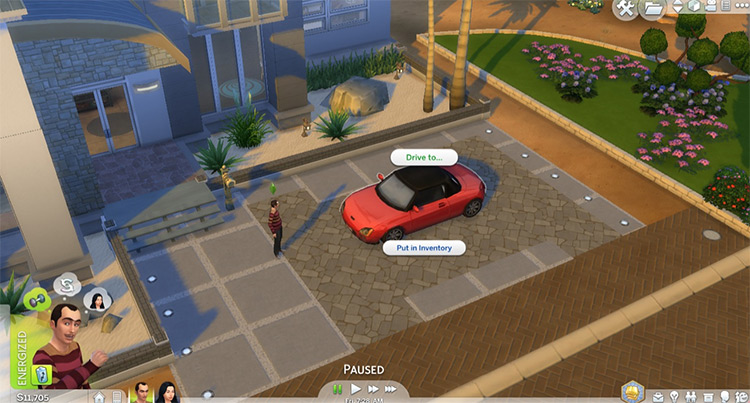 That's right:
To close out this list, I've found a mod that will technically give your Sim's garage purpose.
This is a lot more expansive than a simple decorative car, which is what I thought I'd find.
Thanks to creator Dark Gaia, you'll be able to choose from five types of vehicles for your Sim to 'drive' around. And depending on which one you choose, your Sim will get a moodlet after they've traveled!
Attention to detail like that is so epic.
When they're all done, your Sim's new car can sit safely in their garage, and all will be right in the world.
Browse:
Lists
The Sims 4
Video Games