Sims 4 Trash & Garbage Clutter CC Packs
This post may contain affiliate links. If you buy something we may get a small commission at no extra cost to you. (Learn more).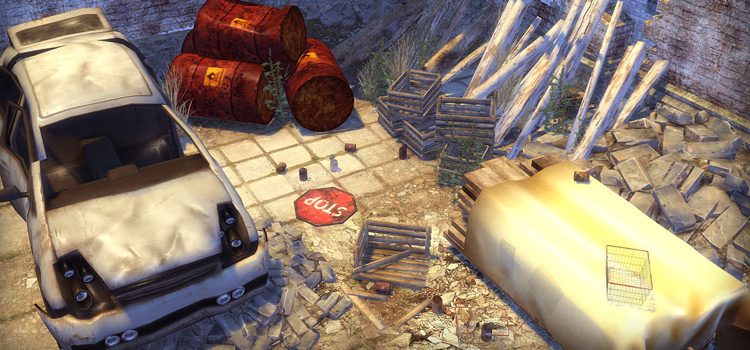 TS4 clutter is clean. Like, seriously.
Everything looks fresh, intact, and brand-spanking new.
Rarely do we get the aged, bent, broken, or otherwise trashed clutter items that denote negligence, disuse, or disaster.
I mean, what if you're trying to build a post-apocalyptic setting? Or the dark, gritty side of San Myshuno? Your options are pretty limited.
Here are some trash and garbage clutter packs to broaden the spectrum!
1.

Broken Jar – Trash Can by Bakie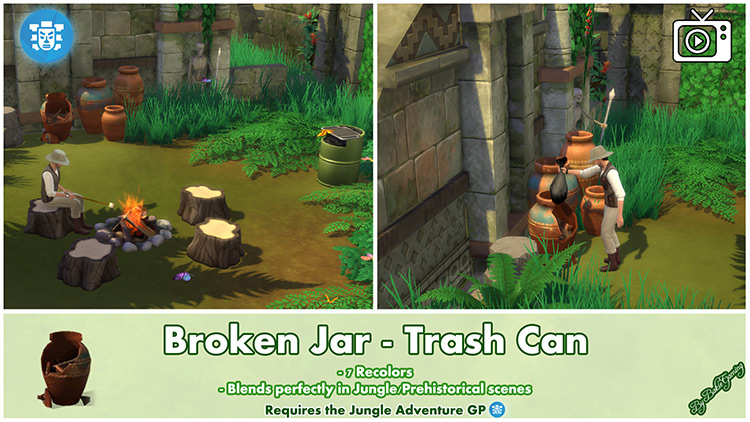 This is a personal favorite, which is why I'm putting it way at the top.
This trash can is equal parts decorative (if you're building the ruins of an ancient civilization—or an explorer's treasure room) and functional!
You'll find more info in the creator's notes, as per usual.
The short of it is, it's a lidless trashcan made to look like a broken clay pot. And, if my Google skills are to be trusted, this CC item is one of a kind.
2.

Garbage Set CC by Purplelovesims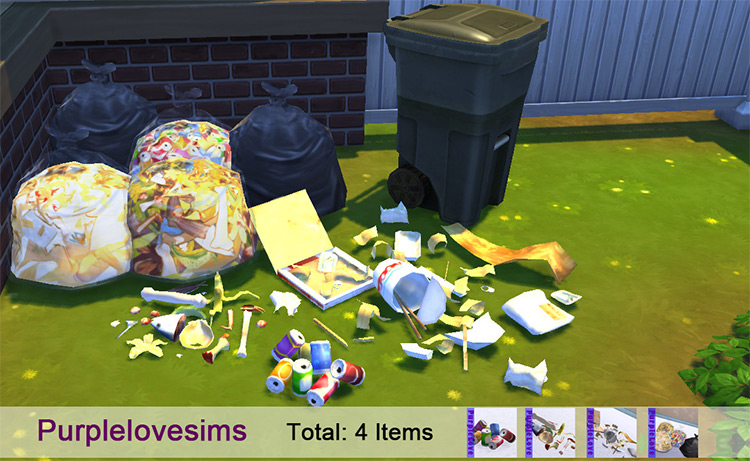 Building a local trash heap?
Neighborhood dump site?
Abandoned property?
Whatever it is (and for whatever reason it's coming to be), you'll need these: stacks of empty soda cans, remnants of rotten fruit, piles of empty takeout containers, and plastic garbage bags bursting at the seams.
Funny how four items can really help set certain scenes, you know?
3.

The Garage Set #4: Car Parts Clutter by Cyclonesue
Sure, these belong in a set called The Garage, but they definitely wouldn't be out of place in an abandoned house or trashed warehouse.
And if you're looking for garbage and junk clutter to create post-apocalyptic settings, the rusted pipes, deflated tires, and fried batteries in this set are perfect.
4.

The Garage Set #5: Garage Clutter by Cyclonesue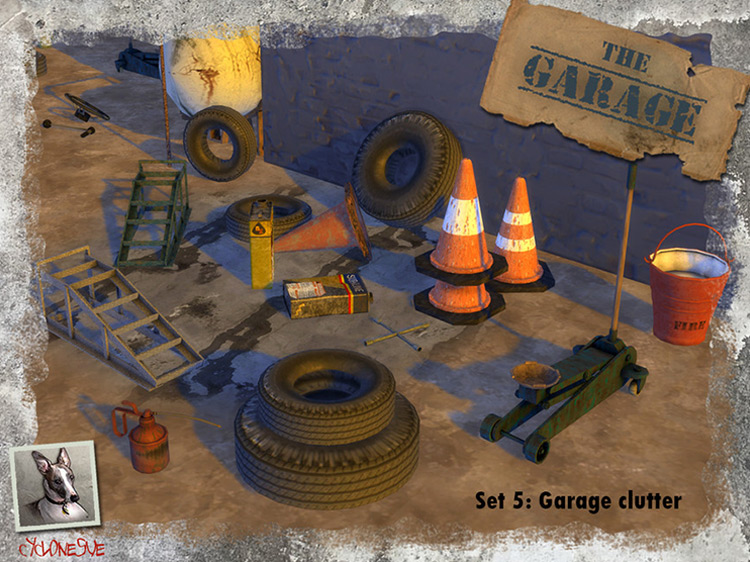 A fairly packed miscellaneous décor set (13 items!) that, according to the creator, contains clutter for garages and yard.
Given how everything's either rusty, bent, broken, or all three, safe to say these theoretical garages and yards have fallen into disrepair.
And, bonus; the tires and cones are stackable!
5.

Scrap Car by Cyclonesue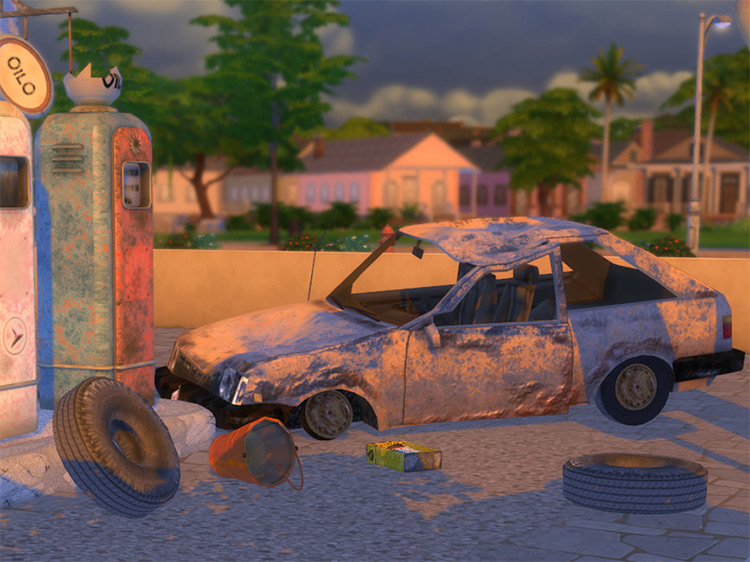 We've got the scattered car parts. We've got the remnants of an old garage.
Let's top it all off with the dented and aged body of a scrap car.
I wholeheartedly recommend this custom décor item (plus the other two sets by Cyclonesue) if you're planning some sort of post-disaster, world's-gone-mad setting. They're so perfect for it, it's ridiculous.
6.

Debris & Trash by Helen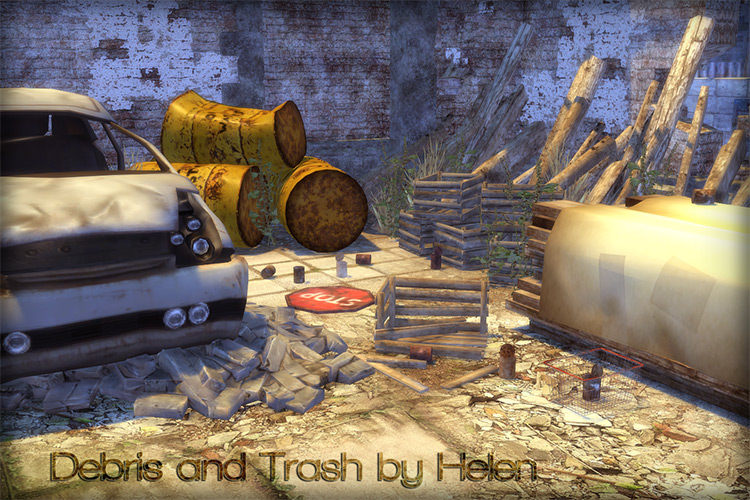 Wrecked cars, wooden barrels, and broken wooden crates, oh my!
Helen's Debris and Trash set contains enough rubbish and garbage to fill up a local junkyard.
Piles of broken crates, splintered wooden planks, and crushed soda cans are just some of the delightful little treasures you'll find in this pack!
7.

The Scrap Yard: Junk Pile by BigUglyHag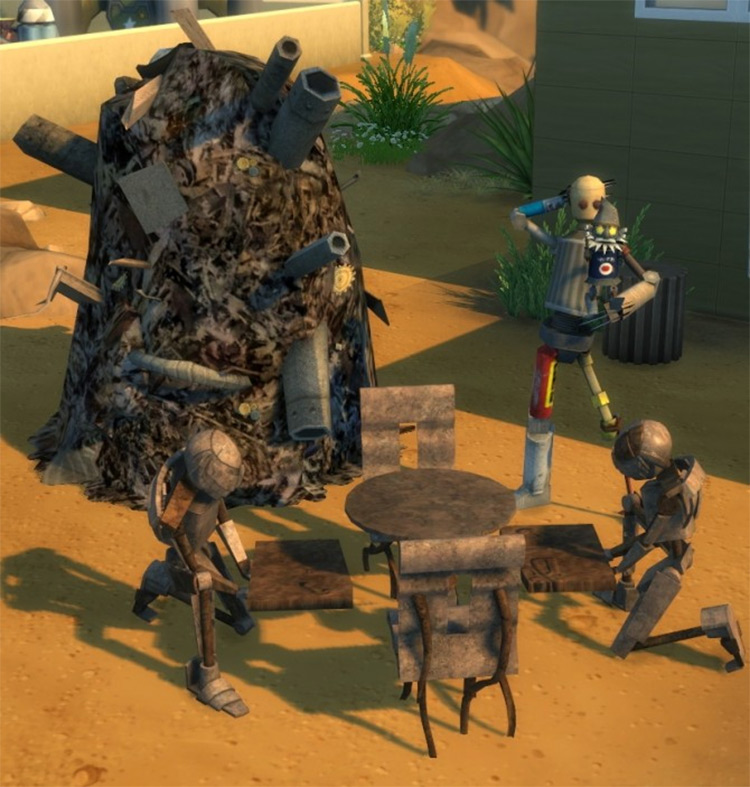 What happens when you've worked with junk scraps your whole life? I dunno, but this base game-compatible Junk Pile offers a viable outcome.
If you don't watch it, the scrapping and inventing and re-scrapping could consume you.
Check out the creator's video (embedded in the notes) to see the set in action!
8.

Slob's Life by Around the Sims 4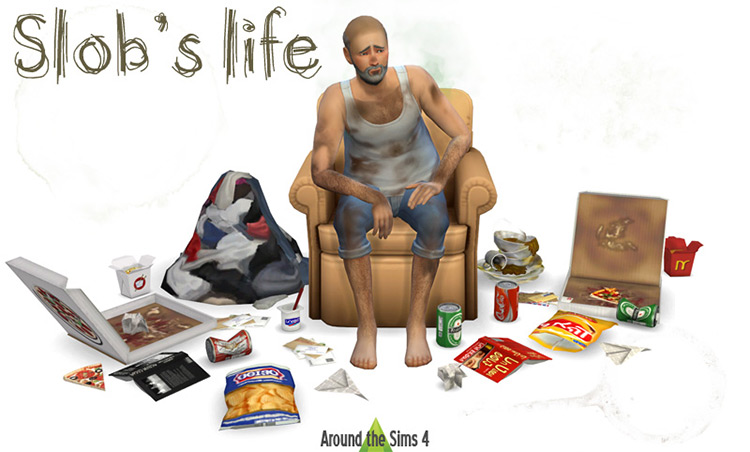 This one's for all the lovely Sims out there that need to rethink their life choices — or at least learn how to operate a vacuum cleaner.
This Slob's Life pack isn't great for decorating post-apocalyptic, global-disaster sets.
But for decorating the damp, derelict, and absolutely dingy apartment of some Sim foregoing all forms of cleanliness as they ride out the waves of a midlife crisis?
It couldn't be more perfect.
9.

Fiddledeedee Half Life 2 Seven Cities Ago + Diverse Clutter Conversion by sanoysims
In need of some good ol' urban city clutter? Look no further.
Sanoysims' CC pack contains 42 new meshes.
We're talking dumpsters, garbage cans, broken mattresses, scrapped bikes, rusted pots, junkshop detritus… it's literally a whole new stuff pack full of urban junk, and it's beautiful.
10.

Empty Chinese Food Clutter by josiesimblr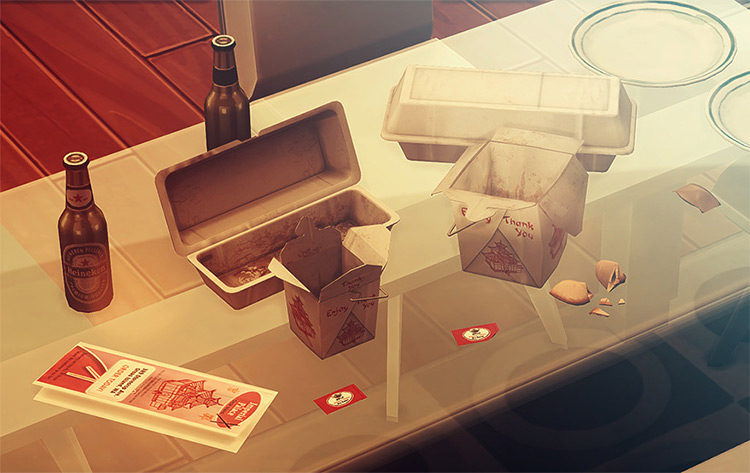 Here lie the remnants of a hearty Chinese takeout session.
Empty Styrofoam containers, grease-stained food boxes, ripped single-serve packets of soy sauce, and broken fortune cookies. It's a right mess, is what it is.
11.

Billyjean's Clutter Pt.1 by loree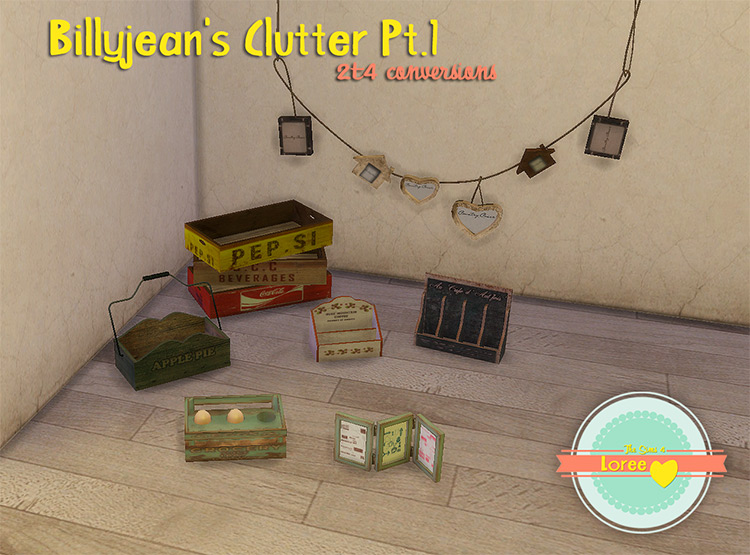 Apparently, the original Billyjean's Clutter pack was a CC set made for TS2. This TS4 conversion contains a fair bit of items from the original, including a stained egg box (that really doesn't look sanitary), some dingy tray boxes, and an empty soda box.
Among other things.
I personally like the Hanging Pics wall décor.
The haphazard design really makes the whole thing look like it was clumsily cobbled together before being thrown away.
12.

Trash From Eco Lifestyle by Sims4life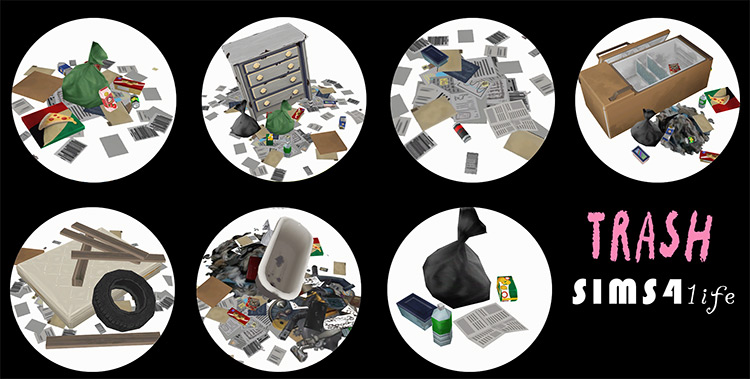 Even if you don't have The Sims 4: Eco Lifestyle expansion pack, you can still create the trash-strewn, garbage-laden town of your sustainability dreams.
This download by Sims4life takes the debug trash items that dot Evergreen Harbor's streets and turns them into buyable, base game-compatible Build & Buy objects for any Simmer to use.
13.

Crumpled Newspaper by Severinka_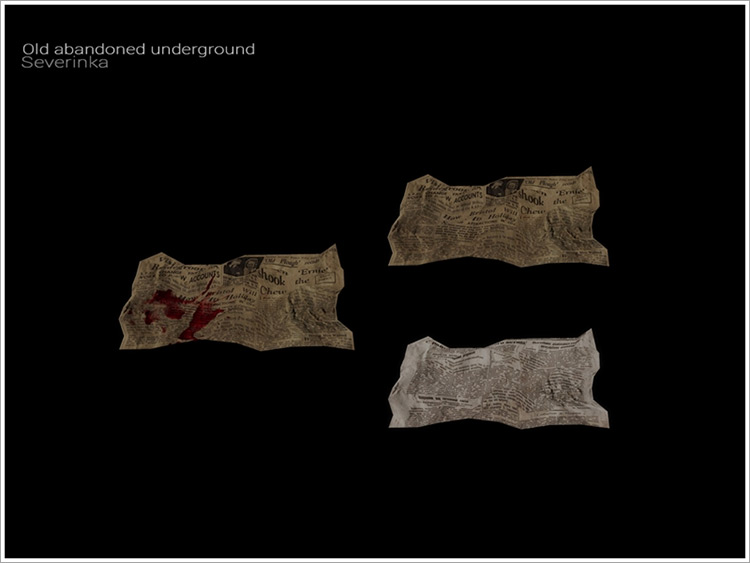 I included a lot of clutter sets in this list since they're the easiest way to download multiple goodies with one click.
However, I know that individual CC can be useful, too (especially for Simmers who need specific items).
Ergo, I'm including this.
There is nothing more "trashy" and more indicative of a dumpsite than a pile of yellowing, crumpled newspapers.
14.

Dung&MJ Bottles Sims 4 CC by 엠제이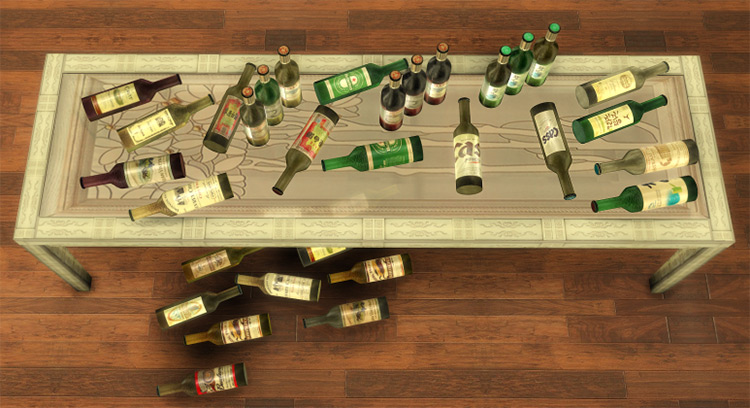 More individual items!
This time, instead of crushed soda cans and rotting takeout containers, it's fallen beer bottles (or maekju in Korean, or so Google says).
I'll admit; I think they'd fit the theme of this list more of the bottles were broken or the labels were peeling.
But in the spirit of designing junk piles and trashed builds, the bottles that have tipped over can still arguably count as garbage debris.
15.

Pile of Beer Cans by Slums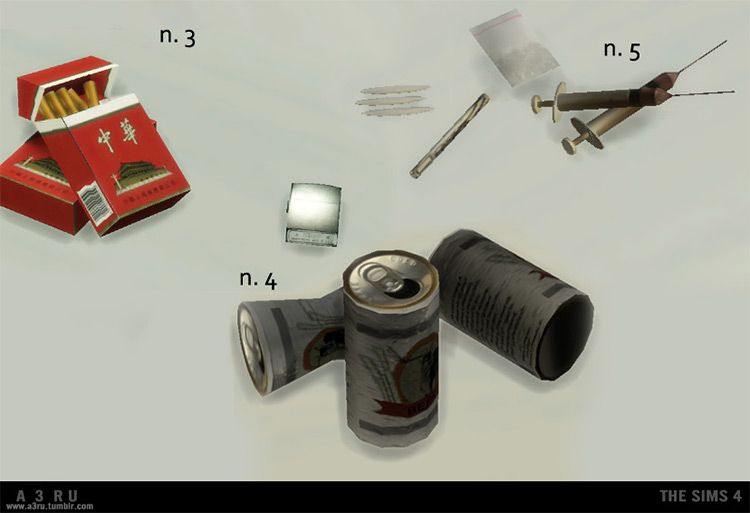 PSA: don't do drugs. But if your Sims do (to the detriment of their own digital life), the objects in this set are exactly what one would find in their dirty, neglected, trash heap of an apartment.
Or maybe in the alley next to the building they live in, if they're lucid enough to keep their place clean.
But if you just want to decorate a drug-free space full of garbage, the Pile of Beer Cans in this pack can be used in virtually any space and/or scenario.
Browse:
Lists
The Sims 4
Video Games