Best Garden Clutter & CC Packs For The Sims 4
This post may contain affiliate links. If you buy something we may get a small commission at no extra cost to you. (Learn more).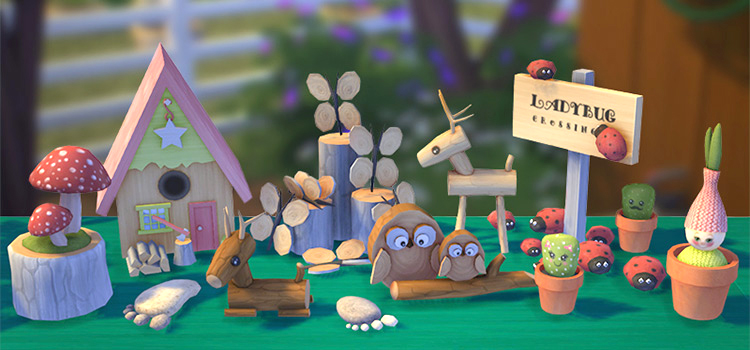 I've always loved gardening, both in The Sims and in real life. While my sims may have a green thumb, I certainly do not. Sorry, plants.
With the release of Cottage Living, it seems like every simmer wanted to start their own self-sustaining beautiful garden and with good reason.
You can make some crazy simoleons by either selling the produce or making paintings from microscope samples. And with the introduction of plant grafting, gardening only became more lucrative and fun.
Despite the reason why you want your sim to take up gardening, you're going to want to get some cute clutter to really sell the space.
What's a garden without extra pots and tools lying around?
1.

Breezic – Watering Can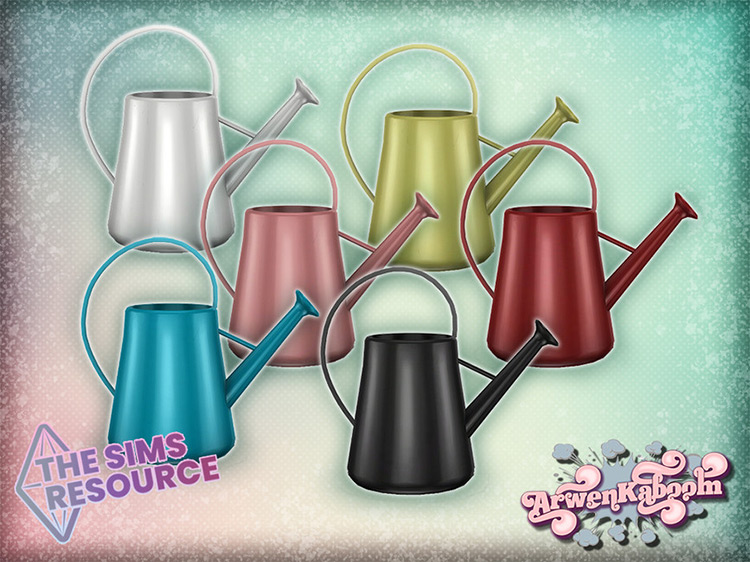 These adorable watering cans will fit right in on Henford-On-Bagley, with their cute vintage design and summery colors.
I've always wondered where the watering can went after my sims were done watering their plants, and now I can pretend they put it right back where it belongs.
Breezic's decorative watering can comes in six different colors.
2.

Green Time Tools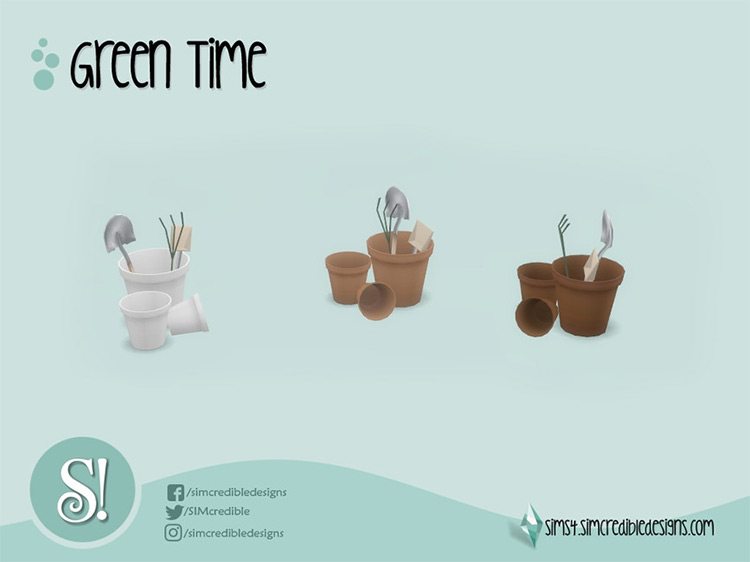 This little pot and tool set reminds me of my grandpa's back garden. He always stacked his tools in his pots and had them off to the side of the house by the hose.
Small clutter like this is perfect for filling in shelf space not only outside, but in the garage, shed, or greenhouse too.
And there are three color choices: white, beige, and brown terracotta.
3.

Gardening Foyer Décor – Pot Pile (small)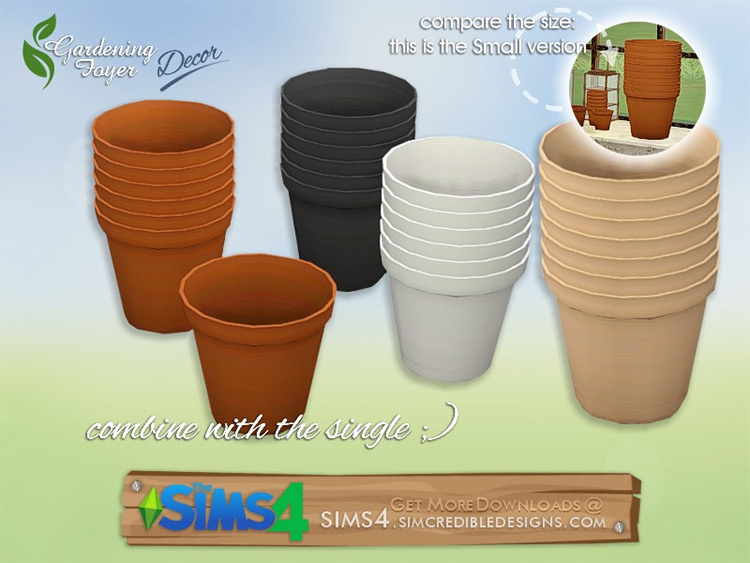 Speaking of pots, here are some stacked pots to leave around your garden or in your greenhouse.
These are little pots, so they are perfect for shelves or you can place a bunch of them in your large garden to make it look more realistic.
These come in four different colors, all neutral tones so they can blend easily into their environment.
4.

Clutter Crazy Part 1 – Garden, Kitchen, and Cleaning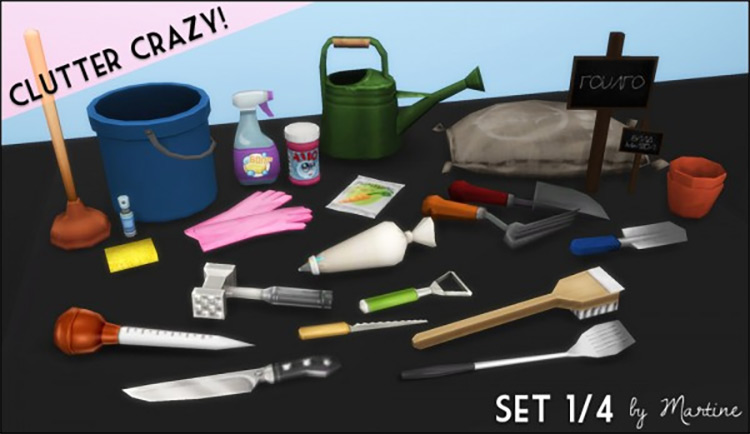 This Maxis Match set looks straight out of the base game!
The burlap sack and simlish garden signs are just *chefs kiss* perfect for your garden.
I love the trowels, hand cultivator and the classic watering can too. There are also a bunch of color options for each of the items, including different handle colors for the gardening tools.
As an added bonus, what are meant to be kitchen gloves could easily become gardening gloves if placed by a pot or some tools.
5.

My Garden CC Set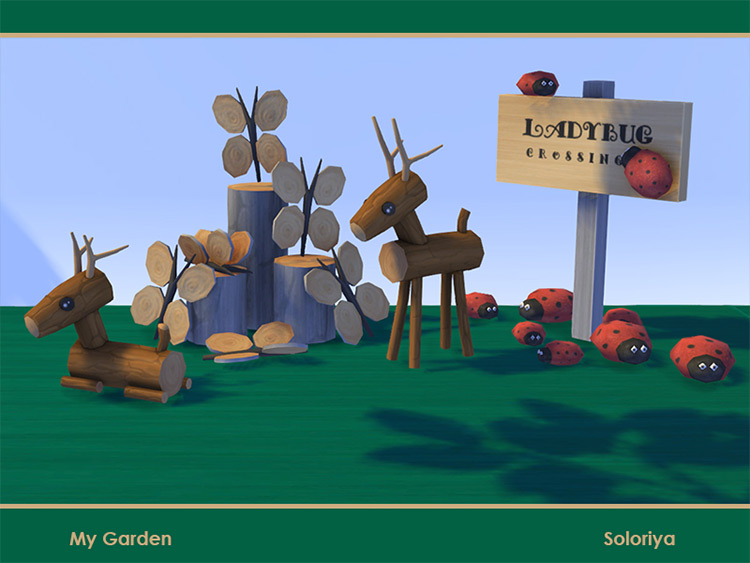 I just cannot handle how cute this little fairy garden set is.
Let your whimsical sims imagination take flight with these 14 objects meant to build your own little fairy garden.
The details here are the icing on top – little stone foot prints, a smiling cactus peeking out of a tiny pot, a deer made of wood, and of course the ladybug crossing sign and tiny house. It's all so precious.
This is perfect to put in the corner of your garden, so you can dream of faeries while watering your prized orchids.
6.

Kanto Garden Rake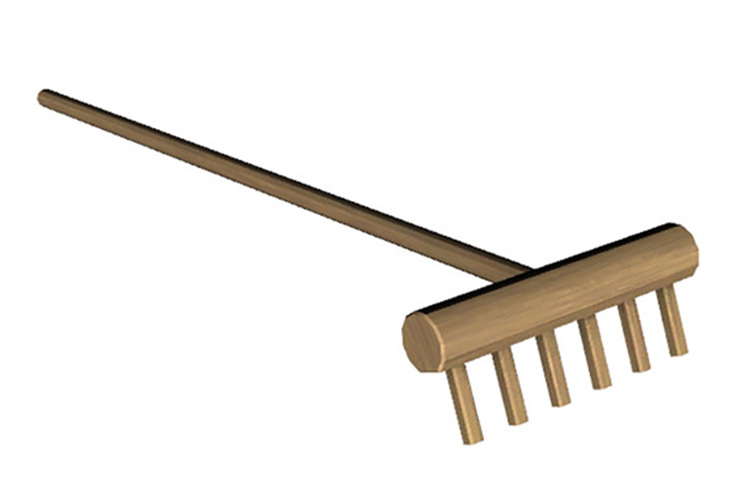 Make your giant Zen garden a reality with this oversized garden rake.
This may just be decorative. But if you place this near a patch of sand and let your imagination take over, your sim can have their very own Zen garden, and maybe even inner peace.
Did you know you can make your own sand pits where sims can make sand sculptures? I feel like I've been missing out all these years. All you need to do is place sandy terrain.
Sand or not, this rake would look perfect next to your picture-perfect garden.
7.

Garden Clutter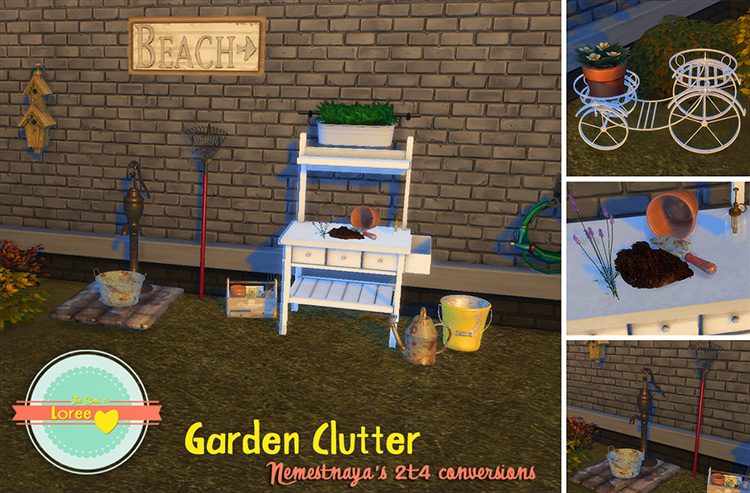 I know what you're thinking:
Finally, a water pump!
I found this set while searching for a water pump for my medieval playthrough, and I ended up using it in my modern games too.
It's simply too stylish to leave it in the past.
I also love the clump of dirt included in this pack. We all know that gardening is not the cleanest activity, so I like having some dirt piles around. The next best thing about this item set is the potted plant cart, which comes in several different color choices.
8.

Autumn Garden Wheel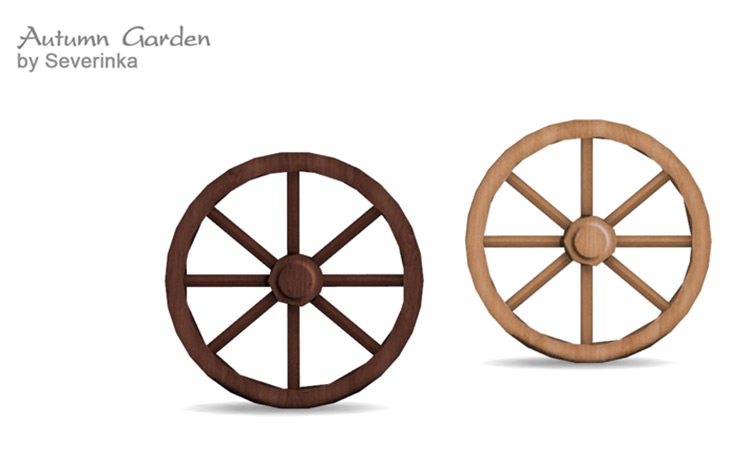 Okay, this is not just a wheel.
My mom had one of these in her front garden and I can't tell you how many people would stop and try to take it.
Lean one of these babies against a wall by your garden and everything just clicks. This would fit in especially well in the Henford-On-Bagley world.
Some have used these wheels to make a little wagon, which I think is just genius.
9.

Gardening Foyer Décor – Fertilizer Bag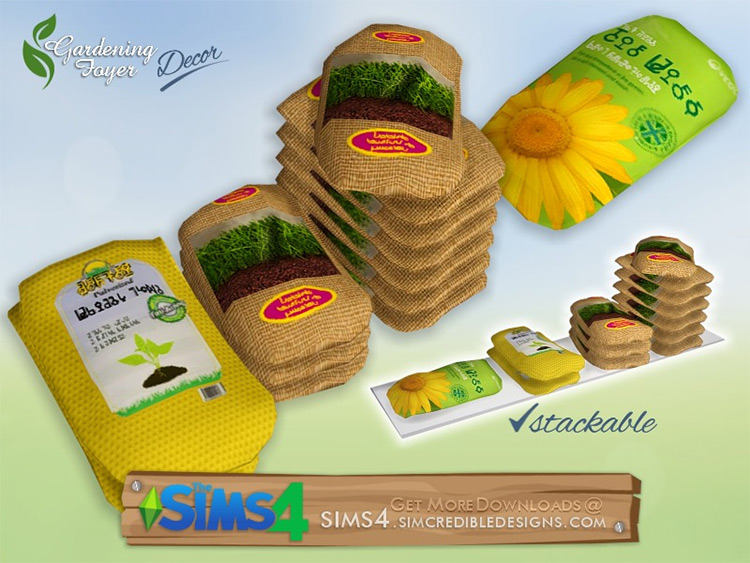 Honestly, what garden doesn't use fertilizer? I keep a couple bags of these piled up against the side of my sims' greenhouse in game and some piled on my porch in real life.
You can use these as individual bags, or stack them.
There are three different styles available, too.
10.

Pastel Garden Set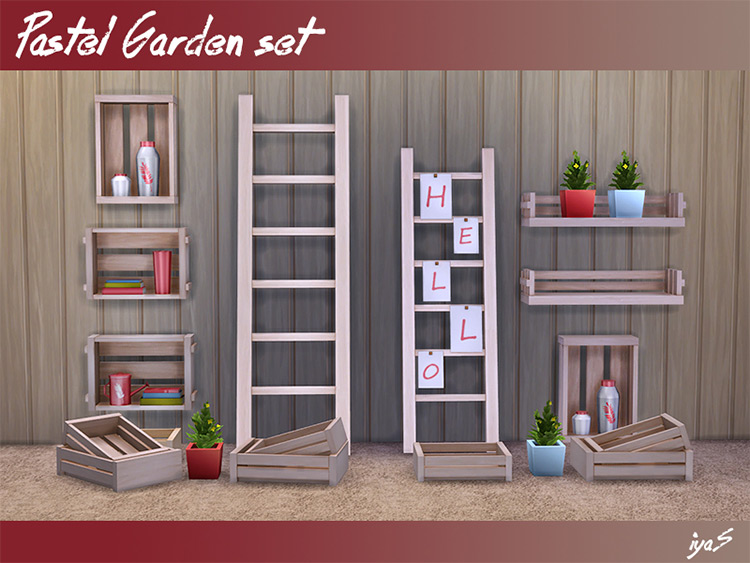 There are eight different items in this set, and I'm in love with all of them.
If you look at any of my builds, you'll notice that just about everything revolves around a pastel color palette.
This rustic set is perfect for your greenhouse, or just outside your back door between your garden and your house. The crate styled shelves are adorable and the letter ladder is way too cute.
11.

My Garden, Part 2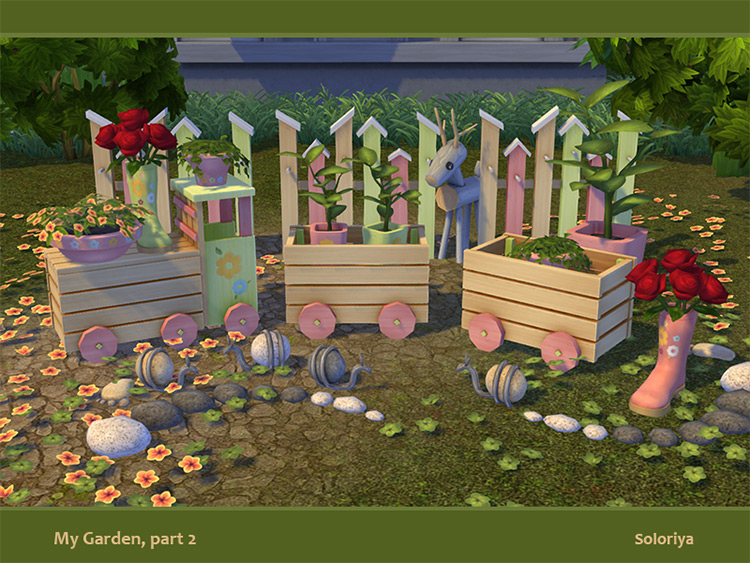 If you like whimsical décor and you're looking for more places to put decorative potted plants that your sim won't have to water, this is the set for you.
I'm obsessed with the wooden deer; I want one in my real garden. And the rock snails.
And the pallet train.
Okay, I'll take everything.
There are between three and six color options for this nine item set.
12.

Straight Outta Compost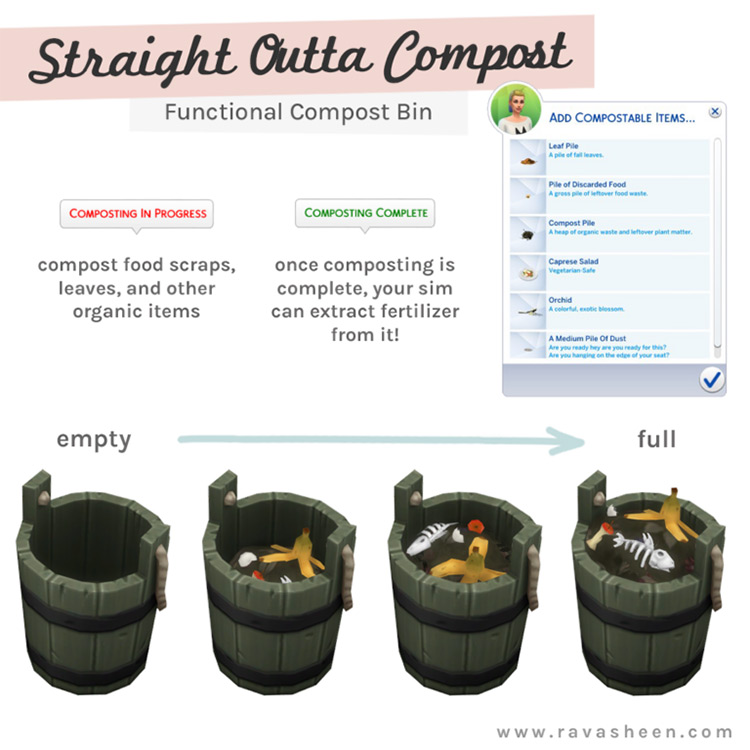 This isn't just garden clutter.
This is an actual functioning compost bucket, just like in The Sims 2.
You can add any food scraps, leaves, or any other organic matter into the bucket and get some sweet, sweet fertilizer from it a couple days later.
This compost bucket works perfectly with Cottage Living. If you own the pack, the fertilizer type will be randomly chosen between super fertilizer and large crop fertilizer.
Even if you don't want to compost, it will still look super cool in your kitchen or just outside the house by your garden.
13.

Gardening Foyer Décor – Tools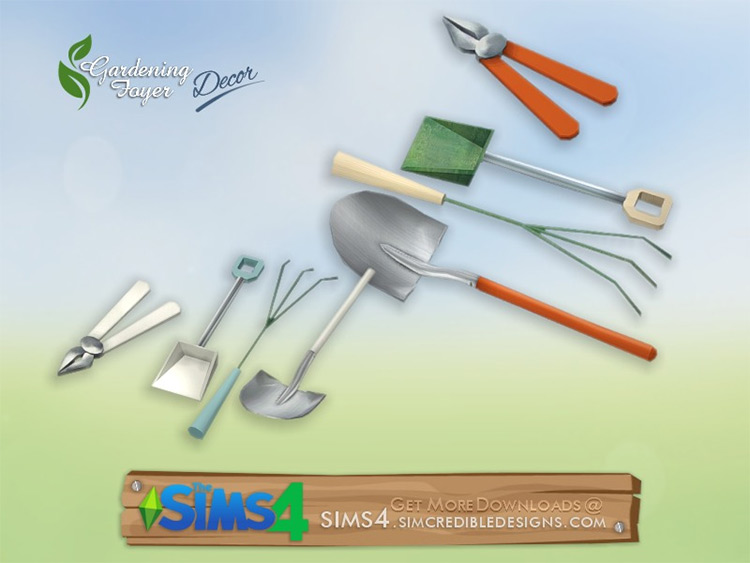 Tools like these can be left on a workbench by your garden or, more in tune with real life, scattered throughout your garden as needed.
There are two color variations available, and feel free to place them amongst pots and newly planted seeds.
14.

Gardening CC Clutter Set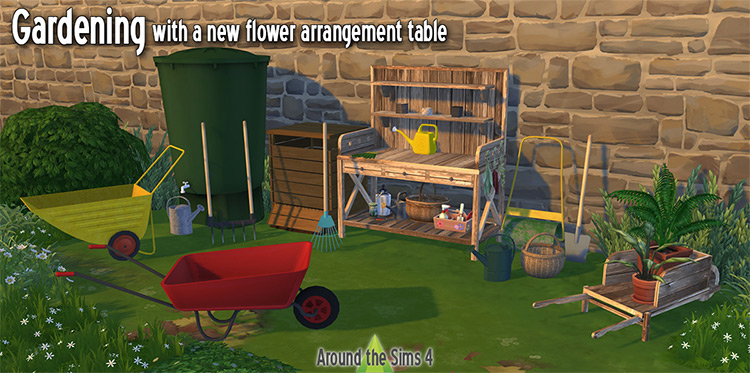 This CC set comes with a wheelbarrow and a perfect, rustic workbench.
The bench can be used as a flower arrangement table if you have seasons, but is otherwise just a functional surface.
There are dried plants available that can either hang off the side of the workbench or be hung up on a wall. I love the water tank in this set, it looks practical and still cute.
15.

Farmey Clutter (Interior)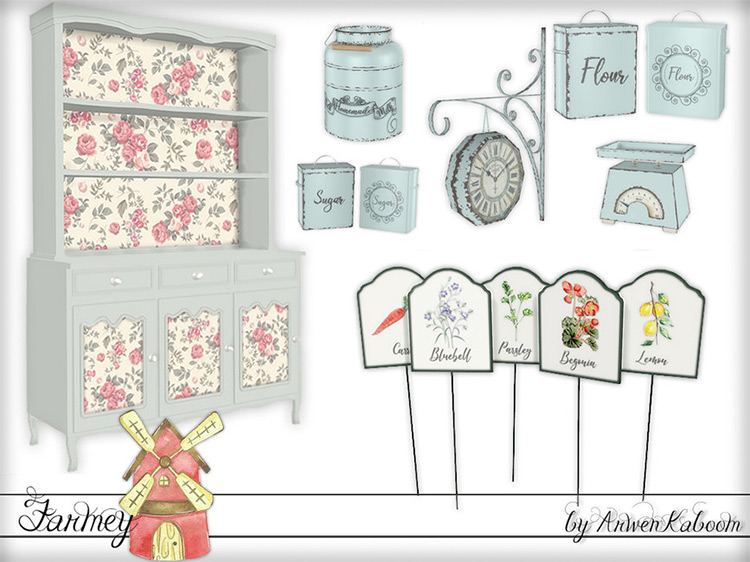 If you're looking for more of a rustic farmhouse vibe rather than just a farm vibe, then this set was made with you in mind.
Beautiful pastels and florals are the main attractor of this set, but the weathered hanging clock and decorative plant label signs are to die for.
I've used this hutch as a decorative outside workbench after decorating it with loose tools and pots – It turns out super cute!
Browse:
Lists
The Sims 4
Video Games