Sims 4 Gender Reveal CC, Mods & Poses
This post may contain affiliate links. If you buy something we may get a small commission at no extra cost to you. (Learn more).
There are many ways for soon-to-be parents to announce their baby's gender.
They can simply send a text, tell people in person, or of course, throw a party. And when it comes to that, the possibilities are basically endless.
Some folks throw absolutely huge bashes with elaborate reveal processes, while others may opt for a more laid back event.
But no matter what, any gender reveal tends to have a few things in common: happy people, color-corresponding decorations, and food.
And with this CC, you'll be able to have all of that in your game, tenfold!
Ultrasound Scan Mod
Having a gender reveal party requires at least one person to actually know the baby's gender.
In The Sims 4, this isn't possible before birth – unless you get a mod.
Sure, there are some ways to shift the odds, like having your Sim eat strawberries if they want a girl, or carrots for a boy.
But there is no 100% guarantee. Which can make throwing a gender reveal party, or even just decorating a nursery, rather difficult.
This ultrasound scan mod really brings some fun realism to your game. And will allow you to discover the baby's gender before birth!
Your Sim can use the phone to go visit her gynecologist, and when she returns, she'll even have a physical copy of the scan in her inventory with the results.
Boy or Girl? Posepack
Once you know whether your Sims are having a boy or girl, you can set them up to pose for some sweet pictures.
You'll need the confetti cannon for this pack (it's listed in the download), and you'll be able to choose whether it has blue or pink confetti.
Then, with a little know-how, your Sims can use any or all of the cute poses included here.
I will always be so grateful to pose creators.
Without them, it would be so difficult to preserve those precious pregnancy moments for our Sim's families. This will definitely be something you'll want to have to look back on as that little bundle of joy ages up!
Baby Shower Fake Cake
Here we have a simple decorative cake to celebrate the baby's gender.
This will be a great centerpiece at parties, and you don't have to worry about anyone cutting into it before they're supposed to and ruining it.
There are two swatches – one for a boy and one for a girl, of course.
It's a two-tier cake covered in stars and topped with some cute toys that will get anyone excited for the new baby.
Gender Reveal Box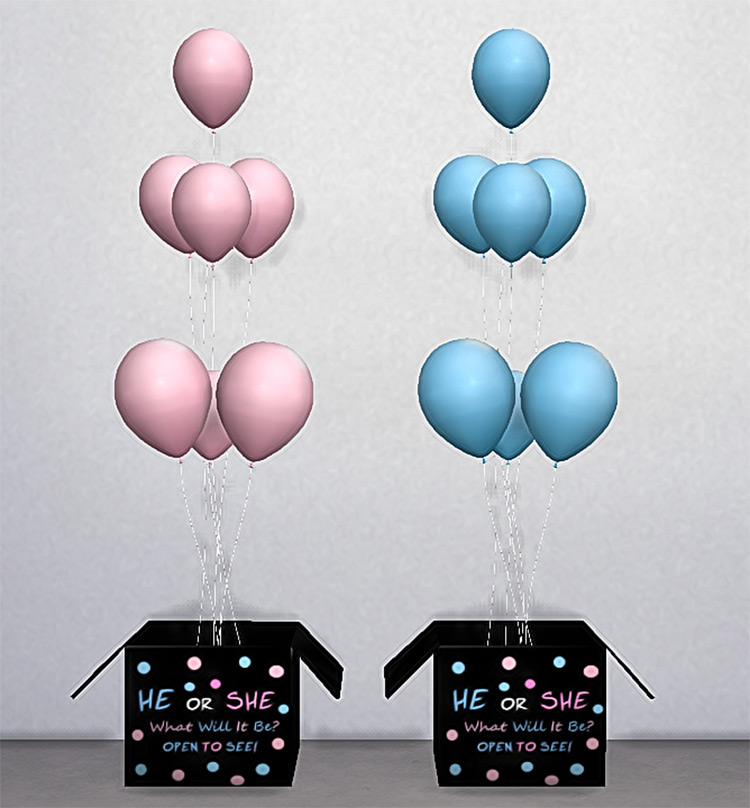 While reveals can get pretty crazy, most people opt for the tried and true method of releasing something colored.
This CC creator has brought one of the most popular options, balloons rising from a box, to the game.
After all, a gender reveal party doesn't have to be too big or dangerous.
It's a day for family and friends to celebrate the incoming little one and get excited about their life, so it makes sense to keep things low key!
Gender Reveal Card Pose
This cute pose will incorporate your Sim's baby bump, bringing it front and center.
In real life, expectant parents sometimes opt for simpler means of announcing the gender than a whole party. And this is a quick way to do just that.
This pose comes with a gender reveal card for either gender, and your Sim will hold it out just in front of her bump.
If they already have a toddler, the big brother or sister to-be can be part of the moment as well, posed beyond the card.
Little Man or Little Miss Set
With this CC set, you'll have everything you need to throw the best gender reveal party ever.
First, there's a lovely cake, as well as disposable cups, plates, and napkins.
Then there's still plenty left to decorate your space with, including a banner, party favors, and gender reveal boxes.
We all know it can be difficult to make a themed party look the part. But there will be no doubt what your Sims are up to once you use this set.
Baby Shower Cake
Like any other family function, a gender reveal has got to have food, preferably sweets.
Here we have another option for a unique pink or blue cake.
This one yields quite the sizable slice – strictly decorative, of course.
It also features a baby bottle as the topper, surrounded by a lovely ribbon. All around, it's a great decor option that'll really get you hyped for the new little guy or gal's arrival!
A Special Reveal Pack
This set contains some really fun items, and is the largest gender reveal pack I could find.
First, it includes gender reveal boxes to declare whether your Sims will be having a prince or princess, with some super cute balloons. They're large and have several different designs, including a bottle and onesie, as well as simple round ones.
And as cool as all of that is, this pack also includes some CAS items too!
Your Sims can pledge their guesses to the baby's gender with 'team boy' or 'team girl' shirts.
For the parents, there are 'pink or blue, mommy/daddy loves you' ones as well. Aww!
There are 22 swatches for adults, plus 22 for both kids and toddlers, so everyone can get in on the fun.
Josie Baby Shower Deco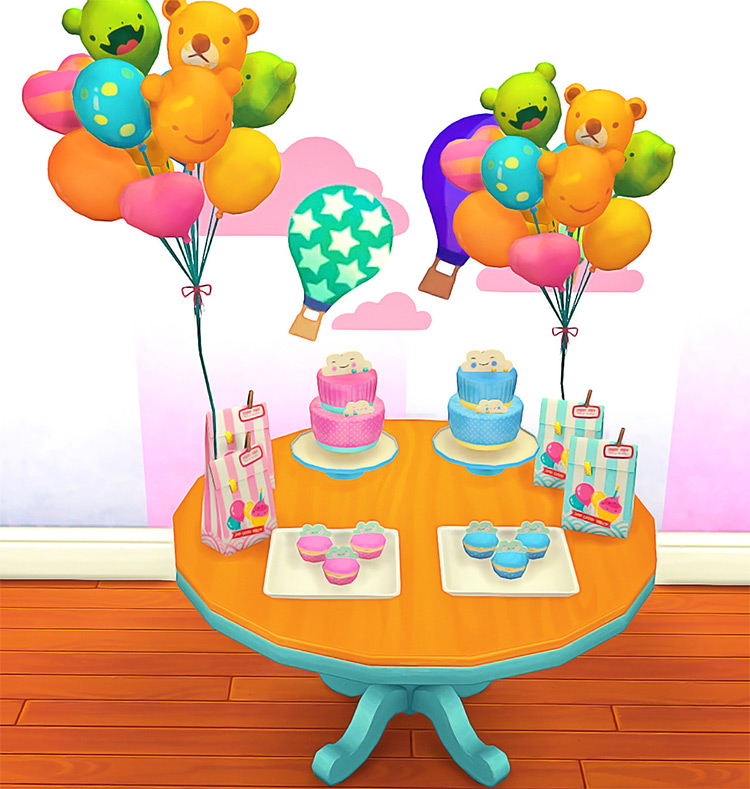 Baby showers and gender reveals tend to overlap.
Even if they're separate events, much of the decor is the same.
You can never have too many balloons at either. And these are just too cute, available in clusters of critters and bright swatches.
Of course, in true gender reveal fashion, we have even more pink and blue things here.
This time, there are even cupcakes included, and some nice party bags.
Letter Balloons
With these balloons, you can spell out any phrase you want for your Sim's gender reveal get-together.
They even come in the standard blue or pink swatches.
And you can even download each letter separately, so you don't have to clog your mods folder with all 26 if you'll only use a few.
A lot of the time, when there's something specific I want to recreate for my Sims, I Google real-life examples.
So feel free to take inspiration from real parties!
Succinct and to the point, 'boy or girl' is a classic. But I think 'he or she, what will it be' is pretty cute… even if it's a lot of balloons.
Browse:
Lists
The Sims 4
Video Games