Sims 4 Genshin Impact CC & Mods: The Ultimate Collection
This post may contain affiliate links. If you buy something we may get a small commission at no extra cost to you. (Learn more).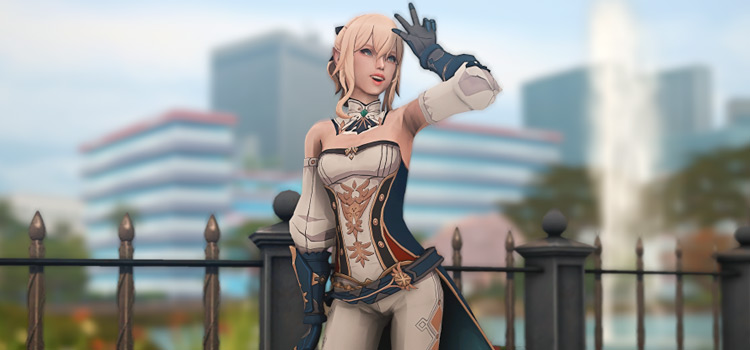 Genshin Impact was one of the biggest surprises of 2020, and it remains a top-rated game among anime enthusiasts and Japan-oriented gamers alike.
Even if you don't like the action RPG gameplay or exploring the world of Teyvat, it's hard to resist Genshin Impact's characters.
They're all appealing in their own way.
Some are hot, some are cool, and some are just plain adorable.
The character designs are out of this world – and it keeps us coming back to roll for more units.
If you're tired of hunting Boko- I mean, hilichurls all day but can't say goodbye to Genshin Impact's cast, consider bringing them into your Sims 4 game with the help of these incredible custom creations.
10.

Lumine (Female MC) Hairstyle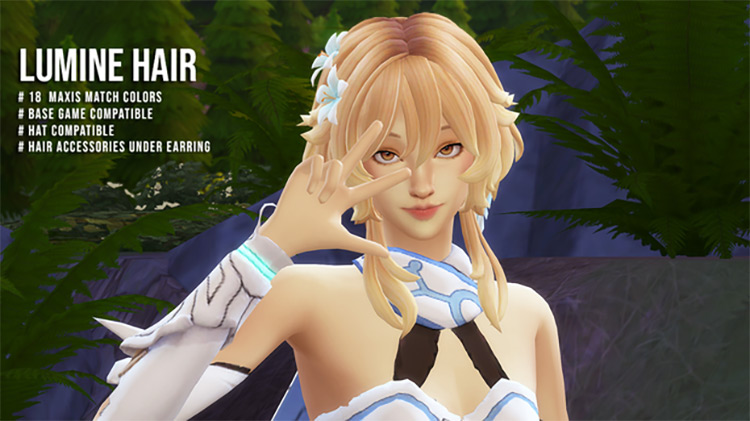 We'll start at the top – and by that, I mean we're checking out some fabulous hairstyles.
Female main character Lumine is known for many things, like being an absolute bad-ass and letting her pokerface get her into weird situations – but the first thing I noticed about her?
It was her gorgeous hair.
Who wouldn't want to have such soft, fluffy locks swaying in the wind?
If you're attuned to Anemo, you can even make the wind yourself!
Creator Megukiru kept the hairstyle versatile by including 18 color swatches and keeping hair accessories like the flowers and feathers separate – allowing you to toggle them on and of in CAS.
9.

Keqing's Hairstyle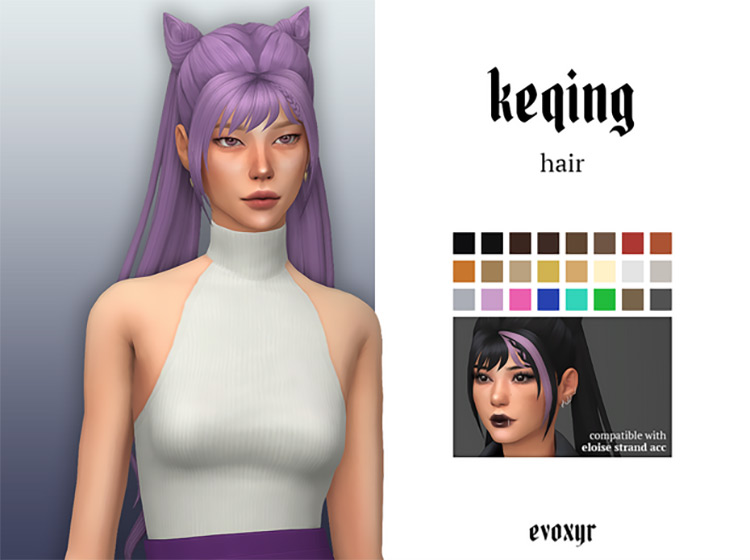 Another fantastic hairstyle to bring the best of Teyvat into TS4 is Keqing's Hairstyle by Evoxyr.
It's one of the Electro powerhouse's most characteristic features, mainly thanks to the two conical buns that look oddly similar to a cat's ears.
Considering just how fast she leaps around and pounces on enemies, it's pretty appropriate.
The willful Yuheng of Liyue's Qixing rocks a beautiful lavender hair color – but you don't need to sweat the details.
This pack includes 24 different swatches, including palettes like EA colors, Modified Maxis, and The Witching Hours.
8.

Springvale Custom Lot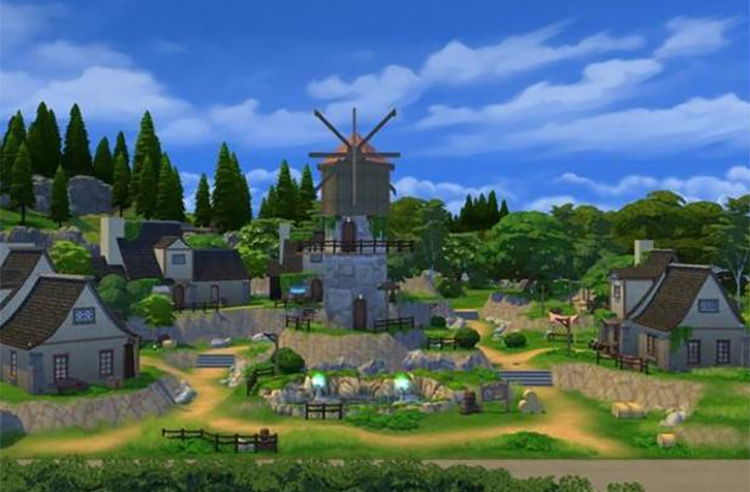 If you really want a little piece of Teyvat in your TS4, you have to go big.
It's not enough to get a character or a house.
If you're really committed, you should get an entire town.
Springvale is a rural village near Mondstadt where several families live together in a community around an ages-old mill.
This build by Pamcat looks exactly like Springvale does in the game – complete with the Philanemo Mushrooms growing on every wall and shiny Seelie shrines all around.
7.

Cross Room – Xingqiu & Chongyun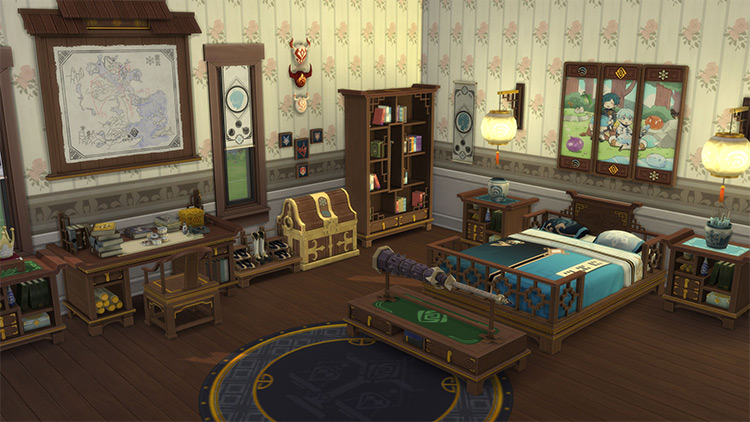 Now that you've got a little piece of home for your Genshin Impact characters to live in, you need to start furnishing their rooms – and you can't start without this bedroom set by DuoDraconis.
DuoDraconis specializes in creating 3D video game assets, including interior design and architecture pieces for The Sims 4.
Their Cross Room series focuses on bedroom sets that capture the personality of the character they're inspired by – and the world they live in.
This one is custom-made for Xingqiu & Chongyun, two very different friends growing up in the same place.
The room has a distinct Liyue style, but there are details here and there that highlight the differences between the two.
It features a total of 24 items, including carpets, nightstands, wall-mounted scrolls, lamps, chairs, tables, and even a pot full of ice cream!
6.

Sucrose's Outfit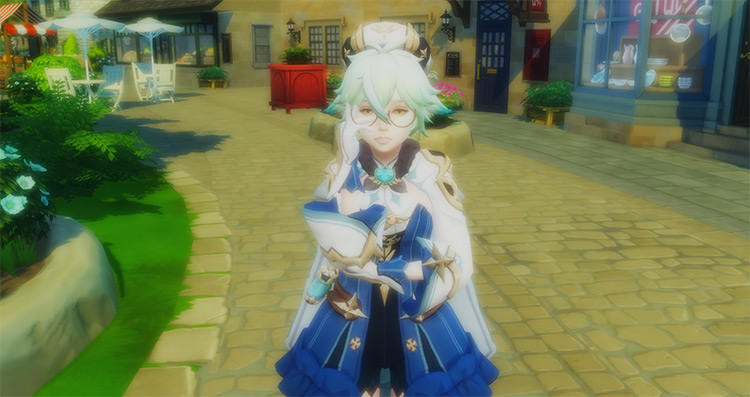 The Sims 3's fantastic Alchemy skill made a comeback with the Realm of Magic expansion – and where there is alchemy, there is Sucrose.
This Anemo heroine is a total Hufflepuff – though she's also a fair bit more chaotic than the average badger.
She's timid and calm, but she's also a total nerd.
Nerds tend to get over-excited about their interests, and Sucrose's bio-alchemy experiments sometimes go too far.
This set by Vedora-Kingdom brings us everything we need to summon the Head Alchemist of the Knights of Favonius into TS4 – including her hairstyle, glasses, and outfit.
5.

Lisa's Outfit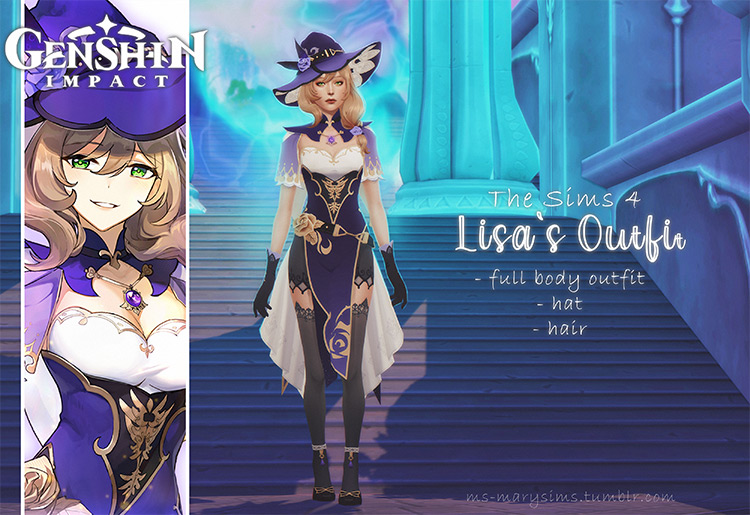 Also thanks to Realm of Magic (and creator Mary Sims), it's possible to invoke the Witch of Purple Rose – Lisa Minci.
This Electro-queen is one of the most powerful sorcerers in all of Teyvat, though she prefers to keep a low profile as the Librarian for the Knights of Favonius.
As an intellectual, Lisa will thrive anywhere with lots of books.
She's also fun-loving and carefree, so make sure she has plenty of stuff to do wherever you send her.
This CC pack includes Lisa's sexy and elegant full-body outfit, her flashy hat, and her beautiful hairstyle.
4.

Zhongli's Outfit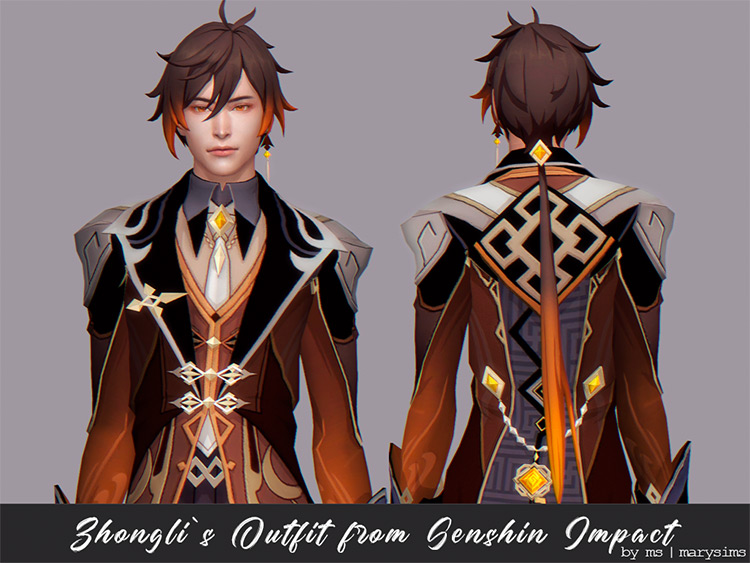 The vessel of the Geo Archon is one of the most popular husbandos in Genshin Impact.
Being a god can get boring, so the Geo Archon, Morax, decided to head down and live among the people from the perspective of a mortal as Zhongli.
This character's appeal lies somewhere between a butler and a hot history teacher – though I'm sure his immense power has also played a part in his popularity.
Just as he enjoys getting to know Liyue from the perspective of a human, Morax will love exploring Sulani or San Myshuno as a Sim, thanks to this excellent CC set by Mary Sims.
3.

Venti's Outfit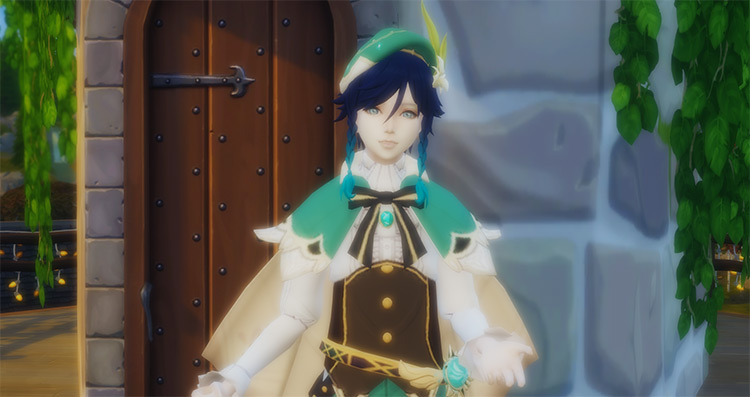 Is it a girl?
Is it a boy?
Who knows, it's Venti! That's kind of the point.
He may not look it, but this adorable musician is actually Barbatos, everyone's favorite lazy Anemo god.
Instead of keeping an eye out for Mondstadt and doing his job as an Anemo Archon, Venti prefers to spend the day drinking Dandelion Wine and walking around with a sign that says "will play the lyre for food."
Thanks to this CC pack by Vedora-Kingdom, this errant musician can offer his services (and experience the local nightlife) in Del Sol Valley, Oasis Springs, or anywhere you want.
2.

Xiao's Outfit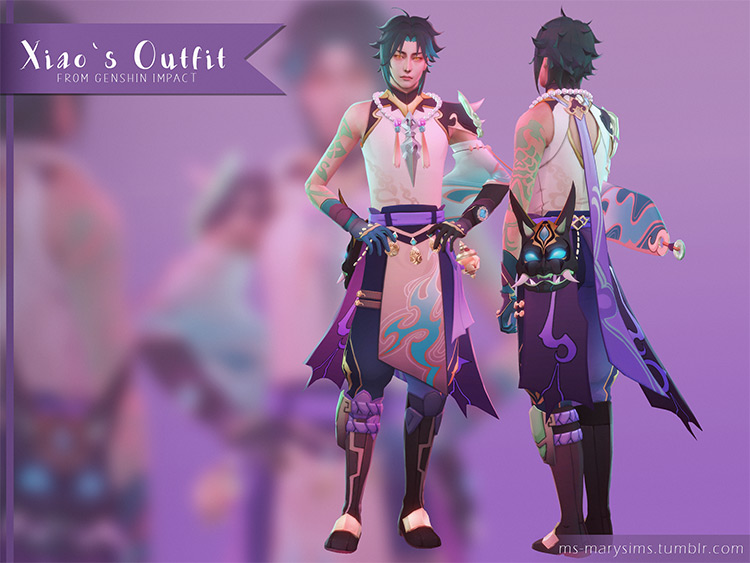 Xiao is Genshin Impact's version of a Witcher.
He's a half-demon warrior who travels the land searching for demons to slay, and a bonafide bad-ass.
Up until now, his latest assignment has kept this vigilant Yaksha within the borders of Liyue – but thanks to this CC set by Mary Sims, you can bring him to TS4.
Forgotten Hollow will never be the same…
This is one of the most high-quality character sets I've seen in a while.
The glow of his Vision and the eyes of the demon mask is an incredible touch.
1.

Jean's Outfit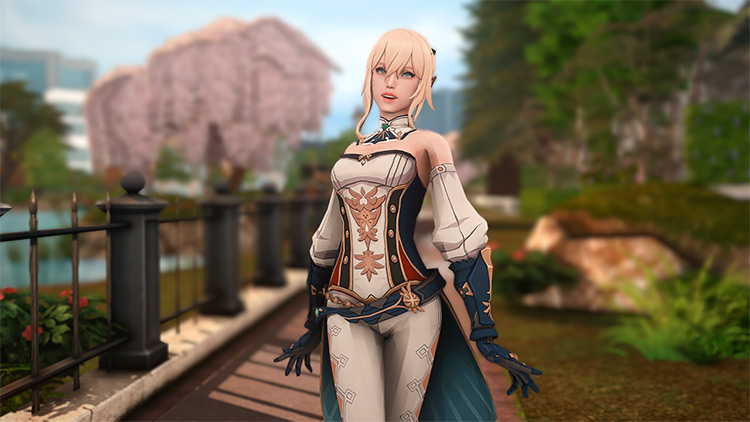 By far, my favorite Genshin Impact CC has to be Jean's Outfit by Lady Moriel.
The Acting Grand Master of the Knights of Favonius is a regal and dignified warrior with a strong sense of duty. Her outfit features many intricate details befitting her station – and Lady Moriel translated it beautifully to The Sims 4.
The outfit is divided into three parts: the hairstyle, the short cloak, and the costume itself.
You can easily play around with different combinations – and you'll find it looks charming without the cloak too.
Browse:
Genshin Impact
Lists
The Sims 4
Video Games