Sims 4 Ghibli CC: From Ponyo To Howl's Moving Castle (And More)
This post may contain affiliate links. If you buy something we may get a small commission at no extra cost to you. (Learn more).
Who doesn't like Studio Ghibli?
This Japanese animation studio based in Koganei, Tokyo, is responsible for several of the highest-grossing anime films of all time – and their stories are known all-around the world.
They owe most of this success to co-founder Hayao Miyazaki, who wrote and directed many of the studio's films including My Neighbor Totoro, Spirited Away, and Howl's Moving Castle.
If (like me) you just can't get enough of their gorgeous animation and iconic characters, you'll love the Studio Ghibli CC I've gathered here.
There are clothes, decorations, residential lots, and a few surprises – and it's all just a few clicks away.
15.

Studio Ghibli Tattoo Set
Studio Ghibli characters are among the safest bets for a tattoo – they're timeless, everyone loves them, and their designs are simply too cool for you to grow bored of them.
This Ghibli Tattoo Set by creator TheCellabration includes a small Totoro – the smallest one in the movie – and No-Face's best angle. You can also combine the two if you're not scared of overdoing it.
To be honest, I may go and get one of these in real life. That Smol-toro is just too cute!
14.

Totoro Tights
Studio Ghibli's "My Neighbor Totoro" is one of the most lauded popular children's films to come out of the Japanese studio.
And the big, round forest spirit has become a symbol for Japanese animation, as well as for Studio Ghibli itself.
These Totoro Tights by CC creator Sondescent will let your teen-to-adult female Sims show their love for the furry critter in a tasteful and stylish way. They're perfect for the trendy girl with a warm spot for Ghibli movies.
Anyone can have kneesocks with cat ears – but only your Sims will rock these slick Totoro Tights.
13.

Little Ghibli Shirts for Toddlers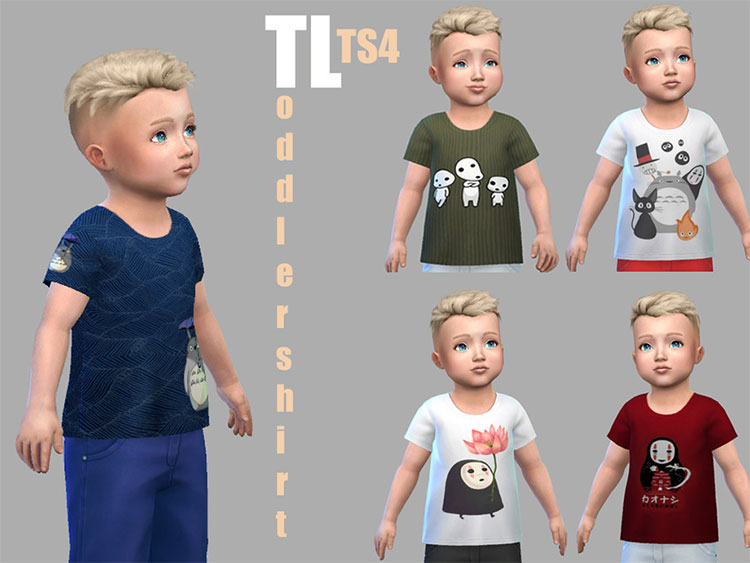 Kids love Ghibli films.
They're a nice change of pace from the endless stream of CGI-animated Western flicks, and can open their eyes to a world of magic far beyond what they'd ever imagined.
If your toddler Sim has taken a liking to any of Miyazaki's stories, you can let the world know by dressing them in this T-shirt collection by TitusLinde.
There's one featuring Kodama tree spirits from Princess Mononoke, one with Totoro, one with Kiki's black cat, and even one with No-Face, though that character can be a tad scary for children…
12.

Aburaya Bath House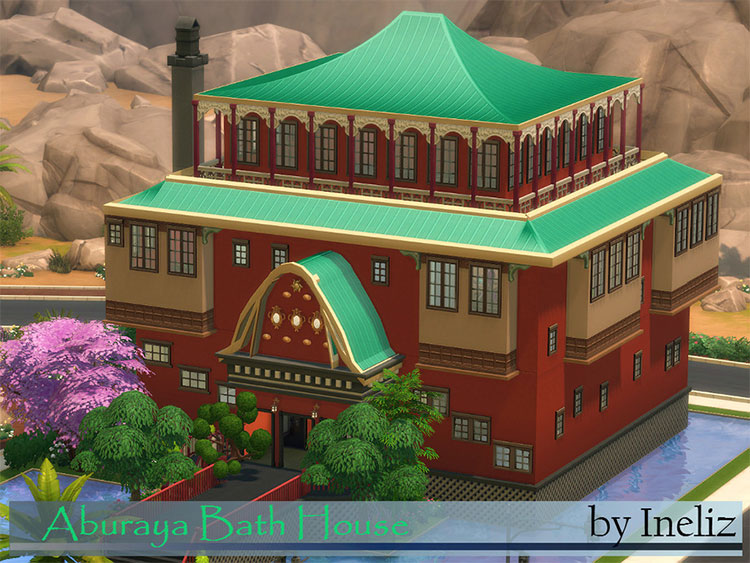 The Bath House run by Yubaba in Spirited Away is as impressive as it is intimidating thanks to its massive size, exquisite architecture, and luxurious colors.
This reproduction by Ineliz keeps the outside appearance accurate – including the irregularly-arranged windows on the sides of the building – but plays around with the inside to make it a useful addition to your TS4 neighborhood.
There's exercise equipment, some seating space here and there, and many small pools for your beloved Sims to take a bath after an intense fitness session.
Take the day off, get the body moving, and cleanse yourself of bad energy at the Aburaya.
11.

Studio Ghibli Tees Set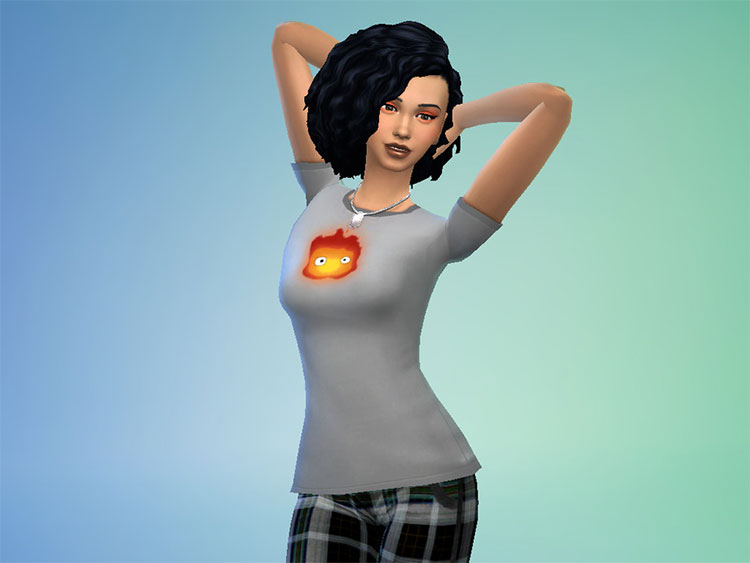 Creator Grillbee offers us a set of assorted tees with simple designs depicting some of Ghibli's most famous characters.
With this CC set, your Sims will show their affinity with Ponyo, Kiki's Cat, Howl's fire spirit Calcifer, and – of course – the hyper-famous Totoro.
There's also the Catbus and even Studio Ghibli's logo, which is technically Totoro yet again.
This could make for fantastic and varied everyday wear for an anime fan Sim, or a pajama set if they're too busy serving killer looks during the day.
10.

Spirited Away Leggings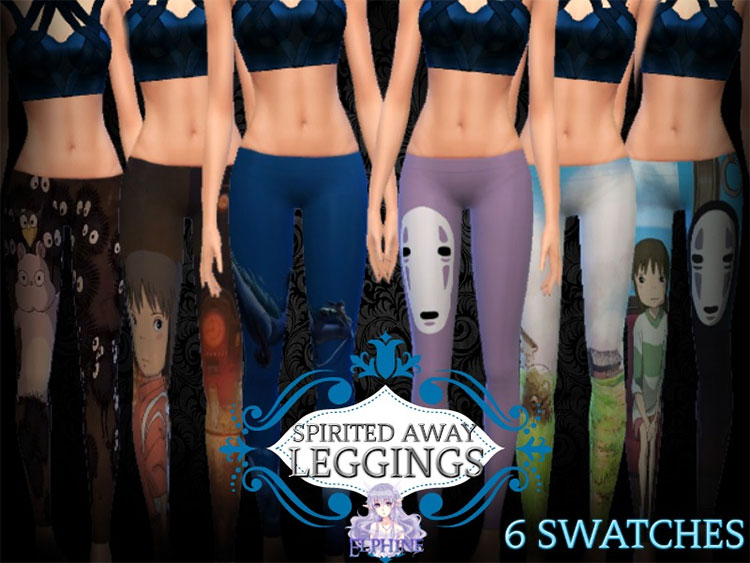 In the world of TS4 CC, printed t-shirts are a dime a dozen – but rarely do we get to see themed leggings.
Creator Elphine seeks to broaden our horizons with these fantastic Spirited Away Leggings set – all resembling promotional materials and captures from the movie.
Some of them depict scenery, others have Chihiro's adorable face plastered on them – and my favorite are simple lilac leggings with No-Face's placid mask on one side.
What I like most about them is that they look like something you could actually see someone wearing in real life.
9.

Hatter's Flower Shop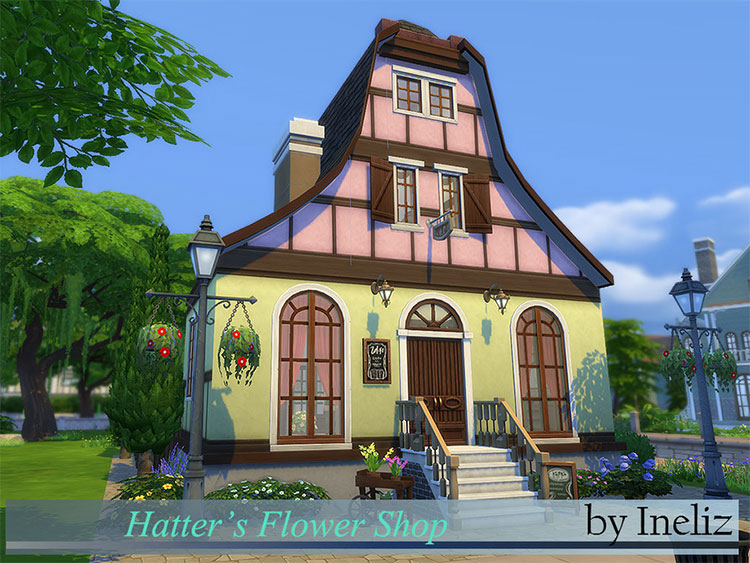 Supplied with flowers from Howl's Secret Garden, Sophie Hatter's Flower Shop is one of the most beautiful places in Howl's Moving Castle.
And now you can have it in your Sims 4 game thanks to creator Ineliz.
If you look at a side-by-side image, you'll notice it's not an exact reproduction – but it's close enough, and it's lovely one way or another.
On the inside it's fully furnished in a colorful but cozy way – and it includes all of the modern appliances your Sim may need, including a kitchen and a little TV to chill out in the living room.
You'll find mostly greens and browns, while the rest of the colors and accents are provided by beautiful flowers.
8.

Totoro Wallpaper
Studio Ghibli's movies may be considered children's films. But the truth is that all ages will get a different experience from watching them.
The same thing happens with My Neighbor Totoro, a film about the delicate balance between human progress and nature.
As you grow older, you start understanding the subtext. And your love for that favorite childhood mascot should grow with you.
A fantastic and tasteful way for an older Sim to show their Totoro love tastefully could be these Totoro wall decals by Sashas93.
The CC set comes in three models, depicting different sides of the forest spirit, and they'll look fantastic wherever you choose to place them.
7.

Totoro Toddler Overalls
There's nothing wrong with loving My Neighbor Totoro well into adulthood. But the truth is, it was designed to appeal to children – so your toddler Sims should have a way to express their love for the big forest spirit too.
These adorable Totoro Overalls by creator Koala-Sims might be the single cutest CC I've ever seen.
With them, your small Sim children will carry the furry forest spirit on their tummies everywhere they go.
I want one of these! Adult size, please.
In this set you'll find them available for both genders, with eight different colors for the bodysuit that goes underneath the overalls.
6.

Studio Ghibli Movie Posters
I still remember how mesmerized I was back when I first laid eyes on Spirited Away's promotional poster at a cinema when I was still a child – and these Studio Ghibli Movie Posters by iCedxLemonAde sure bring me back.
This set features nine incredible posters with iconic characters and symbols from each movie.
You've got No-Face's mask, Kiki's black cat, Porco Rosso's distinguished snout – and so on.
It even has one for Nausicaä, which is criminally overlooked by most CC creators for some reason.
They're remarkably tasteful decorations that'll look fantastic in any cinephile's home.
5.

Ghibli Painting Compilation
If you prefer something a bit more detailed – something you can get lost in – this Ghibli Painting Compilation by TitusLinde may be more your style.
It includes two large paintings depicting gorgeous forest scenery where Totoro looks right at home.
The deep colors and detailed lighting make it look oddly realistic – even with the big round critter standing right in the middle of it all.
It also includes two smaller wall decorations with a simpler, more whimsical style to them.
4.

Howl's Flying Castle
Here's another fantastic Howl's Moving Castle build by Ineliz.
This adaptation of the titular Castle is in its airborne version.
It's a miniature replica, and Ineliz didn't worry much about accuracy for the tiny details. Instead, they've taken plenty of creative licenses to create something that'd look great in TS4, and be useful for any household wishing to take up residence in the "floating" structure.
It's incredibly colorful, and the plants growing up the walls and all around the house are among the most beautiful things I've seen in a TS4 lot.
Just keep in mind that it doesn't actually move.
3.

Assorted Ghibli Wall Art
If you've got a Sim who takes their Ghibli love seriously and will start discussing Miyazaki's films' cultural impact at the drop of a hat, then get them this collection of Ghibli prints by creator TitusLinde.
These elegant art pieces feature interesting artwork inspired by Kiki's Delivery Service, Princess Mononoke, and Spirited Away.
It's like framing your childhood memories and hanging them on the wall.
Hang these in your Sim's office, living room, home theater, or even above their bed – maybe they'll dream of their favorite characters!
2.

Ghibli Clouds
Take a look at this unique addition to your Sims game that's bound to impact your experience: these Ghibli Clouds by CC maker Miiko.
We love Studio Ghibli's art.
The scenery in their movies is breathtaking. And the way they draw clouds is definitely a big part of that.
Thanks to Miiko, we can enjoy the same gorgeous water vapor formations in our TS4 skies.
They don't move much, but they're a godsend for taking amazing screenshots – especially with all this Ghibli apparel we've covered so far.
1.

Studio Ghibli Movie Mod
What better way to get some Studio Ghibli goodness into your TS4 game than literally playing Hayao Miyazaki's films on your in-game TV?
Yes, this is legitimately possible.
Well, for 2-minute clips anyways. Blame the stuff pack limits!
Either way, we are clearly living in the future guys.
This mod includes a grand total of 10 Studio Ghibli films for your Sims to watch, including My Neighbor Totoro, Howl's Moving Castle, Laputa, The Secret World of Arriety, and Kiki's Delivery Service.
Installation may take a little testing, but once you get this working I doubt you'll ever go back to regular Sim TV stations.
Browse:
Lists
Studio Ghibli
The Sims 4
Video Games