Best Curly Hair CCs Women Can Rock In The Sims 4 (All Free)
This post may contain affiliate links. If you buy something we may get a small commission at no extra cost to you. (Learn more).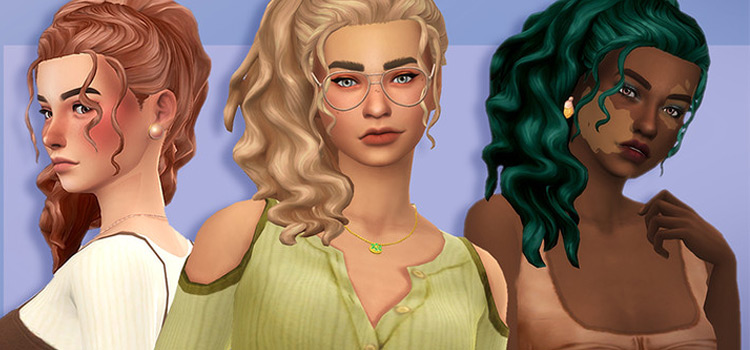 The crowning glory of every Sim is a good hairstyle. It's one of the first things you get to customize and agonize over, because who's ever satisfied with just 43 hairstyle choices?
The Sims 4 base game is great and all, but the devs didn't quite hit the spot in the hair department… especially for curly hairstyles.
If you've noticed, there's not much love for curls in vanilla at all. There were only two styles overall, with the other one looking like an oversized cotton ball (which was EA's attempt to make a 'fro). To say it's a disappointing collection is an understatement.
Luckily we've got some hard-working custom content creators out there! From two not-so-diverse hairstyles, players now have well over a hundred curly hair CCs out there online! No more bad hair days.
And to save you time sifting through dozens of random CCs, I've collected the absolute best-of-the-best curly hairstyles that will make you swear off straight hair ever again.
20.

Sintiklia Diva Clayified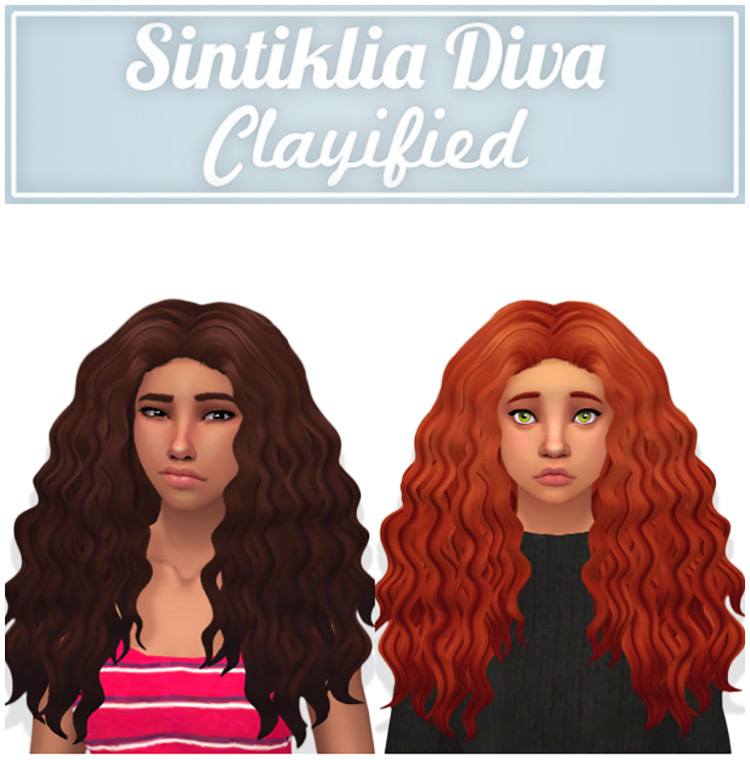 Want your Sim to look like a modern-day Scottish princess?
Make the brave choice to embrace this curly hair storm just like Merida! If you don't know what I'm talking about, then you're missing out on one of the best Disney movies of all time.
This CC perfectly captures how wild natural curls can be.
The poly count must be insane too.
But hey, it's not the first time you'll be suffering to get the perfect hair.
19.

Gabby Hair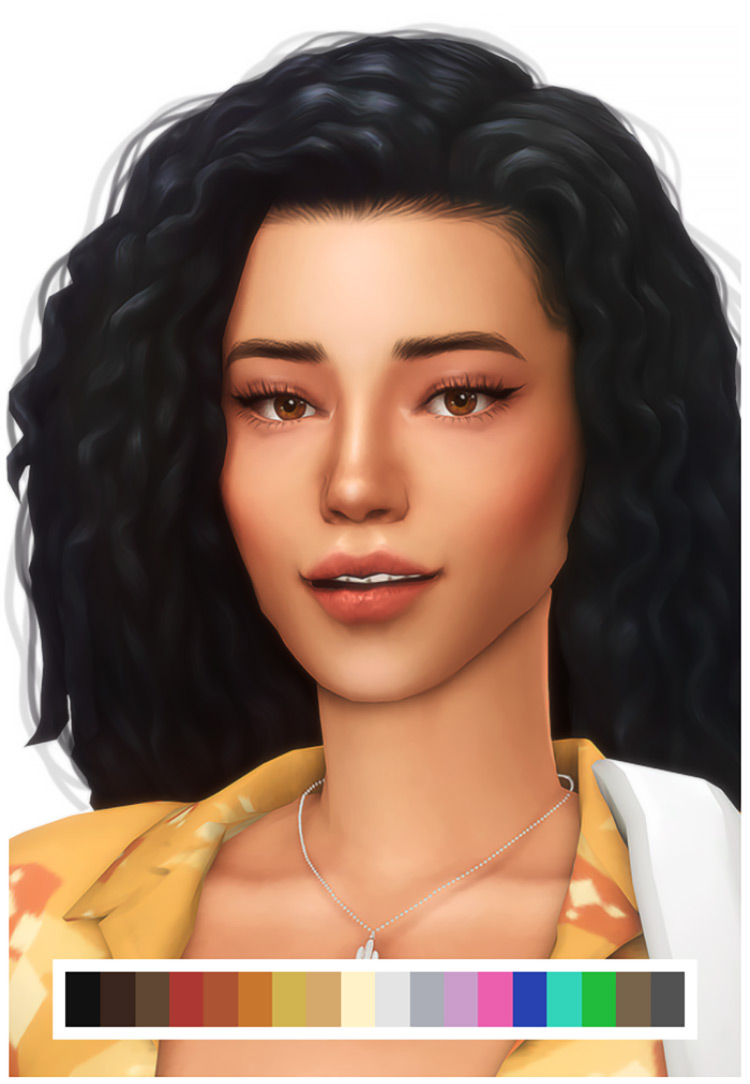 This is going to be really sad, but I wish I were a Sim just so I could have a creator completely dedicated to giving me the best hair.
Honestly, I'm getting jealous of whoever's getting all this Gabby hair.
If you're just starting to try out a curly hairdo on your Sim, then this Gabby CC would provide a stunning introduction to the world of thick curls.
18.

Delta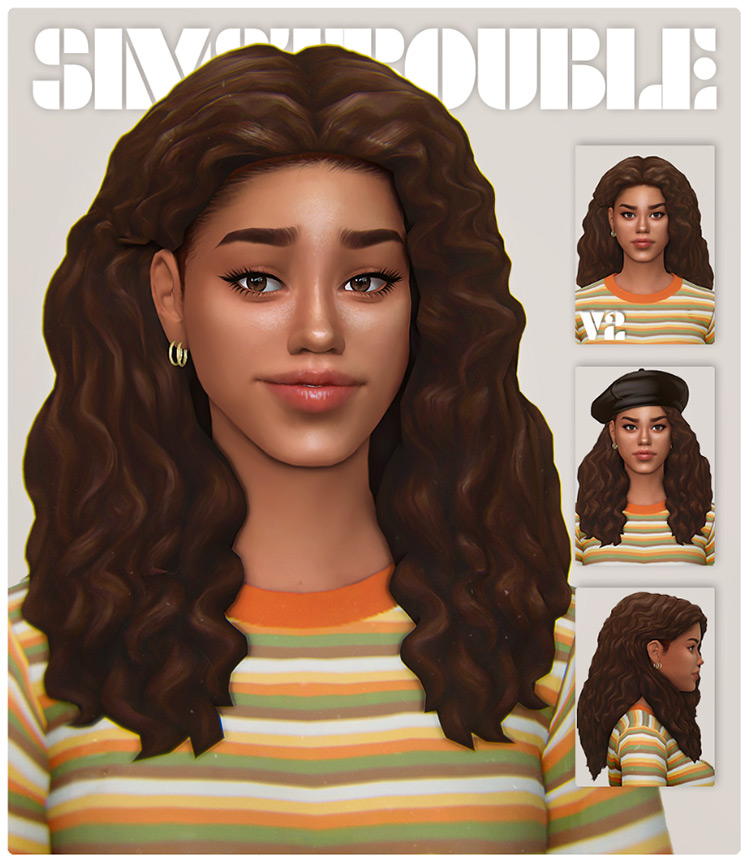 Bravo Zulu, we have a visual!
Simstrouble is one of the most amazing CC creators when it comes to creating hair. This Delta hair is worth the space because it's hat-compatible and it works well for all occasions. Really like any outfit, this hairdo rocks.
But it's also great because of its neutral design that can work for all genders!
Match hairstyles with your friend, boyfriend, or whoever you have on speed dial and spread the love for curls in all shapes and forms.
17.

Morgana Hair
Trying to nail the witchy appearance without having to look like a total hag?
Here's a simple ingredient to brew a compelling look: the Morgana Hair CC.
If you have The Realm of Magic expansion pack then you know that the town of Glimmerbrook will always have witches in its midst.
The only difference with your Sim is that she doesn't need to be an actual witch to cast a spell.
With over 63 colors to choose from, you've got enough magic to keep your hair interesting for days to come.
16.

Baddie Hair
I had to make a quick search on Urban Dictionary to know what 'Instagram Baddie' means.
To educate anyone who's also confused, a baddie is a person famous for being beautiful.
To be a baddie is to have on-point brows, flawless makeup, and confidence that slays. In short, a girl who's always on fleek.
So if you really want your Sim to represent the best version of yourself, then be a baddie at first glance.
Style your hair like a true Instagram trendsetter and start living a glamorous life of constant selfies… in TS4, that is.
15.

Jayden Hair
At some point in our lives – well, a young girl's life – we've dreamed of becoming mermaids.
We'd grow our hair and cover our chest because that's how they styled it under the sea. Then came the mermaid hair trend that probably caused a lot of permanent damage.
Thankfully your Sim won't have to worry about the impulse to cut their hair short, or the risks involved in bleaching hair from the roots to split ends.
This Jayden Hair will have your mermaid dreams realized with just a click of a download button!
14.

Ophélie Hair
Become a new classic with this Ophélie hairstyle reminiscent of old Hollywood glam!
Let your Sim dazzle at major moments of her life with a vintage look that has withstood the test of time.
Whether it's her wedding or her first walk on the red carpet, you wouldn't want to waste any milestone with unflattering locks.
When it comes to being glamorous, trust the curls.
13.

Kool Thing
Psychologically, it's said that women with curly locks have a fiery personality.
Maybe it's because of the frizzy dilemma that makes hair look wild, or the gorgeous volume that balloons out of proportion.
Whatever it is, it's just cool this CC exists.
It has a personality of its own that fits any occasion your Sim will throw herself into (plus so many colors to choose from I can't even count it!)
From casual interests to formal pursuits, you won't need much work to make your Sim crazy hot.
12.

Fiona Fro
No thanks to EA, we finally have a decent 'fro with more texture and creative effort!
Creator Savvy.Sweet is a mainstay of The Sims 4 CC community. So, I expected nothing less from her diverse collection of hairstyles.
Although this one is a personal best.
With a sleek parted look in the front and a puffy mass of curls at the back, this CC turned a simple afro into something really cute.
11.

Tiare Hair
For someone who can only do a standard braid, I'm a bit obsessed with the detail on this CC.
With most of the hair pushed back, the style perfectly accentuates the scalp braids and the face of your Sim. Might even look nice with some hoops.
If you're looking for a hairstyle that's bigger than life, then the Tiare Hair CC is yours by design.
10.

Anjela Hair
I easily swoon over short hairstyles. But short hairstyles with braids and curly texture?
I'm floored.
This look motivates me to create a badass Sim that just doesn't give a damn.
From playing pranks in university to causing death by embarrassment, this Anjela Hair can rebrand your Sim to a charming devil.
Think about it: maybe a mischievous look is what you need to make your Sim's life a little more interesting.
9.

Mercedes Hair
When CC creators collaborate, you just know it's going to be good. This pack is overflowing with content, but let's focus on the first thing that caught my eye: Mercedes (the hair).
Mercedes is that rich girl look that everyone tried to emulate in some way, but never really flaunted it right.
But with the perfect aesthetics of The Sims, you won't have to worry about looking like a 10-year-old child obsessed with snap clips.
8.

Julie Hair
Ariana's ponytail has got nothing on Julie's curly lion's mane.
Big, puffy, and packed with attitude, Vikai has created an adorable CC that will make you appreciate the hard work of creators.
I mean, did you see that braided knot? It's so cute!
This massive hairstyle would've been a nightmare to manage in real-life but not for your Sim.
Just take my advice: the hairier, the merrier!
7.

Going So-Low
So far, the entries in this list are full of rowdy curls.
But let's mellow down with a more elegant hairstyle.
The best thing about this CC is that you can choose to have a ponytail or a bun. With so many things our Sims have to accomplish in a short period of time, you'd want a hairstyle versatile enough to handle the chaos.
And if all else fails and the Grim Reaper finally comes, at least you'll look exquisite, even in death.
6.

Crawling Queen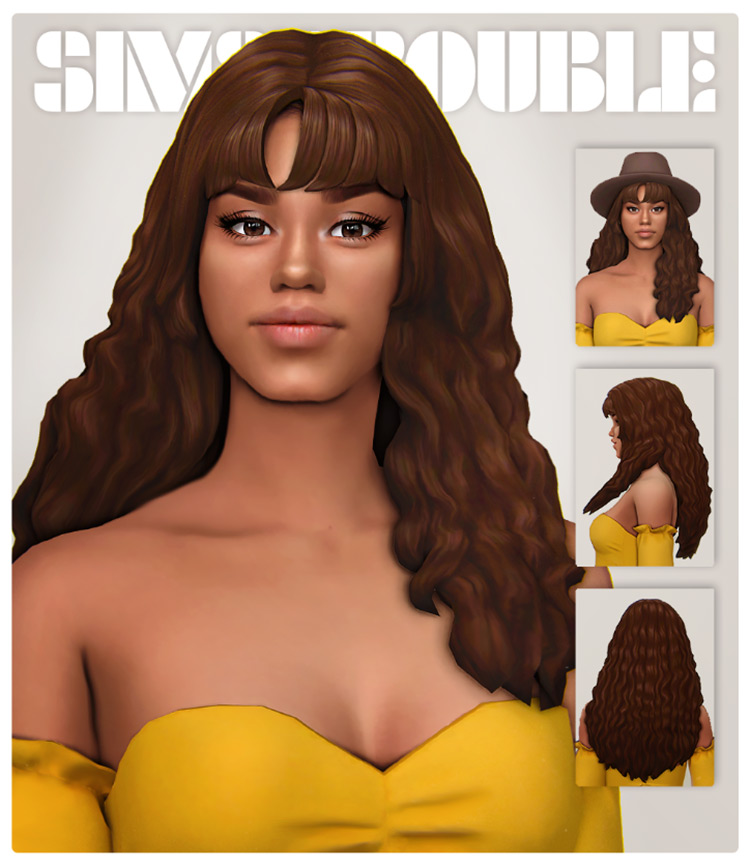 Oh my word, Simstrouble did it again.
She reigns high in this list with a piece of CC that makes me want to go to a salon and force the stylists to make a miracle.
Because who wouldn't want to have long, curly hair that looks like cascading waterfalls?
Not to mention, perfect wavy bangs that would take a true artist to style.
I'm telling you: this is one of the best long curly hairstyles out there for The Sims 4.
And no, you can't tell me otherwise.
5.

Up & Out Curls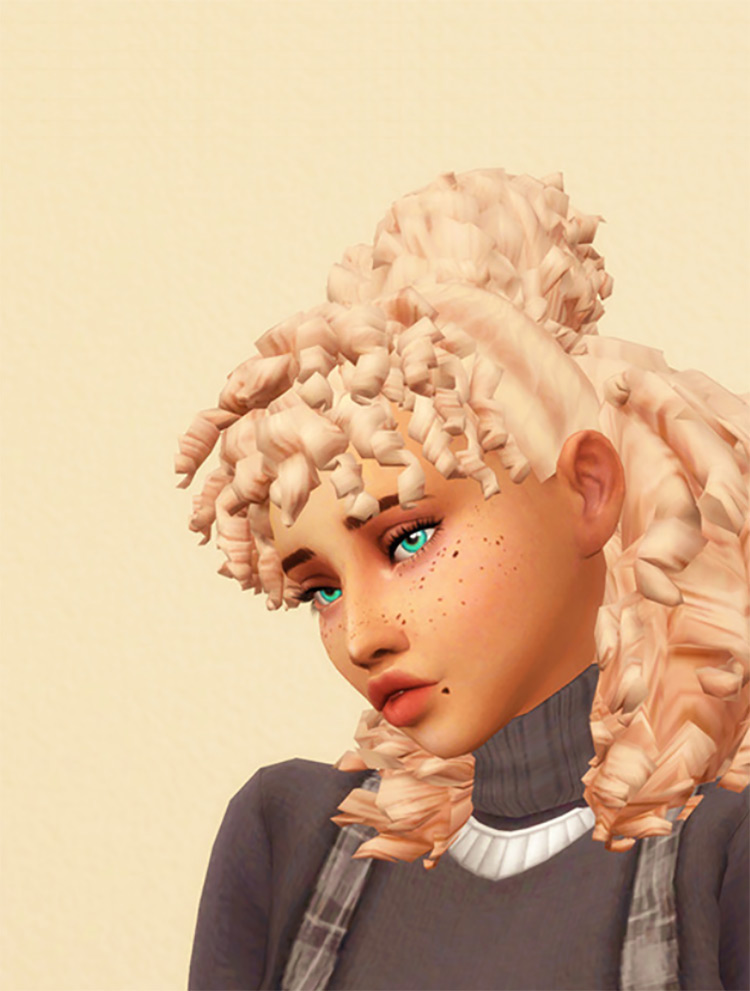 Of course, this list wouldn't be complete without a hairstyle inspired by the Mother of Curls herself, Goldilocks.
If you're worried about the three bears snatching your wig, don't bother. What you do have to worry about here are the potential lags in-game.
This CC is packing a high poly count all for the love of curls.
Because of the detail, low-end computers might experience a bit of a lag… but if you think you can handle it, I know it will be worth it!
And really, what's a bit of slow gameplay compared to looking gorgeous?
4.

Zara Hair
Initially this was supposed to be the best curly hairstyle CC on this list. You can probably guess why: ombre hair is what most Pinterest boards are all about.
But ombre curls? That's god-tier.
I've seen a lot of ombre hair CCs, but the Zara Hair has by far the best mesh design I've seen.
And if you haven't heard of the creator aharris00britney, then this CC is not the only one you'll be falling for.
3.

Joni
Sims out, buns out!
This Joni hairstyle is absolutely adorable. Even though the hair buns are the most striking features of this CC, it's the added baby hair on the sides of the forehead that made me appreciate the effort.
Make sure you're not making a poor choice by skipping out on this cute style. Your Sim might as well go bald.
2.

Naomi
Alexa, play Motivation by Normani.
This Naomi hair hypes me up.
It has the braids, the pom pom pigtails, the curls, the parted bangs – almost every feature I love, all meshed together in one hairstyle!
And did I mention you can do an ombre? I think I've said enough to grab your attention.
1.

Luna
It's been a bit difficult to rank all these great CCs, but the crown ultimately goes to Luna.
The first time I saw this, I was simply amazed.
I thought it was just because of the headband, which is of course a nice touch. But the sheer mass of this hair is overwhelmingly satisfying.
Out of all the entries listed here, this was the only one I was confident to rank up as the best curly-styled hair for TS4. So jump in and get curling, girls!
Browse:
Lists
The Sims 4
Video Games