Sims 4 Girl's Jeans: Best CC & Mods To Try Out (All Free)
This post may contain affiliate links. If you buy something we may get a small commission at no extra cost to you. (Learn more).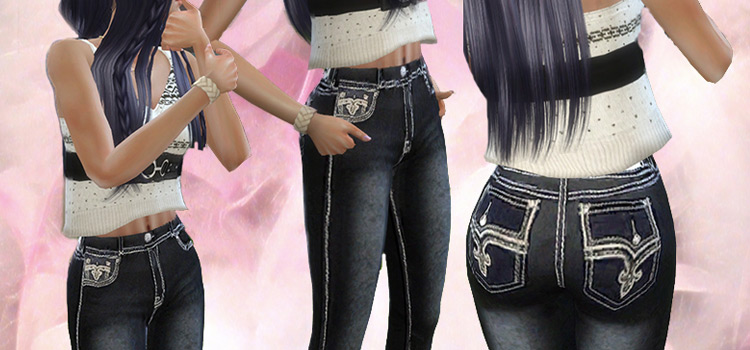 Before the CCs, back when EA still used the Comic Sans font, I was OK (and surprisingly overwhelmed?) with the customization choices in the very first Sims game.
Even with the skin type only having three options, I was beside myself with joy for having the freedom to choose what my Sim could wear (as a kid, I was fairly easy to please).
So imagine the overwhelming frustration I got when I finally discovered downloadable custom content that covers everything from freckles to bruised knees.
Knowing it would take months to satisfy my insatiable appetite for fashion perfection, my first course of action was to get the basics right.
And that includes jeans. So here are some of the absolute best custom jeans that your Sim can wear on any day.
20.

Amara Skinny Jeans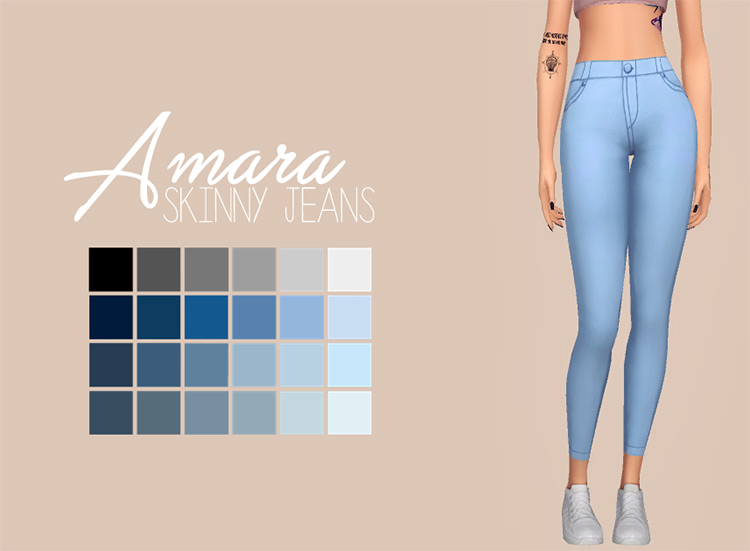 We owe our jean-loving luxury to Levi Strauss and Jacob Davis.
But even if they had invented the greatest fashion item since knickers, not everything denim-made can last forever.
The era of the skinny jeans is coming to a close (maybe, hopefully?).
But only to mature as a new classic style in TS4.
A baggier jean style might be everyone's new fashion comfort. Yet nothing could make your Sim's butt stand out better than a skinny.
YSK: This CC has 24 swatches to reignite your love for that tight squeeze.
19.

Baggy Jeans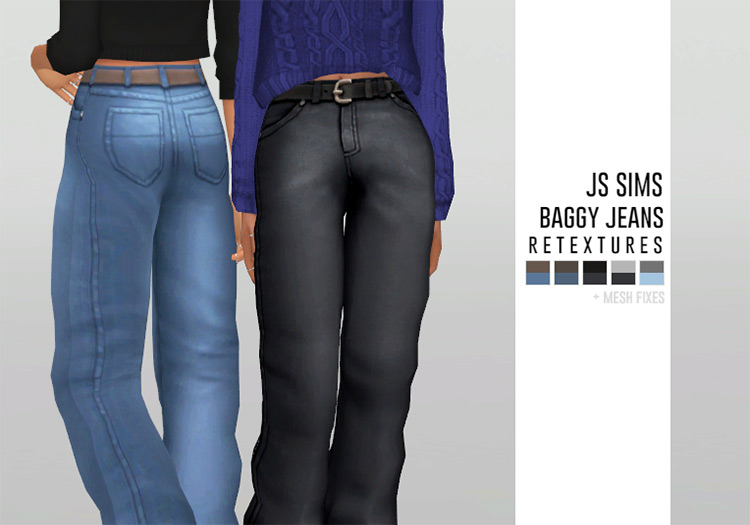 In a 360-degree turn from the Amara Skinny Jeans is this retextured Baggy Jeans from catsblob.
It seems the 2020's is enjoying a major throwback and it's on a roll to modernize trends that we thought were long dead.
The aesthetic of this roomy ensemble fits those who are feeling a little lazy, but still committed to not make a fashion misstep.
What you can do though, is slip on a thick cropped sweater or a stylish bandeau to highlight your newest obsession from the waist down.
YSK: This CC has 5 colors enough to give you a big dose of '90s nostalgia.
18.

Chloe Jeans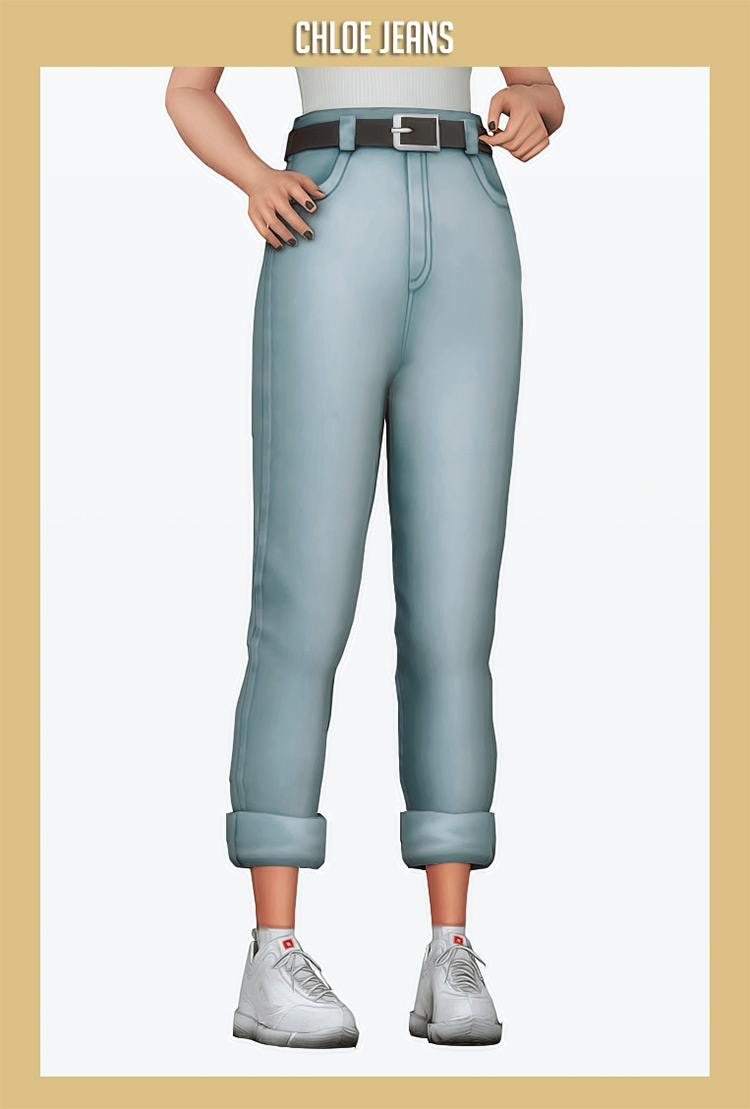 This part boyfriend, part mom jeans is the hybrid you're looking for to complete your effortlessly cool-chic look.
In contrast with a skinny's figure-hugging woes, the Chloe Jeans offer more allowance to let your legs and ankles breathe.
Word to the wise, you can maximize this look with a snug tank top or crop top to show off that high-rise and curvy waistline.
YSK: This CC has 10 colors to make sure your casual lookbook stays on point.
17.

Super High-Waisted Skinny Jeans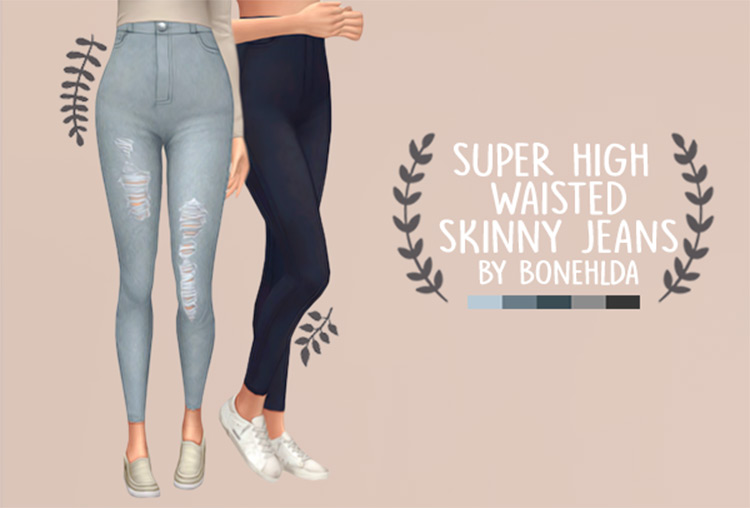 Here's another skinny jeans CC, only this time, it's high-waisted.
Because sensible people know that low-rise is just not everything.
Thankfully the high-rise style has rightfully dominated for years, sparing celebrities from showing any more V lines, hip bones, and plenty of skin from the waist-up.
Creator Bonehlda certainly got the memo and crafted this Super High-waisted Skinny Jeans CC that come in plain and distressed designs (how convenient!) – all reaching above the belly button, where it should be.
YSK: This CC has 5 plain colors and another 5 distressed colors because we all know we love to get (pants) ripped.
16.

Love Me Right Cropped Skinnies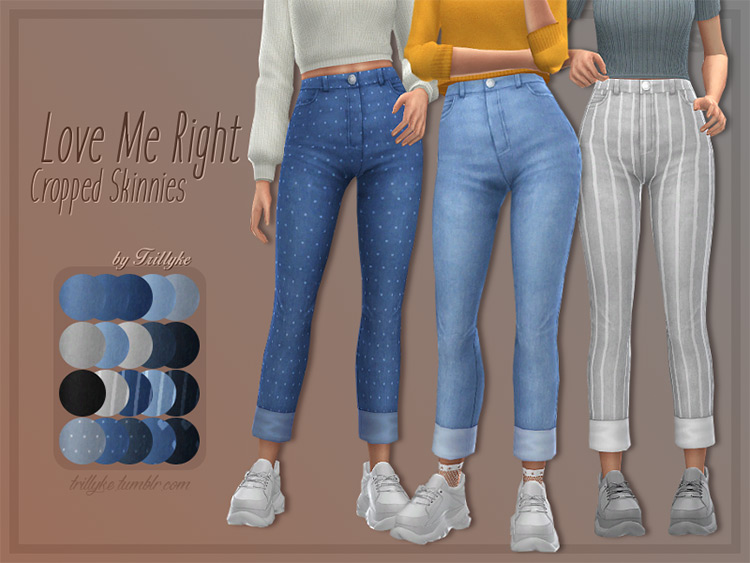 The fact that I'm having a hard time verifying if this CC is indeed a skinny speaks volumes that jeans have evolved for the better.
You can never really tame fashion.
Especially in the CC community where the sky's the limit. And creators know better when designing comfortably-looking but stylish jeans.
YSK: This CC has 20 swatches with plain colors ranging from gray to black, and patterns that come in stripes, hearts, and dots.
15.

Zane Jeans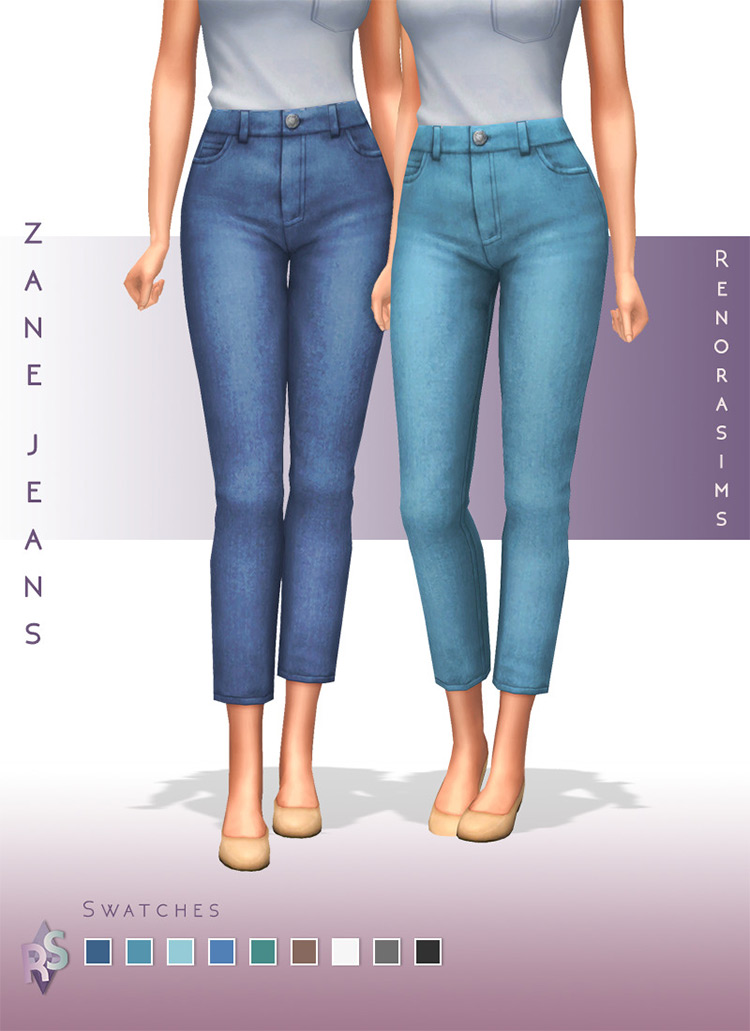 My Sim has all kinds of outfits for particular occasions (what kind of player doesn't?)
Back when all I had to worry about was school, I loved doting on my Sim and spoiling her with stuff she would never appreciate.
But reality bitch slaps you hard. And nowadays, you just need some CC that's fashionably flexible to fit a Sim's rollercoaster of a life.
That's why these Zane Jeans are a blessing of a find. It falls in the spectrum of casual to smart-casual real quick.
No matter what you're in the mood for, the Zane Jeans will adapt to whatever dress code you want.
YSK: This CC has 9 swatches with varying colors from light blue to dark blue, brown, white, and black.
14.

Wide Leg Jeans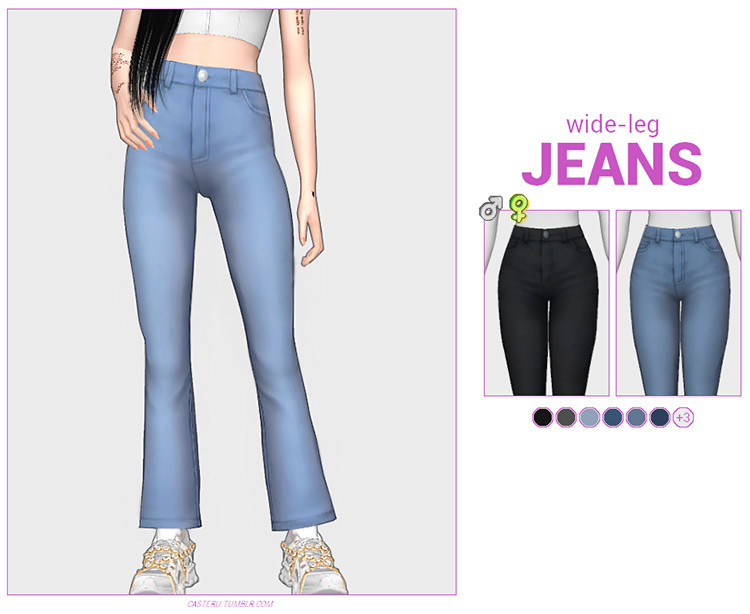 ICYMI: flare pants are back!
TBH, this comeback was a surprising twist. Mainly because it's been universally agreed upon that everything fashion-related to the 2000s must stay dead and buried, never to see the light again.
But I guess as long as it doesn't have a 3-inch zipper or is drooping around the hips, flare pants can be given a second chance. Especially with these Wide Leg Jeans from casteru.
These jeans open just around the ankles to make sure you're Sim's not tripping on whoever made floor-length flare jeans a thing.
YSK: This CC is available in 9 swatches, enough to restrict you from making the same bad choices as fashion stylists from the 2000s.
13.

Duotone Jeans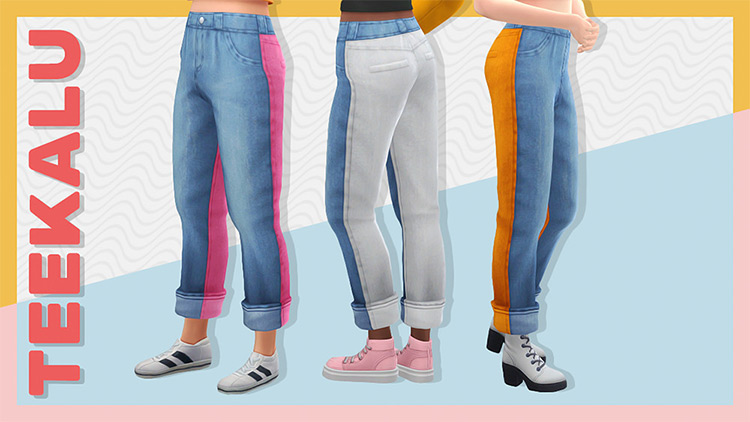 It's normal to own blue jeans. But dual-colored jeans?
Only a true trendsetter can relate.
These Duotone Jeans bisect your normal boyfriend jeans in classic denim, and another color of your choice.
Don't miss out on the opportunity to become an eye-catching sensation in the front and back. Because only CC creator Teekalu knows that your Sim would look crazy good from both angles.
YSK: This CC has 21 swatches ranging from the colors of the rainbow to guarantee that you'll never get tired of trying them on.
12.

Go Baby Pants
CC creator (and ultimate fave) Trillyke did EA a favor by improving the design of these pants from the Discover University expansion pack.
This new (and better) version has a higher waistband, and shorter length, to avoid the unflattering silhouette of the original.
More importantly, Trillyke added in 30 variations that would have you sweating.
YSK: This CC has plain, two-toned, and ombre swatches to test how good you can do color combinations.
11.

Rossen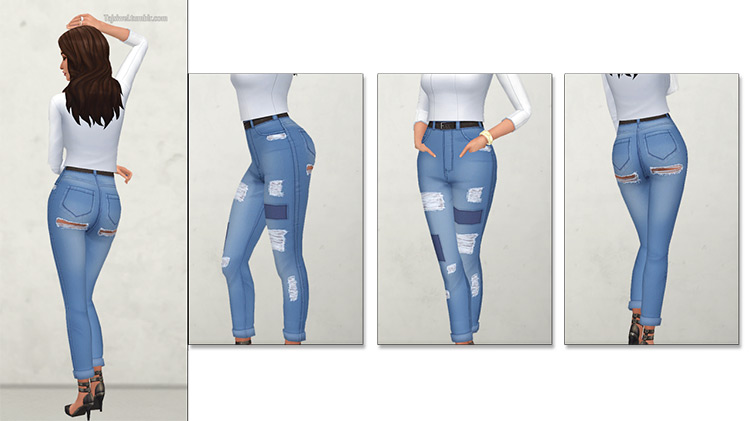 Every year, it seems ripped jeans are becoming more and more… torn.
It's like watching a crime scene where investigators are trying to hypothesize why anyone would have a gaping hole from mid-thigh to below the knee.
And in my opinion, it's hard to find the perfect ripped or distressed jeans.
Because they either have too many rips that you begin to question why it's still intact, or too few that you begin to suspect why the 80% discount was too good to be true.
But seeing the Rossen Jeans from Taj, I got that satisfying feeling that everything is just right – and hell yes to those butt rips!
YSK: This CC has 12 swatches and a fair number of rips to make you wonder why distressed jeans like these were approved for production.
10.

Mom Jeans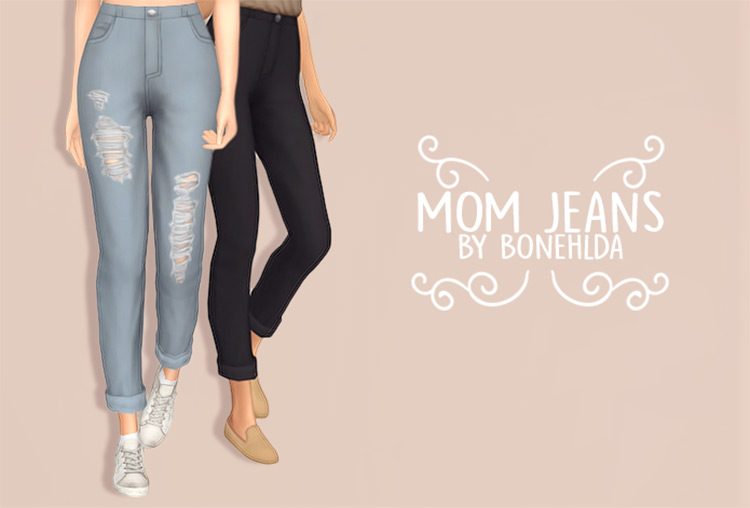 SNL did a whole short to make fun of mom jeans years ago (and still has me cracking up).
But in a surprising turn of events, they helped popularize the name of one of the trendiest types of jeans available today.
Sounds prophetic if you ask me.
And it sounds about right that mothers know best, even in Sims fashion.
YSK: This CC has two versions, plain and ripped, with 6 swatches each. Who's laughing now, Amy Poehler?
9.

Star Jeans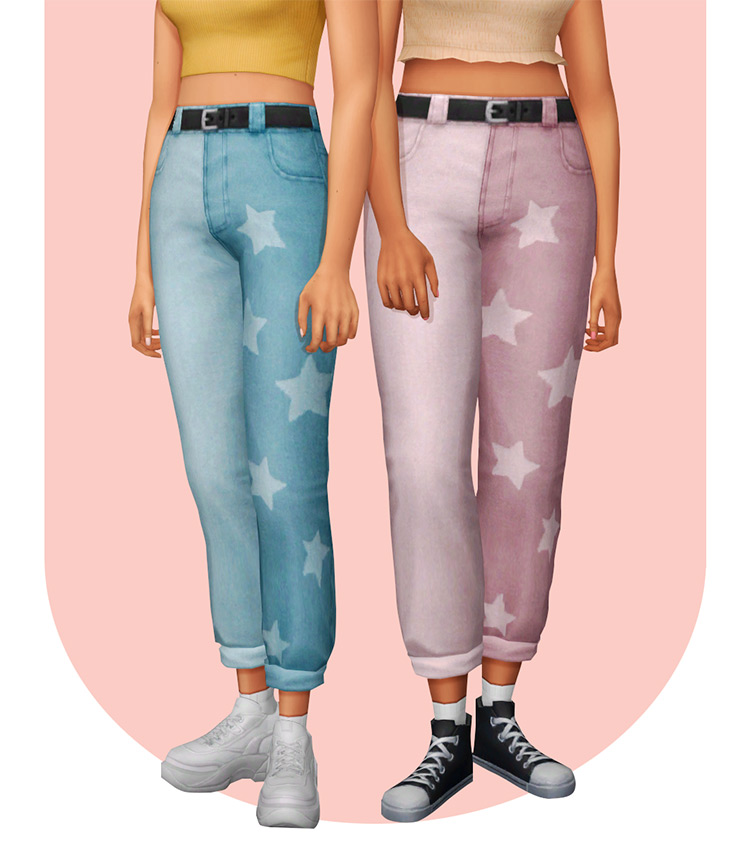 Kumikya's Star Jeans offer that hip look you won't see on popular girls. But deep inside, you know they want it.
Comfy, half-bleached, and unapologetically fun, the Star Jeans is every extrovert's go-to.
Whether it's lighting up a club or dancing with a grim reaper, these jeans just want Sims to have fun in exaggerated ways.
YSK: This CC is available in 12 swatches with six lucky stars to guide you in making the right fashion choice.
8.

Seeker Jeans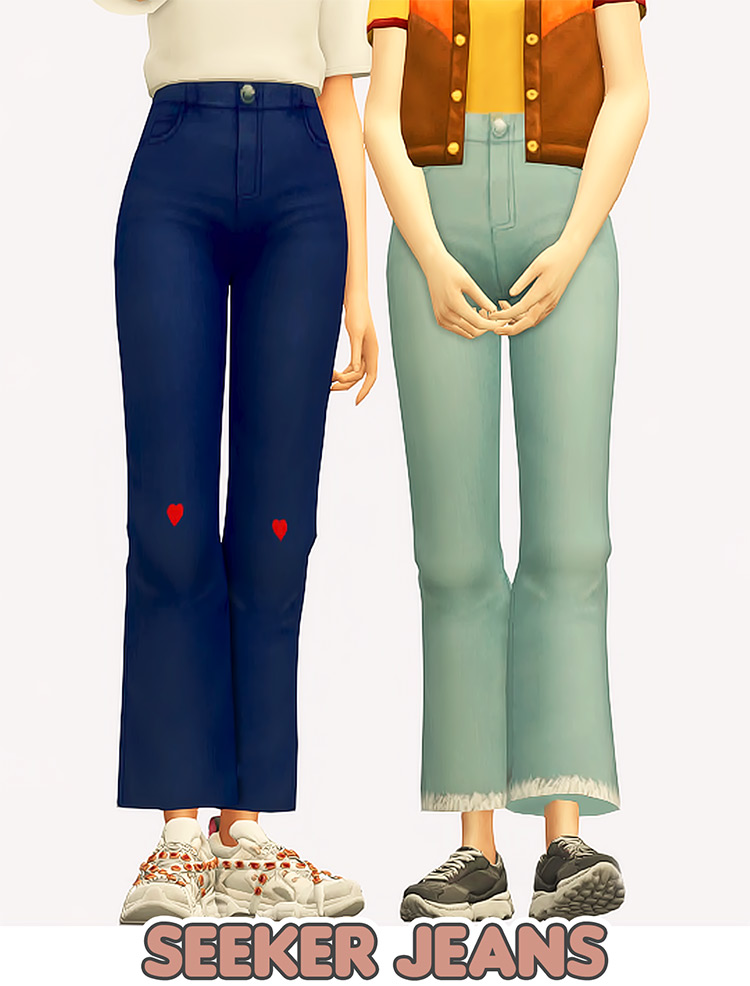 The amount of effort poured into this CC makes me want to give dyoreos a big, big hug.
Wide leg jeans have always been stylish. But the Seeker Jeans made it even more stylish by displaying a variety of patterns and designs that look as if you're wearing different pants every time!
When your digital closet is begging for an intervention, the Seeker Jeans will be your salvation.
YSK: This CC has 30 reasons why CC creators are one of the best things to have happened in The Sims franchise ever since the rosebud and motherlode cheats.
7.

Wholesome Jeans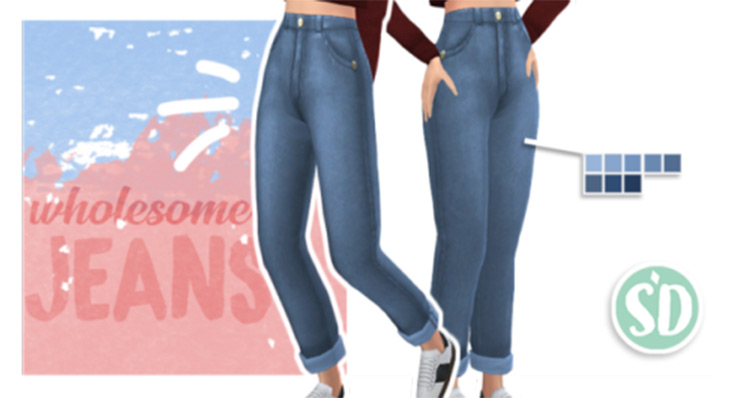 For players who have always leaned towards a casual look, here's my gift to you.
The Wholesome Jeans CC set doesn't have the theatrics of dual colors or denim rips. But it does its job in grounding Sims to look humbly stylish.
These high-waisted mom jeans offer that super cute addition you've been looking for after countless "sims 4 jeans cc" searches online.
YSK: This CC is available in 7 colors and suitable for all genders because we're all in for inclusivity.
6.

Flashback Pants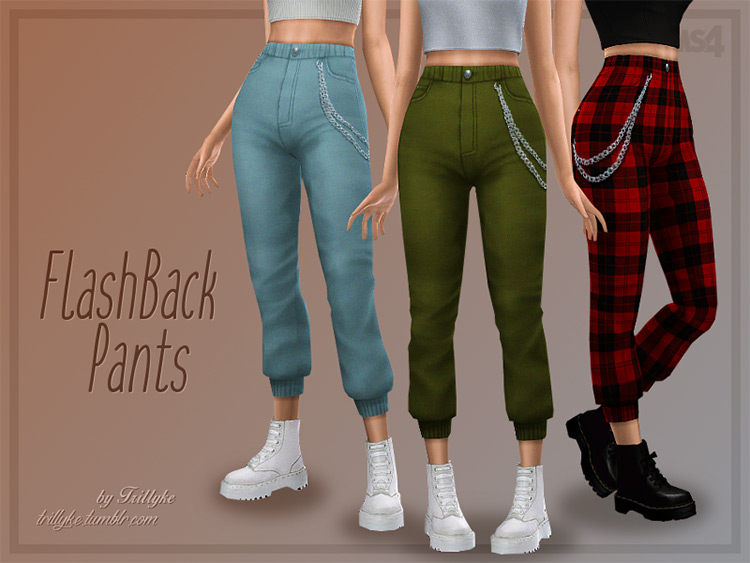 I hate denim joggers with a burning passion.
But I'm willing to give Trillyke's Flashback Pants a pass for serving some potentially badass looks.
These high-waisted jogger-ish jeans keep me motivated to hunt for some killer boots, and a matching killer top, because I've got nothing better to do at home these days.
YSK: This CC has that camo green swatch that could turn your Sim into the next Kim Possible.
5.

Harper Jeans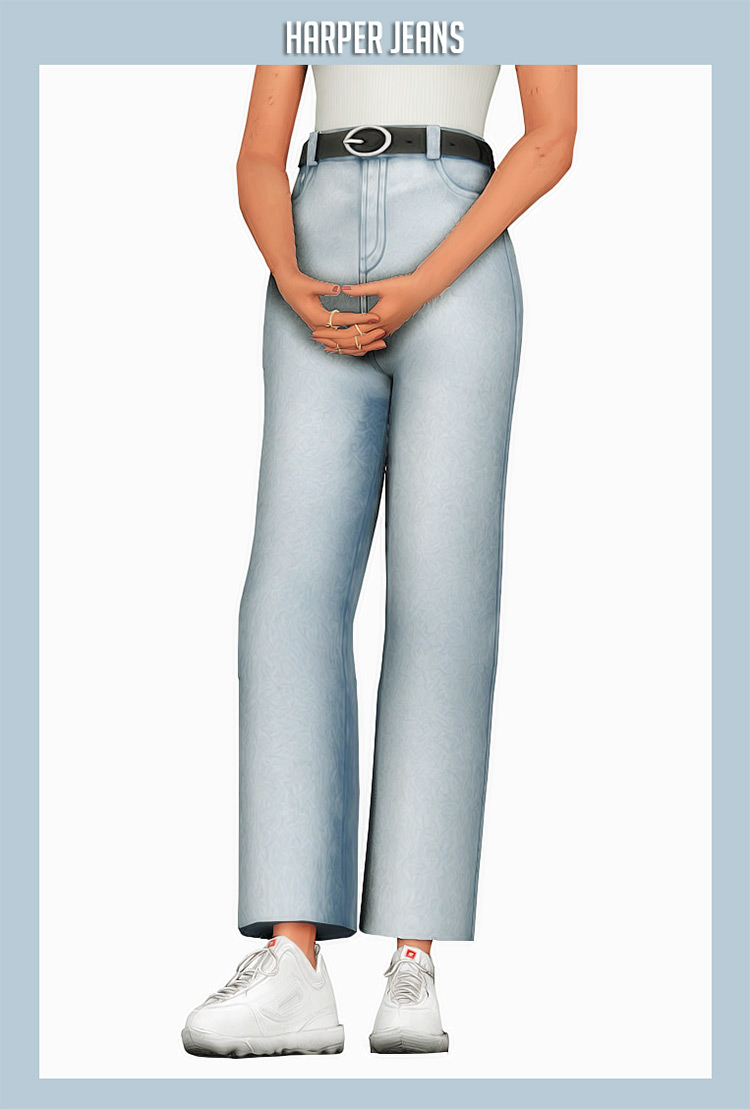 Being Team Wide Leg, I've always longed for this specific style even though it looks horrible on a curvy body.
But Sims never really have to bother with jeans bunching around the hips. Or zippers riding up you-know-where.
Even though the Harper Jeans CC is not for me personally, it's definitely made for my Sims and their pixelated perfection.
YSK: This CC has 10 swatches to put me in a depressed state, having never owned at least one pair in real life.
4.

Floral Jeans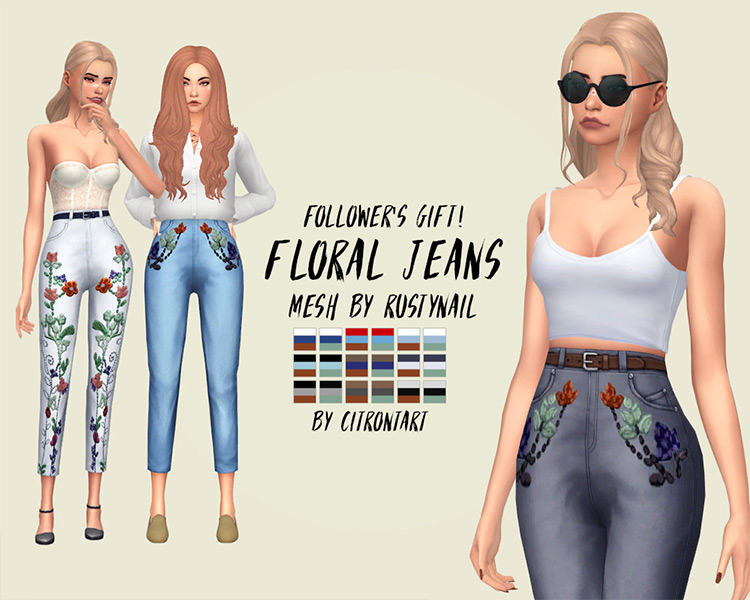 Plain jeans have always been a unisex classic.
But Citrontart added that feminine touch to give us a fresh style.
With its thick texture and well-defined design, I adore the floral embroidery done in this CC that just exudes luxury.
It's just like wearing Gucci or Versace (but it's free and accessible for all of us peasants).
YSK: This CC has two designs to convince you to take up YouTube lessons on how to make DIY embroidered jeans.
3.

Mom Jeans Recolor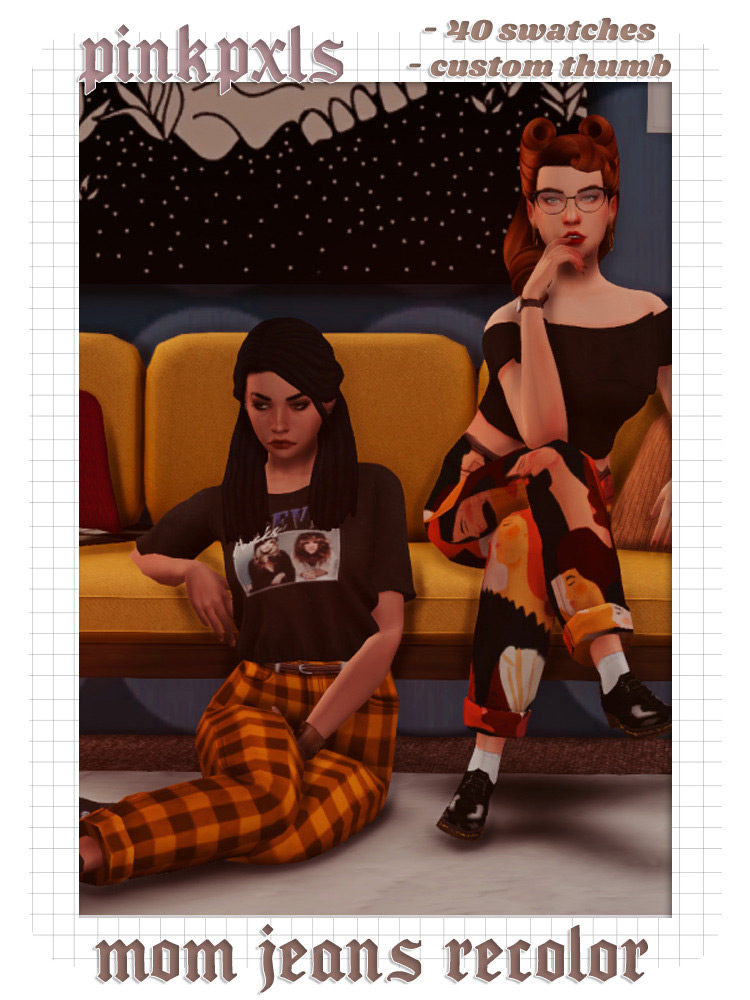 We're back at it again with the mom jeans, the uncool-turned-cool style that demands your apology.
At the peak of the skinny jeans era, few bothered to give justice to mom jeans.
But Pinkpxls came and provided sweet revenge that will surely make anyone think twice about doubting this now timeless piece.
YSK: This CC has a staggering collection of 40 patterns and 20 swatches from Pinkpxls' TBN palette, amounting to an overwhelming number of 60 variations for just one pair of Mom Jeans! How's that, haters?
2.

More and More Pants
For those who might not get the reference, this CC is inspired by the K-pop goddesses TWICE.
Long story short, they released a bop titled "More and More" and wore matching pants in the music video that I'm pretty sure are sold out by now.
But biases aside, these high-waisted flare jeans are a cut above the rest with the Aztec-inspired patterns and celebrity influence.
YSK: This CC comes in 25 swatches, enough to compel you to check out this talented bunch of queens.
1.

Painted Jeans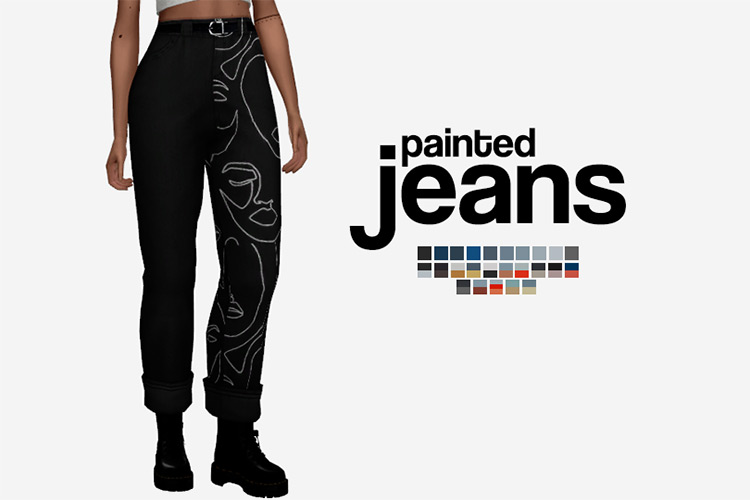 If I could grab these jeans from my screen, I would do it in a heartbeat. But that would require having a higher level of crazy.
These Painted Jeans have it all: patterned front pockets, plus floral and artsy designs complemented by two-toned colors that are nothing short but artistic.
Plus, as long as boots are involved, I'm pretty much sold.
But just in case you aren't sold yet, this CC also offers 25 swatches your Sim just has to experience for themselves.
Browse:
Lists
The Sims 4
Video Games