Best Sims 4 Overalls CC For Female Sim Outfits (All Free)
This post may contain affiliate links. If you buy something we may get a small commission at no extra cost to you. (Learn more).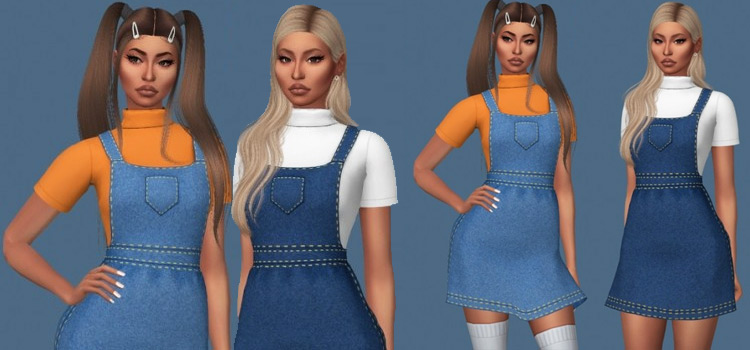 In case you haven't heard: overalls are no longer only just for lumberjacks or farmers anymore!
Overalls started as protective clothing for the working masses. Rugged and tough, this garment is usually associated with handymen, and also seems to be the fictional murderer's outfit of choice (maybe it's written in their handbook?)
But time and evolving fashion trends have taken this labor outfit to high fashion heights. And that naturally includes some Sims 4 fashion trends, too.
We've dug into some of the best custom overalls CC for your female Sims, whether your style is hot farmer's daughter, cutesy, or just chill. You can even wear these when you "accidentally" remove the ladder from your pool… if you're taking an odd midnight swim.
10.

Kawaii Bear Overalls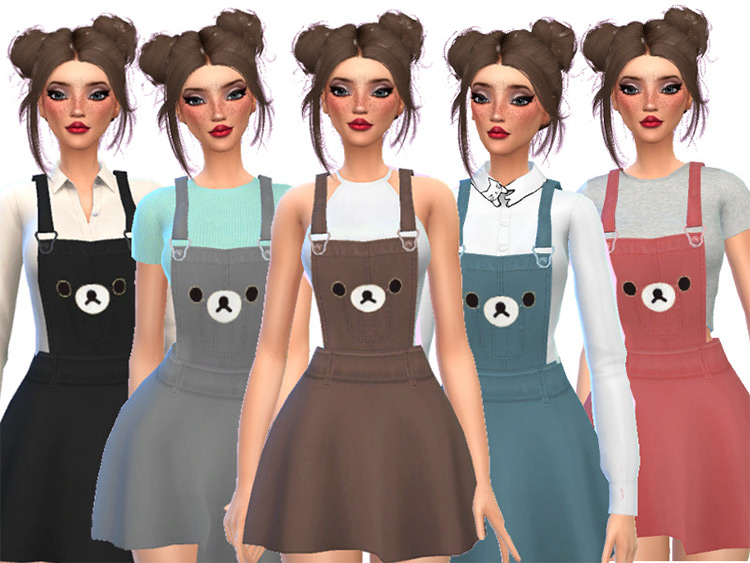 Overalls are no longer confined to being made from denim, or even having trousers anymore!
Cuter adaptations have long existed, to the delight of girls everywhere.
I doubt that there's a cuter overall style than this one by Wicked Kittie.
For anyone who doesn't know: Kawaii means cute in Japanese, and damn right – that's how your Sim will look like wearing this! Featuring a caricature of a bear's face (resembling the insanely popular Rilakkuma), these overalls come in six plain colors.
Your Sim will look oh-so-kawaii with any top, too. Please do try to keep uWus to a minimum!
9.

Clover Overalls Outfit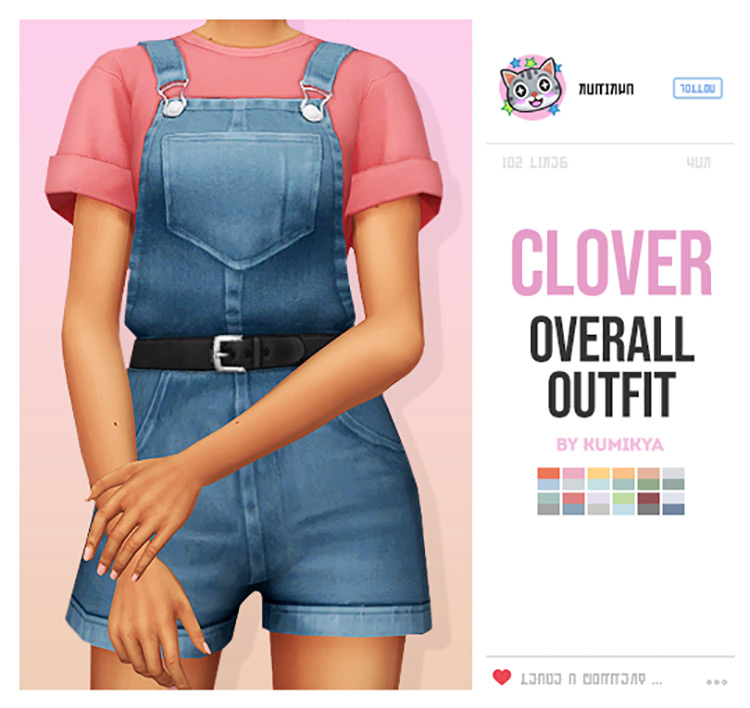 Hi, the 90s called. It said that it's having a comeback.
Everywhere you look nowadays, you'll see people dressing like they were pulled directly from a 90s teen rom-com. I, for one, welcome the resurgence of denim pencil skirts, choker necklaces, combat boots, and platform shoes.
And one iconic 90s look that was made its way back is the short overall style.
Take this Clover Overall Outfit CC by Kumikya, right from the farmhouse to the Sim mall! We can easily envision our Sim giggling away on their flip phones wearing this overall + tee + belt set. Pair it with sneakers, crimped hair, and a crazy penchant for boy bands.
8.

Super Short Denim Romper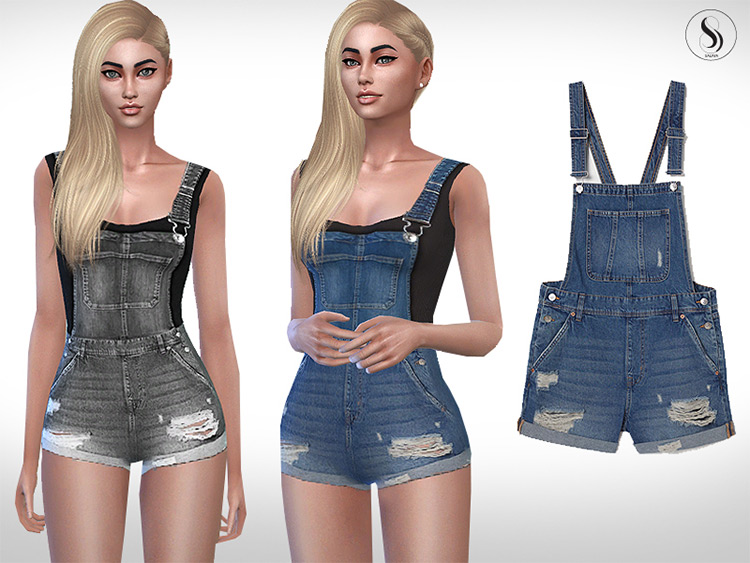 You know things are getting serious when you add 'super' to the title.
Supernatural. Supervisor. Superpower. Super…man.
And this Super Short Denim Romper CC by Saliwa will give you serious lumberjack babe vibes!
These cheeky short overalls are sure to bring all the boys to your yard. You don't even need any milkshakes. Damn right – it's better than yours.
It comes in two denim washes. Just match it with a crop top, a tank, or even a baby tee, then call it a day.
7.

Short Overall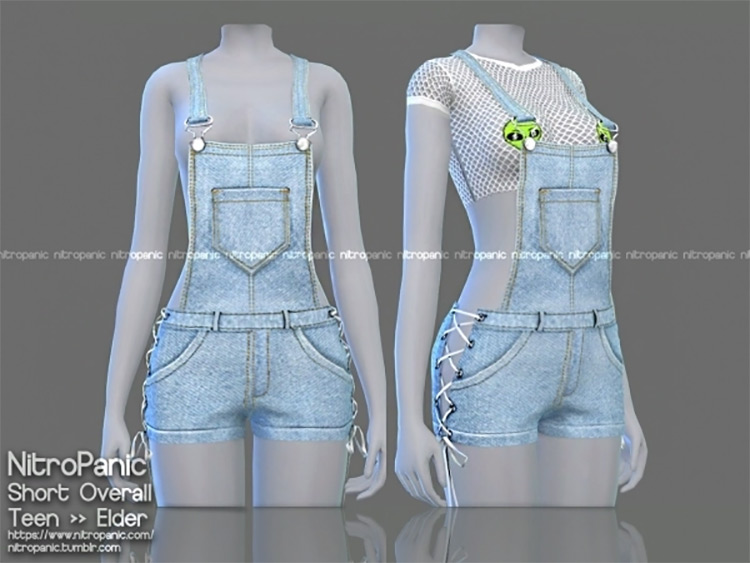 Here's another short overall design for you that's muy Caliente!
Make your Sim the baddest babe on the block with NitroPanic's CC.
There's no such thing as too much skin here. After all, we're all born naked, and the rest is drag!
Flaunt what your Sim creator sliders gave you with a cut that will flaunt the bare hips. This look can smoothly go from your day basking in Sulani to clubbing in the Discotheque Pan Europa at night. Just throw in some strappy heels and your best smokey eyes.
6.

PIKA Overalls with Sweater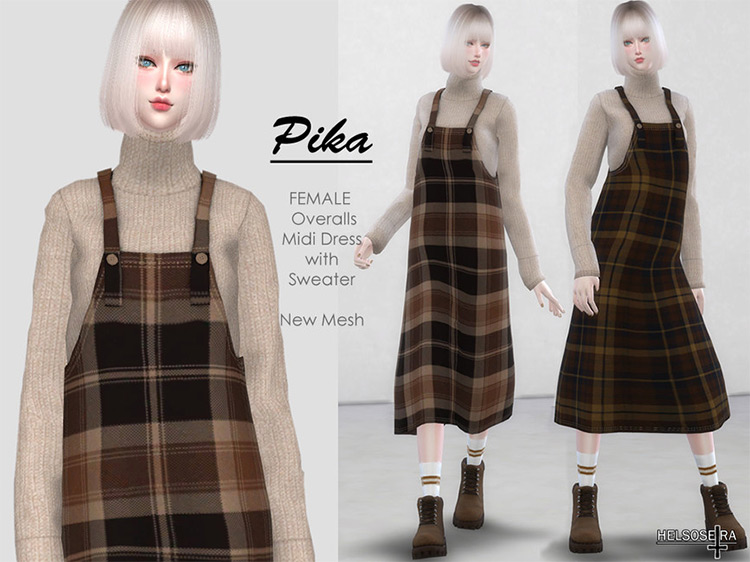 Feel like you're a heroine in a K-Drama, walking wistfully like you're in the streets of Seoul with this PIKA overalls dress by Helsoseira.
This midi dress paired with a high neck turtleneck is a popular Korean winter look that's a bit conservative, but fashionable nonetheless!
Luckily for us, you don't need the cold weather to don this. It's available in 10 beautiful swatches, wearable from teen to elder (be the chicest grandma ever).
5.

Helena Overall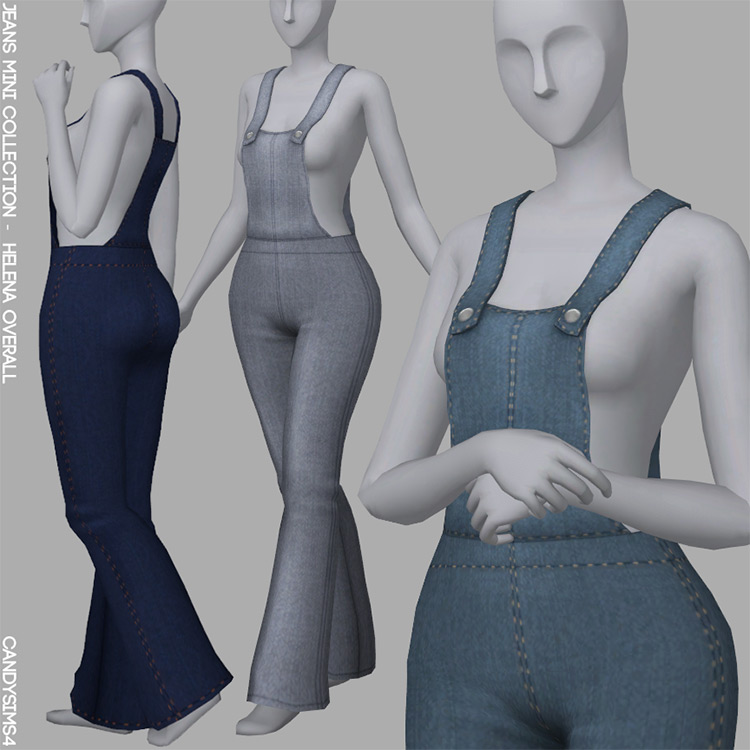 Step aside, skinny jeans!
Flared pants are making a comeback, and they're here to stay whether you like it or not. It's no longer reserved for boogie nights anymore!
The Helena CC by Candy Sims adds a twist to the typical overall design by adding flare bottoms. No need to stick to denim – as you can choose from 24 swatches with 20 being plain and 4 with seamlines.
And this comes in two versions: one with a tighter bib, and another a bit more loose – for a more tomboyish and relaxed look.
4.

Savage Love Cargo Overalls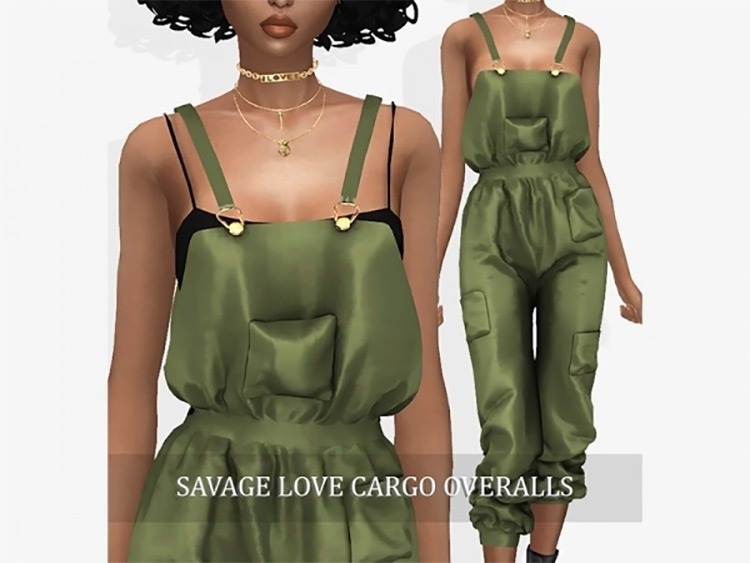 Switch up the ole reliable denim with these slouchy cargo overalls.
Grafity's Savage Love Cargo Overalls ups the comfort factor without sacrificing style.
Impress other Sims with your fashion sense and numerous pockets. All you need are high, high heels and hoop earrings to feel like Beyonce, fresh out from filming a music video.
3.

Overall Dress with Floral Tee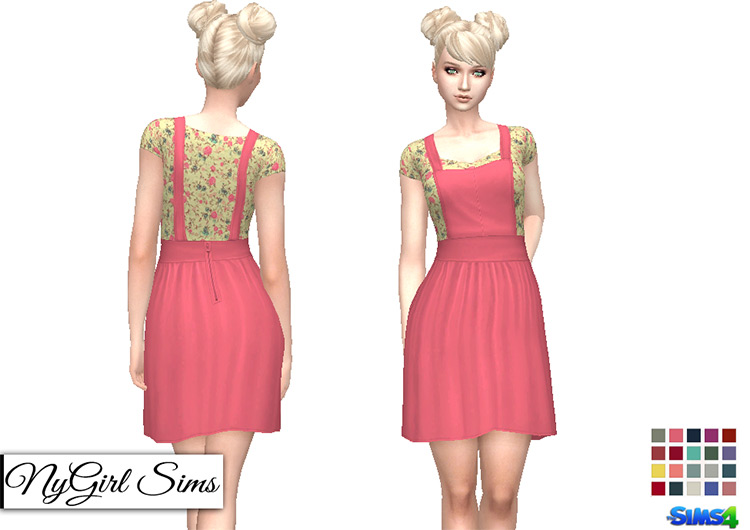 Would you describe yourself as quirky?
Do you have a strong tendency to burst out into song randomly?
Do you have your eyes set on a broody, all too serious man?
If you tick all those boxes, then yes, you might be a manic pixie dream girl.
Have you Sim look the part of a girl ready to break some softbois' hearts when you wear this Overall Dress with Floral Tee by NyGirl. This dress CC has 20 colors of a mid-length skirt with a floral tee underneath.
Your movie's title? 500 Days of Flower. You're welcome.
2.

GIBI Overalls with Tee
Is your Sim's goal to be a painter extraordinaire?
Well I'd say this GIBI Overalls with Tee CC set, yet another fab creation by Helsoseira, will 100% let people know you're an artist.
Because aside from your Sim telling everyone at every chance they get, how would anyone know?
Black is the artist's color of choice. And this GIBI overall midi dress comes only in the darkest of blacks.
However, there are 4 swatches for the loose printed tee. Just to say– hey, I'm still fun! Paint splatters for more authenticity are highly encouraged, but not required.
1.

JenniSims Overalls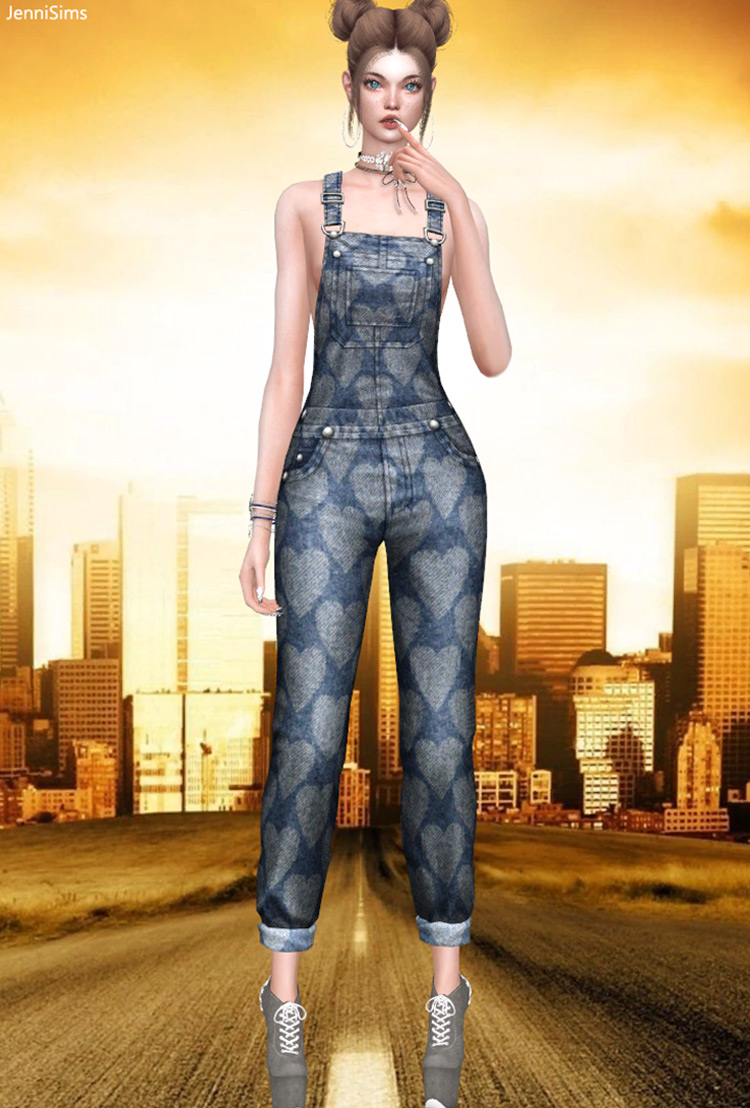 We can all agree that overalls look good on everyone.
Case in point: that Good Guy doll named Chucky. If he can rock it (with a striped sweater to boot), so can anyone.
So let's end this list with an elevated classic from JenniSims.
It has all the elements of the overalls that we know and love, with a bodycon fit the accentuate all of your Sim's curves. Choose from 17 swatches ranging from various denim washes and more colorful prints!
Browse:
Lists
The Sims 4
Video Games