15 Cutest Girls Shorts CC For Sims 4 (Free To Download)
This post may contain affiliate links. If you buy something we may get a small commission at no extra cost to you. (Learn more).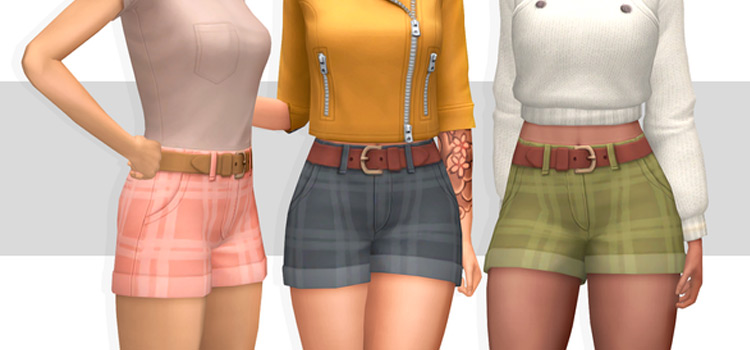 By design, shorts are meant for casual comfort.
They're basically pants for summer. It's what you wear to sleep, or walking your dog along the street. It's expensive lazy wear at best.
But stylish Simmers will always have something to prove. The beauty of clothing CCs is that you can freely elevate a simple pair of shorts and deliver a unique style.
With hundreds of options, who says your Sim can't look good with plain trousers?
It's time for fashion domination, and it starts by having a satisfying CC shopping haul of the cutest shorts available online!
15.

Mid-Length Shorts
Shorts are fashion staples, even in the world of The Sims.
If you're going to start building on your Sim's collection, then start with a classic piece: mid-length denim shorts.
Almost everyone has a pair of denim shorts. And your Sim shouldn't be an exception.
The best part? These never goes out of style.
You can change your top a million different ways, but these shorts can stay on for as long as you like.
14.

Plant Mom Tied Shorts
If you have the Eco Lifestyle expansion pack, then you've seen the funky in-game wardrobe.
If eco-friendly living means having to wear nasty denim-on-denim ensembles and unflattering baggy cargos, then I'd rather stick to my old habits.
Fortunately I've found this cute Plant Mom CC pack from simgguk to save your Sim's eco footprint.
While you grind to make Evergreen Harbor a greener place, look cool and fresh with these earthy-toned tied shorts!
13.

Jogging Shorts
The Kardashians and other celebrities revolutionized the biker-short trend.
It came to a point where biker shorts were always partnered with trench coats and blazers, and it actually looked great.
So we're starting a trend of our own: jogging shorts.
Serenity's Fitness Collection is more than just clothes to sweat in.
When paired up with other clothing CCs, you have enough here to create more than 15 different styles.
Are you up for the challenge?
12.

Hashtag Cargo Shorts
This badass piece was inspired by K-pop idol Kim Lip, from the girl group LOONA.
If you don't yet know who they are, it doesn't matter. What matters is you start downloading this CC, get together with friends, and start working on your dancing skills!
The Hashtag Cargo Shorts were made for party scenes and laser lights.
Put this on and start serving some hot beats as a DJ, or going crazy on the dance floor!
There are 15 swatches available for this CC… but personally, the cargo swatch is made for this style.
11.

Olivia Shorts
Simple oversized shorts can quickly become an ugly piece of work.
If not styled properly, your Sim can appear unflatteringly dull.
But what if it's printed and high-wasted?
Then you'll have to get creative.
This pair of Olivia Shorts looks like something the cast of Stranger Things will enjoy strutting into, until the Demogorgon shows up.
Bloodbath aside, it's a killer look nostalgic of the '80s vibrant style. 100% recommended!
10.

Summertime Shorts
If you have the Seasons expansion pack then this next entry is a hot item.
Cut-off shorts have always been harbingers of summer.
When you see that ripped design on faded denim, you know it's 30 degrees hot outside(that's 86° Fahrenheit for all my American Sims lovers!)
Luckily for Sims, they don't feel hot. Unless they go up in flames while cooking, or you intentionally killed them in a sauna…
But just because your Sim rarely sweats, that doesn't mean they shouldn't look like it.
These Summertime Shorts with ombre-style dye – a Gen Z favorite – can turn any Sim into a Summer Queen.
And with 50 colors to choose from you can rein in the season with just one CC pack!
9.

Dreams Come True Pajama Shorts
With a name like Dreams Come True Pajama Shorts, you better not be sleeping on this cute CC pack.
But why should your Sim wear pajamas outside the bedroom?
It's not new for people in the real world to put on sleepwear as streetwear.
Surprisingly, pajamas have made a luxurious fashion statement to simply wear what you would feel comfortable in.
And this pack from Trillyke proves one simple thing: with just the right pattern, print, and color, you can wear pajama shorts anywhere, anytime.
If Sims can learn something from their creators, it's not to question our fashion choices – because pajama shorts are the next best thing.
8.

Cactus Shorts with Harness
The harness attached to these high-waist booty shorts looks like it has no other purpose but to compel a sexy look… and I'm not complaining.
Although it's highly unusual to wear harnesses on a normal day, the world of The Sims never did like sticking to the norm.
If you've always wanted to unleash the little rebel in you, trust your Sim to do the edgy work.
It's not like they can stop you.
7.

Plaid Shorts
We all have that one piece of clothing we wear everywhere.
Whether it's getting take-out, running errands, or taking out the garbage, that specific item will always be within reach.
These plaid rolled up shorts will be that go-to CC for your Sim.
By retexturing the mesh from the Outdoor Retreat game pack and adding the belt and plaid design from Tiny Living, CC creator "storylegacysims" created a must-have item for stylish Sims. Well plaid!
6.

Ivey Shorts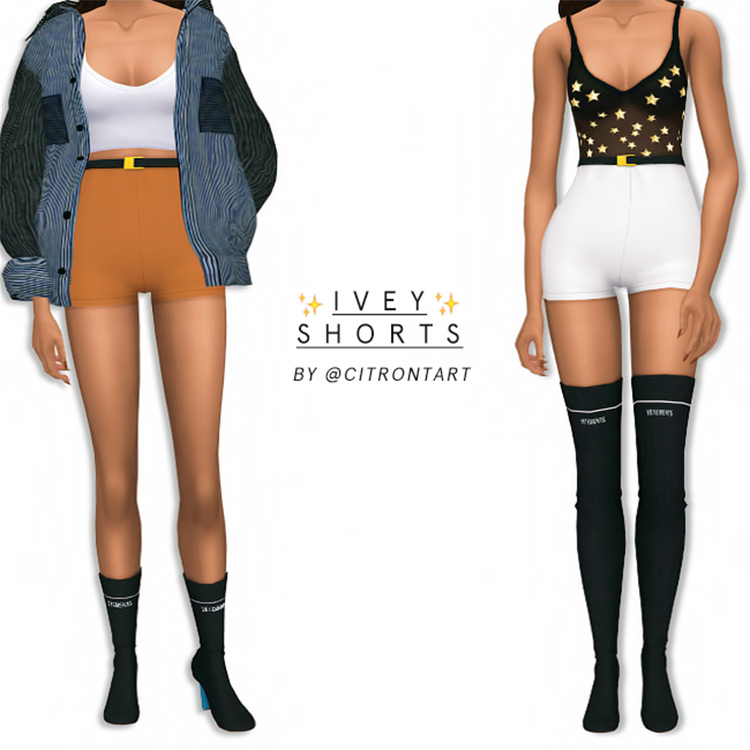 Remember at the start of the article where I said that shorts are just short pants?
Well this pair of Ivey Shorts are literally made to be a shorter version of Citronart's Siobhan pants… and they look even more stunning!
With this figure-hugging design, you can finally have a good match for those bodysuits and fitted tops you haven't worn yet.
Add some tights and you can pass off this ensemble for any formal event!
5.

Hallie Shorts
Summer's a whole lot of sun, sand, and skin.
The whole season's a perfect excuse to show off what you got. For your Sim, it's just another day in the life.
But as control freaks, you're probably pooling a daily outfit plan to churn out the next It Girl.
The Hallie Shorts can help you with that.
Although simple in make, the lace hem improves the overall style of this CC.
Once installed, you can change the color of the shorts as well as the lace by choosing from 21 swatches.
It seems like you have a lot of mixing and matching to do this summer.
4.

Bound Shorts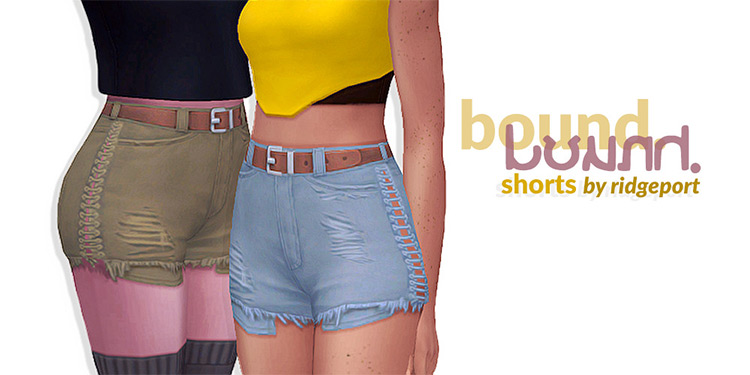 High-waisted? Check.
Ripped? Check.
Cut-off? Practically sheared off.
Has sexy cut-outs in the side? Super check.
This particular CC is a fan-favorite, and I can see why.
If only Bound Shorts could be casually worn in real-life. I would've purchased a pair for myself! But I don't want to lose my underwear…
Straddling between Ms. Provocative and Little Miss Sweetie, these shorts will cleverly ground your Sim's look in the middle of the beauty spectrum.
3.

Ophelia Shorts
I love seeing smart casual clothes restyled as everyday attire.
It's sleek, clean-cut, and oozes with confidence.
Plus you've probably noticed – I have a thing for high-waisted fashion.
I can imagine my Sim wearing these shorts with a fitted tank top and a cropped cardigan as she lounges on the luxurious penthouse I built for her.
A true boss queen in her natural habitat.
Sometimes I wish I also had a caring creator like she does.
2.

Homegrown Shorts
Just seeing this CC makes me want to snuggle in bed, play with cats and dogs, and start a career as a musician all at the same time.
Aside from choosing which color you want to wear, you can also find various patches adorning the front and back of the shorts.
Oh, and there are also little palm trees in each butt pocket.
How cute is that?
1.

Newen Frill Denim Shorts
These are exactly the kind of shorts you'll fall in love with shopping at Zara and Mango, only to put them back on the rack because they cost about a day's pay.
Finding this CC by Newen092 felt like going back into that same store and seeing the exact pair of shorts at 80% off.
Only better, it's free!
Life is good in The Sims 4.
This classic denim piece features a scrunched waistband accentuated by a black belt. Pair this up with black booties and a fitted top, and I promise to never doubt your Sim's fashion sense ever again.
Browse:
Lists
The Sims 4
Video Games