Top 20 Best Sims 4 Glasses Mods & CC Packs To Download (All Free)
This post may contain affiliate links. If you buy something we may get a small commission at no extra cost to you. (Learn more).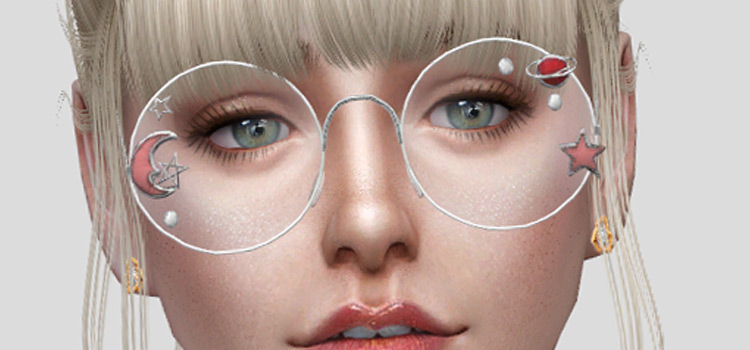 It's easy to see why so many people are obsessed with The Sims 4. It's an opportunity to live a dream life and experiment without consequence. In a way, it's like playing "House" for 21st Century humans.
Among the most exciting aspects of The Sims 4 is making custom Sims in Create-A-Sim, finding the perfect outfits and accessories to match whatever you want.
And there's one seriously style-defining accessory we all recognize: glasses. Regrettably, the default selection isn't the most robust. So we have to turn to custom content creators for even more eyewear.
Finding the best CC takes time, so let me save you some effort here! We've put together this handy list arguably the best glasses CC you can snag. Have a look!
20.

Zoedic Glasses
The eyes are the windows of the soul.
But sometimes, we don't really want to bare our innermost feelings to the rest of the world.
This bad-ass pair of sunglasses by creator Leah Lillith on TheSimsResource is the perfect way to give your Sims a little confidence boost, or at least help them appear more confident.
These glasses are bold, they have personality, and they give off some serious Kanye West vibes.
It's one of those situations where being low-poly is a feature rather than a bug.
19.

Dahngrest Eyepatch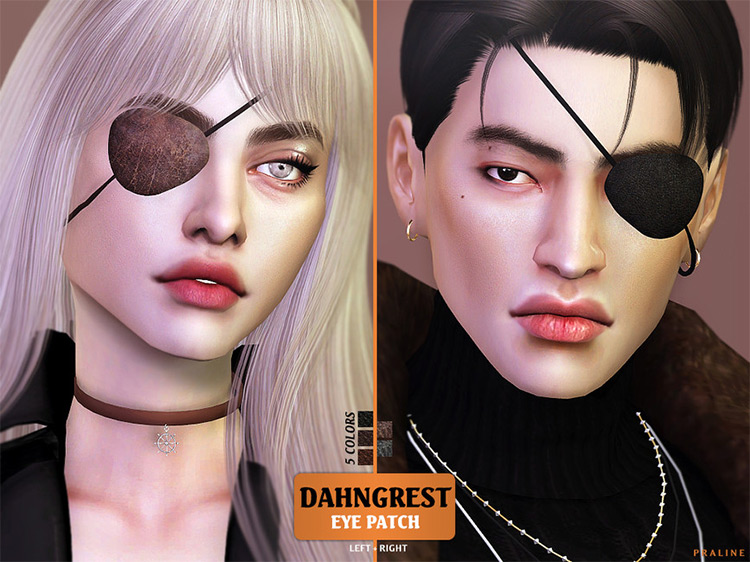 Well, an eyepatch isn't necessarily "glasses"… but this highly-detailed eyepatch by prolific creator PralineSims couldn't be missing from this list.
Named after a big city in the JRPG Tales of Vesperia, this weathered & scratched leather eyepatch is great for Sims with a background in sailing, vampire-hunting, or military deployment.
It comes in 5 sober colors and it'll give any Sim a bit of a mysterious aura.
18.

ARAC HIDRA Glasses
This fantastic cyberpunk-looking visor is a bit out of place among DanSimsFantasy's stylish swimsuit CC.
But it'll look right at home on the technologically enhanced Sim.
It's state-of-the-art technology eyewear, featuring a mounted micro-computer with a direct connection to the brain.
This provides your Sim with all the information they could ask for. And makes them look quite dangerous in the process.
The futuristic cyborg look is perfect for occult Alien Sims or massive gadget nerds.
17.

Lookbook Glasses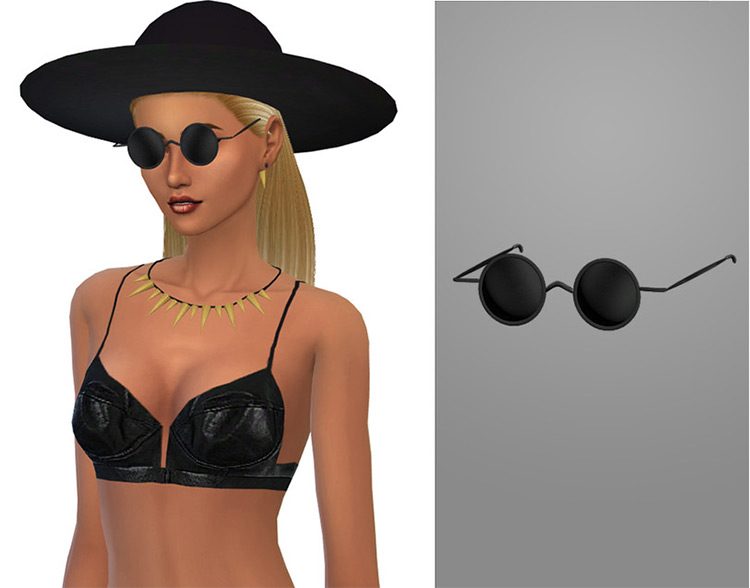 If you've ever seen Morpheus in The Matrix or Alucard in the Hellsing anime, you know how bad-ass a couple of perfectly round sunglasses can look.
Created by ShakeProductions, these Lookbook glasses offer just that design in a simple style that's perfect for your Maxis Match characters.
No need to get fancy skin replacers or anything of the sort, these look amazing by default.
Whether your Sim is a vampire or a vampire-hunter, these glasses will totally complete their dark goth look.
16.

WM Glasses 201910
If you liked the perfect roundness of the previous glasses, but not necessarily their somber style, consider these reflective ones by creator S-Club.
They're much more lighthearted, making them perfect for a mid-day meet-up at a café. Or perhaps a summer trip to the beach for you outdoors-y sims.
These CC glasses are available in 9 color combinations and will look great for both Maxis Match or Alpha Sims.
15.

WM Glasses 201802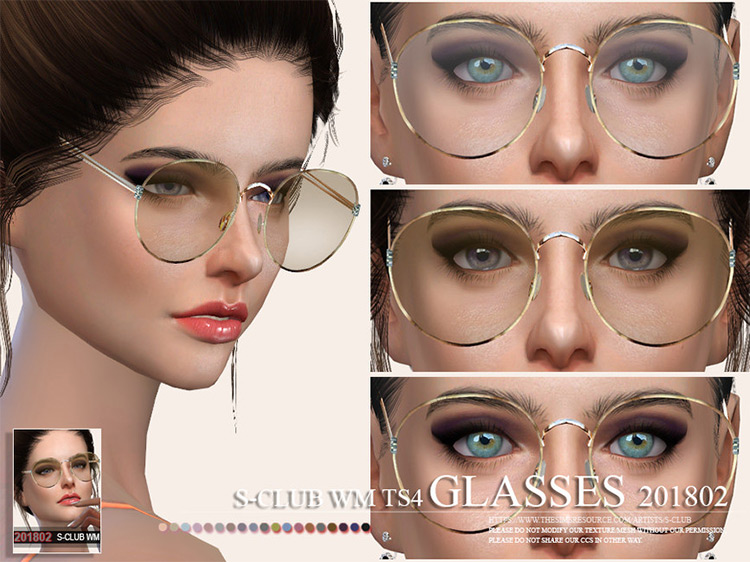 Is your Sim over 30 years-old?
Did they peak during the early 90s?
And are they all about retro fashion?
If any or all of the above apply, you have to consider getting them these classic large-framed glasses.
They bring together a delicate metal frame with the biggest lenses you can fit on a face without looking ridiculous.
Plus these custom glasses even have pad arms to protect your Sim's nose from the weight, which isn't too common with modern eyewear design.
They're ideal for feminine Sims, but can work unisex, and they're available in 5 combinations of lens and frame colors.
14.

WM Glasses 202001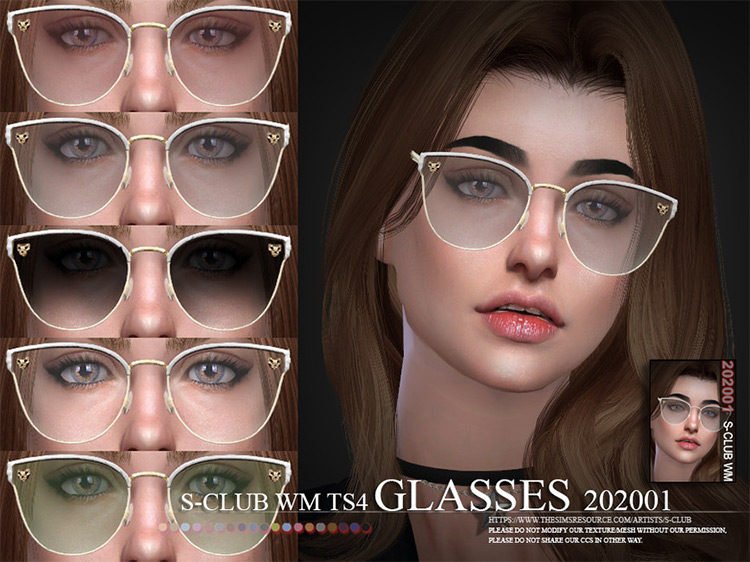 Bold eyewear is the mark of an empowered female Sim.
And these gorgeous sunglasses would look right at home on a Sex and the City character.
It's one of S-Club's most recent designs, transmitting a very Vogue-like feel that makes me think of high heels and an intimidating presence.
They're really fashionable, and the small tiger face detail near the hinges completes the look wonderfully.
You'll find these sunglasses in 13 color combinations, consisting mostly of sober colors, but including a couple of brighter options for the radiant personalities out there.
13.

Fantasy Glasses
Intimidating glasses are fine and dandy.
But what if your Sim is the kind who preaches love and isn't afraid to break the mold?
Well for them, we have these Fantasy Glasses by creator Leah Lillith.
These gigantic, thick-rimmed glasses in the shape of hearts are bold and unapologetic.
Are they fashionable? Not necessarily.
But they sure are unusual, and they'll get attention anywhere your Sim goes.
They're available in three different frame colors, including gold, silver, and black.
Get these for the Sim who likes being the life of the party.
12.

CYSTF – VR Glasses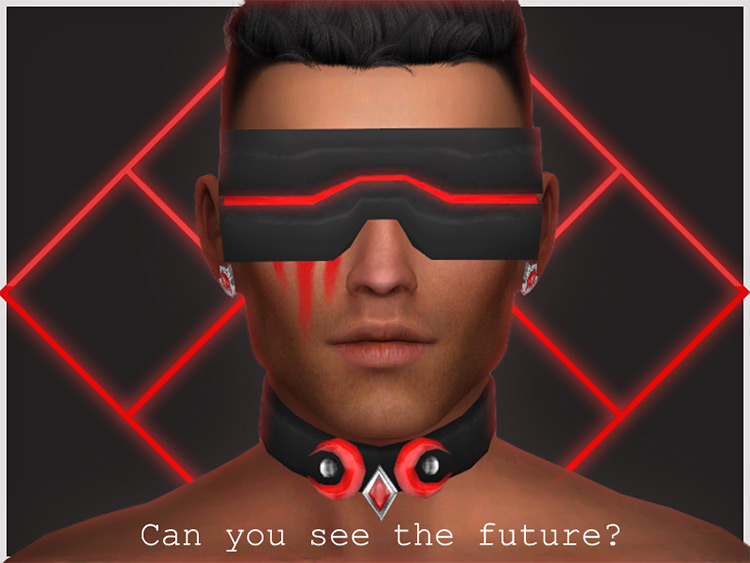 Some Sims like to go out into the great outdoors and inhale the fresh air.
Others prefer staying indoors and exploring virtual worlds with state-of-the-art VR Glasses.
Well, at least creator WistfulCastle calls these VR glasses.
Me? I think they might as well be an avant-garde design that'd be a hit among rave-loving Sims. They're also a fantastic addition to any cyberpunk-inspired outfit
If you're thinking of giving 'em a try, you'll like 'e. They come in several stylish colors like red, purple, and turquoise, and they're ideal for Maxis Match.
11.

BLVCK Sunglasses
I'm all for practical items that let me carry less stuff in my pockets.
And I'm sure many Sims share my love for convenience.
These BLVCK Sunglasses by Mr. Alex have two modes: open, which lets your Sim see the world as it is, and closed, which protects their eyes from excessive sunlight.
Of course, there's no button to change them in-game… but you could definitely set each version for different outfits in CAS.
They're incredibly high-quality and come in three colors by default.
Get these for the vampires and UV-conscious Sims who don't want two sets of glasses.
10.

WM Glasses 201804
If your Sim is the happy-go-lucky type who goes around lighting up the room without a care in the world, then these flowery glasses might be just the thing to complete their bubbly outfit.
Wherever your Sim goes, these unique glasses will let everybody know they're not scared to break the mold.
They're different, strangely stylish, and have a bit of a 70s thing going on that makes me feel a bit Saturday Night Fever-ish.
Grab them in five different swatches to match any outfit.
9.

VEOX Tinted Glasses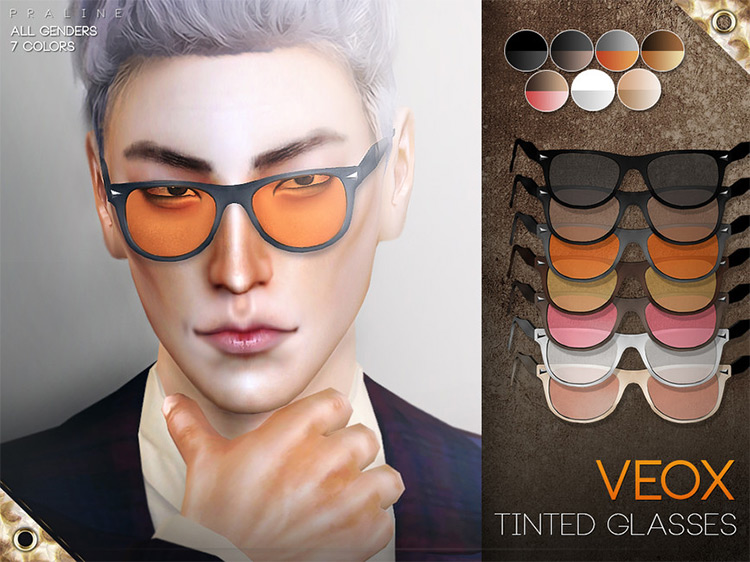 There aren't as many male-oriented glasses compared to feminine eyewear, but most men are known to prefer quality over quantity when it comes to accessories.
These VEOX Tinted Glasses by PralineSims are among the best designs available.
They'll look great in the style-conscious male Sim, giving them a bit of a Tony Stark look – and as we know, Tony Stark is basically every man's role model.
Of course, you could also put these on a female Sim. She could likely rock 'em daily.
The square design and solid thick frame create an interesting contrast with any girl's (usually) more delicate features, and it's bound to look amazing.
8.

Joker Mask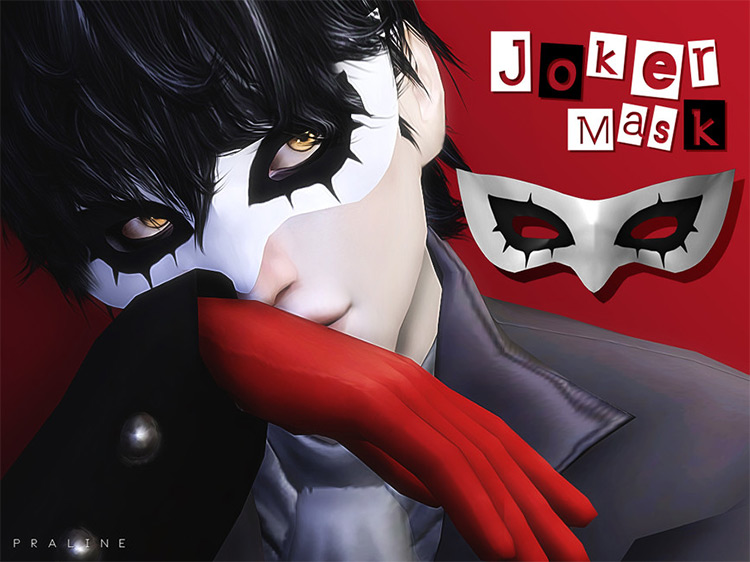 Creator PralineSims seems to share my obsession with Persona 5, going so far as to make this replica Joker Mask for The Sims 4.
It recreates the look of the leader of the Phantom Thieves of Hearts, and does so wonderfully.
It'll look great on any Sim trying to hide their identity without sacrificing style.
Whether you want to recreate the entire P5 cast in TS4, or just want to imbue your favorite Sim with a bit of Joker's effortless confidence, this is the perfect tool.
Just be careful, or you may get your heart stolen.
7.

EXOV Mirrored Sunglasses
Hiding your true colors isn't exclusive to masks.
And these Mirrored Sunglasses by PralineSims are perfect for Sims who like to hide their intentions, or have the edge in an argument. Or just like poker games.
But there's no need for an ulterior motive to wear these classic aviators.
Whether your Sim likes the beach life or wants to look like they just came from Pablo Escobar's summer home, these reflective glasses work for a lot.
They're available in 20 color combinations and will look great on any Sim. Any gender, age, or whether Maxis Match or otherwise.
6.

WM Glasses 201906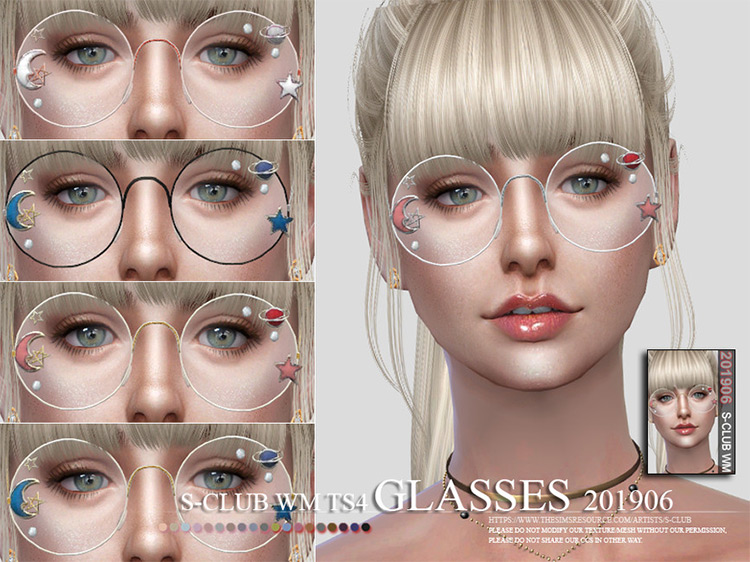 Some Sims are so serious about accessorizing, they'll add accessories to their accessories!
For those of you in that camp, check out this pair of starry-themed glasses by S-Club.
These unique glasses have stars, planets, a crescent moon, and some studs for extra bling right on the lenses themselves.
It may not be terribly practical, but they sure are cute. And they'll let everyone know that your Sim is all about exploring new frontiers.
Generally this CC is great for the eccentric Sim, the star-loving Sim, the astronaut Sim, and even the Harajuku-style Sim who's not afraid to add some creativity to their outfit.
5.

Steampunk Glasses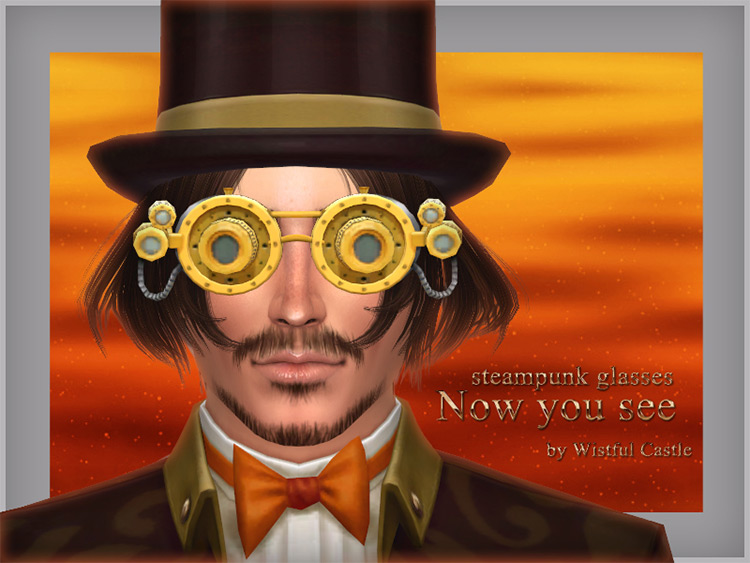 These Steampunk Glasses by WistfulCastle may not be easy to slip into a regular outfit.
But this CC is the perfect thing to take your mad-scientist Sim to the next level.
If gears, steam, and brass drive your Sim's aesthetic pursuits, these are ideal.
They'll look incredible with a top hat, a vest, and as many other steampunk accessories as you can cram on.
They come in gold, stainless steel, and a few other varied colors that'll let you play around in the dressing room.
4.

Party Glasses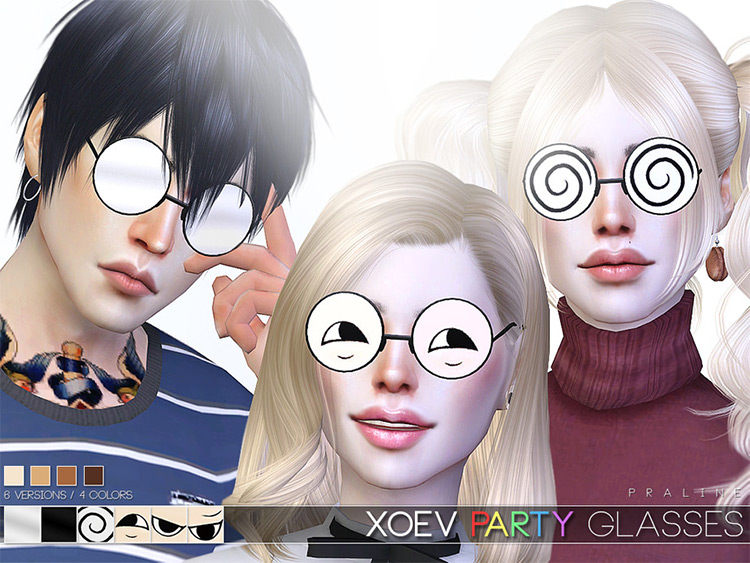 The Sims is a pretty silly game.
Pregnancies last less than a month, vampires may come into your home to scare you at any time, and most Sims will wash the dishes in the bathroom at least once in their lives.
Well these Party Glasses by PralineSims are the perfect silly addition for such a fun game.
They'll make your Sim the life of the party and let everyone know you're entirely aware of life's absurdity.
They're available in many variations including angry eyes, happy eyes, and many others.
There's even one with the kind of spirals you'd expect to see on a mad scientist from a cartoon.
Maybe try matching these up with a fake mustache?
3.

Kimmy Glasses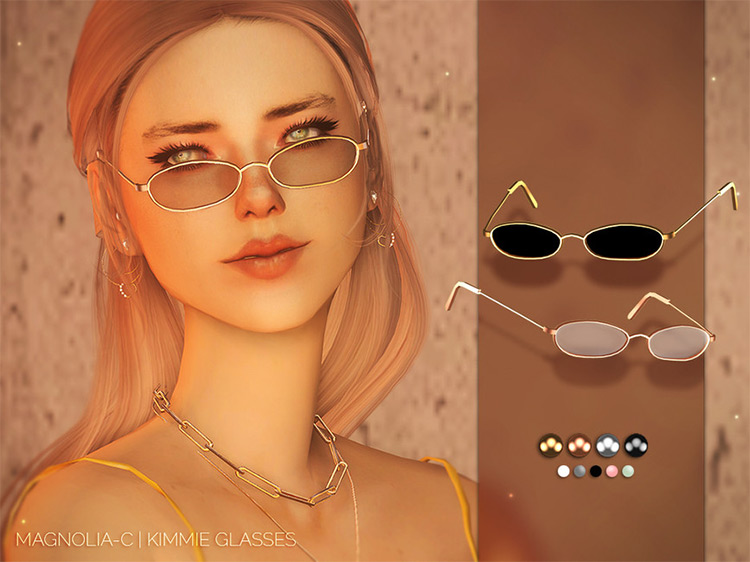 Few things will make a Sim look as sharp and quite frankly dangerous as these sleek, simple, and stylish glasses by creator Magnolia-C.
They're tasteful and elegant, while also transmitting the kind of cold authority you'd expect from an underworld kingpin.
Get them for the fashion-conscious Sim, or someone who needs a bit more of an edge.
No matter the outfit, I'm sure at least one of the 20 swatches will do the trick.
2.

Sirheo Sunglasses
In my extensive search to find the best glasses CC out there, very few were half as bold, or simply as cool, as these Sirheo Sunglasses by creator Toksik
They're alternative for sure. With bold angles and design choices that show a general disregard for aesthetic norms.
And sure, the metallic division between each side's two lenses would probably get in the way, were a human to wear them.
But Sims? They're perfectly fine with it.
Get them for the Sim who likes it whenever someone describes them as "bossy".
And if you wanna see more sunglasses options we've also got you covered.
1.

Spring Day Glasses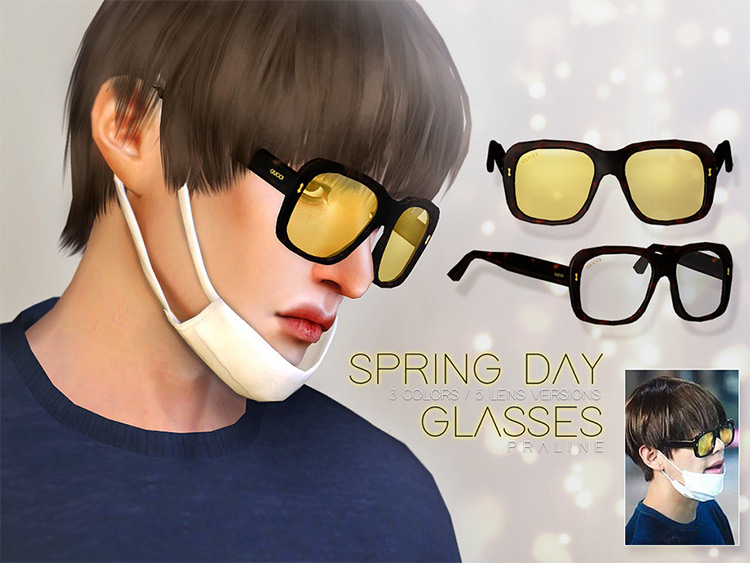 What could possibly be better for the fashionable Sim than a pair of solid, thick-rimmed Gucci glasses?
Nothing, that's what.
Created by PralineSims, these brand-name CC glasses are inspired by the pair often worn by Taehyung, from the ultra-famous K-Pop group BTS.
If you're a big Sims 4 fan then you probably know this already, but TS4 and K-Pop fandoms overlap quite a bit.
So this CC is a total godsend.
Snag these classes in 15 different color combinations, including the exact one that Taehyung wears, of course.
Browse:
Lists
The Sims 4
Video Games