Sims 4: Best Grunge-Themed CC For Some Teen Spirit
This post may contain affiliate links. If you buy something we may get a small commission at no extra cost to you. (Learn more).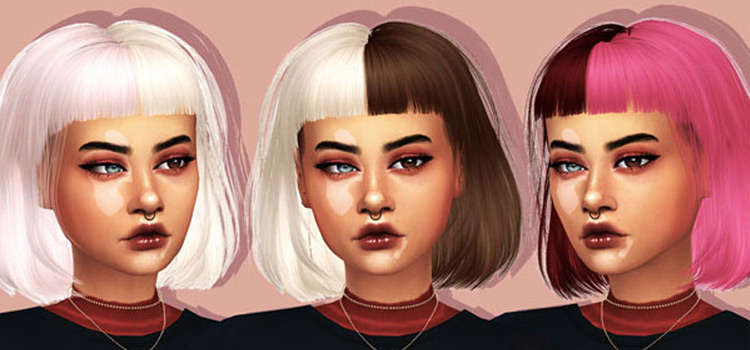 Grunge is not dead! Well, it's as dead as punk rock is dead.
Like, you still have new musicians using labels like "soft grunge" to justify pushing grunge as a cultural lexicon into the mainstream. But deep down, we know it just isn't the same.
There's nothing that could come after its heyday that could appropriate the impact that Nirvana, Pearl Jam, Soundgarden, Smashing Pumpkins, and many other bands had wrought upon the world. Not to mention all those stylish clothing choices!
That's why we have our memories of grunge to make us happy, and to bring with us into The Sims 4.
So let's dive in and check out the best grunge and grunge-inspired CCs to try out!
10.

Vintage Shirts
There are many things out of the '90s that really aged horribly today.
I'd like to believe that the "kinderwhore" aesthetic should be part of that. I guess the idea of fully-grown women in rock n' roll dressing up like little girls was transgressive back then.
But knowing what we know about creepy dudes today, I'm more than fine with having "age-appropriate" trends replace it.
So yes, this is a roundabout way of saying you would probably have no problem downloading this CC set of grunge-inspired pink tees for your Sim.
Statement shirts are always acceptable in any era!
9.

Grunge Destroyed Jeans
Ripped jeans always find a way to sneak in back to popular culture. After all, the '90s wasn't the only time in culture where we had angry teens to placate!
So, with that said, this CC is certainly serviceable.
This comes in 12 different swatches so there's a lot of variation. And much like the designs that came up during the '90s, these also come in bleached styles too!
So, if you ever want your Sim to evoke the spirit of the '90s, you can do no worse than this CC set right here.
8.

Grungy Sweater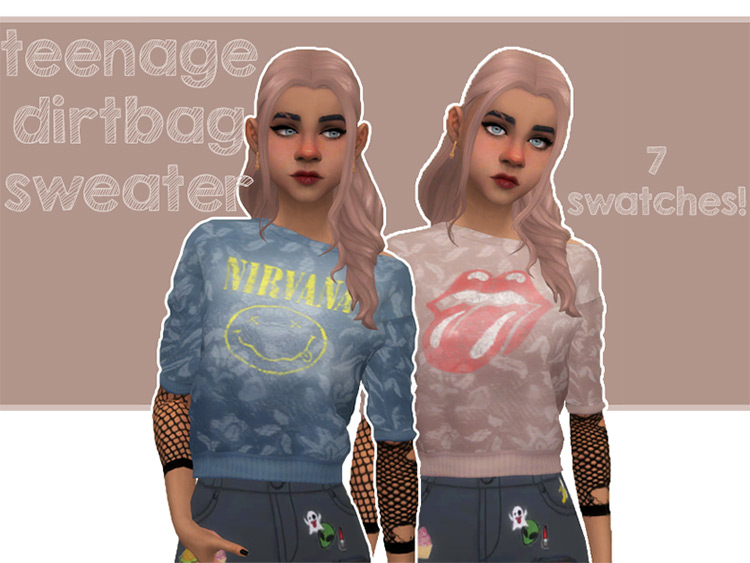 Some may not remember it, but grunge and sweaters went hand-in-hand back in the day.
Seattle(and the Pacific Northwest in general) seemed to be excessively rainy back then. Still now, but then too.
So of course, what's a poor 20-something artist to wear back then to keep warm? Yep you guessed it: cheap sweaters.
So while this CC might have the right idea for being "grunge-themed", which I love.
Yet the overall aesthetic of it, with fishnets and band logos that are definitely not grunge, might put some purists off. But hey, at least it has Nirvana in here.
Some of the other bands featured in this CC are Rolling Stones, Guns 'n' Roses, Red Hot Chili Peppers, System of a Down, Rammstein, and My Chemical Romance.
Sure, they're not all grunge. But at least your Sim can rock a properly-rocking band logo!
7.

Rock Bustier
Speaking of rock band tees, here are more of them!
They're basically outfitted in tank top designs, though.
So this CC is strictly for the females this time. You know, only the most important demographic in music ever?
A complete listing of the band logos in this CC include:
AC/DC
Metallica
Slayer
Nine Inch Nails
And basically all the iconic bands from the last 30 years whose logos looked good on a t-shirt.
And as I'm sure any metalhead will know, black or white are the shirt colors that matter!
6.

Riot Grrl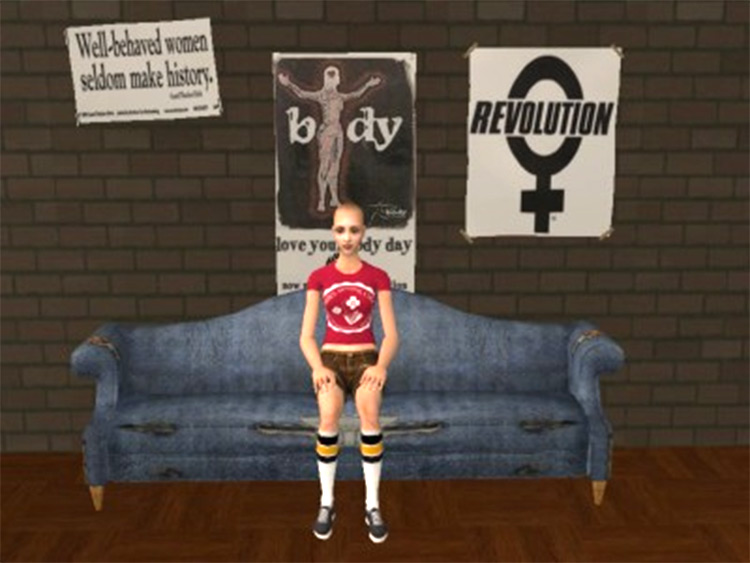 I've always maintained that the "riot grrl" movement didn't get enough credit when it first started.
While alt-rock musicians like Alanis Morissette simply hinted at being feminist, bands like Bikini Kill and Sleater-Kinney sang songs with themes that wouldn't feel out of place in today's more socially aware times.
Now, with that said, this CC is probably best taken as an "inspiration" from riot grrl, rather than a mod that's all about the riot grrl aesthetic.
Thankfully, the design for these clothes all look vintage '90s/alt-rock, so I'm giving it a pass!
The CC pack includes custom face packs and makeup too. If nothing else, the Ladies Sewing Circle & Terrorist Society shirt used for this mod certainly seem appropriate.
5.

Smashing Pumpkins ZERO Shirt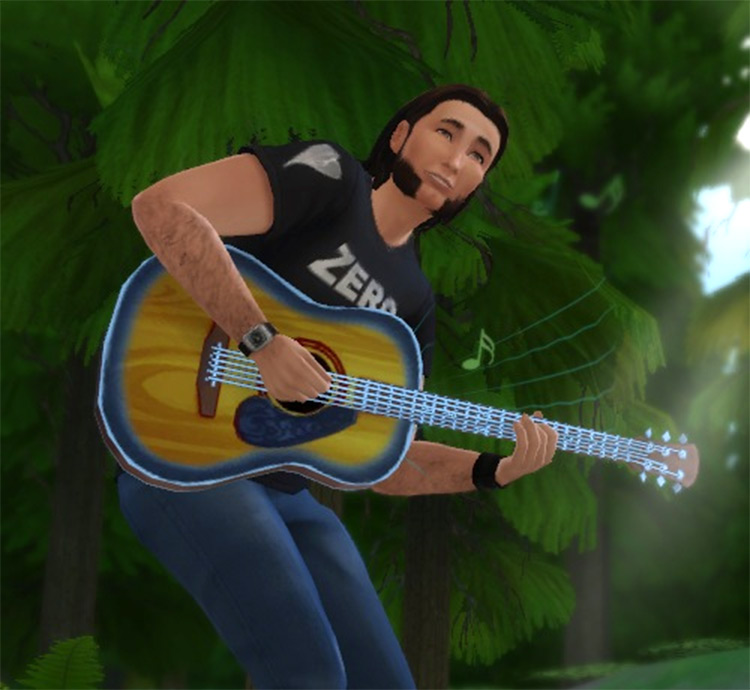 Hey, don't tell me you forgot what "zero" was to the 90s when it was still on!
"Zero" is probably the song, next to Nirvana's "Smells Like Teen Spirit", which encapsulates the state of indifference prevalent in '90s youth culture.
Also, it probably has the most nihilistic bridge in a pop song ever written.
If you're a teen when this song was released, then you're surely into that stuff. If you're younger and wanna look back into the grunge era, check out Zero while you build your Sim's outfit. You know, for inspiration.
The Smashing Pumpkins were smart enough to merchandise "Zero" sweaters too. But since all I could find are Sims 4 shirts, I guess we'll take it!
4.

Marigold: Female Combat Boots
Yep, it's the boots that also made grunge fashion.
Dr. Martens might be the more famous brand, but it seems like this one should fit just as well.
If you're ready to create your own riot grrl dress, this is a very apt follow-up.
And like every lady knows, the shoes gotta match the outfit.
3.

Nirvana T-Shirt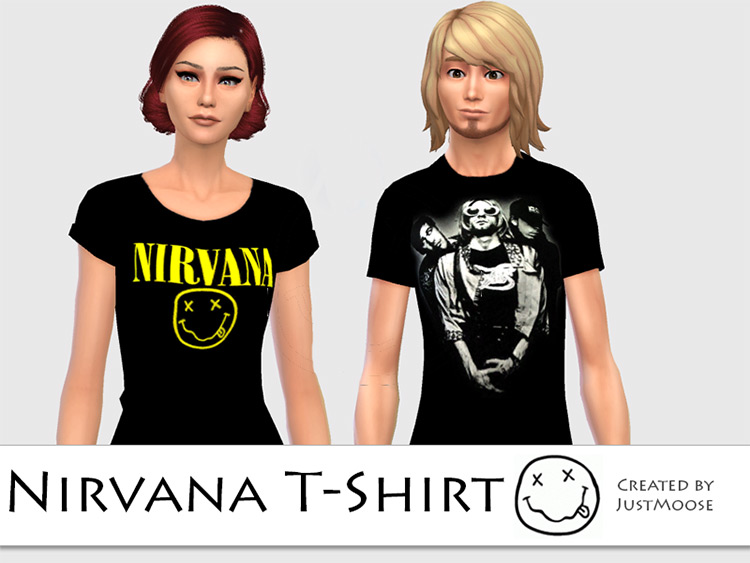 It's a Nirvana shirt of their smiley logo.
Seriously, you can't get more grunge than that.
It's simple, straightforward, and just plain badass. What more could you be looking for?
2.

Nirvana T-Shirt(For Her)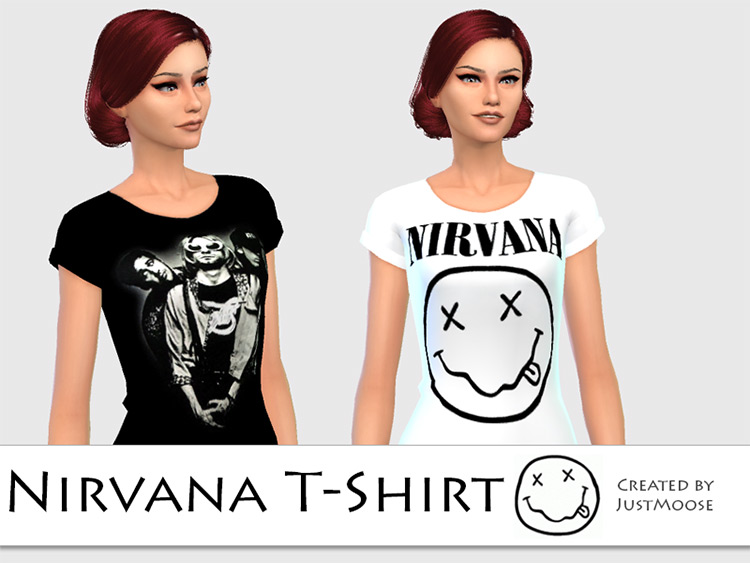 It's a Nirvana shirt for female sims.
And if you knew anything about Nirvana, it's that they were staunchly feminist. And not just because they thought it would make them look hot with the ladies! Although, maybe?
In any case, this shirt is absolutely top-notch grunge. But, for the ladies.
1.

Grunge Jeans Set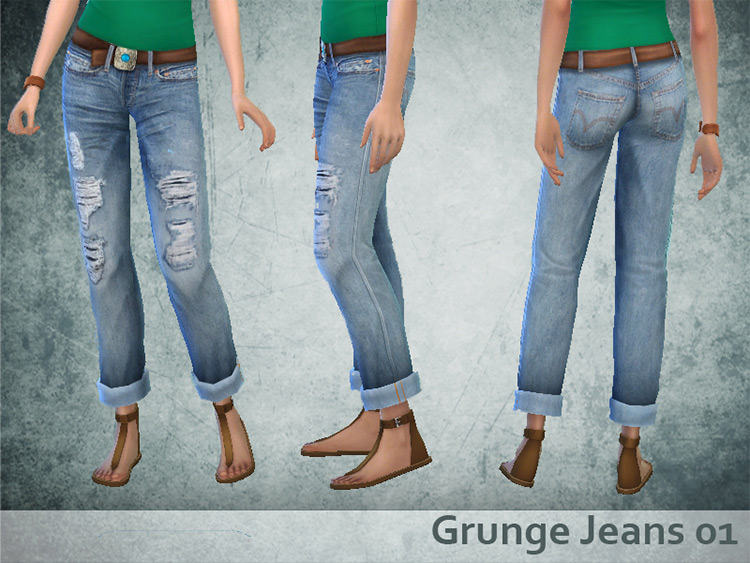 I know I've already listed some "ripped jeans" a bit earlier.
But I'm including this CC here as well, just to show y'all that there could be such a thing as "overkill" in fashion.
Yet if you're going for a grunge look, these are far from overkill.
The thing is that your jean's leg should look like they got torn from the sands of time, and not look like it was deliberately destroyed.
What kind of monster destroys a perfect pair of jeans anyways? Rockers and grunge fans, that's who.
Browse:
Lists
The Sims 4
Video Games