Best Sims 4 Gucci CC: Clothes, Shoes & Accessories
This post may contain affiliate links. If you buy something we may get a small commission at no extra cost to you. (Learn more).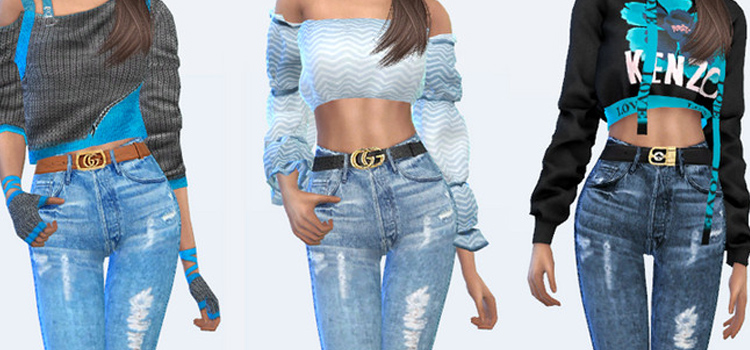 Gucci was founded in 1921, but it remains as one of the top-of-mind luxury brands.
With the help of creative directors such as Tom Ford and Alessandro Michele, the Italian fashion house continues to survive and thrive in modern times by becoming the focal point of catchy hip-hop songs and every influencer's wardrobe.
And although Gucci has already reached the summit in terms of brand popularity worldwide, it has yet to peak in its journey towards fashion world domination.
Including the world of The Sims.
Afford a virtual collection of all things Gucci with these free downloadable CCs that cover pretty much anything your Sim could wear out for a night on the town.
15.

Gucci Shopping Bags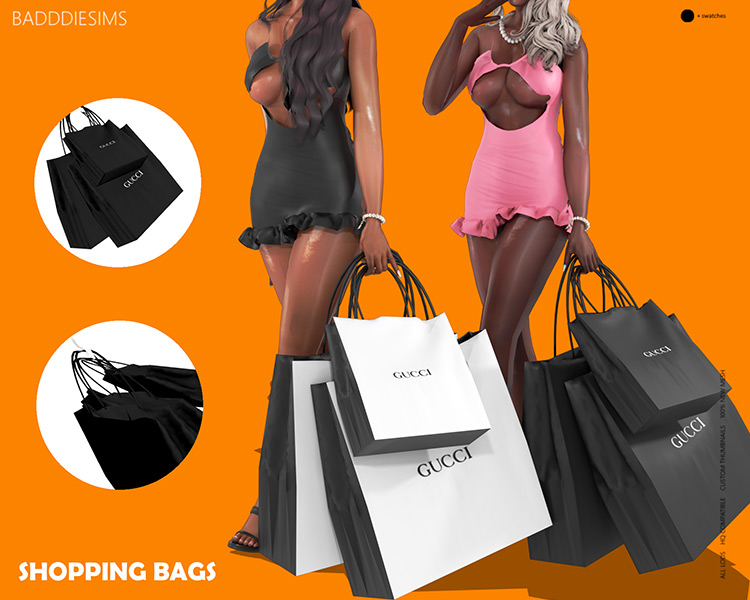 Let's be real: Gucci is expensive AF, which makes it all the more desirable for the hardworking middle class.
Gucci products are not the kind of things you can buy on a whim. And they're certainly not the most frugal choice when wanting to make a fashion statement.
But to hell with your Sim's savings – if you want to cross the poverty line over some overpriced leather bags then so be it!
Have your Sims flaunt a bunch of Gucci shopping bags plenty enough to make a Gucci fan plan a B&E.
14.

Gucci Skirt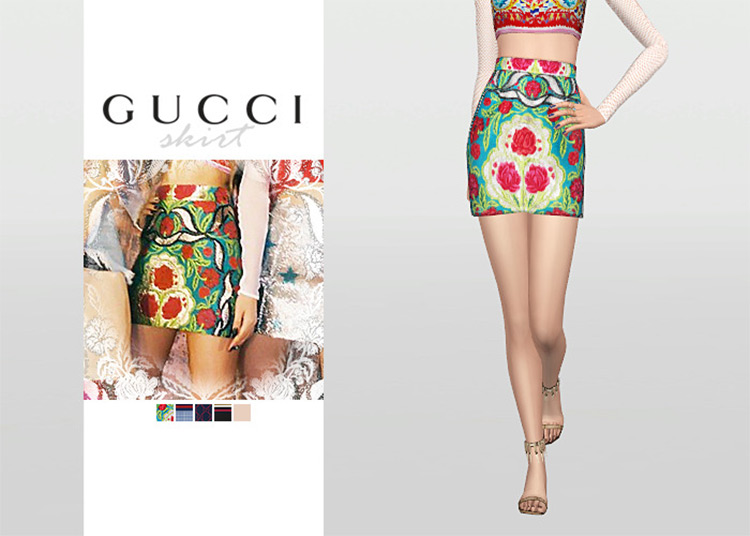 What do you think will happen if you put a Princess of Monaco and a Gucci-commissioned designer together in one room?
If you answered "I don't know, what?" then I'm with you, dude.
Only upon researching for this article did I discover that Grace Kelly was the woman to thank for birthing the iconic Gucci floral prints.
Timeless and vibrant, this floral design has survived since the '60s and was still well-received into the 2010s.
Get a hold of one of Gucci's memorable prints and have your Sims wear this blossoming skirt by wakey for their next stroll around the neighborhood.
13.

Marmont Jeans Retexture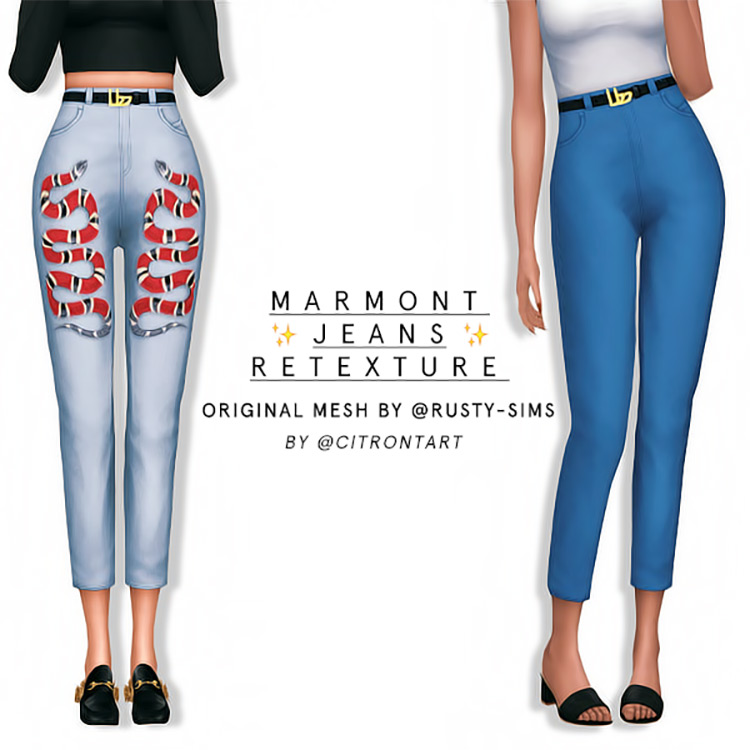 With Alessandro Michele as Gucci's creative director, the brand underwent a drastic design transformation for the better.
Among his repertoire of grandiose collections is the debut of the Gucci Garden museum – and the Kingsnake in its midst.
Have Michele's signature Kingsnake print on cropped skinny jeans and slither your way to the top of the fashion food chain.
12.

Gucci Princetown Slipper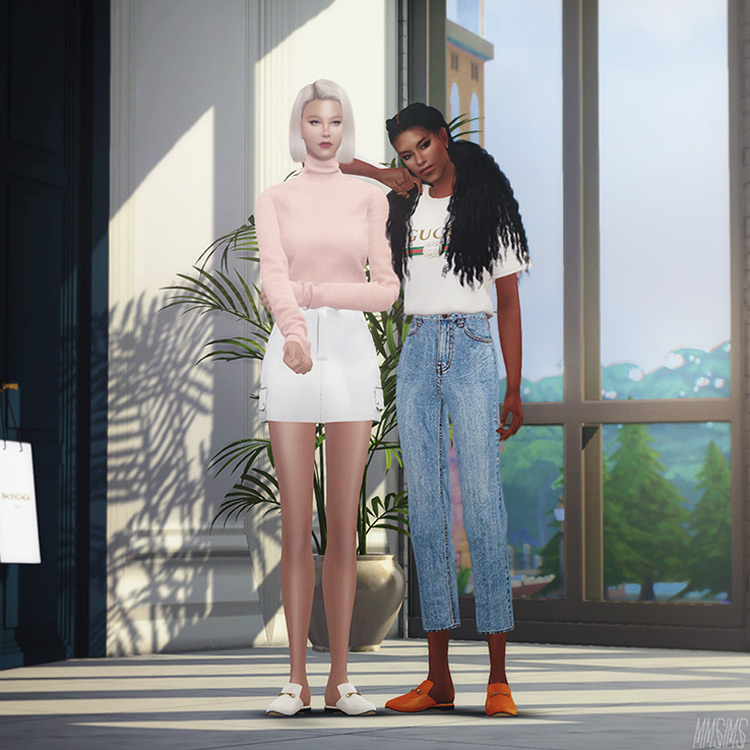 Cinderella might have sparkly glass slippers, but any Sim with common sense wouldn't wear that monstrosity on a normal workday.
The Gucci Princetown Mules offer a modern princess' dream, designed for stylish comfort and daily use.
This widely popular product is effortlessly trendy, and is the kind of footwear that anyone – regardless of gender – can enjoy wearing.
With 10 swatches available, this CC by MMSIMS can trump glass heels and stilettos any day.
11.

Gucci Sandals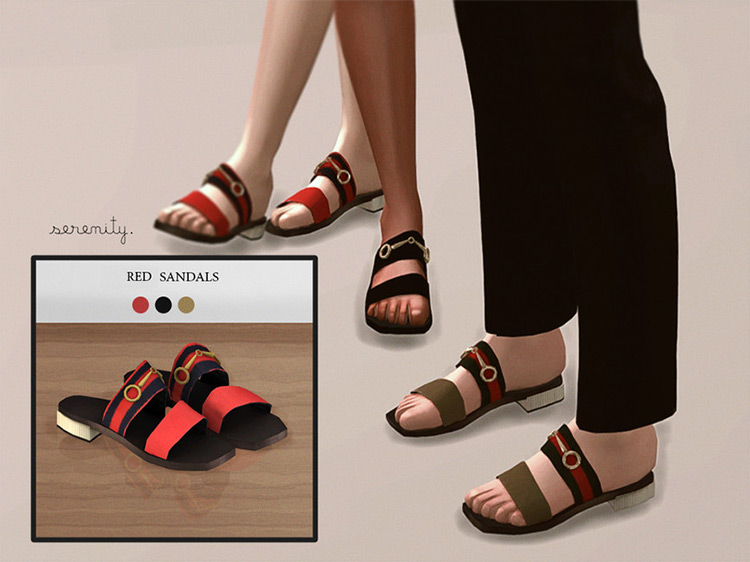 As a person who gets tired easily after being lugged around the mall by my mom, there's been a constant need for me to wear comfortable shoes. Preferably open sandals.
Gucci won't be my first choice.
But I wouldn't mind owning a pair if I could afford it!
Impress posh friends with a pair of Gucci sandals from serenity-cc that comes with 3 swatches and a luxurious casual style upgrade.
10.

Belted Basic Skirt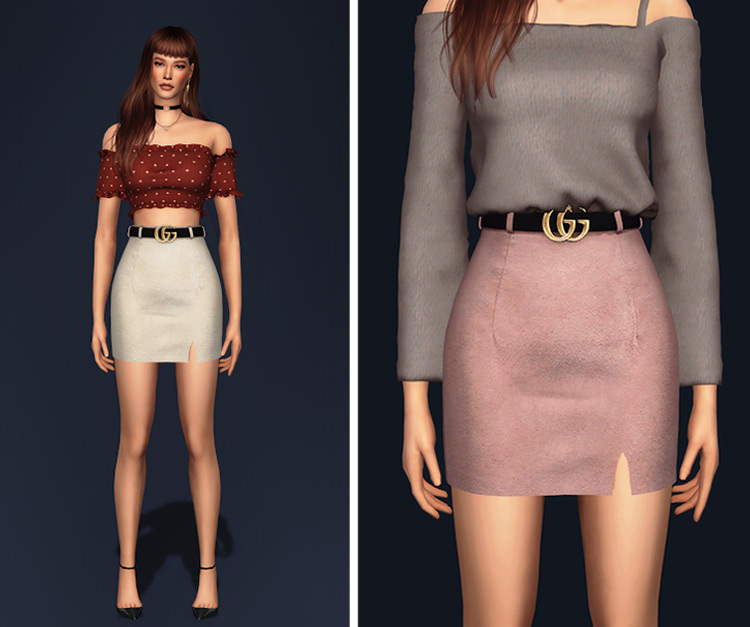 There are a lot of items in Gucci's repertoire that are (at least) more affordable than a $2,000 designer handbag.
One of the most popular is their classic black belt, which is infinitely more stylish than the one you get from years of doing Taekwondo.
With the golden GG logo, blinding in its absurd price rate, at the center of this belt & skirt combo, you won't have to exert much effort in looking classy from the waist up.
9.

Gucci T-Shirt
Once upon a time, Gucci logo shirts took Instagram by storm.
Everywhere you looked there were influencers, celebrities, and even kids seen wearing the red and green emblem of the Italian brand.
The simple t-shirt was so popular that it helped make Gucci feel more accessible and attainable – even if the said piece was priced at almost $500.
You can now count your Sim lucky for getting this CC.
8.

Gucci Collection
As one of the most well-known luxury brands on the planet, one would expect Gucci to only create pieces befitting the catwalks of Paris Fashion Week.
Which is why it's still quite jarring for me to see Gucci joggers and sweatshirts.
Elevate your Sim's Netflix and chill fashion with this Gucci collection by Shunga, which includes a bomber jacket and a hooded dress to keep you fashionably dry on rainy days.
7.

Ashley Tee with Bag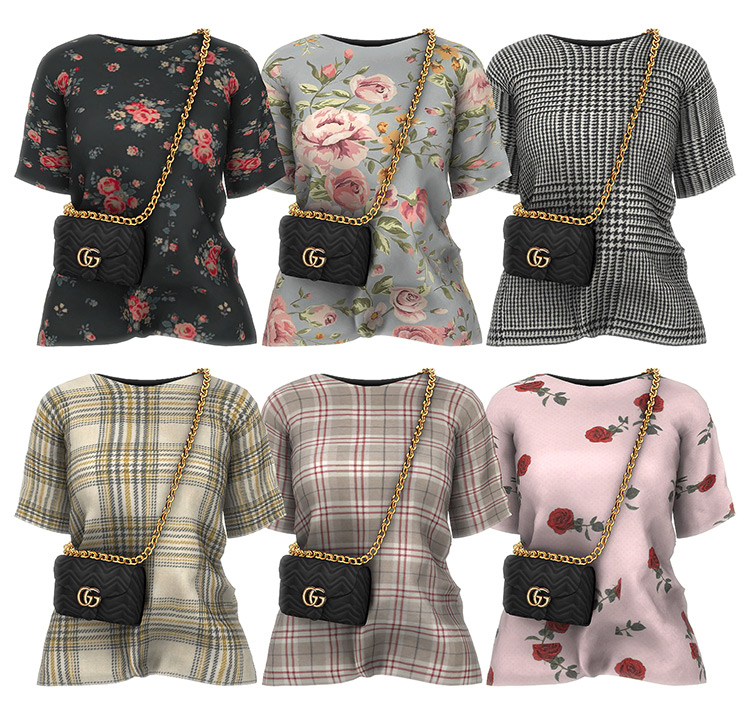 Pro tip: if ever you feel like something is lacking in your Sim's outfit for the day, then try adding on a cute shoulder bag.
Preferably a very expensive GG Marmont Shoulder Bag with this CC.
Now you can never worry about wearing dull shirts ever again, thanks to the Ashley Tee with Bag CC by Grafity-cc!
Choose from 42 shirt options and enjoy the anti-theft convenience of having a Gucci bag magically attached to your Sim's shirt!
6.

Gucci Outfit V2
Planning a house party?
Then here's an outfit that would make any party host stand out!
Gucci Outfit V2 is a sinful ensemble that's nothing short of sexy.
This sultry assortment is made up of a long-sleeved top with a navel-deep plunge, mini shorts, and a high-waisted GG belt that makes Wonder Woman's belt look cheap.
5.

Marmont Bags + Hanger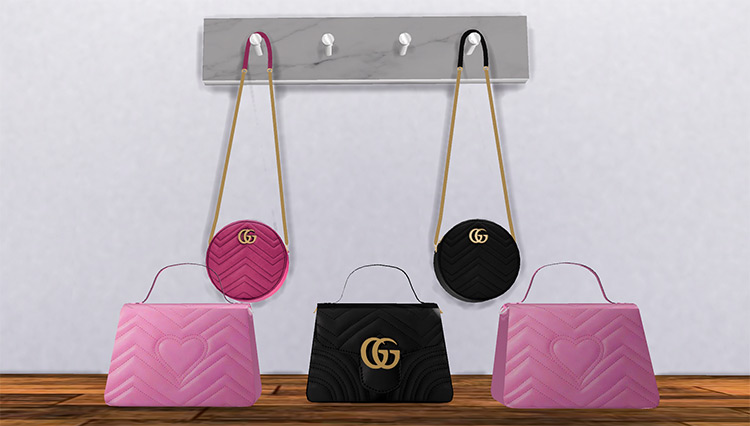 Every fashion writer and designer handbag reviewer will agree that the GG Marmont Bag is one of the most iconic Gucci products out in the market.
The Marmont line has been well-reviewed and revered by many, topping lists as one of the top Gucci bags to invest in.
If you're a hardcore Gucci collector with no budget left in the real world, then this CC by SimmerKate would do just fine in satisfying your obsessive love for the brand.
4.

GUCCI Brooch & Suit Jacket & Pants Set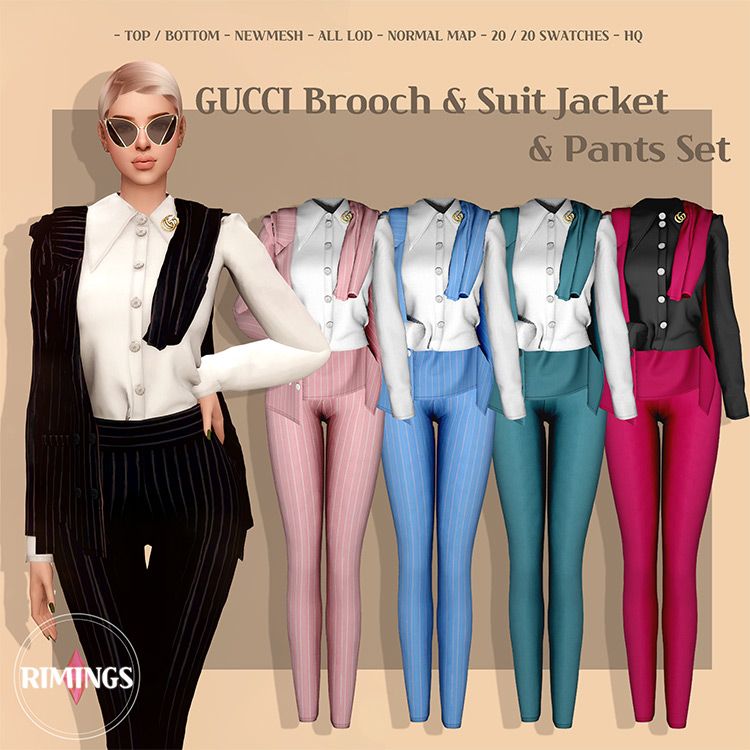 I don't really see the value of brooches other than making people look fancy, and a juicy target for cat burglars.
But it would be stupid of me to not acknowledge the effect it brought to completing this badass pantsuit ensemble from RIMINGS.
Look like an unstoppable female spy on a mission to save 2020 from sucking any further and enjoy 20 swatches to mix and match.
3.

Gucci Belt Dress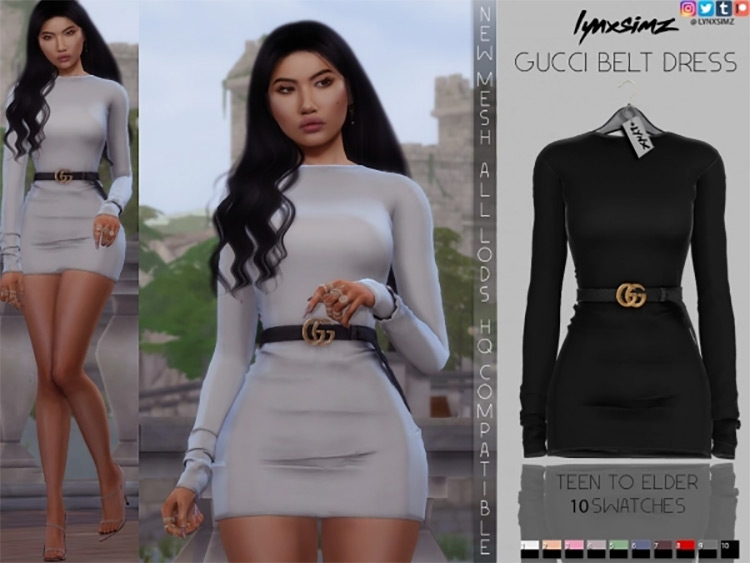 It doesn't matter if your dress ain't Gucci.
As long as you have their classic belt to pair it with.
Fit your Sim into a form-hugging dress and top it off with a black Gucci belt that I just can't get enough of.
Choose from 10 swatches that range from Angelic White, Hot Pink, and Hell Hot colors – perfect for ruining dress codes at formal parties!
2.

Gucci Sweater Dress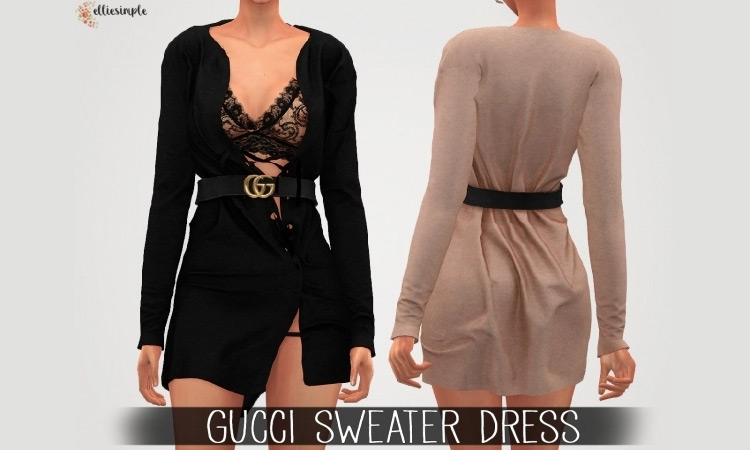 I'm not sure how this "sweater dress" would help keep anyone from freezing to death, but at least your Sim would die in a fashionable state.
Dress your Sims up in a revealing Gucci Sweater Dress, held together only by a resilient button, and of course, our favorite GG belt.
Choose from a roster of 15 swatches that look as luxurious as the featured brand.
We've got some other sweater dress CC you might like, but c'mon, this one's Gucci.
1.

Grimcookies x Gucci "Off The Grid"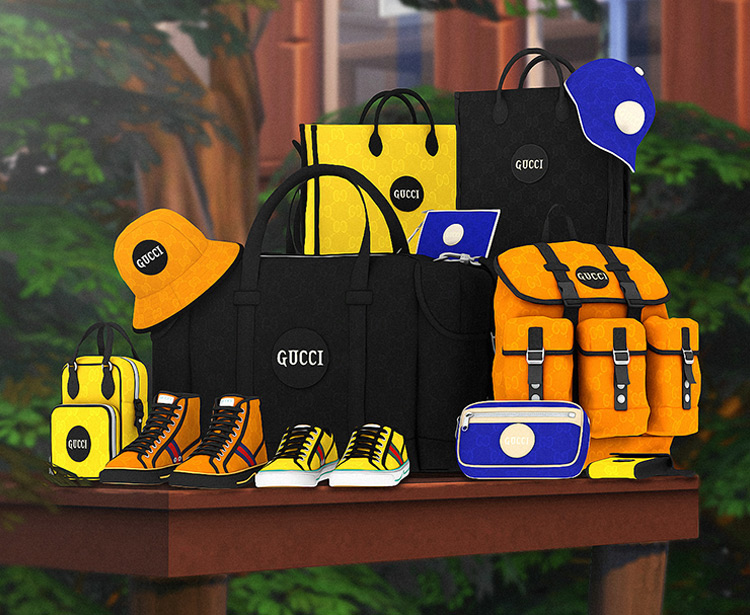 A prime example of Gucci's modern approach to innovating fashion can be found in their Off The Grid collection.
It puts the spotlight on an environmentally-conscious collection that features backpacks, shoulder bags, sneakers, and more, all with Gucci's distinct pattern at its core.
In the brand's effort to expand its reach to a diverse audience, they enlisted the creative assistance of popular CC creator, Grimcookies and harrie-cc to bring the collection into The Sims 4.
The stunning pack contains 4 CAS items, 2 hats, 2 pairs of sneakers, and 11 decor items that match the original Gucci designs.
To further integrate the collection's message in-game, build items all give a positive environment score and it also boosts your Sim's eco footprint if you have the Eco Lifestyle expansion pack installed.
It's safe to say that no other Gucci-themed CC has been so expertly created. For true Gucci lovers, this one's a must-have.
Browse:
Lists
The Sims 4
Video Games