Best Custom Guitar CC & Mods For The Sims 4
This post may contain affiliate links. If you buy something we may get a small commission at no extra cost to you. (Learn more).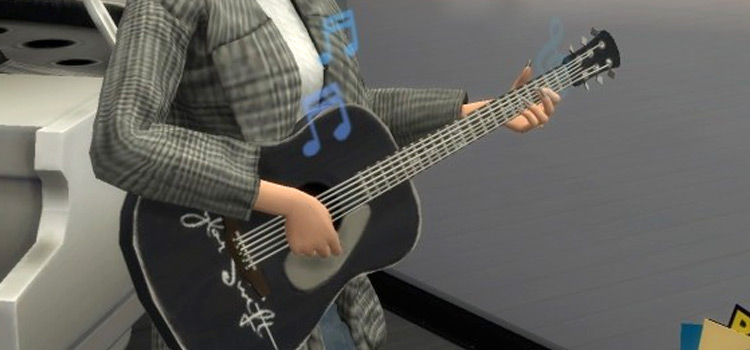 Rock On!
From Jimi Hendrix to Jimmy Page, the guitar has always been the coolest instrument in the world.
Being an essential for bands from the 60's, and into classic rock in the 70's and 80's. Even our punk rockers and grunge enthusiasts enjoyed the strums into the 90's.
While The Sims 4 features guitars in-game, the selection can feel a bit bland.
So let's take a look at some of the more unique guitar CC out there.
Get ready to conquer those solos!
8.

Nirvana Kurt Cobain Guitar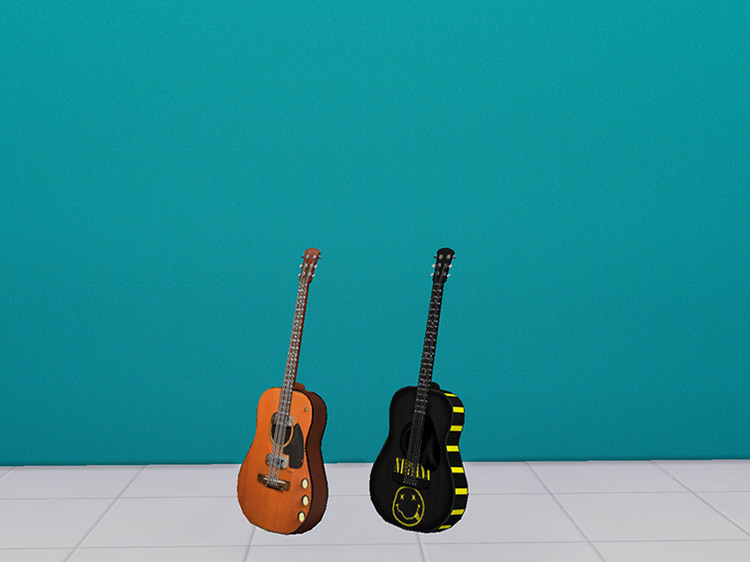 We kick this list off featuring punk rock legend Kurt Cobain and a guitar in his honor.
It's a classic acoustic style guitar, which also features a Nirvana pattern for any super fans out there.
Play this at your Sim's next get together and give your party guests your best rendition of "Come As You Are".
You're not Cobain, but at least you can try.
7.

Tenor Banjo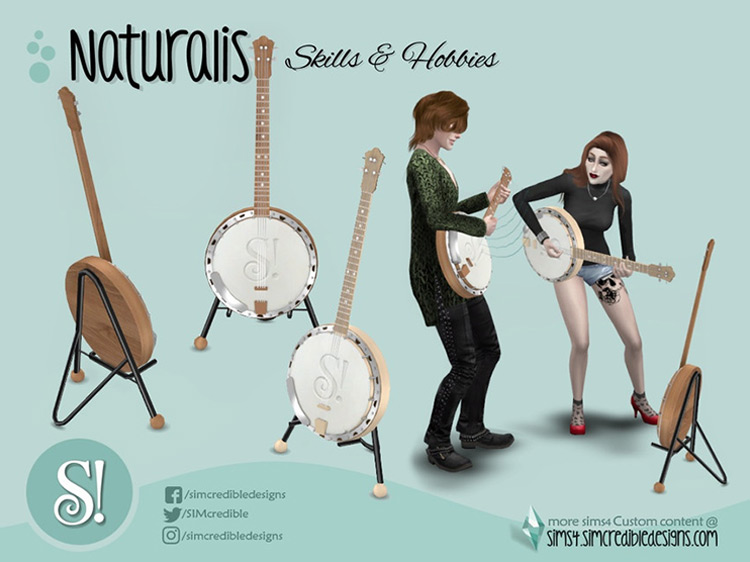 Our next CC pick comes from creator SIMCredible.
And yes, it's technically not a guitar, but I thought a banjo might feel close enough to include on this list.
And it's a great looking banjo with 2 color variations, something for easy-going Sims to play.
Trust me, banjos are cool too.
6.

Taylor Swift Guitar
Here's a classic acoustic look shouting out to a music superstar.
This time we feature a modern favorite: Taylor Swift.
An all-black design features an autograph by hers truly.
Get in your feelings and play "Love Story" to get all your emotions out.
And make sure Kanye West isn't lurking anywhere nearby.
5.

Dexter Mini Guitar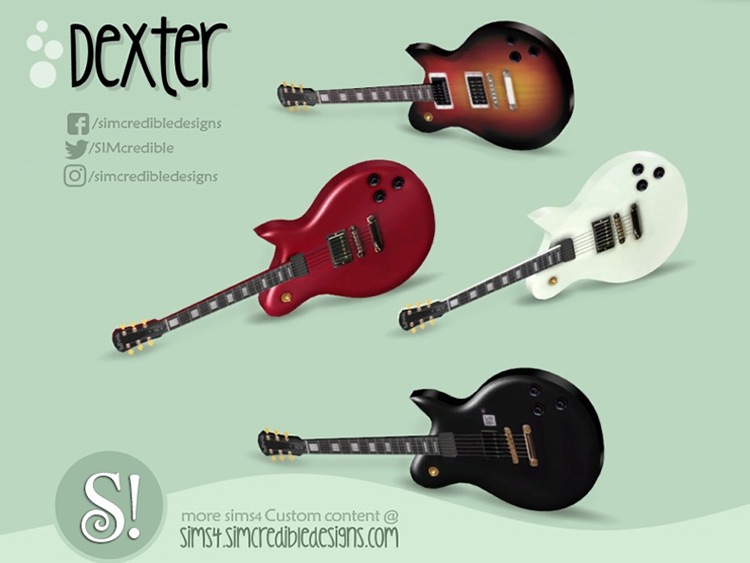 Now here we have a cool décor guitar CC, once again by SIMcredible.
It's a mini guitar featuring a sassy 80's design.
Definitely a cool art piece for any musical-loving Sims in your universe.
Maybe even great for a child. They can start learning this craft with these mini guitars, and become the next Jimmy Page.
Just maybe.
4.

Vintage Guitar
The guitar is an item very much apart of rock culture.
But it's also an item that hippies have tended to gravitate towards for a long time.
This vintage guitar CC set by iSimwho is a perfect add-on for those peace-loving hipsters in your Sim neighborhood.
It features 6 different designs including optical illusions, pinstripe rainbows, and slapstick art.
This CC is perfect for any hipsters looking to set out for a long road trip, maybe in need of a little bit of music.
3.

Living Steampunk Guitar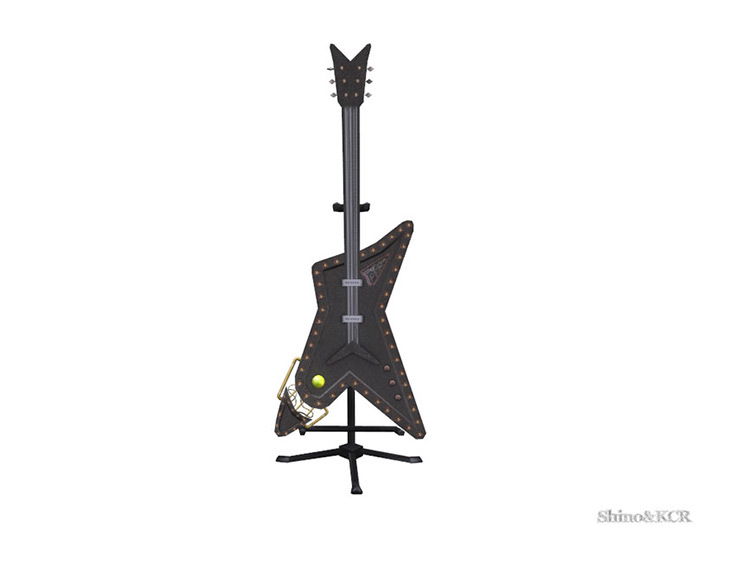 Our first electric guitar CC comes from ShinoKCR.
It features a punk-inspired charcoal black look with bronze finishes.
This is the perfect item for any rebellious teenagers currently in the prime of their punk phase.
Maybe some Good Charlotte for the classic punk enthusiasts, or maybe some Slipknot for the uber intense ones.
Either way, the neighbors might be complaining about the noise on this one.
2.

Gibson Les Paul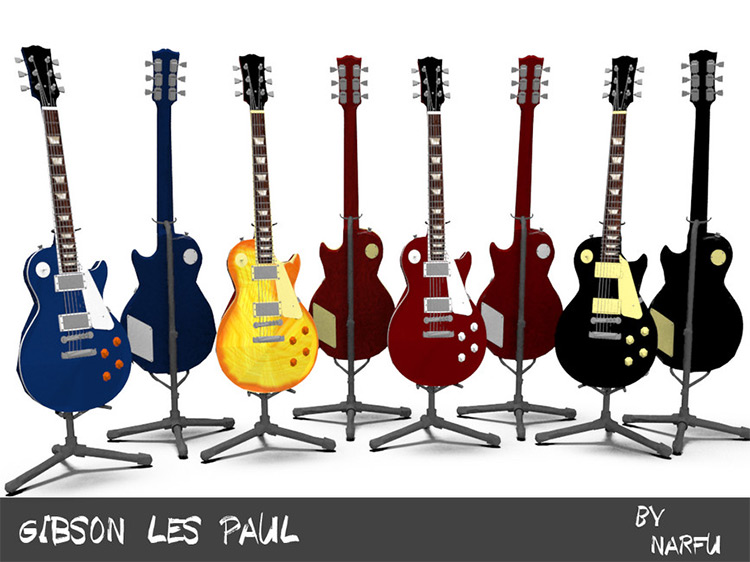 Creator Nafu gives us an absolute classic with this beautiful rendition of the Gibson Les Paul.
Gibson is by far one of the most infamous guitar companies in the world, and this is one of their more popular guitar styles.
The Les Paul is a classic among all the largest rock bands. And now your Sim can show their historic taste by having this guitar in game.
The well-crafted on-point design comes with 4 different colors to make this piece a must-have for any real guitar heads out there.
1.

Fender American Stratocaster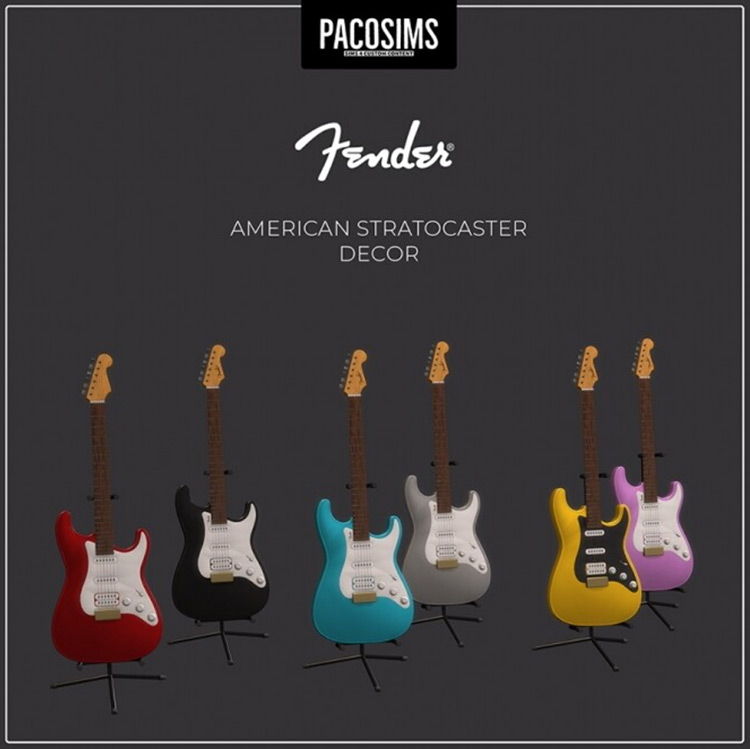 We top off this list with another famous guitar company: Fender.
It's a very popular electric guitar design that was so famous, the video game Rock Band designed their gaming controller off the Fender Strat electric.
CC creator PacoSims includes 6 unique designs here, my favorite being the golden yellow guitar with a bold black finish.
Not only is this guitar historic, but its unique design keeps it feeling modern. Which is perfect for any Sim you've made that's looking to become a star.
So if you're looking to strum in style, look no further.
Browse:
Lists
The Sims 4
Video Games