Best Sims 4 Male Tank Top CC (All Free)
This post may contain affiliate links. If you buy something we may get a small commission at no extra cost to you. (Learn more).
When you need something between a t-shirt and going shirtless, a tank top is the answer.
The options in-game are mostly straightforward no matter the pack(s) you may own.
Sure, there are some stylish options. But the tank top reality hasn't been represented quite accurately until custom content creators started contributing.
You may be surprised at what a wide variety is out there.
The cut, fit, and even material all contribute to making this versatile top what it is – and what it can be. Below you'll discover just what that means for your Sim's wardrobe, with the very best male tank CC the community has to offer.
Ribbed Muscle Tank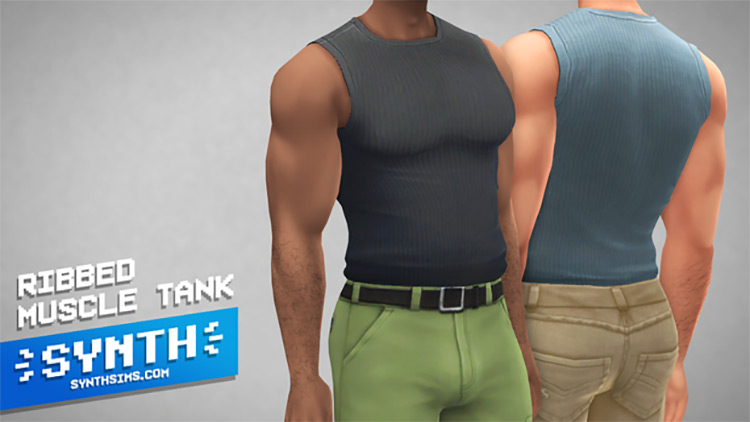 One of the main reasons a lot of guys wear tank tops is to show off their muscles.
Every day is a gun show when you've got no sleeves!
This was made specifically for those ripped, muscly Sims. For some, it's just tragic to hide that body beneath clothes.
But you know how it is…it's just weird to show up to a date or family dinner shirtless.
And so, this tank was born.
It's form-fitted, and the ribbed texture not only provides a nice look, but will help accentuate all the best parts of your Sim's torso.
Even if your Sim isn't hitting the gym every single day, they can still rock this. The ribbed muscle tank does not discriminate.
Loose Tank Tops CC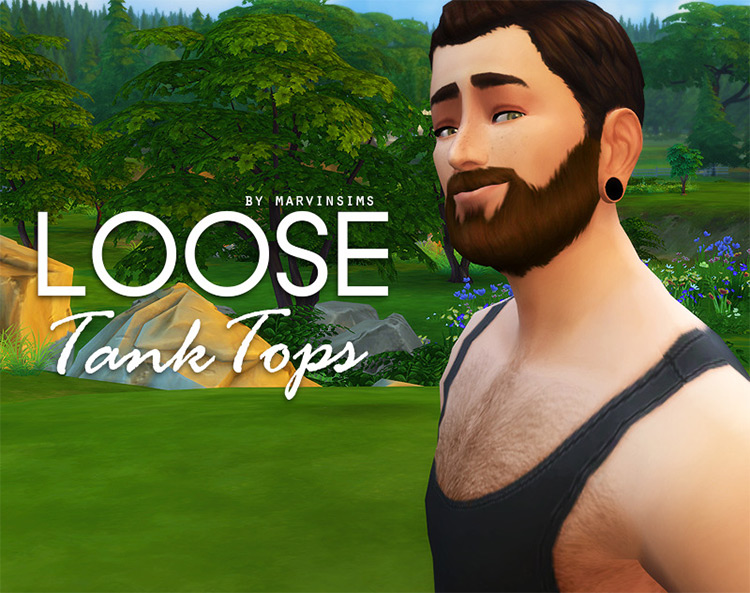 A loose tank top is a rather alluring conundrum.
Is the wearer trying to show off? Did they just get the wrong size? Do they just like the baggy style?
Questions that will forever go unanswered for Sims, unless you decide for them.
But none of that's very important anyway.
What really matters is that they look cool.
And a loose tank top mostly just has the effect of making a guy appear a little more masculine. I mean, most girls couldn't confidently get away with the scoop neck here!
The swatches are awesome as well, offering a good variety.
You'll have solids and stripes to choose from, as well as a few with a more distinct fabric texture.
Outdoor Retreat Band Tank Top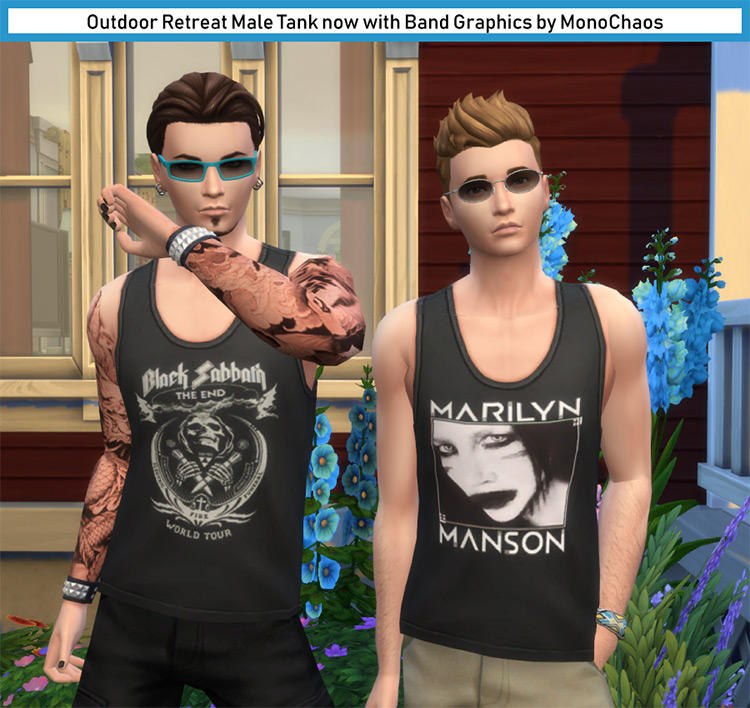 I normally try to refrain from listing content that requires specific packs to keep things as accessible to all players as I can.
But come on… band tanks!
Outdoor Retreat was the first pack released for The Sims 4, and continues to be one of the most fun.
So if you don't have it, you're missing out on more than the cool tank tops.
Anyway, these are some of the best colors I've ever seen. MonoChaos took the tank tops from the pack (which were mostly just solid colors) and applied some fantastic detailed band logos.
Lots of the classics are here, including The Rolling Stones and Marilyn Manson.
Plus metal legends Black Sabbath and Guns N' Roses get three tank top designs apiece.
Lowcut Muscle Tank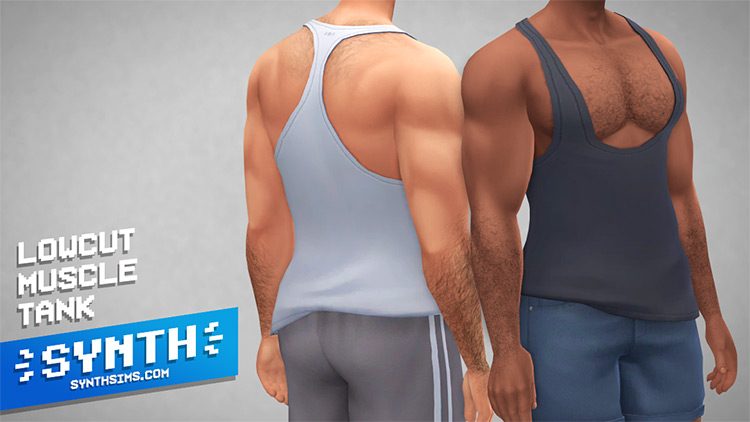 Whether you want to put your Sim's bangin' bod on display or just keep them cool, it doesn't get much more revealing than this.
As long as they're still dressed, that is.
This alteration of the famously frumpy Seasons tank top does everything to make it more stylish. The creator edited the mesh of the straps and chest to give your Sim more definition.
You can really see what a difference they made on the back, since now the arm cutouts are much larger and the "back" is mostly a very thin strip.
It's just as well, since Sims don't seem to handle heat very well.
CAS kind of forces you to dress them with as little material as possible for the hot weather outfits.
Personally, I've never known anyone to die just because they wore socks and sneakers on a summer day, but I guess Sims have internal temperature issues.
Damn Male Tank Top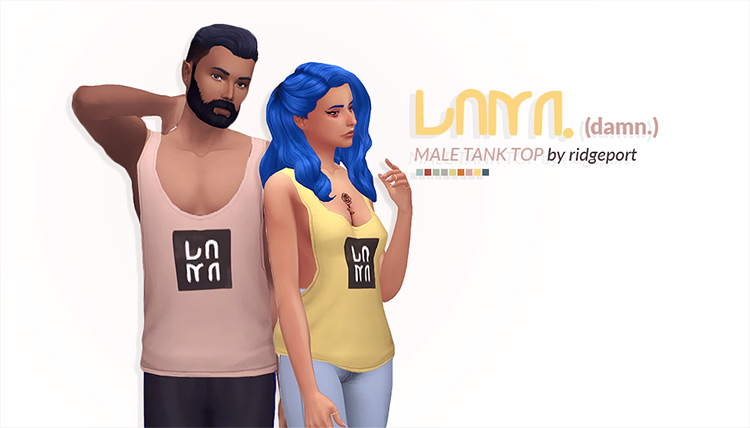 Here's a more lowkey and stylish option for when you need a simple tank.
This one'ss a standard cut for men's tops, with the circular swoop neck and arm holes that show off their ribcage with reckless abandon.
The swatches here are really something special. You'll have plenty to work with since most of these aren't even close to what's already offered for men's tops in the game.
The creator utilized another Simmer's palette here, and it has some great tones.
Soft pastels, warm oranges and blues… so lovely!
Loose Cut Tanks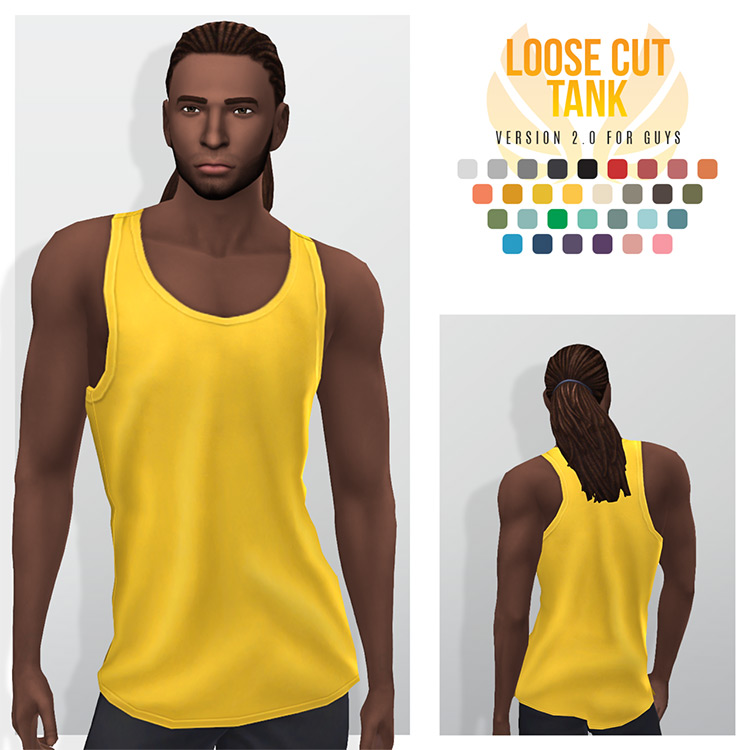 There's that L word again. No, not love, loose!
Although you're bound to love these.
From what we've already seen so far on this list, the standards are quite high or loose. So these tank tops are actually more of the fashionably loose variety.
Not the sort of thing you'd expect to come complete with barbecue stains by any means.
The straps are sensible and have a nice hemmed look, while the tank itself is rather long and flowy.
There's also a wrinkled effect with shadowing that's quite impressive too.
But it's from Peacemaker, who would expect anything different?
You'll have two versions to choose from here:
One has solid swatches and the other has stripes.
While the solid swatches are solid choices (as expected), there's a cool sort of gradient effect on some of the striped versions, as if the color's fading.
Fishnet Tank Top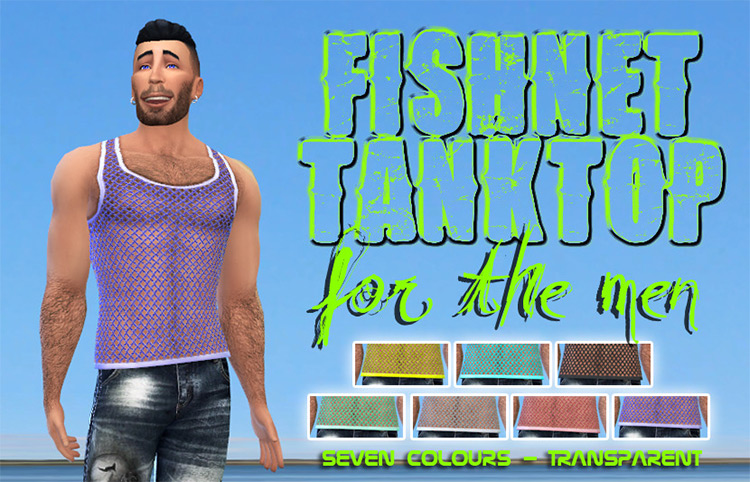 Nothing is quite as distinct or bold as fishnet.
This top has no holds barred: it will show everything your Sim has got with its fierce mesh design.
Fishnet has had fluctuating popularity with women for nearly a hundred years, in one form or another.
But men only began to discover the joy of this style in the '80s or so.
Well, it's up to your Sim to make up for lost time.
They'll certainly stand out in this top, too. Not just because of the fishnet, but also because of the seven bright swatches.
And while many shirts may tragically lose their shape on larger Sims, that's not the case here.
Guys of all sizes can sport this daring top.
D&Chi's Mens Tank Tops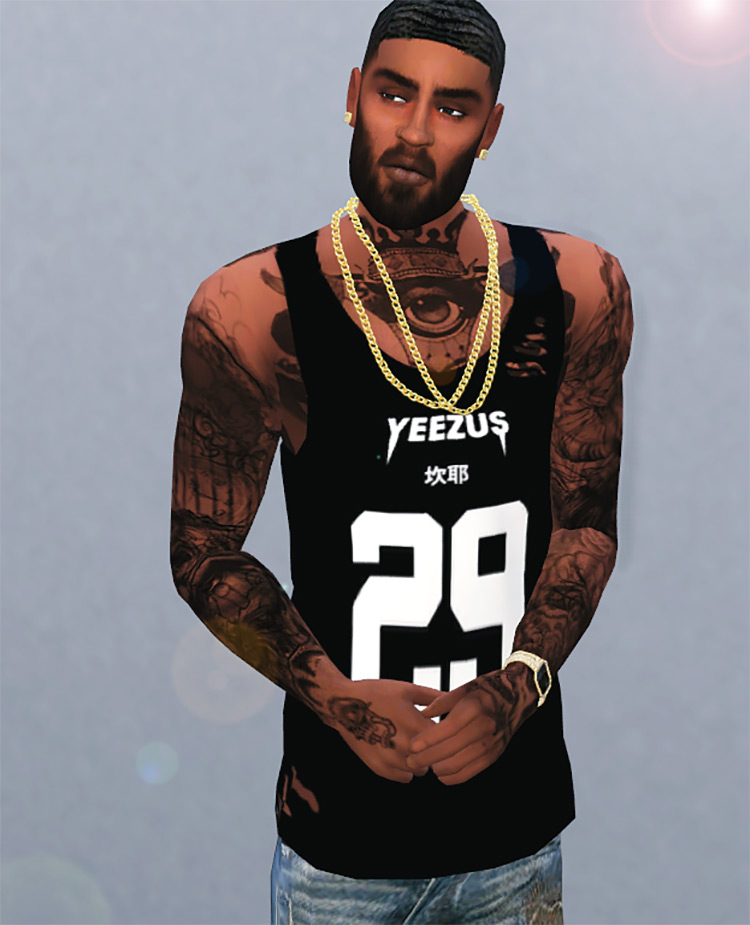 Clothes in The Sims 4 aren't really reflective of what can be worn in real life.
The biggest thing has to be how prevalent graphic tees are in the real world, when only a handful of items in CAS have any sort of image at all.
Even simple phrases or pictures can make someone fall in love with a top – and the swatches available for these tanks have a lot of character in just a little space.
One has a small cannabis leaf, while others have many patterns like camouflage or block stripes.
Any writing is in English, and a lot can certainly be said for Simlish. But sometimes it's fun knowing your Sim's top actually says.
Tucked-In Tank Top
This top stands out from every other one on this list.
Not because of the shape (which is more similar to a t-shirt than the rest), but because it tucks in!
It's such a simple but overlooked thing that can impact an entire outfit.
We're not in the olden days anymore where an untucked shirt is a sign of sloppiness or bad manners. But it's a fairly rare thing to see in CAS, so it really makes a difference.
There's no other way to say it, these are just outstanding.
They're semi-fitted and come in 45 swatches that contain a big range of styles.
Solids, stripes, emblems, phrases, camouflage… there's a lot going on in such a small amount of space.
Apocalypse Ripped Tank Top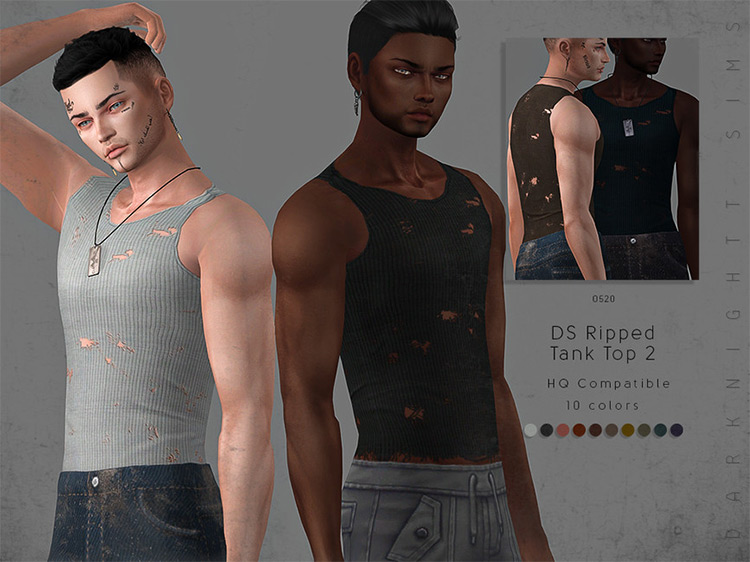 Okay, so the CC creator here made this tank as something to be worn in an apocalypse.
You know, the end of the world as we know it.
Zombies, radiation, plague, who knows… lots of unpleasant day-to-day stuff, in any case.
But maybe I'm crazy, because I think this would actually be a good option for a Sim who has a more edgy, grungy style.
Quite literally grungy, because this is full of holes and has a distinctly "worn" appearance.
Like, maybe they haven't taken it off in a few weeks. That worn.
For some, that look is the goal!
Holes have been in fashion for a while now anyway.
Depending on the height of your Sim's bottoms you may or may not be able to see the frayed bottom hem of this tank, but it really adds to the look overall.
Browse:
Lists
The Sims 4
Video Games