Sims 4 Hair & Makeup Pose Packs (All Free)
This post may contain affiliate links. If you buy something we may get a small commission at no extra cost to you. (Learn more).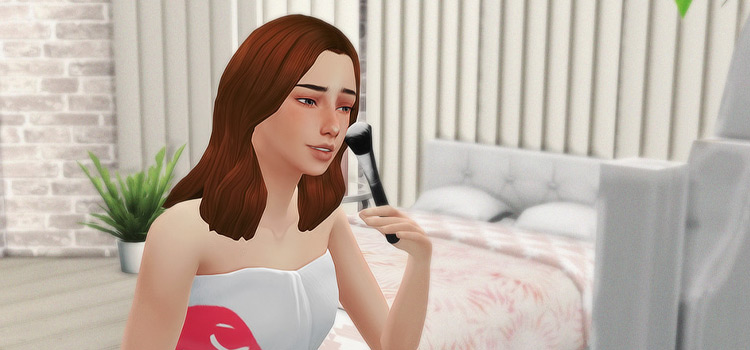 Wouldn't it be so cool & incredibly convenient if we could just apply makeup like we do to our Sims?
Couple of clicks and, bam. A full face of neat, perfect makeup in thirty seconds flat.
Unfortunately, life doesn't work that way.
Our Sims have it pretty easy, but we can at least create the illusion that they have to struggle as much as we do to look put-together every day. Well tese custom pose packs are great for storytelling Simmers, and Simmers who just like taking narrative photos!
1.

Doing My Hair Pack (Hair, Accessory, and Pose Pack) by leeleesims1
If your Sim is blessed with the kind of hair that bounces naturally and styles effortlessly, good for them. But some Sims need an extra half hour in the morning to wrestle their 'do into place, and that's okay.
That's what leeleesims1's Doing My Hair pose set is for.
You don't need to download the necessary hair and accessories, by the way. The creator packaged them all into one neat .zip file!
2.

Makeup Poses by katverse
This set's pretty and pretty straightforward.
It's a pack of five solo poses showing a Sim putting on their makeup.
From beating their face with a beauty blender to topping off the look with some luscious lipstain, I'd say the range of the poses is pretty accurate—especially if your Sim's doing a full face of makeup.
3.

Brushing Her Hair Posepack by Natalia-Auditore
This feels like a sweeter and more wholesome iteration of Mother Gothel brushing Rapunzel's hair.
There's a lot less deception and a lot more tenderness in the expressions, that's for sure! These poses are perfect for mother and daughter bonding-over-beauty moments.
Or typical young adult movies where the shy introvert needs a confidence boost – and a makeover! – from her sociable, self-assured bestie.
4.

Hairstyle (Pose Pack) by Beto_ae0
The theme is similar to Natalia-Auditore's Brushing Her Hair set, only it's a lot more lighthearted and goofy.
I personally love the expressions in this pack! The comfortable, loving fondness is real, even with the aggressive hair brushing.
Not exclusive for couples, either. You can easily use these poses for siblings, cousins, and/or close friends.
5.

Lipstick Poses by daisylove126
Putting on lipstick is a delicate and precise process — especially if you're going in without any prep!
No lip liner, no lip brush, just straight up lips to the bullet. So I think daisylove creating six different poses for lipstick application is pretty accurate.
They're all super cute, too!
There are also four extra couple poses in this pack, which basically have one Sim applying the lipstick on another Sim (and then proceeding to flirtatiously peck 'em on the lips, but that's neither here nor there).
6.

Doing My Makeup Pose Pack by Curious Simmer
Five really cute poses of a Sim gussying themselves up for the day.
Pretty straightforward – as it's exactly what it says on the tin – but I love the use of a vanity mirror as a prop.
Not too many accessories needed, either! Just a face brush and a lipstick + mascara set, all of which are linked in the notes.
7.

"Girl, I Can't Fit You in Today!" by xldkx
This creator does give sufficient warning that their set of eight poses is incredibly dependent on accessories. And most of the poses won't make sense without the specified prop.
Thankfully, the creator also has incredible attention to detail, and has included the mesh of all the accessories you'll need in their download file.
And speaking of details, can we talk about how impressive the details and expressions are for each pose? The quality is absolutely insane!
8.

Wedding Preparation by kozhhhh
There are very few occasions in life where your hair and makeup must be immaculate.
A wedding is one of them.
Specifically your wedding. Or in this case, your Sim's.
Kozhhhh's pack contains four poses for three Sims. Two of them are fussing over the main Sim – the bride – who if I'm reading the expressions correctly, seems to have a serious case of the nerves.
And this pack would fit perfectly with some other TS4 wedding poses.
9.

Make Up Day! by Bommie Sims
Looks like your Sim is getting a professional makeover!
It's Make Up Day, according to Bommie Sims' pack, and your Sim is the VIP. Or your Sim could be the actual makeup artist.
Either way, the poses in this pack work for two Sims — one getting gussied and the other doing the gussying. Check the description for links to the accessories you'll need!
10.

Makeup Couple Pose Set 1 by conceptdesign97
This one has the same concept as Bommie Sims' Make Up Day!, only it feels a lot more intimate.
There's a lot of chin holding and personal bubble breaching, that's for sure.
But I guess it gets the job done, so no one's complaining.
There are three poses in the pack, and you can use any lipstick accessory with them. Highly recommend you use the one the creator linked, though, as that'll prevent possible clipping around the fingers and hands.
11.

Makeup Trio Pose Set 1 by conceptdesign97
This custom group pose is definitely more of a storytelling pose rather than a generic hair and/or makeup pose, what with all the argumentative looks flying around.
However, there's still a semblance of lipstick application.
Plus if you follow the preview photos to a T, it's all happening in a beauty salon. So this pose gets a pass.
Who knows; maybe the two stylists are just arguing over how best to do the makeover.
12.

Morning Poses by katverse
This pose set may be marketed as "morning ritual" poses, but there are at least two poses in it that have to do with the hair and face, so. I'm keeping it on the list!
Plus, I do like the concept of the set as a whole.
It gives off very chill, relaxed vibes.
You can find the hairbrush and face brush that the creator used linked in the description.
13.

Hair Time Poses by prettyxsimblr
It's time to tame those tresses and calm those curls! Obviously, the little one would rather skip the experience, but the parent doesn't seem to mind.
The kid's expressions and positions (especially in the third pose) is what sold this pack for me.
They are clearly against everything their parent is doing, but they know better than to wiggle away, so they end up flopping in a huff of resigned petulance. It's adorable!
Browse:
Lists
The Sims 4
Video Games