Sims 4 Laughing & Happy Pose Packs (All Free)
This post may contain affiliate links. If you buy something we may get a small commission at no extra cost to you. (Learn more).
We all need some joy in our lives, and that goes double for Sims.
They experience everything so fast, jumping from one life stage to the next with so much work and hardship in between… moments of genuine joy can sometimes seem hard to come by.
Well, they can always be the happiest Sims ever with custom poses.
The good times will be nonstop as long as you leave them like that!
But you don't have to go that extreme to enjoy these, however. It can just be nice to see your Sims happy, especially in ways that don't naturally happen in the game.
And in this list you'll see just what The Sims community has to offer in the way of happy pose packs.
1.

Happy Poses
Tearful Instagram stories may have their place if you're an influencer.
But as a general rule, it's better to look happy when you're having your picture taken.
Especially in this day and age, photos are kind of immortal.
Nobody wants their misery frozen in time forever.
The thing is, Sims are rarely happy on their own – or maybe I just don't take care of mine that well.
But it seems every time you turn around they're too hungry, or too tired, or too angry over some mundane thing.
So if you want to see them smiling, you might have to force it. Akuiyumi has some great casual poses here for when you want to snap natural poses for your legacy or Simstagram.
Not only does the Sim have a cheeky little smile throughout, but she'll pull some finger guns too, and nothing says "happy" more than that.
2.

You Make Me Laugh! Pose Pack
Laughter is best when shared with others.
This is one infectious thing that's okay to spread to your friends and family.
That old adage about laughter being the best medicine really does have some truth to it. Sure, a good chuckle isn't going to mend broken bones or cure pneumonia, but it can really lighten your mood and improve morale.
And lots of people, when asked what they find attractive in another person, will immediately answer with, "a good sense of humor!"
Laughter really makes the world go round. And you can really feel as though you're in on the fun between your Sims with this pose pack.
It features two seated Sims chatting and sharing a joyous, playful moment.
There are 6 poses in total that'll really take your Sims through a whole journey. And something cool about this pack is that it incorporates an accessory.
Simply download the linked bottle in the description, find it in the ring category of CAS, and you're good to go.
Props like these are great for making poses seem even more realistic.
3.

LOL Laughing Poses
If there was one acronym to represent the whole internet, "LOL" would be it.
This has been around from the very beginning (it seems) although legend has it the term was first used in 1989.
And by "legend" I mean some articles and a lot of people have disputed the claim… but I think it's a fun fact.
Grandmas everywhere first took it to mean "lots of love" as well, which is so wholesome, I almost wish that was the real meaning.
But it's always good to make your intent clear when communicating, whether in person or over text, and there are only a few instances in which laughter would make things worse.
These expressive poses will get your Sims grinning and clutching their bellies in one of those blissful moments we all love.
These 7 poses can be mixed and matched to facilitate all sorts of interactions between your Sims, both male and female.
4.

StinkiePlumBob's Happy Pose Pack
Happiness can take many forms.
It's not always an intense, bouncing off the walls, uncontrollable kind of joy. That would get old pretty quick, honestly.
Sometimes just chilling at home and feeling relaxed can result in a happy person (or a happy Sim).
This creator has three simple, more laidback poses here with the themes peace, cheerful, and calm.
They're full body poses that involve your Sim from head to toe.
But through all 3 poses there will be a little smile on her face.
5.

Our Small Happy Family
Although it isn't always the case, family should be a source of happiness.
Especially in the early years when the kids are small and the relationship is still fresh, it can seem like an endless source of joy.
Seeing the little ones grow and learn, spending time with a spouse, fully reveling in that domestic life… that's living the dream for a lot of folks.
It can also result in some rather adorable photos.
This pose set will be perfect if you'd like to give your Sims a photoshoot of their own.
These poses are candid, incorporating two adults and one child in a number of cuddly and playful moments.
6.

Friends Laughing Pose Pack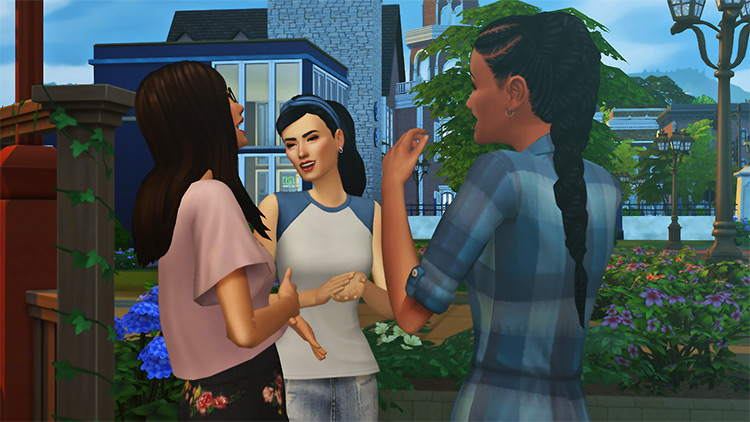 There's something so familiar about a trio of friends standing outside laughing, it's almost hard to believe this is The Sims.
Everyday interactions like this are so great to see in the game.
As fun as outlandish mods and elaborate poses are, there is always something to be said for simplicity.
And the dreaded "third wheel" fear may sometimes be valid but three people can definitely have a good time without anyone being left out.
That's what you'll find here.
Every pose makes it seem like the three Sims are in their own little world.
It all seems very natural, and truly like they're all friends.
You can see the happiness reaches their eyes and shows through their body language.
7.

Happy Friends Pose Pack
Time spent with friends is time well spent – or at least it should be.
That may not always mean smiles. But nobody is happier than two friends who are reuniting after they haven't seen each other for a while.
But whatever the story is with your Sims, they deserve some good companions to go through their short tumultuous lives with.
If they just so happen to have a pal or two, then this is a great pose pack to get them together.
These cute photo-worthy poses include two Sims standing side by side and sometimes, hand in hand.
And there are even some accessory drinks you can use to make the scene look even more believable.
8.

Table Talks – Silly Poses
One of the things I really appreciate about The Sims 4 is the multitasking.
Unlike in past games, Sims don't have to be standing for a conversation to go smoothly.
They utilize seating more than ever, whether that's on the side of a bed, a sofa, or at the dining room table.
Seated poses are some of my absolute favorites because they always feel so believable, like you're really just glimpsing into a Sim's everyday life.
With these 10 poses, you'll get to see your Sim at the table like you've never seen them before, through a variety of animated poses.
Well, I say "animated" figuratively.
They're poses, so your Sim won't actually move.
But with the smile on her face, posture, and hand gestures, it'll be like you're right there.
9.

Mommy & Toddler Laugh Pose Pack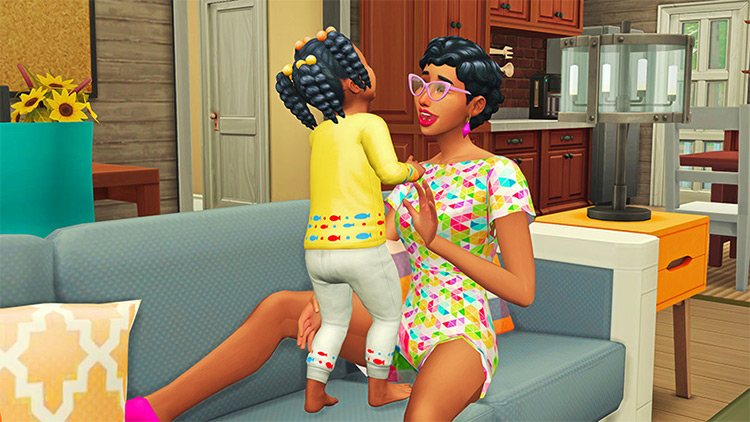 Not everyone agrees with me, but toddlers are one of my favorite parts of The Sims 4.
It's hard to believe they weren't always included in older Sims games. Because through tantrums and messes, they continue to always be a source of joy in my gameplay.
The cute little buggers are only little for so long.
Before you know it, they're children and then teens and then young adults, who are so busy with their own lives they never hang out with Mom anymore.
Rather poignant, right?
Well just like in real life, it's best to make the most of their childhood.
Even the smallest and most casual interactions can have a lasting impact – and this adorable pose pack is full of them.
It has a mother and toddler on the couch, laughing and playing together.
Each pose is truly a gem and can offer some sweet screenshots.
10.

Paastele Story Poses
I know that not everyone makes elaborate stories for their Sims.
A lot of players just like to go wherever the game takes them.
However, Simmers often really flex their creative muscles when coming up with stories.
They can get surprisingly deep and complex, no less than your favorite Netflix drama.
If you have ever tried to do anything of the sort, however, then you'll know how valuable poses are.
Limiting yourself to the natural in-game interactions won't get you far.
But giving your Sims a story doesn't have to involve hours of brainstorming and planning. When creators share their poses like these ones, most of the work is already done.
This is a fun pose set from Paastele, who created this pack for his own story, but all of these poses can work for any context you want.
There's something here for everyone in the family.
Happy and silly casual moments abound for all ages.
Browse:
Lists
The Sims 4
Video Games