Sims 4 CC: Free Custom Headbands and Hairbands
This post may contain affiliate links. If you buy something we may get a small commission at no extra cost to you. (Learn more).
It's no secret that a hairstyle can be the icing on the cake for any look you're putting together for your Sim.
But sometimes, a fancy hairstyle is a bit too much for what you're going for. Maybe the hair isn't your main priority, and you would much rather focus your time on finding nice shoes or accessories.
Good news cause there's an easy solution.
Headbands!
They're the perfect accessory for any Sim hairstyle. Not only are they subtle and easy to use, but they can be used for a wide range of looks.
Does your Sim like to lounge around in athleisure or hit the gym? Use a headband!
What about going for a put-together, slicked-back look for a casual everyday outfit? Use a headband! How about a fancy hairstyle for date night? Yup, there's a hairband for that!
Let's take a look today at some of the best free headbands CC out there, for all occasions, looks, and colors. That way you can find the perfect option for your Sim to wear- no matter where they go.
8.

Grue Roxy Bow
Bow headbands are one of the nicest accessories for any female child Sims that you're looking to dress up.
What makes them so great are not only the fact that they're an adorable addition to just about any outfit from a sundress to an old pair of overalls, but they keep the little one's hair out of their face while they're busy in the backyard.
Make sure not to settle for a plain, small bow accessory. Go all out!
Your kids definitely deserve it.
Not to mention, the Grue Roxy Bow comes with 35 swatches so you can mix and match all you'd like to get the perfect outfit, with an even better bow to match.
7.

Head Ribbon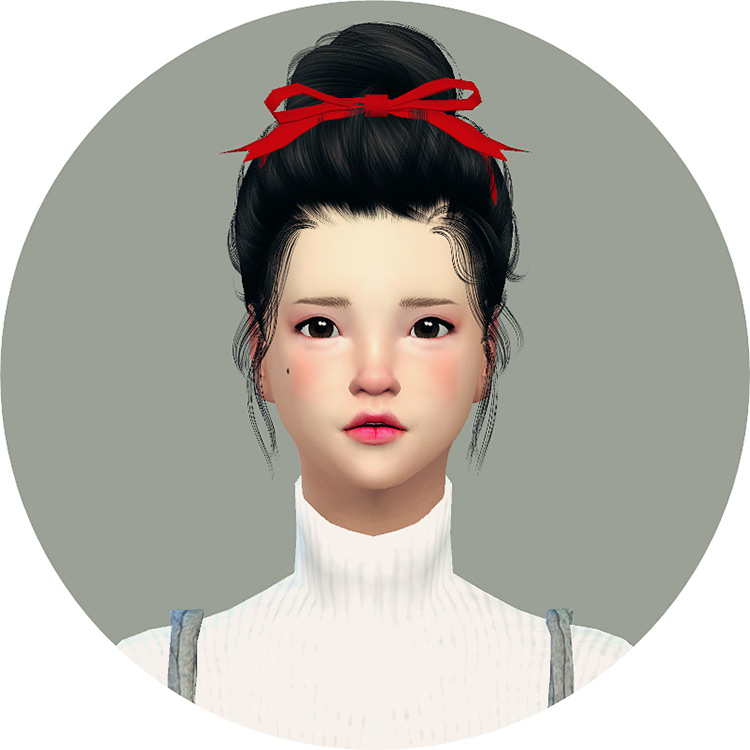 Just because we started off this collection with a child's bow, doesn't mean that bows are just for kids!
There are plenty of ways for your adult Sims to rock the bow look. Whether that be a big floppy bow, or a daintier one that's sure to "tie" their hairstyle together.
Speaking of daintier bow options, this head ribbon is the perfect subtle hair accessory that makes any outfit look girly and sweet. But isn't too "in your face".
It's perfect for casual going out outfits that feel a little too boring. Or even your Sim's next party outfit!
This Head Ribbon CC also comes with 3 files for low, medium, and high detail, to adjust properly to the hairstyle that you pair it with. And it comes in so many colors you'll be sure to get as much use out of it as possible.
6.

Bandana Hat (01)
Bandanas have always been one of my personal favorites.
I like the retro look that a simple tied bandana brings. Not to mention how effortless and easy they are to wear wherever you are, whenever it may be.
That being said, this bandana hat CC must be included!
It's sure to be your go-to accessory for heading off to bed, lounging around the house, or even when your Sim is busy getting everything done around town.
Move over messy bun, the bandana is here for its time in the limelight.
5.

S-Club Hair Accessory
Headbands aren't just a way to liven up your Sim's everyday outfits. They can be used on special occasions too.
This hair accessory is perfect for your Sim's formal events, even if your Sim is the bride!
Who can resist a sparkly headband lined with diamonds and gems to make them feel center stage?
It's time we broke tradition and incorporated beautiful pieces like these into our best-dressed outfits.
4.

Jenny Sims Bow Headband
Headbands that don't wrap around your entire head are a throwback piece that have stayed around for a reason.
They're cute, they're functional, and there are so many different styles to choose from. They never get old!
In this CC set there's a beautiful headband with a medium-sized floppy bow to satisfy all of your Sim's headband needs, all while keeping every strand of hair perfectly in place.
3.

ShojoAngel Child's Hair With Headband
Hairstyles with the headband already in there are so much more convenient than having to spend hours scrolling through all the accessories you've collected over the years.
A quick & easy hairstyle make designing your Sim a breeze. And they'll look super stylish as well!
This child's hairstyle comes with a headband for the female option, and takes what we usually associate with headbands as cute and girly to a more… alternative style.
Instead of bows and pink, here we have a spiky black headband. Which is perfect for our young Sims. You know, the children of punk parents who are maybe going through a bit of a middle school emo phase.
Either way, they're sure to pull off the look with style!
2.

Wylla Headband
This Wylla Headband CC is a great option for your sporty Sims.
Whether they're relaxing with some yoga outside, or they're getting in a nice run for the day, they're going to want their hair to be out of the way.
But of course, they're not going to want to sacrifice style.
With a variety of patterns and colors, they'll be able to have a level 10 fitness skill in no time. And have a really great outfit to match.
1.

Hirban Set
This set is the ultimate spot to get all of the headbands that you could have asked for.
They come in three different styles: large bow, medium bow, and even an option that doesn't have a bow!
The possibilities are endless since they fit on almost all hairstyles, and are available for Sims of all ages. Lots of colors and designs too, so definitely give this CC pack a shot!
Browse:
Lists
The Sims 4
Video Games