The Sims 4: Best Hello Kitty CC To Download (All Free)
This post may contain affiliate links. If you buy something we may get a small commission at no extra cost to you. (Learn more).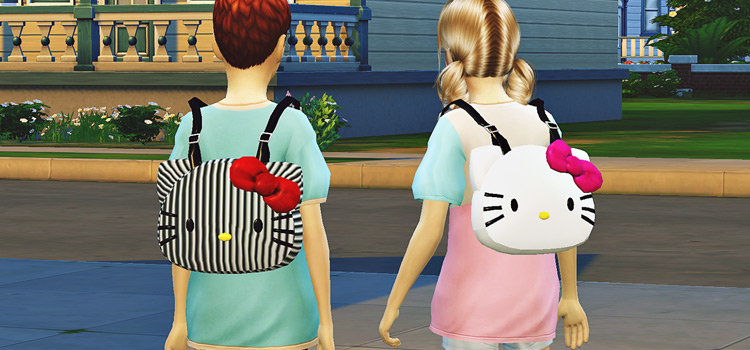 For almost five decades, Hello Kitty has been a favorite of children (and adults!) around the globe.
The name is as iconic as Kitty's appearance, with her adorable pink bow and long-sleeved dress.
She's a go-to theme for birthday parties, bedroom decorating, and more. And thanks to this CC list, you can have all of those things and more in The Sims 4.
Hello Kitty Bedroom Set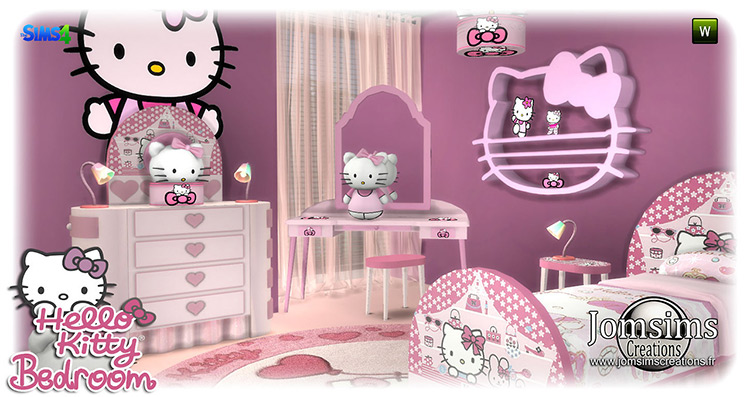 Kicking off our list is this bedroom set from JonSims.
This 12-item collection includes everything needed to make your young Sim's bedroom a Hello Kitty hideaway, including a HK-themed bed with headboard, dresser, vanity table, wall decal, and so much more.
It comes in four colors: pink, blue, purple and yellow.
And it's also the only bedroom set featured on our list, so don't hesitate to add it to your game if you've been looking for Hello Kitty furniture CC.
Hello Kitty Swimsuits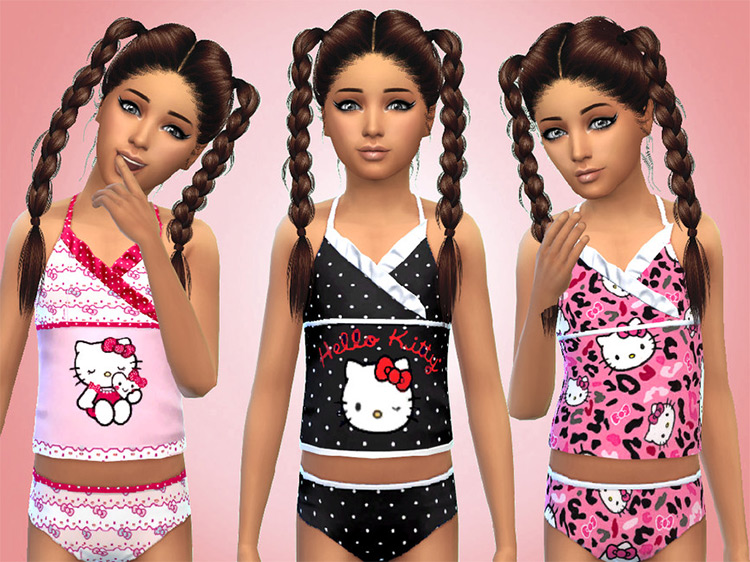 Send your young Sims to the pool in style with SweetDreamsZzzzz's Hello Kitty Swimsuits.
These adorable two-piece swimsuits come with six distinct swatches, in a variety of fun patterns and colors.
There's even a swatch that features a pool-ready Hello Kitty herself with a surfboard, swimsuit, and sunglasses.
These are HQ and base-game compatible, so no packs are necessary to download.
Headband Hello Kitty
Here's some HK merch for your older Sims.
This Hello Kitty Headband by JenniSims features white cat ears, and replaces Kitty's pink bow with a red-striped one.
We could see teen Sims or working adult Sims wearing this for a fun little costume for Spooky Day.
The high-quality design makes it perfect for Alpha simmers, and no required packs are listed in order to use it.
Hello Kitty Body Shirt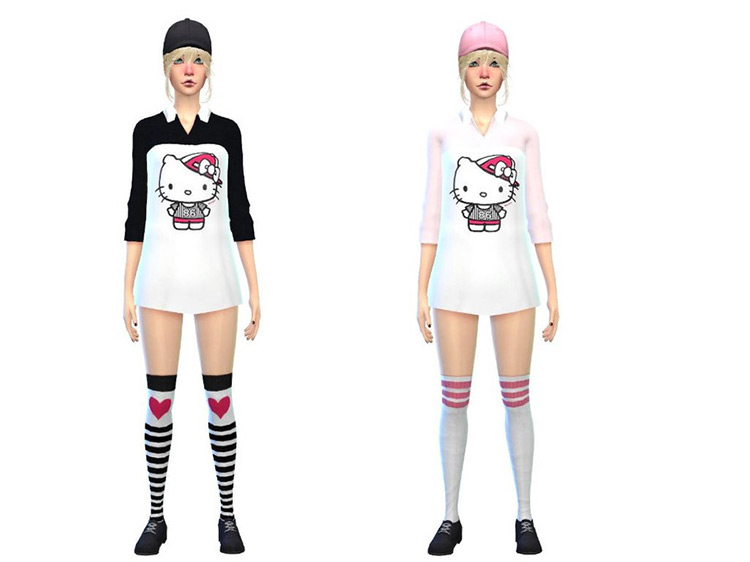 You can never have too many shirts to lounge around in.
So we recommend adding Awesomesims4's Hello Kitty CC body shirt to the mix.
This collared shirt runs longer than average – a perfect length for sleeping in.
You could also pair it with leggings or jeggings for a casual outdoor look.
It comes in two swatches, black and pink, and looks to be a mix of Maxis-Match and Alpha so everyone can enjoy it.
Hoody Hello Kitty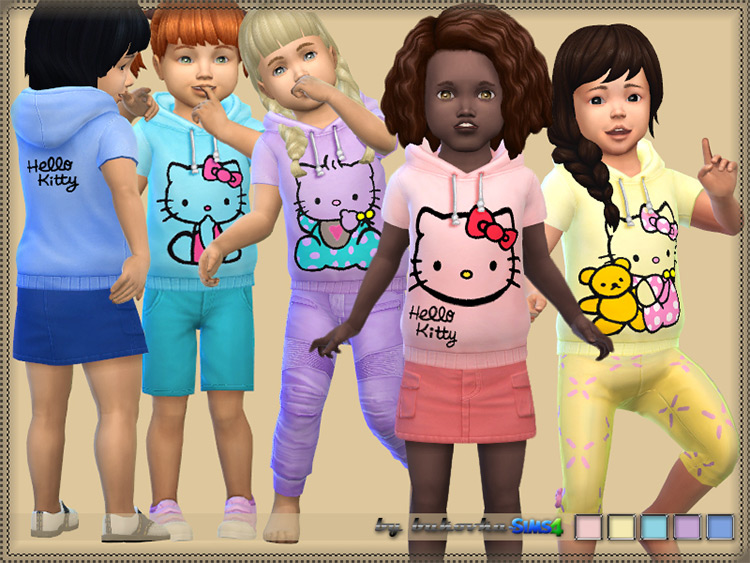 Your female toddlers can now sport Hello Kitty and stay warm with this custom hoodie by Bukovka.
This five-hoodie set includes various Hello Kitty designs on the front, while featuring the name and logo on the back.
The thick material and hoodie design will keep them warm, while the short sleeves give them just enough airflow to avoid getting too toasty.
Colors include light and dark blue, purple, yellow, and pink.
Hello Kitty Stud Earrings for Adults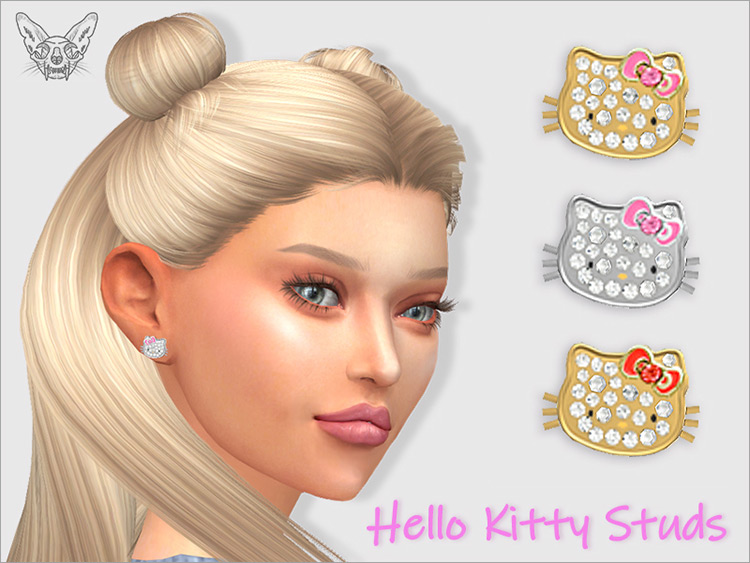 Hello Kitty fans come in all ages.
And GuiliettaSims' Hello Kitty earrings for Sim adults just proves it.
The diamond-studded earrings feature HK's likeness, and come in three swatches including gold and silver with pink bows, or gold with a red bow.
It's glam without being too gaudy, which can be hard to pull off.
And if you'd love these earrings for your younger Sims, you're in luck! You can download the same set for both toddlers and kids.
Hello Kitty Shoes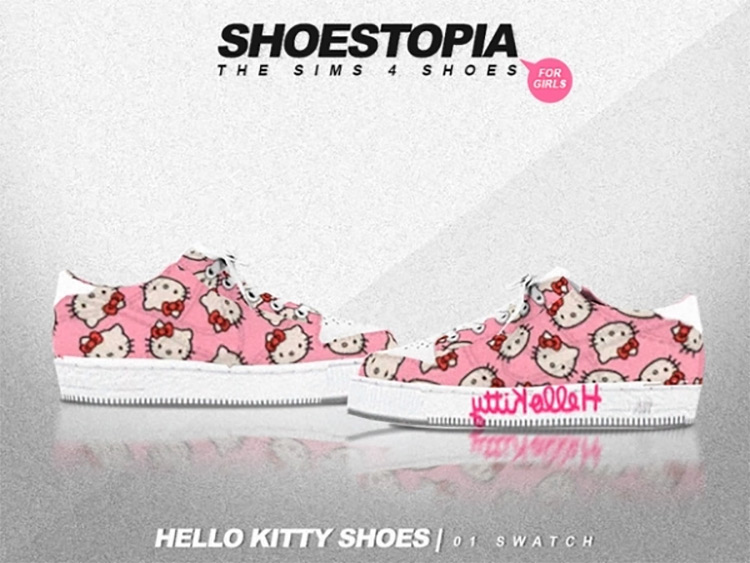 Want to dress your little girl Sims from head to toe, literally, in Hello Kitty?
Then these Hello Kitty Shoes are what you need.
Creator Shoestopia specializes in shoe CC and put great detail into these HQ gym shoes for children.
With a thick white sole and a pink-patterned theme, this is a great choice for kid Sims who just love that Hello Kitty vibe.
But heads up that you'll need this mod for this CC to properly show up. But once it's installed, you'll be ready to go.
Hello Kitty Pillow Plushies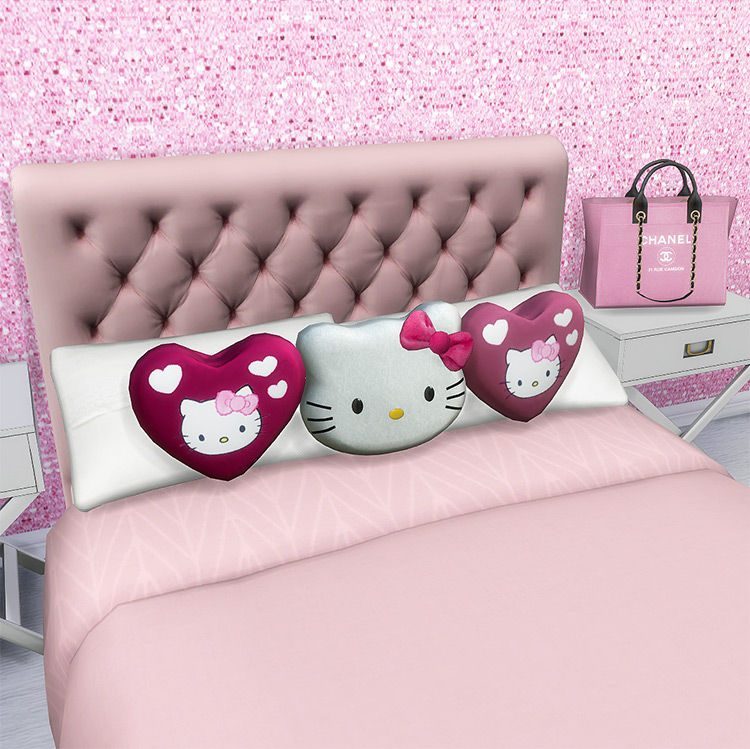 Just a hint of Hello Kitty makes any room a little more fun.
These HK Pillow Plushies from PlatinumLuxeSims would look amazing in a teen or older Sim's room.
With two heart-shaped pillows featuring Kitty and a third that looks like Hello Kitty's face, these make for cute throw pillows for any bed or loveseat.
And this is base-game compatible too, so feel free to try it out and see what you think.
HK Mac Makeup Set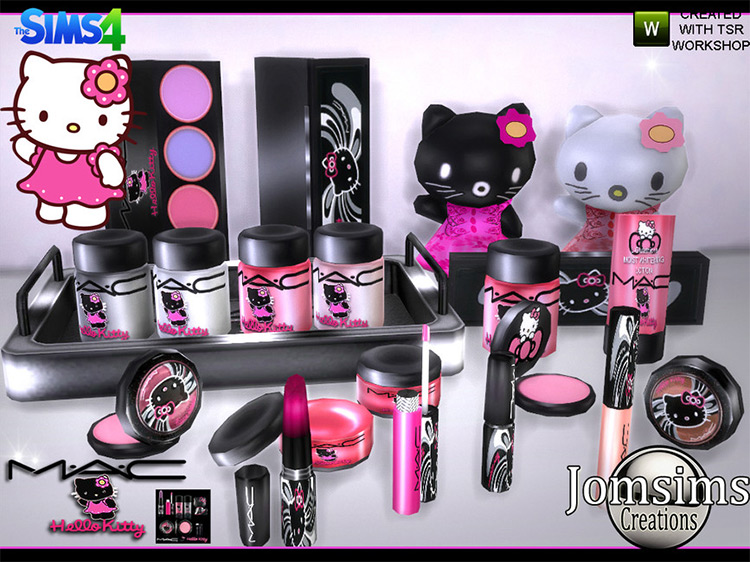 Remember when Mac Cosmetics x Hello Kitty collaborated IRL and released a set?
If not, that's totally fine – because now it's available for The Sims 4!
This HK Mac Makeup Set is the second JonSims creation featured on this list, and it's equally as awesome.
There are 14 items in this CC collection, including lipstick, gloss, eyeshadow, lotion, blush, and plenty more.
And best of all?
Every single item prominently features Hello Kitty on the container.
And you can download them individually here if you only want certain items.
Hello Kitty CC Pack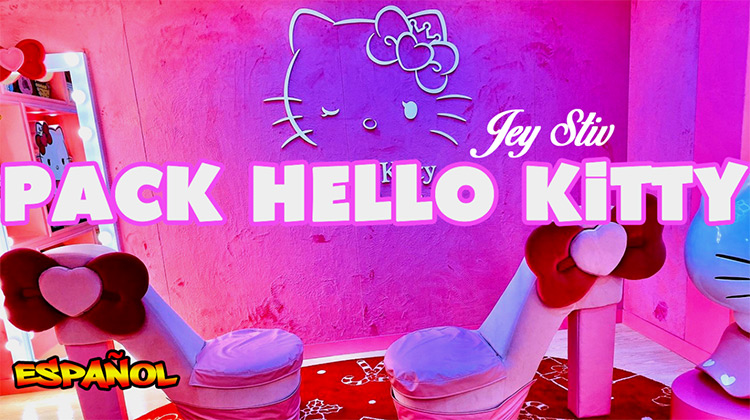 Fan made stuff packs are often so full of creative CC then you can't believe it's not EA made.
JeyStiv's Hello Kitty Pack is just another mind-blowing example of what the creators in the Sims community can come up with.
While there isn't an item-by-item description, a written preview of the pack says that it includes HK-themed beds (presumably for adults), ping pong tables, and much more.
Other items seen in this pack seem to be HK-heel chairs (!), a mirror, and a neon sign.
Despite the mystery, we think this is one worth exploring.
Hello Kitty Wallpaper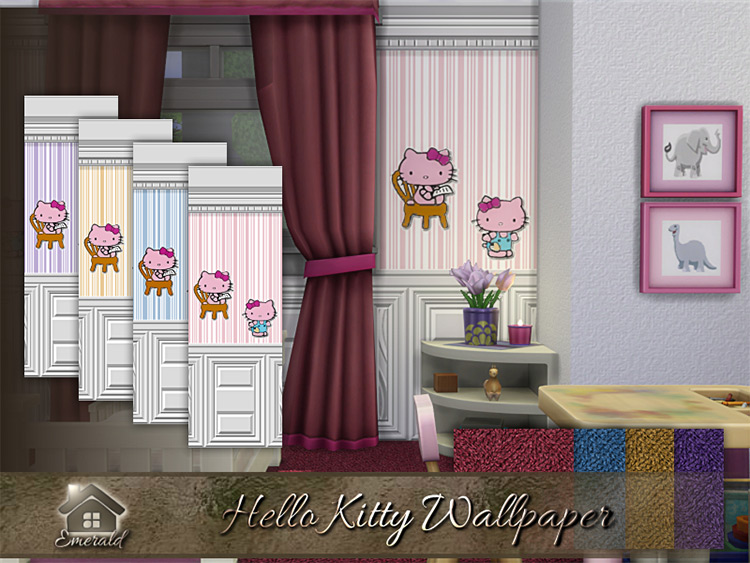 Skip the furniture and other decor by using this Hello Kitty Wallpaper from Emerald.
This colorful wallpaper comes in four colors, and features two versions of Kitty:
One sitting and reading, and the other appears to be painting.
There's molding at the top and bottom of the wall here, while the area with HK has multi-colored stripes.
There's also a bonus stucco wallpaper included!
Hello Kitty Unisex Backpack
Say it with me:
Where. Are. The. Backpacks?
We all know that wearable backpacks are currently missing in-game (with a few options for backpack CC).
But we also know that CC creators always come to the rescue.
And so has Sims4Marigold, with the release of this Hello Kitty Unisex Backpack CC.
Yep, both boys and girls can actually wear this giant round backpack shaped like Hello Kitty's face.
It also comes in four swatches (two with stripes, two without).
And in CAS you can choose between two versions: one that equips the bag under the earring category, or the other that does the same in the left bracelet category.
Browse:
Hello Kitty
Lists
The Sims 4
Video Games