Sims 4 Henley CC For Guys & Girls (All Free)
This post may contain affiliate links. If you buy something we may get a small commission at no extra cost to you. (Learn more).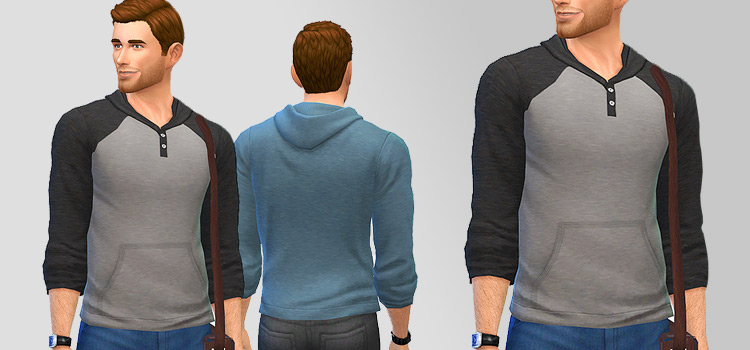 If someone ever organized Academy Awards for shirts, Henley shirts would 100% win Best Shirt.
Ok, maybe that doesn't make a lot of sense… What I'm trying to say here is that Henley shirts are great. Everyone likes them.
First of all, they're versatile like no other. Even with just the most basic Henley shirt, you can create a plethora of outfits. Wear it like a regular shirt. Tie it at the waist and make it a tank top.
Throw a blazer over it. Put a nice shirt under it.
The options are endless, especially when it comes to layering.
What's more, Henley shirts are also super comfortable and universally flattering. You rarely find a design that works so well for men, women, and enbys alike. They're a staple in everyone's wardrobe, and for a good reason.
So let's have a look at some custom Henley CC shirts for your Sims.
1.

Henley Top by ellisimple
This simple Henley top is a must-have in any respectable Sim's wardrobe.
It's the perfect combination of fashion and comfort – it looks soft and breathable while still slightly fitted.
But my favorite thing about this design is the creases. They make it look realistic – every shirt will crease at least a bit when you wear it.
Plus, if you have that one Sim that you just know isn't into ironing, this is a fun touch to incorporate that lazy part of their personality into their outfits.
This top comes in 28 swatches total, so you'll have plenty to choose from. The warm orange-y brown one gives off cozy autumn vibes – and who doesn't love those?
2.

Plain and Simple Henley Sweater by LumiaLoverSim
This Henley sweater comes in 12 colors, and the tagline for it is 'Steal Your Sweater'.
Now I'm no expert, but I bet that line refers to the 'Steal Your Girl' thing that people always say.
And I can see it. Because this sweater definitely would make me look twice at a man (or a Sim).
The rolled sleeves, the hood, the massive front pocket – all staples in a good sweater. And combine that with the cute Henley-style buttons… you've got yourself an eye-catcher.
3.

Linen Henley by Rope
Here's a linen Henley top that looks so soft I want to reach out into my screen and hug the Sim that's wearing it.
And then I want to go and get one of these for myself.
The detail on this CC is immaculate. The seams, the buttons, the sleeves, the creasing…
The more I look at it, the more impressed I am. My suburban dad is definitely wearing this from now on.
There are 25 color options available, too, so you could potentially create all the outfits using this shirt without it being too repetitive.
4.

Men's Eco Henley by Sorah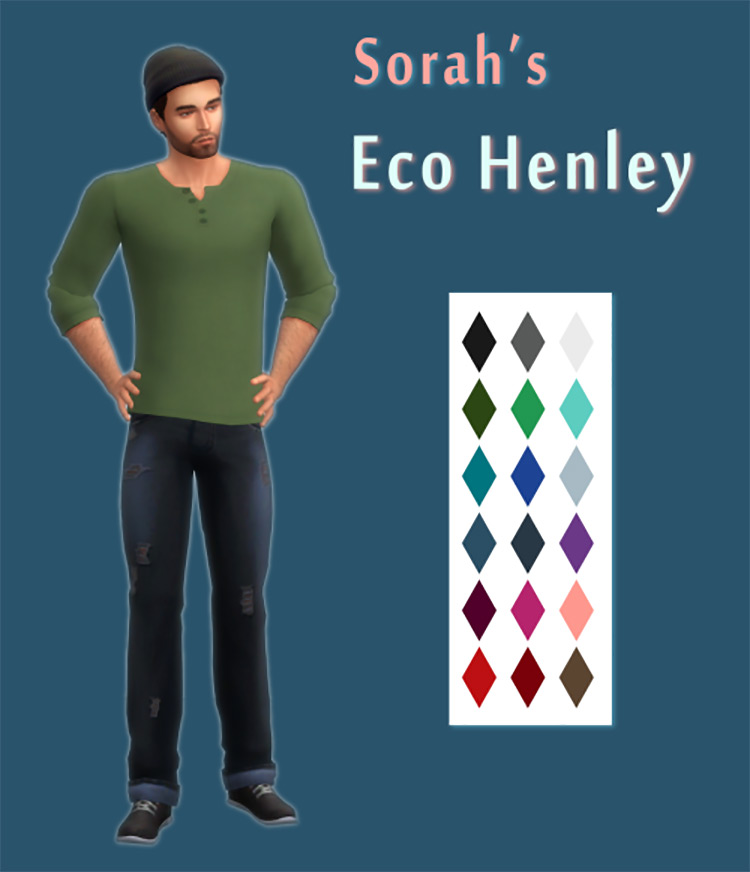 This Maxis Match Henley T-shirt is also Eco. What does that mean in the Sims world?
I'm not sure, but I do know that I want to be as environmentally friendly as I possibly can.
And if that means I have to download this gorgeous shirt and make my Sims wear it – so be it!
After all, I would've downloaded it either way. Mainly because it comes in my favorite shade of pink, as well as lots of other color swatches.
5.

Basic Henley Shirt by McLayneSims
The reason why I simply had to include this CC on the list is because of one specific swatch of the shirt. Yes, I'm talking about the black one.
Just look at it. It's so layered and so light, even though it's black.
It's one of the most fashionable T-shirts I have ever seen.
You can bet that I'm putting this on my influencer student as soon as possible.
6.

Belaloallure Bradley Henley by belal1997
This is one type of shirt your Sim would be wearing on a lovely Sunday afternoon.
Imagine it for yourself:
You've slept in after having the best dream ever. You get up, make some delicious pancakes. You eat them in your pajamas. Then you get changed. You put this shirt on and get ready to spend the day catching up on the latest Netflix hit.
Don't tell me this doesn't sound like a dream.
With that warm & cozy shirt on, your Sim's perfect day is just around the corner.
7.

Santoline Oversized Henley by viiavi
Here's one heck of an oversized Henley – and it's something I'm now genuinely trying to find in the real world, too. It's so beautiful and right up my street.
The off-shoulder style makes it fashionable, while the fact that it's oversized makes you look like you love to chill in your casual clothes.
Best of both worlds, am I right?
The mustard color is the absolute star of the show – but the sweater comes in 19 other colors, too, so don't worry if this one isn't your thing.
8.

Lara Henley by Chisami
The first thing I thought about when I saw this Henley top was that it would be perfect for a mom.
You see it too, right?
The stay-at-home mom that takes care of all her three kids while still somehow keeping it together and having a clean home. That's magic.
This top is just the perfect combination of practical yet still put together – a look that all moms in the world want for themselves, even in the world of our Sims.
9.

Seaspray Longline Henley by wyattssims
You might recognize this one – it's a shirt inspired by one of the shirts that came with the Cats & Dogs expansion.
But it's fully base game compatible, so don't fret!
With all the different bright colors available (there are 25!) it truly gives off spring and summer vibes.
I can just see the young aspiring vet walking down the streets of Brindleton Bay with their adopted labradoodle.
10.

Indigo Top Cropped Henley by jayvine
Note: Cats and Dogs is required for this CC.
We've already established that Henley tops are amazing. But you know what other tops are amazing?
That's right – crop tops!
And with this CC, you can have the two… in one.
Yes, really. I'm not playing with you. This is an actual Henley crop top that you can dress your Sims in from now on. I know I will.
11.

Half Sleeve Henley-Neck T-shirt by rusty-sims
This Henley top had to make it to this list for two reasons:
1) The button detailing on the sleeve is adorable.
2) There are 30 swatches available, including some funky and colorful stripes and even some florals.
That's all you need to know, really, isn't it? So go get this one and throw it into your Sim's wardrobe.
Your Sims will thank you.
12.

Tucked-In Henley Shirt by Peacemaker
I love a good tucked-in shirt. It can elevate an outfit and make it look more intentional. Like you took your time putting it all together.
And this Henley shirt is a stunner.
The one side of the color that's bent outward really takes the shirt from standard to stand out.
There are three styles of the shirt available, and each one comes in a different color and different width of stripes.
Now you get to think about what width of stripe your Sim would prefer and what that says about their personality.
Existential crisis, here we come!
13.

SP08 Henley Shirt by BustedPixels
Note: Backyard Stuff Pack needed for this CC.
Who doesn't love patterns? Nobody, that's who, and this Henley shirt is a perfect middle ground between fun and classy.
It still has the simple yet elegant style of your classic Henley shirt, but then it's all part of the side with the sleeves and collar.
It's the type of shirt your Sim would buy on holiday one year and then proceed to take it on every holiday from then on out. Well, at least that's what one of my Sims is doing.
The CC comes in 7 variations so check it out and see which one you like best. Or if you're like me, you might like them all.
14.

Ribbed Henley's Tank Top with Stitches by KikiSimLive
This stitched Henley tank top is what my Sims wear whenever they go out on an adventure with their pets.
It's comfy, practical, and doesn't draw too much unwanted attention.
There's nothing quite as casual as a good tank top – and this custom Henley styled tank is just the perfect choice.
It comes in 6 swatches, all of which could be considered earthy naturals – even those with more color (like the purple-ish one) are still toned down.
So really, it's perfect for that one female Sim of yours that isn't all about extravagance – but also wants to keep things plain.
15.

Grey Jersey Knit Pocket Henley by NyGirl
To wrap up our collection we have this grey jersey Henley top.
I feel l like we've all owned something like this at some point in our life… I mean, I certainly have.
The small pocket is such a fashion staple that's never really gone out of style.
Don't deny your Sims their own "jersey pocket top phase". They have to go through it too.
Browse:
Lists
The Sims 4
Video Games