Best Sims 4 High Chair CC To Download (All Free)
This post may contain affiliate links. If you buy something we may get a small commission at no extra cost to you. (Learn more).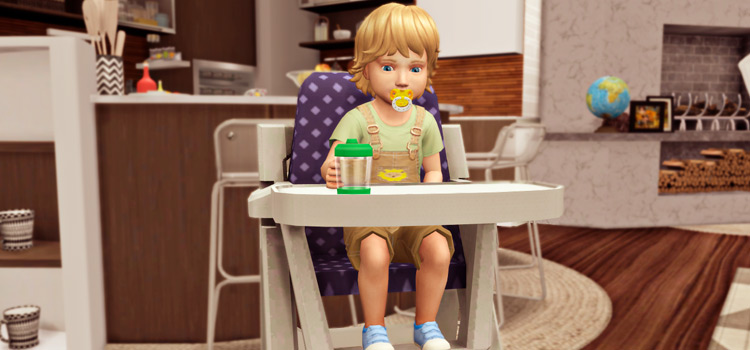 High chairs may be a source of frustration for many Sims players, but they're also an integral part of toddlerhood.
Setting a plate on the floor for your Sim's toddlers is a quick way to avoid the hassle of a high chair. But is it right?
A high chair is like a rite of passage, something little ones must endure before they get big enough to support themselves in a regular chair. And an often overlooked bright side is that as long as your Sim's tot is in the chair, you know they aren't up to any nonsense.
There are a couple options that have been available since toddlers were added to the game, but with so much CC you don't have to be limited to just those ones.
The Sims 4 community has come up with all sorts of new creations, offering a chair for all tastes.
1.

Miguel Creations' Toddler High Chair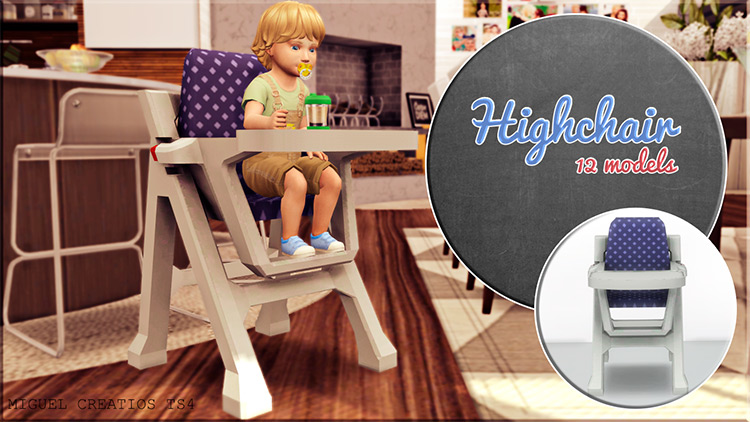 If you played The Sims 3 then chances are, you know this chair on sight. As I recall, this is the one and only option we had back then…or maybe it was just my favorite.
The look of it is a little bit old school now. But the designs on the seat are still fantastic.
Some of them look like typical high chairs almost every family has used, but they feature fun patterns like butterflies, fish, or clouds.
These patterns were available thanks to the sweet, sweet Create-A-Style possibilities.
In The Sims 4, you've gotta look to CC for those kinds of options, and luckily you won't have to look far.
This classic chair comes with 12 swatches, and it's functional (like all the options you'll find on this list).
Once your Sims have plopped their toddler into it, you'll never be able to tell this item wasn't originally from The Sims 4.
2.

Chrome Co. High Chair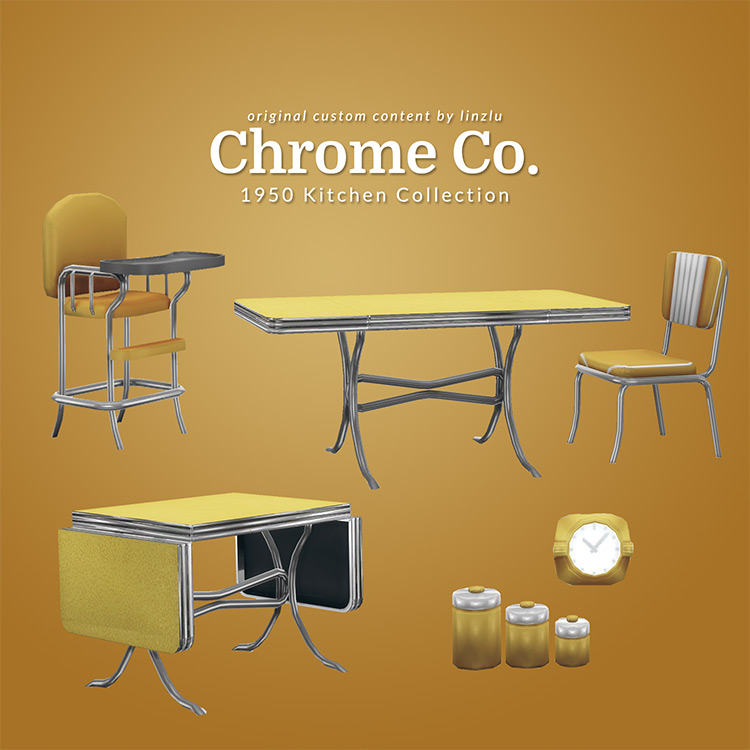 The 1950s are when high chairs first started being widely manufactured and used.
Before that, well, I have no idea.
But this incredible creation from Linzlu offers you a nice vintage option. It's quite accurate to the real thing – and it may not be perfectly in line with today's safety standards, but hey, it'll get the job done.
You can see here where the inspiration from children's furniture came from back then.
It's really similar to a regular chair, just with a tray.
There's a metallic sheen since the frame of the chair is chrome, and the cushion part looks nice and soft. This comes as part of a set but you can download it by itself no problem.
3.

The Chair Of Meows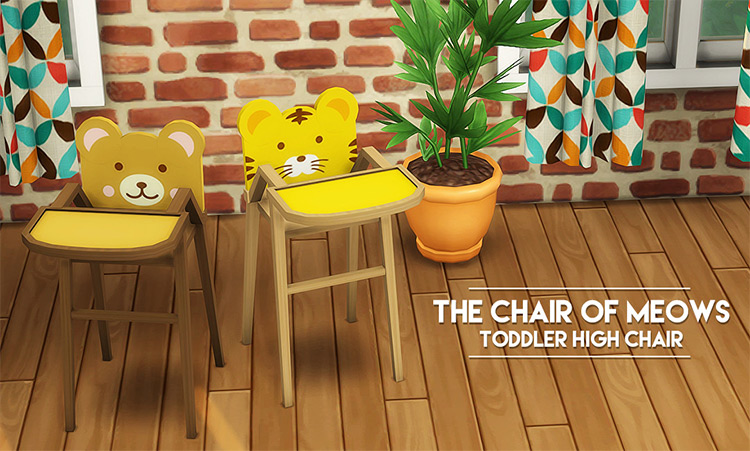 So many children's items have animals on them. And I don't know why this doesn't continue into adulthood.
I'd like a cute critter-themed dining set, thank you very much!
Well, some CC maker will probably do that eventually. But for now the adorableness of these high chairs will have to suffice, and they certainly will.
These are just flawless.
The seat and back of the chair make up the animal's face, and you'll have 7 to choose from. Each one is so lovely, I know I'll have trouble choosing.
Just the sight of them makes me feel warm and fuzzy – and I'm far past high chair age.
4.

Leosims Toddler High Chair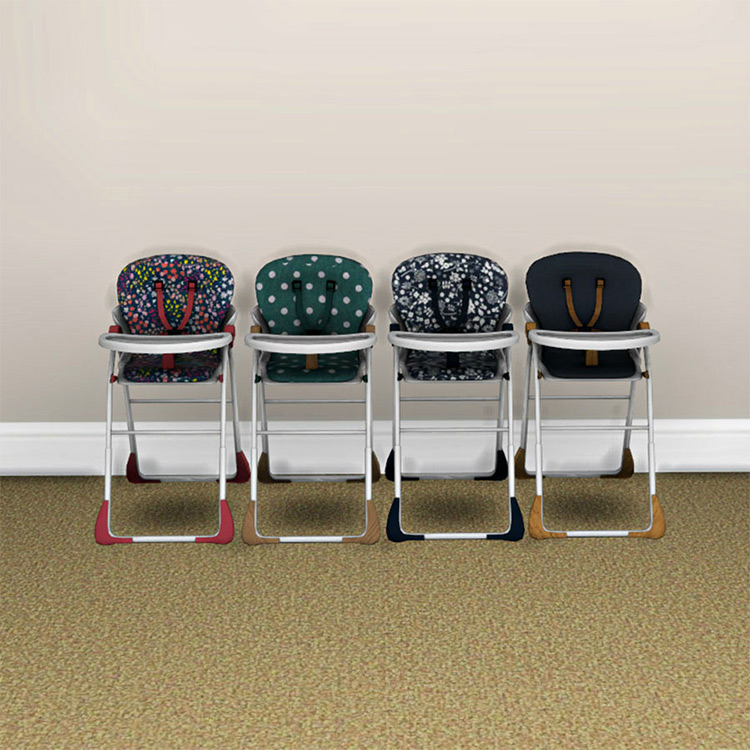 Man, where would The Sims 4 be without Leosims? I shudder to think about it.
This Simmer has made a nearly countless number of items, and they're always in stunning quality.
You'll get no frills with this chair, it's a simple and modern seat.
In direct contrast to the vintage chair (or even the ones we have in game), this one has all of the safety measures in place you'd expect a high chair to have in this day and age.
Straps to make sure the kiddo doesn't go sliding out the bottom, grips on each corner of the frame so the chair can't move…
This is CC where a parent can set their child down and know they'll be safe.
5.

Lullabies & Nursery Rhymes High Chair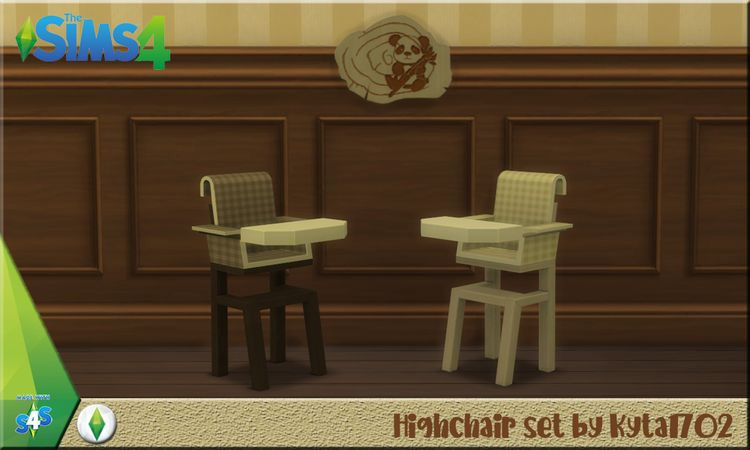 Here's another conversion from The Sims 3. That game sure spoiled its toddlers huh?
But this chair is from The Sims 3 Store. So many of you (like me) may not be familiar with it.
But either way, this design has a more homey, vintage vibe.
The gingham pattern in soft pastel shades will certainly accomplish that.
And it really makes the seat of these high chairs stand out.
If you'd like to have some furniture with a country feel then these are a good choice. They even have wood swatches, and they complement the gingham beautifully as well.
6.

Ocean Toddlers High Chair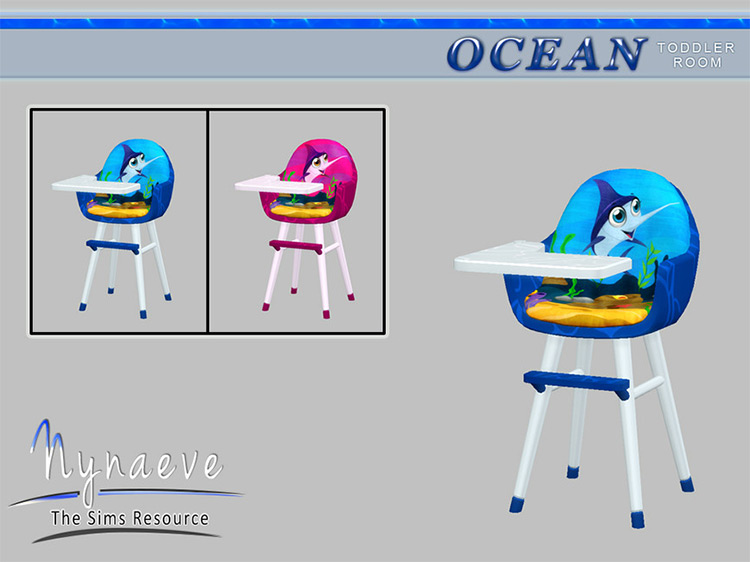 The ocean is really intriguing to most kids.
Whether that's just because it's something to explore, or because of SpongeBob SquarePants, I can't confirm one way or the other.
Or maybe it's just because of the bright pretty colors…
Well this set includes two chairs, one pink and one blue. Both have a very happy swordfish on the back. And the seat itself serves as a whole ocean scene.
It's complete with a sandy bottom, green seaweed, and a wavy water effect.
7.

Belco Tibu High Chair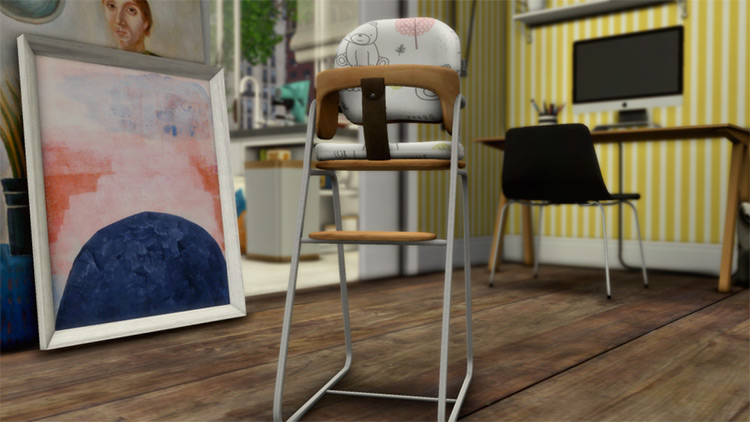 Here's a unique high chair option, and it's another extremely high quality design.
What else could you expect out of Sims players, right?
Each part of this is very detailed and smooth.
The frame itself is an interesting shape, and basically all one piece. Then there's the seat portion, which has wood and a cushion.
Both of those components look great.
You'll have 18 swatches to choose from, and every pattern you'll find for the cushions is super cute!
Plus there's a little piece in the middle so the toddler can't slip out, of course.
We've really evolved leaps and bounds since the '50s.
8.

SimaSima Gro Flexa High Chair With Tray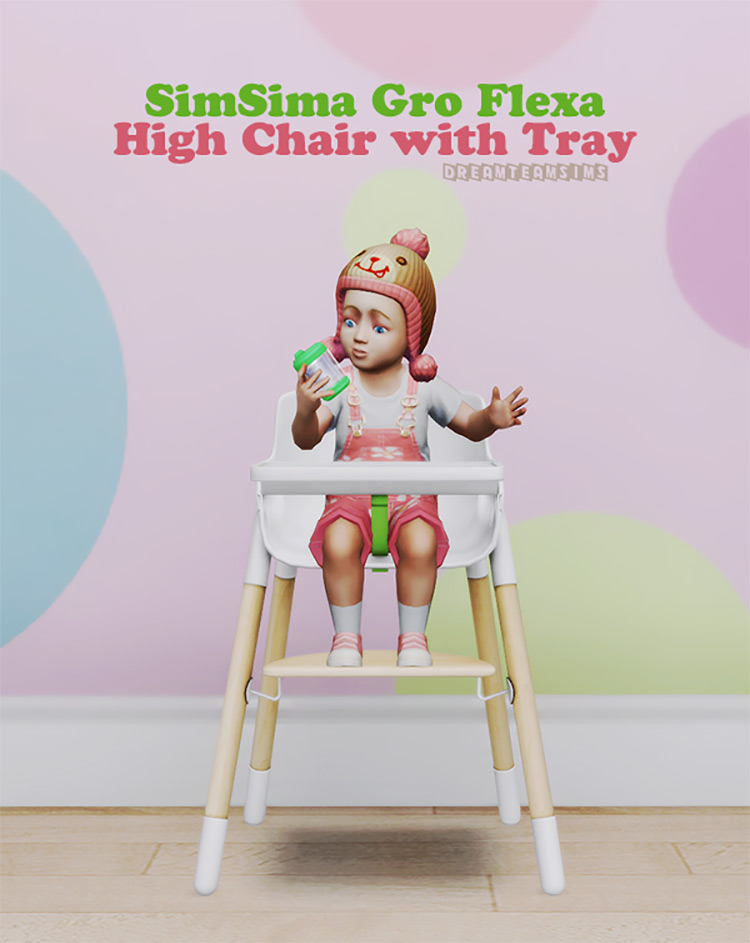 The name of this CC sounds like a full Simlish sentence. But that's a coincidence for the most part.
SimaSima is the owner of the meshes, and Flexa is a real-life company that makes baby furniture.
But "SimaSima Gro Flexa" is really fun to say. And if you over-emphasize some of the syllables, you'll sound just like a Sim in no time! It's kind of inception-y.
Okay, enough about the name… the high chair is truly worthy of praise on its own.
It looks almost identical to the real thing, and is again an example of a Sims player's attention to detail.
This will fit right into your game, and is a perfect neutral design for any home.
Browse:
Lists
The Sims 4
Video Games