Sims 4 High Heels CC & Mods To Try (Shoes + Boots)
This post may contain affiliate links. If you buy something we may get a small commission at no extra cost to you. (Learn more).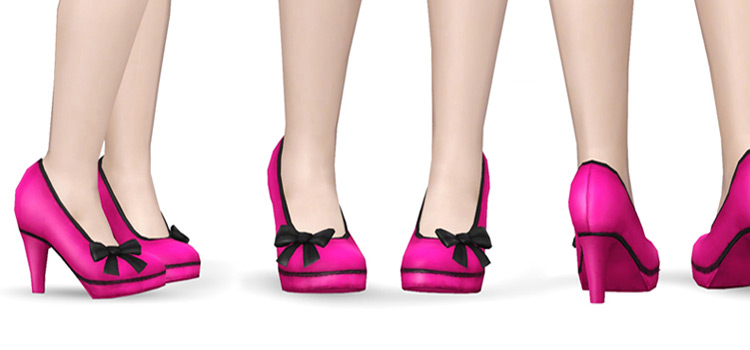 Let's bring your Sim women's fantasies to life!
Have you ever gotten your hands on a beautiful pair of shoes and felt the need to own them? Only to end up in tears, not because of the price, but the pain? And probably the price too.
Well now you can live through your Sims, cause with custom content, make them wear whatever you want!
Gain those arch-breaking high high-heels at no expense to your limbs. In the Sims' world, you can strut and display those legs and heels for days!
Let's take a peek at some of the best high heels in all of Sims 4 CC-land.
20.

Saint Laurent Logo Heels
Starting up the list is a style loved by fashionistas worldwide.
Then try these pointed-toe pumps with the easily recognizable YSL heels.
Presented in 5 patent leather swatches, Mauvemorn created this iconic pair for all Sims users without breaking the bank.
Up for something fancy? Give your Sim the luxury you both deserve with this sleek and chic pair.
Be it for a date night or an office event, these heels will give the right support for your Sim's power walk.
19.

484 Leather Boots
Cool, with a bit of a fierce touch. These leather platform high heeled ankle boots look good with anything.
Dress your Sim up with your favorite rugged outfit for a strong high fashion look.
You can also keep it laid back and be stylishly casual in these. They're great for anything!
Some awesome CC produced by Macedonian featured artist Shake Productions.
These booties are a staple in any Sims wardrobe, and offered in 15 dark colors. The only heels guaranteed to stay scuff-free no matter how much your Sim parties.
18.

Chunky Combat Boots
Get the perfect high fashion combat boots with this CC.
An essential pair for all Sims, these are the type of boots that will never get old. Never ever.
Even though it's one of the oldest CCs on this list, these high heeled lace-up boots have got the flawless fun and wearable look that's always in trend.
You've probably seen this exact type in more than one fashion magazine. Two hands aren't enough to count how frequent they show up everywhere else.
Korean CC maker Marigold made this set, available in 14 basic and light hues. There's even a pink and white design for those who want to go for a sweet Lolita style.
17.

Marisol Boots
Have you been searching for the sweetest looking booties around? Then check these out.
Glossy and beautifully shaped, these high-heeled boots camouflage the platform sole and give your Sims' legs additional length.
The thick heels add an innocent appeal that complements the delicately crafted bow on the side. Truly, they're great to pair with dresses or pants or jeans or anything!
Putting them on for the first time will give your Sim an immediate girlish charm.
Artist Ilazyneiph made this CC in 10 pastel color combinations, with a few darker shades like red and black.
One variant that sticks out is the white boots with pink and blue accents. Those colors are the same as Sailor Moon's, and fans of the heroine will love it.
16.

Abramo Shoes
We can't have a shoe list without wedges!
This high-heeled wedge pair is an excellent addition to any Sim's closet.
More comfortable than stiletto heels, this style is one of the most basic pairs women should have.
They're perfect for all-around events, from casual to formal, business parties to high school prom. It's a style that's flattering and versatile.
Serbian artist and creator of hundreds of CCs, Madlen, delivers this design in 7 primary colors.
15.

Pia Heels
The best minimalist pair around. With no fuss or any embellishing, these block heeled sandals put the spotlight on your Sim's feet.
The straps are thick and plain, their sole purpose to securely cling to the foot with as little material as possible.
Make sure to schedule your Sim for a pedicure before they wear these! Everything's out in the open, so those toes should be clean.
Kidding aside, this is a great pair for casual events and date nights. Some gorgeous CC by artist Nightingale, and it offers 12 total shades.
Unlike other items on the list, you will have to follow specific instructions to equip this properly. All directions and links are on the CC page.
14.

Dries Van Noten Heeled Sandals
Boho chic, or effortless beauty, you decide which type you want your Sim to be for the day.
This elegant pair of high heels accentuates the shape of the feet and ankles. The wrap-around straps will do wonders for any Sims' legs, too.
With no extra accessories, the design supports and enhances your girl's feet, while highlighting their form.
Makes your Sim project an earthy fairy/goddess vibe. She's going for that, right?
These sandals are accessible in 7 earth-based hues, created by Mauvemorn.
13.

Camilla Heels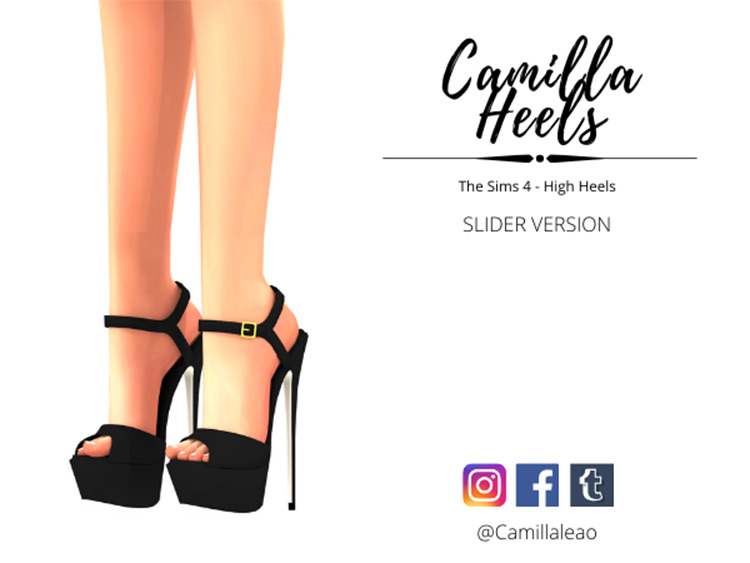 There are high rise towers, and right now, we have high rise heels. Welcome to the heel of no return.
Artist Camilla Leão's Camilla Heels CC made the first heel and sole breaker on the list.
Undeniably attractive, these types of heels create the illusion of extending the leg's length. Painful in real life, but a breeze for your Sim, these open toe ankle strap heels are to die for.
Although not recommended for every day, your Sim will have no problem staying in these beauties pretty often. And it's available in 23 swatches.
Note: to get the arched look you'll need to download the slider linked by the creator.
12.

Aramanth Pumps
The all-time classic pointed toe stiletto pumps. These sexy and tasteful heels will always be the most basic of all high heels.
And that's not a bad thing!
They look good with everything. Casual, formal, business, high-fashion – you name it, these heels will match.
Pumps are a girl's go-to pair for any and every occasion. Whichever persona you want for the day can be achieved with these shoes.
CC maker DallasGirls crafted these pumps in 49 varying shades to fit all of your Sim's outfits.
11.

Half Glass Heels
This design is almost the same as the basic pumps, but with a sophisticated twist.
The difference is the transparent areas on both sides, which gives it a more distinguished and elegant look.
By hiding the toes and heel, the focus is on the visible parts of the feet. Very cute.
It's made accessible in 8 dark swatches by Turkish custom content artist DarkNighTt.
10.

Mary Jane High Heels
Originally meant for children, the modern Mary Jane high heels designed for adult women look good and charismatic.
These can be worn with or without socks, and is also often used in casual and formal settings.
The style's appeal run far and wide, but is wildly popular in Japan. Especially paired with lacy or thigh-high socks to complete the Lolita style,
This custom item by Astya96 has 2 versions. The one with socks has 20 colors, and the one without socks has 16.
A slider will be needed for your Sims to enjoy their outfit fully. But the link to it is on the same page as the CC, just check the description!
9.

Crystal Embellished High Heel Sandals
Bling it on!
Dainty and sparkly strappy sandals like these are perfect for parties and events. The thin straps gracefully cling to your Sim's skin and emphasize the curves of their feet.
High with complete arch support, your Sim won't be swaying in these babies.
Let your Sim take all the attention in any crowd by wearing these gorgeous shoes out on the town. They look just as great in-game and in HD.
Find the best match for your look in 8 of the colors offered by CC crafter Jius.
8.

Lighter-Heel Ankle Boots
Dress cool with these smooth looking sock boots.
Turn your Sim into an instant fashionista in these high but comfy heels.
Popular and often worn by models and celebrities, these boots by CC creator SLYD are fresh and pleasing to the eyes.
The material's texture is visible up close and adds an effortless chic feel to any outfit.
This CC comes in 7 trendy colors, including pastel blue and green. Put this on your Sim to make any ensemble pop.
7.

Platform Boots
Stand out in these funky and chunky colorful platform boots. Any Sim will look refreshing and fabulous in this striking custom pair.
Express your style to your heart's content with these impressive patterns and fun shades.
Presented in 35 detailed textured swatches, Mirosims creates an eye-catching pair of boots that will certainly stick to any Sim lady.
Your girl will always make an unforgettable impression wearing these.
There's even a Gucci variant for fans of the brand.
6.

Eternity Heels
Have you been searching for the perfect sky-high heels? Stop scrolling, cause this is it.
Aptly named 'Eternity Heels,' this CC will make your Sim's legs look like they're never-ending.
These heels are beautiful, and the ballet straps give a soft elegance that maximizes the dressy appeal.
Originally made by Redhead Sims, this recolored version by Benevolence is captivating in 16 varying shades.
You'll want a slider to adjust the shoe's level to see them in their full seductive glory. The download link for this is on the CC's page as well.
5.

Deserter Stiletto Heels
Sassy and fierce, these sandals instantly draw attention wherever they go. The delicate feathery fluff on the front gives this pair a fun, lively vibe.
Give these heels a go and let your Sim dominate the scene.
Wear them for parties or night outs with the girls, and your Sim will always take center stage.
Produced by CC creator The Tundra Co., these fabulous heels are available in 16 dazzling swatches.
4.

Anlella Sandals
People like beautiful things. And this CC is one of the most beautiful items on our list.
Dreamy and enchanting, this fairy-like custom heel design is the type that you can't ignore.
How can anyone not notice these tiny adorable butterflies?
Wispy and glossy straps wrap delicately around the ankle and make any Sim's feet, and legs, look more refined.
The beauty of these shoes is almost ethereal. Once strapped in, your Sim will exude a forest nymph aura that's irresistible.
Fit for all social events, your Sim is gonna be shining brightly in these babies.
You can pick from 20 lovely solid and metallic shades provided by creator Nightingale.
3.

492 High Heels
The embodiment of elegance and allure, these heels instantly add sexiness to any outfit.
Any Sim walking around in these will look more graceful and enticing. That's just a given!
The noticeable velvety texture adds a delicate feel to these needle-thin heels, too.
This CC will look great in anything and will match everything. Maybe a cute mini skirt? The thin rope-styled straps also wrap around the ankles beautifully.
Whether you set your Sim up as a seductress or a princess, these heels will complete the outfit.
Choose from 20 subdued colors by featured CC artist Shake Productions.
2.

Fordonia Boots
The perfect Femme fatale boots. Skintight thigh-high leather boots have never looked this good.
Impeccable from all angles and without a flaw in sight, these heeled boots are a must-try for your Sims.
In-game, they look as good as real leather and give off that fierce quality.
Reminiscent of assassins and fashion runways, one could say they're the ultimate killer heels.
Your Sim could even go the Fifty Shades of Gray route in these if you want. Hit the clubs cause you never know who you'll meet!
IMadlen did a fantastic job with this CC and made these textured boots available in 6 colors.
1.

Louboutin Botalili Boots & Heels
Now these heels are definitely made for walking!
But it's the Sims, so no pain and only gains.
Mesmerizing from top to sole, Dallas Girl's stunning custom heels will surely end up becoming one of your favorites.
That high arch and string-thin heel bring out the best length of your Sim's legs. Choose from the 29 swatches provided.
And there are 2 versions of this design: one that needs a slider, and one that doesn't.
But wait, there's more!
On the download page you'll also find a pair of Camilla Skovgaard Caged Heelless heels(oxymoron much?). This means you can get some adorable high-heeled boots, and high-heeled shoes, together in one pack!
Can life get cuter?
Browse:
Lists
The Sims 4
Video Games