Best Sims 4 High School Lots (All Free To Download)
This post may contain affiliate links. If you buy something we may get a small commission at no extra cost to you. (Learn more).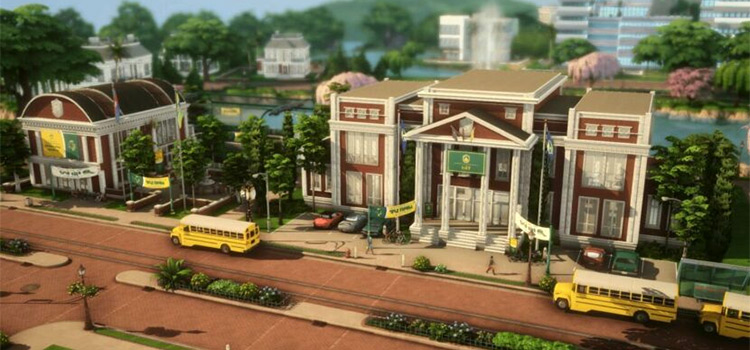 Teens in The Sims 4 don't have a lot of exclusive activities or gameplay features. In fact, Teenhood in TS4 feels like a weirdly tentative and purely transitional platform between the Child and Young Adult stages.
Most of us Simmers will jump at any chance to spice up the TS4 Teen experience simply because it's canonically so lukewarm.
And since high school is supposedly a teen's primary stomping ground, why not install some custom designs for your Teen Sims to enjoy?
1.

Public High School by iSandor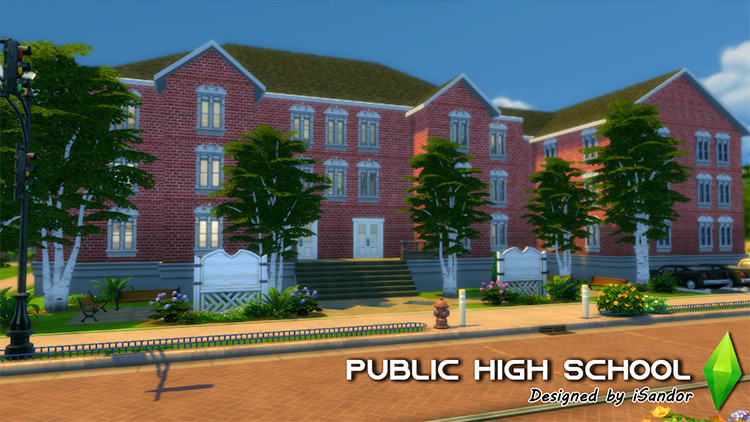 This is as straightforward as it gets.
iSandor's Public High School is a standard 50×40 community lot with a fully-equipped chemistry lab, an auditorium, a basketball court, and a semi-functional tennis court.
There's also a Mexican foodtruck parked – with permission! – on school grounds.
This build was inspired by a typical American public high school, according to the creator, and I think the influence shows. The fairly generic design means it's easy to navigate and easy to redecorate if you're missing a couple items due to missing packs.
2.

Blue High School by gbs04147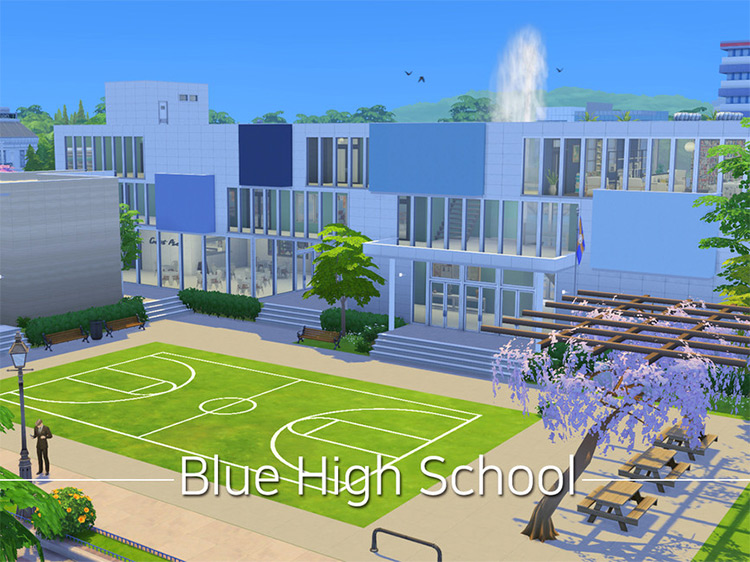 This school boasts a functional gym/sports area, a library, a cafeteria, a music room, and even a clinic!
This L-shaped building also happens to front a fairly large (but purely decorative) football field.
All the amenities plus the fact that there are only three classrooms have got me thinking that gbs04147's Blue High School is probably an exclusive institute, but I can't say for certain. Either way, it's a great community lot for storytelling and immersive gameplay.
3.

Woobine High School by alcearosea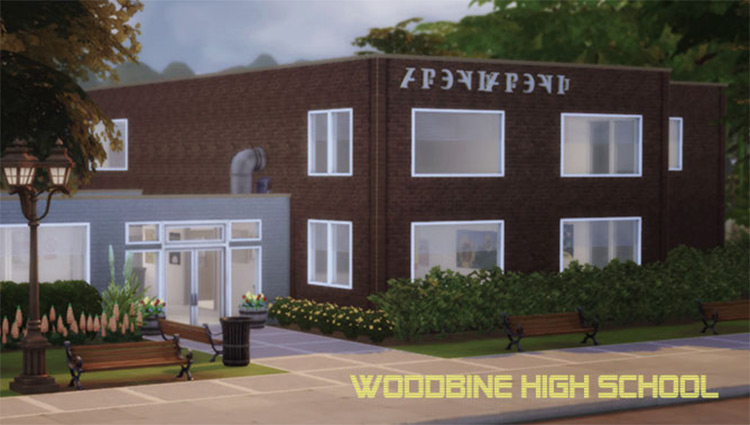 Alcearosea describes this as a "small, generic high school" with nine classrooms (five of which are unfurnished), a modest library, cafeteria, and functional toilets.
There's also an outside seating/eating area for when the cafeteria is at max capacity.
Where it lacks in size, it makes up in aesthetic design. Besides, I like the idea of it being the only local high school of a small cozy town. It just feels more wholesome and intimate that way.
4.

Oakenstead High School by aireen-sims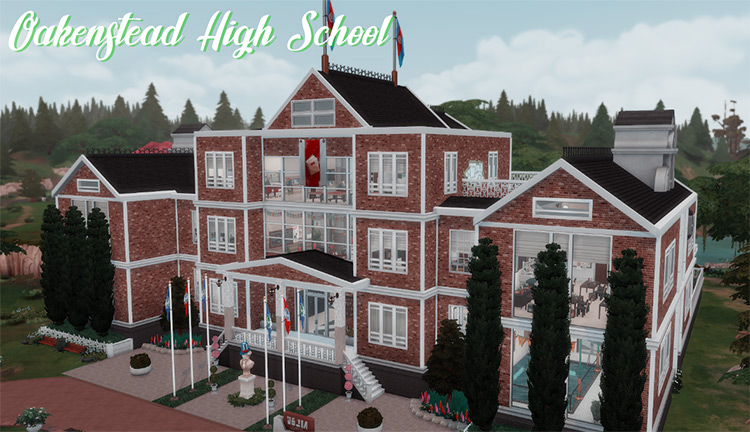 A library, a cafeteria, a basketball court separate from the gym area, and a swimming pool?
If its top-tier fully-furnished amenities you're after, very few institutions can compare with Oakenstead High.
Some of the classrooms here are even designed for specific subjects. Talk about your attention to detail!
5.

The Sims 4: Japanese High School by Hazel Sim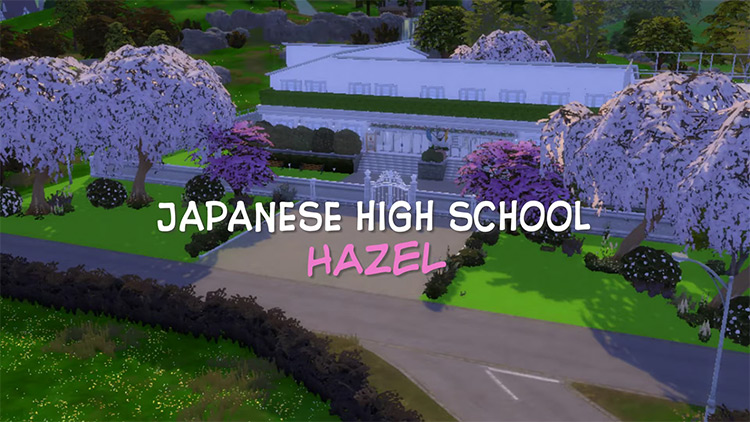 This modest institute has two floors of Eastern-inspired academic amenities. These include – among others – a handful of classrooms (with minimal decorations), a basketball court, and a cafeteria.
Personally, the clean, minimal, no-nonsense aesthetic of the build is quite satisfying.
And the large cherry blossom trees at the front of the school gates definitely add to the appeal.
6.

Henford Academy by VirtualFairytales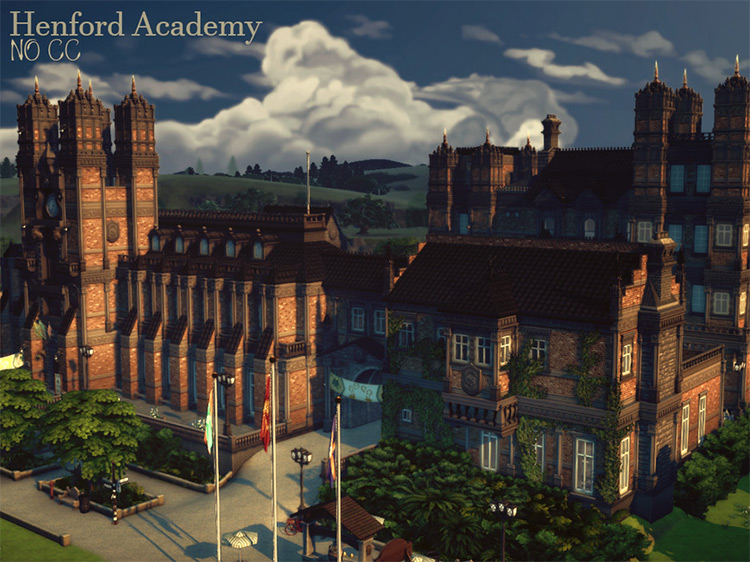 Henford-on-Bagley is steeped in colorful traditions and rich history. It therefore makes sense that its own academy would be as breathtakingly beautiful – and maybe a tad bit intimidating – as the place it represents.
The lore potential for a dark academia-esque build like this is off the charts. And it helps that the creator did such an outstanding job with the layout and design!
No additional CC needed for this school, but make sure to check the Creator Notes section for a list of the packs used.
7.

High School Lot with CC by mrsbarbiex3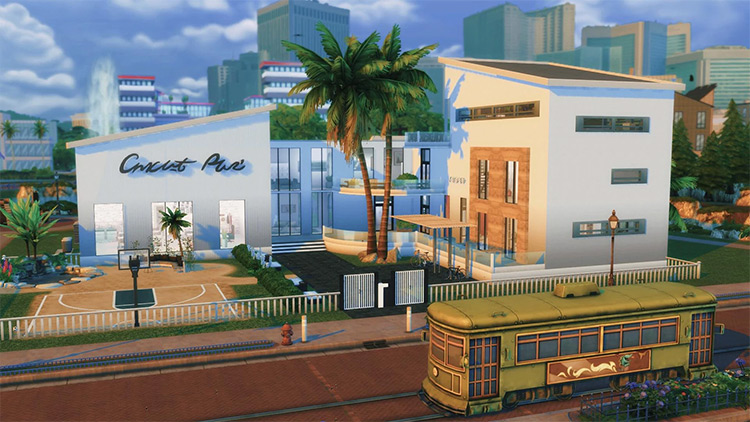 The original, CC-free iteration of this build by BassLux can be found on the TS4 in-game Gallery. Mrsbarbiex3 also links it in their description!
But if you'd prefer to download the Tray files directly or you'd like a fully-decorated custom high school (with all the necessary CC packaged in the same neatly-zipped folder), then this is the download for you.
8.

Gregory McCaine High School by Blvck-Life-Simz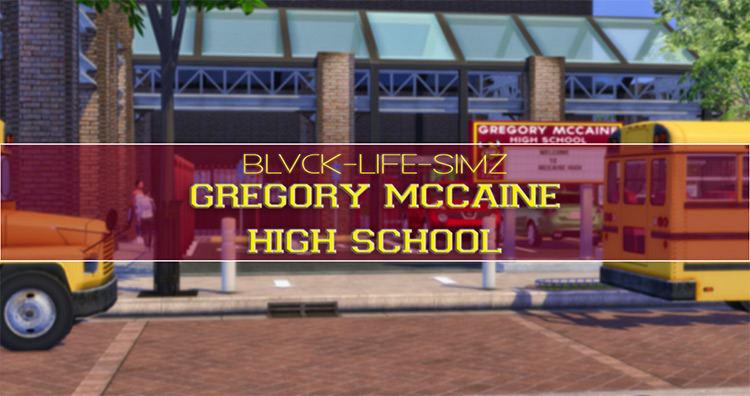 This custom high school was made exclusively for Sims storytellers — and it shows!
Heavily-decorated classrooms, vibrant hallways, and unusually-detailed nooks n' crannies make for a visually remarkable setting for all one's teenage drama scene needs.
Do note that the first download link leads to a broken page. To access the Mediafire folder directly, use the Alt Download link on the DL page.
9.

Newcrest High School (No CC) by plumbobkingdom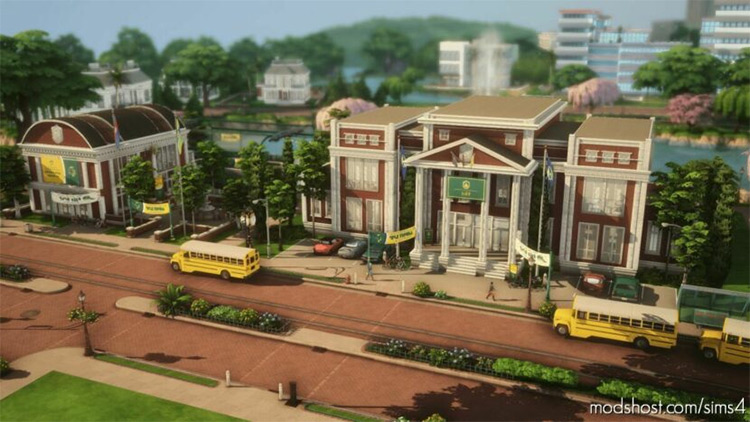 As one of the OG TS4, Newcrest deserves a dedicated high school.
A sprawling 50×40 lot with a 30×40 football field adjacent to it (you'll need to download them separately), Newcrest High School cuts a fairly intimidating silhouette against the cityscape. But don't let the height overwhelm you! The layout, amenities, and decorations reveal this school to be simple, tasteful, and wonderfully down-to-earth.
10.

Newcrest High School by CatSaar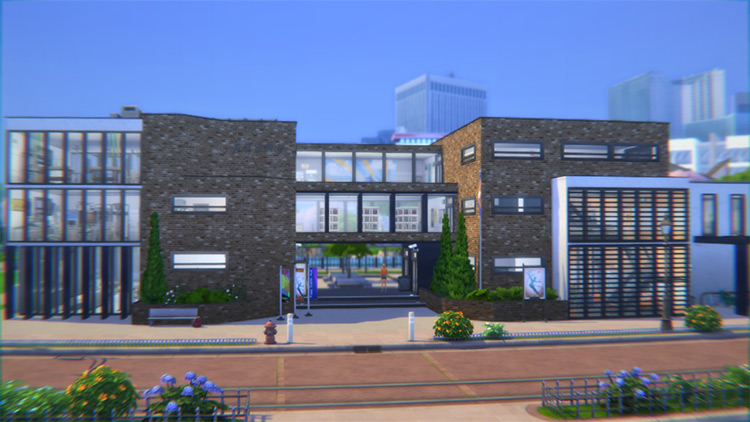 Not to be confused with plumbobkingdom's build with the same name, this iteration of Newcrest High School by CatSaar has a more modern, contemporary feel to it.
A grey stone façade complemented with sections of white cement walls and clear, floor-to-ceiling glass windows, this school does not feel as traditional as some of the red-brick-and-mortar builds on this list.
I personally love the use of white wood furniture and bright couches in the interior!
11.

Lakeside High School by Simmiller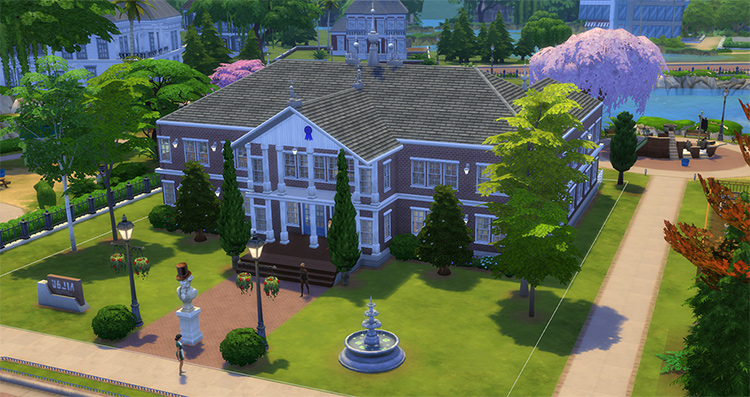 The attention to detail in this academic build is as impressive as they come.
It's got a front entrance that can't be missed, a spacious floor plan (with plenty of room to redecorate and/or expand) and a decent number of amenities that cater to developing teenage minds.
Simmiller's Lakeside High School is a top pick, whether you use it as a functional lot (you'll need Zerbu's Go to School mod) or you keep it as a purely decorative community build.
12.

Sims 4 Rainbow High School by sim house design workshop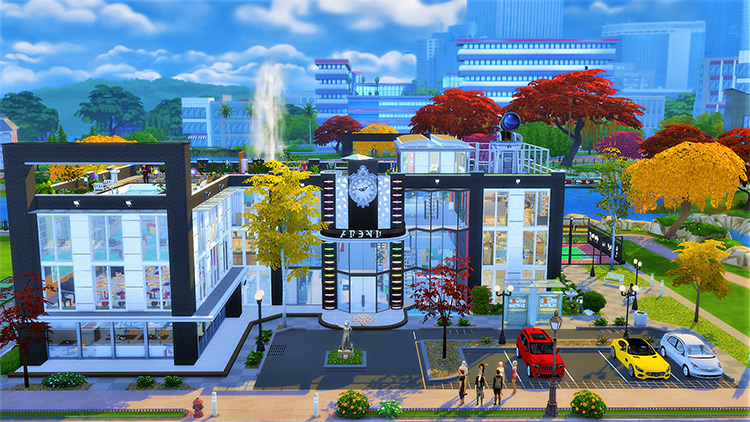 This is a fairly heavy download but I promise you; it's worth it.
This Rainbow High School is so named because of the interior color scheme. It's very subtle so you can actually miss it, but the rooms and hallways come primarily in seven specific colors.
The science lab, for instance, is a lovely shade of violet purple. While the music room's walls are burnt orange and the first floor hallway is a striking green.
Check the preview photos — it's a lot prettier than you'd expect!
Note: The actual tray files alone amount to a modest 500MB. But if you want the custom content used in the build, the folder is a whopping 1.1GB. Make sure you have the space for it!
13.

Private Primary School by Anna Frost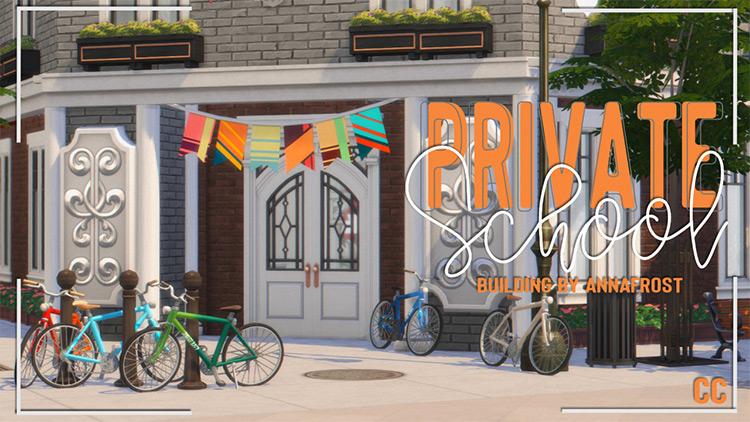 A respectable private school located in the bustling metropolis of San Myshuno, this 30×30 lot is the definition of exclusive. Though some of the quarters seem a wee bit cramped, they're beautifully decorated and well designed.
The number of desks in the classrooms – as well as the other obviously limited seating options scattered throughout – really emphasize the exclusivity of this establishment.
If your Sim prefers a more selective institution for this Teen's education, Anna Frost's Private Primary School may be the ideal solution.
14.

High School by mrsbarbiex3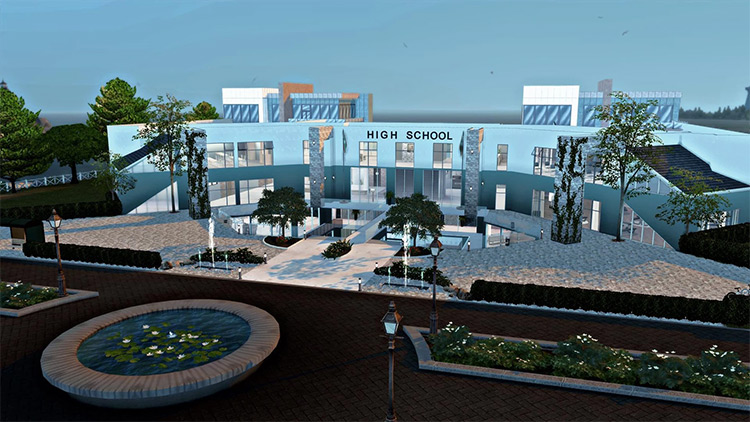 The sleek & contemporary exterior of mrsbarbiex3's custom high school lot belies its packed, well-furnished interior.
Aside from a decent number of spacious fully-functional classrooms, the amenities contained in this deceptively simple building include: a clinic, a mess hall, an auditorium, and a gym with dozens of equipment.
There's even a full administrative area and an indoor swimming pool!
15.

Cherry Blossom High School by The Sense 4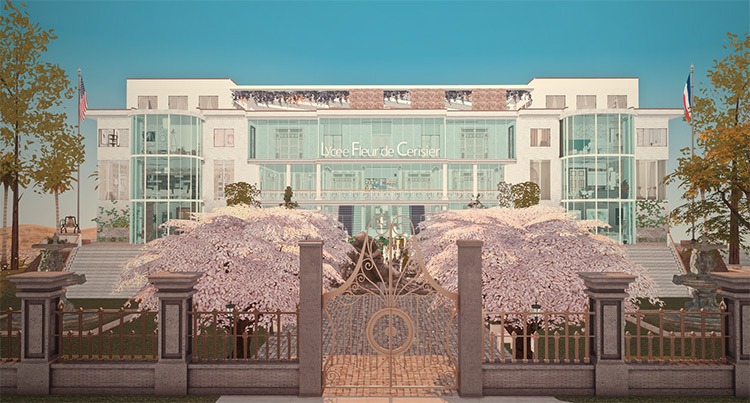 According to the creator, this Lycée Fleur de Cerisier (or "Cherry Blossom High School,") is an establishment for the elite.
You're free to refurbish and reuse as you see fit, of course.
The color scheme, floor plan, and amenities make it feel like this institute accepts only the best of the best, what with the aesthetic blend of classic interior design and modern high-tech décor.
Speaking of which, the loose CC items are separate from the tray files of the actual build. Be warned, though: the folder is a whopping 2GB in size.
Or if you just want the shell of the build, make sure you've got these packs installed: Get to Work, Get Together, and Spa Days.
Browse:
Lists
The Sims 4
Video Games