Sims 4 CC: The Best High Top Sneakers (All Free)
This post may contain affiliate links. If you buy something we may get a small commission at no extra cost to you. (Learn more).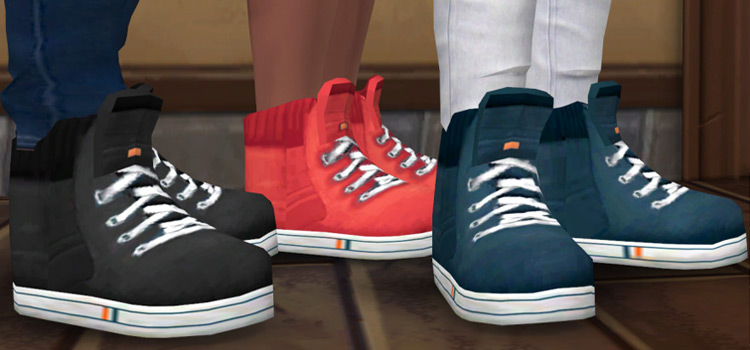 No outfit is complete without a good pair of shoes.
Really, who walks around barefoot? Nobody who wants to look fly, obviously.
Today's sneaker lovers have it better than ever before. They're a very common type of footwear, and with the Internet, any type you desire can be on its way to your doorstep in a matter of minutes.
Almost every brand offers plenty of variety too. And today, high tops are where it's at.
They offer more in the way of style than short shoes since there is more area to work with and all.
More color, more embellishments, more ankle support… yep, the important perks are all there.
Sneakers in The Sims 4 get their own category in CAS. And if you're like me, then that's where your cursor is shooting towards every time you make a new Sim.
High tops especially are the ultimate casual shoe. They're good for every season and can be worked into basically any outfit. Heck, many people have started wearing them with suits to formal events!
You and your Sims will have an amazing variety of high top sneakers to choose in this list, which contains only the cutest, coolest, and most fashionable options the TS4 Custom Content community has to offer.
Leather High Top Sneakers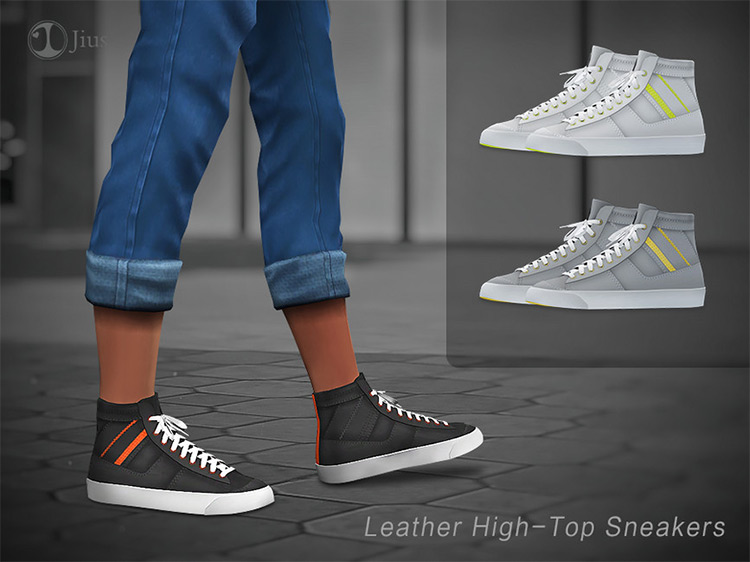 Male Sims especially can use everything they can get for CAS, honestly.
There just isn't a ton of casual, everyday things for them to wear.
In other words, not enough sneakers.
For many guys, this is the go-to type of shoe.
They'll look great with pants and shorts alike, and all the different swatches each give a different vibe.
The white with yellow stripes are especially sleek, and at least you don't have to worry about keeping them white in The Sims like you do in real life.
For an edgier look, the black and orange sneakers will go splendidly with any dark clothes.
Lastly, there's the light gray swatch, which offers a nice neutral look.
Everything goes with light gray!
Balenciagas
Chances are, you've heard of Balenciaga sometime in the past few years.
It has nothing to do with food, although "Balenciaga" would make a great name for a delicious sandwich.
…yes, I thought it was food the first time I heard somebody mention the name. Stop judging.
This fashion powerhouse has taken over the world of designer footwear. Everyone from actors to YouTubers have shown their love for the brand – and who wouldn't with the great things they put out?
But it's not cheap being a fashion powerhouse.
And the cost of Balenciaga's items definitely reflect that… so most of us will have to get our fill through our Sims.
These simple sneakers have fantastic texture and detailing. The creator clearly put a lot of love and care into them, and the results are stunning.
One option is white with the signature Comme des Garçons heart with eyes accent, surely inspired by the real-life collaboration. Another option is for solid, deeply red sneakers.
Let's be real, though:
With shoes as cool as these, it's not like you'll only use them once. With time you'll have plenty of opportunities to utilize each swatch!
High Cut Shoes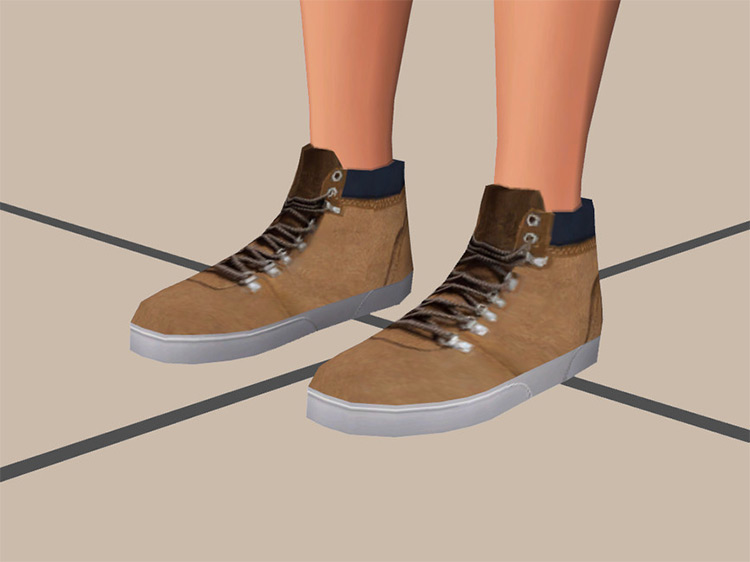 Here we have another awesome option for some chic sneaks.
That's not good slang, is it? Ugh. I just really like to rhyme.
While these might not be designer shoes, they sure have the detail and quality like something very high dollar.
You can practically feel the leather, as well as the rubber sole.
The laces have a really natural appearance, too. These don't look overly perfect, like a doll's shoes.
They're just realistic enough to look right while being worn.
Base Game Sneakers Recolors
You may be surprised to see just how much of an impact recolors can have on things.
I mean, it's not like it changes the shoe, right?
Well… kind of. I honestly was so caught up in admiring the beauty of these sneakers that it took me a while before I realized they're the same base game ones we already have, just in a much cooler color palette.
The swatches this creator added have totally revolutionized the basic sneakers we've had for so long. They vanilla sneakers felt like they kind of blended into the background after enough time… but not anymore!
They're now vibrant and bold in such an intense way that they're practically unrecognizable.
Bow Sneakers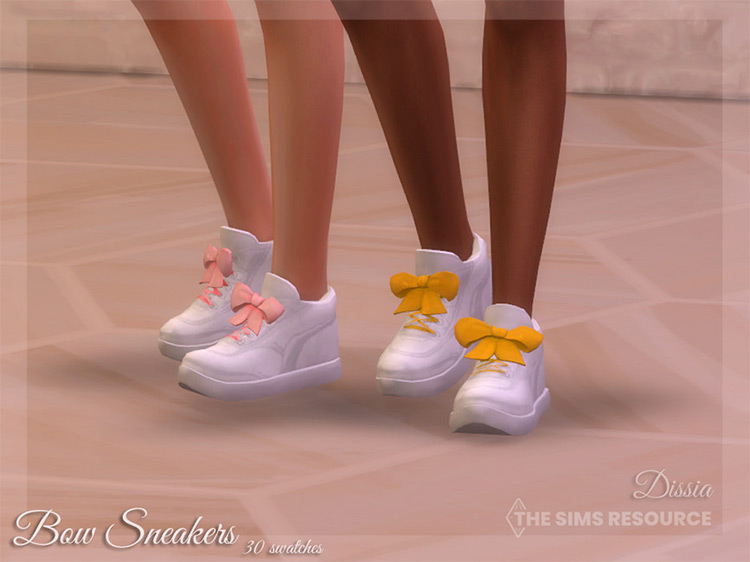 Simmers are basically known for incredible creativity.
Whether it's building, meticulously sculpting beautiful Sims in CAS, or creating amazing content for other plays to enjoy, we have all the bases covered.
These sneakers are a prime example of such creativity.
I myself would have never thought to add a bow to high tops. But now I see how it's been missing from my life this whole time.
Seriously, they're just so cute it's crazy.
The bow is like a built-in accessory that will totally boost any outfit, and it matches the laces!
With 30 total swatches there's definitely something here for everyone. These will easily become one of your favorite options in CAS!
Dirty and Drawn-on Shoes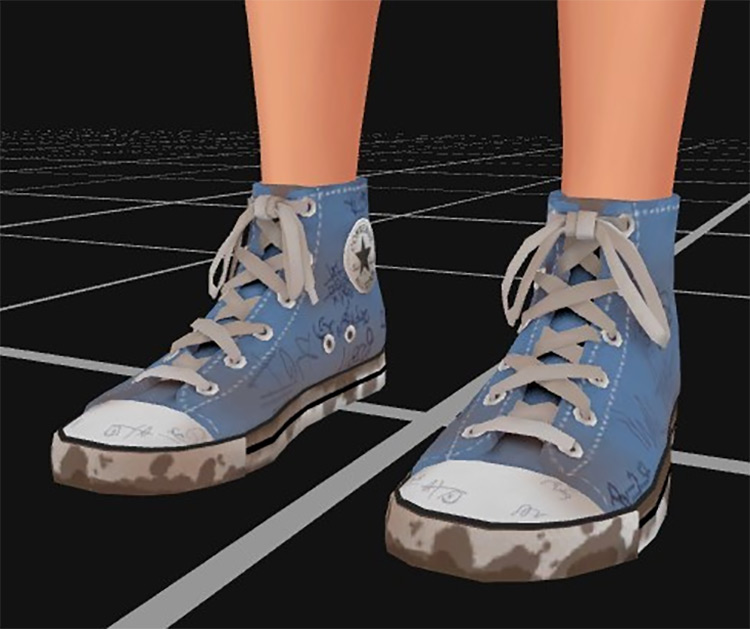 Not all shoes are pretty.
Not all people like pretty shoes.
I think a big part of the appeal to Converse is they don't stay the way they look fresh out of the box for long.
These canvas beauties are my favorite footwear, personally, but they're especially susceptible to stains, tears, and other grungy little details that make them one of a kind.
And again, they're canvas… which means you can write on them and it won't go away easily.
This creator included everything that makes Converse beloved right here. They're quite realistic, and will give any Sim that wears them an extra bit of fitting & aesthetically pleasing believability.
I mean, am I really supposed to believe they can wear one pair of shoes without ever having to buy new ones their whole life? Pfft!
These have a myriad of dirty little patches and marker scrawls, plus the iconic Converse logo itself.
They might just be the most iconic defining high top shoe out there, even when messy.
Madlen Radluf Shoes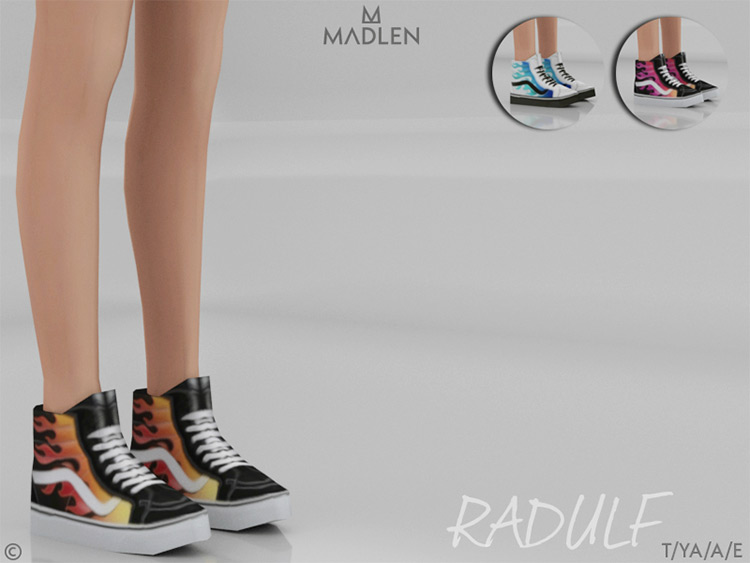 If you're looking for some super tall high tops with a ton of personality, it doesn't get much better than this CC.
The Madlen Radluf shoes here, from creator MJ95, are like luxury designer shoes just for your Sims.
They have an awesome flame design and each color swatch makes it a little cooler in a different way.
You have the classic yellow and orange flames, as well as blue and purple swatches. They're all fire… literally.
Note that these are exclusively for your female Sims, so if you've felt that guys get to have most of the fun with high tops, this basically evens the score.
Vans Conversion
Vans have been a hip happenin' shoe for many years now.
They offer options for an array of tastes, from grunge folks to skaters to just general casual fashion connoisseurs alike.
These iconic sneakers even have a fairly longstanding history in The Sims, too.
A player first made these shoes available in the game for The Sims 2, and now owl-plumbob has converted it for our playing pleasure in The Sims 4.
Plus they look just as great as you would expect from Vans. The stitching detail is subtle, but really adds an extra bit of authenticity. You can even faintly see the logo on the tongue.
As far as high tops go, these are definitely among the best, both in real life and The Sims.
It's always fun when you can model your Sim's outfits after real looks – and these are almost identical to the real Vans high top.
Reebok Freestyle 1982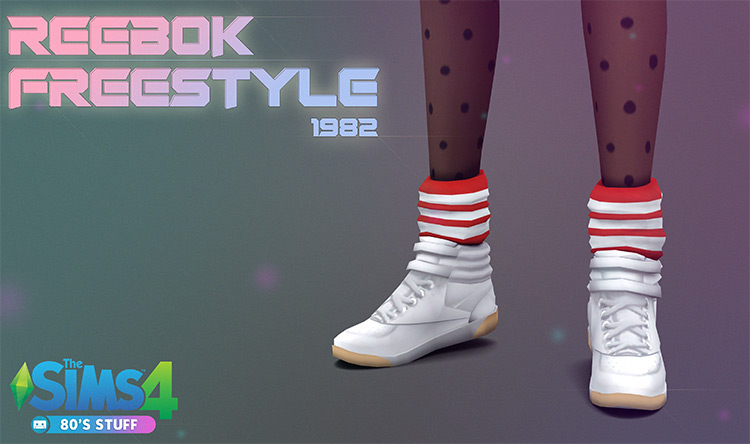 Retro styles, especially from the '80s, have really taken off.
After a certain point, something becomes so old that it's new again. Or something like that.
Anything that happened before you were born is new to you now, at least.
This CC's creator, Cooper322, has definitely got the retro vibe down.
These shoes just have a classic "sneaker look" that's so hard to find nowadays – unless you shell out the cash for authentically vintage ones.
Thank goodness CC is free, right?
You nor your Sims will have to pay one Simoleon.
The design here is a fairly simple one, featuring a solid main color and some yellowy accents on the toe and heel.
And to really get that '80s feeling in full, these also come with thick, gathered sock accessories that will sit just at the high top, as pictured.
Blast from the past, man!
Hi-Tops (Guys)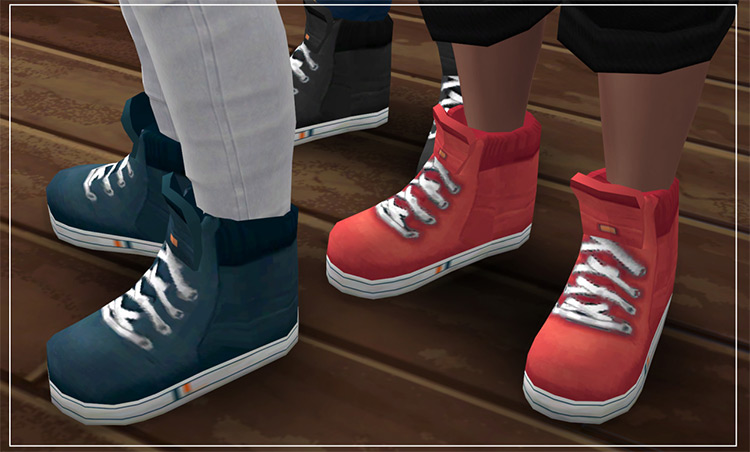 Hi, here are some more high tops!
Yikes. So corny. Sorry.
Sneakers like these deserve better than a lame play on words.
These are a totally new mesh, which means the creator crafted it by pouring in their own blood, sweat, and tears… hopefully not literally.
But I'm sure it is hard work.
Something notable here is that some pairs of pants will sort of tuck into the shoes like boots, which is really cool.
That'll allow your Sim to show off their kicks, rather than cover them up.
But that's still an option if you give your Sim bootcut pants.
They also have a rather thick appearance and an extra tall tongue, leaning a lot towards a streetwear style.
Browse:
Lists
The Sims 4
Video Games