Sims 4 CC: Top 50 Houses & Lot Mods To Download (All Free)
This post may contain affiliate links. If you buy something we may get a small commission at no extra cost to you. (Learn more).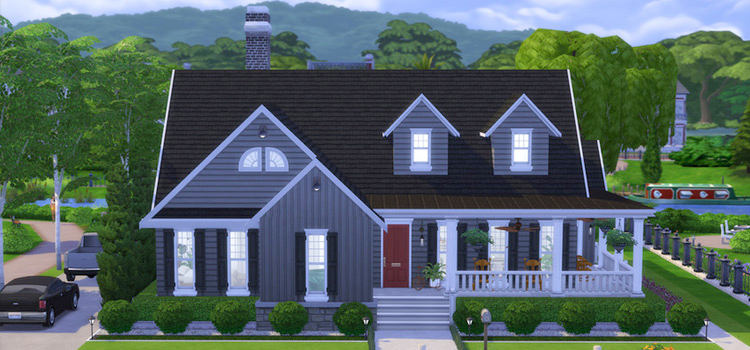 Everyone loves The Sims. Maybe you enjoy the dollhouse-like character creator, the goofy activities you can make your Sims do, or the opportunity to create the home of your dreams.
Or you can marvel at other people's creations online, and even bring them into your game!
I've put together huge list of my favorite user-created lots, homes, parks, stores, dance clubs, mansions, all that good stuff to get you started on your Sim-focused real estate journey.
While some of these are compatible with the base game, most of them need expansions and stuff packs – and some use Custom Creations (CC) as a powerful tool to design unique spaces.
Just keep that in mind when browsing through & installing any of these beautiful lots. Mostly all of the required details will be in the description so always check the download page for more details.
Let's get lot shopping!
50.

The Grotto Park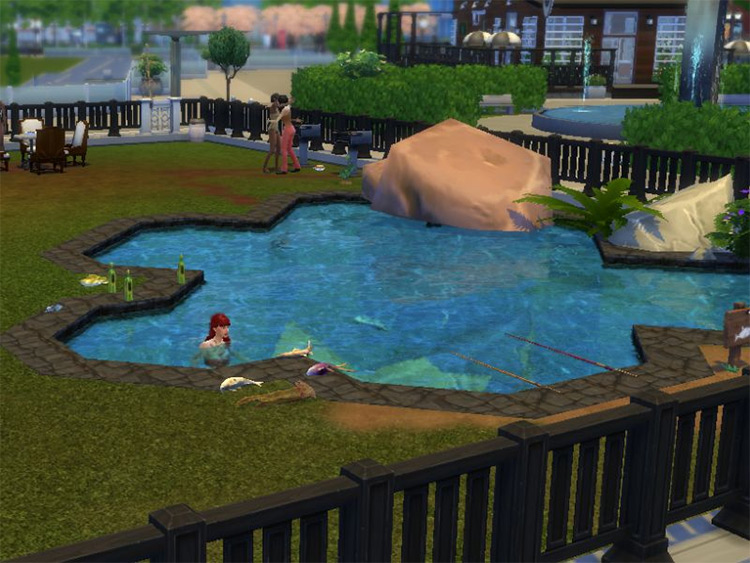 | | |
| --- | --- |
| Creator: | LaReineDubois |
| CC: | No |
| Value: | 68,000 Simoleons |
Our first entry isn't a home, but a beautiful park with two different pools that'd be ideal for taking swimming classes, playing with your children, or just chilling with your fellow Sims.
While the upper pool is ideal for fishing and relaxing, this lot shines for the bottom one.
It's modeled after a cave with some natural-looking rocks and appropriate decorations.
It also includes some monkey bars to train outdoors, and some tables for you and your friends to chat over tea.
49.

Martha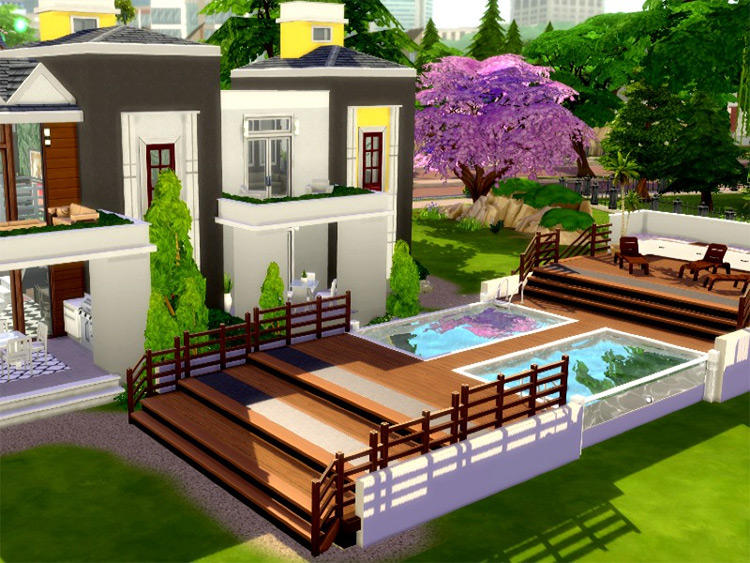 | | |
| --- | --- |
| Creator: | GenkaiHaretsu |
| CC: | No |
| Value: | 204,000 Simoleons |
Next up we have a pretty unique home that looks right at home beside Maxis' base creations.
The architecture is unlike what you'd usually see in these lots – especially the protuberant skylights atop each of the roofs, which resemble fireplace shafts.
A highlight of this home is the private pool, built over an appealing wooden terrace.
There's enough space on the deck to sunbathe as well. And it's placed strategically so that the sun will reach it almost all day.
The decoration style is pretty eclectic, with lots of bold colors and plants. Its three bedrooms are ideal for a group of artists crashing together while they work on their next masterpiece.
48.

Club Vegas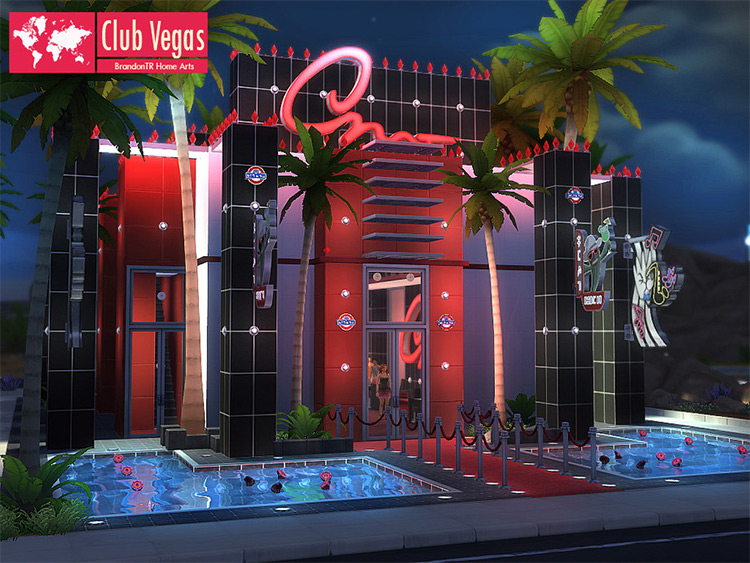 | | |
| --- | --- |
| Creator: | BrandonTR |
| CC: | No |
| Value: | 161,000 Simoleons |
There's no lack of bars and nightclubs to hit with your pals in TS4.
But none are quite as eye-catching as Club Vegas.
This venue features bold red on black colors highlighted by a plethora of neon lights. The entrance is especially striking, as the parallel ponds framing it create the feeling of crossing a bridge to enter.
Inside, there is plenty of room to chill over drinks when you're not strutting your stuff on the dance floor.
Your Sim will love it here.
47.

Apocalypse – In Ruins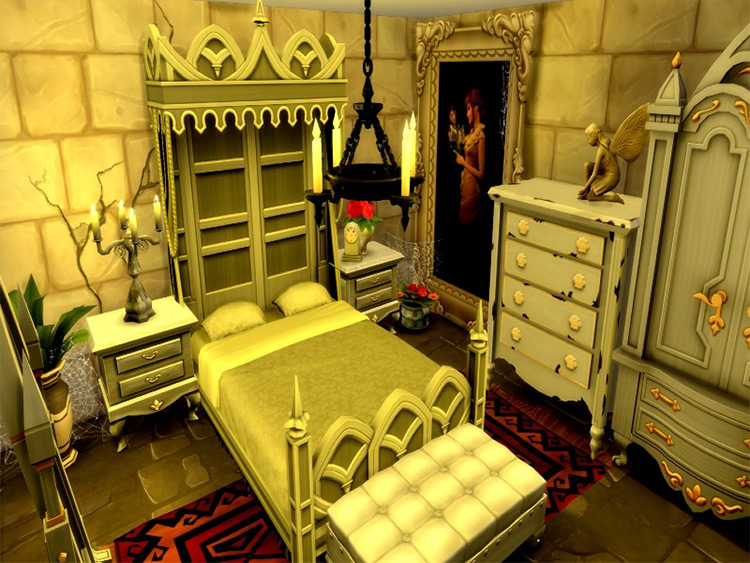 | | |
| --- | --- |
| Creator: | GenkaiHaretsu |
| CC: | No |
| Value: | 101,000 Simoleons |
Among the most unique dwellings I could find is Apocalypse In Ruins, ideal for a vampire, a hiding alien, or a zombie apocalypse survivor.
This destroyed Gothic cathedral finds new life as nature creeps in and transforms the space into a fantasy setting, but hiding within these fallen walls is a pretty sizable living space.
The interior includes three bedrooms, two bathrooms, and all the amenities a small household would need to live comfortably.
All in a solemn style reminiscent of a vampire's castle.
46.

Riverways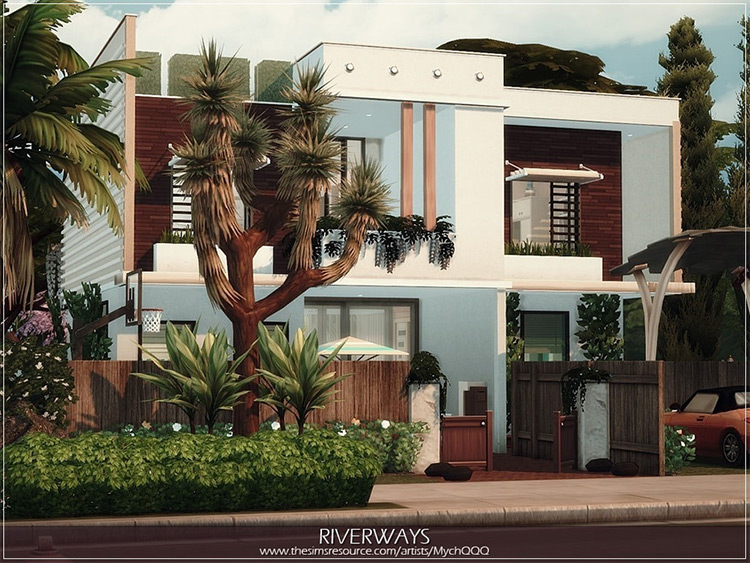 | | |
| --- | --- |
| Creator: | MychQQQ |
| CC: | No |
| Value: | 121,000 Simoleons |
For something less unusual, consider Riverways – a compact home for the creative Sim with a lot of free time.
I'm a fan of the dark wood veneer wrapping up the top floor, and the plentiful greenery is always appreciated.
That said, it's the interior that elevates this dwelling.
The place is packed with appealing furniture, and it has some eccentric decorations like hanging plants and braziers.
With three bedrooms, two bathrooms, amenities, and even a small pool, this is one of the best uses of a 30×20 lot I've ever seen.
45.

Bar Tanara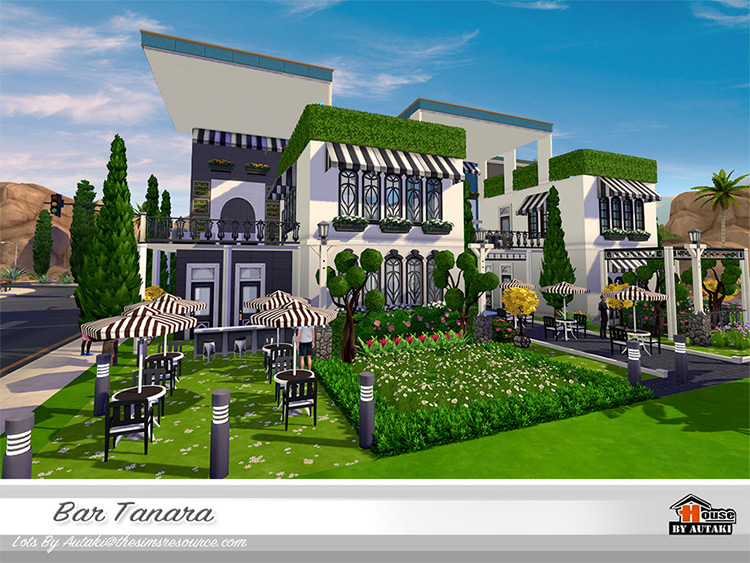 | | |
| --- | --- |
| Creator: | Autaki |
| CC: | Yes |
| Value: | 124,000 Simoleons |
If your Sim can't figure out where to take their sweetheart to impress them, give them a hand and get the Bar Tanara – an elegant café/bar in modern luxurious styles.
It has plenty of seating space outside for couples, next to the grand flower garden that serves as the centerpiece for this lot.
The terraces overlooking the garden are also a wonderful place for a marriage proposal, or just to talk a selfie.
In the case of rainy weather, the interior area is a great alternative. While the color palette tends to stay in black and white, some specks of intense color here and there keep it from looking too sterile.
44.

Gunnel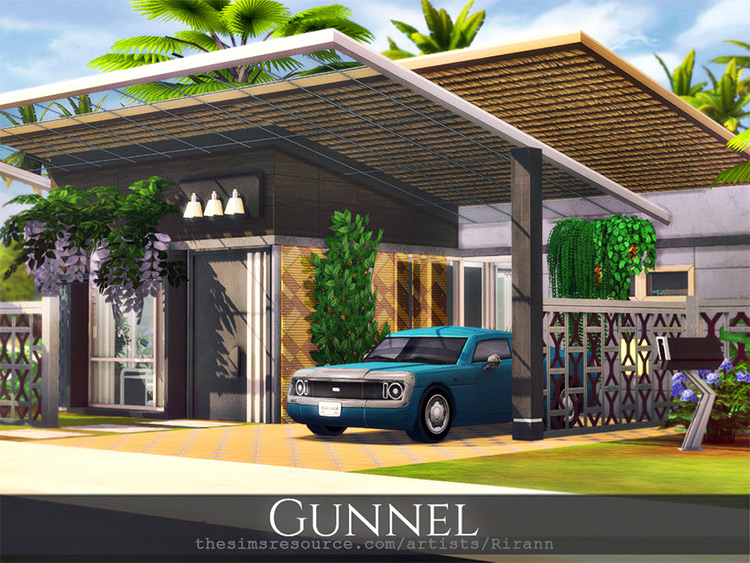 | | |
| --- | --- |
| Creator: | Rirann |
| CC: | No |
| Value: | 94,000 Simoleons |
Some of the most appealing homes may feel a bit too flashy for a typical neighborhood.
If your Sim prefers not to draw attention, then this mid-century modern house is what they need.
While the outside is nothing out of the ordinary, it does look spotless and well-designed.
Inside there's room for a little more creativity. There are many different textures, bold choices like indoor-growing vines, and the most tasteful use of animal print I've ever seen.
At one bedroom and one bathroom, this single-story house is ideal for a small to medium-sized family.
43.

Villa Satayina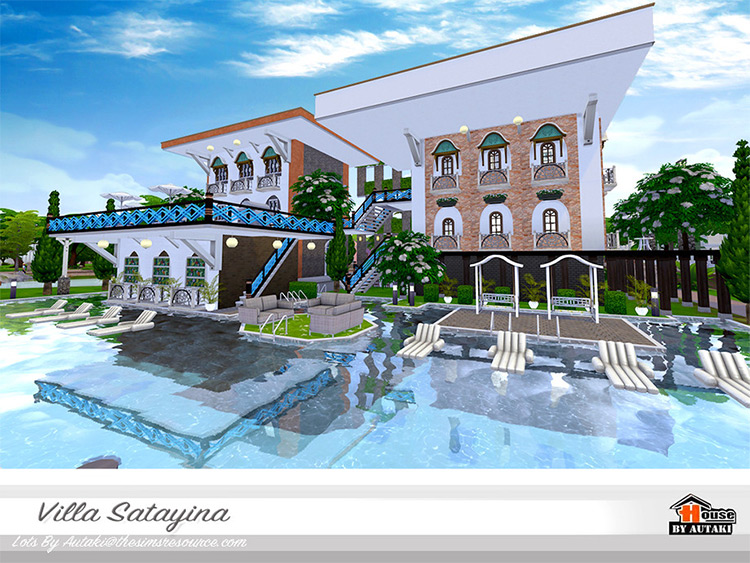 | | |
| --- | --- |
| Creator: | Autaki |
| CC: | Yes |
| Value: | 188,000 Simoleons |
Some Sims don't mind being the center of attention.
In fact, lots of them thrive in it.
If you're guiding such an individual through his simulated life, they'll love the Villa Satayina.
Whether it's a shady millionaire dynasty or just a group of successful young entrepreneurs, this colorful and opulent home is perfect for flaunting their wealth around.
The massive pool is the highlight, but the eclectic interior decoration is also very appealing. Many different textures and styles coexist across each of the three stories.
42.

Cynthia – Small Home
| | |
| --- | --- |
| Creator: | Melapples |
| CC: | No |
| Value: | 100,000 Simoleons |
Next up we have a beautiful little eco-friendly house with some modern Asian influence that fits two bedrooms, one bathroom, and a small pool in a 20×20 lot.
Lavender grows freely in all directions around the house, and a vertical garden brings some nature to the structure's second floor.
The inside has lots of different materials like wood, brick, and stone, contributing to a strangely cozy feeling.
The bathrooms are easily my favorite part on the inside due to its heavy use of wood-like textures. Tons of room to customize them with some fun bathroom stuff, too.
41.

Little Aegean Church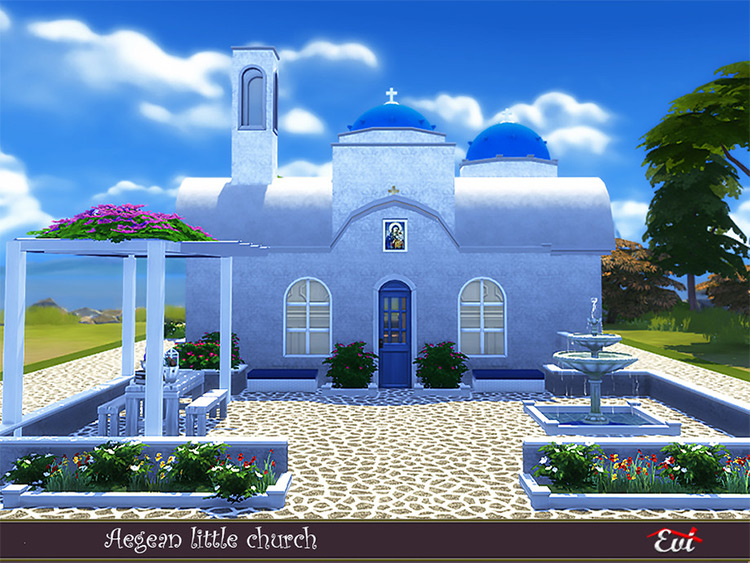 | | |
| --- | --- |
| Creator: | Eivi |
| CC: | Yes |
| Value: | 64,000 Simoleons |
If you've ever seen pictures of Santorini in Greece, you're familiar with its uniform white walls and blue dome ceilings.
Greek creator Eivi honors their homeland with this beautiful church in the stereotypical Santorini style, built on a hill overlooking the ocean. It may not be the Aegean, but you can use your imagination.
An image of the Virgin Mary hangs over the door and foreshadows the inside, filled to the brim with Christian imagery depicting several moments of Christ's life.
40.

Stacked Containers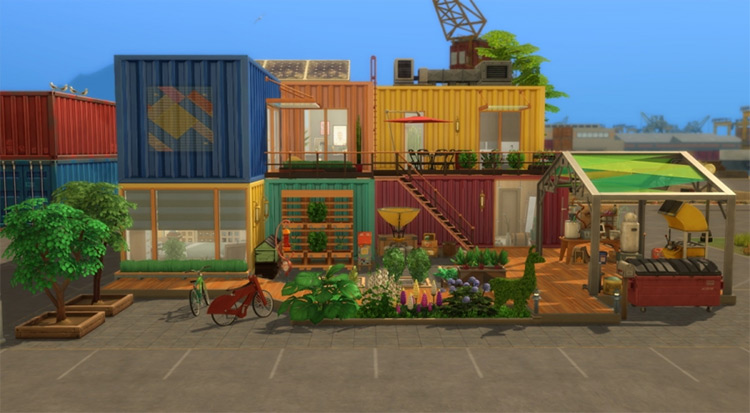 | | |
| --- | --- |
| Creator: | Pyrénéa |
| CC: | No |
| Value: | 132,000 Simoleons |
Container homes are some of the most interesting sustainable architecture proposals I've seen gain traction in recent years.
This one makes very efficient use of the 30×20 lot it rests on by featuring two entirely different dwellings – one on each floor.
There's a vegetable garden, swings for children to play on, a recycling bin, and even a solar panel on the roof. It meets most of a family's immediate needs – and there's room for two medium-sized households.
39.

French Townhome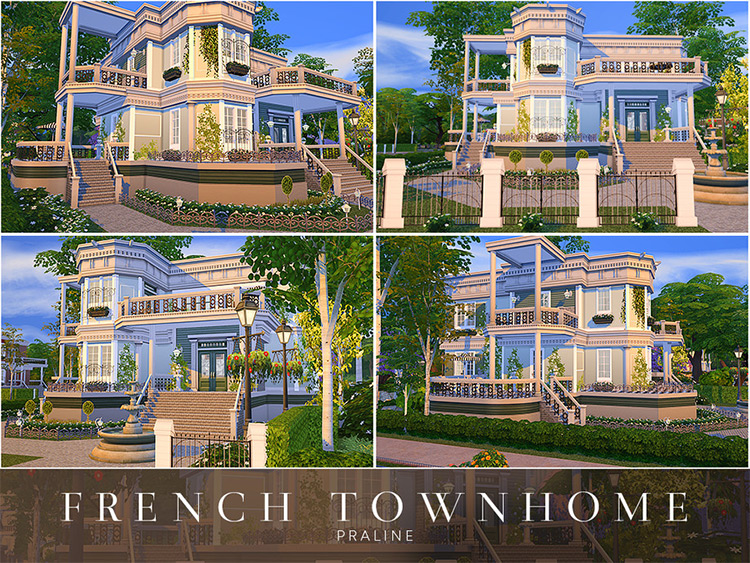 | | |
| --- | --- |
| Creator: | PralineSims |
| CC: | Yes |
| Value: | 190,000 Simoleons |
Here we have something that looks like it was magically transported from Paris's outskirts to a lot in The Sims 4.
The French Townhome's facade is similar to what you'd see in the French capital's streets, with lots of elaborate metalwork and light colors.
Inside you'll find varied wallpapers in elegant colors to give each room its own unique style. Your Sims would probably have names for them.
It may seem a bit expensive.
But at three bedrooms with two bathrooms, this 30×30 lot is perfect for sharing with other up-and-coming Sim citizens.
38.

Knitted Cottage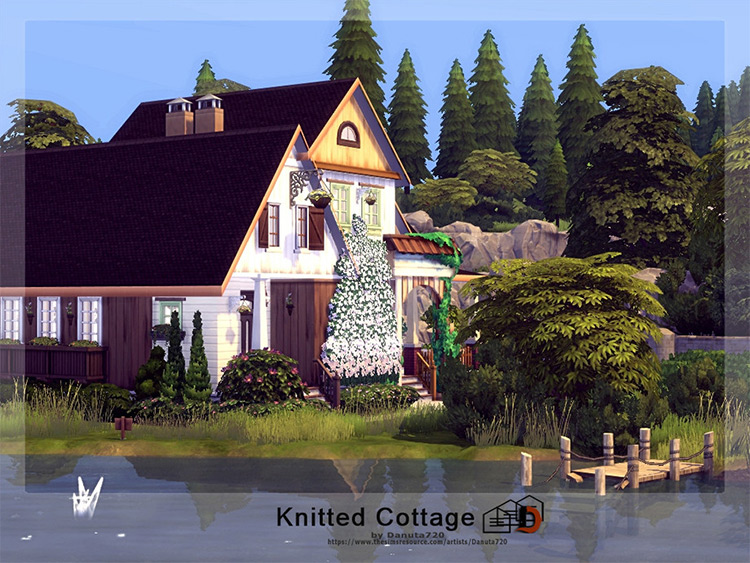 | | |
| --- | --- |
| Creator: | Danuta720 |
| CC: | No |
| Value: | 96,000 Simoleons |
Gorgeous vines and flowers grow up the walls of this picturesque cabin in the woods that's just brilliant for a medium-sized family with a thirst for peace and quiet.
The inside is remarkably homey, similar to what your grandma's house must look – but with a modern touch that keeps it from looking even a bit decrepit.
I find the children's room especially remarkable. It looks strikingly realistic and features many little details – like drawings on the walls – that give it a "lived-in" feel.
37.

Tropico Moderno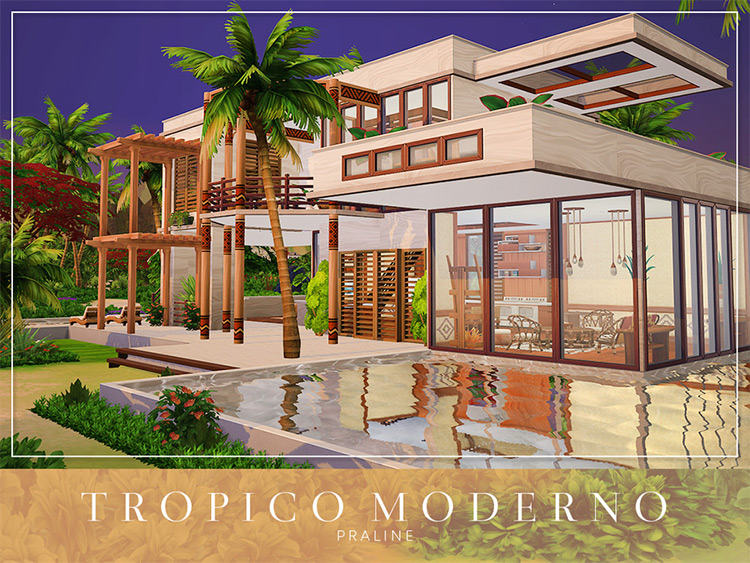 | | |
| --- | --- |
| Creator: | PralineSims |
| CC: | No |
| Value: | 150,000 Simoleons |
Tropico Moderno is a modern take on the classic beach bungalow.
It features straight lines, square shapes, and a lot of glass to let the sun reach deep into the house.
The main bedroom's smart use of warm colors makes it quite cozy without sacrificing great design.
I'm particularly fond of the open-air terrace, which looks like the perfect place to read a book or drink wine with friends – and the pool is simply decadent.
36.

Sushi Restaurant 2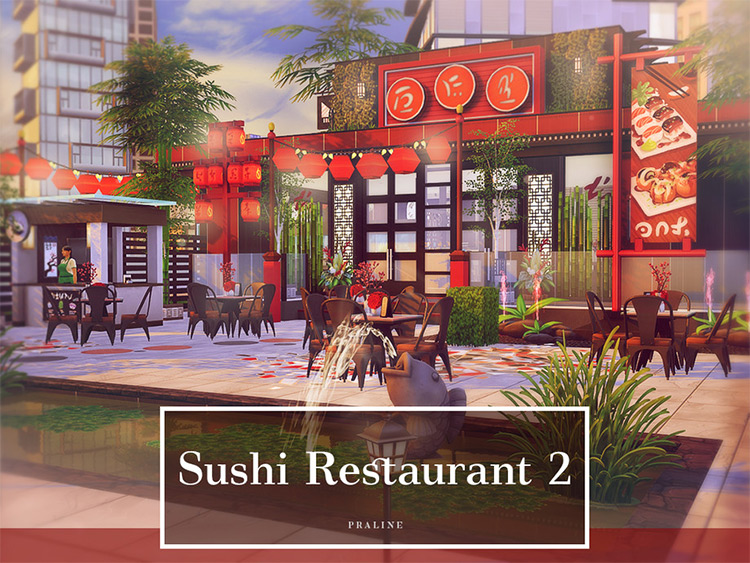 | | |
| --- | --- |
| Creator: | PralineSims |
| CC: | No |
| Value: | 115,000 Simoleons |
PralineSims' original Sushi Restaurant has been one of the most well-loved custom lots for a while now, and this updated version could be even better.
In great Japanese fashion, this venue's inside is almost completely covered in wood – from the floor to the tables and seats.
The menu is in Japanese, and there are even some teppanyaki tables like you'd see at Benihana.
It looks like the kind of venue you'd love to visit with a date, especially with the brightly lit open-air seating space creating a pleasant atmosphere for love.
35.

Farm House Reinvented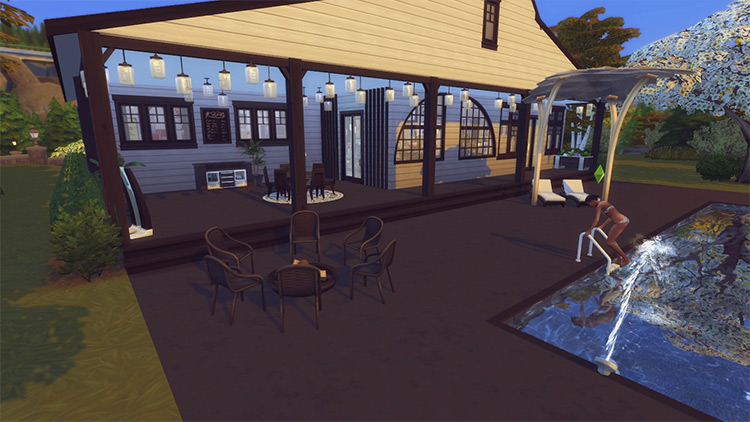 | | |
| --- | --- |
| Creator: | Zhepomme |
| CC: | No |
| Value: | 174,000 Simoleons |
A modern take on traditional country architecture comes in the form of this gorgeous renovated farmhouse sitting proudly on a hilltop.
It has a massive master suite, two large secondary bedrooms, two bathrooms, and a huge kitchen.
The size makes it perfect for a dynasty of farmers who've progressively accrued enough wealth to live comfortably – and splurge a bit on a nice, big pool too.
34.

Waterpark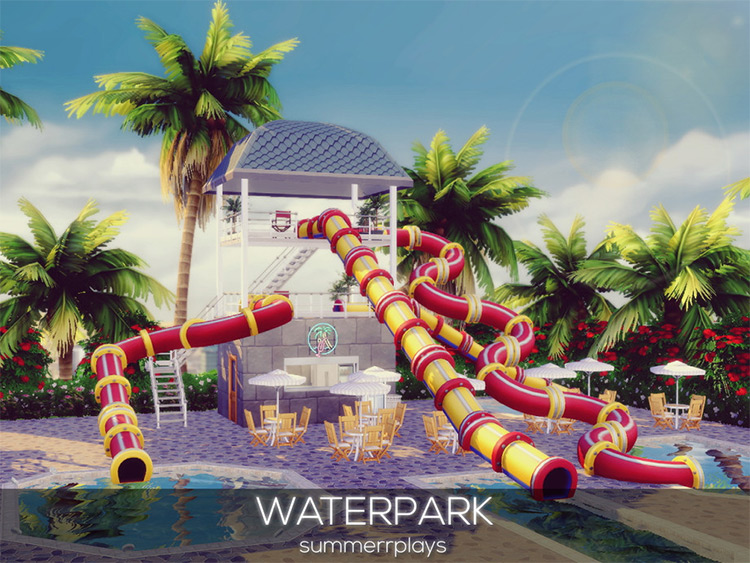 | | |
| --- | --- |
| Creator: | Sumerr Plays |
| CC: | No |
| Value: | 143,000 Simoleons |
There's nothing quite like a water park to spend an enjoyable summer day with the family.
Cayenne flowers gorgeously frame this attractive summer destination, and it offers several different waterslides for children, teenagers, and adults to have fun in the water.
There's also plenty of place to sunbathe and – most importantly for Sim parents – a bar.
Don't worry, they serve alcohol-free drinks too.
33.

Stylish Sophistication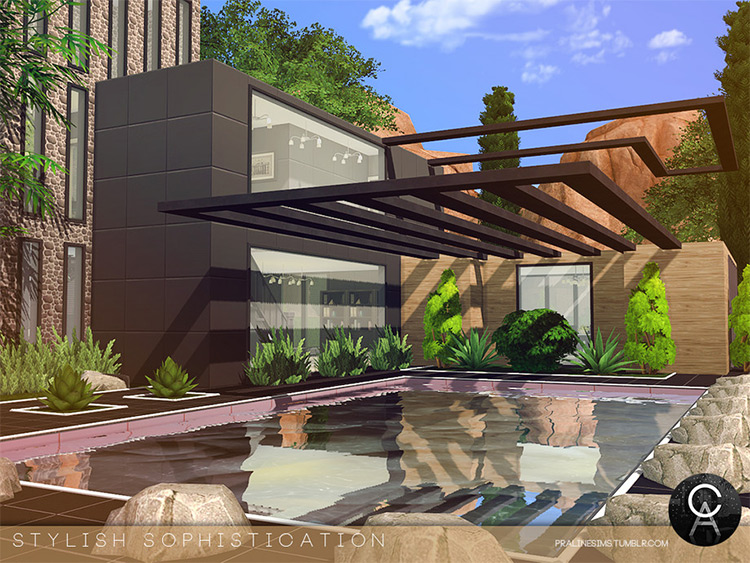 | | |
| --- | --- |
| Creator: | PralineSims |
| CC: | Yes |
| Value: | 137,000 Simoleons |
If you're an up-and-coming modern Sim looking for a new home, you can't go wrong with the Stylish Sophistication house's appealing avant-garde design.
The sizable pool just outside is this dwelling's centerpiece, but it remains stylish throughout the interior as well.
The furniture follows a somewhat minimal style with dark, sober colors that confer a lot of simple elegance.
Some indoor plants serve to cut the tension and give it some homeyness too.
32.

Urban Minimalist 2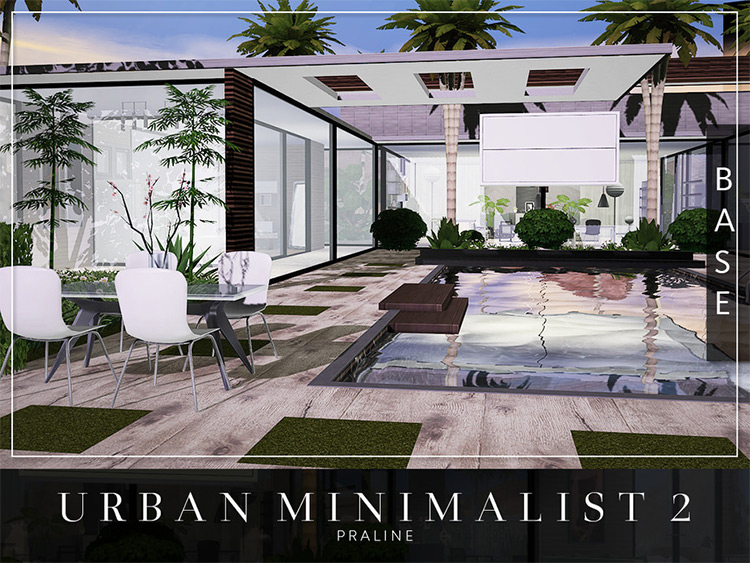 | | |
| --- | --- |
| Creator: | PralineSims |
| CC: | Yes |
| Value: | 140,000 Simoleons |
One of PralineSims' most recent architectural achievements is this beautiful modern home fitting a small or medium-sized household.
It features mainly straight lines and a minimal décor style.
Dark browns frame bright colors on most of the furniture, and heavy use of glass panel walls allows plentiful natural light into the structure.
Outside, wonderful landscaping serves as the backdrop for a beautiful pool that'll be the envy of your Sims' neighbors.
31.

Summerfeelings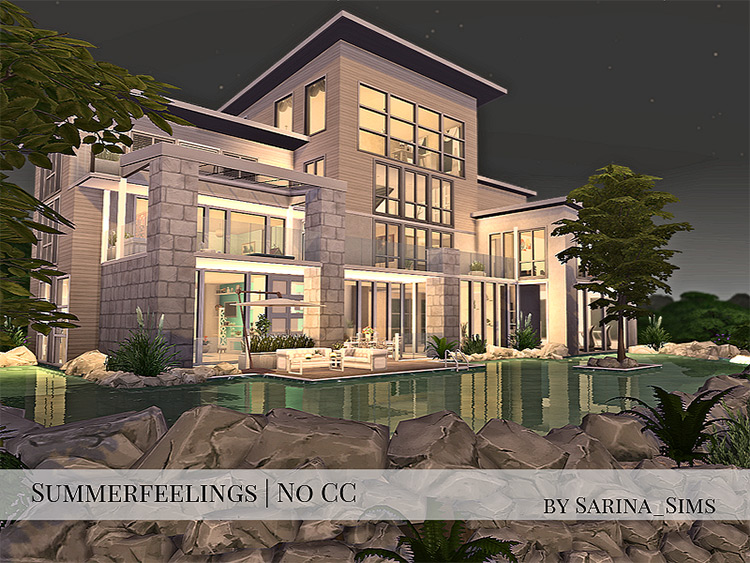 | | |
| --- | --- |
| Creator: | SarinaSims |
| CC: | No |
| Value: | 530,000 Simoleons |
If you have a ton of money laying around, a lovely big house is always a sensible way to spend it.
Half a mil in Sim money is what it'll set you back, though.
Summerfeelings is a big, opulent house with decadent landscaping. The main appeal is the massive pool that flows into a multi-tiered waterfall.
It even has palm trees growing on platforms in the middle of the pool!
On the inside, light, tasteful colors are used throughout the seven bedrooms, four bathrooms, and other central living spaces. These include cream, turquoise, and light mint.
30.

Bauhaus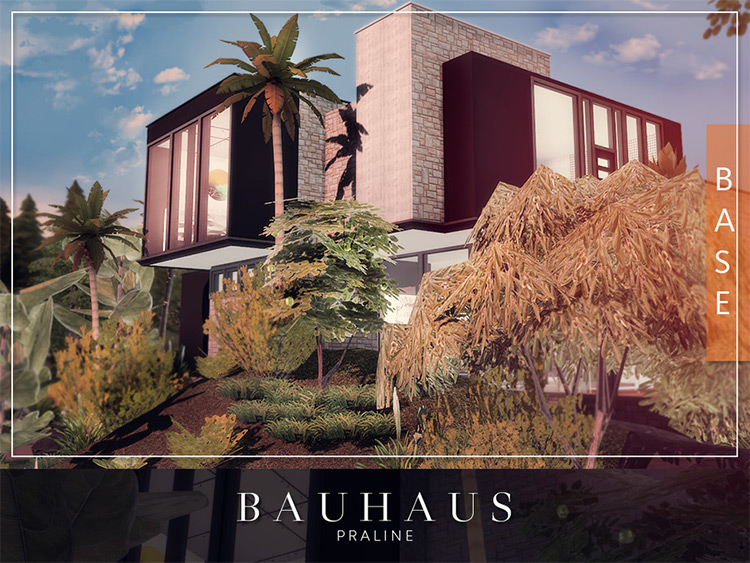 | | |
| --- | --- |
| Creator: | PralineSims |
| CC: | Yes |
| Value: | 120,000 Simoleons |
This two-bedroom abode follows a style deeply influenced by the post-WWI German Bauhaus movement.
Lots of greenery surrounds the house, softening its stark straight lines. It's bold and creative, but far from eccentric.
On the inside, exposed concrete and other raw textures give every room a lot of personality.
Coupled with smart use of color, it keeps the house stimulating from one end to the other.
29.

Autumn Breeze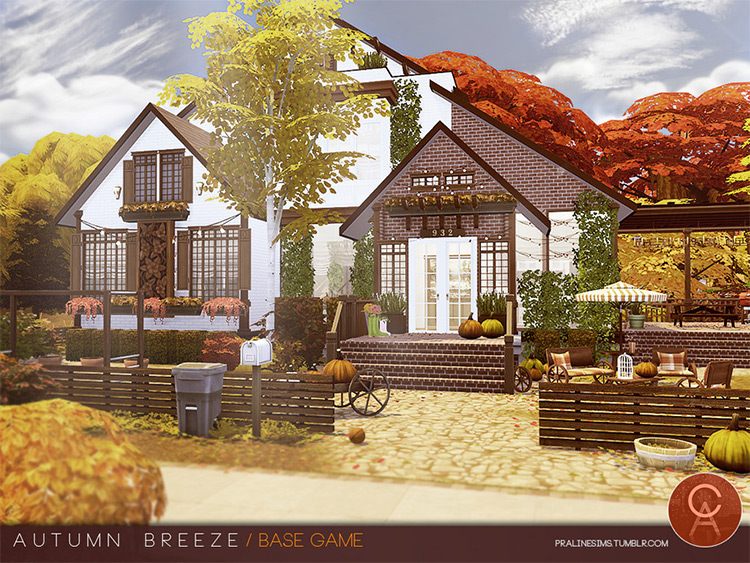 | | |
| --- | --- |
| Creator: | PralineSims |
| CC: | Yes |
| Value: | 170,000 Simoleons |
Autumn is synonymous with warm drinks, comfortable sofas, and staying cozy – and few custom lots achieve this like this three-bedroom house.
I love how the patio's furniture seems like it was made from a recycled wooden cart, as evidenced by the wooden wheels holding up most chairs.
The inside achieves a mild melancholic feeling reminiscent of the season it's named after.
But tasteful use of different textures and materials keeps it nice and home-y.
Each bedroom features a different décor style, ranging from regal to something more rustic – so each member of the household should easily find one that suits them.
28.

Paradise Wedding Venue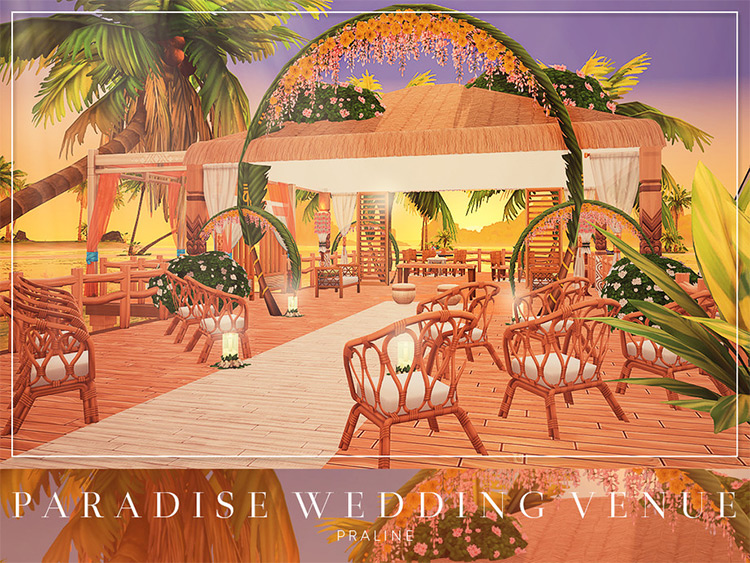 | | |
| --- | --- |
| Creator: | PralineSims |
| CC: | No |
| Value: | 23,000 Simoleons |
If you've ever thought of getting married at the beach in a dreamy wedding ceremony, you probably pictured something like this Paradise Wedding Venue.
The furniture is made mostly of rattan and light-colored wood that looks right at home in the tropical island of Sulani, and there are enough chairs to sit a small gathering of friends and family to watch your Sim join their life to their special other's.
The aisle is definitely the highlight. And the wheel of palm leaves crowned by hanging yellow flowers framing the altar will make any ceremony here feel magical.
Just make sure to pick out the perfect wedding dress for this venue!
27.

Greenhouse Café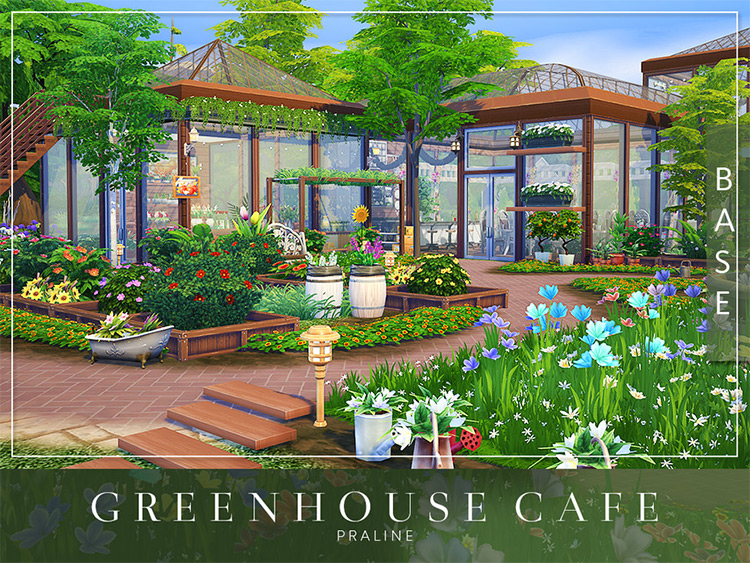 | | |
| --- | --- |
| Creator: | PralineSims |
| CC: | No |
| Value: | 170,000 Simoleons |
The Greenhouse Café shines for two main reasons: its massive amounts of greenery, and the fact that it's 100% base game compatible.
Different species of flowers come together in the café's main garden, creating a real festival of color that serves as the centerpiece for the lot.
It's accessible from the entrance by following a beautiful brick road.
While the indoor seating spaces are bright and spacious-looking thanks to the glass walls, I'd prefer the open-air terrace where I can feel the sun on my skin while drinking some iced tea.
26.

Luxurious Abode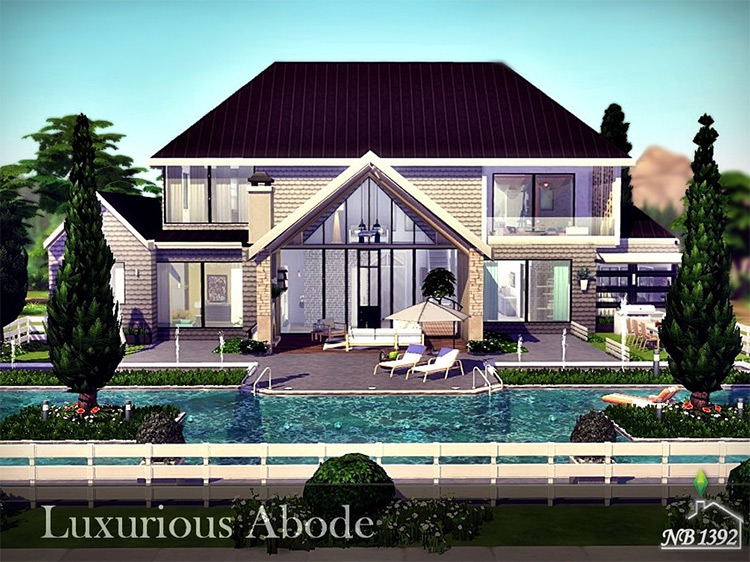 | | |
| --- | --- |
| Creator: | Nobody1392 |
| CC: | Yes |
| Value: | 215,000 Simoleons |
Sometimes you just want a big suburban home with a white picket fence and enough room to fit your entire family, your office, and your big-ass pool.
This custom home sits on a 40×30 lot to do just that.
It has a large patio with a beautiful pool strangely reminiscent of a fountain at Versailles, and the light cream wood veneer will look fantastic on your Sim's poolside IG stories.
Every room in this house has its own décor style and personality, and there's even an office for your influential Sim to receive important visitors.
25.

The Witch's Hut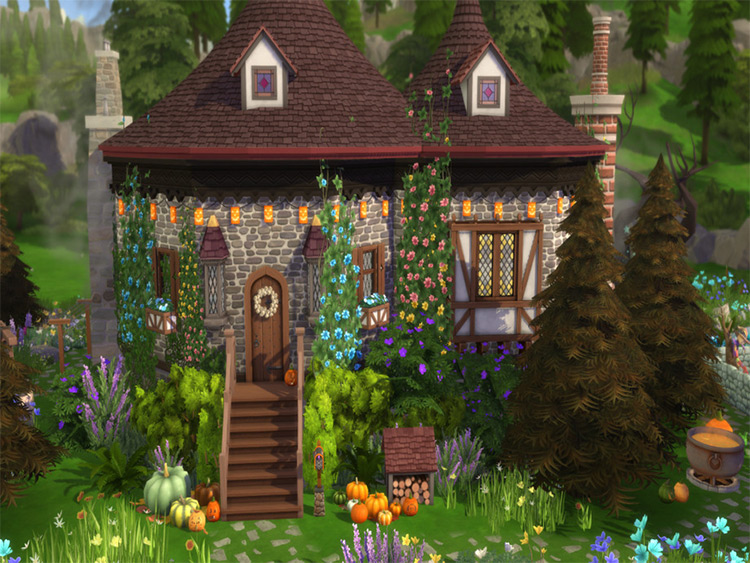 | | |
| --- | --- |
| Creator: | Susancho93 |
| CC: | No |
| Value: | 207,000 Simoleons |
If you've ever read an ancient story about a witch, you know they generally reside in isolation somewhere in the forest – probably in a cute cottage similar to this one.
The beautiful flowers and plentiful greenery surrounding the main house create a deceptively cute and safe look.
There are many pumpkins outside – an entire patch – and even a bubbling cauldron for your outdoor spellcasting needs.
On the inside, you'll find everything a witch needs – including a very medieval bathroom, a kitchen, knitting supplies, and even a secret underground room to conduct your magical experiments.
24.

Pet Park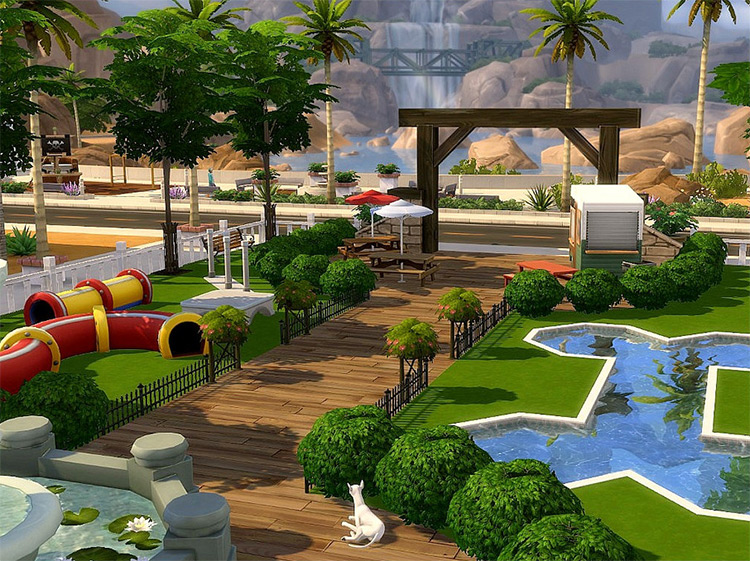 | | |
| --- | --- |
| Creator: | LotsByManal |
| CC: | No |
| Value: | 23,000 Simoleons |
Every witch has a familiar, and most Sims have at least one pet.
So why not go out and have some fun with them in this gorgeous Pet Park?
This 30×20 lot fits several attractions for both your Sim and their pets to have fun. There's a bone-shaped pool for the doggies and a well-equipped obstacle course to train them for a show.
There's also a beautiful fountain completing the park and some tables where owners can sit down and chat while their dogs sniff each other's behinds.
23.

Fun Park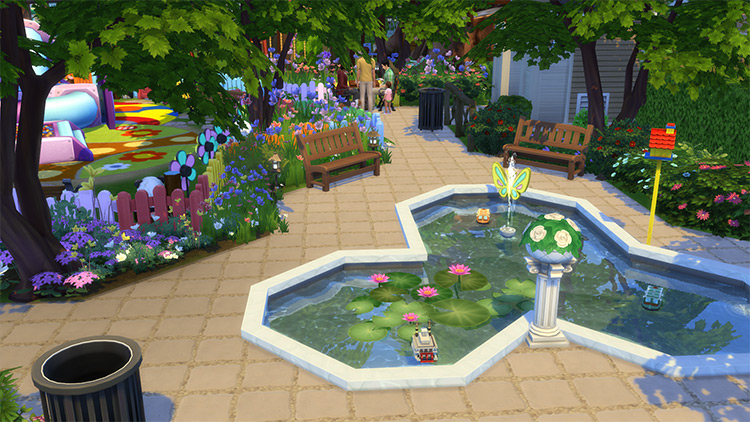 | | |
| --- | --- |
| Creator: | Falco |
| CC: | No |
| Value: | 78,000 Simoleons |
If your Sims decided to have children over pets, I have the perfect spot for some high-quality family fun.
This Fun Park has so many attractions and activities, it's hard to count them all.
There's a place for everyone in this park, whether they're toddlers, teenagers, or adults!
The pond is beautiful, and the barbecue equipment is useful – but I'm especially fond of the toddler-safe area, featuring plenty of padding on every surface to make it child-proof.
Nice detail!
22.

Blue Lagoon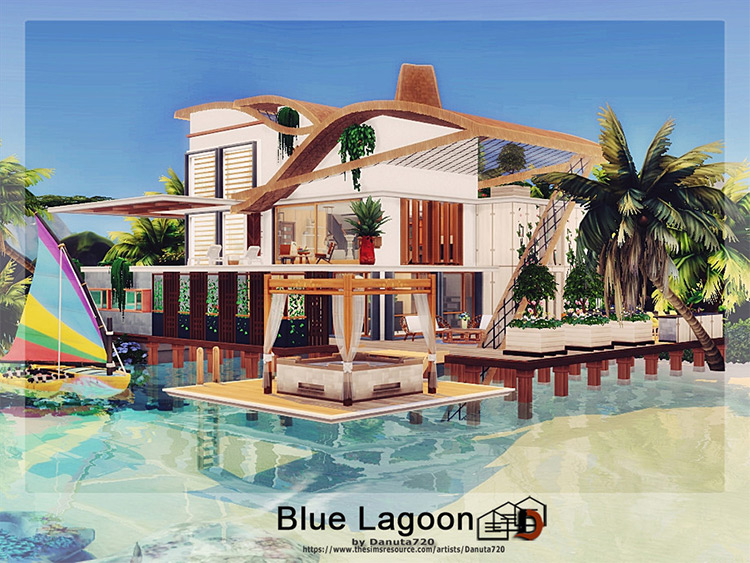 | | |
| --- | --- |
| Creator: | Danuta720 |
| CC: | No |
| Value: | 168,000 Simoleons |
I've always dreamed of living on the coast, but I've never been able to accept having to live in a tropical-looking bungalow like you'd get on vacation.
The Blue Lagoon house is a modern seaside dwelling that doesn't give into the "hut on the sand" aesthetic, and instead brings the comfort and style of the suburbs into your coastal abode.
That said, it's not like you'll be entering a techno-futuristic bunker.
Wood and warm colors are strategically used to keep the space harmonic with the tropical setting, making it perfect for a sea-loving family with high living standards.
21.

Manor House 3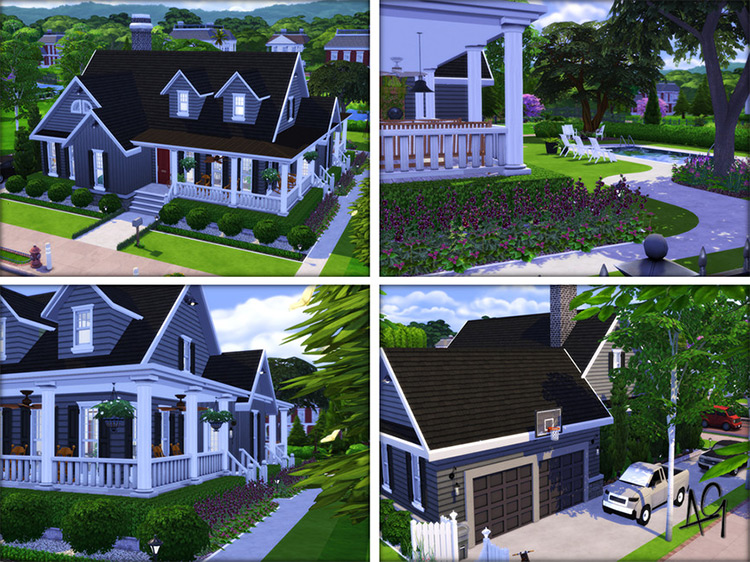 | | |
| --- | --- |
| Creator: | ALGbuilds |
| CC: | Yes |
| Value: | 124,000 Simoleons |
Speaking of living standards, here's one that's sure to please even the most privileged Sims.
This two-story Manor House doesn't employ any gimmicks or alternative styles to look good.
Its architecture is pretty standard, and it's painted in discreet colors.
But some details like the perfectly-cut bushes and its sheer size suggest an opulent occupant.
The interior is also tastefully decorated, and every room is a bit different from the rest.
20.

Mondrian I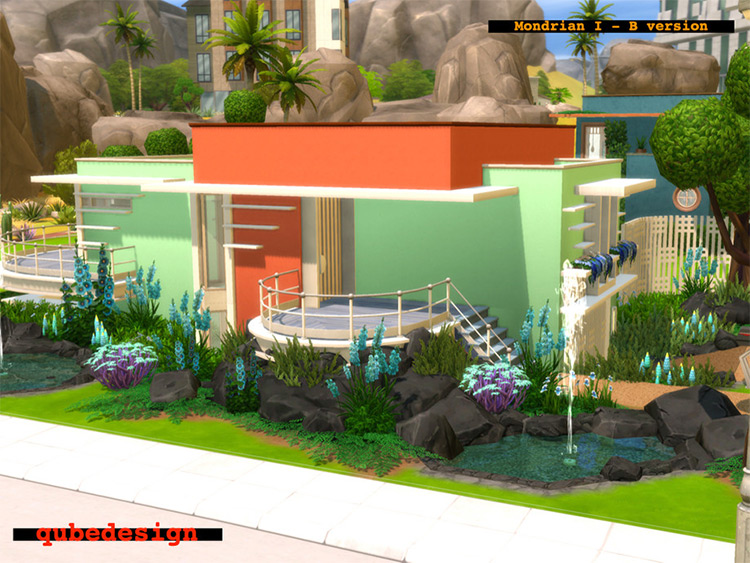 | | |
| --- | --- |
| Creator: | QubeDesign |
| CC: | No |
| Value: | 92,000 Simoleons |
Named after illustrious Dutch painter Piet Mondrian, this unique house brings together Art Deco tendencies with some ecological architecture concepts.
I love the heavy use of bright orange, but it's not the only bold color.
These intense hues are complemented by tasteful furniture and subdued décor, as well as plenty of outdoor and indoor greenery.
Other than the two bedrooms and bathrooms, you get a garage, a study, a home theater, and even a Jacuzzi to relax after a hard day being your neighbors' envy.
19.

Beach Paradise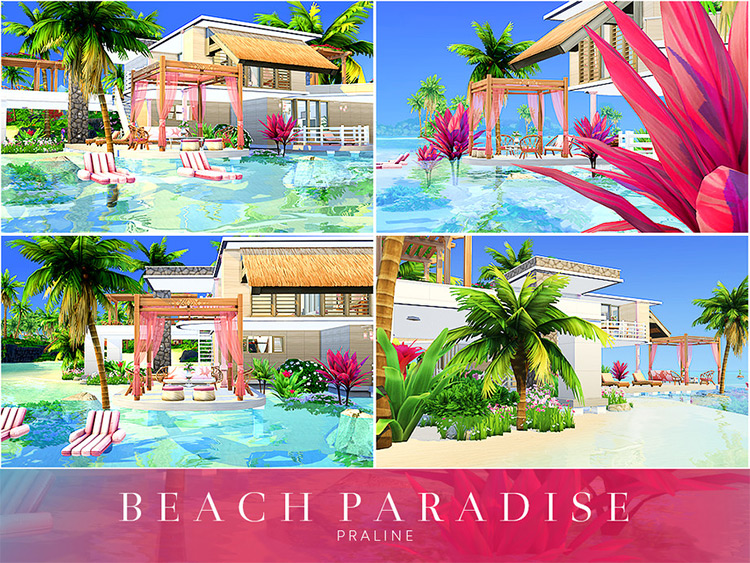 | | |
| --- | --- |
| Creator: | PralineSims |
| CC: | No |
| Value: | 127,000 Simoleons |
If you're on the market for a seaside dwelling that'll make you feel the tropical getaway aesthetic while remaining tasteful and elegant, I suggest the Beach Paradise.
This lot features plenty of open space, the house itself seems connected to the nature around it remarkably, and the terrace is the perfect place to watch the sunset.
Intense warm colors and plenty of rattan furniture come together on the inside to reflect the outdoor tropical landscape.
The living room seems comfortable-enough to chill after a tiring day at the beach – which is possibly the best part.
18.

Mini Beach Bungalow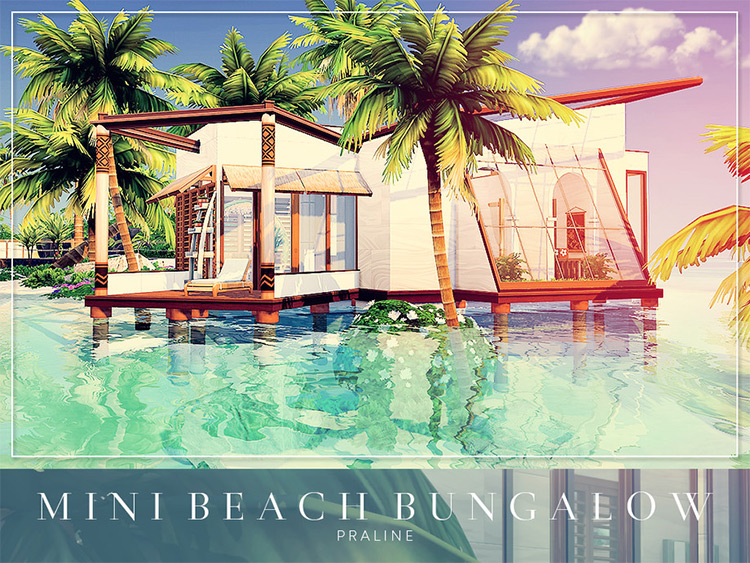 | | |
| --- | --- |
| Creator: | PralineSims |
| CC: | No |
| Value: | 70,000 Simoleons |
If I'm hitting the beach on vacation or by myself, I'd rather have a cozy abode with only the essentials for a tropical getaway.
This Mini Beach Bungalow is similar to our previous entry – after all, they're both made by PralineSims – but everything is scaled down considerably.
Intense cyan and turquoise colors lighten up the otherwise tame interior décor, creating the perfect harmony for a relaxing but stylish abode.
It's easily the most modern design you'll find on this kind of bungalow.
17.

Small English Cottage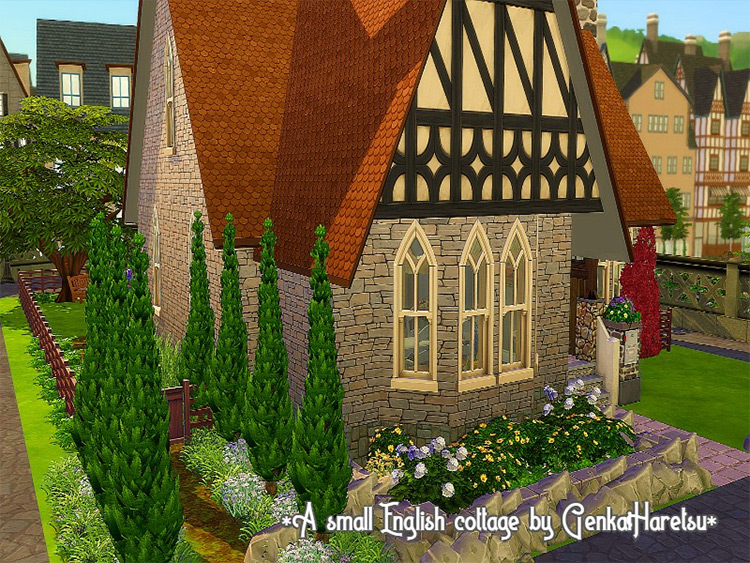 | | |
| --- | --- |
| Creator: | GenkaiHaretsu |
| CC: | No |
| Value: | 105,000 Simoleons |
Similar to the Witch's Hut we covered before, the Small English Cottage is an adorable little house that looks like the setting for a bedtime fairy tale.
It may look comically small. But the inside has everything you need – including a bathroom, a bedroom, and a sufficient kitchen, among other amenities.
On the outside, the gorgeous lavender garden reinforces the fairy tale aesthetic – and there's even a fenced area with fertile soil for you to keep your own vegetable garden.
16.

Olympus & Underworld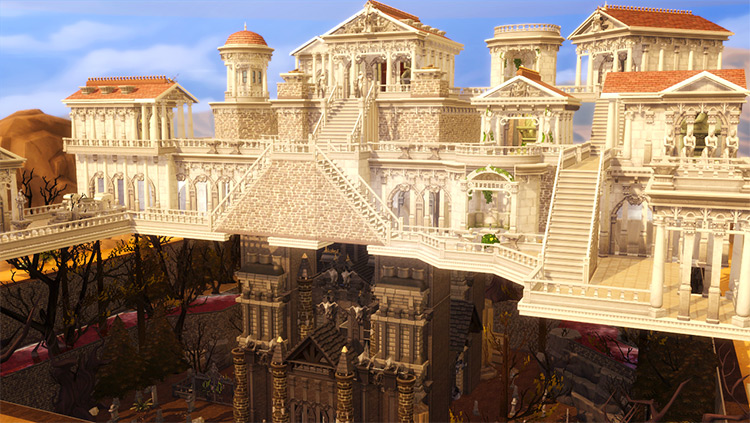 | | |
| --- | --- |
| Creator: | Kaibelvert |
| CC: | No |
| Value: | 470,000 Simoleons |
I just love it when people take a tool like TS4's building engine and push it to its very limits, as seen in this colossal structure that is the Olympus & Underworld lot.
This massive construction is inspired by Greek myth, with the bright ancient Greek architecture of Olympus – dwelling of the Gods – overlooking the Underworld's dark and cold depths.
But you'll need to save a pretty penny to add this one into the neighborhood.
15.

Korean Home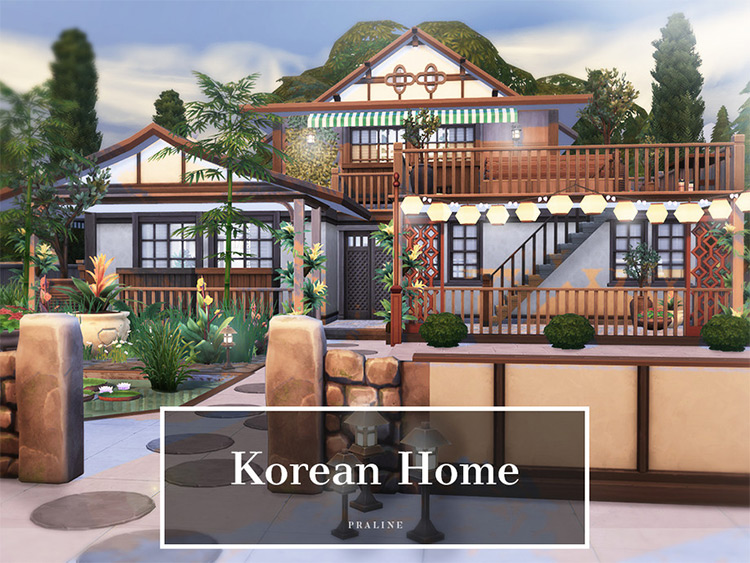 | | |
| --- | --- |
| Creator: | PralineSims |
| CC: | No |
| Value: | 180,000 Simoleons |
At three large bedrooms, three bathrooms, and several common areas, this very traditional-looking Korean home is the perfect place for a large, tight-knit multi-generational family.
Creator PralineSims was careful-enough to pick plants resembling what you'd find in Korean territories, including bamboo, which gives this home some extra authenticity.
While it looks colorful and eye-catching during the day, this home looks its best at night – when the excellent lighting comes on and creates an appealing but solemn look that bridges the gap between tradition and modernity.
14.

Korean Designer Abode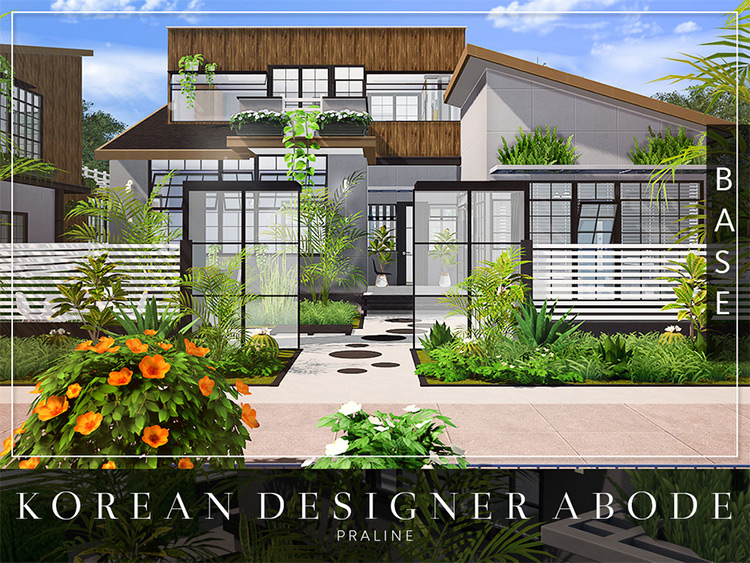 | | |
| --- | --- |
| Creator: | PralineSims |
| CC: | Yes |
| Value: | 180,000 Simoleons |
Where our previous entry adds a modern touch to a mostly traditional style, this Korean Designer Abode takes notes from historical Korean styles as inspiration for a modern home.
On the inside, wooden surfaces come together with a mostly black and white palette for an elegant look.
I'm also very fond of the plant life bursting out of several points of the house's facade, which keeps the space lighthearted and peaceful-looking.
13.

Modern Zen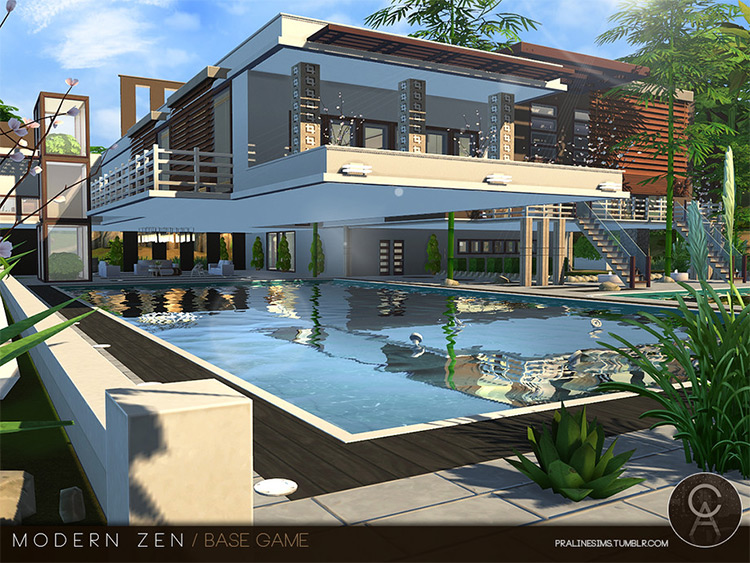 | | |
| --- | --- |
| Creator: | PralineSims |
| CC: | No |
| Value: | 418,000 Simoleons |
Now this Modern Zen house takes a lot of pointers from traditional Japanese households, and it looks great.
Asian flora like bamboo and cherry blossoms can be seen throughout the outdoor areas, like the two large pools and the terraces overlooking them.
Inside, light beige and white serve as the backdrop for simple and tasteful decoration in rich dark colors.
The bathrooms are also a work of art.
The tub in the center of the room keeps it from feeling cramped, and a mirror wall contributes to the spacious atmosphere.
12.

Freelancer's Modern Home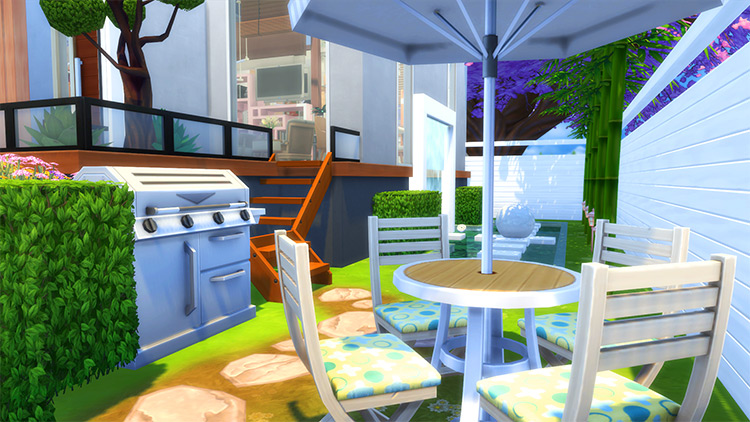 | | |
| --- | --- |
| Creator: | SimbunnyRT |
| CC: | No |
| Value: | 114,000 Simoleons |
Another impressive contemporary structure drawing inspiration from historical Japanese styles is this lot.
This studio home is basically one giant box with the kitchen, living room, working area, and bedroom all occupying the same space.
Of course, the bathroom does have its own enclosure.
This works in tandem with the plethora of glass panel walls to give natural light access to most areas in the house.
When you're not inside typing on your desk, you can always chill beside the pond outside, or have some friends over to grill and have some drinks.
11.

Coconut 3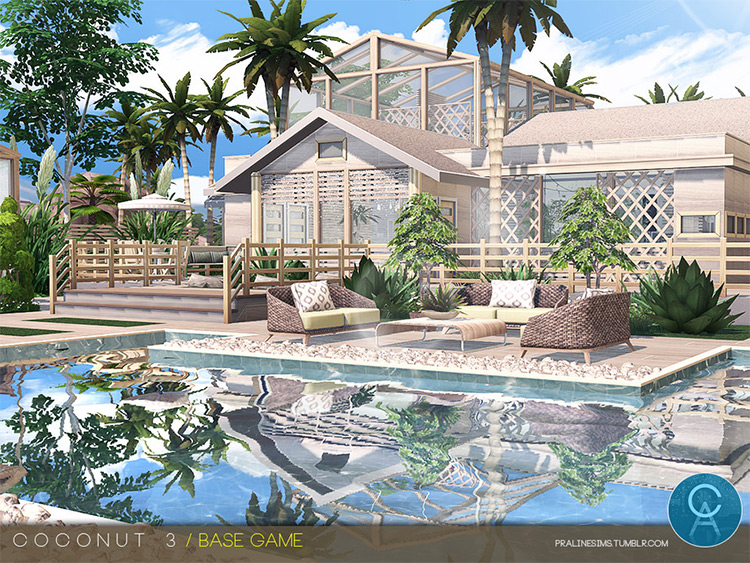 | | |
| --- | --- |
| Creator: | PralineSims |
| CC: | Yes |
| Value: | 200,000 Simoleons |
Just like our previous entry, the Coconut complex is built to let in the sun's rays.
But it takes it to a whole new level.
Not only does it make heavy use of glass panel walls to let in sunlight, but everything is painted with light-reflecting colors like beige and cream.
Even the master bedroom has a glass ceiling, and the bathroom barely has some wooden grid walls for privacy.
Did I mention the massive pool outside?
10.

Modern Lake Abode 2.0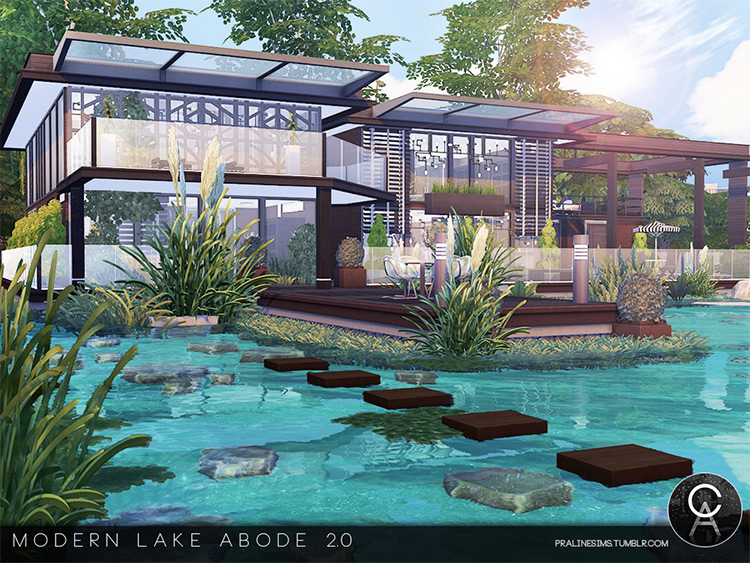 | | |
| --- | --- |
| Creator: | PralineSims |
| CC: | No |
| Value: | 400,000 Simoleons |
This updated version of PralineSims' Modern Lake Abode brings us more of the same modern style, but some twists keep things fresh.
It's designed to blur the lines between the interior and exterior spaces. Glass is used to let natural light through and give Sims a privileged view of the almost zen garden-like pond outside.
Inside, dark brown and black colors are in constant collaboration to create an elegant look, and some brighter hues serve to give certain areas – like the bedrooms – a more homely style.
9.

Sakuya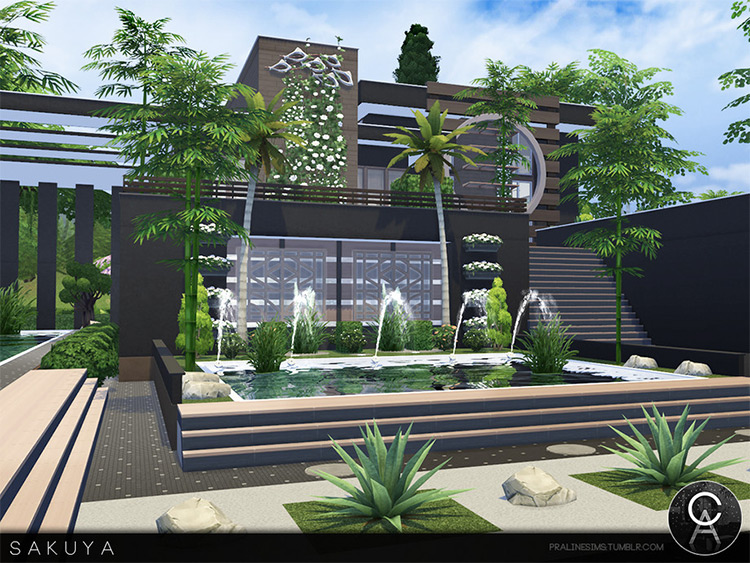 | | |
| --- | --- |
| Creator: | PralineSims |
| CC: | No |
| Value: | 350,000 Simoleons |
Our next entry seems fit to house the leaders of a local chapter of the Japanese Yakuza, with lots of black colors and dark wood that make it both stylish and a little intimidating.
While the house itself is definitely appealing, the gorgeous front garden and generally incredible landscaping elevate this lot to greatness.
In general, the indoor decoration is nice and elegant – if a bit tame – but the creative use of indoor plants, including vines growing up some walls, creates a beautiful contrast.
8.

Seattle Grace Hospital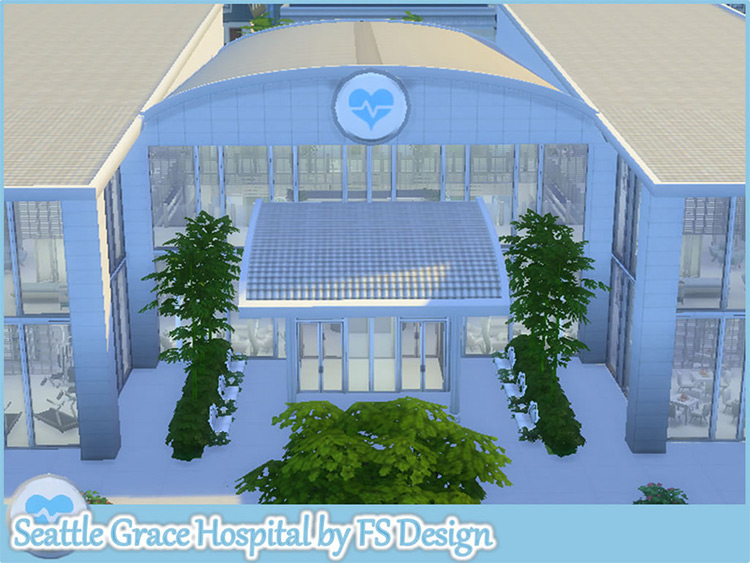 | | |
| --- | --- |
| Creator: | FSDesign2 |
| CC: | No |
| Value: | 730,000 Simoleons |
Hold on to your seats, Grey's Anatomy fans. Because you're about to get your mind blown.
The Seattle Grace Hospital is the setting for most of this American TV show's episodes, and it's tastefully recreated in striking detail on this 50×50 Sims 4 lot.
It includes all the medical equipment a hospital needs, and you'll recognize most of the common areas, like the bar and the gorgeous lobby.
There are also rooms for patients, operating rooms for major surgery, and everything you've seen in the show.
7.

Bisham Manor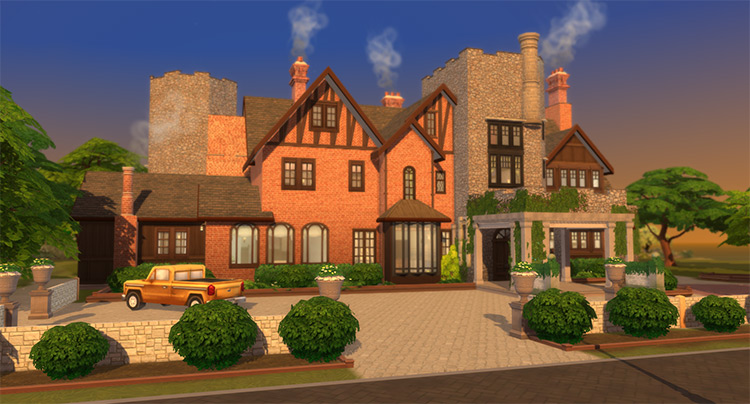 | | |
| --- | --- |
| Creator: | Wouterfan |
| CC: | No |
| Value: | 348,000 Simoleons |
Another incredible lot taken straight out of a popular TV show is the Bisham Manor from The Haunting of Hill House.
Also known as Hill House, this massive dwelling looks exactly like it did in Netflix's reimagining of Shirley Jackson's novel, both on the outside and the inside.
It even has a hidden floor!
It's ideal for spooky Sims, like vampires and evil sorcerers – and it can fit a real army of them in its five large bedrooms.
6.

Aura Modern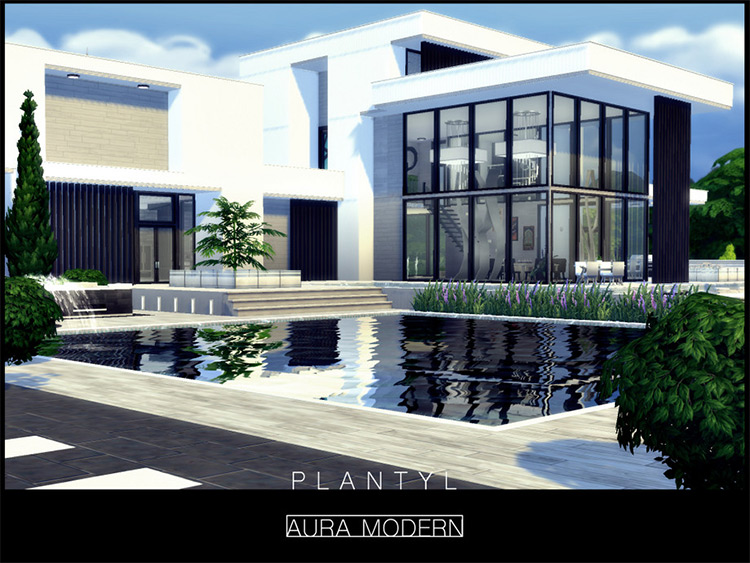 | | |
| --- | --- |
| Creator: | Plantyl |
| CC: | No |
| Value: | 445,000 Simoleons |
Style and luxury are the two words that best describe this spacious dwelling.
It includes three double bedrooms, three bathrooms, several dining areas, a private bar, and even a dance floor with DJ equipment.
That's not to mention the massive private pool waiting just outside.
All the interior décor is either black, white, or gray – but thanks to the avant-garde design and bold decorations, it works wonders.
Get it if your Sim is Elon Musk.
5.

Old French Village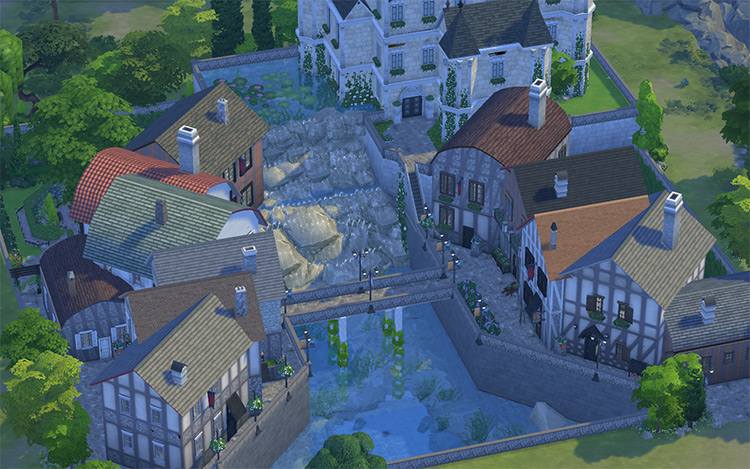 | | |
| --- | --- |
| Creator: | Catdenny |
| CC: | No |
| Value: | 1,200,000 Simoleons |
Few lots are as ambitious at Catdenny's Old French Village – an entire town recreated on a 64×64 space.
Several different buildings seem stacked next to one another in a very picturesque manner. These include several dwellings, a café, and even a pub.
A beautiful waterfall flows into a sizable canal cutting through the town, and standing on the bridge that crosses it, your Sim is bound to feel like they're in a Disney movie.
4.

Dalaran – The Floating City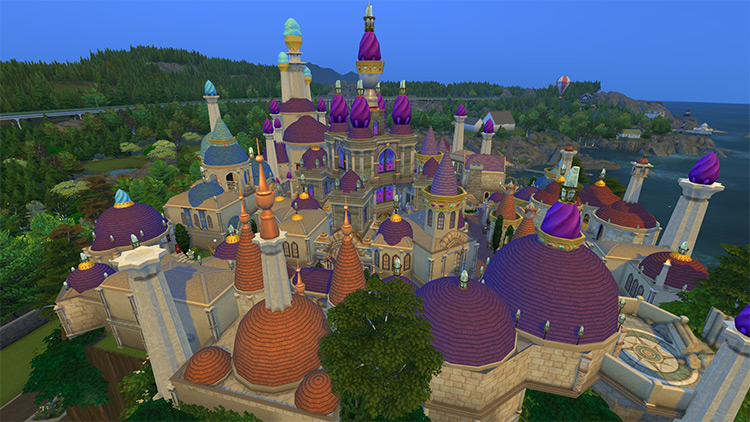 | | |
| --- | --- |
| Creator: | SatiSims |
| CC: | Yes |
| Value: | 1,352,000 Simoleons |
If you thought the previous entry was big, wait until you see this faithful TS4 reproduction of World of Warcraft's Floating City of Dalaran.
It was initially located in the Eastern Kingdoms before being magically relocated to the skies over Northrend, and now, it hovers over your TS4 town.
This 64×64 lot features everything you see in the game, more or less on the same scale. This includes the Main City area, the Rogue and Mage Class Halls, the Sewers – and even a couple of new dwellings to move into the city if you so desire.
3.

Kindergarten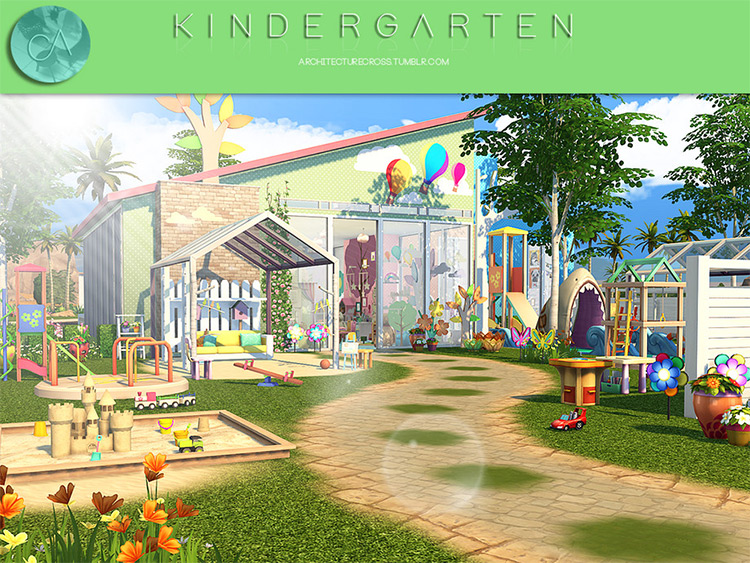 | | |
| --- | --- |
| Creator: | PralineSims |
| CC: | Yes |
| Value: | 170,000 Simoleons |
If I had kids, I'd want them to spend their formative years in an atmosphere as bright and colorful as this Kindergarten by creator PralineSims.
Many toys and park equipment like a sandbox, a merry-go-round, and seesaws are scattered over lush green grass with beautiful flowers popping up all over the place.
On the inside, it's the ideal kindergarten.
This includes natural light reaching into classrooms and common areas alike. It even has the student's bags hanging on the walls, and lots of little details like that give it authenticity.
It's a dreamy place where Sim children can play, learn, and generally be happy and safe.
2.

Sulani Wedding Venue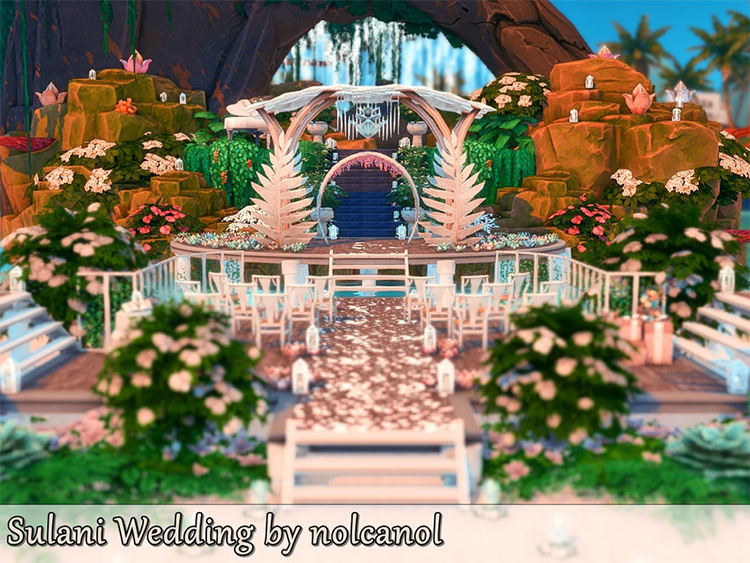 | | |
| --- | --- |
| Creator: | Nolcanol |
| CC: | No |
| Value: | 104,000 Simoleons |
It may promote itself as a simple tropical wedding venue on the coasts of Sulani, but this massive 50×50 lot looks like something straight out of a fantasy RPG.
Not only is everything built on a wooden pier overlooking the ocean, but a beautiful natural bridge formation behind the altar creates a grotto-like look that's simply magical.
Walking down the aisle would probably feel more like the coronation of an elven queen than a wedding thanks to the exotic, somewhat ethereal coral-colored décor.
1.

Hope Arts Center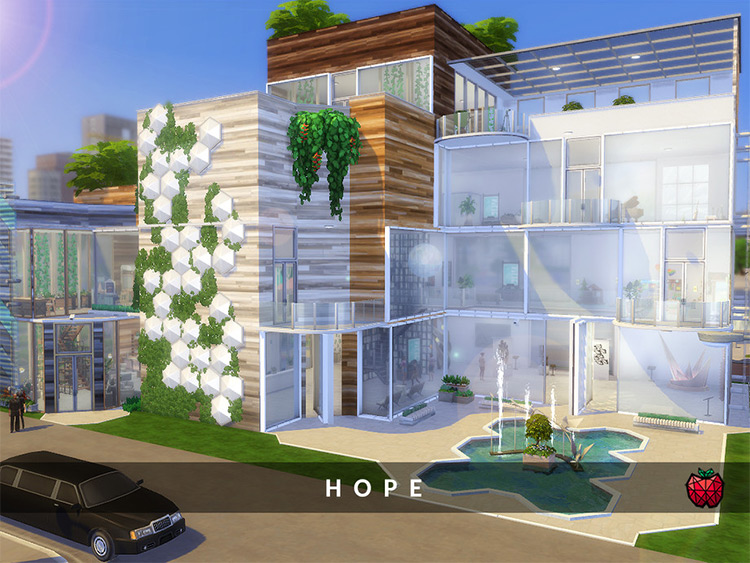 | | |
| --- | --- |
| Creator: | Melapples |
| CC: | Yes |
| Value: | 347,000 Simoleons |
Out of the 50 excellent lots I put together for here, the Hope Arts Center is the most appealing and immersive.
Not only does it look incredible with the avant-garde ecological design choices you'd expect in such an place, but the inside is also pretty authentic thanks to the many art exhibits.
There are quiet places for film screening, stages for band performances, and even a little café to feed your stomach after you've fed your soul.
Great place to take a first date!
Part art exhibit, part workshop, part architectural statement – this multifaceted building should be the golden standard of TS4 lots.
Browse:
Lists
The Sims 4
Video Games