Best Sims 4 Hugging Pose Packs: The Ultimate Collection
This post may contain affiliate links. If you buy something we may get a small commission at no extra cost to you. (Learn more).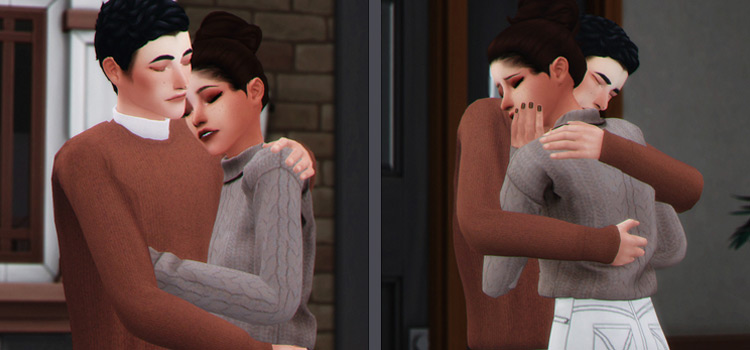 For those naturally cuddly, naturally touchy, naturally affectionate Sims (and Simmers) out there, this list's for you:
The absolute best Sims 4 pose packs featuring some of the cutest, warmest, softest, and fondest hugs I could find.
Happy hugs, sad hugs, playful hugs, familial hugs… turns out, there are a lot of ways you can hug someone.
And there are a lot of narratives you can spin from just one hug, too. Check it out!
1.

Hugs (Poses) by Akuiyumi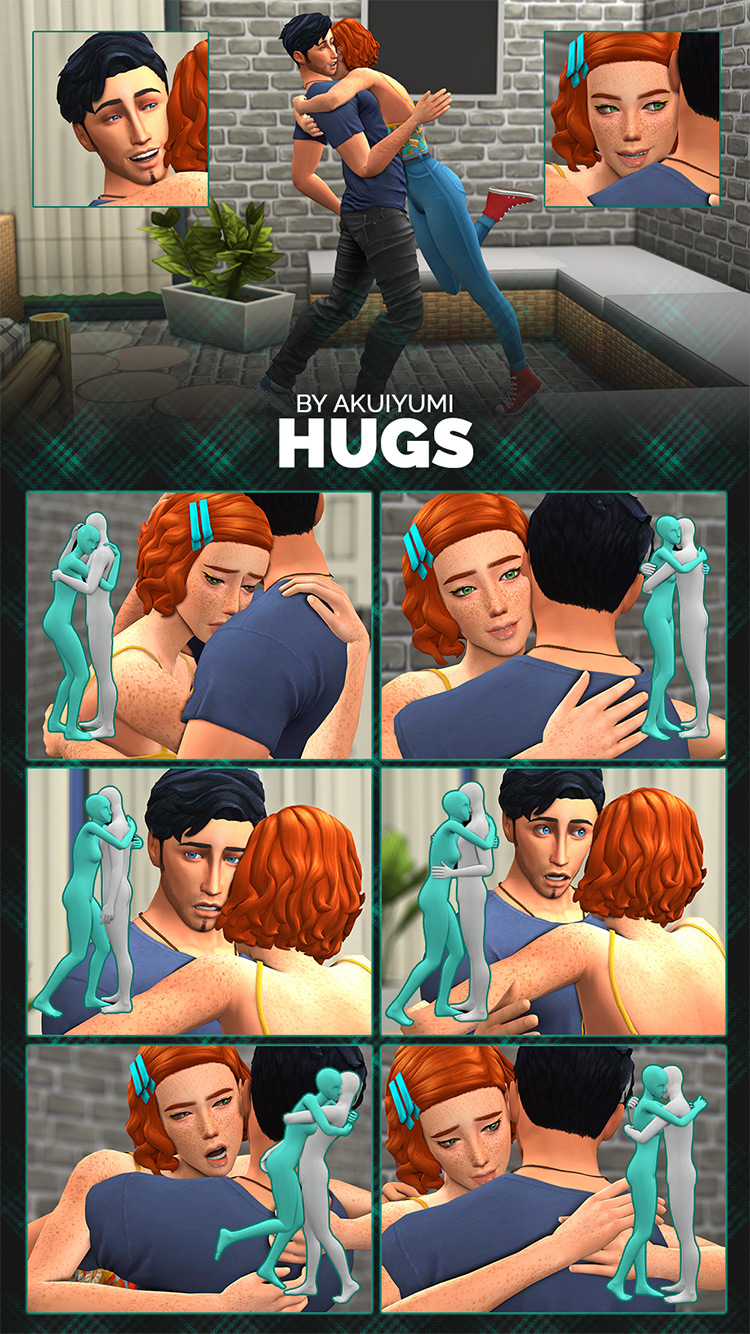 The name of the pose pack is pretty straightforward, and so too are the poses inside it.
Which is pretty convenient if all you really need are some simple cuddly poses.
There are 7 poses in total, and they're all clearly labeled in-game, (read: Uncomfortable, Happy, Pervy-Angry, etc.) so no problems finding the ones you want.
What I love is that each pose is a distinctly different emotion, and the expressions of the models show it quite well.
Not too exaggerated, not too subdued either.
As a naturally touchy person, I'm a big fan of tackle-type hugs (fifth pose, I believe).
So this felt true-to-life.
And regarding the sixth pose… hey, home people are close enough that copping a feel isn't cause for concern, right?
Right.
Preview photos show Male and Female models, but the poses work just fine for same-gender units (and with the Male and Female models switched).
2.

Bestie's Pose Pack by iSims1357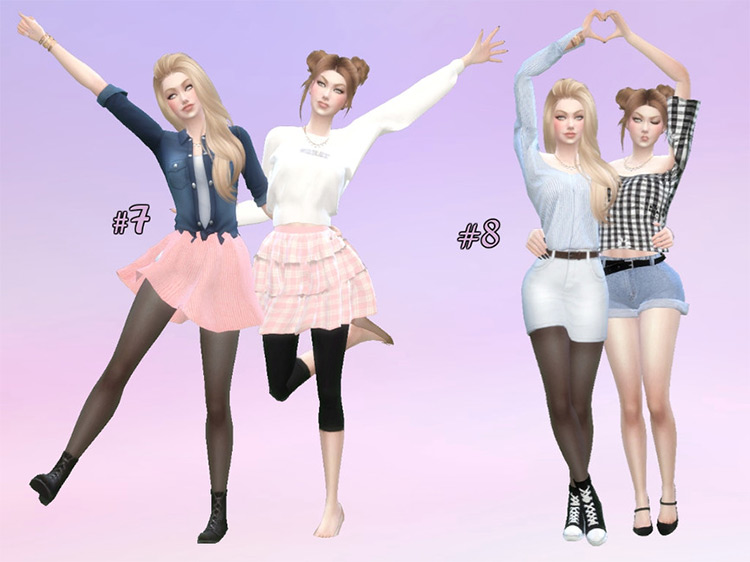 Now I know this doesn't seem like a dedicated hugging pose pack, but hear me out:
Four out of the eight poses have the models hugging, cuddling, or otherwise squeezing each other (even if it's just for the 'gram), so I say it counts.
Also, all the poses are hella cute.
Thank me later.
The pose that initially caught my eye was the eighth pose (because I'm a huge K-pop stan and it just looked like something a girl group would pull).
It's a pretty unique pose, all things considered.
Definitely not something I encountered multiples of while making this list.
But it, thankfully, doesn't overshadow the other items on this list.
The poses are all varying levels of sweet and spicy, with just the right amount of closeness to really sell that "fun and fresh photos" vibe.
3.

Family Hug (Pose Pack) by Beto_ae0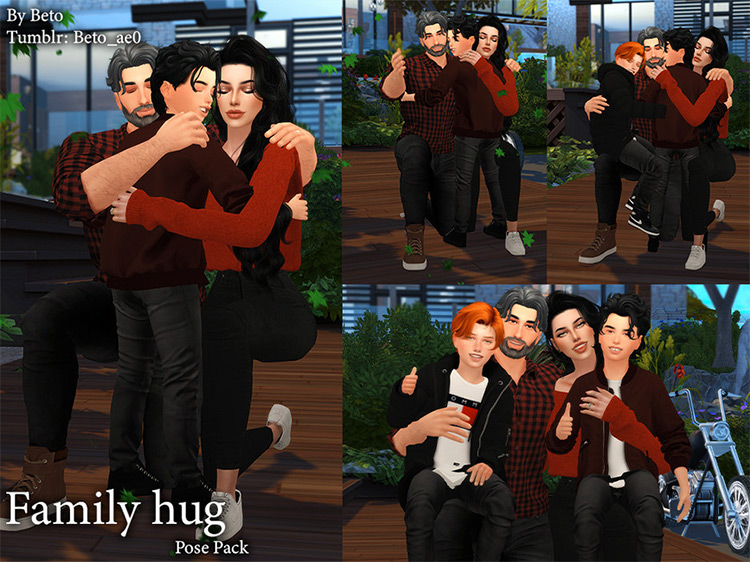 In a literal ocean of couple-y hug poses, I can't tell you how happy I was to find some family-oriented gems.
This one's for my fellow Simmers who love all the Generations-esque packs, and every flavor of family gameplay.
There are four poses in this pack, and they all translate beautifully in the game.
I tried them with different family structures and, damn. They all gave me photo album-worthy pictures.
You should have virtually no problems figuring out which poses to give to which models, either. The pose list is simply (but clearly!) labeled.
For the first three poses, you'll do fine with just one child Sim.
The fourth pose, however, looks a wee bit awkward with just one Sim spawn, so. There are certain angles where you can get away with it, but they're pretty hard to land.
If your Sims only have one child, best avoid the last one.
4.

"More Hugs" Posepack by ClumsyAlien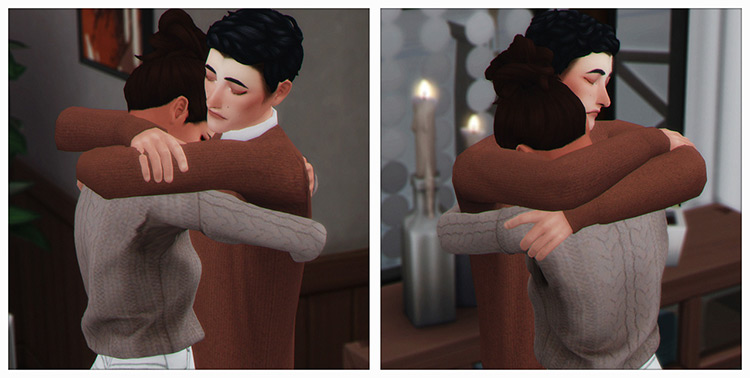 This Sims 4 pose pack by ClumsyAlien is an awesome mix of both couple-y and family vibes, and I am here for it.
You get ten pretty poses, all of varying emotions that, honestly, seem pretty deep.
They range from "softly contented" to "fond" to "deeply distressed and holding on for dear life."
(That last one is pose number two, by the way.)
There are also two poses made for an Adult and Child Sim, which embody the same sort of low-key fondness and affection that most of the other poses radiate.
Overall this pack just has this sort of soft, quiet happiness to it that I personally adore.
I mean, exaggerated facial expressions and wild animations are pretty much the hallmark of Sims 4, and I do love how it makes for upbeat gameplay.
But for my stills and screenshots, I prefer subtlety.
5.

Friend Hug by sense-company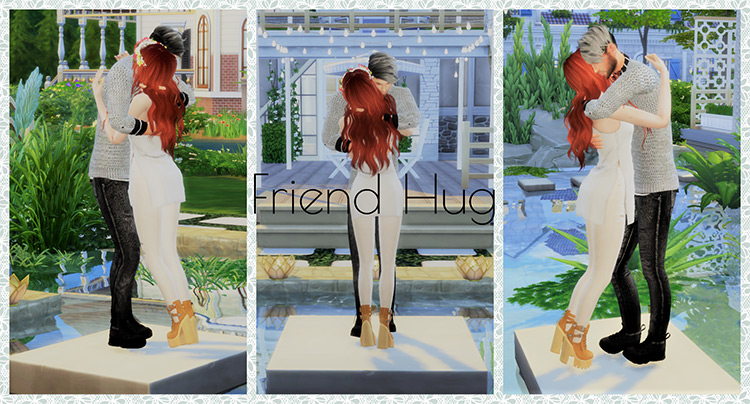 Oof.
To be absolutely fair, these things happen. Is it cool when they do? Nope. Sucks for all parties involved.
But they're part of the experience, right?
Right. Okay.
So this single-pose pose pack is pretty self-explanatory, but I appreciate just how well the emotions reiterate the concept.
From far away, it looks like a regular hug. But zoom in on the expressions, and there you go.
No fondness, no affection… not even a whiff of warmth.
If your storyline is headed in the direction of "these two are never going to see each other again," this pose is spot-on.
6.

"Hug it Out" by ashes2ashes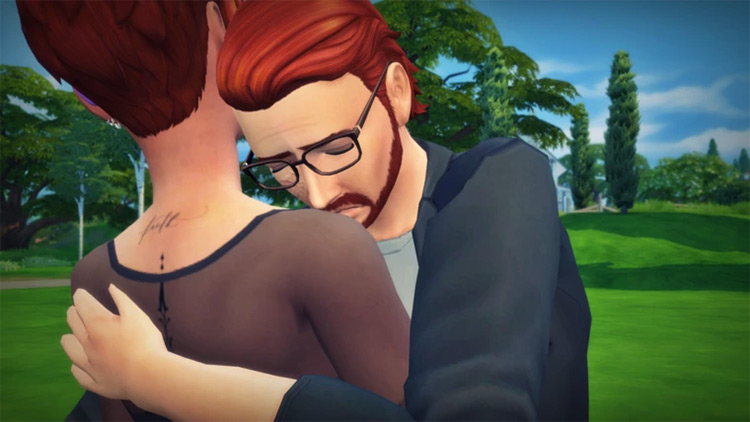 The poses here are like a mix of Akuiyumi's Hugs (Poses) pose pack (specifically the uncomfortable hugs) and ClumsyAlien's More Hugs Posepack.
It's got a good blend of different scenarios where hugging is either appropriate, inappropriate, or wildly unexpected.
I also have to mention that this pack – out of all the packs on the list – is the most true to The Sims 4 style.
It fits the vanilla game textures and proportions the most.
So if you're a purely Maxis Match modder, these poses will translate seamlessly in-game.
If you prefer Alpha CC items, I did notice a bit of clipping going on with my Sims' (Alpha CC) clothes, but it was pretty minimal.
Tweak the angles a bit and it'll be right as rain.
7.

Love Your Hugs Posepack by simmireen
Brace yourselves, lads, because these are five of (the. cutest. hugs) that I have ever seen in the Simsverse. Full stop.
I don't know if it's something with the facial expressions or if it's just the concept itself, but these poses are literally brimming with unbridled affection.
The kind that makes you feel all warm and fuzzy inside.
Break out your tall and tiny pairings, too, because these poses were literally made for couples with noticeable height differences.
(And if they don't, the models come with preset heights, so. Your Sims are gonna shrink and grow accordingly, regardless.)
I also have to give plus points for the quality.
My mods are a mix of Alpha CC and Clayified/Maxis Match pieces, so I'm used to the occasional clipping or warping.
But when I tested these poses, lo and behold. Seamless. Absolutely seamless. And I was on Laptop Mode.
8.

Welcome Home by simmerberlin
The warm and fuzzy feelings continue with simmerberlin's Welcome Home pose pack (it's bundled with their Jingle Paws pose pack; just scroll down a ways).
This pack of nine poses is a pretty sweet combination of Beto_ae0's Family Hug (Pose Pack), ashes2ashes's "Hug it Out" pose pack, and ClumsyAlien's "More Hugs" pose pack.
Seems like a lot? It is.
But if you want a beautiful blend of family hugs, friendly hugs, lovey hugs, and everything in between, this is the pack for you.
The facial expressions are great (not too subtle, but not cartoonishly exaggerated) and the pose lines are very clean.
I'd argue that the poses with the kids are one-of-a-kind, too.
I didn't see any other pose quite like it while I was scouring the community.
9.

Moments by simmerberlin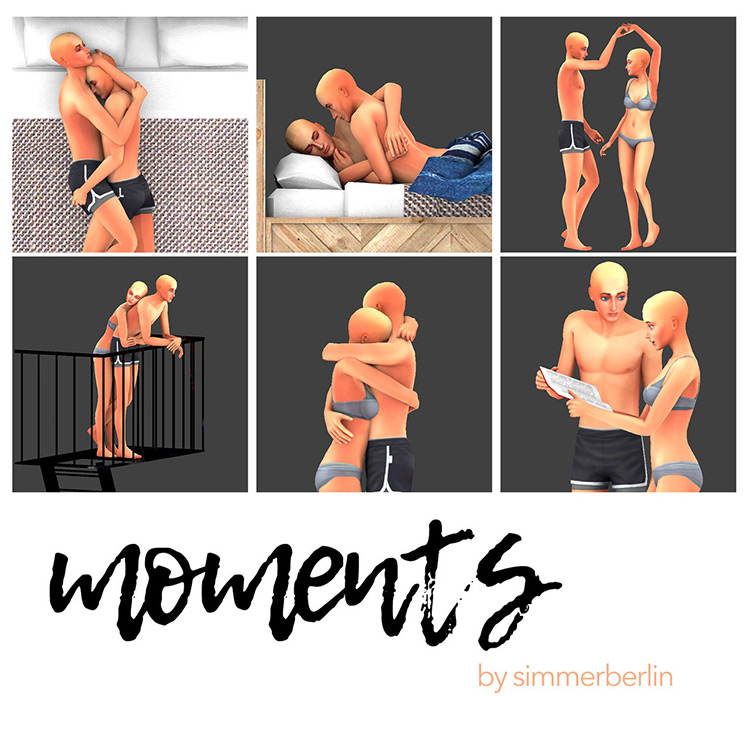 Maybe it's just the dramatic theatrical side of me but good God, do I love these poses.
They're like slices of cuddly, domestic life artfully captured.
Got to give the creator bonus points too, because they based the poses off reference photos (included in the main download post) and they nailed it. Hundred percent.
You'll need a couple things for the poses (specifically pose #2, #4, and #6) to make sense.
Unfortunately, two of the links in the main post lead to lost pages. The third one (book accessory) works fine.
For the blanket, try this one from Novvvas's Misc Conversions Set.
For the fire escape, the original from sssvitlans is gone, but you can achieve the same effect by building a balcony with fences or half walls.
It might require a bit of finagling with the teleporters, but the results are totally worth it!
10.

Celebration: A Mini Gift! by simmerberlin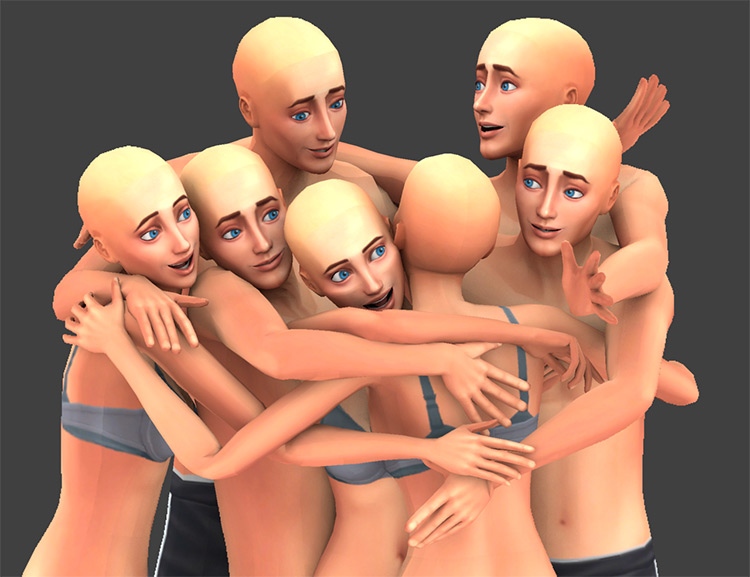 And last (but certainly not least) is this incredibly cheery group-hug pose pack by simmerberlin.
The second pose is definitely more of an obvious hug than the first, but the first has just as much closeness and chirpy excitement to make for a good photo.
I also want to state that it's pretty difficult to find good group hug poses for The Sims 4, so I am incredibly happy that the creator decided to share these.
(yes, this creator initially wasn't going to make these available for download. Everyone say thank you!)
The first pose is for six Sims, and the second is for seven Sims.
As with most group poses, I tested out different group sizes—just to see how much variation I could get away with.
The first pose can actually work for just three Sims, but the second is much harder to manipulate. I couldn't get a good enough angle or position for anything less than seven, so. Best stick to the recommended count for this one.
Otherwise, both poses made me extremely happy.
This pack definitely has that feel-good ending vibe.
Browse:
Lists
The Sims 4
Video Games