Hyundai Car & SUV CC For The Sims 4 (All Free)
This post may contain affiliate links. If you buy something we may get a small commission at no extra cost to you. (Learn more).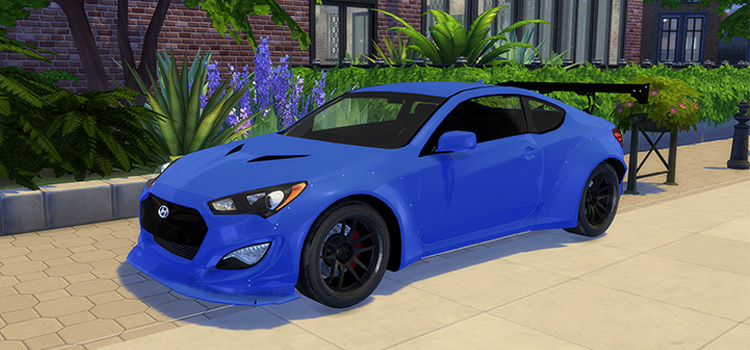 Hyundai is a South Korean car manufacturer known in the international market as a source of reliable vehicles at affordable prices.
They may not have the fancy interiors and in-house technological advances of BMW or Mercedes-Benz.
But Hyundai's vehicles can keep up with more expensive brands in power and exterior design.
These relatively low prices have allowed Hyundai to silently work its way into the streets, creating massive brand awareness and letting their satisfied customers appease the doubts of future buyers.
Since they're such a common sight IRL, we can't pass them over in The Sims 4 either.
So let's step up your immersion with some fantastic Hyundai custom creations.
1.

Hyundai Veloster (2012)
Some Sims like to keep things simple and drive compact cars that don't take up a lot of garage space.
When it comes to compact Hyundai vehicles, you can't go wrong with the Veloster – a 3-door hatchback coupe meant to please young car shoppers in South Korea and the world.
Something very different about the Veloster is that the driver's side has one large door while the other side features two smaller ones. It's chic and creative, even though it feels gimmicky.
This custom creation is nice and glossy, with seven bright colors for your younger Sims to choose from.
2.

Hyundai Veloster N (2021)
But you don't have to settle for the 2012 Veloster if it isn't your cup of tea.
The Veloster N is part of the car's second generation, which retained the asymmetrical doors while updating the hatchback's look to fit current standards.
It's sleek and even more sporty than the original, and the turbocharged four-cylinder engine gives it more power.
Any of this custom creation's four metallic colors should please a young and adventurous Sim.
3.

Hyundai Santa Fe (2016)
Older Sims might prefer the Hyundai Santa Fe, a comfortable and spacious SUV with a history dating back to 2000.
This is one of those cars that made Hyundai a well-known brand among Americans and other international markets.
There are just so many of these on the road… and don't get me started on used car dealerships.
The 2016 version has a robust V6 engine and three rows of seating to haul the entire family from one end of the country to the other if need be. It'll also drive the kids to school just fine.
4.

Hyundai Santa Fe (2021)
If your Sims want to lead the charge into the future with the most recent model available, the 2021 Hyundai Santa Fe is sure to please.
This adventurous SUV got a sizzling hot redesign, including all-new t-shaped LED lights that merge into the wider checkered front grille. The rear also features larger wheels and other minor adjustments that make it more imposing and majestic.
The 2021 Santa Fe is also available in hybrid and plug-in hybrid versions, making it a solid choice for the environmentally conscious.
5.

Hyundai Tucson (2021)
For something more compact, consider the Hyundai Tucson, a staple of American and international middle-class families for over 15 years.
The Tucson is Hyundai's best-selling SUV, and it's easy to see why.
It offers all the space and comfort you expect from an SUV, wrapped in a sleek and sporty body that gets better with each update.
For the 2021 model year, the Tucson received a new jewel-like grille that merges beautifully with its daytime running lights.
It also features more prominent fenders, angular wheel wells, and a renewed roof-line.
The Tucson is ideal for families, but I'd gladly drive it as a bachelor.
It's a beautiful machine – and any Sim would feel like a million bucks riding one of these.
6.

Hyundai Genesis Coupé by BTR (2015)
The Hyundai Genesis spearheaded the South Korean manufacturer's first foray into the luxury market.
In its basic form, it's an executive luxury sedan with a sober design that'll project wealth and status without drawing unwanted attention to yourself.
On the other hand, this special edition coupé developed by Blood Type Racing will make you the center of attention with its massive rear spoiler and aggressive body kit designed by Kei Miura.
The engine has been supercharged to match this sharp exterior, and the car is equipped with a nitrous oxide system to take things to the next level.
Get this for a Sim who'll know how to handle such power.
7.

Hyundai Sonata Turbo (2021)
The 2021 Sonata embodies Hyundai's "sensuous sportiness" design language.
It brings together top-of-the-line tech, an elegant body shape, and enough power to make you wonder whether it's actually a muscle car instead of a family sedan.
It's the perfect ride for a Sim who values aesthetics, performance, and comfort, but doesn't want to pay the fee for a traditional "top tier" brand like Mercedes-Benz or BMW.
8.

Hyundai Ioniq 5 (2022)
My Sims are always thinking of ways to reduce their carbon footprint – so the Hyundai Ioniq 5 is a match made in heaven.
This all-electric compact crossover incorporates many popular design cues from best-selling electric cars.
The Hyundai Ioniq manages a clean and unpretentious look that's miles ahead of most other companies, with their almost goofy attempts to adjust to electric cars.
In The Sims 4 and in real life, this is one EV I'd be proud to call my own.
Browse:
Lists
The Sims 4
Video Games