Sims 4 Ice Skating CC: Outfits, Poses & More
This post may contain affiliate links. If you buy something we may get a small commission at no extra cost to you. (Learn more).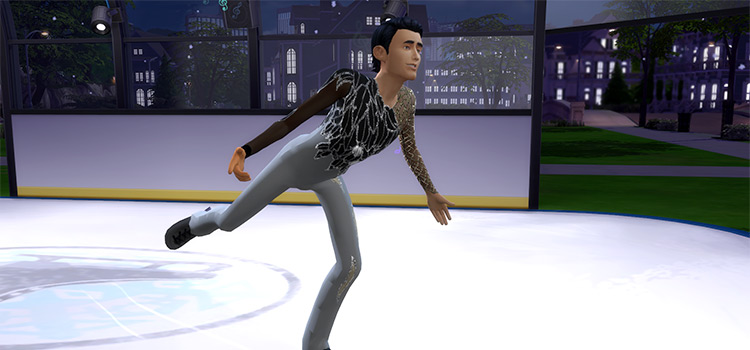 It's winter, you're sitting down to play some Sims 4, and you may or may not have the Seasons gamepack.
But what's certain is that ice skating is on the menu – and for that you'll need to find plenty of CC.
Especially if you have access to gamepacks, EA does offer some base game ice skating items. They're in limited supply, though, and there's no need to limit your creativity when you're playing The Sims.
So instead of making do with EA stuff, here's a bunch of ice skating CC ranging from frozen ponds to Scandinavian ice skates, to a skating rink turned restaurant!
1.

White Ice Skates Override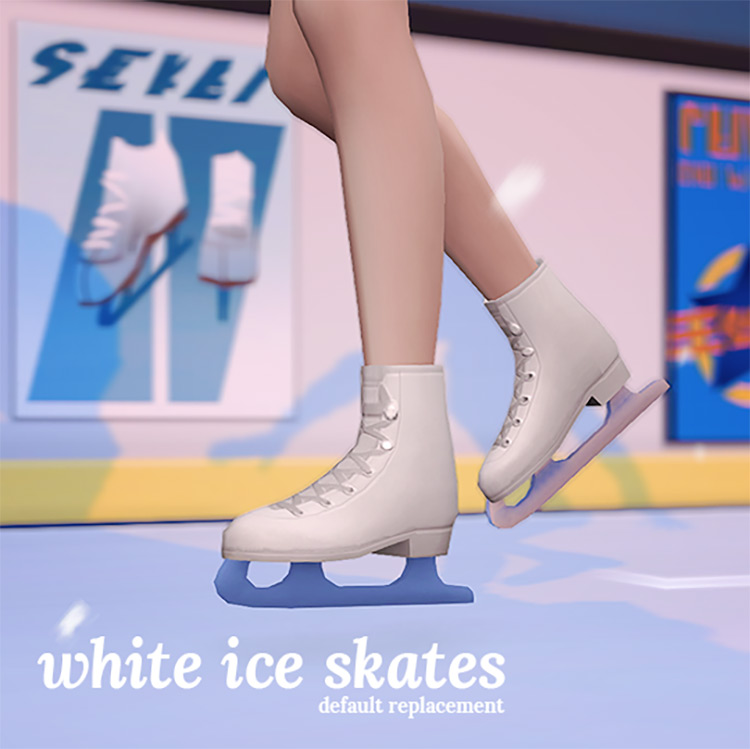 First thing's first: if you want your Sims to skate, you'll need to get them a solid pair of ice skates.
As far as Maxis-match ice skates go, these ones are hard to beat.
They're as close to a classic pair of white skates as you can get. And you can download a pair for your male, female, or child Sim.
With everything about this CC being so convenient and polished, it's hard to complain about there only being one swatch.
It doesn't hurt that the one swatch is a perfect white!
2.

CAS Ice Skates in Boots (& Skate Rink)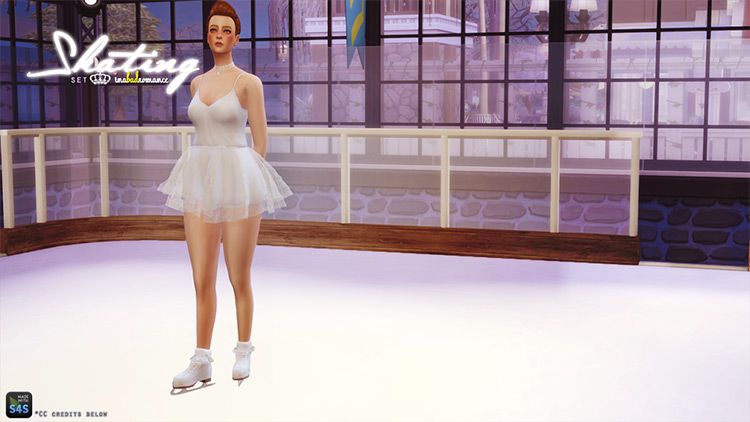 These boots are for those who aren't as fond of the simplistic Maxis-match style.
They lean closer to Alpha, but they wouldn't look out of place even if your world is partially Maxis and partially not.
They also have 27+ swatches, so you won't be limited to only white.
Since this CC is a set, it actually comes along with a basic ice rink that you can purchase, as well as some decorative skates.
The only potential downside is that pants that are too long might clip through the boots.
Just something to keep in mind!
3.

Christmas in Lapland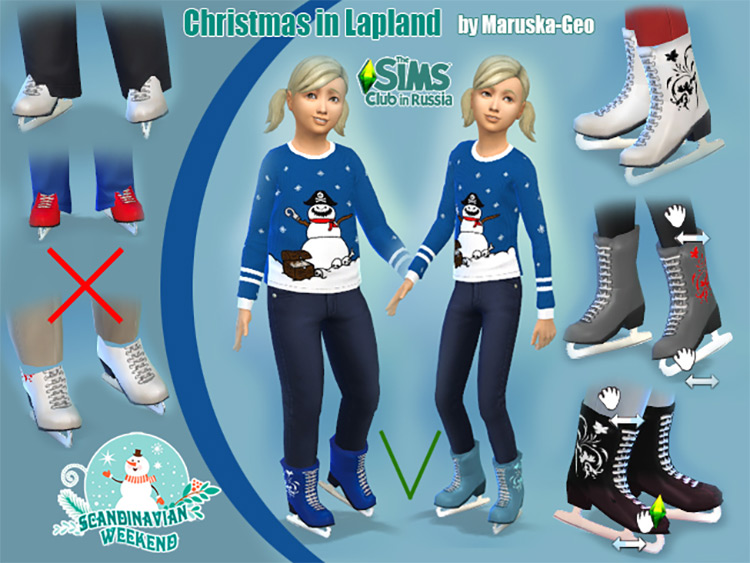 Forget preferences between Maxis-match and Alpha CC.
The real question is where do you want your Sims' ice skating adventure to be?
This custom-made Christmas in Lapland set will equip you with all of the little accessories your Sims need need for a wintery Scandinavian weekend.
From ice skates with beautiful decals, to Christmas beanies, you won't be missing out on anything.
Whether or not you've heard of Lapland, Finland before, you've definitely heard of looking wonderful while ice skating.
This CC set will let you experience both!
4.

Frozen Ponds Mod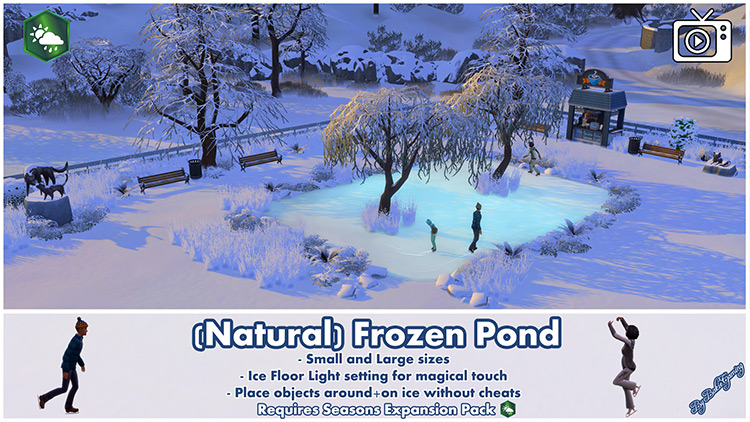 Living in a place where the water freezes in winter means you've likely experienced the anticipation of testing if the ice is sturdy enough to walk on.
Even with the Seasons expansion pack, your Sims will never be able to live that.
But with this mod, they'll at least be able to skate on natural-looking frozen ponds!
It comes in two sizes (small and large) and is incredibly versatile.
And not only will you be able to make semi-realistic ponds, but you can make indoor rinks, too.
Note: you will need the Seasons expansion pack to install this mod.
5.

Brindleton Bay Ice Arena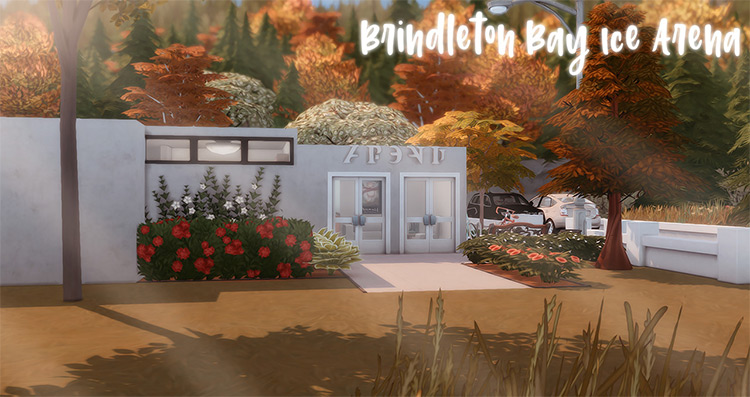 For a polished ice skating experience, there's nothing like the Brindleton Bay Ice Arena.
In this lot, your Sims can have fun outings during any season and enjoy refreshments after they're done skating.
It's also a great place for Sims with higher aspirations, who want to practice ice skating regularly. All in all, it's the perfect urban ice arena!
Note: you'll need the Get to Work, Island Living, Get Together, Spa Day, Cats & Dogs, Kids Room, and the Get Famous packs to use this – which means you're out of luck if you don't buy lots of game packs.
6.

Two Skates: Ice Skating Rink & Restaurant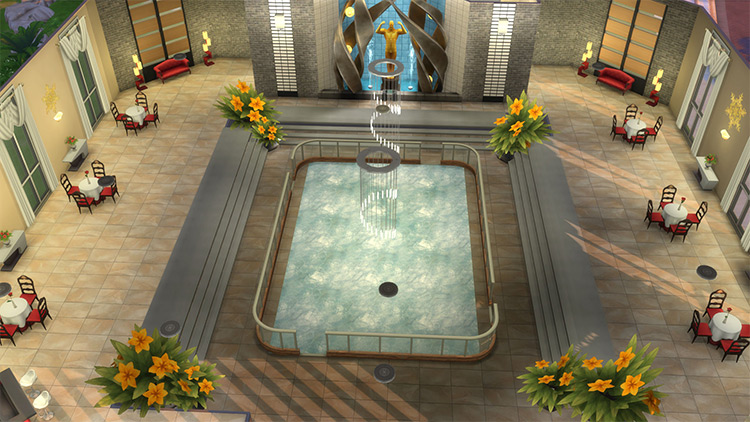 This lot is even more posh than the last, and it's thoroughly in the entertainment category.
Sims who are pursuing ice skating as a career or serious hobby probably aren't going to get a lot of practice here.
They'll love the atmosphere, though!
Two Skates is a restaurant with a skating rink in the middle, making it a great location for fancy dinner dates and celebrations.
It's luxurious, designed to be open plan, and has a kitchen tucked in the back.
7.

Figure Skating Career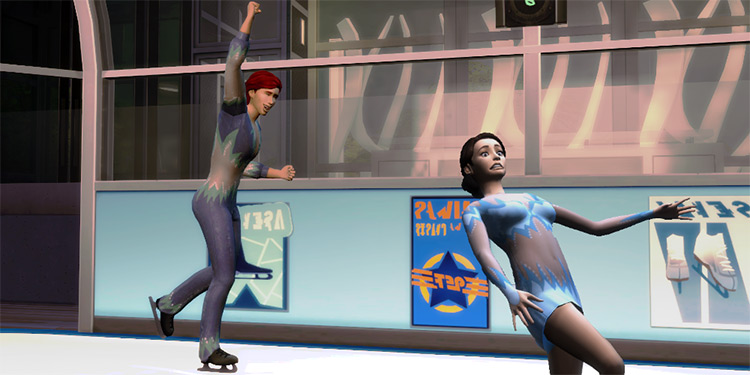 Ice skating is a hobby that anyone can enjoy, no matter how clumsy they are.
But in order to turn skating into a career, things get more complicated.
This custom mod adds a Figure Skating Career into The Sims 4.
And it's for those Sims who dream of being on the ice all day, all the time.
Figure skating represents the intersection between dancing and ice skating – so this is an amazing option for Sims with dancers or artists for parents.
There is a single track in this career with 10 levels, and it uses Charisma and Fitness.
And Energy is the best mood to have when your Sim is on the ice.
8.

Ice Skating Pose Set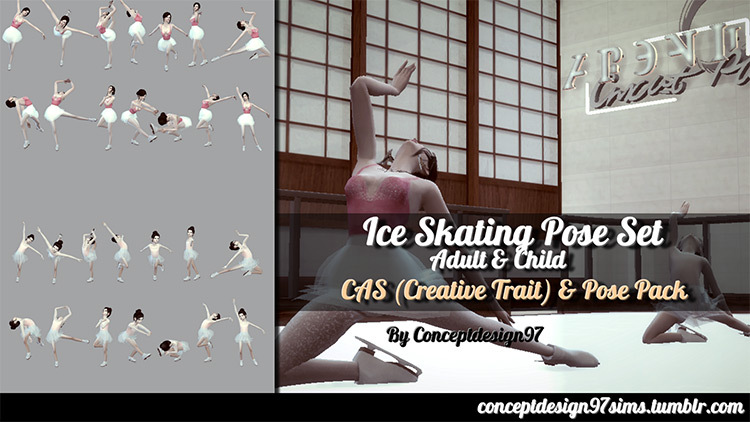 The Seasons pack will technically let your sim skate.
But it won't let them pull off anything really impressive.
That's what pose packs are for!
With this custom ice skating pose set, you'll be able to take fabulous pictures of your Sim's next ice skating competition (Olympics aren't far out of reach when you're a Sim).
And your options are nearly limitless.
To be specific, you have exactly 14 options for unique poses here.
But those poses have versions for both adults and child Sims too!
9.

Ice Skating Outfit
Going outside to skate all bundled up in winter gear is a classic.
When you're performing or practicing figure skating, though, things change.
You don't want to be trying to perform complicated axels and jumps while you're wrapped in 3 layers of shirts, a puffy jacket, and a scarf!
Well this Ice Skating Outfit is a straightforward and practical jumpsuit. It gives your sim style, comfort, and a lot of sequin details.
There can never be enough sequin details.
It comes in 4 bright colors and can be used for Sims Teen to Edler, so your Sim's skating career can even start early.
10.

Figure Skating Outfits
It's a lot easier to find skating outfits for female Sims, and I can't find it in me to complain about it.
Skating dresses are just really pretty.
But sometimes you have a male Sim that wants to skate. Snd they deserve an outfit just as much as anyone else.
This CC pack will fill up his wardrobe and then some!
There are two outfits here: a swan, and a flame figure bodysuit.
The swan figure has 2 swatches and is inspired by the real life skater Johnny Weir, while the flame figure has 4 swatches and bears similarities to a lot of different figure skating outfits.
Browse:
Lists
The Sims 4
Video Games