Best Sims 4 IKEA CC & Mods To Download (All Free)
This post may contain affiliate links. If you buy something we may get a small commission at no extra cost to you. (Learn more).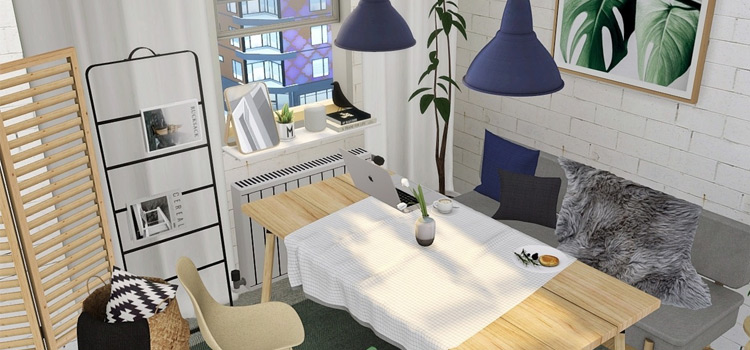 The fourth installment of The Sims franchise boasts some gorgeous furniture. But as we all know, we're never satisfied!
Some of us just want something that we can relate to. We can't all go out and just buy a plush leopard print sofa with gold detailing…
Well what better real-life furniture to have in-game than IKEA?
Convenient, cute, and contemporary, IKEA's furniture line never fails to impress (nor do they seem to ever go out of style).
While EA likely won't be adding IKEA stuff anytime soon, CC creators are here to save the day. So let's have a look at some of the best IKEA CC we can find:
15.

IKEA LEIRVIK Bed Frame & Hay Bed Linen
This cute metal bedframe by CC creator Minc78 is both intricate and popular by design, and offers a good night's sleep for anyone.
The three different color choices may seem limiting at first. But these cute frames can be used for anyone – be it your young Sim daughter wanting a princess-themed bedroom, or your old vampire wanting to add a bit of fancy detail to their guest room.
This set also comes with a cute selection of mattresses, which can be used with these bed frames, so they're truly fully customizable!
14.

IKEA Nordli Inspired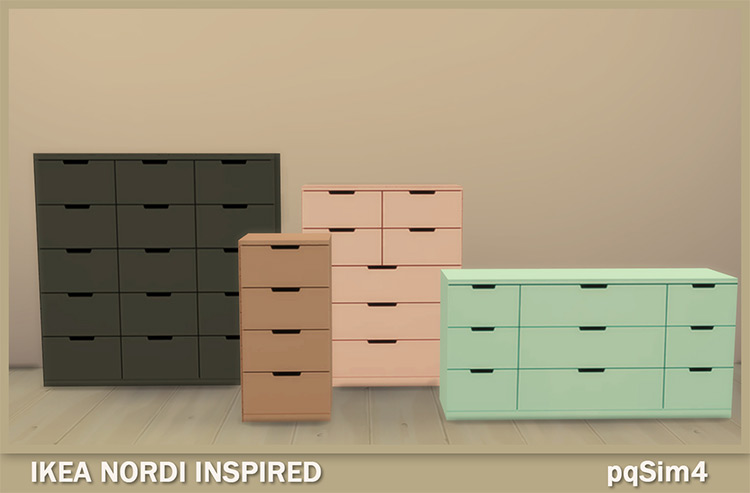 This selection of cabinets and dressers is from the famous Nordli line produced by IKEA, a series of customizable dressers that can be structured to best compliment your space.
CC creator PQSIM4 understands this perfectly, presenting us with four different sized dressers.
They're all available in a variety of shades, too, making this storage series a truly versatile CC of choice.
13.

Brimnes Bed and Nightstand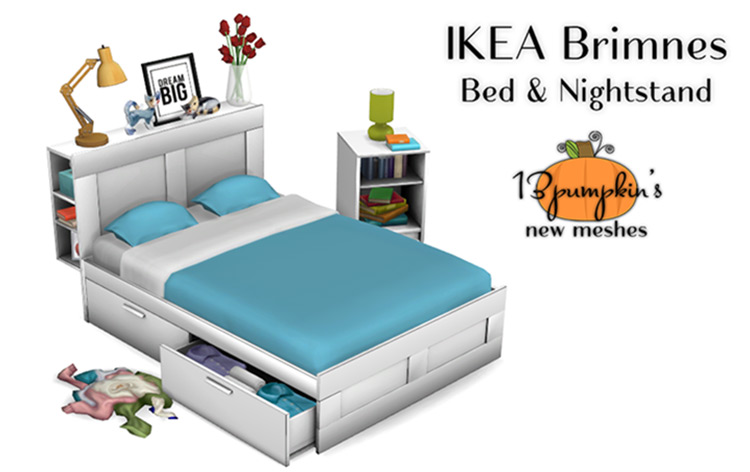 Now this adorable double bed is just what your space-saving Sims need.
Boasting shelving built into the headboard and under-bed storage drawers, this bed can basically fit it all into your bedroom in just 6 tiles!
Created by 13 Pumpkin, this cute bed also comes with a matching nightstand – fitted with multiple shelves to really give you maximum storage space.
12.

The Cutie – High Chair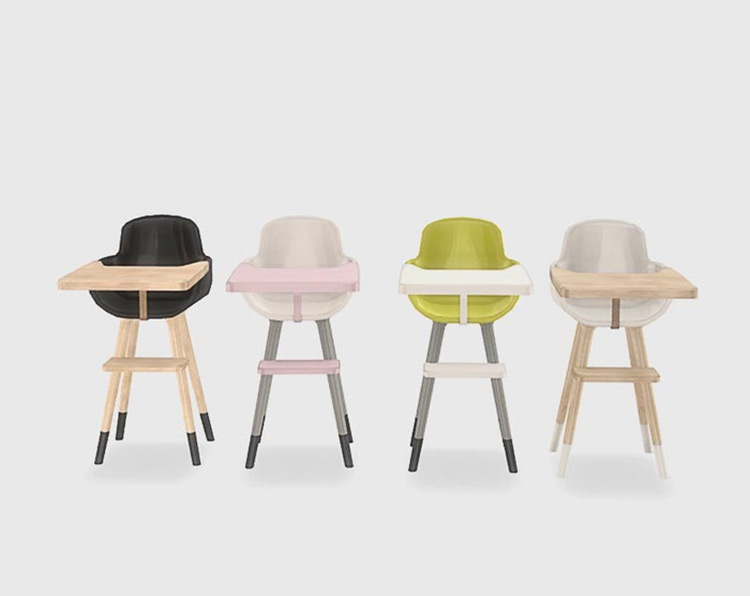 Great for any family home, the aptly named "cutie" highchair is a nice addition to any modern dining / kitchen area with little ones.
Offering both natural wood and colored plastic choices, this adorable dining unit for toddlers really stands out. Made by talented custom content creator ung999 , you'll be keeping this around for years to come.
I bet even the little ones can tell this is IKEA.
11.

IKEA LILLÅNGEN Bathroom Set
You're probably beginning to sense a theme reading through this list – storage.
IKEA is well known for storage.
And one of the places you need storage the most is one we haven't touched on yet: the bathroom.
This gorgeous bathroom set by MXIMS boasts enough storage space for all your bathroom clutter.
You'll find both under-sink storage and plenty of shelving space for your everyday items beneath the mirror.
10.

IKEA Ypperlig
Dining rooms are something frequently overlooked when trying to find matching CC.
I mean, why would your Sims have a dining room when they evidently need to be watching TV every time they eat? Right?
Regardless of why you want one, this adorable dining room set by MXIMS really captures the scandi-style that's iconic to IKEA.
9.

IKEA Tuffing Loft Bed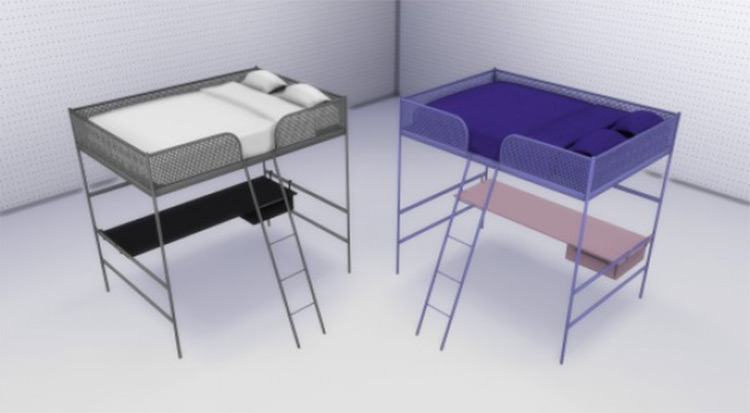 Okay… don't hold your breath, it's not quite a bunk bed.
But this nice loft bed is certainly a step in the right direction!
With a modern metal frame and versatile color swatches, this bed fits in great with any modern bedroom. It even has a cute desk underneath, so it's perfect for teen sims!
8.

IKEA Shelves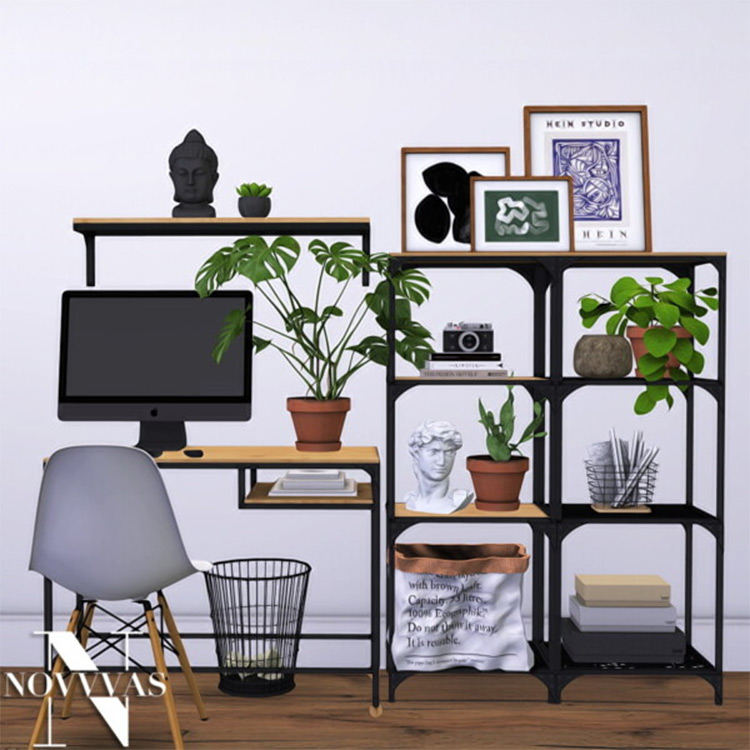 IKEA is a company known all too well for their abundance of storage space. And this shelving set brings that to your Sims' household.
With a selection of hanging shelves, standing shelves, a desk, and a coffee table, this collection by NOVVVAS covers every surface you could need.
And this set probably comes in every style you could ever want, too.
7.

IKEA Expedit / Kallax Furniture
One of IKEA's most famous designs is this highly-customizable storage unit set.
This set includes the trademark cabinets and storage compartments to go with them, which you can place wherever you like.
Not to mention the wooden cabinets also come in a variety of swatches, making this set adaptable to any interior design scheme.
6.

IKEA Table Collection
IKEA is well known for their small, space saving nature.
The Sims on the other hand… well… let's just say they at least excel in varied designs – almost to the extreme.
End tables are pieces you don't think about, but definitely need – so much so that I could probably write a list of CC solely for those (oh wait… I did!).
And this cute IKEA table collection could have everything covered in one pack.
This selection of 3 adorable IKEA side tables by theplumbobarchitect are so true to IKEA's image, I almost mistook them for the real thing at first glance.
All 3 designs boast different sizes, aesthetics, and price points, and all are available in a selection of 18 different colors.
So wherever you need to put an end table, there's one here to fill that space.
5.

IKEA Office Set
With much of this list being maxis match CC, I had to include something cute for all our Alpha lovers out there.
This true-to-detail office CC set by MXIMS provides a small desk which accommodates enough space for two sims to work at, separated by a convenient chest of drawers.
It comes with two different styles of chair – a cute desk chair and a stool, and many other pieces of décor. Perfect for your cozy home offices!
4.

IKEA Kallax
The Kallax is one of IKEA's best known designs. Simple square shelving with optional inserts to store your belongings – sound great right?
But there's a reason why it appears on this list a couple of times.
This shelving unit is so super customizable that there's multiple ways of adjusting it for the Sims 4. And this set by PQSIM4 is one of the best!
The units available here are three of the most popular ones, in a variety of sizes, and come in 20 different colors.
To add to this, the set also comes with an adorable selection of baskets with which can turn your shelves into storage spaces.
With so many different colors and textures, the possibilities are endless.
3.

IKEA Bedroom Set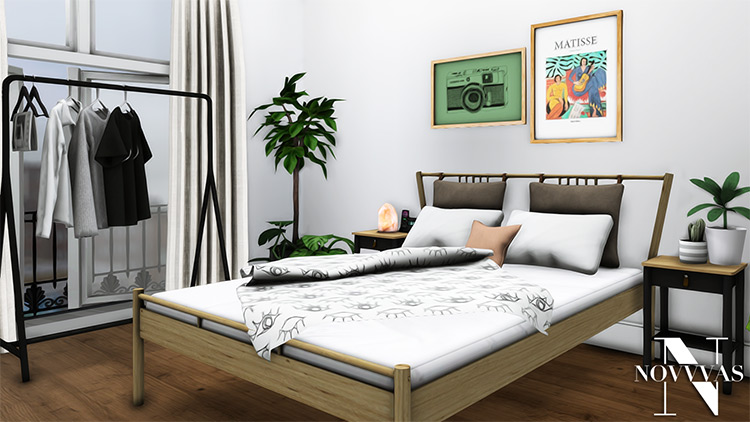 Now this adorable bedroom set includes some of IKEA's most popular and modern designs.
Featuring a matching dresser and bedside cabinet duo, desk, chair, side table, and more, this set includes almost everything you need to furnish a bedroom.
It's also made by the talented CC creator NOVVVAS. So if you're a fan of their work, this is one of their best CC sets to snag.
2.

Sims 4 IKEA Home Stuff
CC creator Simsi45 has really outdone themselves with this one!
This fan-made stuff pack boasts a huge array of IKEA inspired items. This includes beds, sofas, chairs, tables, storage, artworks, toys, décor, mirrors, rugs, shelving, lamps, clocks, and so much more!
Not only does this pack wonderfully pay homage to the aesthetic of IKEA, but it also includes some items that match perfectly with the vanilla furniture bundled in TS4.
So this fan-made pack integrates seamlessly for any kind of build.
1.

Simkea Furnishings CC Pack
Wow… Just wow.
It's not often that I struggle with expressing myself, but this fan-made stuff pack truly has me lost for words.
This is entirely made of CC, and has been loving created by the very talented illogicalsims.
Not only are the designs absolutely stunning and so true to the IKEA aesthetic, but they all match so well together.
You can furnish rooms entirely with this custom stuff pack. Because wait for it…
This pack contains 45 brand new objects!
Yep, 45 new objects in total. Not just simple re-colors, actual brand new designs based entirely around IKEA's most popular items.
This pack is also entirely base game compatible. So even if you're just starting out with no TS4 expansions, this CC collection of IKEA items will keep you busy decorating for hours.
Browse:
Lists
The Sims 4
Video Games