Sims 4 Jackets & Coats CC (For Guys & Girls)
This post may contain affiliate links. If you buy something we may get a small commission at no extra cost to you. (Learn more).
Who says it needs to be winter to break your jackets out?
Not only will it keep you warm, but it can add another layer (literally!) to your look.
And the same goes for your adorable little Sims.
If you want the layered life but find that the base TS4 content leaves a lot to be desired, here are some custom jackets and coats for your Sim guys and gals.
15.

Long Windbreak Jacket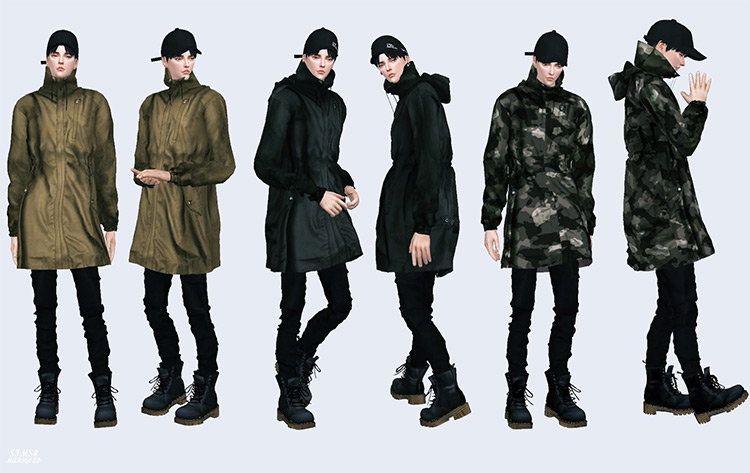 Excuse me, but have you heard of our new lords and saviors – the uber-popular boyband BTS?
This South Korean band has made an enormous splash internationally, recently even being crowned TIME Magazine's Entertainer of the Year 2020.
Wearing this Long Windbreak Jacket CC by Marigold can help your Sim look like a member.
Boys from the band have been spotted wearing a similar style casually on various occasions.
Look like a superstar in your day off by topping this off with a plain black cap. You'll never run out of chances to look dynamite with 31 swatches.
14.

High School Bomber Jacket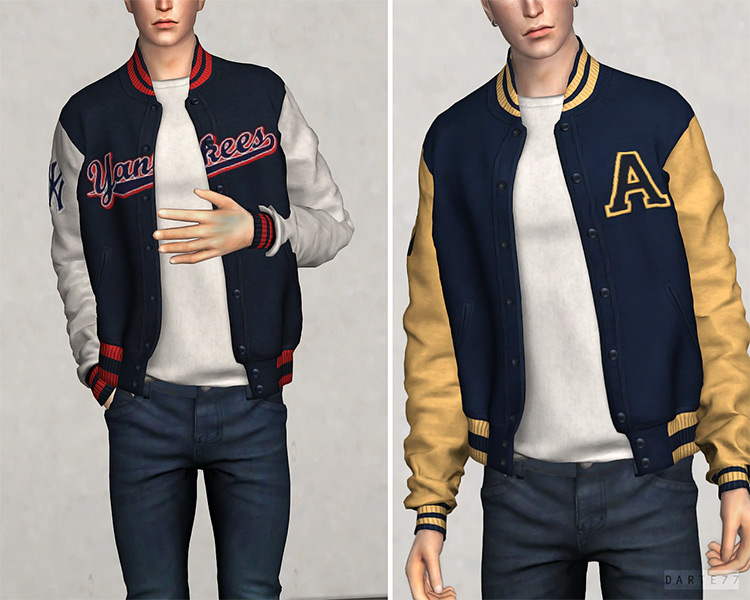 The roaring 50s saw the birth of many style trends that we still see today.
For ladies, we still have full skirts, floral dresses, and pumps.
For guys, varsity jackets definitely have stood the test of time.
Your Sim doesn't have to necessarily be a jock to sport these High School Bomber Jackets by Darte77.
Just show off your school spirit(without needing to do the rah-rah-rahs) with 13 swatches: 11 of which are emblazoned with the letter 'A' on the chest (Archie Andrews, anyone?) and two that features embroidery of the Giants and Yankees.
13.

Heinrich Winter Coat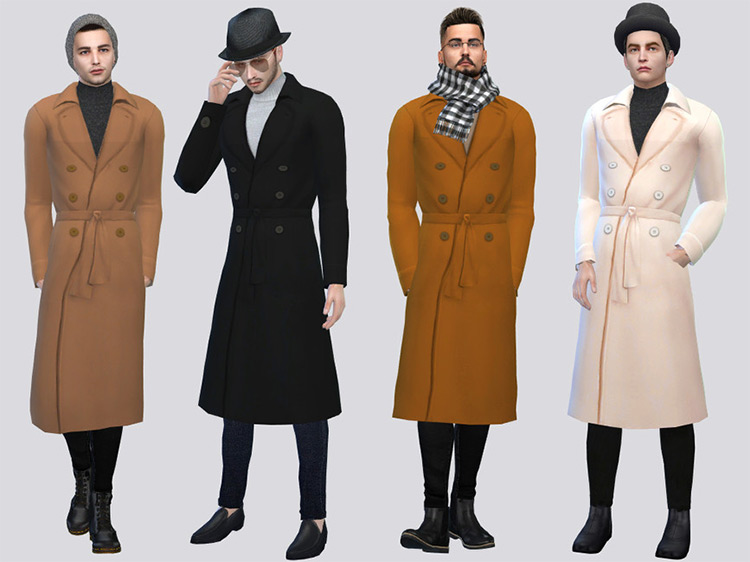 Coats show that staying warm can always look good.
And a great coat is always stylish. But a sleek coat is a great choice whether you want to look like a more dapper gentleman, or even if you're ready to solve some mysteries.
Just ask Inspector Gadget, Dick Tracy, and of course Sherlock Holmes.
Is your Sim an aspiring Diamond Agent?
Well instead of a suit a-la James Bond, may we suggest going old school and go with McLayne's Heinrich Winter Coat?
This CC has 20 swatches so you can choose your sleuthing color for any day. For a more modern look, your Sim can wear a turtle neck under (an excellent ensemble for on-the-go detective things) and a top hat for more dramz.
12.

Recolor EP05 Coat Turtleneck Male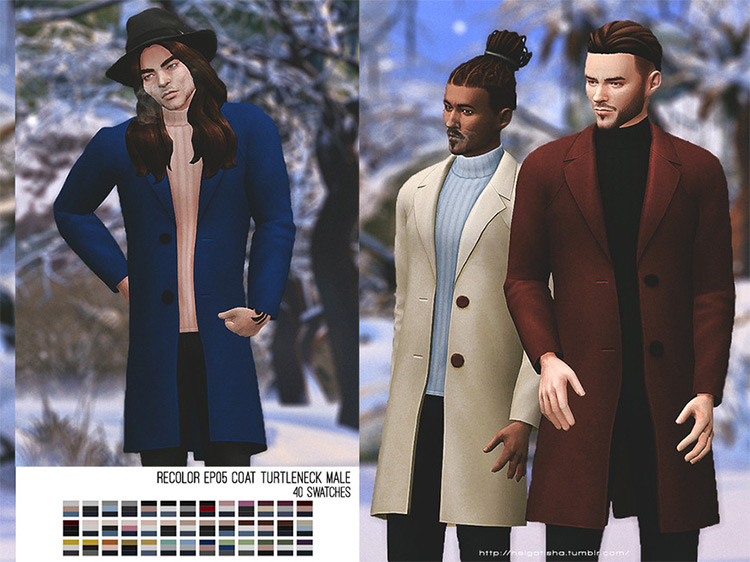 Is your Sim feeling the winter blues?
Viewed a sad painting?
Or maybe lost at Don't Wake the Llama? Well they can at least look great while wallowing in their misery.
HelgaTisha's Recolor Coat Turtleneck will look sleek while you do your sad walking montage in the snow.
You get a stylish coat and a turtleneck, which is sad boi approved apparel.
It comes in a generous 40 swatches with color combinations to complement both coat and turtleneck.
Just note this combo requires the Seasons expansion to effectively brood with snow falling in the background.
11.

Dissociation Coat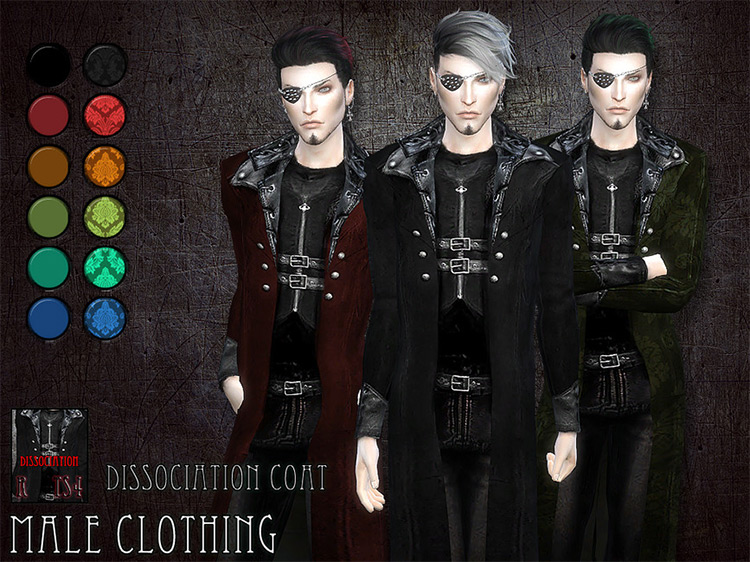 Let's step away from the cookie-cutter jackets for a while, shall we?
If goth is (ironically) life, look no further than the Dissociation Coat from RemusSirion.
This coat CC needs little introduction. Because one look, and you'll know who this coat is for!
The goth elements like belts and studs with a little bit of leather tell people that yes – you like to walk on the dark side.
You can choose from 6 muted colors, each with two options: plain or with goth patterns. They're available for goths of almost all ages, from teen to elder.
10.

Urban Puffer Jackets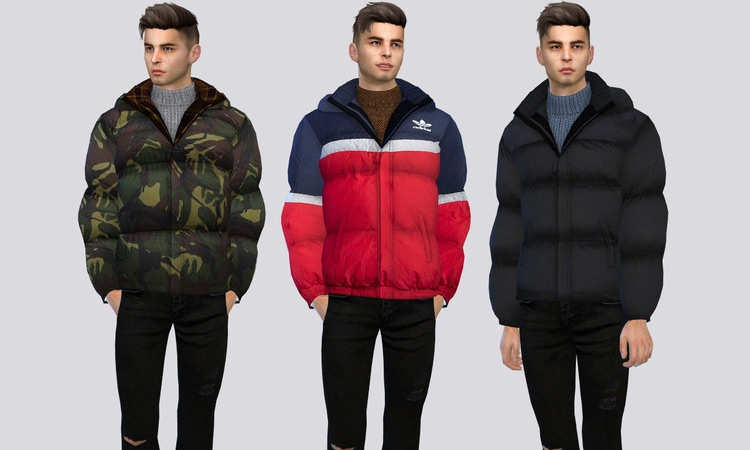 Puffer jackets were big in the 90s.
Then the fad died, and it was back to making appearances on ski slopes. Until 2018, that is!
That year saw the resurgence of the puffer jacket as stylish. It was one of the hottest trends, and no Sim could have expected it.
Your Sim will look icy even with the warmth McLayne's Urban Puffer Jackets will bring. Don't worry about looking like the Marshmallow Man here!
You get a total of 9 designs and 30 swatches with the download.
9.

Jeans Jacket Hoodie Top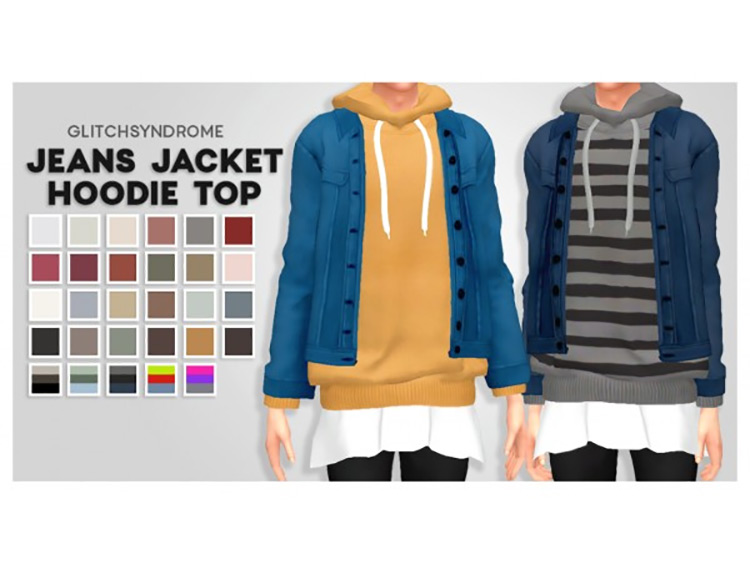 This CC's name might confuse you at first.
Is it a jacket? Is it a hoodie? It's both!
You don't have to master the art of layering here, because the Jeans Jacket Hoodie Top by GlitchySyndrome will do all the hard work for you.
This preppy look is perfect for the Sim who wants to retain their boyish charms. Or for those who simply don't want to grow up.
This starts with a white top peeping at the bottom, layered under a classic hood, covered by a jean jacket. You get a 3-in-1 look!
It's available in 2 versions: adult for teens to elders, and child for the little ones.
8.

T-Shirt with Leather Biker Jacket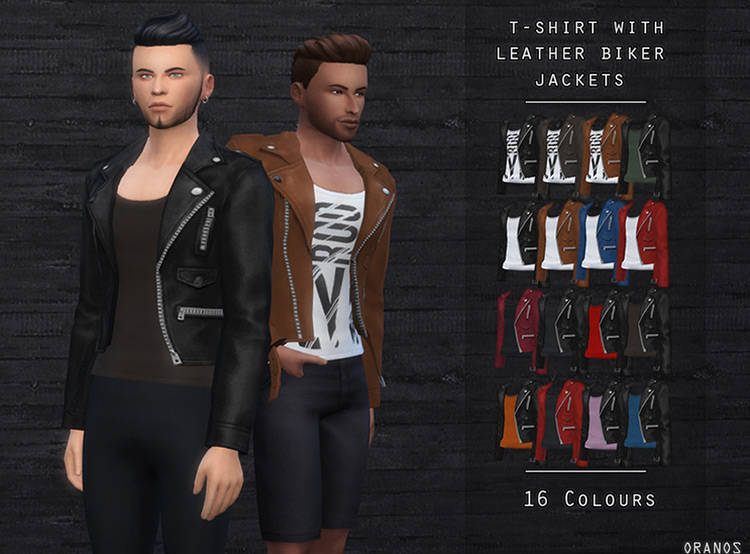 If you ask us to list pieces of timeless clothing, biker jackets would be on top. Huaranteed.
They were a piece once reserved for Hell's Angels and rebels without causes. But over time the leather jacket grew to be a staple in anyone's wardrobe, and a good one will last you forever.
Here's a tip for your young Sim: just throw on a biker jacket, slick on a bit of gel, and feel instantly cool.
This T-Shirt + Leather Biker Jacket CC by OranosTR softens its macho look a bit by pairing it with a shirt inside, and simply oozes a bad boy aura.
Have your pick of 16 colors in the pack.
7.

Sabrina Coat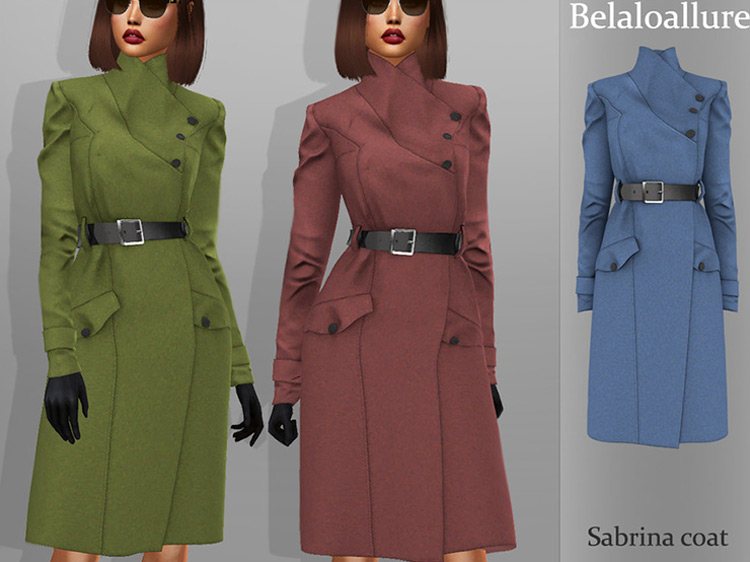 It's time for the ladies' choice!
From here on out, our list contains our top picks suited for any Sim woman. And we're hitting a doozy here.
Anna Wintour, who?
You don't need to wear Prada to evoke her chic style. And you don't have to be a devil either!
Just wear BelaloAllure's Sabrina Coat during the times that you want to be a lady boss.
The high neck wool coat hugs all the right curves and cinches your waist with a simple belt. We suggest getting a pair of gloves, some heavy black sunglasses, and the resistance to smile.
6.

Hologram Jacket with Sleeveless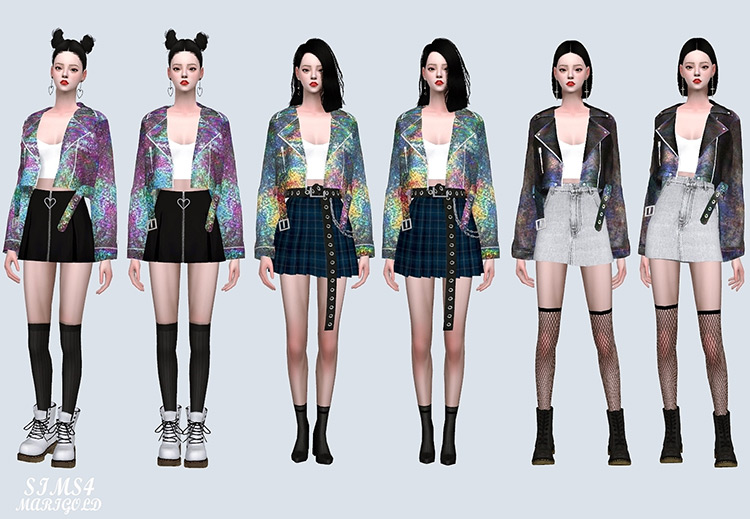 KPop girl groups are a phenomenon.
They're mesmerizing and quite talented. However, did you know it takes grueling training over years to perfect their craft?
They don't dance that well from day one!
Now your Sim can look like they were plucked out of a BlackPink video wearing this Hologram Jacket with Sleeveless by Marigold.
You don't have to worry about standing out, as the hologram fabric will ensure you shimmer your way to superstardom.
It comes with a low cut sleeveless top, best to pair with schoolgirl skirts and boots. Now, hit them with the ddduuu-ddduuu-dduuu.
5.

Ari Jacket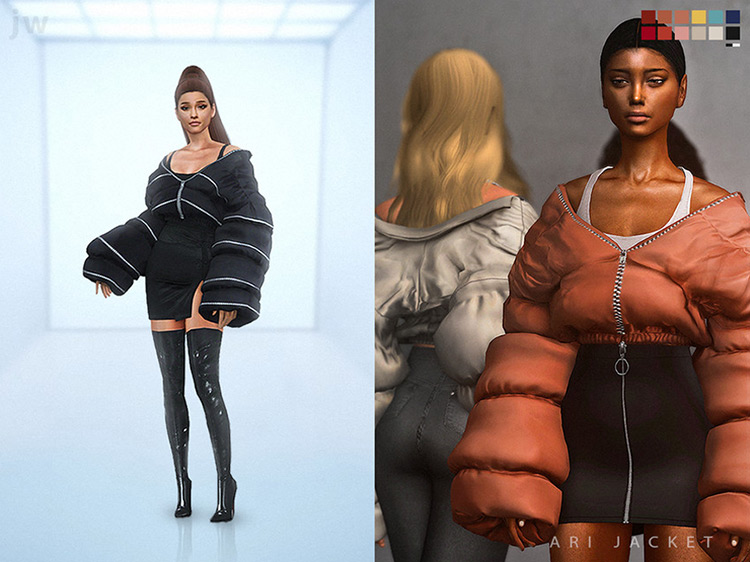 Take a cue from one of pop's reigning princesses: Ariana Grande.
Aside from her iconic ponytail, Ari is known for her fierce street style, which was a considerable departure from her Lolita fashion she started out with.
She loves playing with oversized pieces and still makes them look chic.
Want a Sim that loves her fashion? Here's a chance to grab one of her favorite looks.
The Ari Jacket by JWofles is inspired by the puffy jacket she wore in a video for Vogue. Aside from the original design, you get 12 more colors to play with here.
Thank u, next!
4.

Faux Fur Coat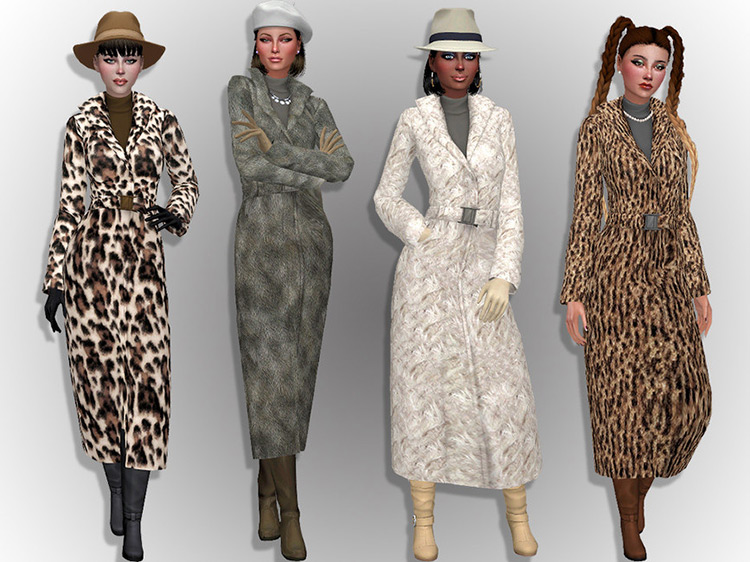 If Cruella de Vil knew about Simalicious's Faux Fur Coats, those Dalmatians would have had a more peaceful life!
Exude glamour and opulence with this lengthy belted coat CC.
It has eight animal designs to choose from including cheetah and giraffe prints.
No need for roaring out loud here, because one look at your Sim will let everyone know she has lots of Simoleons from her mother… lode.
3.

Jacket + Top Outfit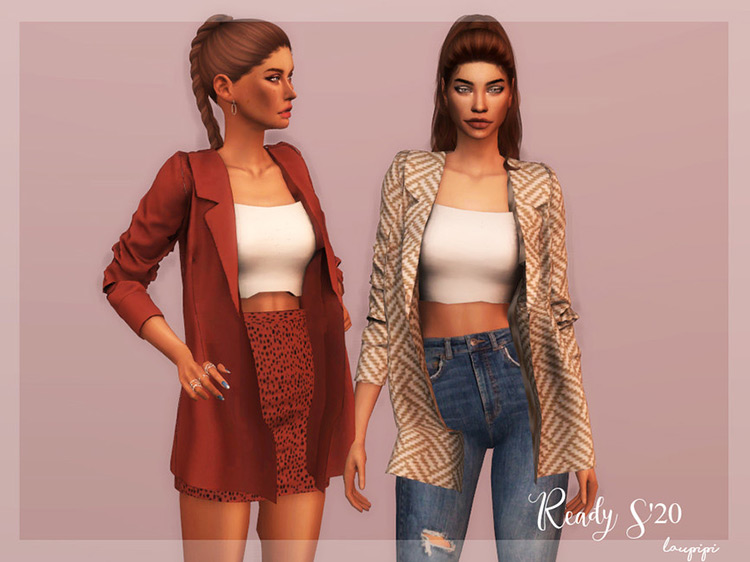 Need a quick cover-up you can toss off later in the night?
Long jackets are a great choice.
They're usually made from thinner material, so the temperatures don't need to be super low to wear them. And your Sim certainly won't care.
Well I'd totally wear Laupipi's Jacket + Top Outfit in real life!
You can easily take it from day (with jeans and sneakers) to night (with a leather skirt and heels).
It's base game compatible too, with 16 swatches in total.
2.

Lima Female Coat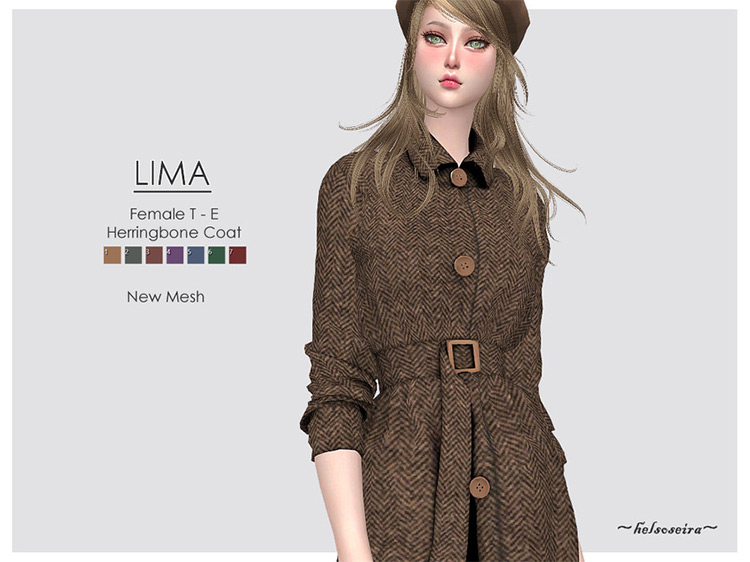 I've been binge-watching The Queen's Gambit and am in complete awe of the fashion!
The series takes place from the 1950s to 1960s and features the best looks from those eras.
If you're also a fan of Beth Harmon's style, you'll love Helsoseira's Lima Female Coat CC.
It's a button-down herringbone coat with an A-line silhouette that comes in 7 colors, wearable for teens to elders.
1.

The Moll's Coat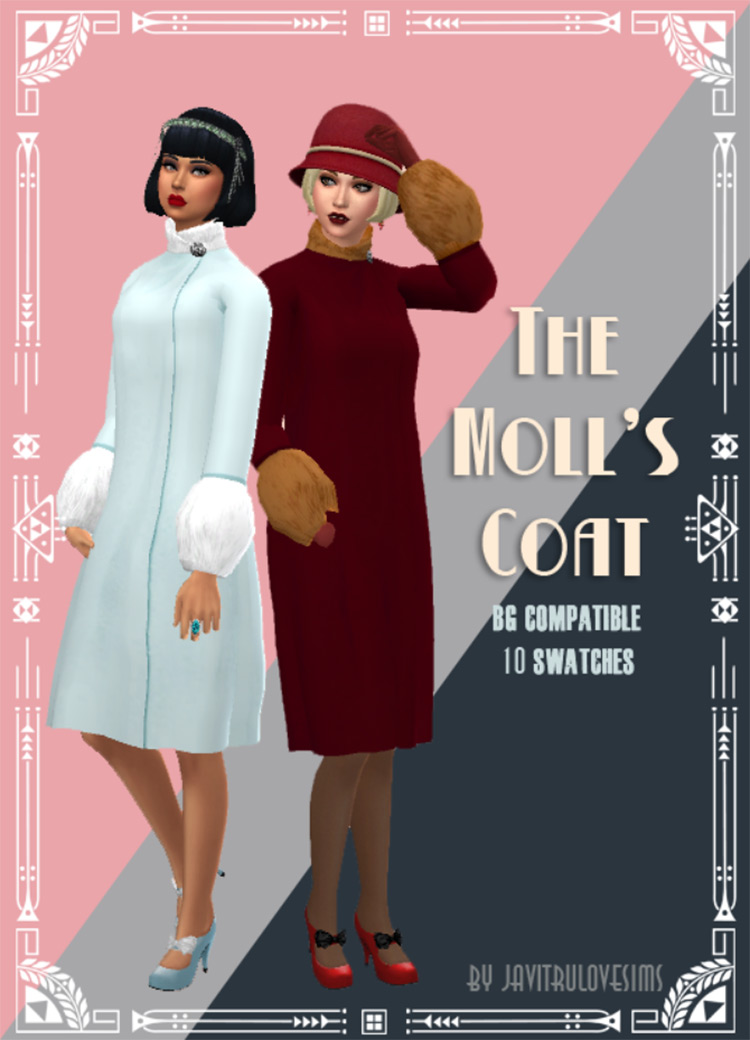 If you haven't figured it out by now, I love vintage-inspired fashion.
So I'm topping our list with a favorite that my Sim personally wears when we're feeling a little fancy.
Transport yourself back to the 1920s, maybe into your gang's headquarters counting diamonds.
Moll's Coat by JaviTruLove just looks beautiful. With ten swatches, it's a great outfit for any Sim Noir (or other gangster-inspired storytelling!)
Browse:
Lists
The Sims 4
Video Games