Sims 4 CC: Best Jean Shorts & Cutoffs (For Girls & Guys)
This post may contain affiliate links. If you buy something we may get a small commission at no extra cost to you. (Learn more).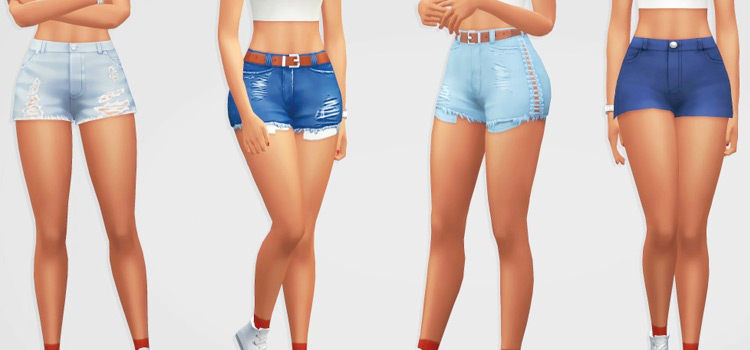 Here's a fact: every Sim wants to look fine and dandy… Yes, including yours!
Whether you're looking for a friend or a romantic interest, it's important to leave a good first impression. What better way to achieve this than throwing on a pair of jean shorts?
Seriously, is there an outfit they don't work with?
Casual yet chic, jean shorts are certainly a must-have for your character.
Luckily for you, I've organized all the best CC for jean shorts and sexy cut-offs you can add into your Sims 4 wardrobe.
And while this list is mostly for you ladies, I have included some men's jean shorts too. So what are you waiting for? Get your denim on!
15.

Slay Classy Shorts
Let's kickstart the list with a pair of jean shorts perfect for strolling around parks like the Lost Gardens of Healing.
Seriously…when it comes to Sims clothing, you'll never go wrong with Ellie Simple's works.
This mid-to-high-rise waist denim pack has a lightly frayed hem that gives a cool, lived-in look.
Just imagine your character pairing this up with a sleeveless shirt or a crop top. Well, you've got yourself a classy-looking outfit!
Did I mention this has 16 styles you can choose from as well? You're sure to find something that suits your style. Or better yet, go crazy and try them all!
14.

Elliesimple Denim Short Shorts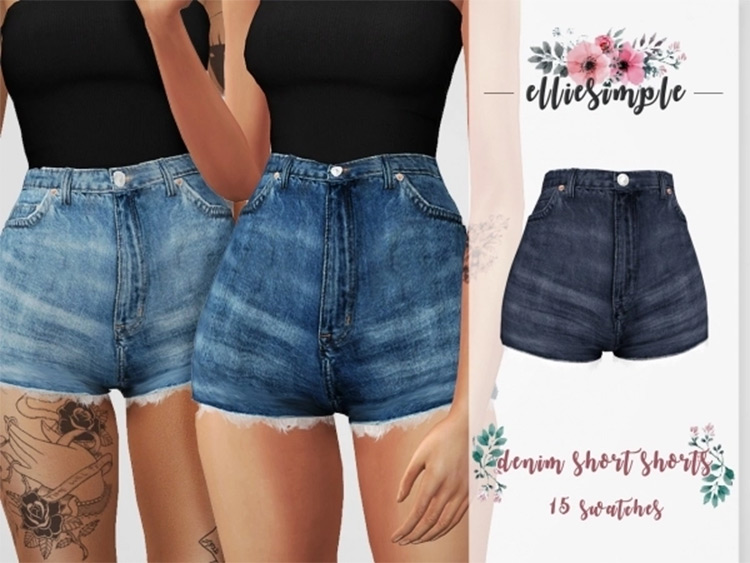 In case you haven't heard, denim short shorts are in! And if you don't want to be late on the trend, this CC set is a place to start.
This is another great everyday jean style you can throw on with any top.
It has a lightly frayed hem which is a brilliant look. The texture and the light white-washed v-shaped strips make me all the more drawn to this set too.
Not to mention it has 15 swatches, so you can mix and match your favorite tops and look good every day of the week.
13.

Trillyke- Lady Luck Denim Shorts
If you want to emphasize your femininity while still looking cool, then these CC jean shorts are yours for the taking!
These are just the perfect everyday type of shorts you can throw on when you need to visit the Puerto Llamante Marketplace. There are a variety of options, too, so plenty to accessorize with.
You can get 10 colors and 4 embroidered swatches ready-to-go.
12.

Denim High Waist Shorts
Now here's another pair of show-stopping high-rise waist that'll fit every gorgeous girl-next-door.
Not to mention, you can get this in 6 colors. What a steal!
Similar to styling other high-waisted shorts, these don't need too much overthinking.
You can try pairing them with body-hugging tank tops in the summer.
Or for a more sophisticated look, throw a cardigan or blazer into the mix.
Whatever top you go for, this style always looks crisp, chic, and timeless.
11.

Denim Ripped Shorts
I bet you're wishing you could crop this one up in real life.
That's how nice these ripped denim shorts are!
These mid-rise shorts are perfect for when you just want your Sim to look casual yet grungy.
To make it more stylish, here's my tip for you.
Pair these down with a rock band t-shirt and some cute accessories like a wide-brim hat or a beanie, and definitely some boots!
10.

Tropics Women Denim Shorts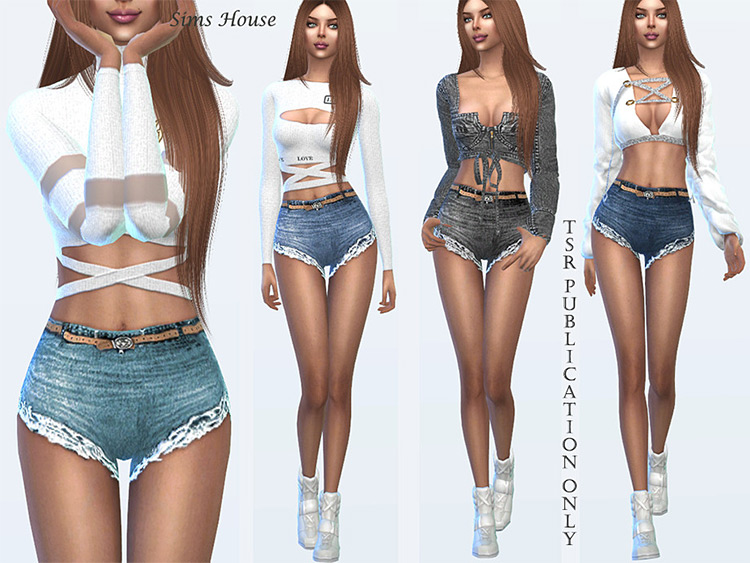 I know exactly what you're thinking.
This piece is so cute, isn't it?
These shorts feel incredibly sexy while giving that chill, lived-in vibe.
All thanks to the frayed v-shaped hem, a common theme in jean shorts!
There are also about 10 different color swatches to choose from which is plenty.
I suggest pairing these with something equally cute, like your favorite crop top and sneakers to complete the look. Voila, you're good to go!
9.

Elliesimple Super Destroyed Shorts
I'm pretty sure you've heard about ripped shorts… but how about super ripped? Well.
I guess Ellie Simple heard our prayers, as she released this amazing CC that's truly a style all its own.
This pair of high-rise shorts has about 10 swatches with it, so you're sure to find your style.
I feel this CC has just the right length, too.
The good thing is you can wear these for every day stuff, or festivals and parties.
You can even throw on a body-hugging top for an extra cute look.
8.

Lance Denim LTB Fit Shorts
Can't forget about you guy sims out there!
And why not? It's not all the time that Maxis gives us a lot of custom options.
Not to mention, the texture looks real with this CC. It's just incredible.
Another thing your men will love about this pack is the belt, it seems to just blend right in.
Just imagine wearing these shorts while strolling through Del Sol Valley. You'll have the girls swooning for sure!
7.

Gradient Fringe Jean Shorts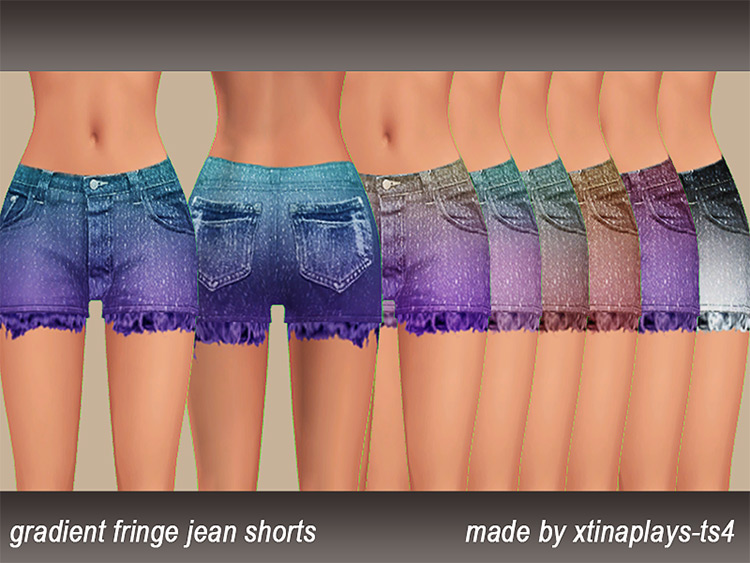 Steer away from boring.
Go ahead and celebrate your fashion freedom with this pair of jean shorts!
Available in 6 colors, Xtinaplays creatively designed this collection with washed shades of white, purple, blue, and black.
Completing the look is the frayed cutoff style which adds a carefree vibe to your outfit.
Seriously, I bet even a vampire would look good in these!
6.

Flower Embroidery Shorts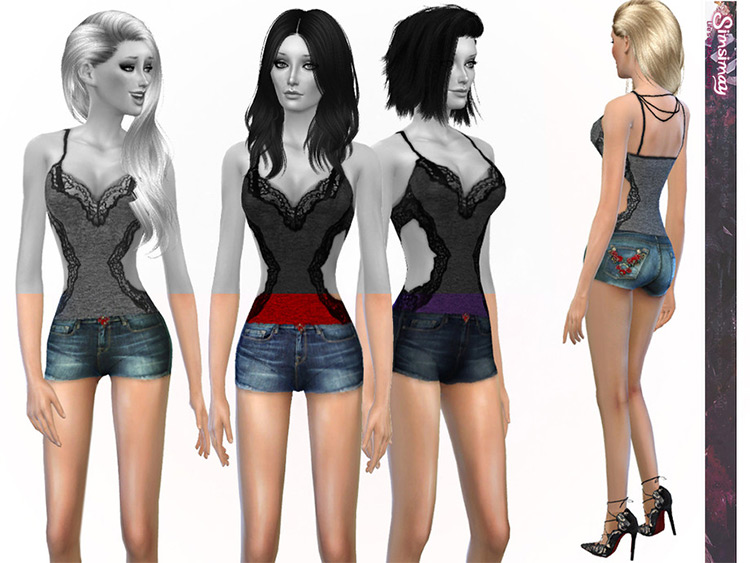 You'd know by now that finding a nice a pair of jean shorts is a real task.
But let me tell you, when you add in some bohemian aesthetics and hippie details, your outfit becomes sexier and irresistible!
I suggest pairing these with your favorite daring top and maybe some heels to draw attention.
Just a caveat though, you can only grab this CC in one design. But who cares about limited colors when you can be this sexy, right?
5.

Denim Banana Shorts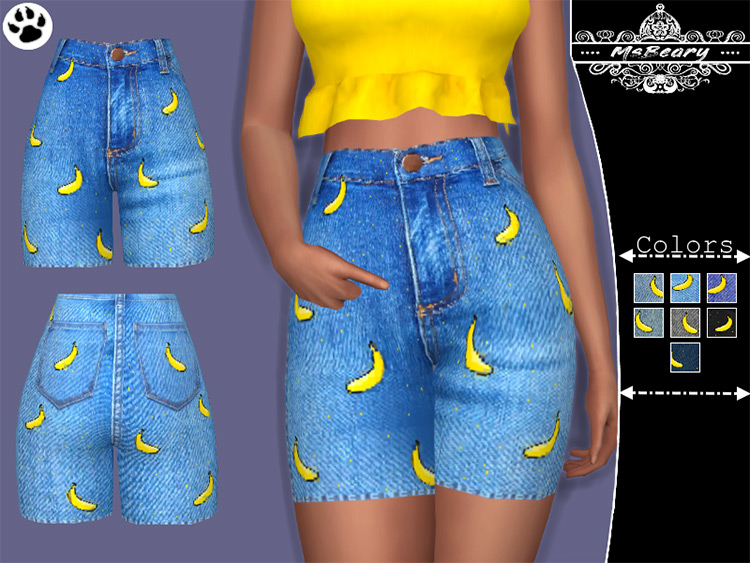 I can't believe jean shorts could be this cute.
There are a lot of reasons why I included this CC set in my best picks.
For one, the high-rise perfectly hugs your sim's figure. And the length is not too short, unlike others here that you might find a bit… skimpy. Depends on your sim's tastes, of course!
Second, these jeans suit whatever blouse you pair it with. Maybe a loose shirt or a crop top.
Third, you can get it in as many as 7 colors. Plus the fruit patterns, I mean come on.
So let loose and go bananas with this CC!
4.

Jean Shorts With Lace
I finally found a pair of adorable jean shorts perfect for little girls!
This will make your little Sim look cute as a button, thanks to the small floral embroidery.
Like the other embroidered shorts in this list, this piece will suit a variety of tops, too. Give it a go and see what you think.
3.

Embroidered Shorts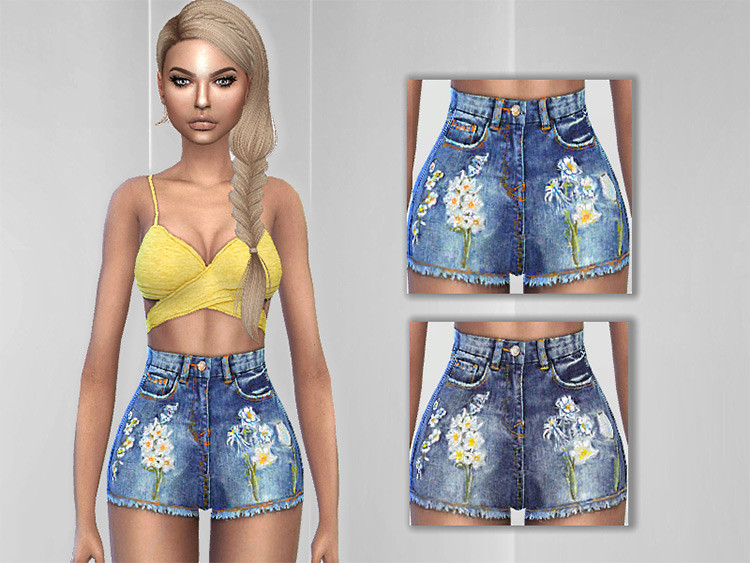 I bet this CC will awaken all the feminine energy in you.
Admit it, the floral patterns add a unique flair to this high-rise style.
And even if you're not into florals, it's cute enough to suit a lot of different ouftits. It also gives off some trendy Coachella vibes, so if you're into festies then stop idling and snag this CC!
2.

Aztec Pattern High Rise Shorts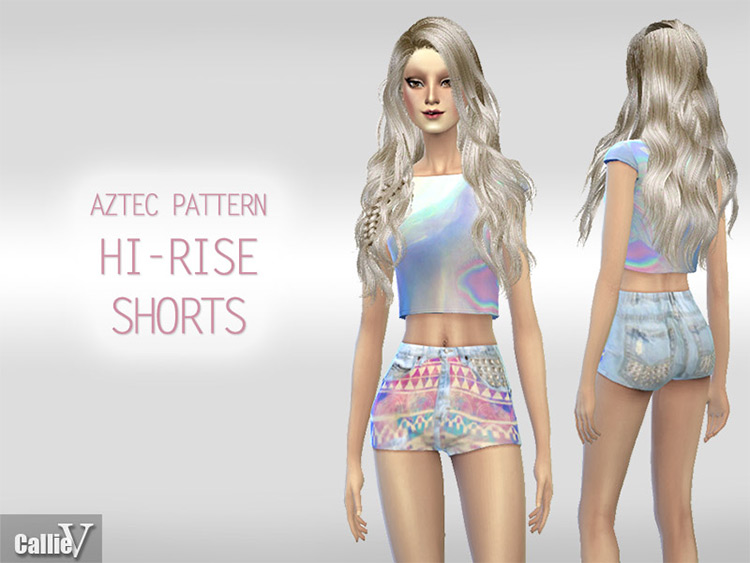 No questions asked… This CC will make your festival hopping in San Myshuno go a whole lot better.
What I noticed right away, is that it has a colorful pastel Aztec design that'll remind you of spring—a season of new beginnings, yeah?
But what sold me are the studs which make it all the more of a scene-stealer.
Glamorous yet casual, need I say more?
1.

Cutoff Denim Shorts with Belt
This is not a drill, because these cute cutoffs are truly the bomb-diggity!
Surprisingly enough, you don't always get to find many Sims CC with this type of casual/beachy vibe.
But hey, why not start the trend yourself?
Get other Sims swooning for your sex appeal with these cute cutoffs, belt included!
And let me say: the lightly-frayed cutoff style really gives off a sexy lived-in look. It's gorgeous.
Plus this CC has a whopping 10 color swatches. Not a ton, but certainly plenty to dress up with!
And what really gets me hookedis the belt, a small but appreciated detail. I can't believe a simple accessory can really tie a look together, but here we are!
Browse:
Lists
The Sims 4
Video Games