Best Jeep CC For The Sims 4 (All Free)
This post may contain affiliate links. If you buy something we may get a small commission at no extra cost to you. (Learn more).
The Jeep brand has its origins in the fires of World War II, where the word "jeep" was used as a familiar term to call the Willys MB and Ford GPW – also known as the US Army Truck.
Much has changed since those days.
But Jeep remains a symbol of American ingenuity and irreverent attitude.
The word evokes images of an all-terrain vehicle able to handle off-road challenges and the urban asphalt – and most Jeep vehicles certainly fit that description.
There are all different kinds of Sims we might build in our virtual worlds.
Some will prefer a bike, and others a low-profile sedan, but I guarantee that many Sims yearn for the power only a Jeep can give them.
So let's not keep them waiting and get right to the CC.
1.

Jeep Commander (2008)
The Commander is one of Jeep's most visually striking vehicles.
If you thought a Grand Cherokee was big and imposing, think again.
This one is slightly wider, which adds to its heavy and powerful look. Its boxy cut resonated with a public enamored with military-heritage vehicles like the Hummer H2.
Another major draw was the third-row seats, making this ideal for a big Sim family, a film crew, and more.
2.

Jeep Trailcat (2017)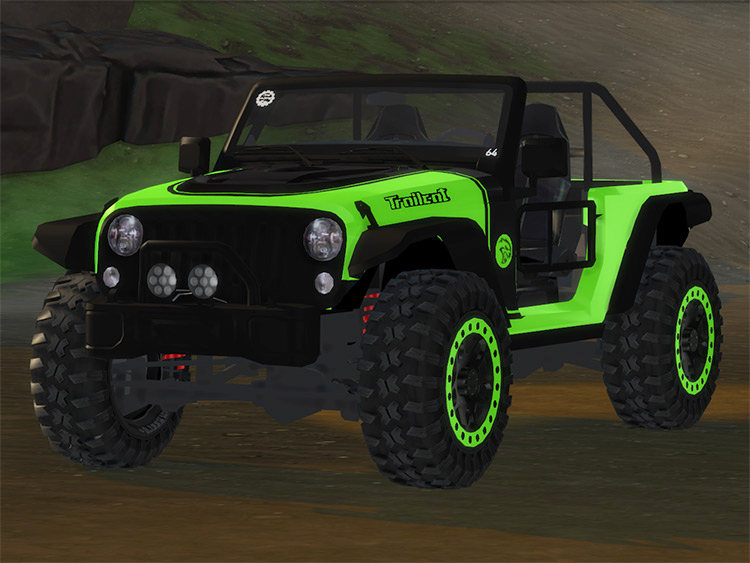 In today's day and age, having a car that only performs well on asphalt roads is not enough.
What if society collapses, or your dog runs into the wild, and you need to chase it?
Will you make do with your own two legs after years of being carried everywhere? Sounds like a recipe for success, man! Totally going to work.
If you want to stand a chance in the bush, you'll need something powerful and dynamic like the Jeep Trailcat, designed to compete in the 2017 Easter Jeep Safari in Moab, Utah.
The Trailcat brings together the potent engine of a Dodge Charger SRT Hellcat, a Jeep Wrangler's body, and some massive rock-crawling tires for the perfect off-road experience.
3.

Jeep Wrangler (1988)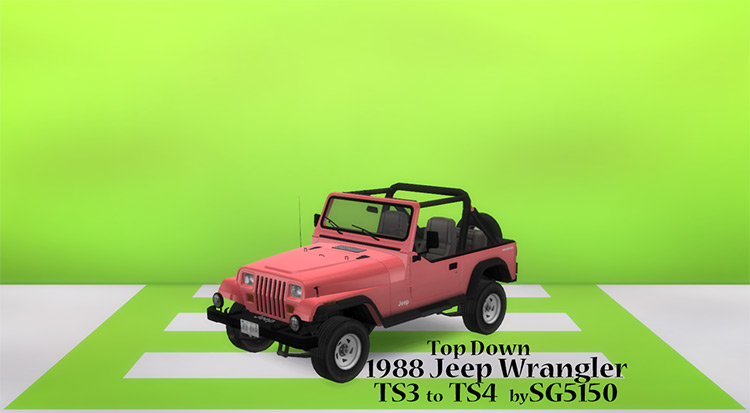 There's nothing I enjoy driving more than an open Jeep without the frills of modern luxury autos, putting as little material between you and nature as possible.
As a 1988 classic, the Jeep Wrangler is associated with wild off-road adventures.
It evokes images of soldiers riding in the desert or explorers making their way through a treacherous jungle trail.
This CC set includes versions with and without the doors, so you can modulate just how rough and outdoorsy you want this to look.
If your Sims are half as outdoorsy as I am, they'll go crazy at the chance to own one of these beauties – even if it stays parked in the driveway indefinitely.
4.

Jeep Cherokee Limited (2015)
If you can't live without the trappings of comfy modern automobiles, the Jeep Cherokee Limited will still give you the power you need to dominate the road without getting dust on your eyes and nasty sunburns.
The Cherokee had been missing from Jeep's line-up for years until re-emerging like a phoenix.
It sports a modernized and stylish design that breaks with the giant square front grille of the 2008 model as part of a transformation from boxy and stout to slim and elegant.
The "Limited" model is powered by an extra-potent engine capable of delivering almost 200hp, making it perfect for the performance-minded Sim.
5.

Jeep Renegade (2015)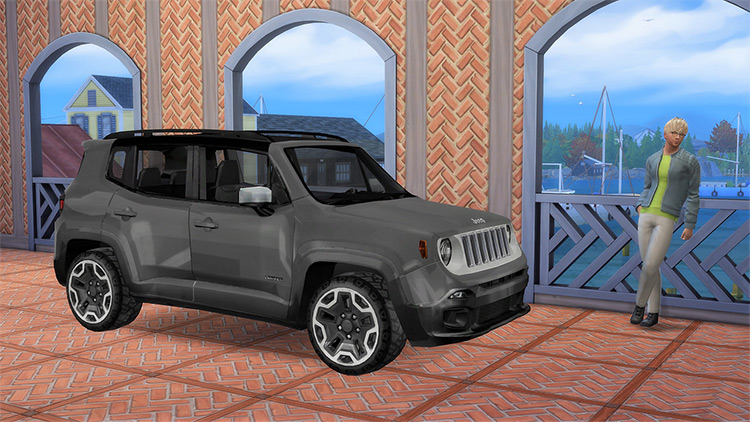 The 2015 Jeep Renegade is a gorgeous subcompact crossover SUV produced in Italy and sold worldwide, becoming one of Jeep's best-selling vehicles between 2015 and 2018.
Its youthful design brings together some Jeep staples (like the square front grille and rounded headlights) with a more sporty look that matches its compact size.
This one is perfect for anyone young at heart with an agile and playful personality.
6.

Jeep Grand Wagoneer (1991)
It doesn't get any more "dad truck" than a 1991 Jeep Grand Wagoneer.
There's something about the wood grain side panels that says a lot about the owner of a Grand Wagoneer.
It's one of the few long-lived styling trends that make a car look more classic and old-school, rather than sporty and modern.
You just don't "land" on a Grand Wagoneer with wood paneling – you were looking for it.
7.

Jeep Grand Cherokee SRT8 (2013)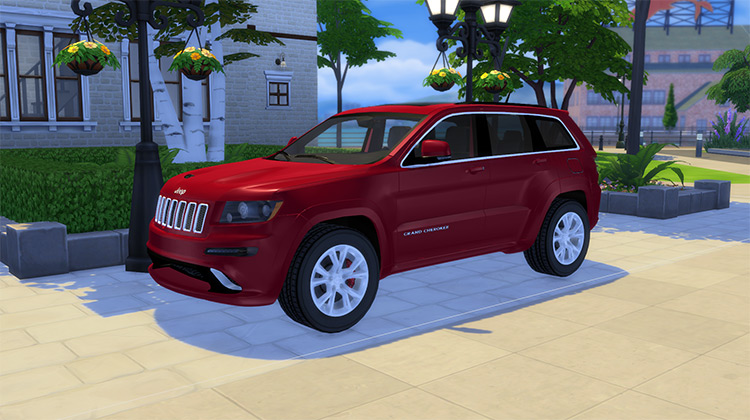 The Grand Cherokee stepped into the spotlight in 1993 as the replacement of the now-discontinued Grand Wagoneer.
This mid-size SUV has always been about luxury and reliability.
It doesn't need to experiment or draw in buyers with new gimmicks and re-inventions every couple of years. The people know why they're getting it. It's like a delicious, hearty meal you could eat every day without getting bored.
The 2013 SRT 8 offers exceptional performance over the average Grand Cherokee and sports a modern design not too different from more contemporary models.
8.

Jeep Compass (2017)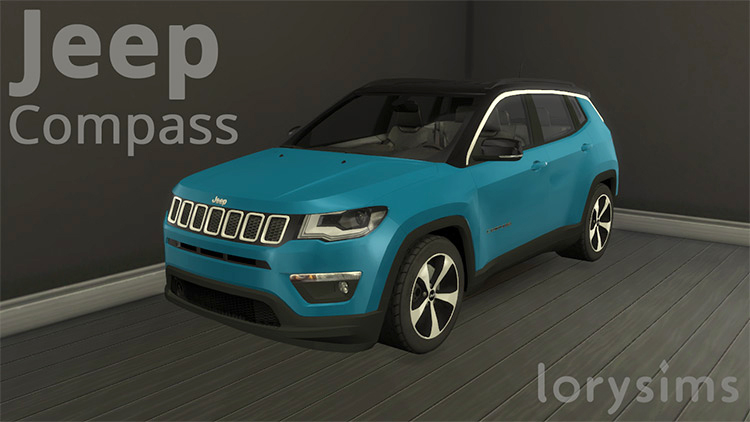 Jeep introduced the Compass in 2007 as the brand's first crossover SUV, achieving massive popularity and becoming Jeep's best-selling vehicle globally for many years.
The second-generation Compass, produced from 2016 onward, features a sporty but firm appearance that brings together design cues from the Grand Cherokee with its own slimmer frame.
Apart from being a bit mainstream, the Compass is a fantastic vehicle for any Sim. Get it for someone who's not too preoccupied with standing out from the masses.
9.

Jeep Wrangler (2018)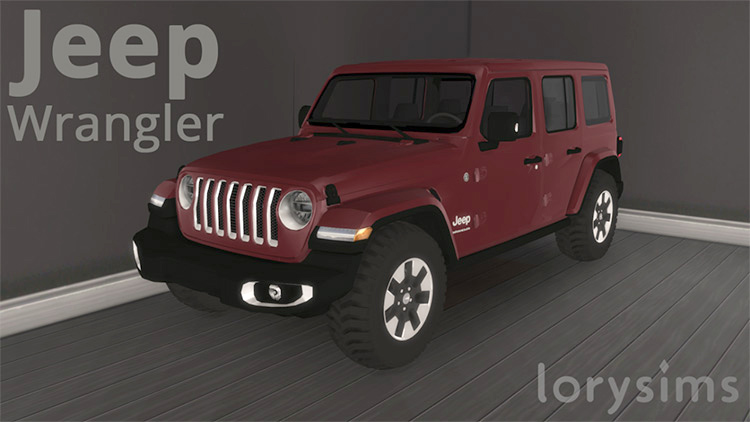 The Jeep Wrangler has been a symbol of freedom, adventure, and off-road dominance since the 80s.
But its history started in the 40s with the classic US Army Truck deployed in WWII.
The Wrangler has been a top pick of off-road enthusiasts for decades.
If it's managed to remain relevant for over 80 years, it's unlikely to go out of style anytime soon.
The 2018 fourth-generation Wrangler brings together its military heritage with an imposing boxy design that's just the thing you need for your Sims 4 driveway.
10.

Jeep Grand Wagoneer (2022)
In the 90s, the Grand Wagoneer had a classic and old-timey appeal that spoke to an audience comfortably settling into their middle age, and looking for a car to represent this shift.
In 2022, the revived Grand Wagoneer has shed everything "old-timey" about itself.
I don't think Jeep changed its core audience.
But as they say, the 40s are the new 20s.
This machine is aimed at people who still have a lot to do with their lives and want to do it fast.
You may need to take the kids to school before working on yourself and hitting the gym – but with the 2022 Grand Wagoneer, you'll get all the safety and space without sacrificing looks.
Browse:
Lists
The Sims 4
Video Games