Sims 4 Jewelry Mods & CC Packs: Earrings, Necklaces & More
This post may contain affiliate links. If you buy something we may get a small commission at no extra cost to you. (Learn more).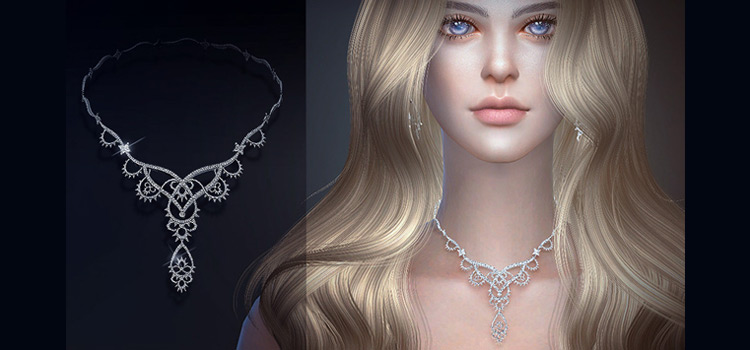 Ah, there's no better accessory for a lady than jewelry. There's nothing quite like the sparkle it brings into a Sim's life.
Big or small, solo or in sets, shiny rocks and metals are here to wow sims of any age.
The CC on this list can't be overlooked, and they certainly aren't available in the base game!
Whether your style is full-on adornment or just adding the right accents, either way you better get scrolling.
And there's no need to get all "my precious" here, cause we've got something for everybody.
20.

Boho Rings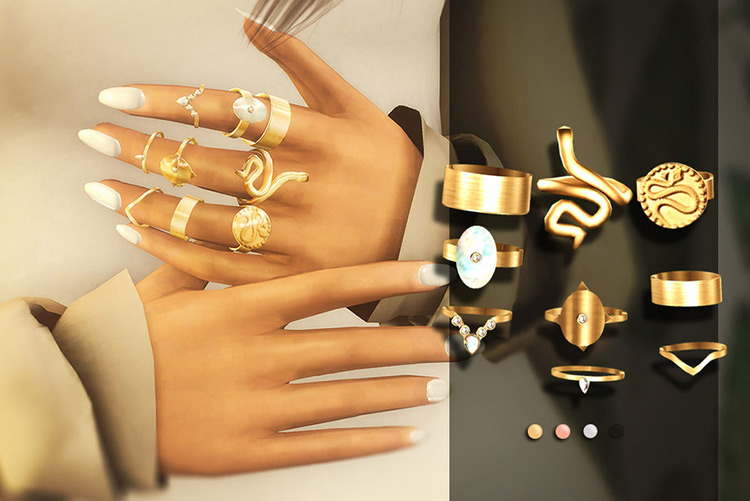 True to its name, these rings are creative and add a bohemian touch.
Anyone looking for fun and cute rings? Then this is the CC you want.
This is composed of 9 different rings evenly distributed on 3 fingers, but your Sim can only equip them on her pretty left hand.
From CC maker Magnolia-c, these rings are fashionable and match well with anything. Go ahead, pick an outfit, you'll be fine.
All are available in 4 colors: gold, pink, white and black.
19.

Tidal Earrings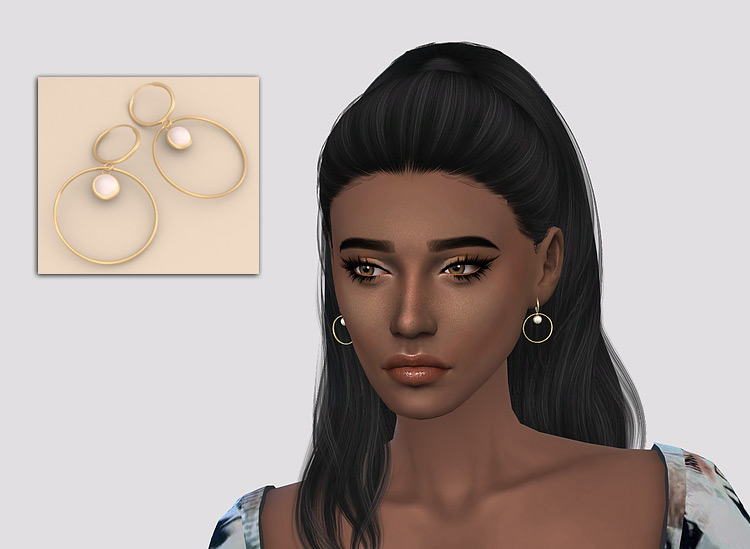 The pearls and gold hoops are an excellent combination in this CC. They even look better up close in HD.
Everything is in perfect symmetry with these earrings, and they give your Sim a casual chic feel.
Want to dress up your Sim for a party? Or maybe a fun night out with friends?
These earrings will look great for whatever your sim is up to.
Noticeable without being over the top, Christoper067 made these earrings perfect for everyday wear. Choose from the 8 shades available.
18.

Bare Hoop Earrings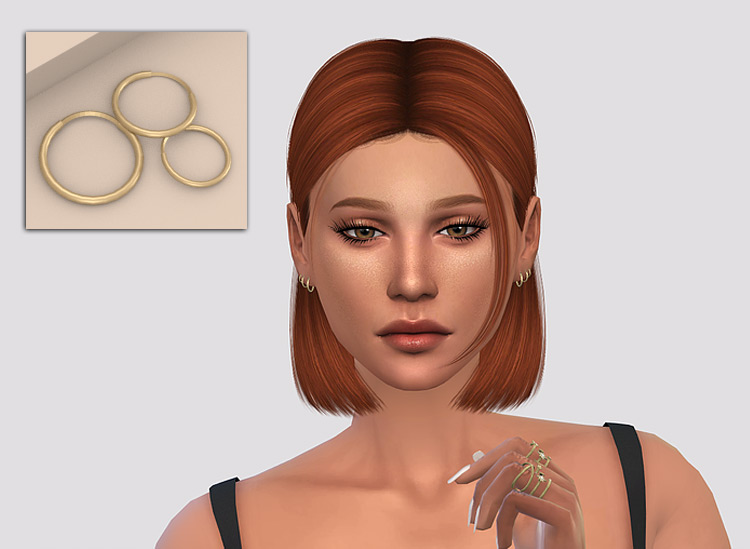 Simple and edgy, these earrings are never out of trend.
This custom CC comes as a set of 3 tiny earrings. They're equipped in 3 different slots: earrings, or left and right brow.
It's one of the most basic earring designs, but it has stayed popular and a favorite of many players. And these are accessible in 8 metal shades.
Christopher067 made other similar earrings that you can mix and match with these too, so browse their site for more!
17.

Butterfly Set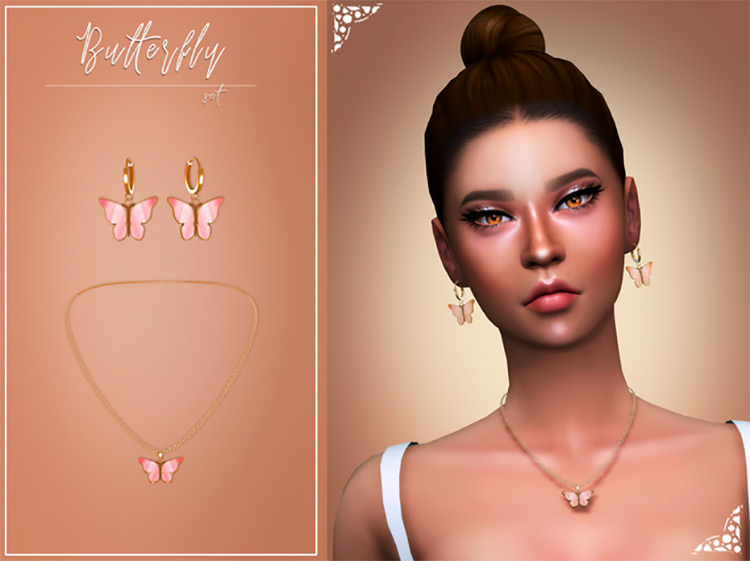 Pretty and dainty, this set is one of the most delicate pieces you'll see.
They appear great in-game, almost life-like. Now your sim can wear them separately, but they look their best together.
The sheen reflecting off the wings is a nice effect that highlights their color.
I mean really: this CC bursts with sweet femininity and will look great worn at casual or formal events.
Give your Sim that effortless girly vibe with this set of CC. And select the best color for your Sim from the 34 shades offered by artist EnriqueS4.
16.

Lace Gold Choker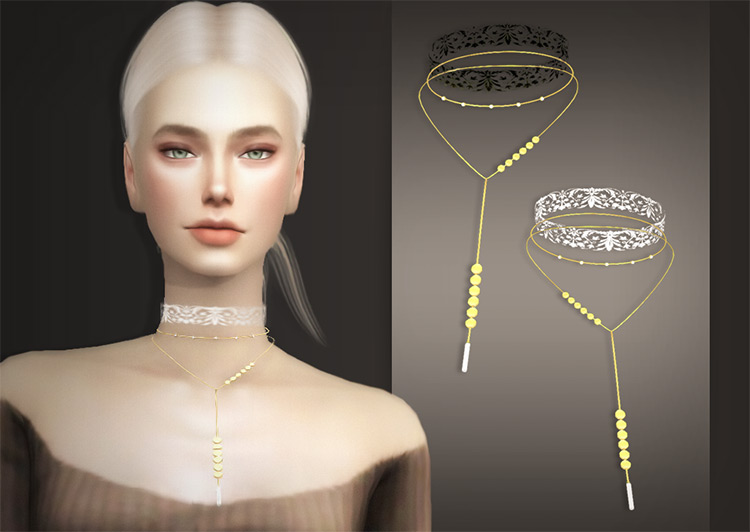 Any Sim will look elegant and fashionable in this lace and gold necklace.
This slender piece is made up of 3 layers and is a gorgeous combination of softness and sophistication.
It's just the right mix of sexy and feminine that's sure to draw attention. The lacy choker on top of the gold layers is eye-catching, but in a subdued way. It gives off a relaxed, attractive vibe.
Made by custom creator Heavendy-cc, this slender and alluring piece looks good paired with basically anything.
Available in 4 swatches, plus the creator allows recoloring for those who know how(wish I did!)
15.

Minerva Necklace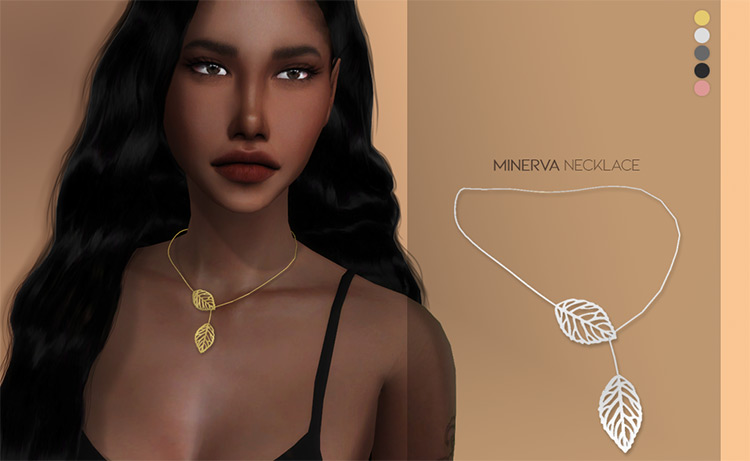 Keep it classy and stylish with this nature-themed necklace.
Whenever nature is involved, I think "refreshing". And even in jewelry form, that rings true.
There's just something about the flora and fauna that's appealing to the eyes. This pretty piece is a good example of its charms.
The design is on the modest side, but that brings out the loveliness of the 2 leaves. They're distinct but not overbearing.
This necklace has some of the sweetest leaves ever made for Sims jewelery.
Its designer Merakisims did fantastic work on this CC.
14.

Necklace 10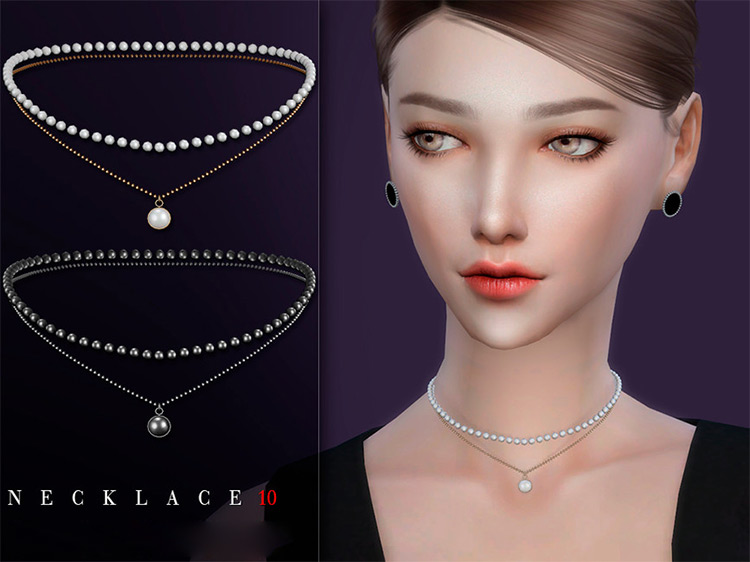 Go from sweet and delicate, to fierce and fiery with this necklace. With only 4 colors in total, the 2 dark hues instantly turn its delicate vibe to edgy.
This pearl choker necklace quickly becomes a silver one and gives off a completely different feel.
If you're in the mood for a dainty look, then go for the light colors.
Or maybe your Sim is feeling more in touch with their tough side? Then the dark shades will look great.
Produced by Uzbekistan features artist Bobur3, this versatile CC is suitable for all types of outfits.
13.

Love Blossom Earrings & Choker
Now this set is one of the cutest, and the earrings and necklace look great in HD. There's an undeniable beauty in its simplicity.
Popular custom designer Pralinesims spared no expense in making this gorgeous set.
The soft polished texture and sheen is visible from yards away. Very detailed and attractive, just like your #1 Sim girl!
The choker has 60 colors for you to choose from, and 20 for the earrings.
12.

Flake Set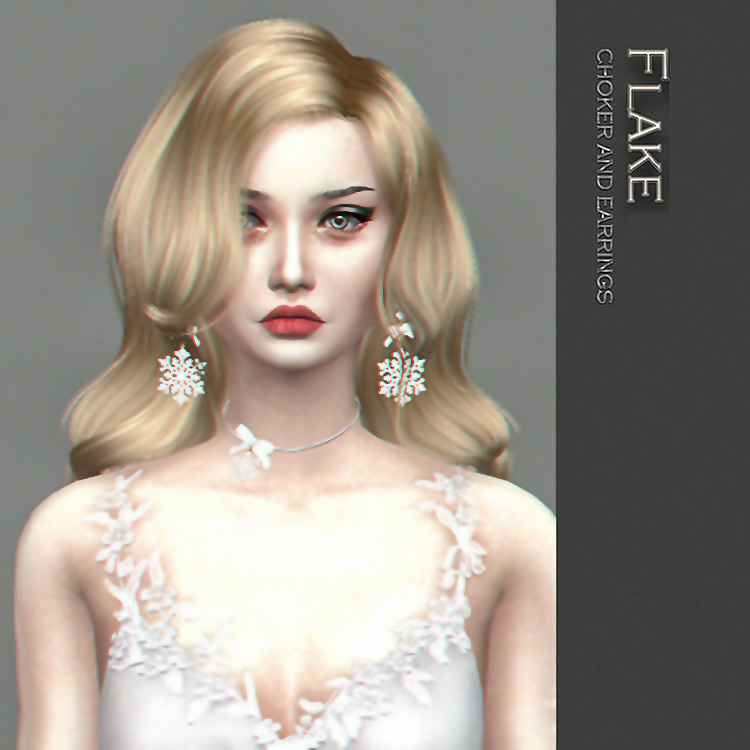 The cold has never looked this good.
Decorate your Sim with these beautiful immortal snowflakes in this endearing jewelry set.
Let your Sims look their most charming self! These perfectly recreated giant snowflakes are cute and elegant. They'll look great paired with feminine outfits during those winter months.
Although available in 5 colors by CC maker Ersch, the flakes themselves remain white. Only the ribbons and necklace band can change colors.
11.

Ethereal Summer Collection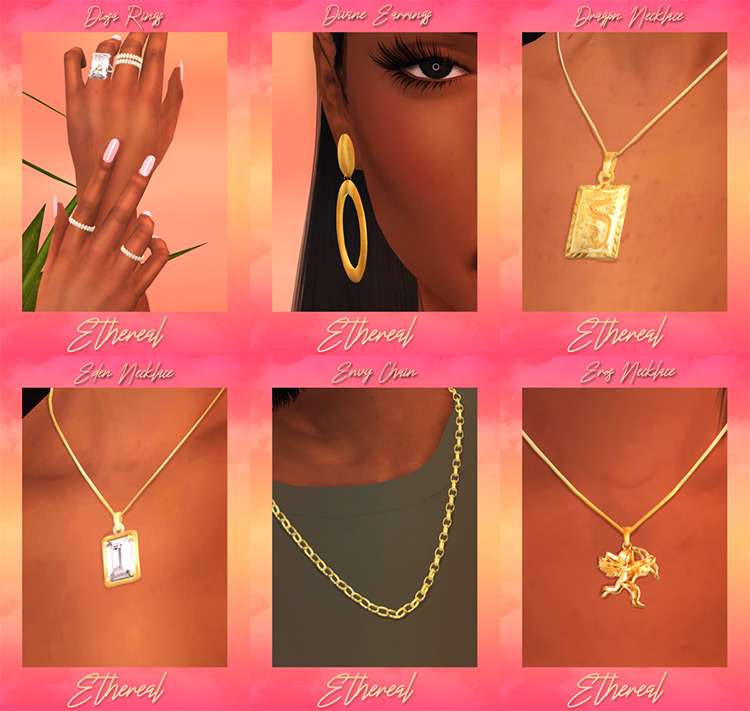 Now this CC pack is the biggest on the list and is composed of 27 items total.
There are 13 earrings, 9 necklaces, and 5 rings.
Get all your Sim's bling-bling from this sassy and stylish collection. There's definitely something for every type of dress.
All CCs have the basic gold color, with varying swatches available for each piece. Some only have 2 shades, while others have 20.
Custom maker Diosa made most of the pieces unisex and available for individual download.
10.

Riqueti and Deslys Jewelry Sets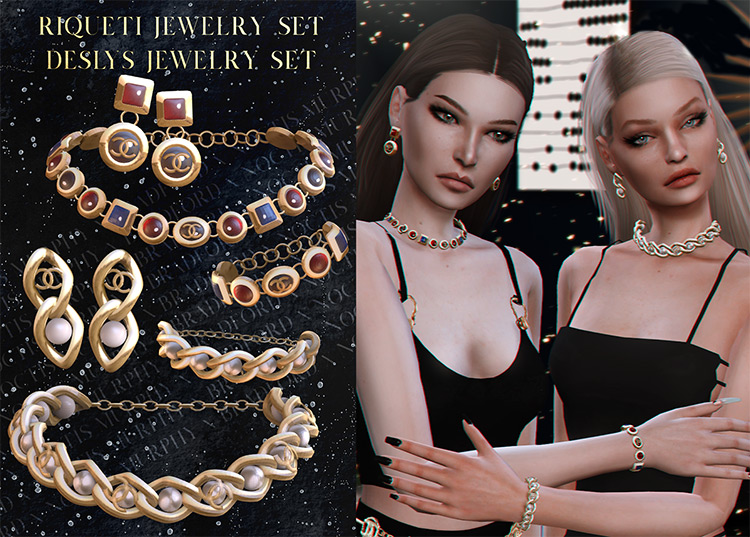 Make your Sims feel glamorous in classic and contemporary designs from this set
Chunky jewelry is here to stay. They work no matter what, and offer a staple piece that every Sim should have in their dresser.
This fabulous pack holds 8 items, 2 necklaces, 2 earrings, and 2 bracelets.
Constructed after the stylings of the major fashion house Chanel, these 2 sets are justs dazzling. Produced by CC artist Murphy, all pieces have 4 color variants to match all types of outfits.
9.

Apoyo Part 1 Set
Are you searching for something fancy and a bit Avant Garde? Then you should check out this CC set.
Take a look at these Chanel-inspired custom designs from Korean CC producer OJE. This pack contains 4 items total: 2 earrings, a necklace, and a hairpin.
The first set of earrings offer a fun redesign of the traditional Chanel logo and images.
For the next pair, it's reminiscent of Valentine's Day with a bow-pierced heart.
As for the necklace and hairpin, both styles focus on the big pearl pieces.
All accessories have 3 swatches, except for the heart earrings that have 4. Dress up your Sim with these unique accessories and stand out from the crowd.
8.

Butterfly Feeling Earrings Set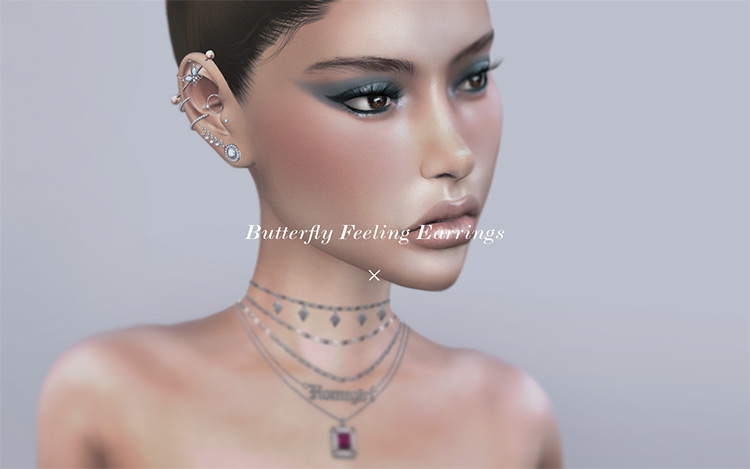 If you love earrings and are particular about their designs, well I think this CC set will stand out.
Without a doubt, this custom pack is one of the most elaborate earrings sets for The Sims 4.
Just look at the details! The butterfly and leaf designs complement everything. It contains 7 finely shaped parts, all embedded with sparkly gems.
The metal sections are available in 6 colors too, while the gems have 12. Try them all and find the perfect combo for your Sim.
Crafted by artist LeahLillith, this magnificent custom creation also comes in 3D ears.
Additionally, your Sim can only use the 7 earrings on either the left or right side.
7.

Moondance Earrings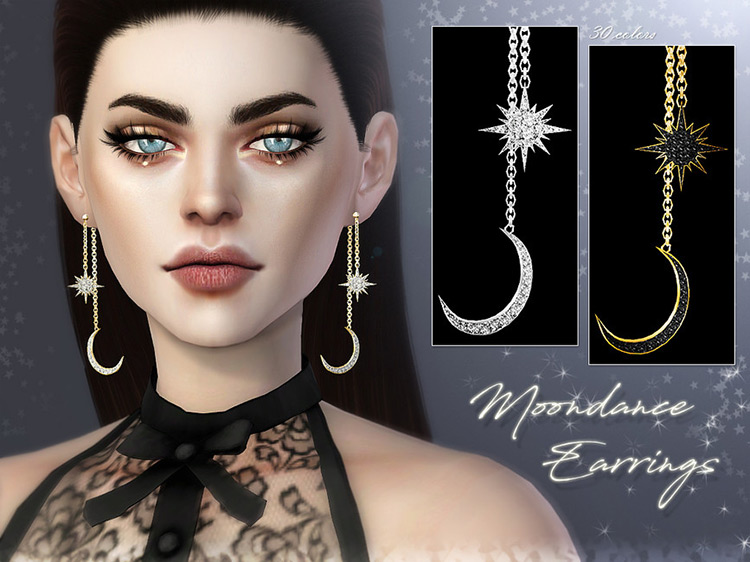 Turn your Sim into the brightest celestial body in the house with these out-of-this-world moon earrings.
These moon and star dangling pieces will instantly light up any room. Great for day or night!
This CC goes well with sexy and flashy outfits, and is perfect for basically any party.
Dreamy and captivating, this magical creation by CC maker Pralinesims comes in 30 varying hues.
6.

Lottie Set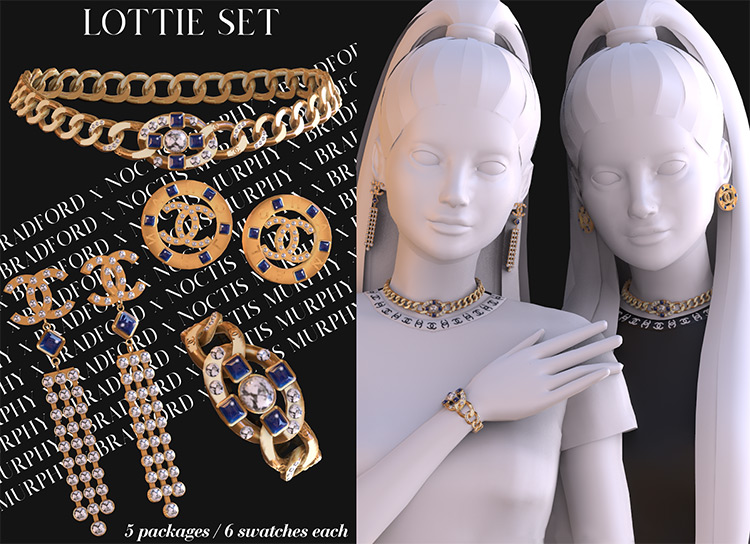 Fans of Chanel who prefer more wearable pieces will appreciate this pack.
It's a modern style that retains the traditional designs of the brand.
The thick chain design is prominent on the necklace, bracelet, and earrings. Lots to go around!
This set offers 5 pieces in total: the 2 earrings, 2 bracelet versions (left and right side), and 1 necklace. Try 'em out and see if your Sim feels like royalty.
5.

Diamonds are a Girl's Best Friend Set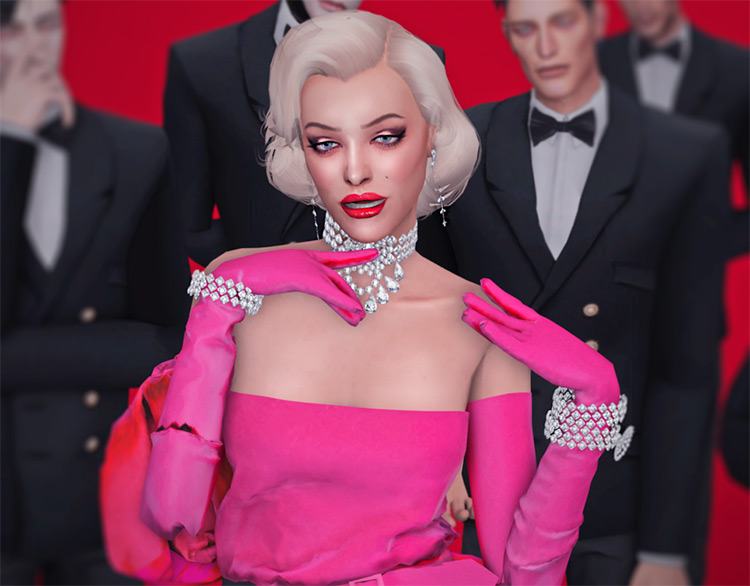 A great beauty once sang, "Diamonds are a girl's best friend."
In this case, it's your Sim's best friend. The rocks on these pieces are no joke and will make any Sim sparkle like there's no tomorrow.
Thankfully the sky is the limit in the game, so no one's going broke here.
After all, who wouldn't want to try out the famous look by the legendary Marilyn Monroe?
Korean custom content artist Thisiskiro replicated every detail of the jewels, and even included the dress to complete the look.
In perfect imitation to the movie, the color of these CCs are limited to just 1 choice, excluding the dress.
This pack contains a necklace, earrings, and 2 bracelets.
4.

Succulent Set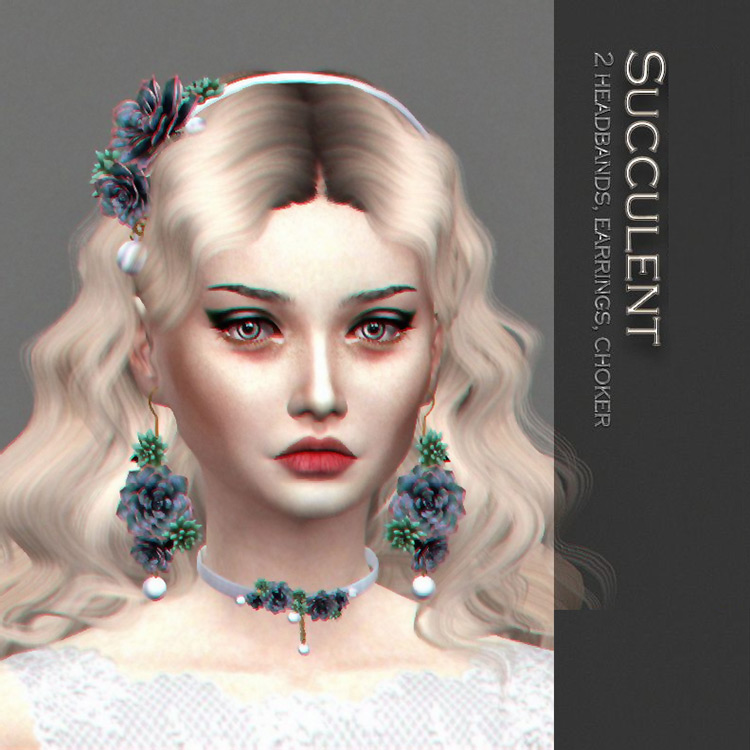 If you're aiming for a forest goddess or "sent by the heavens" look, then click that download button here.
This gentle cherubic set is enchanting.
The pearls accentuate the flowers caught in full bloom. It exudes a style similar to those of fairies, nymphs, or other mystical creatures.
The CC pack comes with a necklace, earrings, and 2 headband versions. One version of the headband has flowers on only the right side, while the other one fully covers the headband.
Each delicate piece looks superb in-game and comes in 4 pastel shades. The angelic design is by custom producer Ersch, and I have to say it's one of my personal favorites.
3.

LL Necklace 202005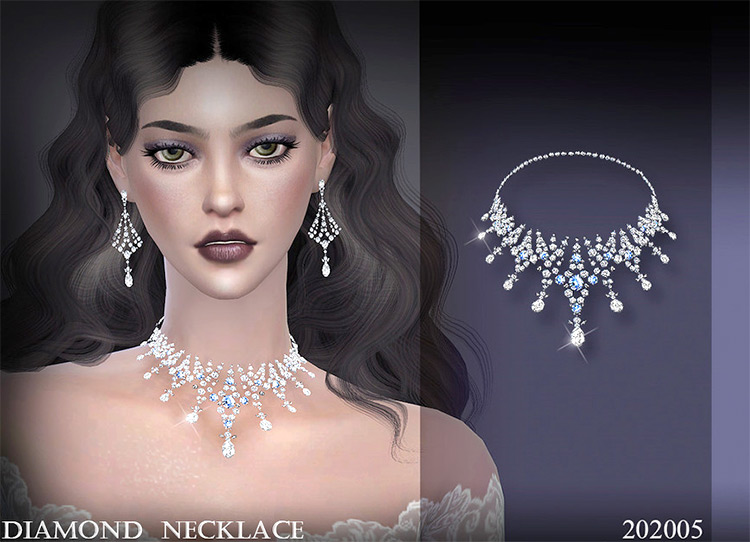 Want to look graceful and refined?
Then snag this regal breathtaking necklace CC by French featured artist S-Club.
Turn any of your female Sims into a princess with this graceful piece. Steal the spotlight anywhere, anytime, all with one bit of CC.
The jewelry's intricate design shows off a delicate aura, resembling rain drizzling against a bright night.
It's available in 3 simple colors of blue, white, and violet.
2.

LL Necklace 202014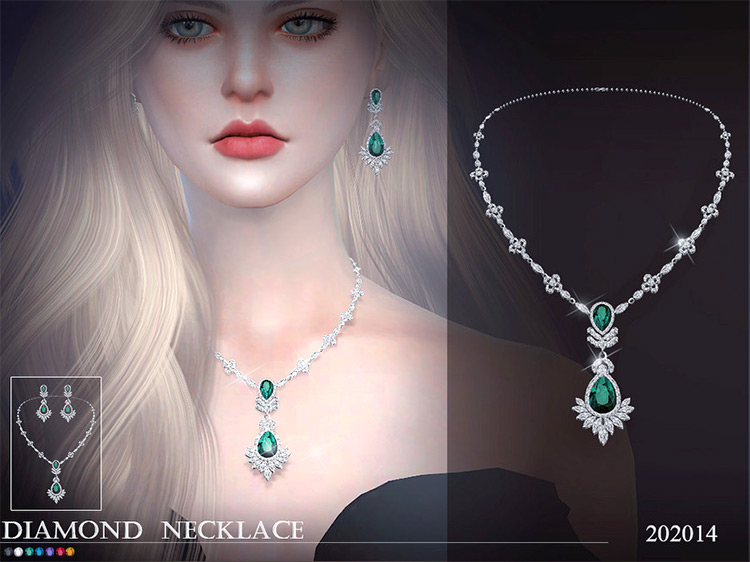 This luminous necklace might be just what your Sim needs. Diamonds are forever, and these giant stones demand respect.
Equip your Sim with this necklace CC and let her reign as the goddess of your town.
Magnificent in every direction, this CC is by the productive CC artist S-Club. I've seen that name a lot!
Enjoy this glorious set in 6 swatches, too. Just note that only the gems in the middle change colors, while the rest remain the same.
As part of a collection, this necklace has a matching crown, earrings, bracelet, and watch to boot!
1.

Solange Set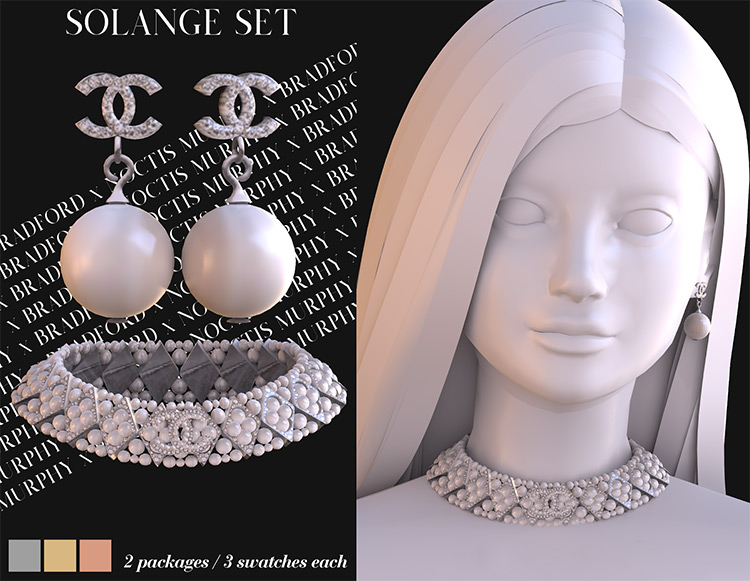 Nothing beats the classics.
This gorgeous CC set made by Murphy comes with 2 items: a pair of earrings and a necklace.
The earrings are modeled after the traditional Chanel designs, while the necklace offers a vintage style with a hint of contemporary.
You'll find 3 shades for each piece of jewelry, and only the frame of the necklace & logo of the earrings change colors.
Still, by far one of the classiest jewelry sets for your uptown girl.
Browse:
Lists
The Sims 4
Video Games